Visiting Springs Preserve Las Vegas? These are the highlights and local tips to help you make the most of your visit.
Springs Preserve has 180 acres of nature, exhibits, and attractions perfect for everyone, especially families with kids. If you love nature, they have trails and botanical gardens. They have educational exhibits about Vegas' rich history. They have a wildlife exhibit with the cutest gray fox, an art gallery, a theater, bike rentals, a café, and more!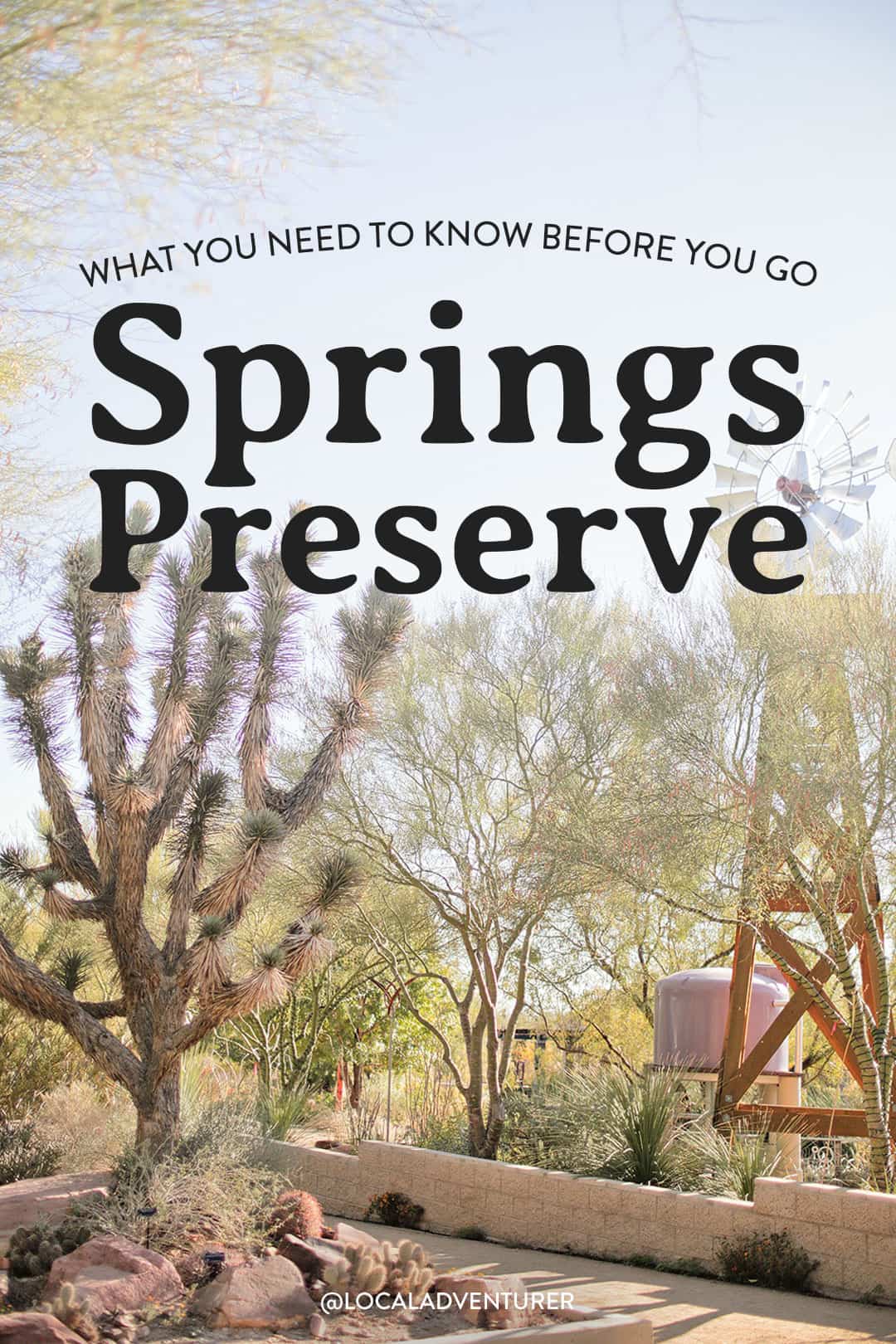 This post may contain affiliate links, where we receive a small commission on sales of the products that are linked at no additional cost to you. All opinions are always our own. Read our full disclosure for more info. Thank you for supporting the brands that make Local Adventurer possible.
Last Updated: September 12, 2023
About the Springs Preserve
The Springs Preserve is located on the original Las Vegas Springs site, discovered in 1829 by a group of Mormon pioneers. The springs were a vital water source for the early settlers and played an essential role in developing Las Vegas.
In the late 1990s, the Las Vegas Valley Water District acquired Springs Preserve, restored the springs, and developed the preserve into a museum and educational center.
Today, the Springs Preserve includes several museums, galleries, and exhibits that showcase the natural and cultural history of the Mojave Desert and the Las Vegas Valley. The extensive botanical gardens feature plants native to the desert region.
Springs Preserve Address
333 S. Valley View Blvd
Las Vegas, NV 89107 (map)
Springs Preserve Hours
Springs Preserve: Thursday to Monday, 9 AM to 4 PM (last entry at 3 PM)
Cafe: Thursday to Monday, 9 AM to 3:30 PM
Nevada State Museum: Thursday to Monday, 9 AM to 4 PM (last entry at 3 PM)
*Check this site for any closures or changes in hours before visiting.
Springs Preserve Ticket Prices
Tickets can be purchased online or at the Ticketing Office.
Nevada Residents: $9.95 for adults / $4.95 for children ages 3-17
Non-Residents: $18.95 for adults / $10.95 for children ages 3-17
Memberships start at $30 for individuals and $60 for families
Local Tip: We highly recommend the membership for families living in Las Vegas. Members can access the Outdoor Natural Areas at 8 AM.
See More: 101 Things to Do in Las Vegas Bucket List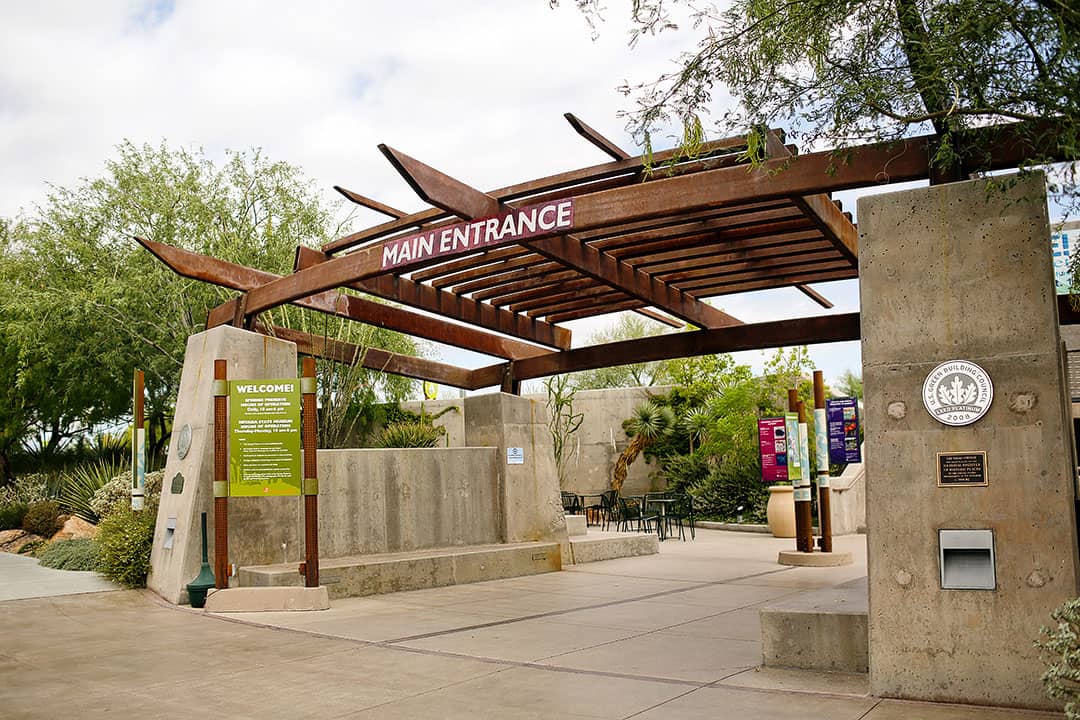 Best Things to Do at Springs Preserve
1. Nevada State Museum
The Nevada State Museum's primary focus is on the history and culture of Nevada, emphasizing southern Nevada and the Las Vegas Valley. The museum's exhibits cover topics, including the geology of Nevada, Native American cultures, the mining and railroad industries, and the history of Las Vegas and its famous Strip.
One of the popular exhibits is a replica of a 19th-century Las Vegas, complete with a saloon, blacksmith shop, and general store.
The museum also features several interactive exhibits, such as a virtual reality experience that allows visitors to explore a prehistoric Nevada landscape and a simulated earthquake demonstrating seismic activity's effects on buildings.
See More: 15 Best Museums in Las Vegas + Local Tips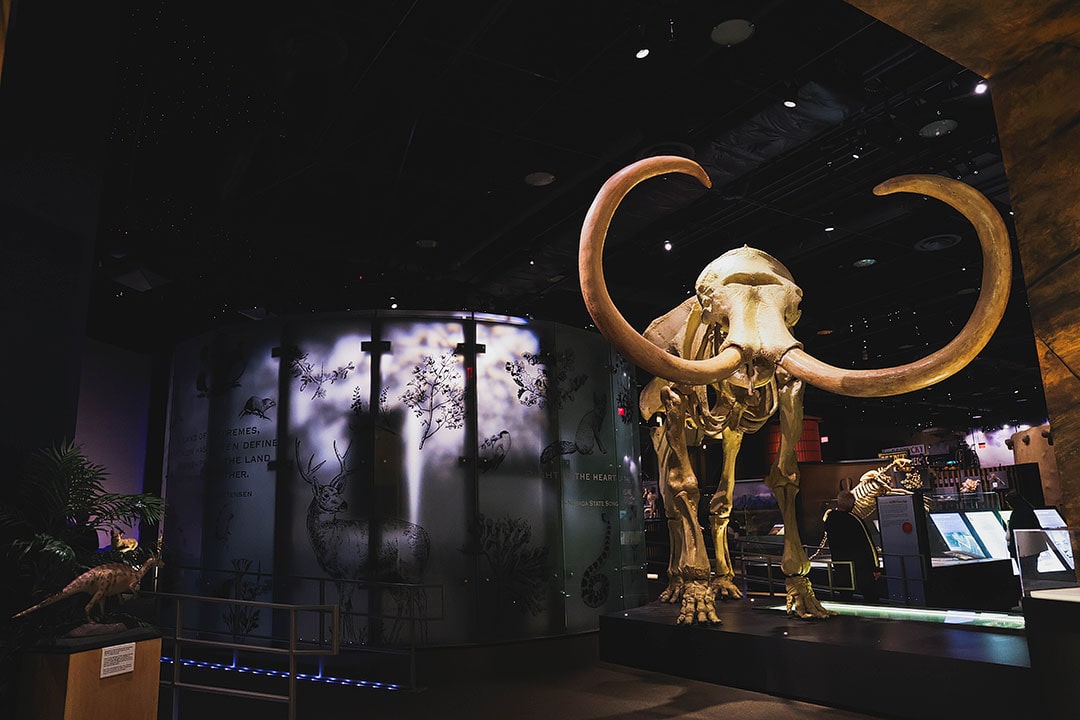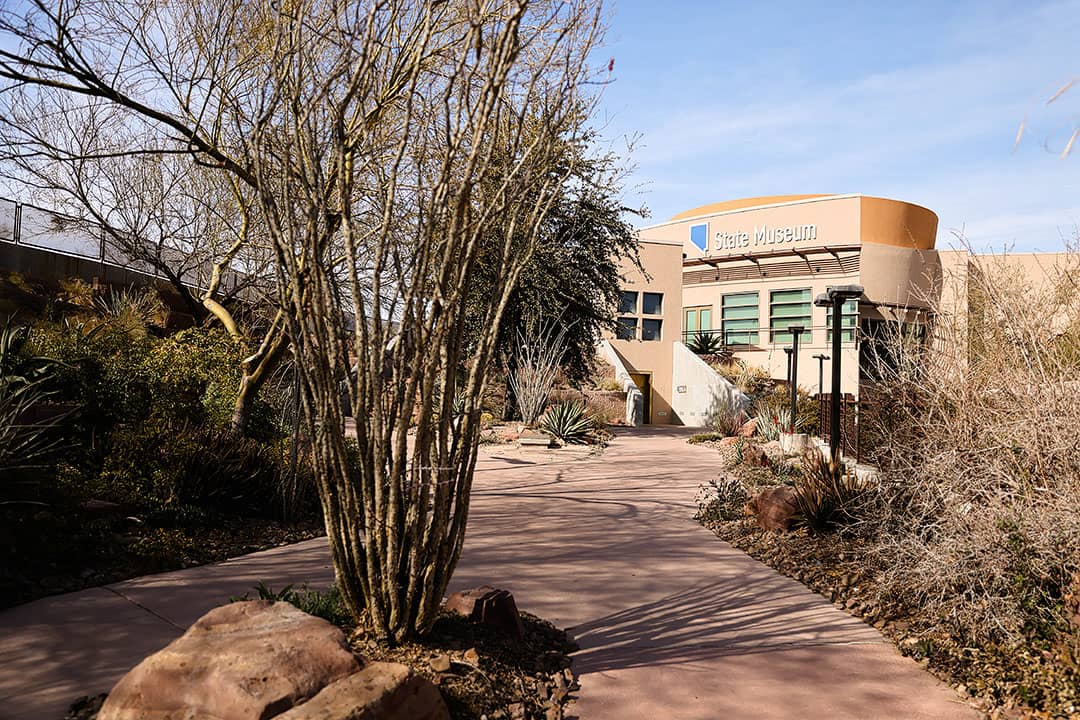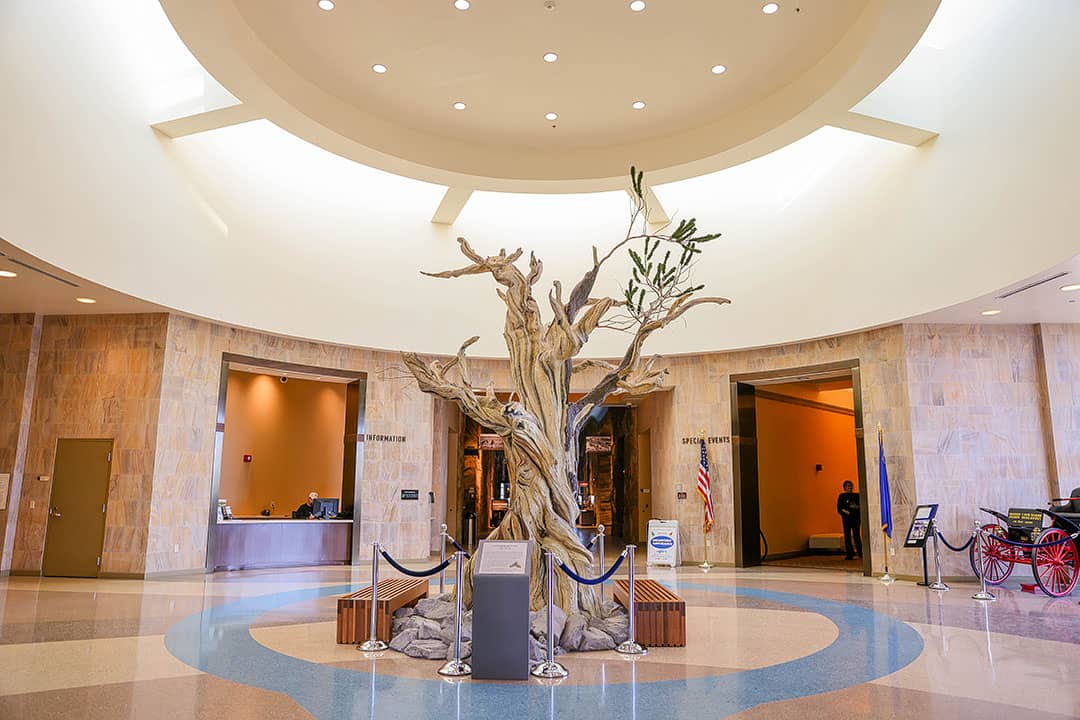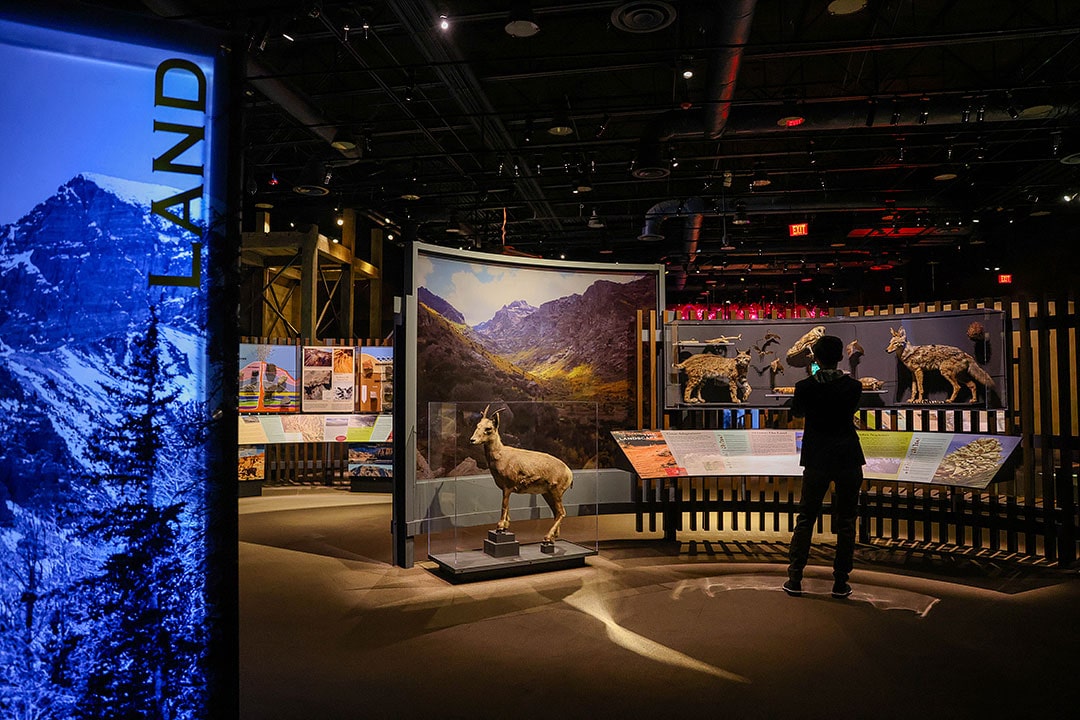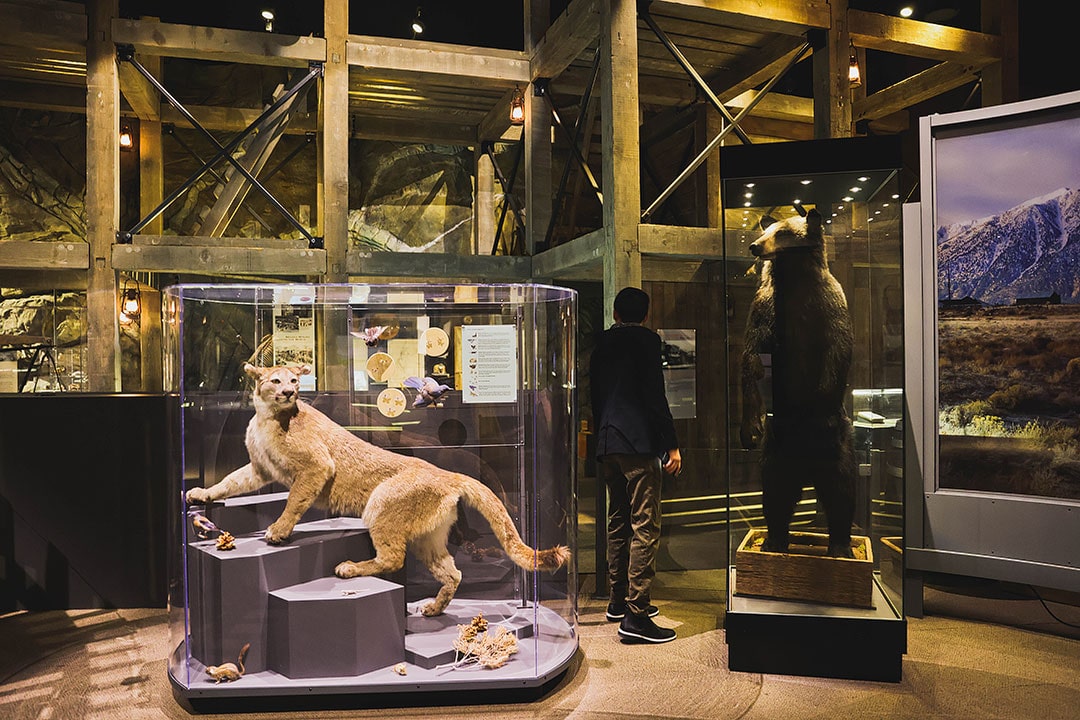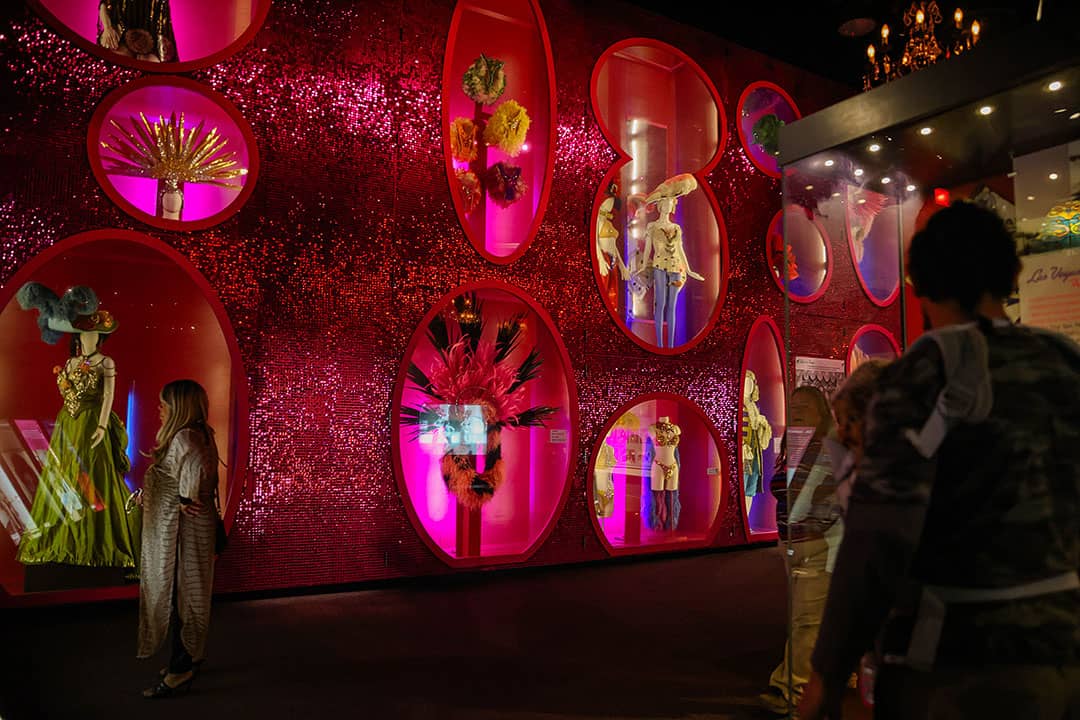 2. Origen Museum
We love the Origen Museum at Springs Preserve! It focuses on the ecology and wildlife of the Mojave Desert and Las Vegas Valley. Don't miss:
The Flash Flood Exhibit simulates a flash flood in a desert environment. It helps you understand why it's dangerous and how plant and animal life have adapted to survive.
The Live Animal Exhibits include a gray fox (our favorite), desert cottontails, lizards, frogs, snakes, and Gila monsters. They house many animals that we can naturally see in the area.
They also have a rotating exhibit in the Origen Museum. So far, we've seen Wicked Plants and a Mini-Golf Exhibit.
See More: 15 Unique Bucket List Worthy Experiences in Las Vegas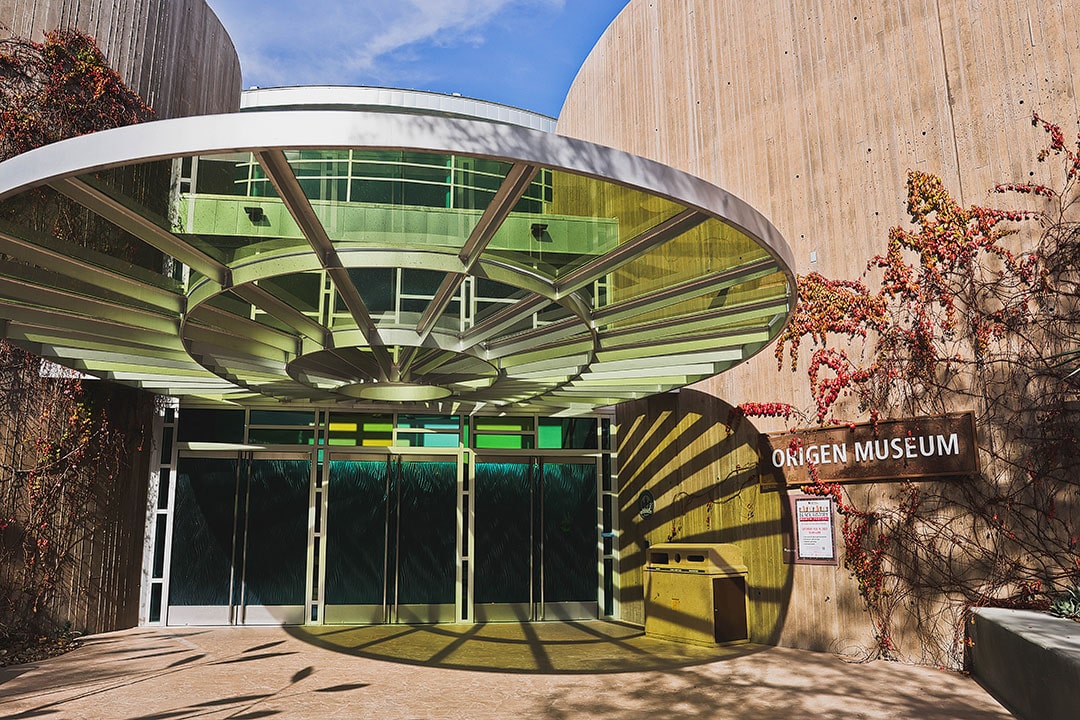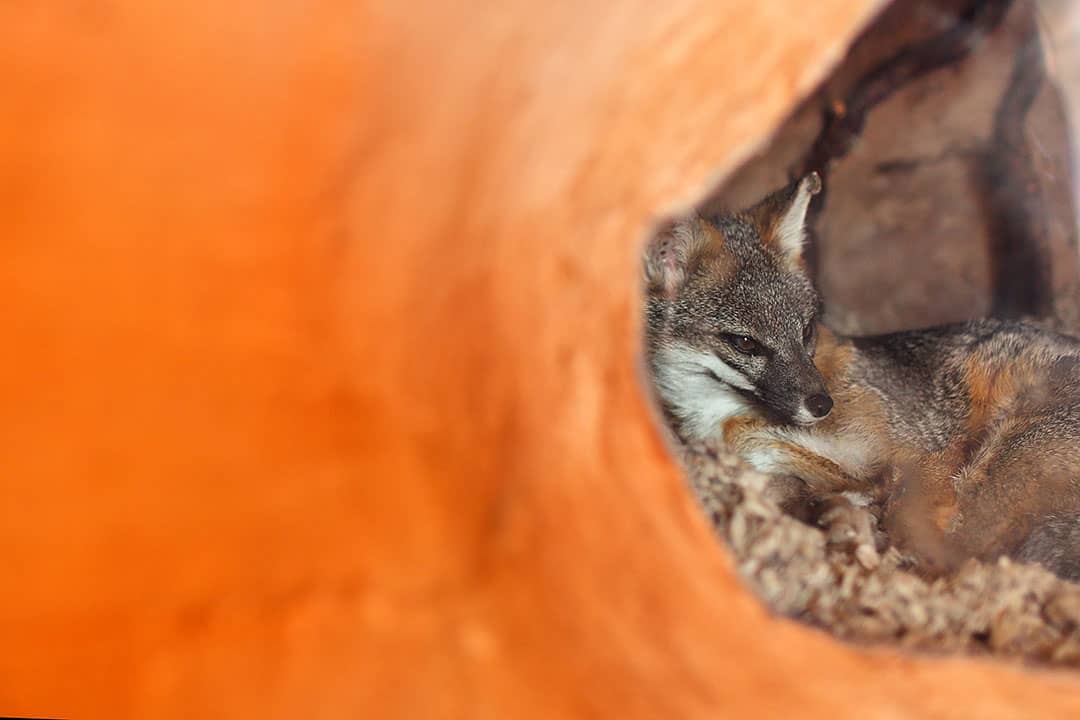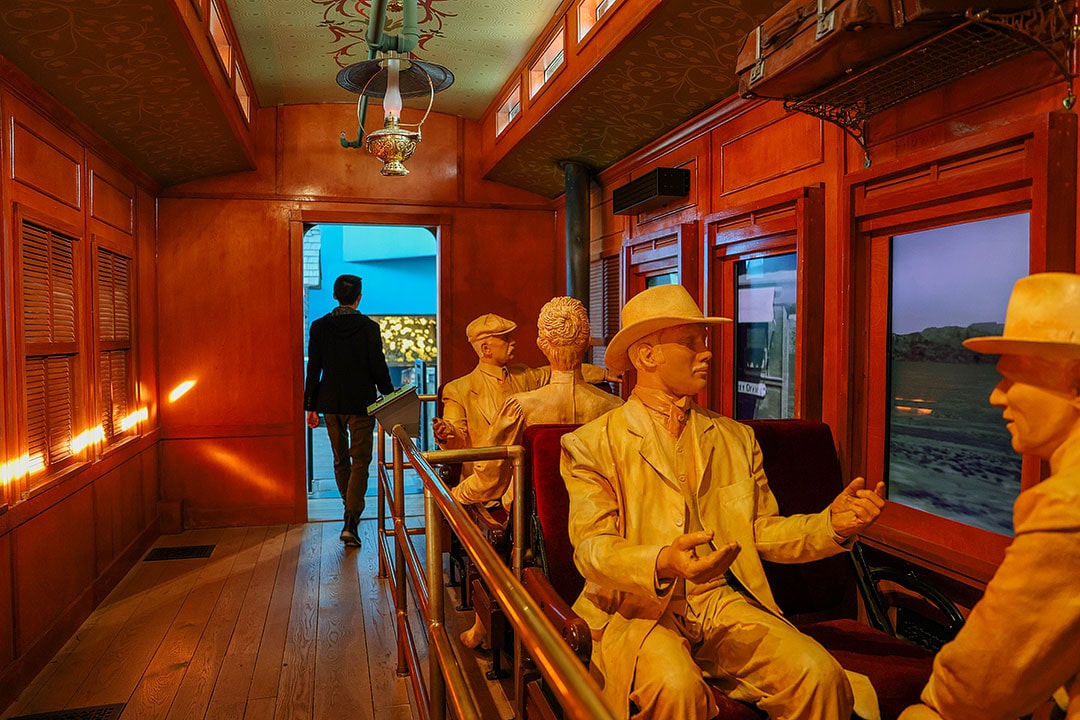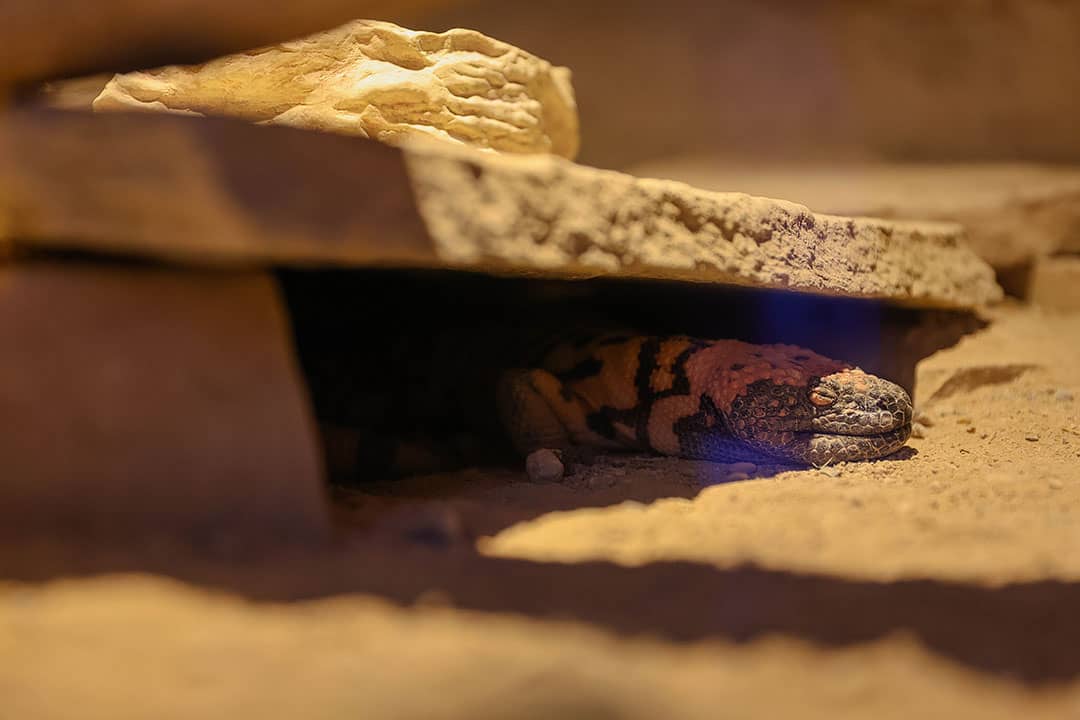 3. Botanical Garden
The botanical gardens at the Springs Preserve are a beautiful and unique attraction that showcases the diverse plant life of the Mojave Desert and the surrounding areas. The gardens cover over eight acres and feature various plants native to the region.
One of the highlights of the botanical gardens is the Cactus Garden, which features over 300 cactus species and other succulent plants, including some rare and endangered.
You should also check out the Rose Garden, the Herb Garden, and the Sustainable Desert Garden. The Sustainable Desert Garden showcases plants and landscaping techniques designed to conserve water and reduce the impact of human activity on the environment.
Local Tip: If you're interested in plants, they hold events and classes, including a plant sale, gardening tips, and more.
See More: 15 Fun Outdoor Activities in Las Vegas If You Love Adventure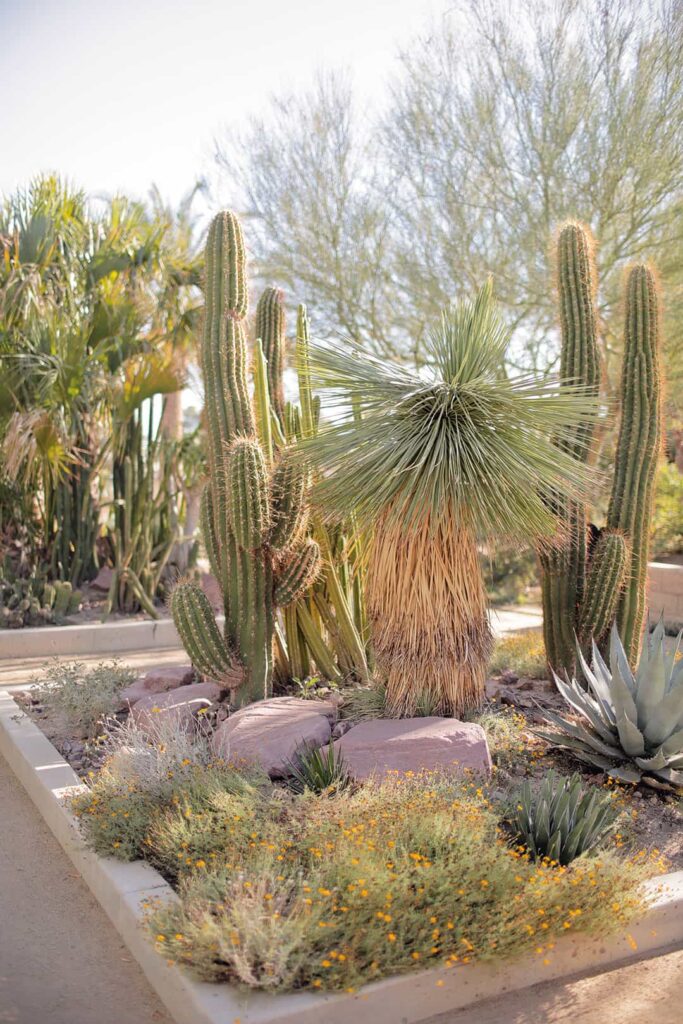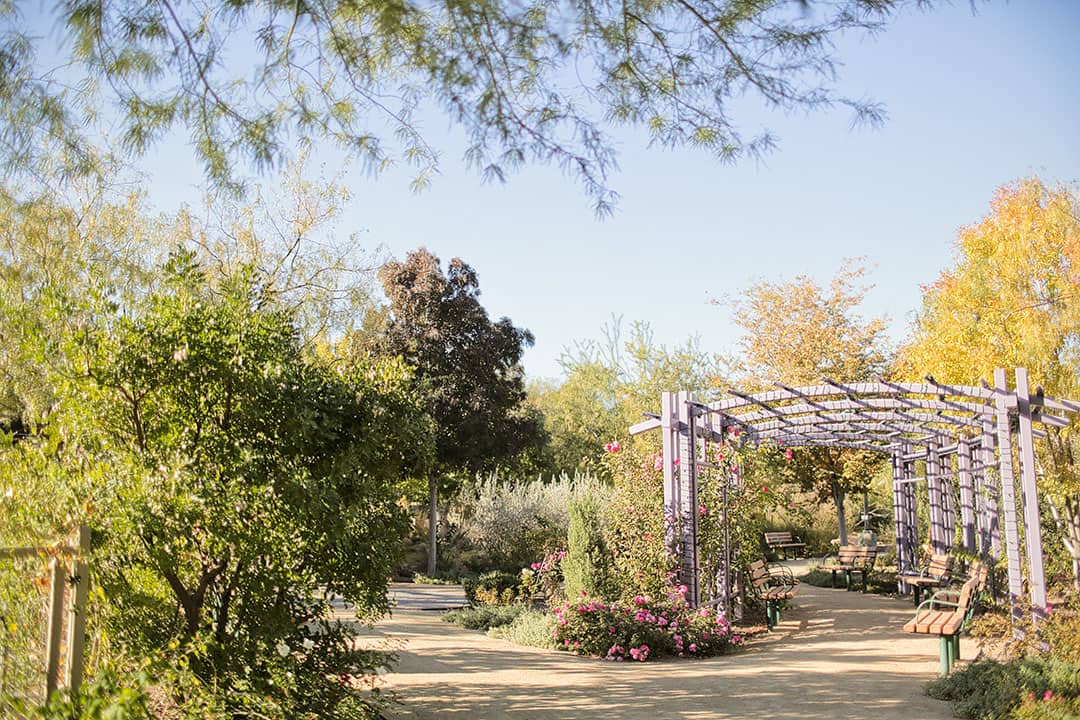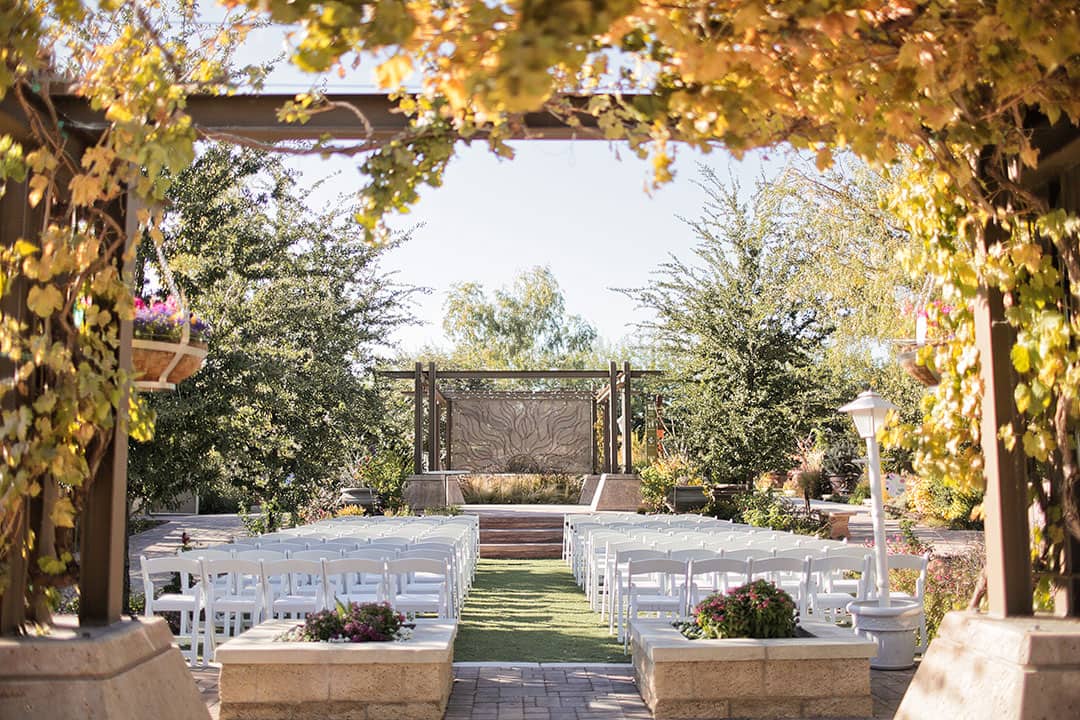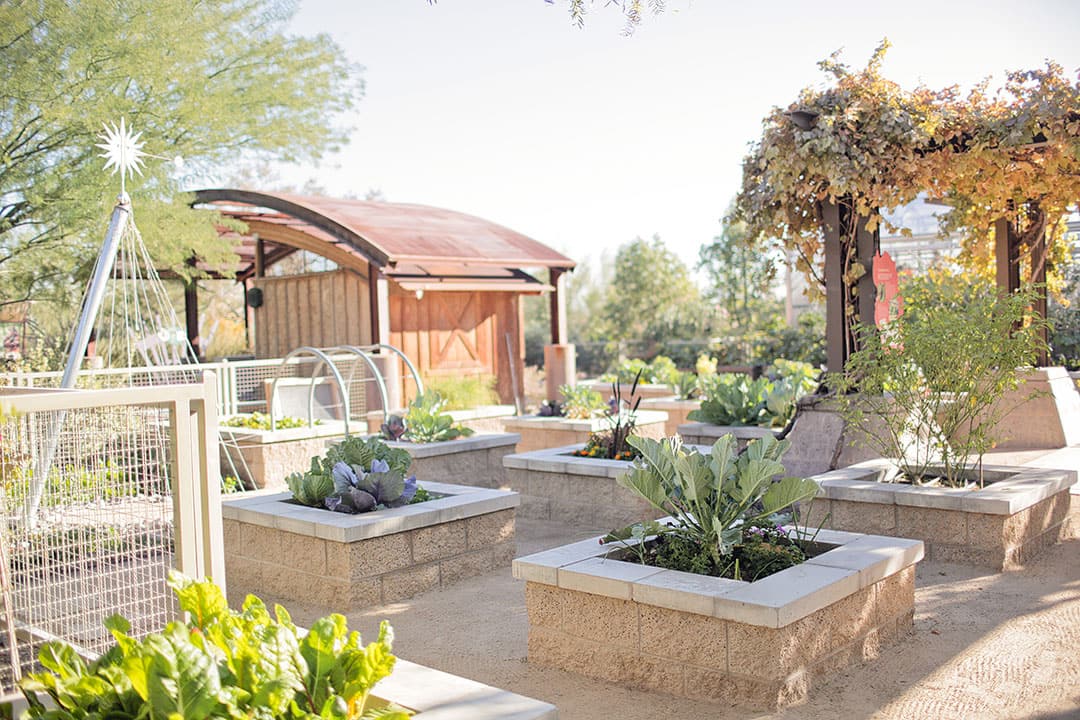 Seasonal: Butterfly Habitat
Although it's only opened seasonally (April 1 through May 29, 2023), the Butterfly Habitat is a popular exhibit at the Springs Preserve. You wander through the habitat while the butterflies from all over the world fly around you.
Butterflies creep me out, so I haven't been yet, but maybe we'll have Jacob check it out at some point.
4. Train Rides
Trains were a significant part of the Old West and still play an important role today. The train ride is a great way to get to Boomtown 1905. On the 8-minute tour, the conductor tells you more about the areas you're passing through.
Local Tip: The train schedule changes throughout the year. When you arrive at Springs Preserve, ask about the train to time your visit.
See More: 25 Free Things to Do in Las Vegas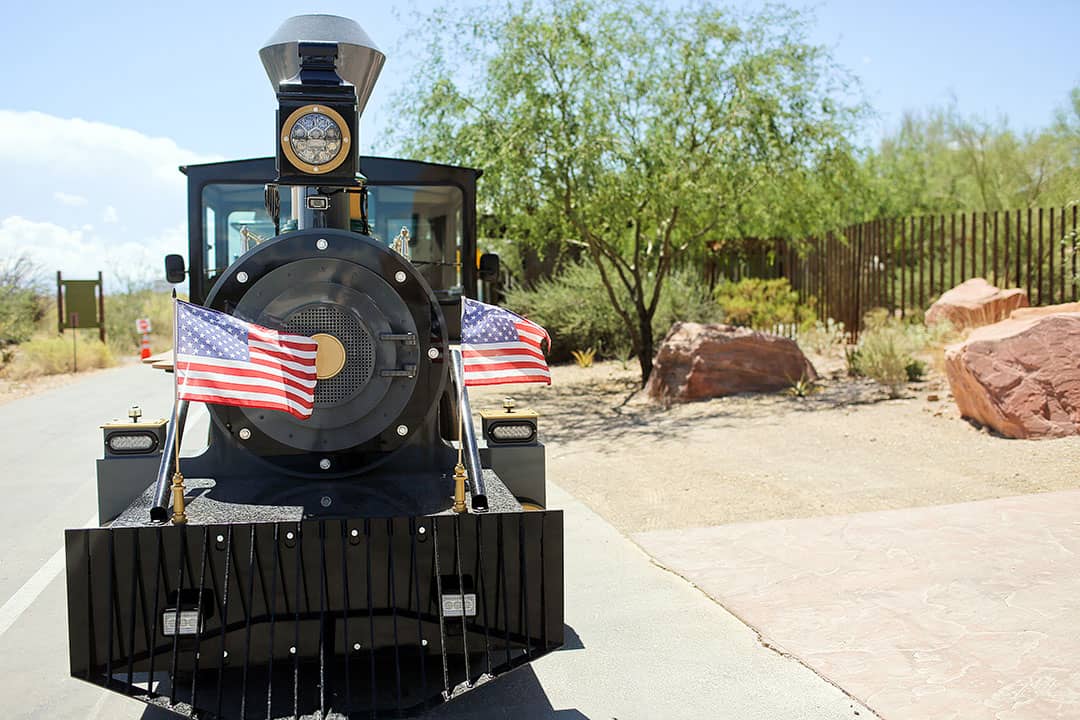 5. Boomtown 1905
Boomtown 1905 is a recreated historical streetscape that gives you a glimpse of Las Vegas between 1905 and 1920. You can visit multiple buildings, including a train depot, railroad cottages, a mercantile, a hotel, a bank, and a saloon.
Local Tip: The train will drop you off and pick you up here. Just check the schedule.
See More: 15 Best Things to Do on the Las Vegas Strip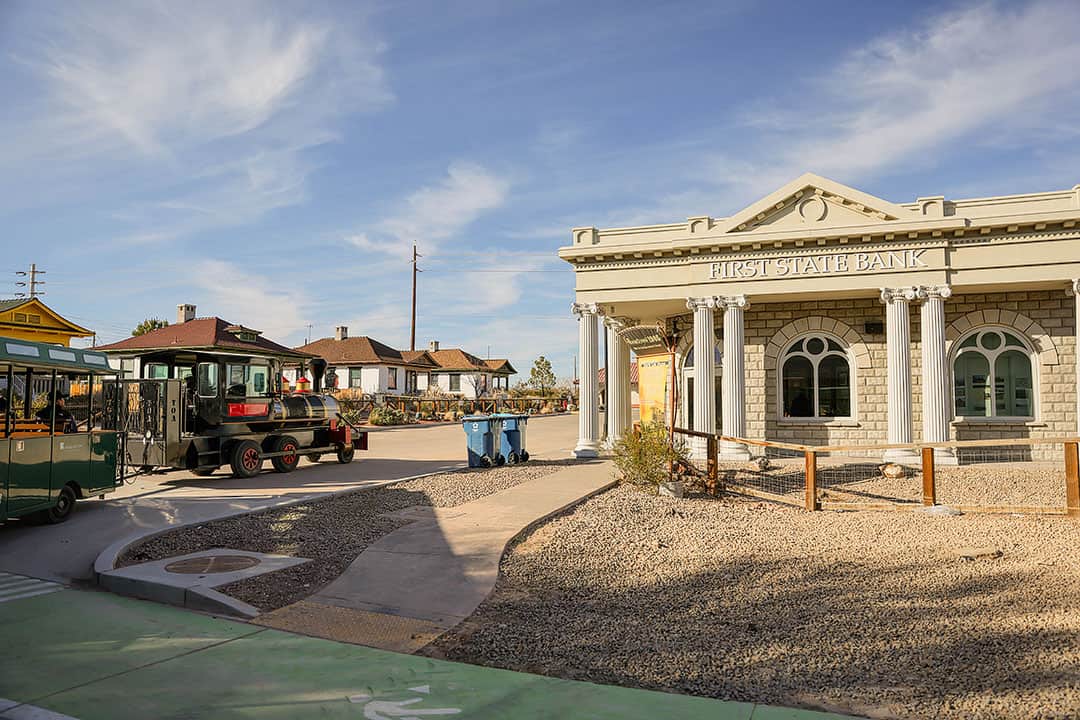 6. Waterworks
WaterWorks is an interactive exhibit that focuses on the importance of water conservation and management in the desert environment. While visiting, you can learn more about the different stages of the water treatment process and even see it in action.
You can also touch replicated quagga mussels, use a microscope to look at harmful water contaminants, check out rock samples excavated hundreds of feet below Lake Mead's surface, and more.
Local Tip: The entrance to Waterworks is on the left as you walk towards Boomtown 1905.
See More: 25 Best Las Vegas Photo Spots with Tips from a Local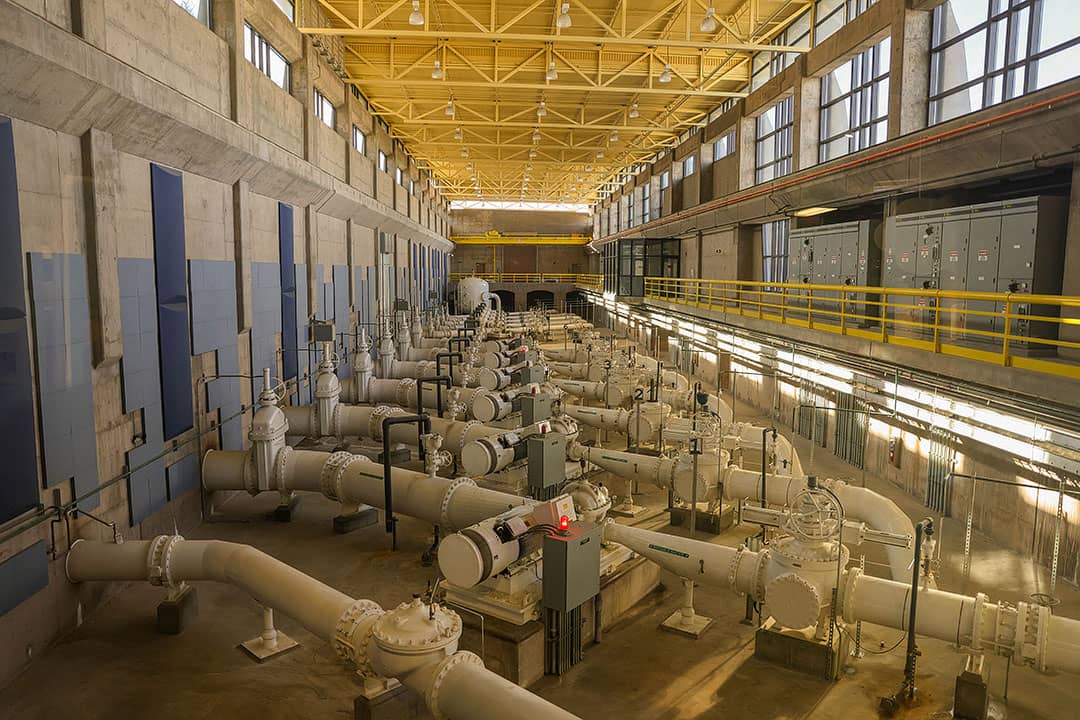 7. Hike the Trails
Springs Preserve has 3.5 miles of trails. These are four trails:
Exploration Loop Trail (2.21 miles) – passed by Boomtown 1905 and is the longest trail
Crossroads Trail (0.54 miles) – see an adobe home foundation, well derrick, and prehistoric spring mound
Springs Trail (0.45 miles) – historic structures and tortoise habitat
Cienega Trail (0.37 miles) – lush desert wetlands and cottonwood groves
Local Tip: Members can access the trails and other outdoor areas at 8 AM.
See More: 25 Best Las Vegas Photo Spots with Tips from a Local
More Things to DO at the Springs Preserve
DesertSol – a 754-square-foot solar-powered home showcasing what sustainable living can look like
Nature Exchange – a place for young naturalists to trade found items like shells, rocks, bark, and more
Playground and Splash Pad – great for kids
Sustainability Gallery – Learn about eco-friendly lifestyles and the natural world
Map of the Best Things to DO at the Springs Preserve
Upcoming Special Events
Fall Plant Sale – Saturday, September 23, 9 a.m.-3 p.m.
Spruce up your outdoor living spaces with the perfect desert-adapted plants. The fall plant sale will feature desert-adapted trees and various plant species ranging from 2 inches to 5 gallons. Springs Preserve garden experts will be available to answer your gardening questions. For easy transport, be sure to bring a wagon or cart for your purchases. Admission to the plant sale is free. Members enjoy exclusive early entry beginning at 8 a.m.
Butterfly Habitat – Saturday, September 30-Monday, November 20, 10 a.m.-3 p.m. (last entry at 2:45 pm)
Wander through our unique Butterfly Habitat and witness the fascinating dance between free-flying butterflies, the plants that sustain them, and their important role as pollinators in the ecosystem. Dates for this seasonal attraction may vary depending on weather. Check the Springs Preserve website for updates. Free with general admission or Springs Preserve membership.
Haunted Harvest – Thursday-Sunday, October 19-22, 5-9 p.m.
Guaranteed to be a spooktacular good time, little ghosts and goblins will scream with delight at this family-friendly outdoor event. Members enjoy exclusive early entry beginning at 4 p.m. Member ticket sales start September 1. Public ticket sales start September 7. This event is expected to sell out.
Nevada Day – Friday, October 27, 9 a.m.-4 p.m.
What better place to celebrate Nevada Day than at the birthplace of Las Vegas? Residents enjoy FREE general admission, special programming including arts, crafts and family-friendly activities, explorations at the Nevada State Museum, and 180 acres of Nevadan nature.
Día de Muertos – Friday-Sunday, November 3-5, 5-9 p.m.
This centuries-old celebration—rooted in Latin American cultures—honors loved ones through colorful and joyous traditions. Blending rich customs with exciting activities for all ages, Día de Muertos features live theater and dance performances, music and mariachis, entertaining games, arts and crafts, food vendors, and much more. Members enjoy exclusive early entry beginning at 4 p.m. Member ticket sales start September 1. Public ticket sales start September 7. This event is expected to sell out.
What to Eat
The Springs Cafe is onsite and offers food from Bronze Cafe and drinks from Aspire Coffee House. They serve sandwiches, salads, burgers, lattes, smoothies, and more. They have vegan, vegetarian, and gluten-free options.
Best of all, it's in a beautiful building with indoor and outdoor seating where you can get great views of the valley and the Las Vegas Strip.
Here are some other spots nearby you can check out.
See More: 49 Best Places to Eat in Las Vegas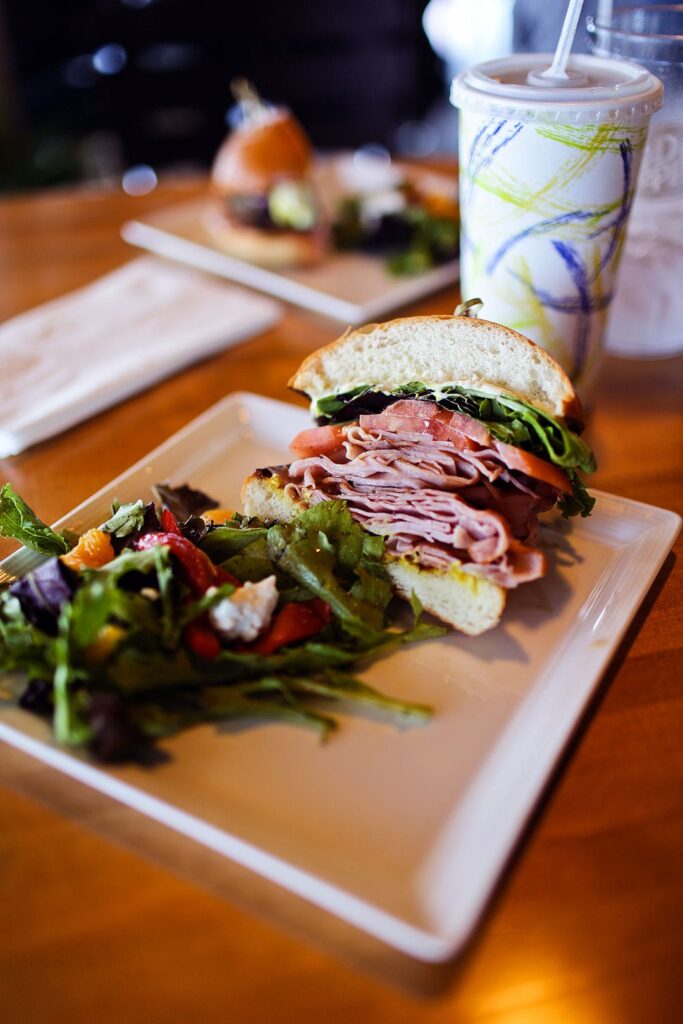 Essential Tips
Free parking is available onsite. The main parking lot has EV charging stations.
During excessive heat warnings of 105 degrees or more, they will close trails, train rides, and outdoor tours for the safety of guests.
You can bring outside food and nonalcoholic beverages into Springs Preserve. Glass containers are prohibited.
Coolers and bags must be no larger than 24″ x 15″ x 18″. Dry ice and loose ice are not allowed.
Wear comfortable walking shoes since you will be covering some ground.
Remember to apply and reapply sunscreen. The Vegas sun is intense.
Bring a debit or credit card. Cash is not accepted at the preserve.
Bring your reusable water bottle (our current favorites). Multiple water refill stations are onsite.
Bikes, skateboards, scooters, dirt bikes, four-wheelers, or other recreational vehicles are prohibited.
Keep your distance from wild animals, which include mammals, reptiles, invertebrates, and 150+ migratory birds.
Only service animals (not emotional support) are allowed and must stay leashed.
Would you visit Springs Preserve in Las Vegas? When was the last time you went to your local Botanical Gardens?
Did you enjoy this post? Pin it for later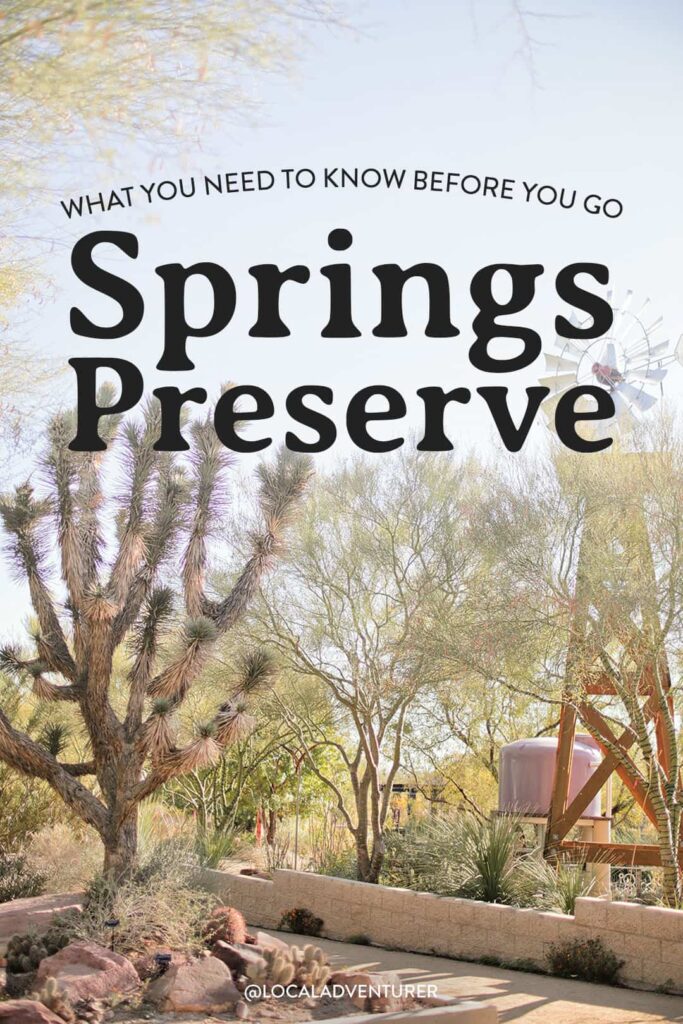 SEE MORE LAS VEGAS GUIDES
⟡⟡⟡⟡⟡
"Discovery consists not of seeking new lands but in seeing with new eyes" – M. Proust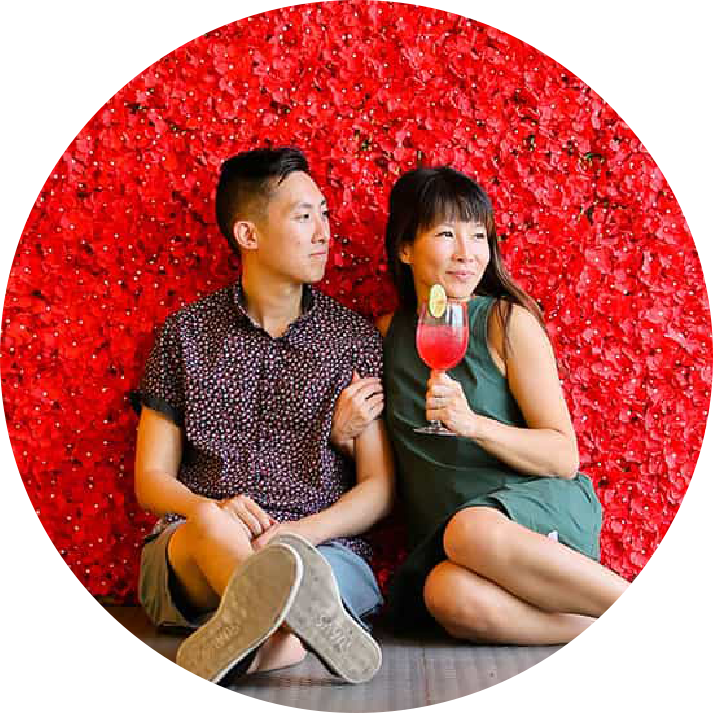 Esther + Jacob
Esther and Jacob are the founders of Local Adventurer, one of the top 5 travel blogs in the US. They believe that adventure can be found near and far and hope to inspire others to explore locally. They explore a new city in depth every year and currently base themselves in Las Vegas.
Follow on Instagram (E + J), YouTube, TikTok, and Pinterest.