We never realized how much it rains in Portland until we moved here at the turn of the season. We've visited at least once a year, but it always happened to be summer. The summers in Oregon are glorious, and the people here live for them.
The "weirdness" of Portland aside, the biggest thing I first noticed were people wearing waterproof gear rain or shine. Even on days with sunny forecasts, people still assumed there will be rain. Knowing it would be vastly different from sunny San Diego, we slowly started shifting over our wardrobe. We packed away our beloved flip flops and swapped them out for rainboots.
If you're planning on visiting or moving, we put together some tips on how to dress in Portland (a practical guide).
Pin
THE BASIC RULES
Be Prepared for Rain – As you can see, rain is just a fact of life up here. Regardless of what season you're visiting, come prepared with a raincoat.
Skip the Umbrella! – Locals don't use them and honestly, they're kind of a pain. A raincoat is always preferred, and if it's just a light mist, most locals just suck it up and deal with it.
Be Prepared to Get Outdoors – Portland is a great hub for outdoor activities. You can explore the high desert, drive out to the coast, go hunt waterfalls, or play in the water. If you're waiting for it to stop raining to before you go out, you'll be sure to have cabin fever.
The Style – People wear a lot of muted colors here. If you want to blend in, think clothes from the 90s or outdoor casual. You can basically do all your shopping at REI, Patagonia, or Arcteryx (if you want to get fancy and pretend to be extra outdoorsy 😜). We like our bright reds, and it doesn't matter to us because Asians stick out like a sore thumb anyway.
Always Pack Layers – Depending on what you're doing each day, the weather can change based on where you are. It may be nice and warm during the day in the city, but when you head out to the gorge and do a hike, the temps may drop. Then as you head up to Pittock Mansion for sunset, it will be much cooler and windier. It's always good to have layers prepared so you can adjust accordingly.
Don't Forget Your Shoes – Because it rains a lot, think about your footwear. Waterproof boots are a good safe bet throughout the whole year.
WHAT WE WEAR
On an average day, this is now what we look like and our typical day to day outfit. What you layer under doesn't matter as much. Lately, I've been switching more of my wardrobe to include more performance pieces, and while it's not 100% necessary, I love my quick dry pants!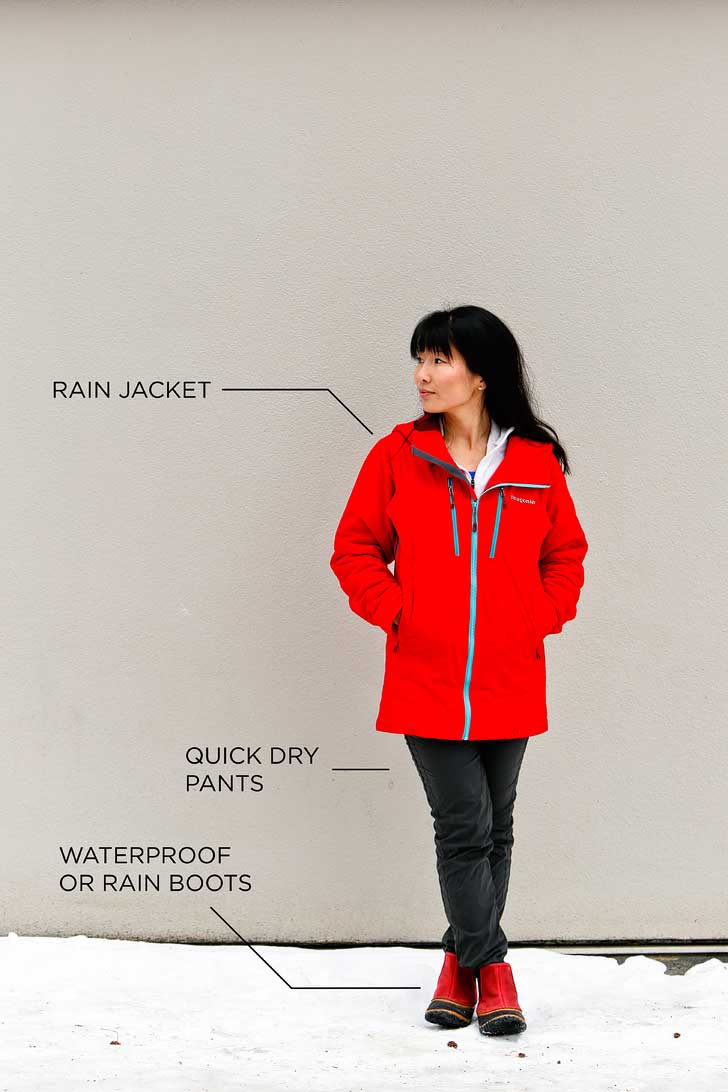 Pin
Jackets (hers)
Tops / Layers (hers)
Pants (hers)
Waterproof Shoes (hers)
Miscellaneous (hers)
Pin
Jackets (his)
Tops / Layers (his)
Pants (his)
Waterproof Shoes (his)
Miscellaneous (his)
SEASONS AND TEMPERATURES
Although there are four distinct seasons in Portland, none of them are extreme.
Summer starts in July and runs to September. It's the driest time of year and what people move to Portland for. Temperatures average around 80, with a spike over 100 for a day or two each year. Nights stay around 60 degrees.
Fall is a short season and usually runs from October to mid-November. Temperatures start dropping to the high 60s and low 70s, with nights in the mid-50s. As the month progresses, temperatures drop another 10 degrees. The trees start changing colors but won't stay for long.
Winter usually comes in mid-November and goes until mid-March. Temperatures stay in the 40s and 50s, but it will get below freezing a few times throughout the season. It rains a lot and a typical winter will bring some snow 4-5 times per season.
Spring continues to stay wet and rainy, but temperatures begin to rise 10 degrees each month. Between mid-March and June, you'll slowly see it transition back into summer.
HOW MUCH DOES IT REALLY RAIN IN PORTLAND?
Portland is known for its rain. Interestingly enough, the city doesn't make the top ten U.S. cities with the highest annual rainfall. Where it excels (or blows depending on viewpoint) is the number of rainy days. Portland ranks third on the list of cities with the rainiest days with 164 rainy days a year.
NOAA (National Oceanic and Atmospheric Administration) has kept weather data for over 50 years in Portland and here are some of the interesting stats:
Annual Sunshine – The suns shines about 48% of the time. Out of a possible 267,955 minutes, Portland averaged 128,618 minutes of the sunshine between 1951 and 1995.
Winds – The prevailing winds in the between April and September is NNW at 6.5 -7.6 mph. The winter months bring winds from the ESE.
Rain – Nearly 90 percent of the annual rainfall occurs from October through May.

Pin
Even if you're visiting in the summer, we highly recommend bringing a light raincoat.
DOES IT SNOW IN PORTLAND?
Yes, it does snow in Portland and its surrounding areas. The biggest factor is elevation. The city itself doesn't receive much snowfall each year, but it could be rain in the city and snow up on the hills. We live on the east side of the city, and often times our friend who lives up in the west hills will get snow when we're only seeing rain.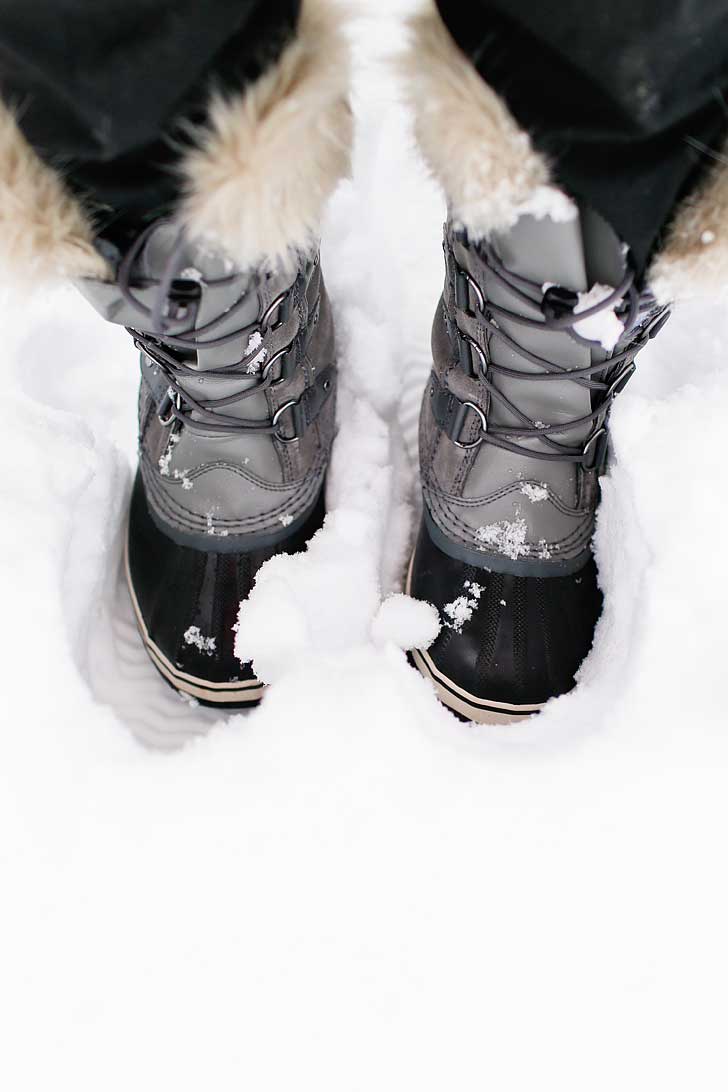 Pin
Pin
Since we moved, we've seen quite a bit of snow. A couple of weeks ago we even had a 24-hr period of constant snow resulting in one of the largest snowfalls in a long time. People keep telling us that this was the worst year to move here and that they've never seen so many snow days in the low 30s. Blame it on El Niño or whatever you want, but just come prepared!
Do you try to avoid traveling to cities during their rainy season? What are your favorite rainy cities?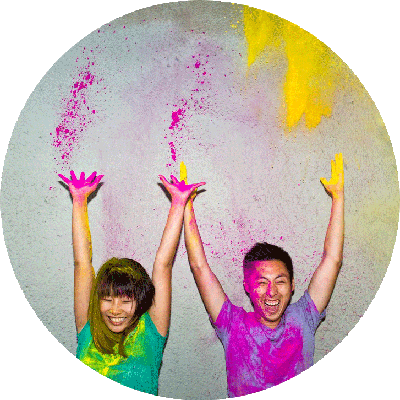 Pin
ESTHER + JACOB
Esther and Jacob are the founders of Local Adventurer, which is one of the top 50 travel blogs in the world. They believe that adventure can be found both near and far and hope to inspire others to explore locally. They move to a new city every year and currently live in Portland, Oregon.