When we decided to move to NYC, there were a few things we couldn't miss, one of which is Manhattanhenge. With the event just around the corner, we put together this guide for those of you wanting to witness this phenomenon.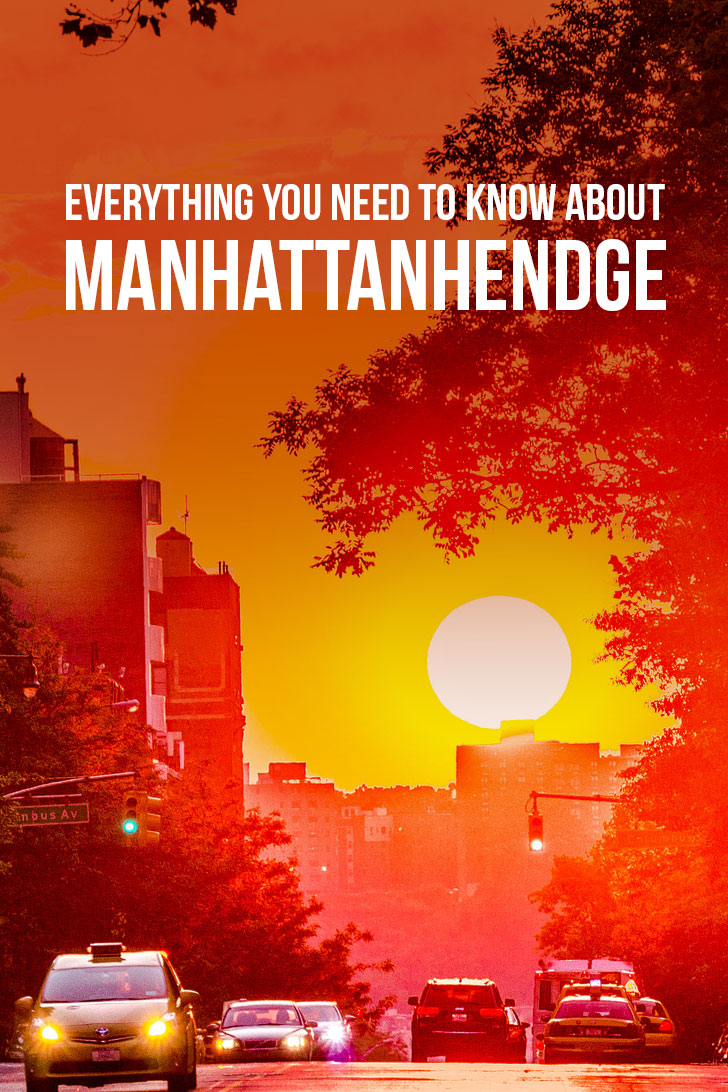 photo: Eric Gross/cc
WHAT IS MANHATTANHENGE?
Manhattanhenge is when the sunset perfectly lines up with the east-west streets on the main street grid in Manhattan. Every year, it happens twice over a two day period. On one day you can see the sun in full and on the other day you get a partial view of the sun.
Fun Fact: Neil deGrasse Tyson actually coined the term 'Manhattanhenge'. He mashed up Manhattan with Stonehenge since you can see the sun through the center of the monument during the summer and winter solstices.
WHEN DOES MANHATTANHENGE HAPPEN?
The streets of Manhattan are 29 degrees from a true east-west direction, making Manhattanhenge fall on two separate dates surrounding the solstice. It typically happens around May 29th and July 11th, but the exact date varies from year to year.
The Museum of Natural History typically announces the precise dates of Manhattanhenge on their site. If you're interested in learning more, they have public programs prior to the event at the Hayden Planetarium to learn more about it. To see the latest updates, visit their Manhattanhenge Page.
Manhattanhenge 2018 Dates*:
May Dates:
May 29, 8:13 PM (Half Sun)
May 30, 8:12 PM (Full Sun)
July Dates:
July 12, 8:20 PM (Full Sun)
July 13, 8:21 PM (Half Sun)
*Information from American Museum of Natural History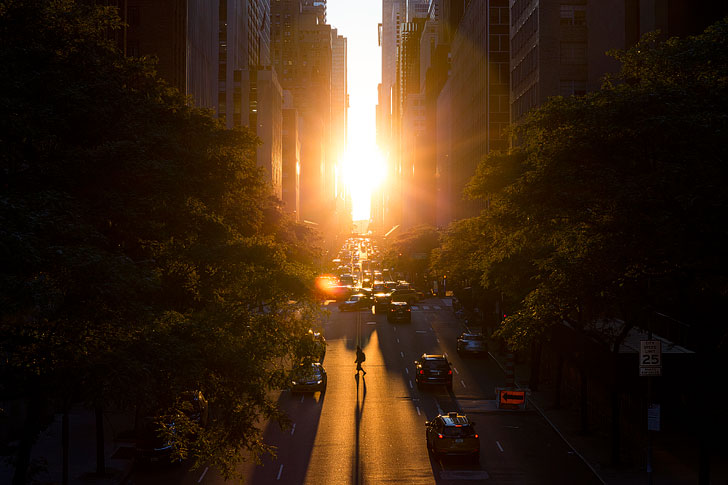 photo: wsifrancis/cc
WHERE TO SEE MANHATTANHENGE
It's best to stand as far east in Manhattan as possible. When you look west, you should still be able to see New Jersey. Some of the best streets are:
14th Street
23rd Street
34th Street
42nd Steet
57th Street
Additional viewing areas are
Tudor City Bridge (between Grand Central and the UN)
Empire State Building (34th Street View)
Chrysler Building (42nd Street View)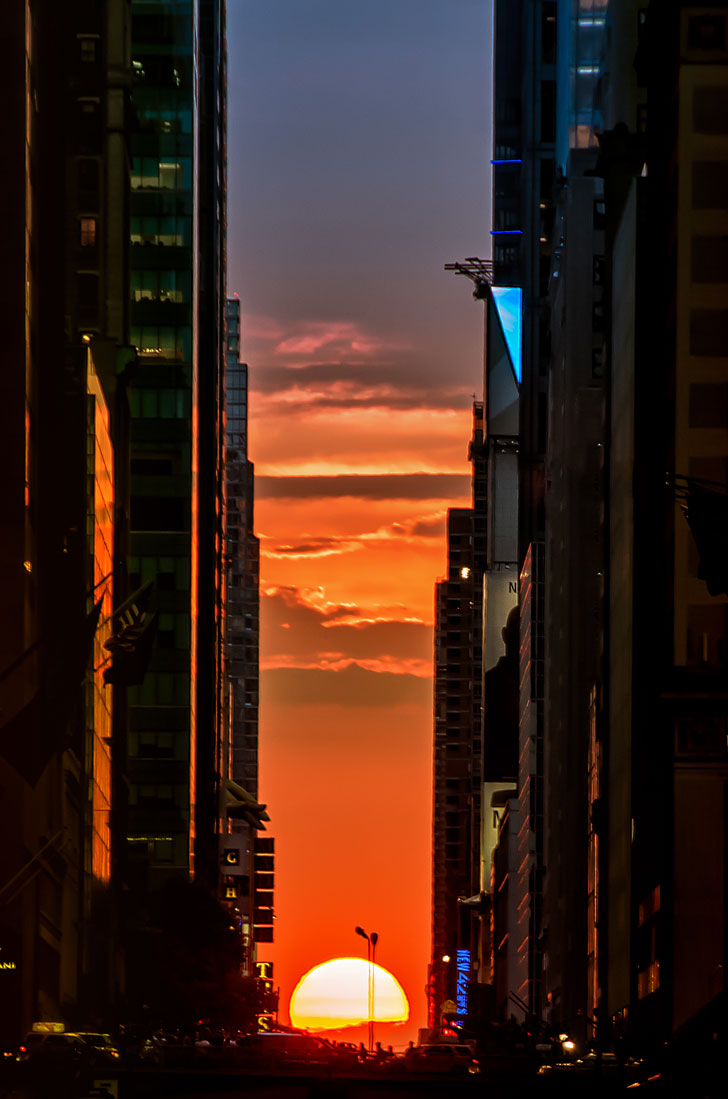 photo: 5oulscape/cc
ESSENTIAL TIPS FOR MANHATTANHENGE
The Museum of Natural History suggests arrive at least 30 minutes before sunset, but as the phenomenon has become more popular, we would suggest at least an hour to scout for the best spot.
Bring a tripod. It will help claim your space and set up for the shot beforehand. This is the one that we use.
Use a long lens to compress the buildings in the foreground with the sun in the background. We will be using our 70-200mm lens and may even bring our 2x extender. (note, we shoot with a 5D Mark III)
Check the weather before you go. If it's going to be cloudy, try for the next date.
You can apparently catch the Sunrise Manhattanhenge as well from 34th or 42nd Street looking east towards Long Island City's Gantry Plaza State Park. Arrive 30-60 minutes before sunrise to get set.
We'll be updating the post after with our own photos and any other tips we've learned from our experience.
Have you heard about this phenomenon? 
DID YOU ENJOY THE POST? PIN IT FOR LATER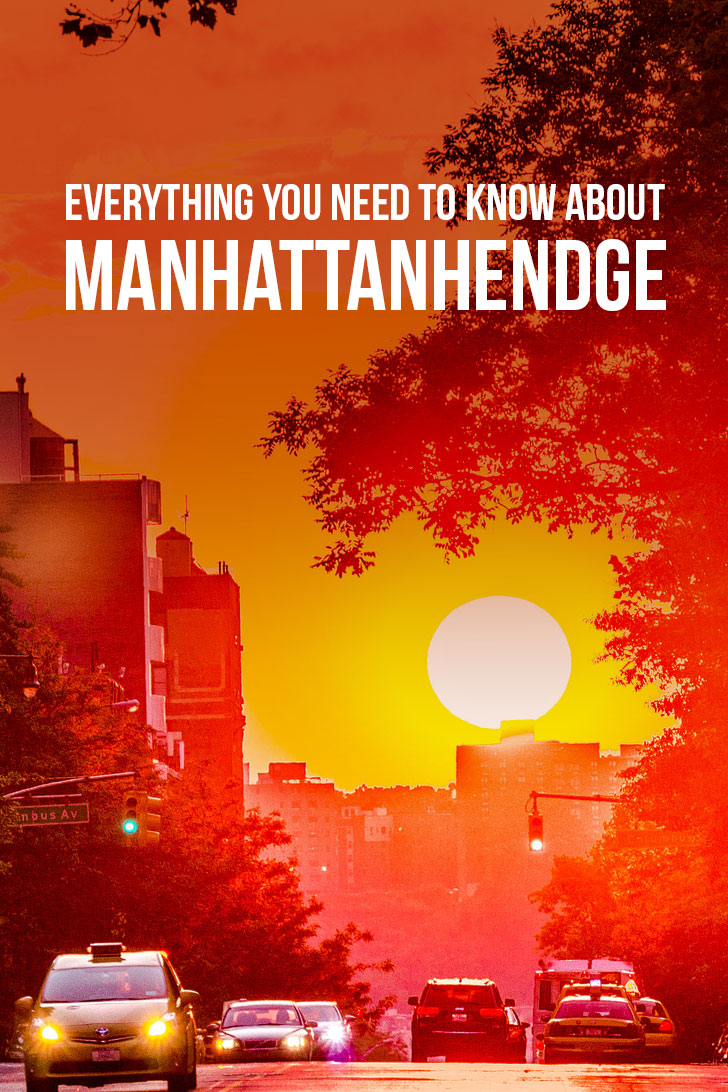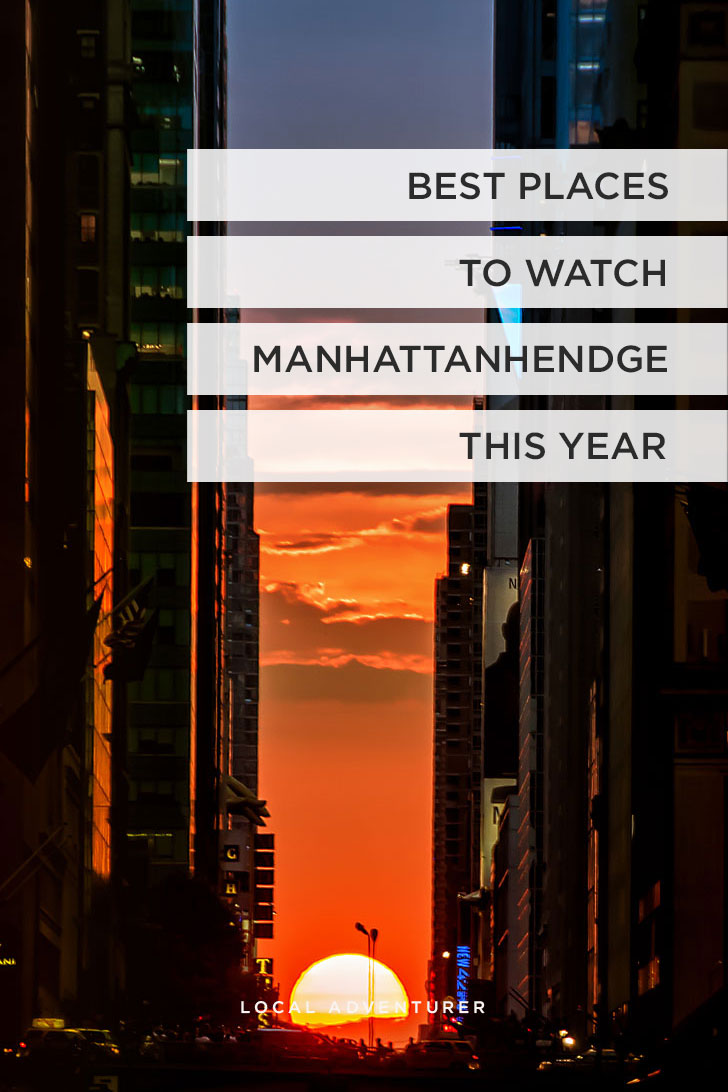 ESTHER + JACOB
Esther and Jacob are the founders of Local Adventurer, which is one of the top 50 travel blogs in the world. They believe that adventure can be found both near and far and hope to inspire others to explore locally. They explore a new city every year and currently base themselves in NYC.