First time visiting NYC? This is what you need to know before going.
There is no city like New York. If it's your first time visiting, you probably already have an image in your head of what the experience will be like from TV shows and movies, but you'll quickly realize that reality may not align with your expectations.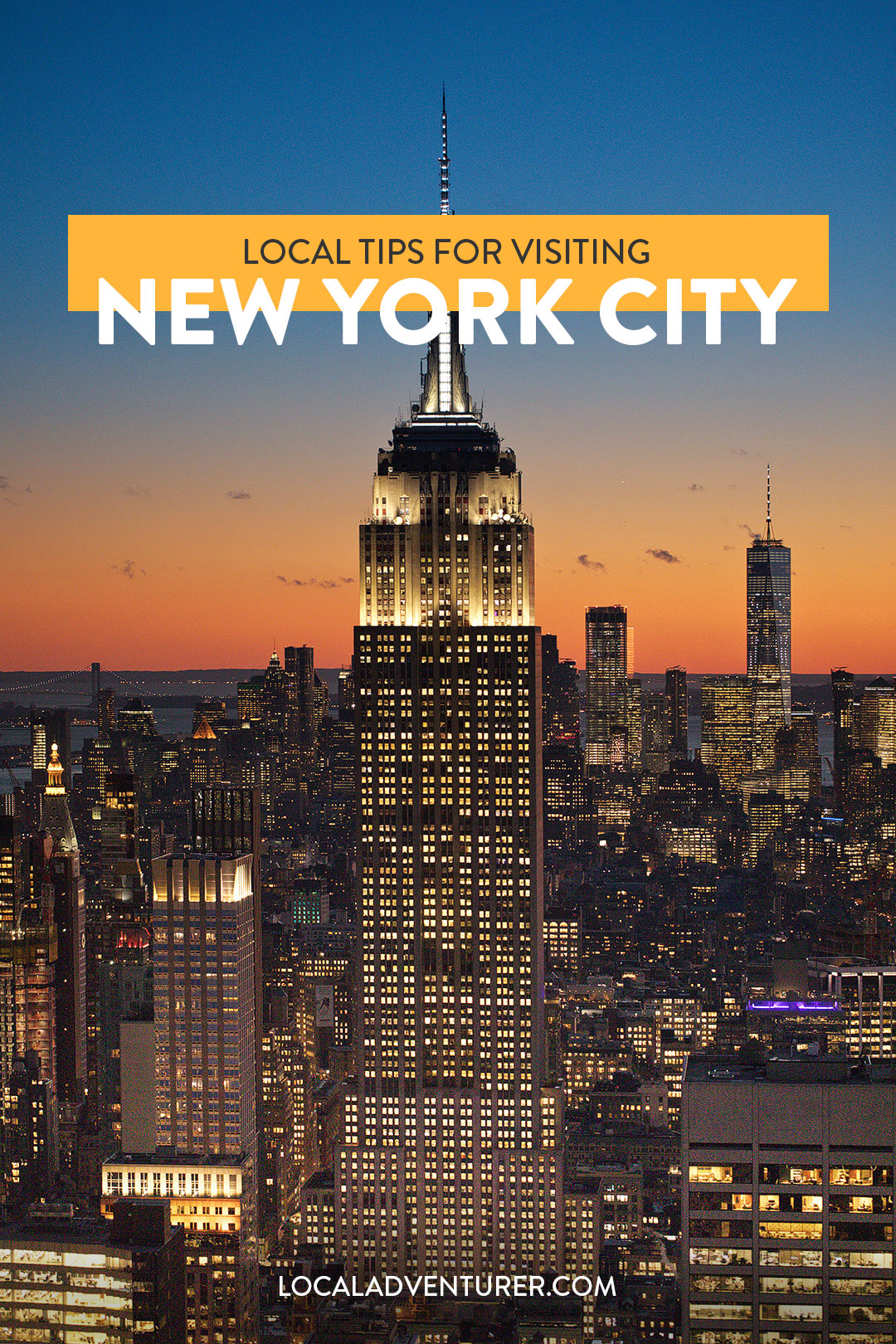 This post may contain affiliate links, where we receive a small commission on sales of the products that are linked at no additional cost to you. All opinions are always our own. Read our full disclosure for more info. Thank you for supporting the brands that make Local Adventurer possible.
Last Updated: May 2, 2023
21 Tips for Visiting New York
We moved here 3 months ago and have gotten tons of advice from friends who've lived here most their lives, but we're still learning a lot as we go. We'll continue to edit what we find throughout the year. Here's our list of things we wish we knew before our first visit.
All illustrations used are with the permission of Nathan Pyle, our new favorite illustrator!
1. Best Time to Visit
New York seems to always be busy, but that busyness is multiplied exponentially during any of the major holidays. If you want to avoid the crowds, don't come around Christmas and summer. Summer is also very hot and humid, so if you can, visit during the Spring and Fall. If you're not afraid of the cold, mid January to February is great, because most people don't want to be here.
2. The City is Easy to Navigate
NYC includes all 5 boroughs, but when locals refer to the city, they mean Manhattan. When you're surrounded by massive buildings, it can be very disorienting and overwhelming, but the city is easier to navigate than you think. Here are a few simple rules to help you out:
The city is set up like a grid (for the most part).
All horizontal streets are numbered with the lowest numbers at the bottom of Manhattan.
All vertical streets are called Avenues. These blocks are giant blocks.
Google Maps works great.
Don't be afraid to ask for directions.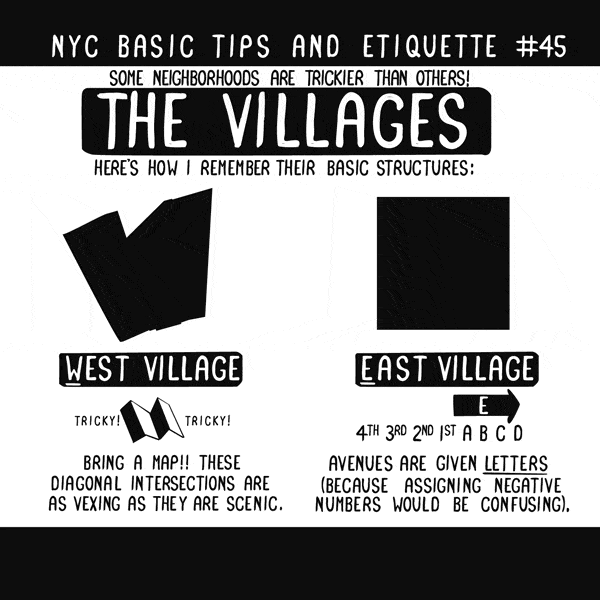 3. The Subway is Easy Too
A lot of people get intimidated to use the subway, but for the most part, the subway system is well labeled and easy to use too. Here are just a few rules to help you get around.
Even though you use a MetroCard, no one calls it the metro. It's either the subway or train.
A lot of times the subway is faster than hopping in a cab or Uber.
Google Maps works great for subway directions too. Every time I thought I was smarter than google maps, I ended up being wrong. If you are using Google Maps for subway directions, screengrab them before going into a station. You lose GPS and sometimes service all together underground.
Know which direction you're heading (downtown is to the lower numbers, uptown is to the higher numbers).
Pay attention as you enter the subway. Some entrances only get you to one side of the platform (ie. to a train heading downtown). You usually have to cross the street to find the opposite (i.e. uptown) train. This is what I had the hardest time with!
Give yourself extra time to get where you need. No matter what transportation you're trying to use, there might be traffic, subway delays, stalled lines etc. If it should take me 30 minutes or less to get somewhere, I give myself an extra 10 minutes, if it takes 30-60 minutes to get there, I give an extra 20 minutes.
The trains run less frequently late at night and during the weekends. Be prepared to wait.
Look out for signs to see if the train schedule or stops have changed.
During busy times, if you see an empty subway car (and the rest are packed to the brim), don't think you found the secret car no one else saw. Usually, it means the locals know something you don't, like that the AC is out or there's a really strong odor.
Pack in the subway and don't expect to have personal space during rush hour. Since we have flexible schedules, we try our best to avoid it.
When the subway is full, take your backpack off and hold it between your legs, since that's also valuable space! Also, don't take up a seat with your stuff. Put it on your lap.
Let people exit before you try to get on. Line up along the subway away from the doors.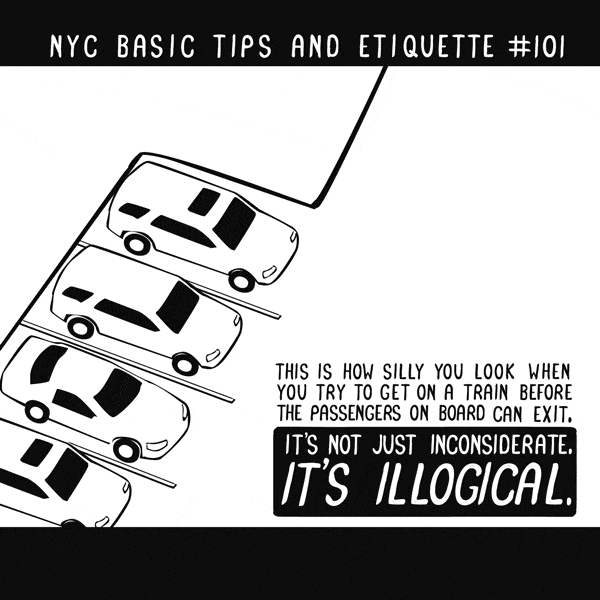 You also have a few options when buying a MetroCard. The most straightforward way is putting money on a card. Each ride then deducts from that amount. You can also purchase unlimited time for X number of days on the card. Since we live in the city, I did the math so I know when to buy unlimited or when to just pay the per-ride rate. Here's what you need to know.
The same card can be used to add money or add time.
You can add money or time on most machines.
Each ride costs $2.75.
If you plan on riding the metro 13 times or more in a week, buy the 7-day unlimited.
If you plan on riding the metro 47 times or more in a month, buy the 30-day unlimited.
4. Don't Stop Walking
New Yorkers walk fast, and a guaranteed way to piss someone off is making a sudden stop in the middle of the sidewalk. The city has a flow to it, so try not disrupt that flow. We've witnessed plenty of angry locals. If you want to take a photo or look up directions, step to the side. I'm terrible at directions and am always disoriented coming out of a stop. Should I be on the NE corner? The SW? It always impresses me how many people just keep on walking and know their way around the city.
Also, if you're traveling in the group, be mindful of blocking the sidewalk. Leave space so people can get around you. This applies to stairs and escalators too. If you're going slower or want to stand there, stay on the right. The left lane is the fast lane.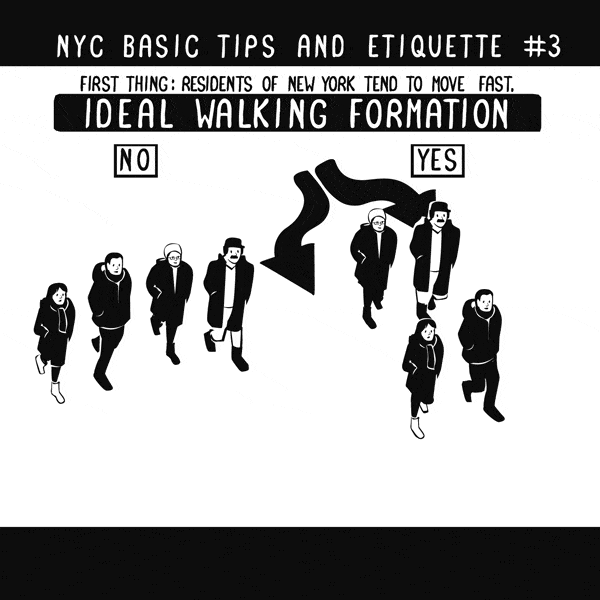 5. Never Trust a Puddle
Puddles in New York are out to swallow you whole. I've stepped in a couple thinking they were shallow, only to quickly find out that my whole foot goes in. Good thing I had waterproof shoes. Also, try not to stand too close to puddles or always keep an eye on cars. You know that movie moment when someone gets splashed by a HUGE wave a water from a car driving through a puddle? That happened to us.
6. It's Not That Dangerous
New York tends to have a reputation to be dangerous, and our parents routinely ask us if we're safe. It's generally a very safe city. Like any city, there are sketchier areas, but because there are always people out and about, it's not a bad place to walk around.
Do watch your belongings closely in touristy spots, that's where you'll find more scammers and pickpockets trying to take advantage of people. Just don't look like a clueless idiot, use common sense, and you should be fine.
7. Bode-What? What's a Bodega?
Bodegas are found at almost every corner of the city. They are quite perplexing since they don't really exist anywhere else in the states. Think of a small grocery store mashed up with a sandwich shop crammed into a tiny space. Lots of times, they'll have a random assortment of snacks, sometimes they'll have a flower shop attached, and others are known specifically for their sandwiches. Regardless, it's convenient when you need to grab some quick supplies. If you're still confused about what's a corner store, deli, or bodega, here are 11 ways to know if it's a legit.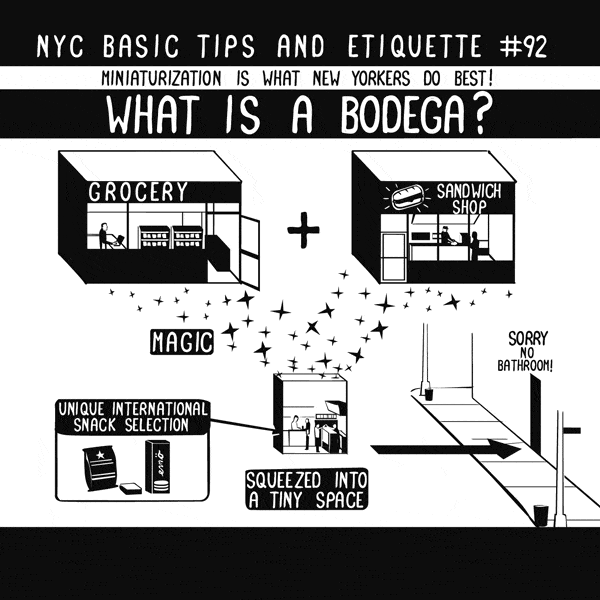 8. When You See It, Use It!
Public bathrooms are not always easy to find. Bodegas don't have them and most restaurants require you to be a paying customer. When you do find a public restroom, be sure to try and go so that you don't find yourself in a tight spot. Locals have their favorite secret public restroom spots. Should we do a post on this or will we piss off all the locals?
9. Have a Plan to Get to and from the Airport
New York has two main airports, LaGuardia and JFK International Airport. They are chaotic and it can be overwhelming trying to figure out the best way to the city. A couple things to keep in mind:
Give yourself plenty of time to get to the airport. During peak hours, it can take an additional 30-45 minutes when there's traffic.
If you plan on taking a cab, look for a yellow cab taxi stand. Don't use any unofficial cabs because they can rip you off.
Uber or Lyft works from the airports but it can get pricey.
The cheapest way to get into the city is to the take public transportation. From JFK, take the AirTrain to Howard Beach, which will get you on the local subway. From LaGuardia, the M60 bus takes you to Manhattan.
If you ever have a long layover or need to store your luggage while you're out adventuring, check out Luggage Hero. You can search by city, find a convenient location, and pay by the hour or day.
10. Airbnb's are Illegal
Well, not completely. It's legal if you stay for 30 days or more or if the owner is present the entire time (ie renting their couch or extra room). If you're visiting NY on a shorter stay, hotels are the way to go. Hostels are also illegal and the few hostels that legally operate are registered as hotels with hostel-like amenities.
11. Know How to Hail a Cab
Hailing a cab is an art form. It rarely looks like what you see on TV, but with a few tips, you can be an expert too. Firstly, get close to the street and maybe even have a foot out onto the street (if it's safe and there is space for you). Secondly, keep an eye on the lights on the tops of the taxis. If the light is on, then someone is already in the cab. They also have "off duty" lights, so don't bother with those cabs. Once you see your target, raise your hand in the air and be ready to hop in when they stop for you.
12. Save Money Sightseeing
Going sightseeing in New York doesn't have to break the bank. Check the New York CITYPass if you're looking to visit some of the most popular attractions. There's also a ton of free things to do.
13. Pay What You Like Pricing
There are quite a museums in New York that are Pay What You Like. They usually don't advertise it very large, and instead, show you what the suggested donation is, but if you're on a budget, you can visit these museums and pay one or two bucks. We have a thorough list of all those places here. Don't be surprised if you get some dirty looks though.
14. Don't Limit Yourself to Manhattan
Most tourists stay in Manhattan, and generally in the central part of the city. Don't spend too much time in the tourist spots like Times Square.  If you've never been to Times Square, you should absolutely go to witness it, but unless you're seeing a Broadway show, it's better to use your time exploring the rest of the city. The same goes for most of the other tourist spots.
Once you venture outside, you'll realize there's a lot to explore in Manhattan and even more in the other boroughs. Brooklyn and Queens are close by and offer a completely different feel.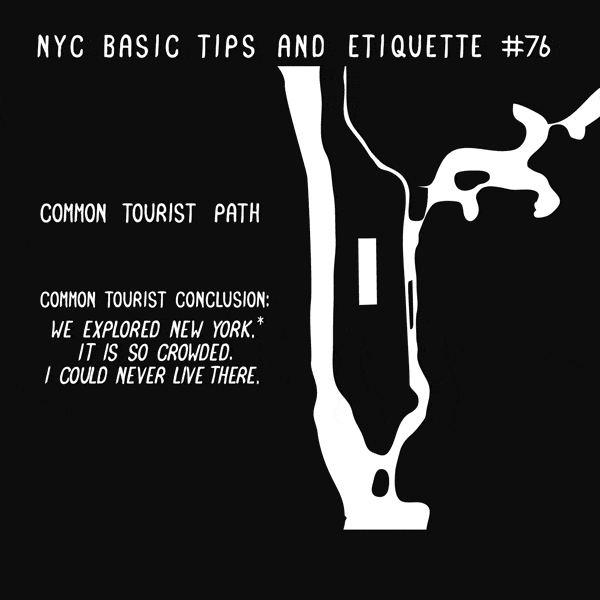 Central Park is an exception to the rule, because it is massive. Most people crowd the Mall and Bethesda Fountain and forget to explore other areas of the 800-acre park. There's a tribute to John Lennon, reservoir, the Rambles, a waterfall, and more. Even some of our friends who have lived here 10+ years haven't been to all corners of the park.
See More: 45 Central Park Secrets Plus Famous Attractions You Can't Miss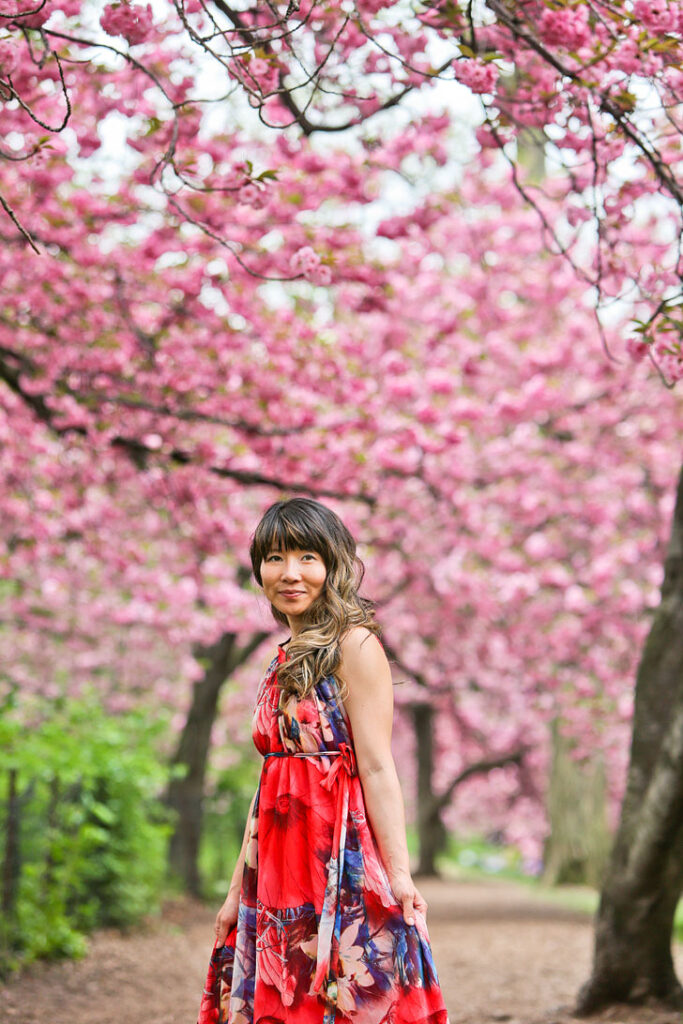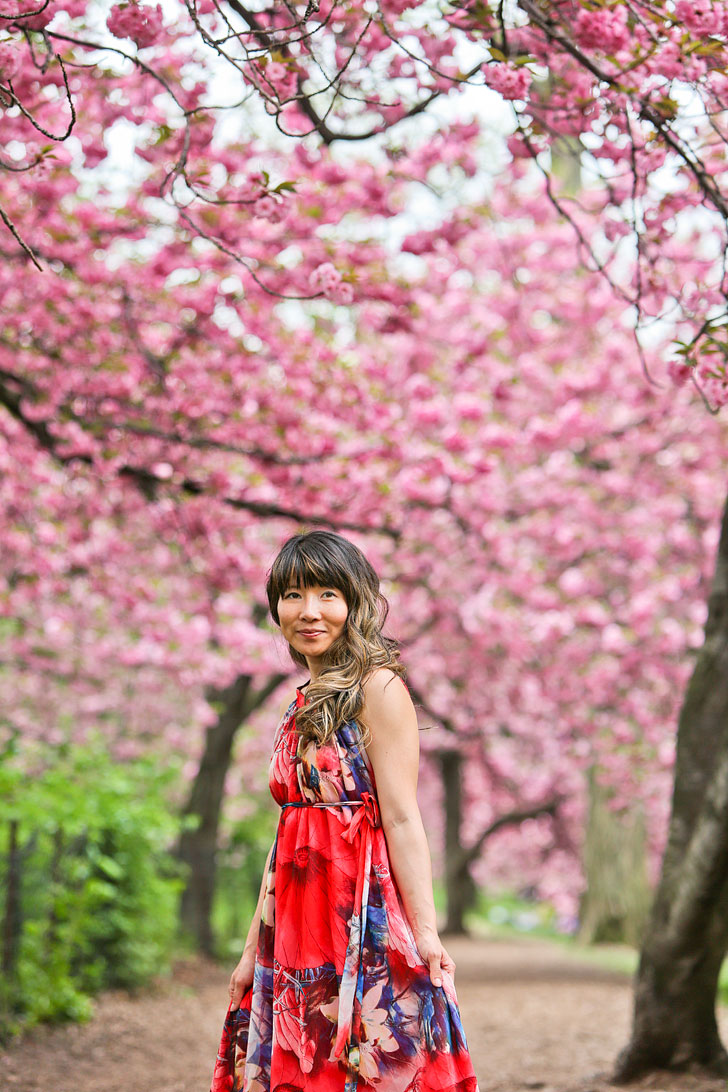 16. Think Weekdays, not Weekends
Weekends bring huge crowds to popular spots, like the High Line. If you want to see any of the major visitor spots, consider going during the week to avoid ridiculous crowds.
17. Go Early or Go Late
Along the same lines, try visiting very early or really late. Things start to get crowded late morning and they usually stay crowded through the middle of the day.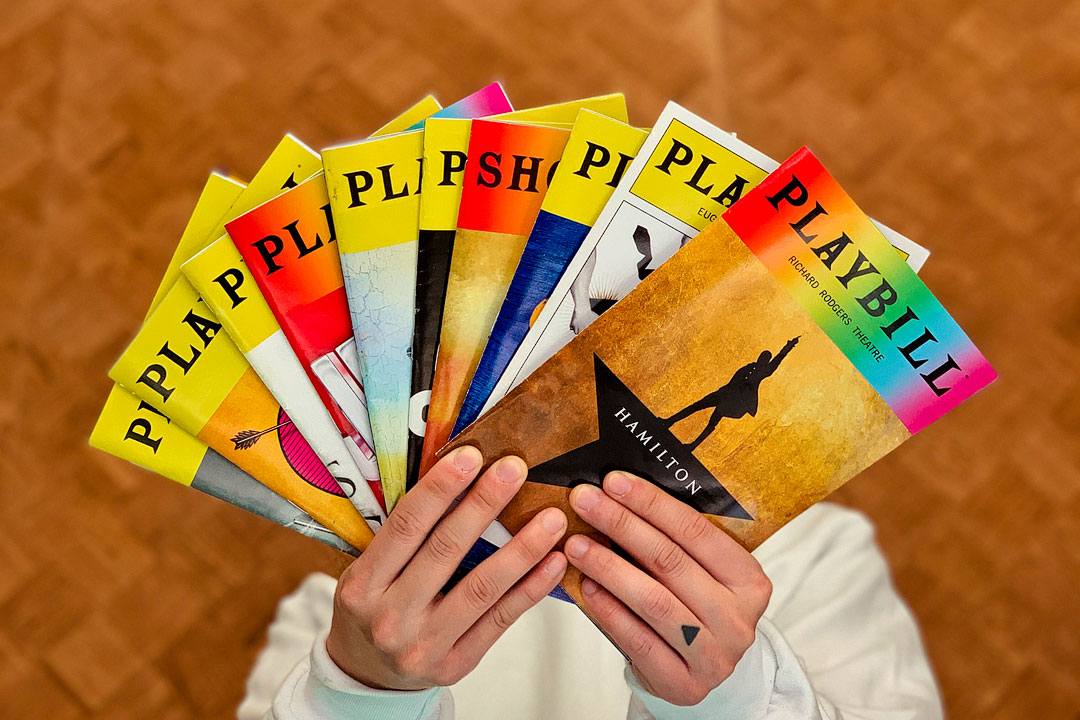 19. Get Used to Waiting
There are a lot of restaurants in the city, but there are also a ton of people! If you haven't made plans or reservations, be prepared to wait for dinner. It's common to have a 45-minute wait during peak hours.
20. Big City, Small Neighborhoods
Even though it's a big city, New York has distinct neighborhoods and villages. Each neighborhood has its own flavor and specialty and can probably keep you busy for an entire day. Here are just a few we've been exploring:
Lower East Side (LES) – lots of bars, restaurants, and nightlife. We really liked Drexler's during happy hour.
Chelsea – Art galleries and the Chelsea market
Chinatown – We go here for dim sum and cheap food!
Midtown – some of our friends live here, so we've been eating and hanging out in this area a lot. It's close to Central Park, Broadway, and all the tourist attractions.
SoHo – lots of popups and shopping
Greenwich Village (the Village) – hip bars, cafes, shops, and Washington Square Park
Hell's Kitchen – tons of great food, including our favorite ramen.
Long Island City (LIC), Queens – rock climbing! We live in the more industrial part of LIC where there are lots of high rises in construction, but we love being near both Brooklyn Boulders and Cliffs. You also get amazing views of the Manhattan skyline. See our favorite climbing gyms in NYC here.
21. Pack Right
It's important to pack right for New York. We put together a guide for surviving Winter in NYC, but here are some general rules that you can use year-round.
Wear black if you want to blend in.
Bring a pair of walking shoes. You will be doing a lot of walking so you want shoes that are comfortable.
Always bring layers. No matter what time of year it is, you'll be indoors then outdoors, then back indoors, then outdoors again. Temperatures can change drastically and it's good to have layers so you can pile them on or take them off as needed.
You'll probably be using your phone a lot in the city, so bring an extra charger with you to stay charged.
Backpacks are really helpful to keep everything together, but also giving you the freedom to have both hands when needed.
Bring a lock. There aren't too many places that have lockers, but we did find a few where we wished we had our lock on us.
See More: 17 Best Travel Backpacks You Need To Check Out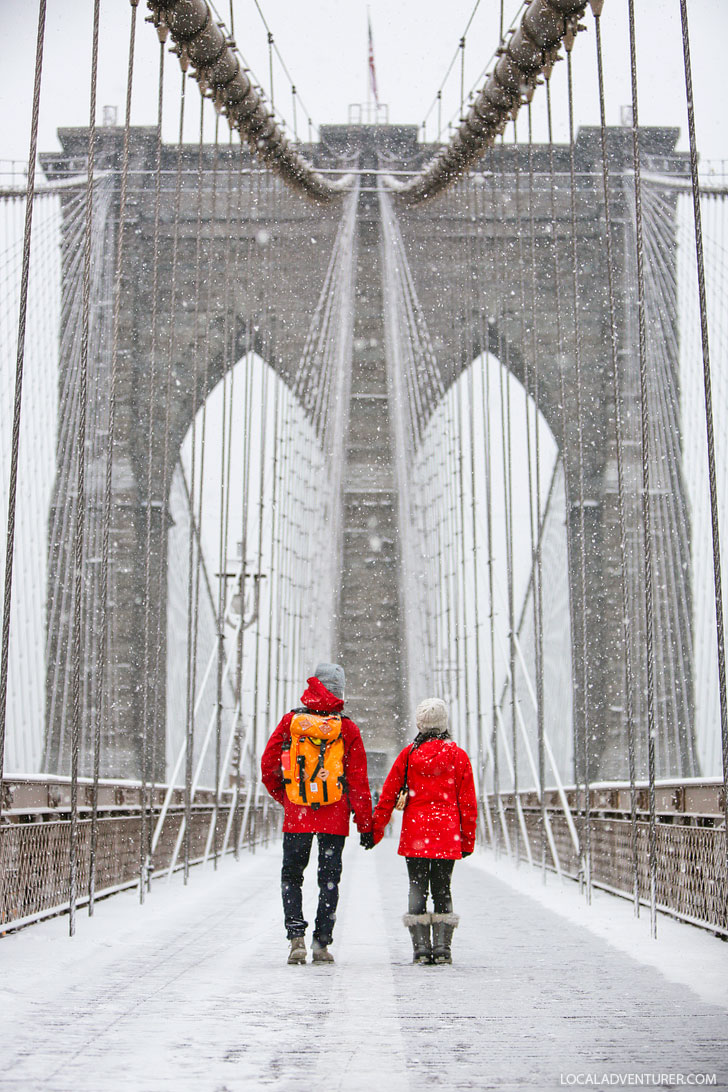 If you liked the illustrations above, check out Nathan's book NYC Basic Tips and Etiquette book.
Best Places to Stay in NYC
How many of these things did you know? Are we missing any other tips?
Did you enjoy this post? Pin it for later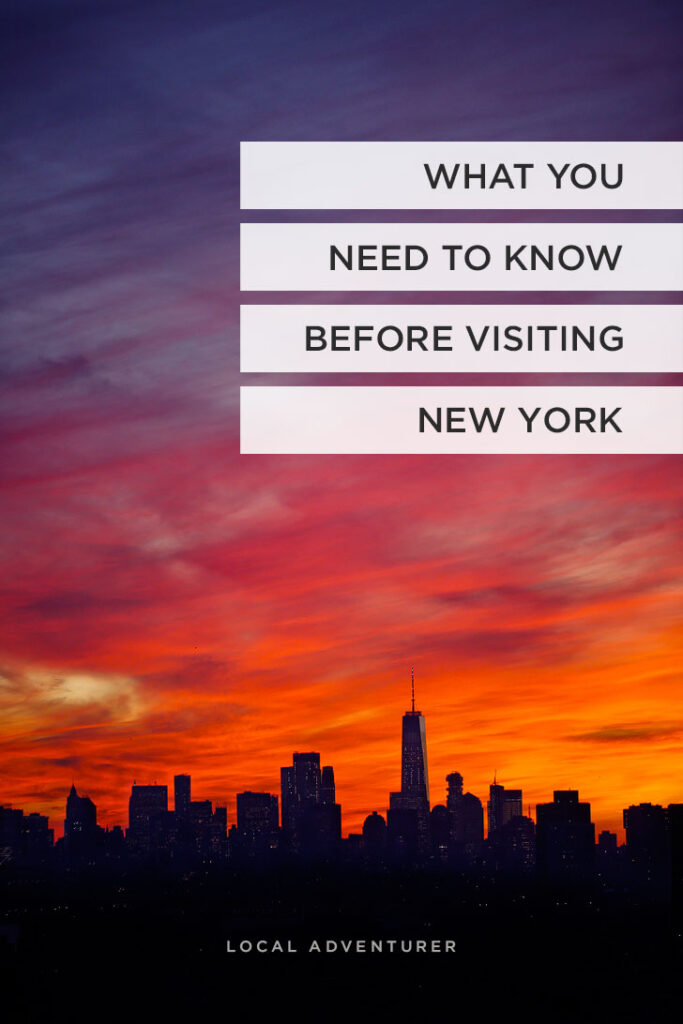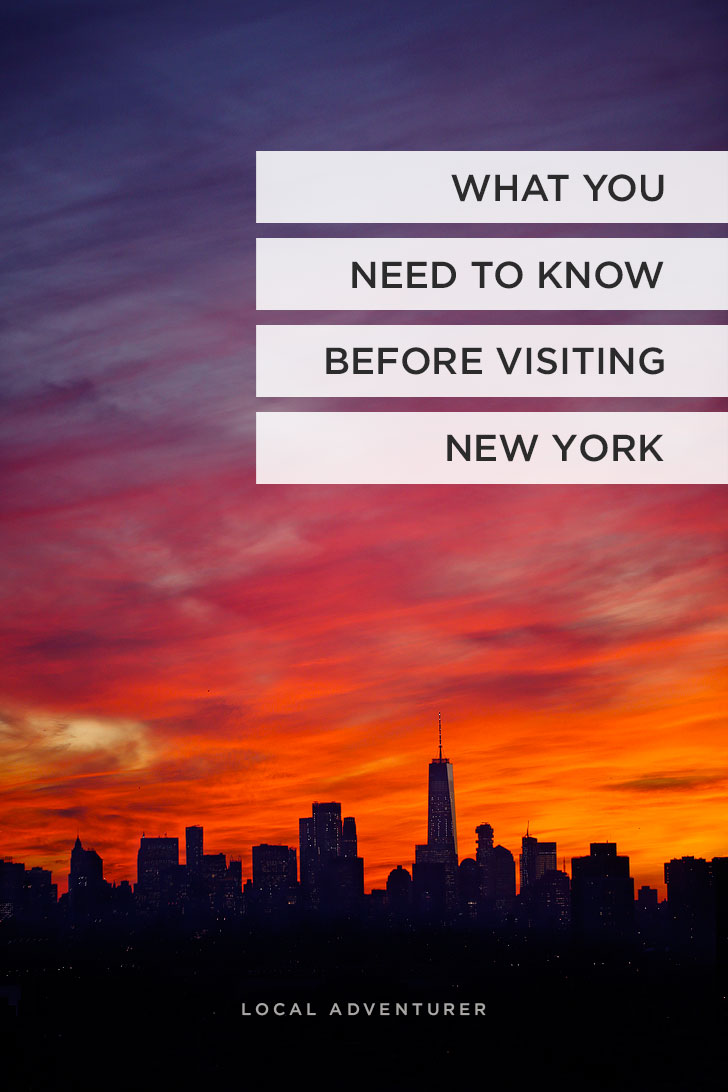 See More USA Guides
⟡⟡⟡⟡⟡
"Discovery consists not of seeking new lands but in seeing with new eyes" – M. Proust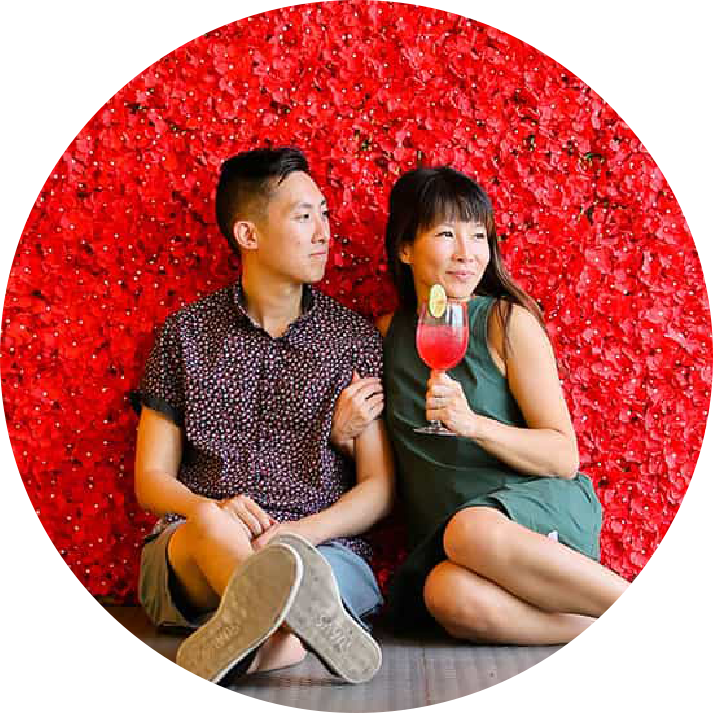 Esther + Jacob
Esther and Jacob are the founders of Local Adventurer, one of the top 5 travel blogs in the US. They believe that adventure can be found near and far and hope to inspire others to explore locally. They explore a new city in depth every year and currently base themselves in Las Vegas.
Follow on Instagram (E + J), YouTube, TikTok, and Pinterest.