Have you done an escape room? As we were looking for ways to escape the winter in NYC, escape rooms kept coming up as one of the best things to do indoors. There are a TON of escape rooms in NYC, so we decided to challenge ourselves this year and do all of them (or as many as we possibly can) to figure out which ones are worthwhile.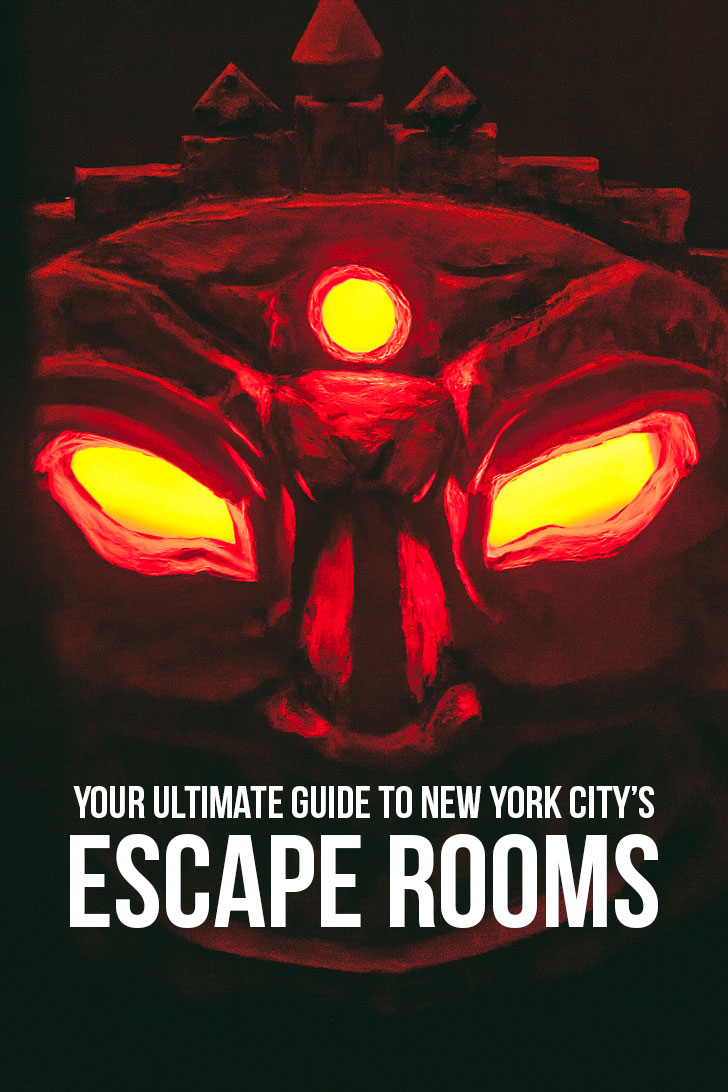 A big thank you to all the escape rooms for hosting us. All opinions are always our own. This post may contain affiliate links, where we receive a small commission on sales of the products that are linked at no additional cost to you. Read our full disclosure for more info. Thank you for supporting the brands that make Local Adventurer possible.
Last Updated: May 10, 2019 // First Published: April 2, 2018
YOUR ULTIMATE GUIDE TO New York City ESCAPE ROOMS
We made it through 9 rooms and definitely want to check out more. Which other rooms do we need to check out?
Need to Escape Quarantine?
While escape rooms are closed, there are still some options to get in some practice.
The Escape Game has remote adventures, which was a really fun experience. Through zoom, you direct someone in the physical room to solve the puzzles. They have an online dashboard with all your clues and it's really well done.
If you're looking for something with more flexibility, they also have online escape rooms. We did Vol 1 recently (pictured below) and plan to do Vol 2 soon. They also have an escape room board game you can check out.


For those of you who have never done an escape room, the goal is to escape a locked room within a given time limit (usually 60 minutes). The players have to use teamwork to solve a series of puzzles and riddles using the environment, clues, and hints. It's especially great for groups of friends, families, and corporate team building, but we've also seen couples do it by themselves.
Now that we've done 9 different escape rooms, we've seen a wide range of rooms. We've heard them described as generations.
Gen I has traditional puzzles and clues. It's very tactile and deals with solving the riddles. Think clues to figure out combinations for locks.
Gen II adds in some technology and mechanics. This usually means there will be fun and unexpected reveals. A lot of the rooms now include one or two of these.
Gen III is the closest to a real-life video game. It's very tech heavy. We only did one room that was like this.
For the most part, escape rooms will be Gen II. It will incorporate classic puzzles and key and lock type puzzles, but also have some surprise mechanisms.
Room: Prison Break (25% escape rate) – ESCAPED!
Puzzles: 4.9/5
Immersion: 5/5
Overall Fun: 4.3/5

When it comes to immersion, this one easily takes the cake. The set design is so realistic that Esther was really freaked out the entire time. You can tell they really invested in this when you compare escape rooms. There are a lot of puzzles that challenged us and we barely made it out in time. Any escape room fan should absolutely check out BrainXcape.
Note: There is no lobby to this place and you do not meet your gamemaster until afterward. Once you buzz in, you get started to be sure your team arrives together. This also plays into part of the immersion.
265 W 37th St Suite 802A, map
Room: Nemesis (10-15% escape rate) – ESCAPED!
Puzzles: 4.5/5
Immersion: 4.8/5
Overall Fun: 4.8/5
They did a great job of balancing challenge and fun. The puzzles were creative and fit well into the set, there were fun surprises, and the decor was really well done. They remixed common puzzles and made them feel new. The gamemaster did a great job timing clues to keep things moving but also keep it challenging. We also worked as a team through most of it. The only con was that the person who introduced us to the room made the experience less immersive.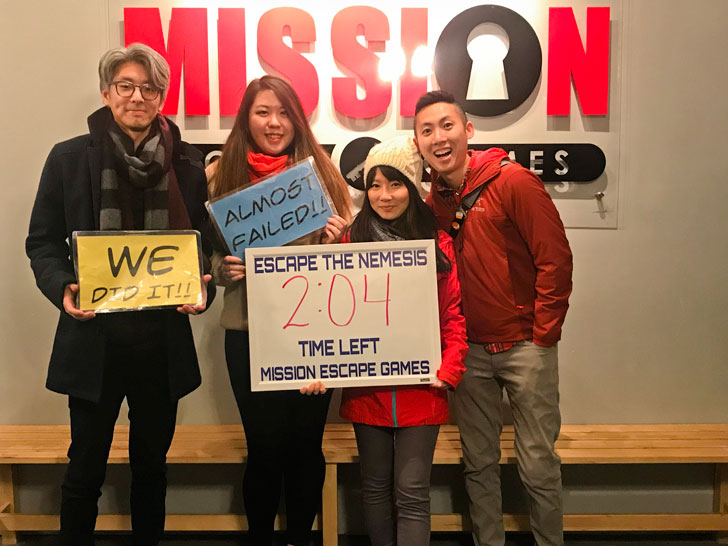 247 Water St Suite 106, Brooklyn, 11201, map
Room: Beat the Bomb (5% escape rate) – FAILED! Puzzles: 3.9/5 Immersion: 4.9/5 Overall Fun: 4.9/5 If you've been to other escape rooms, Beat the Bomb doesn't feel like an escape room. It feels like a real-life video game. You go through 4 different rooms in hopes to earn time for the final challenge, diffusing a bomb. The games were a lot of fun – especially the laser room – and they are very team oriented. The experience is very immersive as soon as you walk in. You even get suits to wear.
Pro Tip: They take photos for you and even record a video. We were hoping for better quality photos, but it's nice that they did this since none of the other escape rooms do this. Also, the suit protects you from the paint but since some can leak through, don't wear anything you don't want to get paint on.
Room: Ultimate Heist (25% escape rate) – ESCAPED!
Puzzles: 4.25/5
Immersion: 4.5/5
Overall Fun: 3.4/5
This escape room had so many puzzles that ran the whole gamut. A lot of them were bonus puzzles and weren't required to escape the room. This was overwhelming for us at first since you don't know which puzzles help you escape, but it's especially great if you have a large group since everyone can work on different ones. It had one of the best intros to an escape room and we loved how the gamemaster stayed in character the whole time. They also have an overarching puzzle that you can only solve by doing all of their rooms, which we found clever.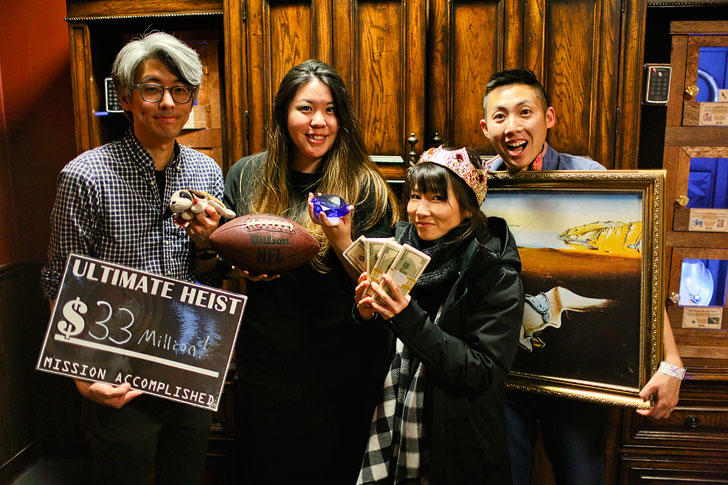 79 Leonard St, 10013, map
Room: The Experiment (40% escape rate) – ESCAPED!
Puzzles: 3.8/5
Immersion: 4/5
Overall Fun: 4.1/5
The puzzles were creative with fun surprises and reveals. The stage is set well and the room was well designed. The downside was that the puzzles weren't sequential, so we all split up to work on different ones. We also escaped this room quickly (in 32 minutes) and wished they added one or two more challenges.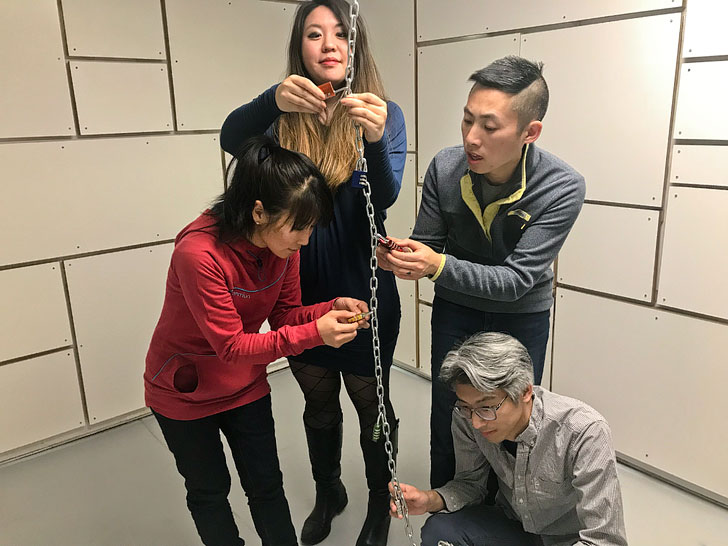 160 Pearl St #202, 10005, map
Room: Maze of Hakaina – ESCAPED!
Puzzles: 2.6/5
Immersion: 4.6/5
Overall Fun: 3.7/5

The Maze of Hakaina was less of a traditional escape room and more of an Indiana Jones-type experience. There were very tactile puzzles with a plug and play feel, and it was one of the most immersive experiences. We felt the pressure of getting out or we would forever be stuck in the creepy maze. The intro and outro were really well done too!
38 W 32nd St #606, 6th Floor, 10001, map
Room: Exodus – ESCAPED!
Puzzles: 3.25/5
Immersion: 3.25/5
Overall Fun: 3.25/5
This is one of the original escape rooms in NYC. They did a great job of setting up their story then integrating the puzzles into the environment so it felt natural. There was a great balance of traditional puzzles mixed in with fun reveals and surprises. The staff is amazing and you can tell they really care about what they've created.
We also did the Masquerade and unanimously thought that Exodus was better.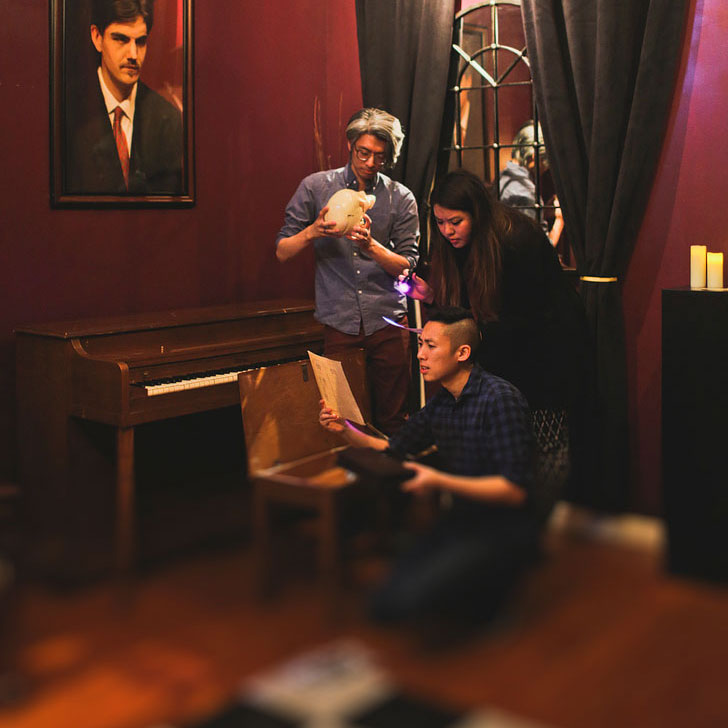 39 W 32nd St 4th Floor, 10001, map
Room: Alien Attack (25% escape rate) – ESCAPED!
Puzzles: 1.9/5
Immersion: 3.1/5
Overall Fun: 2.3/5
This was touted as one of the most technologically advanced escape rooms. Unfortunately, the tech aspect only impressed us for a first few minutes. It got old quick when it malfunctioned, became difficult to use, and started to slow us down. The set design was nice, but it didn't feel immersive because the puzzles were randomly placed and weren't part of the story. They were all types of puzzles you've seen before, and it felt like doing activities in a children's science museum rather than an escape room.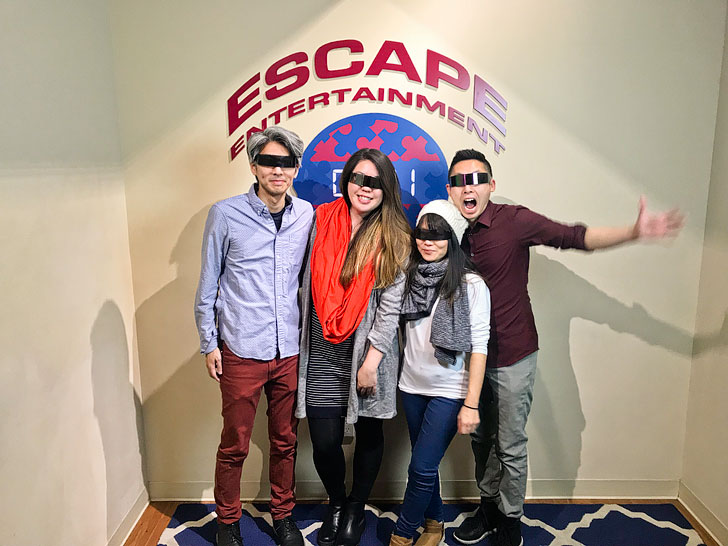 Room: Forgotten Library (30% escape rate) – ESCAPED!
Puzzles: 2.5/5
Immersion: 1.75/5
Overall Fun: 2/5
This escape room didn't do much for us. The puzzles were simple, and we didn't find that anything was that creative or challenging. The set wasn't great. It was an assortment of items placed in a large room, and a lot of the additional props were glued down. There was a fun reveal, but a lot of it was locked or glued down. The gamemaster was also very lackluster and the clues weren't paced very well. There was no sense of urgency and it overall felt boring.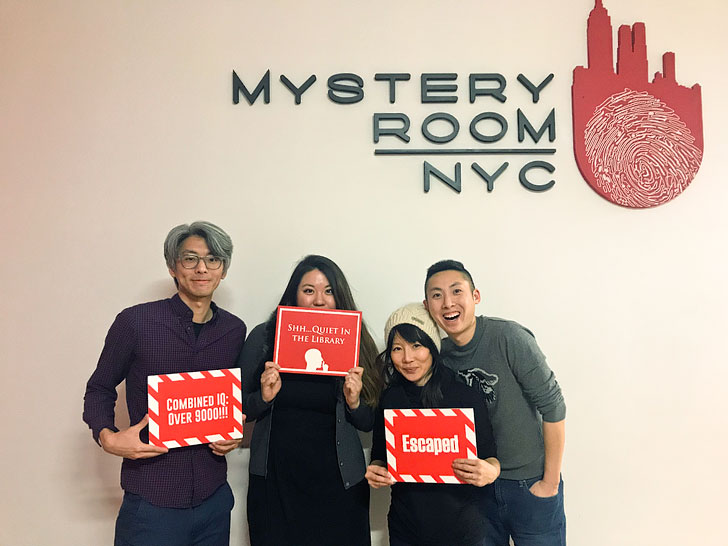 Next time we're in town, we plan on checking out The Escape Game. They must know a thing or two about putting together a fun room since they have locations all over the US.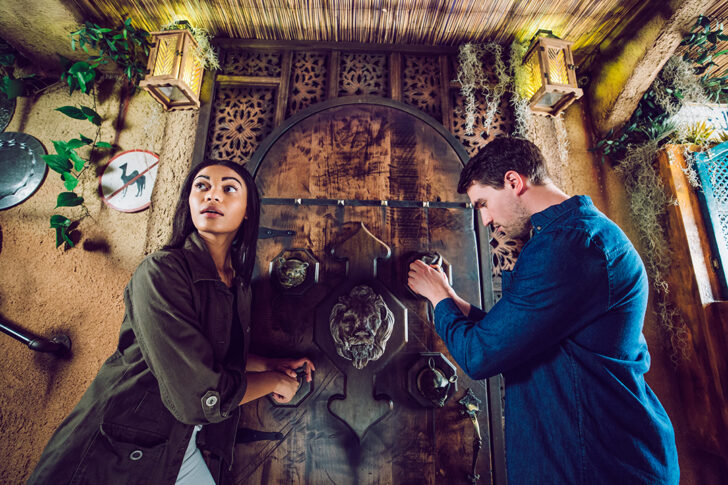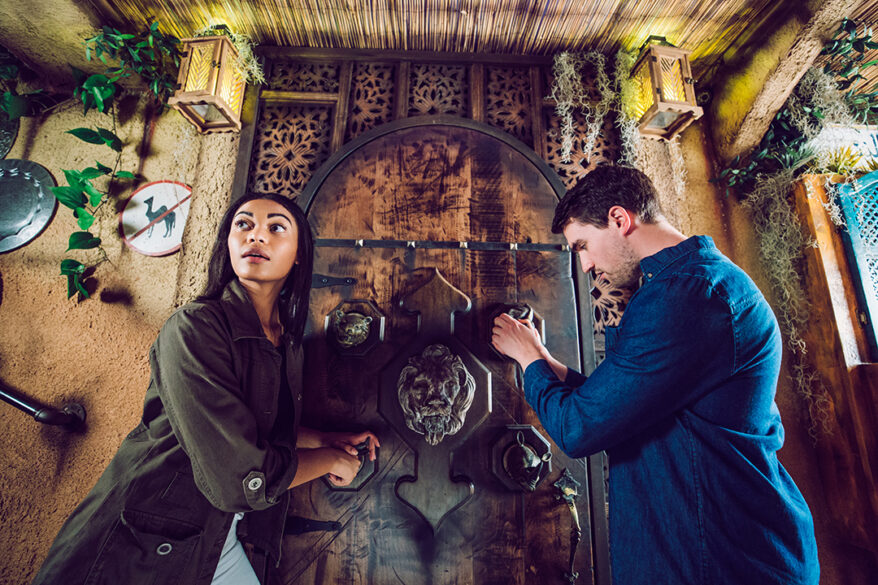 More New York City Escape Rooms
Amazing Escape Room, Staten Island
Bane Escape, Hells Kitchen
Beat the Bomb, DUMBO BK
BreakoutIQ, Chelsea
BrainXcape, Flatiron
Brooklyn Escape Room, Boerum Hill BK
Challenge Escape Rooms, Bayside QNS
Clue Chase, Midtown West
Enigma Escape Games, Downtown Flushing QNS
Epic Escape Rooms, Midwood BK
Escape Entertainment, Koreatown
Escape Games NYC, TriBeCa
Escape Room Madness, Koreatown
Escape the Room NYC, Flatiron
Escapeburg, Williamsburg BK
Exit Escape Room, Midtown West
Exodus Escape Room, Koreatown
Hoodwinked Escape, Harlem
I Survived the Room, Sunnyside QNS
Locked, Astoria QNS
Komnata Quest, Financial District
Mission Escape Games, Midtown West
Mission Solvers, Flatiron
Myss Tic Escape Rooms, Park Slope BK
OMEScape, Midtown West
Paniq Escape Room NYC, LES
The Escape Game, Midtown
Unravel Escape Rooms, Forest Hills QNS
Unreal Escapes, Staten Island
PERMANENTLY CLOSED
Mystey Room NYC
Riddle Me Out
Room Escape Adventures
Our Scoring System + Players
Over the past 3 months, we did 9 of the most popular or highly rated escape rooms with the same team of four. After each experience, we rated the rooms based on puzzles, immersion, and overall fun. In our reviews below, I will only include the average ratings of each category, but if you are interested to see what each person actually scored the rooms, check out this spreadsheet. We also want to introduce the players in case it helps you decide which escape room is best for you.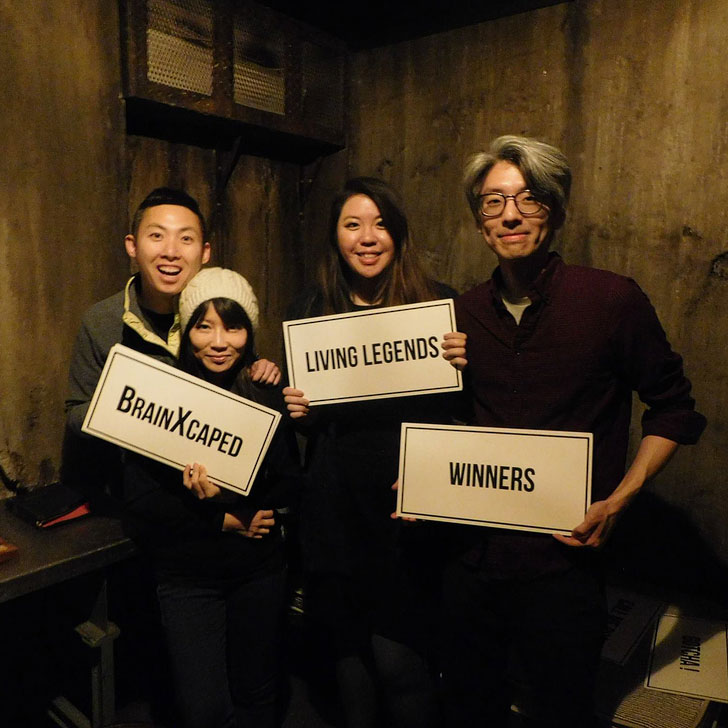 Jacob: loves the thrill of problem-solving within a timeframe. He enjoyed the challenge of thinking outside the box and connecting different pieces in the room. During escape rooms, he usually organized the big picture and keeping an eye on the clock, while focusing on abstract puzzles. (Favorite Escape Room: Mission Escape – Nemesis)
Esther: doesn't enjoy games or puzzles in general but decided to be a team player. She has an analytical mind but prefers not to think outside of the box. During escape rooms, she preferred to be given one task to perform rather than solve new puzzles. She also hates anything scary and still has nightmares from some of the escape rooms. (Favorite Escape Room: Beat the Bomb)
Caty: loves puzzle games and is always looking for an immersive experience. Anytime a puzzle had riddles or when other people were stumped, she took over solving the problem. She was in charge of keeping track of all our clues, reading any clues given to us, and was our riddle master. (Favorite Escape Room: Brain Xcape – Prison Break)
Ted: His love for video games and technology spilled over to escape rooms. Anytime there were surprises, reveals, or cool mechanisms he gravitated to those. Ted was the great equalizer on our team. He always made sure that everyone was included in the puzzles and getting us out. (Favorite Escape Room: Mission Escape – Nemesis)
PRO TIPS FOR ESCAPE ROOMS AND HOW TO WIN
Be sure to check if the Escape Room is private or open. With our team of four, we always preferred doing a private group since we had a nice groove. If you want to make new friends and get to know them quickly, look for ones that match you up with strangers.
Always plan to arrive 10-15 minutes early. That gives you time to go to the bathroom and get signed in so you start on time.
Pay attention to the number of people each room is built for. If it's meant for a large group, it may be overwhelming for a smaller team to do (although it doesn't mean it can't be done). If you play with the maximum team size, it may get crowded and not everyone will have something to work on.
Don't be afraid to ask for clues. Most escape rooms will have a method of giving your clues. Usually, they tell you that you have to ask for them, but most will have a game master that keeps it moving along. They will give you clues when they feel like you're getting stuck. As you can see from our comments, some game masters are better than others at pacing the clues.
Search the room thoroughly. In the beginning, everyone should look for clues, but once the ball starts rolling, you can assign people different tasks. Some people like or are better at looking for missing pieces more than solving puzzles and vice versa.
Switch it up. If you're playing with a significant other, the stress and problem-solving may cause some arguments. If so, mix up who you're working with. We knew anytime we got frustrated with each other, we would switch ourselves around. This also holds true if you get stuck on a puzzle. Have different people try it or look at it with you. Sometimes all you need is a different perspective.
Pay attention to everything in the room, especially any texts. Although a lot of rooms have red herrings (misdirects), most things are in the room for a reason.
Assign a place for a discard pile. It's rare that keys or items will be used more than once. It also helps to keep the key in the lock and with the box it came in to keep things organized.
Most of these were in the city, but we plan on adding to this list. Are there other escape rooms in NYC that we should check out?
Did you enjoy this post? Pin it for later
SEE MORE Ideas for New York
"Discovery consists not of seeking new lands but in seeing with new eyes" – M. Proust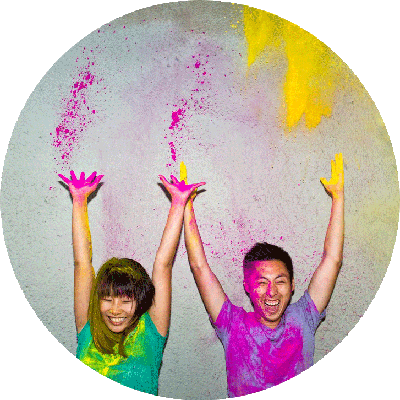 Esther and Jacob are the founders of Local Adventurer, which is one of the top 5 travel blogs in the US. They believe that adventure can be found both near and far and hope to inspire others to explore locally. They explore a new city in depth every year and currently base themselves in NYC.