We've been living in NYC for a few months now, and we're slowly working our way through the city. If you're visiting the city for the first time and want an area to spend a whole day in, the Rockefeller Center complex is an easy choice. Without having to go more than a couple blocks, you'll find some of the most iconic NYC attractions, plenty of great shopping, restaurants, shows, and more.
To help you make the most use of your time, we put together a comprehensive guide to the area and our favorite parts of the area.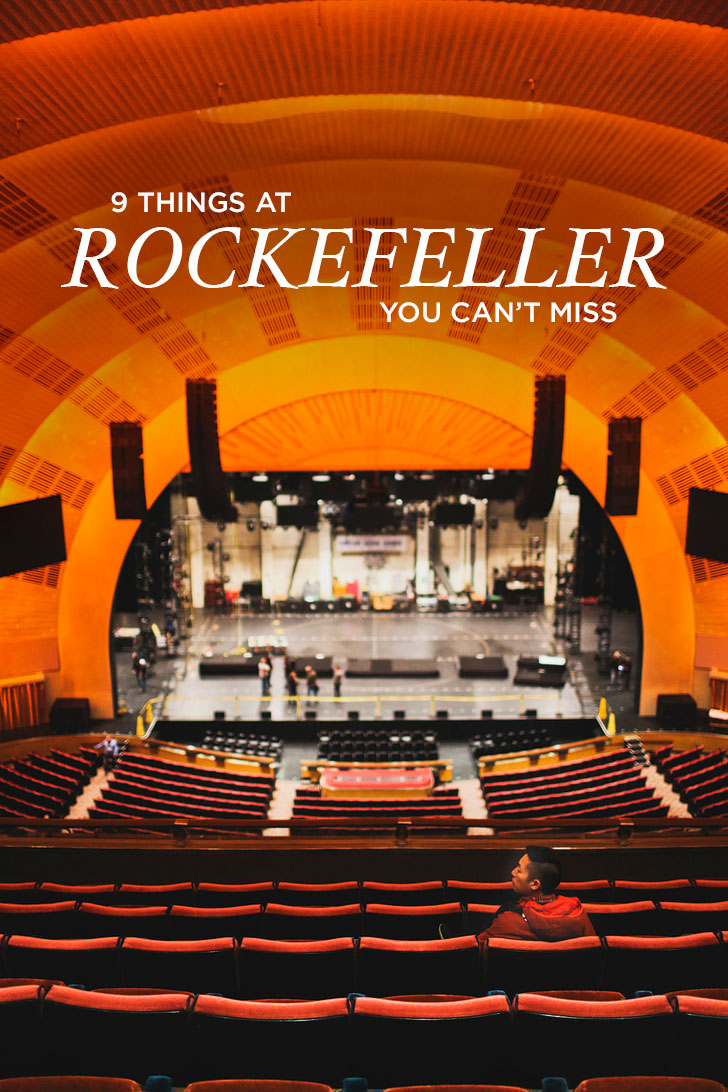 Pin
9 AMAZING THINGS TO DO IN ROCKEFELLER CENTER
If you do only one thing at the Rockefeller Center, this would be our suggestion. We've been twice, and I would go back again. This is by far our favorite view of the city so far.
Once you arrive at the top, there are three levels to explore with both indoor and outdoor viewing decks. From one side of the building you can see downtown with the Empire State Building in the center of it all, and if you go to the other side, you see Central Park and the north side of Manhattan. Right now, it has construction blocking the Central Park side that makes it an eyesore, but it's overall still worth going to see the ESB side. See our full photo diary and tips for TOTR here.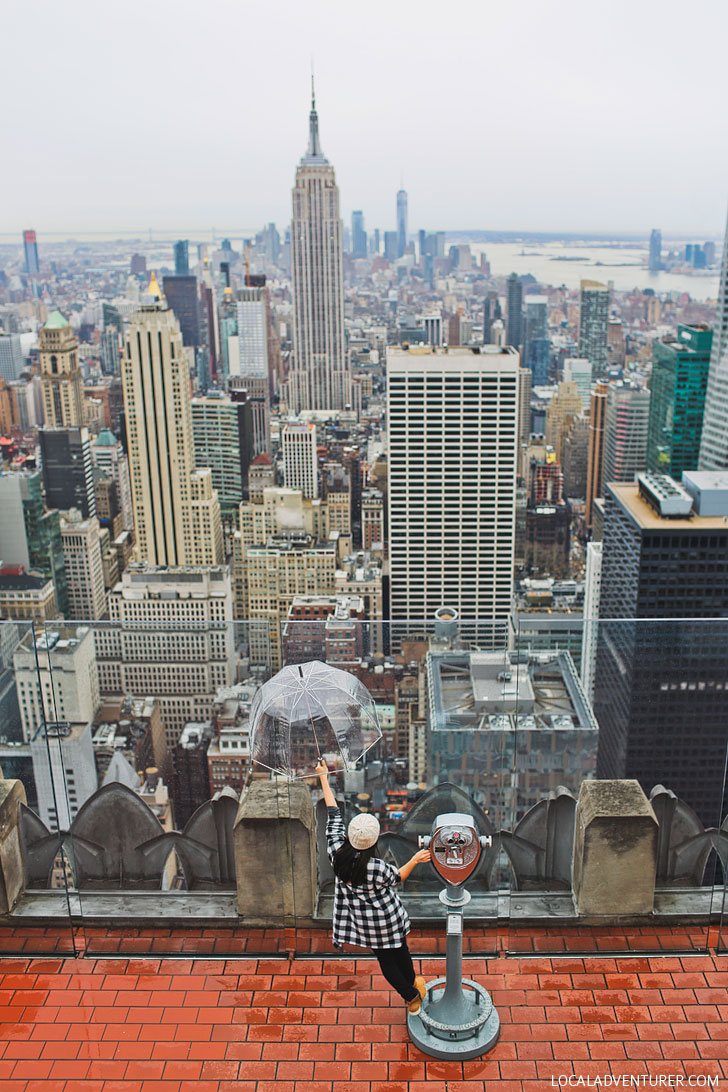 Pin
Hours: Top of the Rock is open 8 AM to Midnight 7 days of the week (with exceptions on holidays). The very first elevator goes up at 8 AM and the very last one goes up at 11:15 PM.
TIPS
Best Time to Go: Sunset is best for photography but the most crowded. Early morning during the winter gets you as close to sunrise as possible. It's not as crowded right when it opens on weekdays and during inclement weather. Just call in to ask how visibility is.
Visiting Multiple Attractions? Pick up a CityPASS to save you 40%. That's what we did.
2. The Tonight Show Starring Jimmy Fallon Taping
Tickets to a Tonight Show Taping or the Tonight Show Monologue Rehearsals are free. Once the month's tickets went live, there were 6 available days on the calendar, and I applied for all 6. When the first three taping dates came around, we didn't make the cut, but one of the mornings, I received an email saying two spots opened up.
We arrived at 30 Rock at 3:05 and they immediately directed us up the stairs where we waited in line to check in. At 3:15, the check-in process started. We had to present our ticket and IDs then go through security. Everyone was brought into the Peacock Room where we waited for the next instructions. During that time, NBC Pages mingle with the crowd. Around 4:15 PM, they started bringing everyone into the studio. Once everyone is seated, they go over some basic instructions and the taping begins.
NOTE: No photography or videography are allowed in the waiting area or studio. If you are caught doing it, they will escort you out.
Everything goes quick, and we were out by 6 PM. We went to a Conan taping in LA, and this experience was cozier, there were seating areas, and it didn't feel like we were being herded like cattle. As much as I love Conan, Jimmy seemed much more personable, and even took time to come out to the audience and answer questions (not sure if this happens every taping).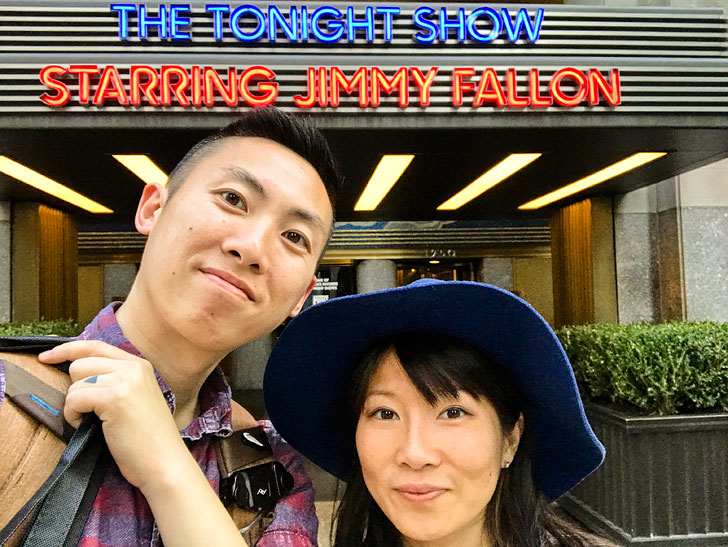 Pin
How to Request Tickets to a Tonight Show Taping
Tickets are released one month at a time, typically during the first week of the previous month. For example, July tickets are released in June, August tickets are released in July, and so and so forth. Here is what you need to do to apply for a ticket:
Create an account on 1iota.
At the beginning of each month, keep an eye on the @FallonTix twitter account. They will announce when the following month's tickets are available.
When the announcement is made, visit Tonightshowtix.com and request tickets for any of the dates that work for you. This does not guarantee you a ticket, you are simply putting your name on the waitlist.
Wait to receive a confirmation email that you made the list. They will send you instructions on where to go and when you need to be there (we also go over some of this in the tips below)
How to Get Standby Tickets to a Tonight Show Taping
If you missed out on tickets and are already in town, the second option is going for a standby ticket. During our taping, they let in at least 30 people from standby. To get standby tickets you have to:
Call the Ticket Office to confirm that are taping the day you want to attend. The phone number is 212.664.3056 and they are open 9 AM to 5 PM EST Monday through Friday.
Arrive no later than 9 AM the morning of the taping. The line starts on 49th Street between 5th and 6th Avenue at the Tonight Show sign.
Numbered standby tickets are given out in order to guests at 9 AM and they will give you specific instructions on when you need to return to check-in again. (Note: Everyone attending must be present with a valid photo ID containing date of birth)
Any available standby tickets that were not handed out at 9 AM will be available at the NBC Greeter's stand by the Grand Staircase.
How to Request Tonight Show Monologue Rehearsal Tickets
If you weren't lucky enough to get a regular show taping, You can always sign up to see the Monologue Rehearsal. This is where Jimmy tries out his monologue jokes for that night's show to a live audience. That way he can see what works and what doesn't to make edits before the full taping. The sign-up process is exactly the same as requesting tickets for a Tonight Show Taping.
Note: The Monologue Rehearsal usually conflicts with trying for Standby Tickets so you won't be able to do both.
Additional Way to Win Tickets to a Tonight Show Taping
Every Thursday that they are taping, they use the @FallonTonight twitter account or a FallonTonight Instagram Story to share the location of one of their interns somewhere in NYC. The first person to find this intern receives a pair of tickets.
On most Fridays, they also give away two VIP tickets through a trivia question about the show. Follow @FallonTonight on twitter and #FallonTicketFriday to keep an eye out for those questions.
Tips & Other Info
Once you attend a taping or rehearsal, you cannot attend another one for 6 months.
Use the 50 West 50th Street entrance then head to the Grand Stair (if you're not sure where it, just ask someone).
They give out more tickets than there are seats. The studio has a capacity of roughly 200 people so once that is full, you will be turned away.
Be sure to bring your confirmation letter with you. You need this to check in.
Bring your ID (that includes a date of birth). It will be required for everyone attending the taping.
Everyone attending must be at least 16 years old and the entire party needs to arrive together.
Leave large backpacks, suitcases, and large shopping bags at home or at the hotel. They are not allowed at the taping, and there isn't anywhere to check them in.
Line­up for check­in begins no earlier than 3:15 PM on the day of the taping. We arrived at 3:05 and there were already people waiting. We had no issues making the cut though.
Checkin ends at 3:45 PM so be sure to arrive before then.
Please arrive at the Grand Stair to claim your tickets no later than 3:45 PM, as ticket reservations will not be honored after this time.
You might be on camera so dress appropriately for that. They can deny you entry if they don't think you're okay to be on camera.
You can also see Late Night with Seth Meyers and Megyn Kelly Today.
3. Saturday Night Live Taping
I may be dreaming, but this has been on my bucket list FOREVER. The Saturday Night Live ticket lottery runs once a year. For the 2017-2018 season, it ran from August 1st to August 31st, so my guess is that will be similar for the 2018-2019 season. To apply, you send an email to [email protected] and tell them why you want to be a part of the studio audience. You better come up with one hell of an email. There's less than a one percent chance, but if you are selected, you receive two tickets to a random show date and time.
Stand-by tickets are also distributed at 7 AM the mornings of a show at the 48th Street Side of 30 Rockefeller Plaza. Everyone who wants to attend must be present with a valid photo ID. We heard of some folks who got lucky when they waited at 2 AM that day, but we also heard of cases where they had to wait for several days.
Have you been to an SNL taping? We'd love to hear about your experience.
4. Tour at NBC Studios
Get a behind-the-scenes look at one of the most famous studios in the world. This is where TV was first broadcasted. Ever. An NBC Page takes you through 30 Rock where you'll learn about how TV shows are made and even get a glimpse into the studios of Saturday Night Live, The Tonight Show Starring Jimmy Fallon, Late Night with Seth Meyers, and more. You even get a chance to produce your own show in the Tour Studio, which can be a little awkward if you hate being on camera. When we were on our tour, I kept imagining that first episode of 30 Rock.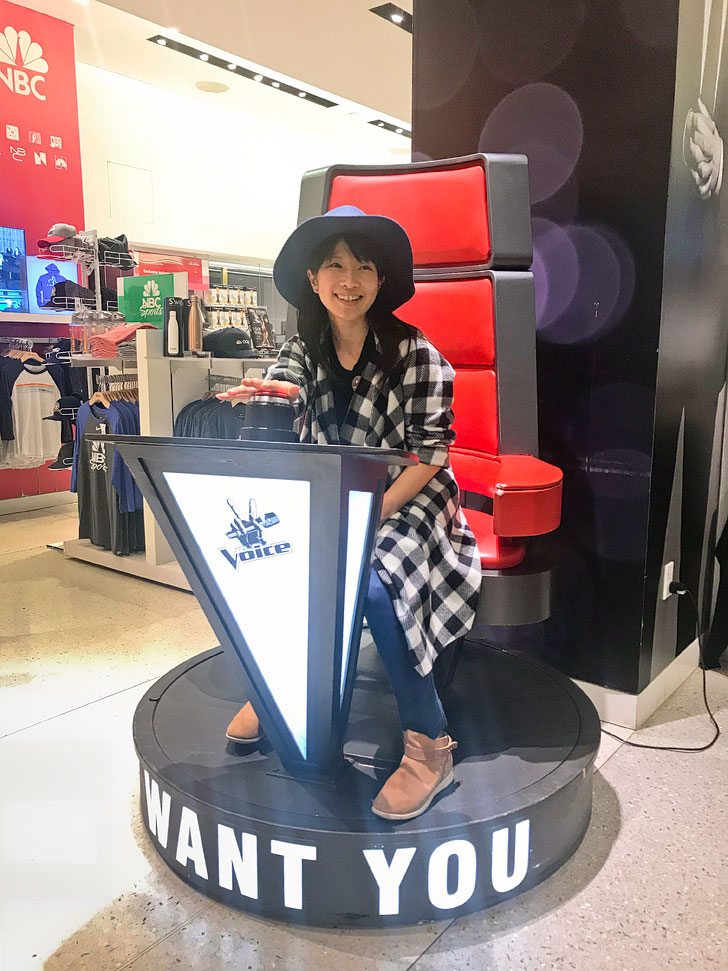 Pin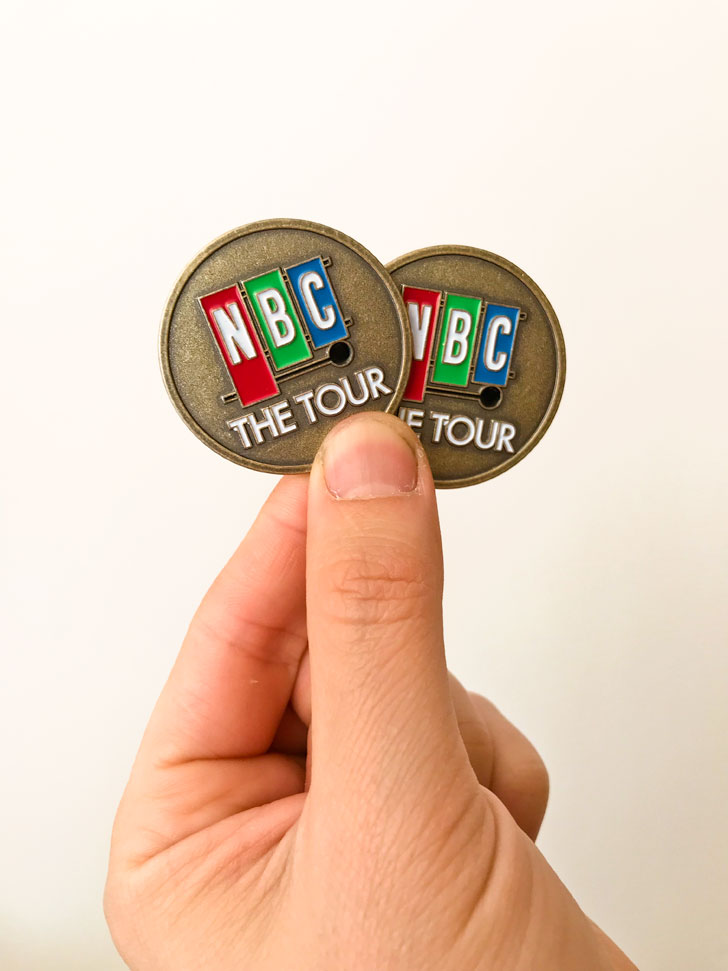 Pin
Hours: The very first Tour at NBC Studios starts at 8:20 AM 7 days of the week and goes every 20 minutes from then. From Monday to Thursday, the last tour is 2:20 PM. On Friday it's at 5 PM, and on the weekends, it's at 5 or 6 PM (check their website to see up-to-date hours). It lasts for about 65 minutes.
Ticket Prices: Adults $33 + Children (6-12) / Seniors (55+) $29
Tips & Other Info
The Tour starts and ends at The Shop at NBC Studios located on the lobby level of 30 Rock.
Like most of these attractions, it's best to reserve your tickets online, especially during the summer, holidays, and weekends.
NBC Studios is a live facility, so they can't guarantee you will see specific studios. If they are currently filming, then you won't be able to stop by.
You're not allowed to take any photos during the tour, but they do have a couple photo opps of the Today Show desk and the judge's chair from the Voice at their gift shop. This is also free to do with or without the tour.
5. Rockefeller Center Tour
We haven't done this one yet, but when we do we'll write more about the experience. If you want to see a different side of the Rockefeller Center, then go on this tour to learn about the history and artwork scattered throughout the center. An expert historian takes you back in time and walks you through some of the most significant spaces in the complex. You'll most likely learn about art pieces and history you would have normally walked right past otherwise.
Hours: Tours run every half hour from 10 AM to 7:30 PM, excluding 6 and 6:30 PM, 7 days a week.
Ticket Prices: Similar to Top of the Rock, tickets are timed, but you can also purchase unscheduled tickets. Unschedule tickets do need to be exchanged for timed tickets within 180 days though. Also, if you plan on visiting Top of the Rock as well, pick up to the Rock Pass to save some money.
Tour Tickets $25
Rock Pass $48
Tips & Other Info
The tour lasts roughly 1 hour and 15 minutes.
This tour does not include NBC Studios or Radio City Music Hall.
The tour runs regardless of weather, although they may focus more on the interior if it's raining or snowing. Regardless, you will still have to travel from building to building to be dressed accordingly.
Each tour has a maximum of 20 people, and they can run up to 3 groups at a time.
Everyone will have a personal headset so you can hear over all the crowds and noise without missing a beat.
6. Radio City Music Hall: Stage Door Tour
It was nice getting a behind-the-scenes look at one of the most iconic venues in the world. You learn about the history of the stage, marvel at the art, and even get a chance to meet a Rockette, take a photo with her, and ask some questions.
This historic building has the original hydraulics from 1932 and they even have some of the original Donald Deskey furniture. Did you know there's even an apartment (that is now used as an event space) in the building? The tour really made us want to see a show or concert here.

Hours: Tours run daily from 9:30 AM to 5 PM.
Ticket Prices: Adults $28 + Children (12 & under), Students, and Seniors $24
Tips & Other Info
The tour starts at the Radio City Music Hall box office on 6th Avenue between 50th and 51st Streets.
Tour groups usually max out at 20 people.
You are allowed to take as many photos as you want, but no video is allowed.
Some areas are very low light, so bring a lens that is good for low light. No tripods are allowed.
7. Brunch at the Rainbow Room
The Rainbow Room lives on the 65th floor of 30 Rockefeller Plaza and has been open since 1934. It's a private event space that has held weddings, movie premieres, fashion shows, birthdays, and more. It has always been a focal point for the city's elite and it's easy to see why. With such amazing views, it makes for the perfect venue.
The Rainbow Room is open Sundays for brunch and for Dinner & Dancing on certain weekdays. The best way to find out when they are open is to call their reservation line at 212.632.5000. You can make reservations up to 60 days in advance.
In addition to that, they have seasonal events in the Rainbow Room. For example, during February, they opened a pop-up bar aimed at couples during Valentine's season. If your schedule conflicts with those days, you can also go to Bar SixtyFive across from the Rainbow Room from Monday to Friday 5 PM to Midnight or Sunday from 4 PM to 9 PM.
8. The Rink at Rockefeller Center (seasonal)
If you're visiting NYC during the winter, you can head to the rink at Rockefeller to watch people from above or lace up and ice skate. We haven't been ice skating for years, but it was fun experience to skate in one of the most iconic ice skating rinks in the US.
We did the VIP Skate so our entrance was from the Concourse side. After arriving at the check-in igloo, we got fitted for skates, checked in our bag, and sipped on hot chocolate while watching the Zamboni make its way around the rink.
Once they were finished, they let us onto the ice moments before the general public. Our visit was in mid-January, so most of the holiday crowds had already thinned out. I would guess there were about 60 people on the ice.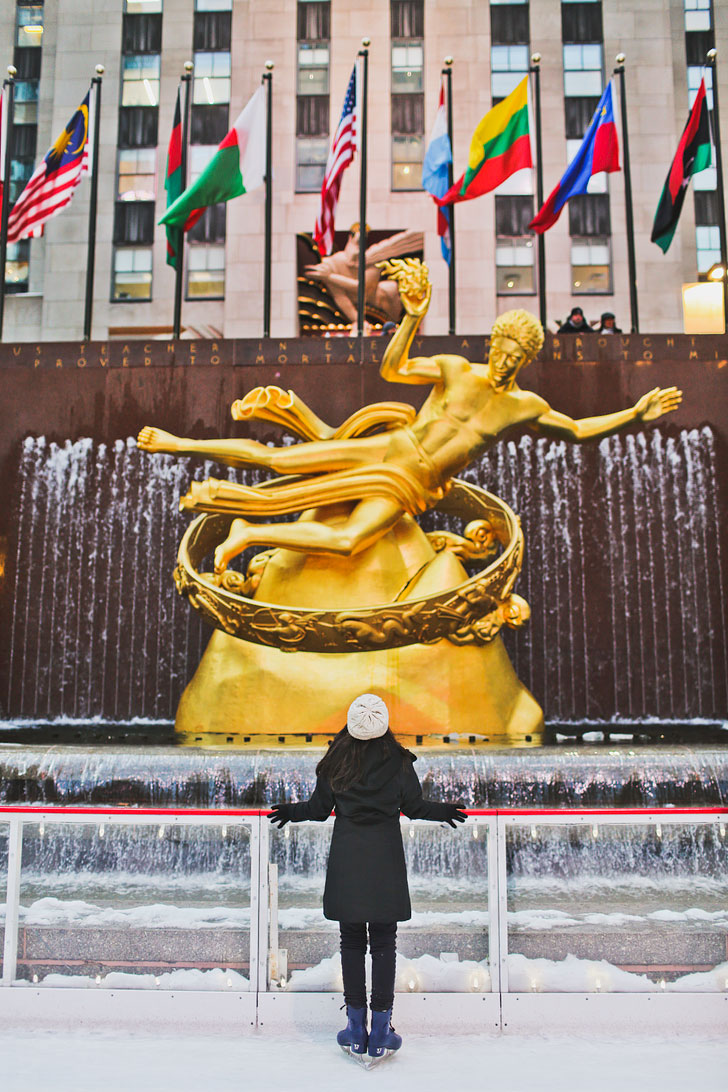 Pin
Hours: The Rink is open daily from 8:30 AM to 12 AM. The season typically starts early October and ends mid-April, but the schedule can change each year depending on the weather. The rink opens in rain and snow.
Ticket Prices: For general admission, it is a first-come, first-served.
Adults Peak (Dec 15 – Jan 1) $32
Adults Standard $25
Children Under 11 & Seniors $15
Skate Rental $12
You can also book one of the following experiences:
Skate Lessons $50
VIP Skate (skip the lines & includes skate rentals) $60
Starlight Skate (last skate of the day) $37-$47
Lastly, they have meals (breakfast, lunch, dinner, afternoon tea) and skate combos throughout the day that range from $45 to $89 depending on the meal you are having.
Tips & Other Info
They only allow 150 skaters at a time and will be at capacity throughout the busy season around the holidays.
If you are here all season, they do sell season passes for $275 (or $450 with a locker).
Each skate session runs for 90 minutes. 8:30-10 AM, 10:30 AM – 12 PM, 12:30-2 PM, 4:30-6 PM, 6:30-8 PM 8:30-10 PM, and 10:30 PM – 12 AM
Be aware of other skaters. There is a wide range of skating abilities and you don't want others and yourself to get hurt.
They do not allow selfies (particularly while moving) on the ice. If you want to take photos, you can skate to the side and ask someone else to take them for you.
9. Christmas Tree + The Channel Gardens
One of the most recognizable Christmas trees is the one at Rockefeller. Most people visiting New York during the holidays make a stop here. The tree usually goes up at the end of November and comes down early to mid-January. Channel Gardens nestled in between 49th and 50th street near 5th Avenue and gives you a great foreground to shoot the tree and 30 Rock. The gardens also have different unique themed plant installations throughout the year, so you can see something new year-round.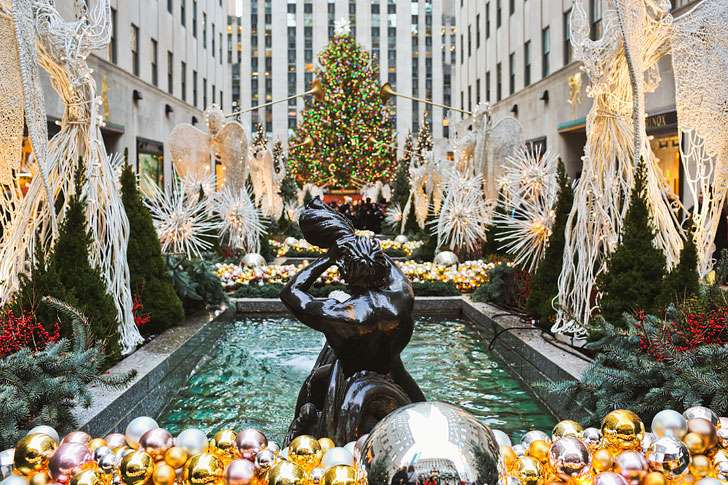 Pin
WHERE TO EAT + DRINK + SHOP
There are over 50 restaurants, cafes, and bars to choose from in the Rockefeller Center. You can grab a quick sandwich or spend the evening enjoying a fancy meal. Find the complete list here and below are a few highlights.
by CHLOE – people love this place on Instagram.
Bar SixtyFive at Rainbow Room – one of the best views in the city. The bar is across from the Rainbow room and it's open to the public from Monday to Friday 5 PM to Midnight or Sunday from 4 PM to 9 PM. They have a strict Cocktail Chic dress code and you can make reservations.
Magnolia Bakery – an NYC staple with delicious Banana Pudding. The other baked goods aren't that great.
You can also spend all day shopping in the area. There are over 100 stores ranging from souvenirs to the latest fashion. Browse their entire list here. Anyone who grew up playing Nintendo (or still plays now) needs to stop by Nintendo NY. It's unique to the city and has a bunch of games to play and souvenirs to nerd out on. Jacob has a hard time leaving when we go.
WHAT'S NEARBY
WHERE TO STAY
*We've stayed at all of these except for Courtyard by Marriot.
DID YOU ENJOY THE POST? PIN IT FOR LATER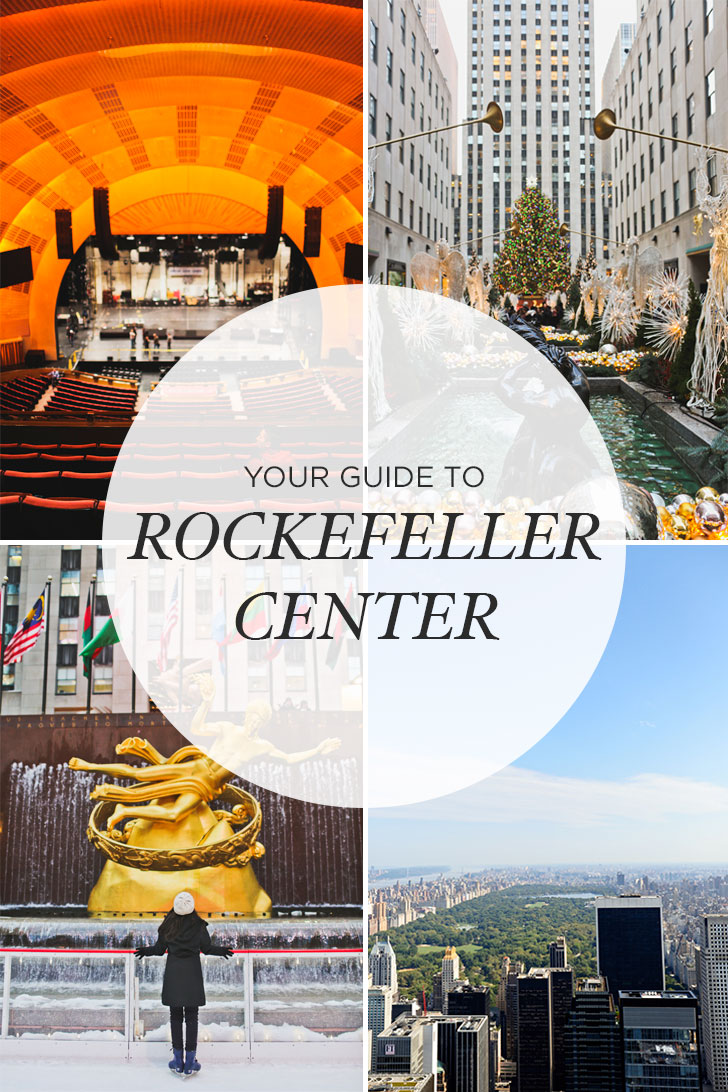 Pin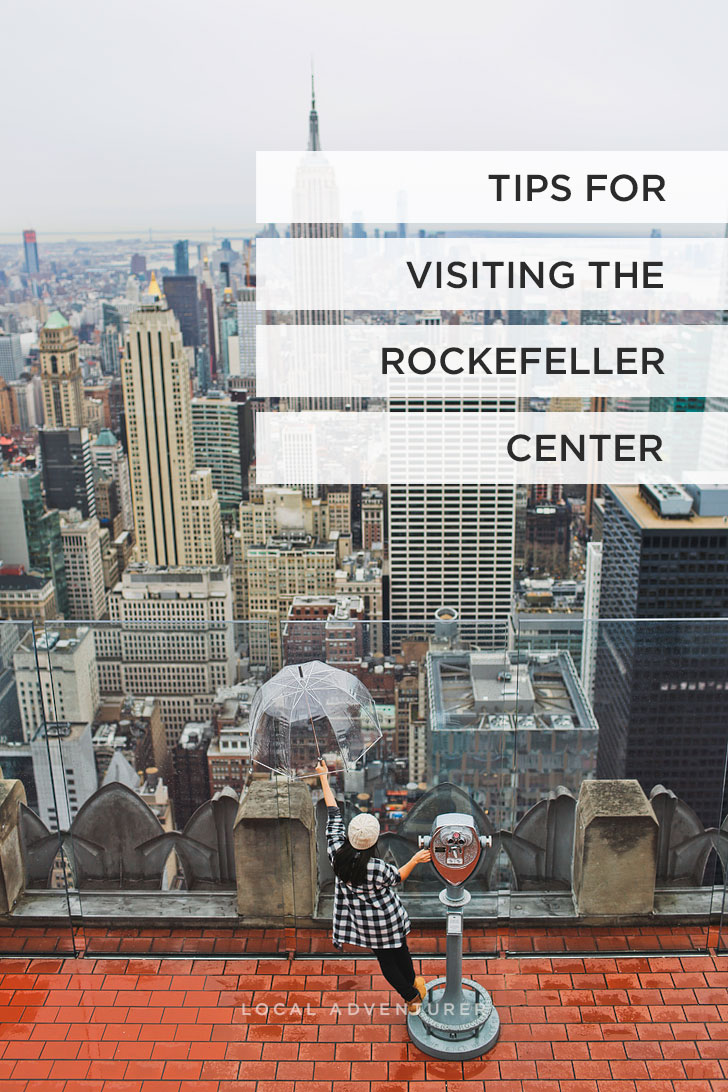 Pin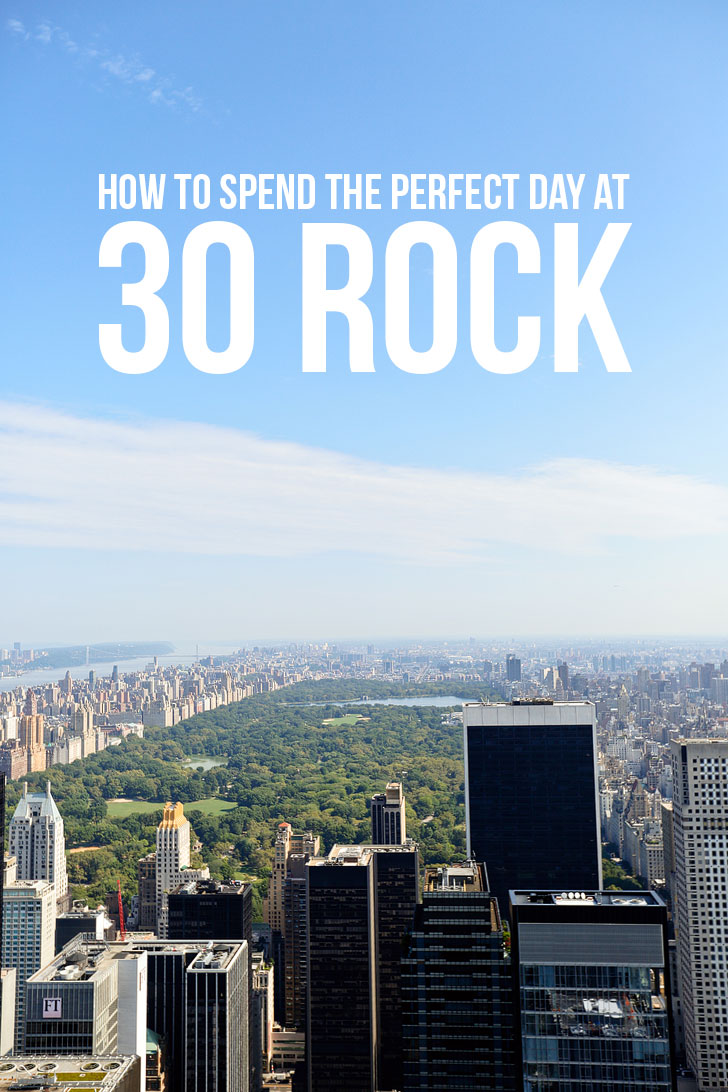 Pin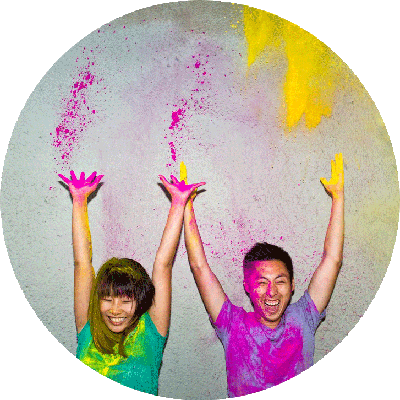 Pin
ESTHER + JACOB
Esther and Jacob are the founders of Local Adventurer, which is one of the top 50 travel blogs in the world. They believe that adventure can be found both near and far and hope to inspire others to explore locally. They explore a new city every year and currently base themselves in NYC.