I'm not a huge flower person, but I've always been quite fond of cherry blossom season. Since cherry blossoms are typically only around for a short period, it can be difficult to time your visit. In Japan, it is often associated with the concept of mono-no-aware, which is about the bittersweet appreciation of its ephemeral beauty. It's also a great reminder of how short life is and how we should appreciate each moment because you will never get it back.
We've been on a mad scramble running all over the city trying to catch the cherry blossoms before they disappear. Some places we've been lucky with, others, we've missed this season.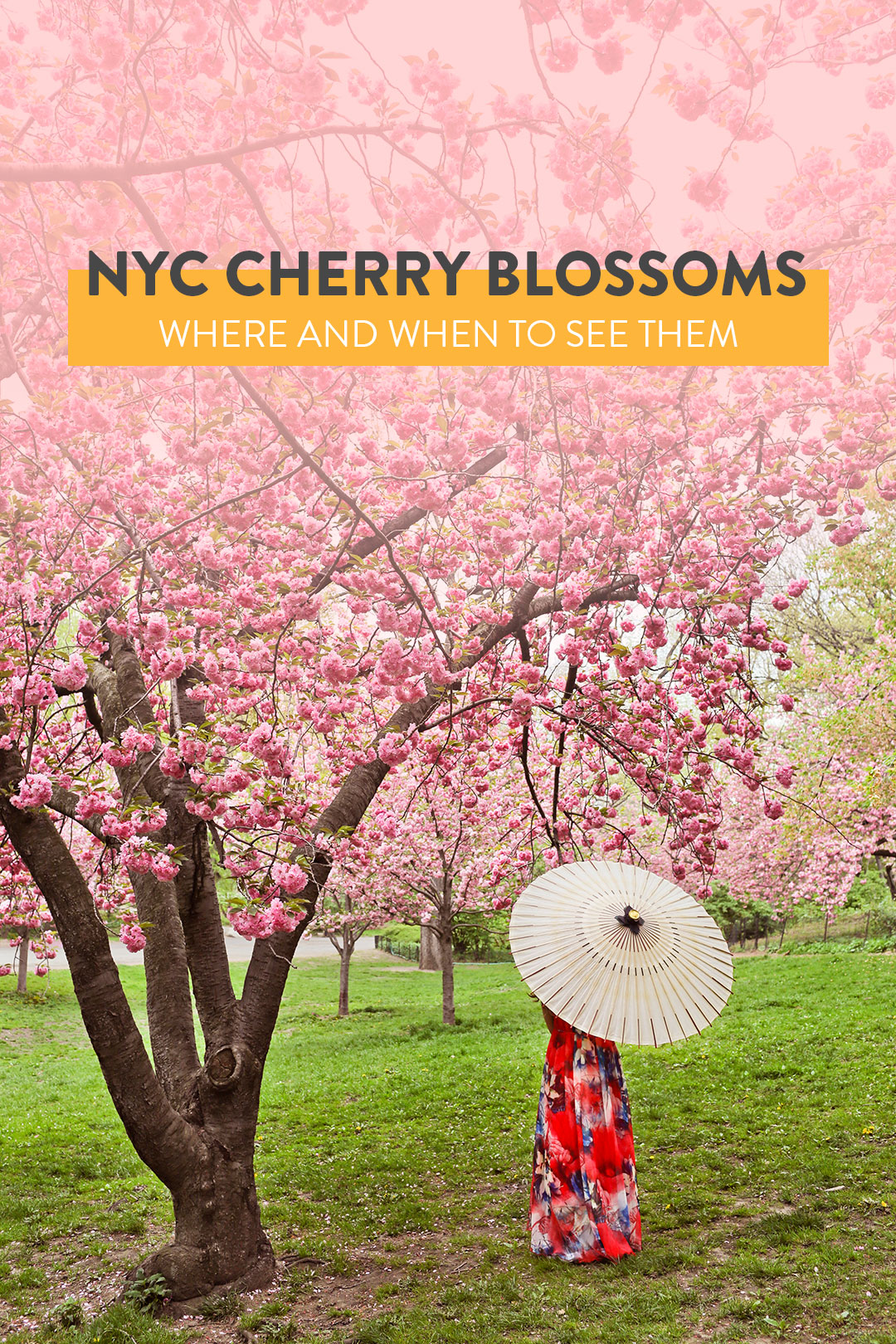 All opinions are always our own. This post may contain affiliate links, where we receive a small commission on sales of the products that are linked at no additional cost to you. Read our full disclosure for more info. Thank you for supporting the brands that make Local Adventurer possible.
Last Updated: Feb 28, 2019 // Originally Created: May 7, 2018
5 BEST PLACES TO SEE CHERRY BLOSSOMS IN NYC
1. Brooklyn Botanic Garden
990 Washington Ave, Brooklyn 11225, map
Hours (March to October):Tues to Friday 8 AM to 6PM, Sat and Sun 10 AM to 6 PM, Closed Mondays
Admission: Adults $15, Free Friday Mornings (8 AM to 12 PM)
The Brooklyn Botanic Garden has a lot of cherry blossom trees and multiple varieties. They also have 3 tree tunnels you can shoot down. Best of all, they have a Cherry Watch page where they update the current status of the trees.
The tunnels are lined with Kanzan (or Kwanzan) Cherry Blossoms, which bloom the latest of all the trees, so you can watch the map as the others bloom first. It took only a couple days for it to go from first bloom to full bloom.
Local Tip: Go weekdays early mornings to avoid people. You can visit for free on Fridays from 8 AM to 12 PM, but it is really crowded. Also, the below photo isn't a good representation of the crowds, but I stitched 30+ photos together to get a shot of me "alone".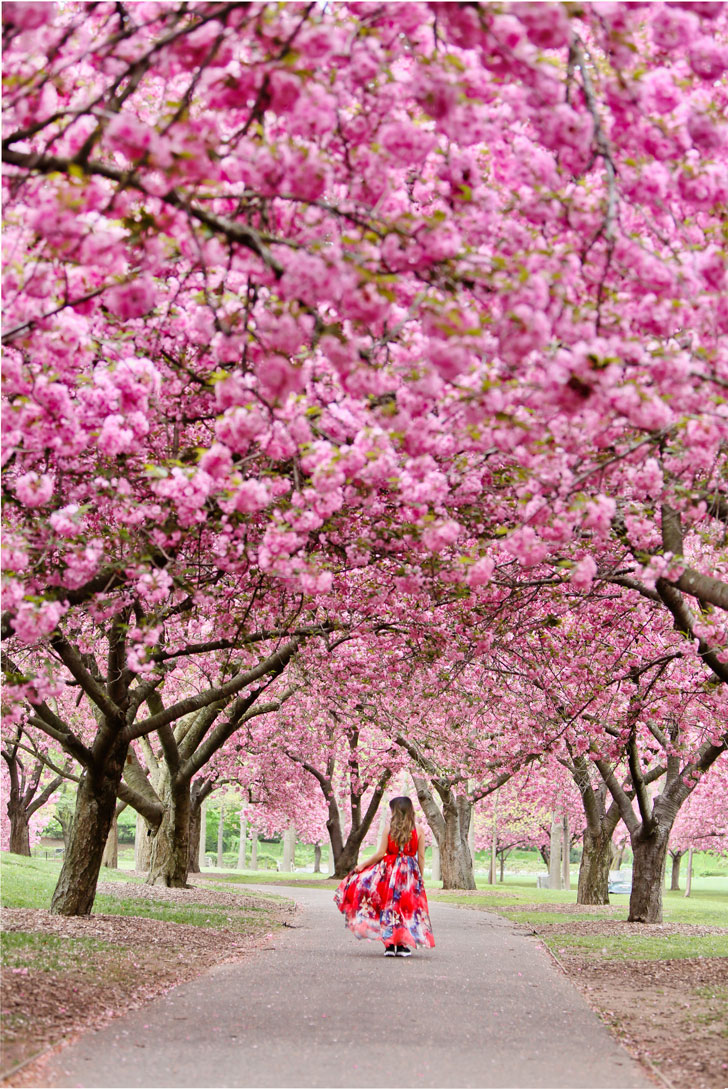 25th Street and Fifth Avenue Brooklyn, map
Hours: 8 AM to 5 PM October to March, 7 AM to 7 PM April to September
Admission: FREE
You won't find cherry blossom tree tunnels, but this historical cemetery has a wide variety of cherry blossoms scattered throughout its beautiful grounds. It was my favorite place to see them since it was so peaceful and serene. It only took us moments to spot them after entering and within a 10-minute walk, we found so many beautiful trees to shoot.
Note: Only photos of the grounds and architecture are allowed. No models (including taking photos of other people) are allowed.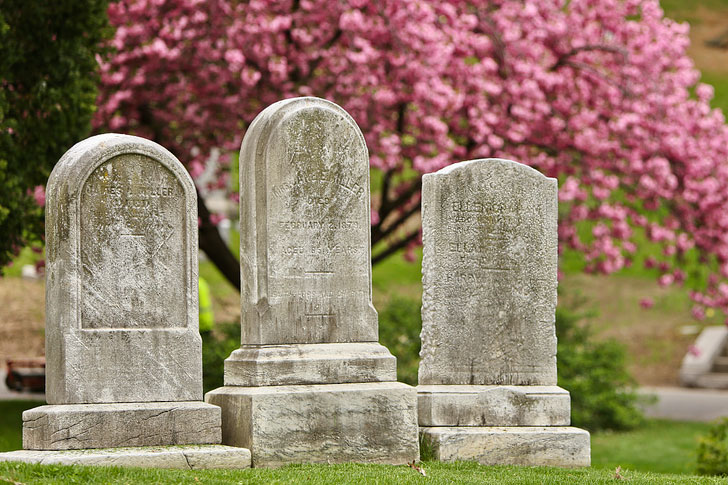 W 90th Street and Central Park West,map
Hours: All Day
Admission: FREE
Head to the west side of the Jacqueline Kennedy Onassis Reservoir to find a bunch of cherry blossoms along Bridle Path. The Kwanzan Cherry Blossoms line the pathway for great photo opportunities. You'll find lots of people enjoying a picnic under the trees on beautiful days.
Other places to find the Kwanzan Cherry Blossoms:
West Side of the Reservoir (Bridle Path is a great spot)
East Green
West of the MET
East Drive at 74th Street
Bethesda Terrace and Cherry Hill (mid-Park at 72nd Street)
Southeast Corner of the Great Lawn Oval
You can also find Yoshino Cherry in the park. These tend to bloom earlier than the Kwanzan Cherry. Here are the best places to see them:
East Side of the Reservoir
Lilac Walk (northeast of Sheep Meadow)
Conservatory Water
Ramble (mid-Park at 72nd Street)
Delacorte Theater (mid-Park at 80th Street)
Southeast Edge of Great Lawn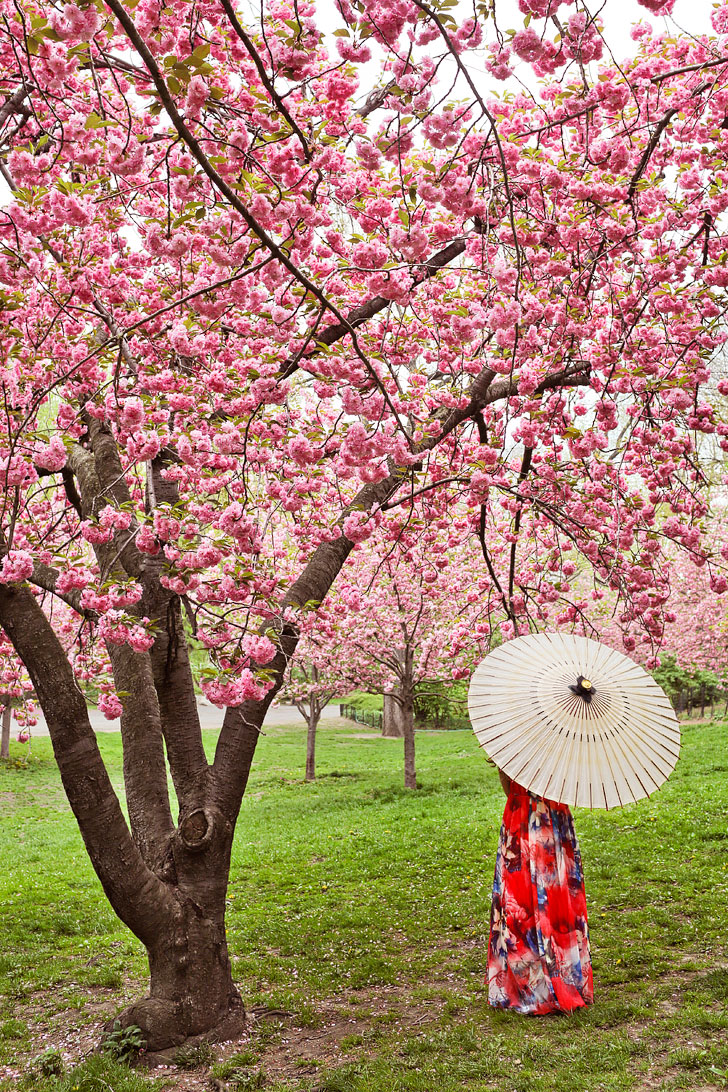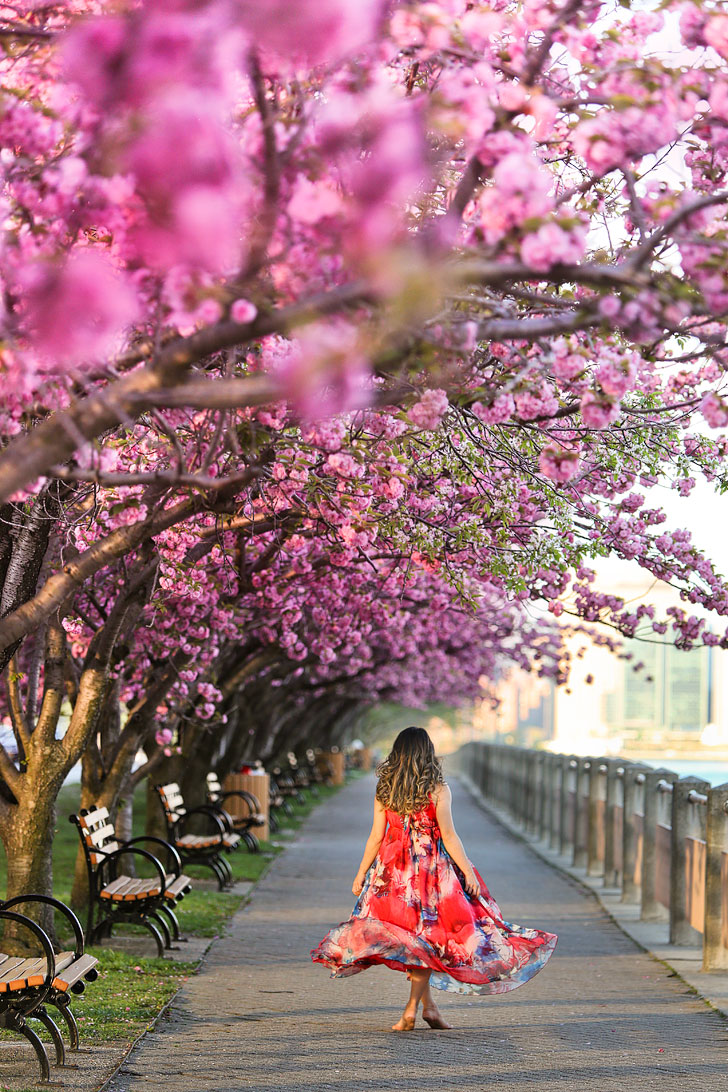 W Main Street and N Loop Road, map
Hours: All Day
Admission: FREE
Head south from the Roosevelt Island Tram station along the Manhattan side of the island to find a long row of cherry trees. You also get a great view of the city.
There are two types of cherry blossom trees along the promenade that bloom at different times, so you can visit multiple times to check them out.
Local Tip: They also have a free Cherry Blossom Festival on the Island every year in April. You can get here with the tram, the F, or the ferry. If you do the tram, it also has an additional great view of the city.
5. Madison Square Park + Flatiron Building
11 Madison Ave, map
Hours: All Day
Admission: FREE
Chances are if you're visiting, you'll be going to the Flatiron Building at some point. If you're looking for a spot to check out cherry blossoms with a view of one of the most iconic buildings in the city, then this is the spot for you. There aren't as many trees, but there are a few you can picnic under and enjoy the view of the Flatiron Building right next to it.
Photo Tip: Bring a long lens for this shot. This was using the 70-200mm/2.8L.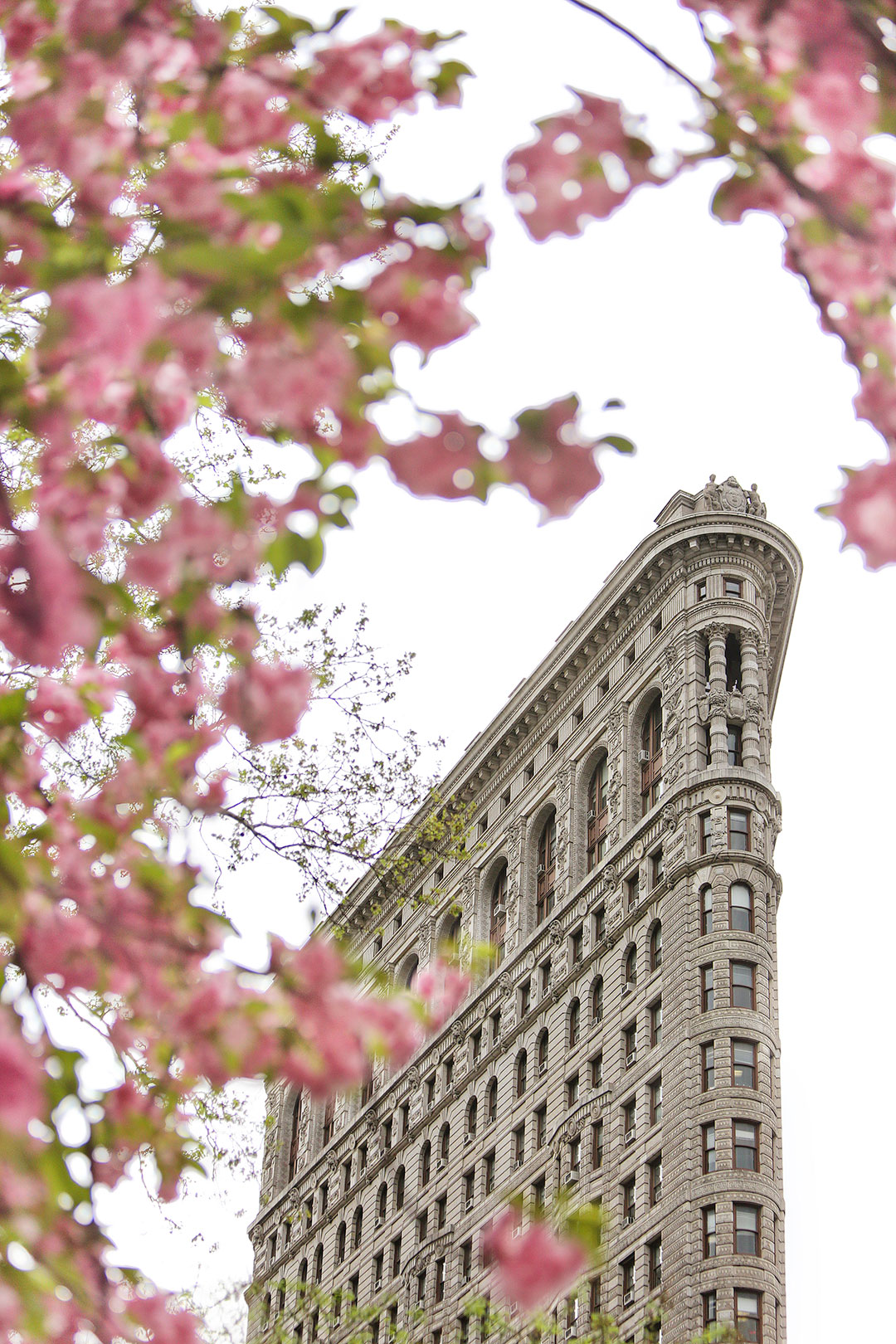 More Places to Find Cherry Blossoms in NYC
United Nations Headquarters (760 United Nations Plaza, map)
Flushing Meadows Corona Park (Queens, map)
Prospect Park (Brooklyn, map)
New York Botanical Garden (2900 Southern Blvd, Bronx map)
Queens Botanical Garden Cherry Circle (43-50 Main St, Flushing QNS map)
Randalls Island (East Harlem, map)
Riverside Park (104 Street & Riverside Drive, map)
Cadman Plaza Park (Brooklyn, map)
Snug Harbor Cultural Center & Botanical Garden (1000 Richmond Terrace, map)
Where to Go for the Cherry Blossom Festival NYC
Essential Local Tips + Photography Tips
The best light is generally during sunrise or sunset. Sunset is obviously more crowded.
The most beautiful time to see or photograph cherry blossoms is when there is a blanket of pink below, between the cusp of life and death. It's extremely difficult to time. We basically missed it by one day.
Kanzen or Kwanzan cherries are the vibrant pink ones. Keep in mind Yoshino cherries bloom before Kwanzen. There wasn't much overlap between the two here. After the Yoshino's all fell were when the Kwanzen came out.
If you're going to a crowded area, bring a tripod. You can try layering photos and make sure no one is in each section of the photo. I had to layer 30+ photos together for the one below.
[show_shopthepost_widget id="3303286″]
Have you seen the cherry blossoms in NYC?
Did you enjoy this post? Pin it for later
See More Flower Destinations
"Discovery consists not of seeking new lands but in seeing with new eyes" – M. Proust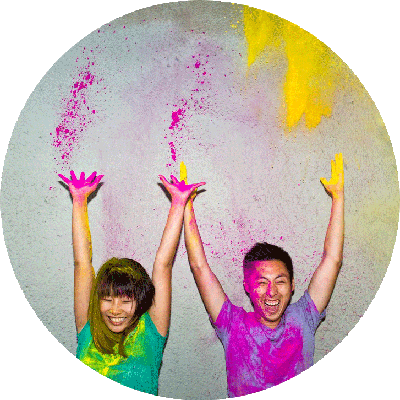 Esther and Jacob are the founders of Local Adventurer, which is one of the top 5 travel blogs in the US. They believe that adventure can be found both near and far and hope to inspire others to explore locally. They explore a new city in depth every year and currently base themselves in NYC.