We're already half way through our year in NYC, and  we barely made a dent in our NYC bucket list. There is always something new popping up.
One of the top things to do for both visitors and locals is stroll through Central Park. It's one of the most iconic parks in the world, and you could probably live in NYC all your life and still have more to explore in the park. It's huge! We visited all the popular spots, but also looked for the secrets of the park.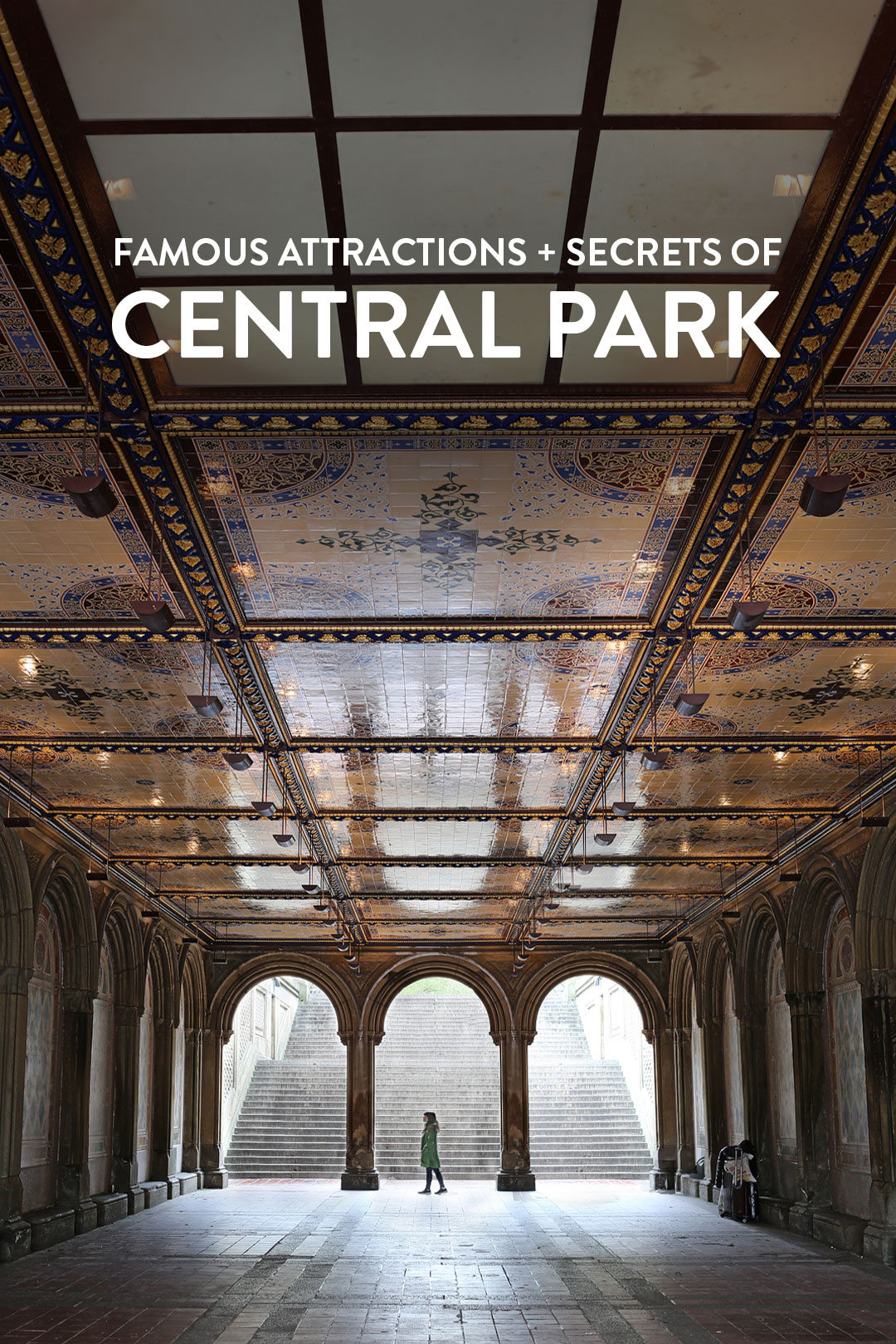 A big thank you to CORT for sponsoring this post. All opinions are always our own. Thank you for supporting the brands that make Local Adventurer possible.
During our time in NYC, we've partnered with 
CORT
 to help us furnish our apartment. Since we move every year, we travel light and always struggle with making our place feel like home, but they help us worry less about our space so that we can focus on exploring the city! Plus, it helps us 
make our apartment look pretty awesome with real adult furniture
! You can also check out the
CORT Blog
here.
TOURISTY SPOTS IN CENTRAL PARK
1. BELVEDERE CASTLE
We're bummed that it's currently closed for renovation, but when it reopens in early 2019, it will surely be a popular spot again. It gives great views of the surrounding park and home to the park's official weather station. You can even borrow a free discovery kit, which includes binoculars, a map, and a guide for bird-watching.
2. BETHESDA FOUNTAIN & TERRACE
This is easily one of the most popular spots in the park and even though it's crowded, we still like visiting. It's a popular place for musicians to busk because the sound rings throughout the arcade. Also, be sure to look up when you are there to see how beautiful the tiles are.
3. Central Park Carousel
The current carousel was made in 1908 and was originally in Coney Island until 1951, but a carousel has been in the park since 1871. Note: It's $3 per ride, and they only take cash.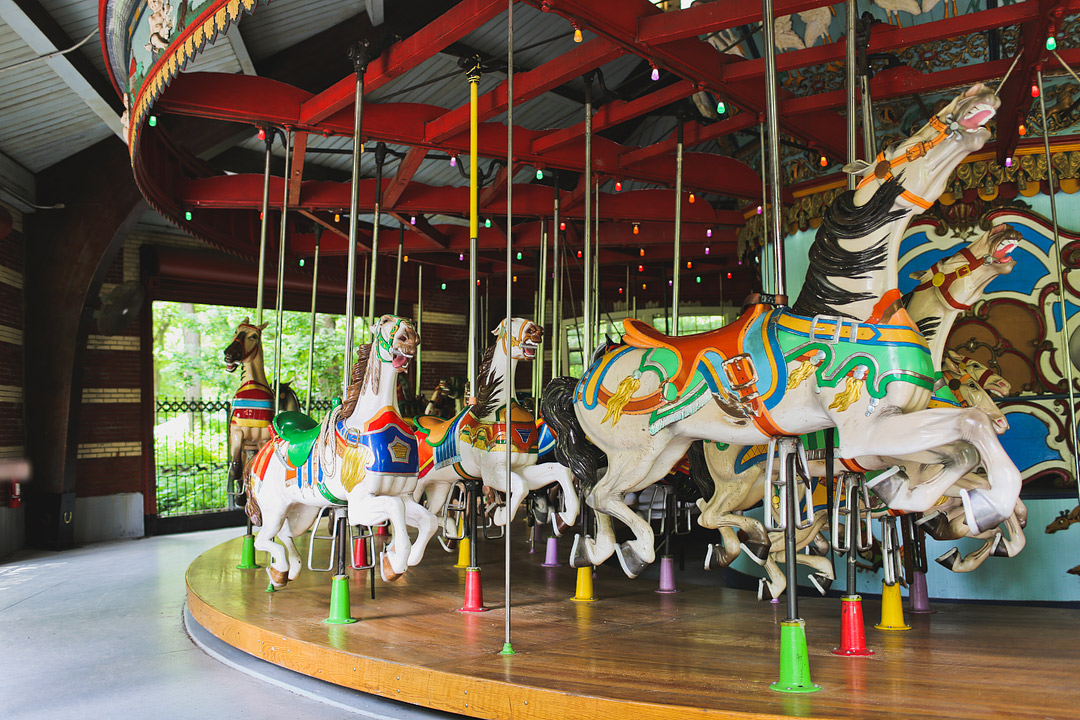 4. Central Park Zoo
This zoo is only 6.5 acres, but features animals from tropical, temperate, and polar climates. It's open from 10AM to 6PM April through October, and 10AM to 4:30PM November to March.
5. The Lake & Loeb Boathouse
Paddle around the scenic 22-acre lake, the park's largest body of water. You can see Bow Bridge, one of the most popular bridges in the park, from the water. It's also a very popular spot for proposals too. We still haven't done it – who wants to go with us? Note: Cash Only.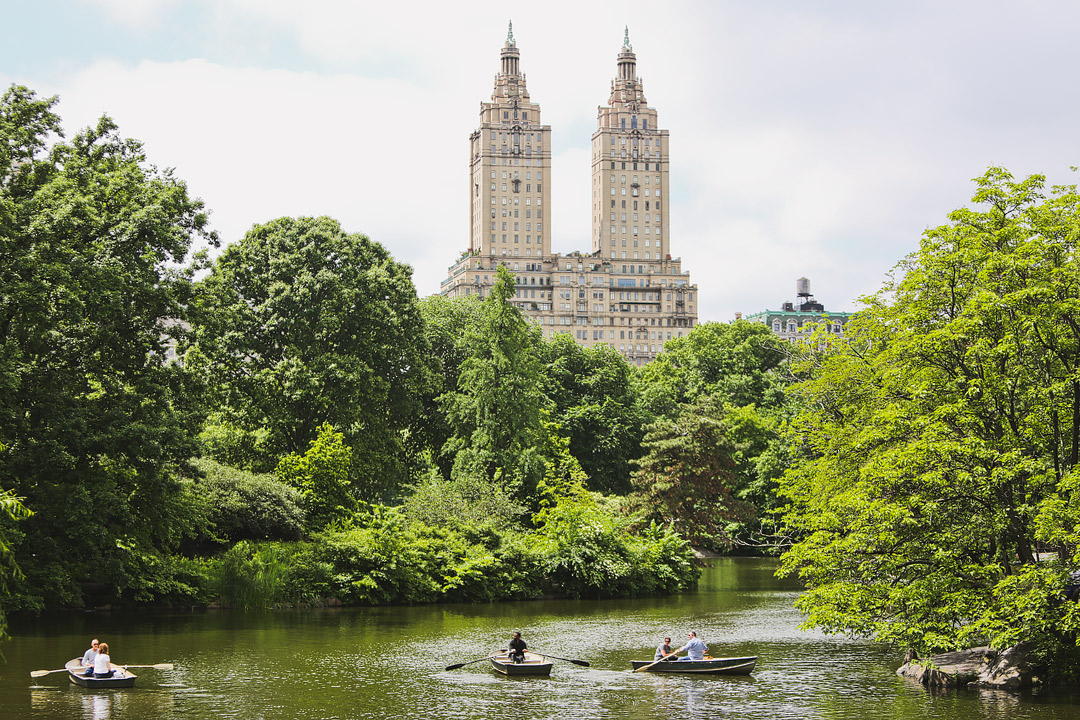 6. The Mall & Literary Walk
The Mall is the only path in the park that is a straight line. It leads right up to Bethesda Terrace and is another spot that you'll recognize from films and TV shows. Along the walk, you'll also see a collection of statues of famous writers. If you want to avoid crowds, visit as early in the morning as you can (or when it's snowing).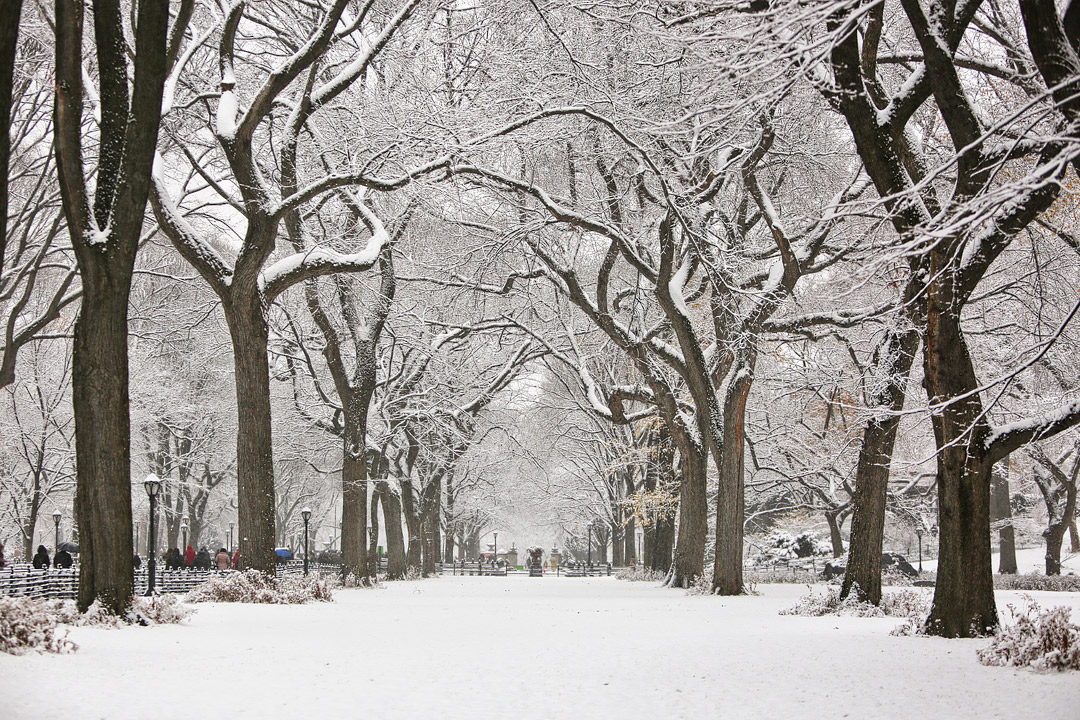 7. The Metropolitan Museum of Art
This museum is not only a big deal in the city, but also world renowned. The collection has over 2 million items in it and you can easily spend an entire day here. If you want to see everything thoroughly, go with a game plan. You're going to have to make multiple visits.
8. The Pond
Although this immediately takes you away from the busyness of the streets, you'll be surrounded by tons of people still. Since it's right at the south end of the park, it's easily accessible by everyone in Midtown. Don't forget to check out Gapstow Bridge, which gives you a great view of the skyline.
9. Strawberry Fields & Imagine Mosaic
Pay tribute to John Lennon along this tree-lined plot in the park. There is also a mosaic where people leave flowers for him. During his birthday and remembrance day, you find people gathered here playing music and honoring him.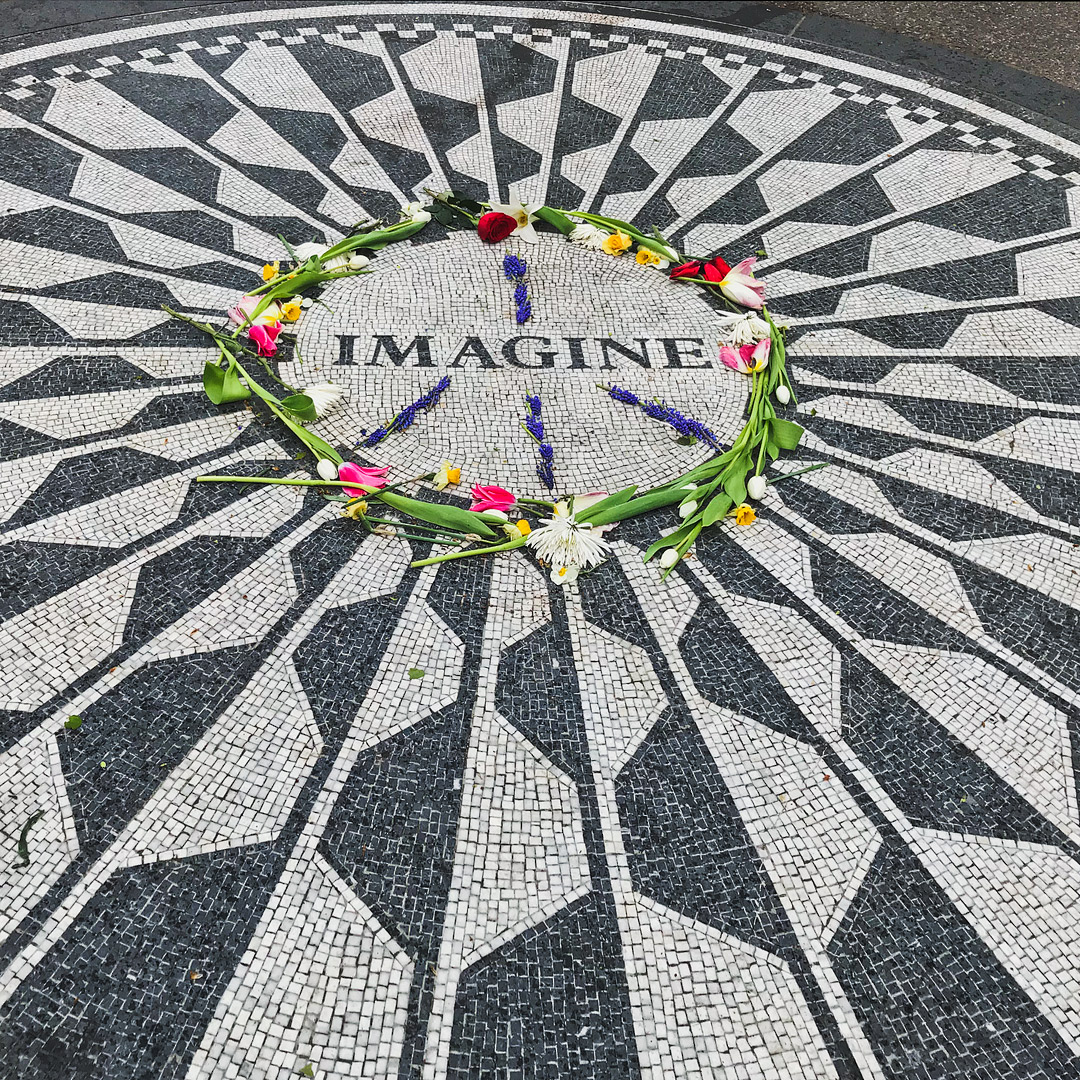 10. Statues in the Park
The park is full of amazing statues of sculptures. Here are a couple that are very popular among visitors:
Alexander Hamilton Monument – More popular now because of the musical!
Alice in Wonderland – This larger-than-life bronze statue of Alice and the Mad Hatter Tea Party has been around since 1959. It's a favorite to photograph and you can climb all over the sculpture.
Balto Statue – This is another popular statue for photos. Pet the lead dog from the final team of the Great Race of Mercy, a dogsled run in 1925
Duke Ellington Memorial – A tribute to one of the most iconic jazz musicians on the upper east side of the park.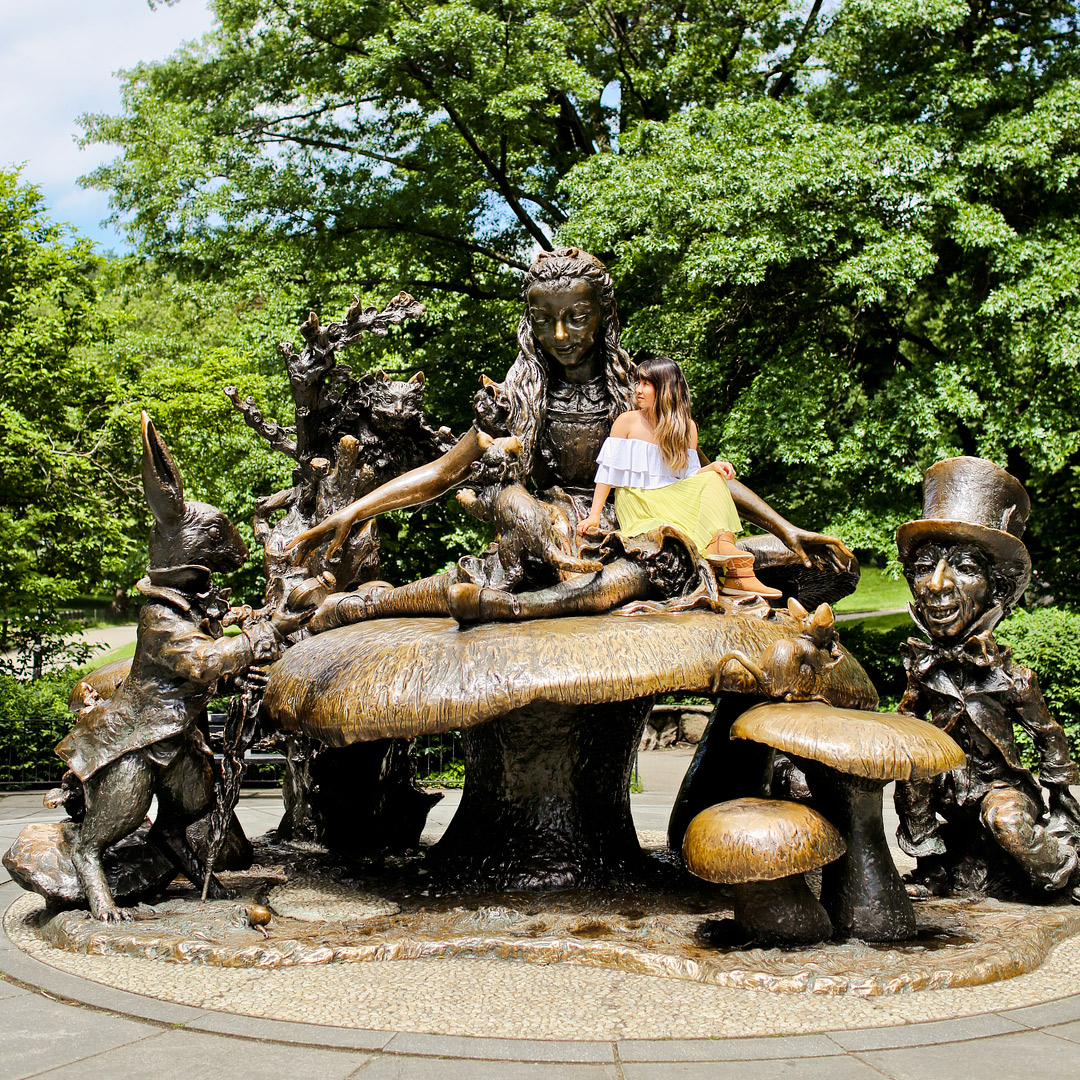 11. Tavern on the Green
This restaurant is another popular spot on TV shows and films. Enjoy a meal and reenact a scene from your favorite movie or show.
Local Spots in Central Park
12. Bank Rock Bay
Bird watchers love this spot and since most people don't stumble across the area, it's a perfect spot to sit quietly.
13. Bridle Path
This path that circles the reservoir is a popular running trail for locals, there is also a track along the rim of the water. During cherry blossom season, the trail is colored in pink.
14. CHESS & CHECKERS HOUSE VISITOR CENTER
Find locals challenging each other in chess and checkers. You can also join in on the fun.
15. Conservatory Garden
This garden has three sections and is one of the park's quiet zones. It's a great place to head if you just want to get away from the crowds and noise. When we visited, none of the flowers were blooming, so we'll definitely have to visit again.
16. Conservatory Water & Kerbs Memorial Boathouse
Steer model boats through the water or just stop by to watch them float on by.
17. Delacorte Musical Clock
Every half hour, one of 44 different songs plays while the animal figures circle and spin.
18. North Meadow Recreation Center
This area of the park has 7 baseball fields and 5 softball fields. It's the largest meadow in Central Park and draws out tons of locals.
19. Picnic in the Park
There are so many great areas to picnic, throw the ball around, or just bask in the sun. Here are some of the favorites:
Arthur Ross Pinetum – A perfect picnic spot off the beaten path. There are picnic tables, plenty of shade, and swing sets.
Cherry Hill – A popular picnic spot.
The Great Lawn – Locals flock to the Great Lawn when the weather is nice. Play catch, picnic, or catch one of New York Philharmonic's free summer shows.
Great Hill – This is the third-highest point in the park and a great place for a picnic or afternoon nap.
Sheep Meadow – Great picnic spot with skyline views.
20. Playgrounds
For those of you who have little ones, head to one of many playgrounds in the park. Here are a couple highlights:
Ancient Playground – Beautifully designed and conveniently right next to the MET.
Billy Johnson Playground – This site is currently under renovation, but the iconic slide will still be there when it reopens. Locals can attest to how much fun it is to fly down the slide.
Diana Ross Playground – Diana Ross was scheduled for a free concert in 1983 but it had to end abruptly because of bad weather. She showed up again the next night and the crowd went wild. Some of the park was damaged, so she donated the proceeds to build a playground.
Heckscher Playground – A favorite amongst locals with a ton of water features.
21. SHAKESPEARE GARDEN
All of the plants and flowers in this garden are mentioned in the works of Shakespeare. There are also plaques with quotes scattered throughout.
22. SKATER'S CIRCLE
Bring your skates and show your moves as DJs blast music almost every weekend. Makes me wish I still had my rollerblades.
23. SWEDISH COTTAGE MARIONETTE THEATRE
The oldest continuously operating marionette theatre makes its home in the beautiful Swedish Pavilion that was brought to New York in 1877.
Central Park Secrets - Shhh!
24. THE ARSENAL
This used to be New York's National Guard supply depot. Since the park opened, it was the home of the first Museum of Natural History, a zoo, and a police precinct. It is now the headquarters to the Department of Parks and Rec and the Central Park Zoo. 
25. THE BLOCKHOUSE
This is the oldest known building in Central Park and was initially built as a fortress during the War of 1812. It doesn't seem like it gets many visitors and can feel a bit sketchy at times.
26. CHARLES B. STOVER BENCH
Also known as the Whispering Bench, you can hear the person from the other end of the bench even if they are whispering.
27. Charles A. Dana Discovery Center / Harlem Meer
Pick up a free fishing pole and bait at the Dana Discovery Center and try your luck at fishing the Harlem Meer. Note: It is Catch & Release only.
28. The Gates
There are 20 named gates at various entryways to Central Park. A couple noteworthy ones are:
Engineer's Gate – Has a bust of mayor John Purroy Mitchel who opened Water Tunnel 1 a century ago.
Vanderbilt Gate – This gate was initially from an enormous mansion built for Cornelius Vanderbilt II, and was at the time the largest private home in the city.
29. Hallett Nature Sanctuary
This spot is often overlooked. It's tucked away amongst some of the busiest parts of the park, yet feels worlds away. As soon as we stepped in, it felt like we had a portion of the park all to ourselves.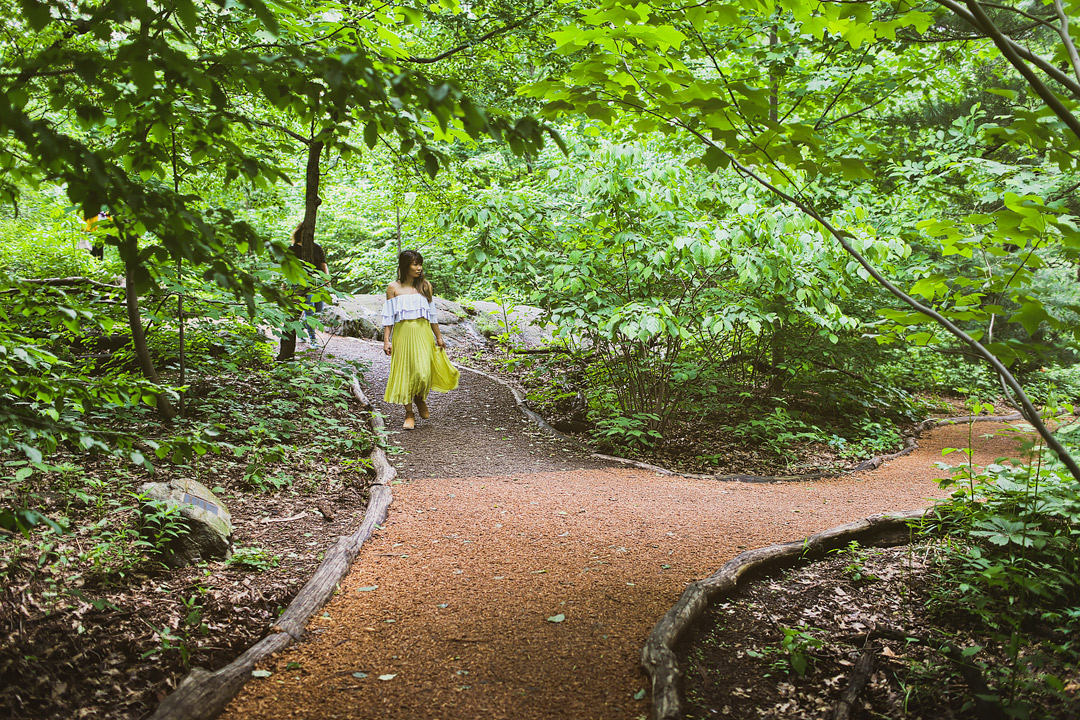 30. HUDDLESTONE ARCH
This arch was built in 1866 is held together just by gravity!
31. OBELISK CLEOPATRA'S NEEDLE
This obelisk is the oldest object in the park. It was constructed in Egypt in 1400 BC and brought to Manhattan in the late 1800s.
32. THE POOL
Find a waterfall, weeping willows, and plenty of spots to enjoy a quiet moment at the pool. Nearby is also the source of all the water in NYC north of 96th street.
33. SENECA VILLAGE SITE
Seneca Village was the first and largest community of free African Americans in NYC. The city eventually took possession of their land to build the park, but you can still see a portion of the foundation. If you're not looking for it, it's really easy to miss.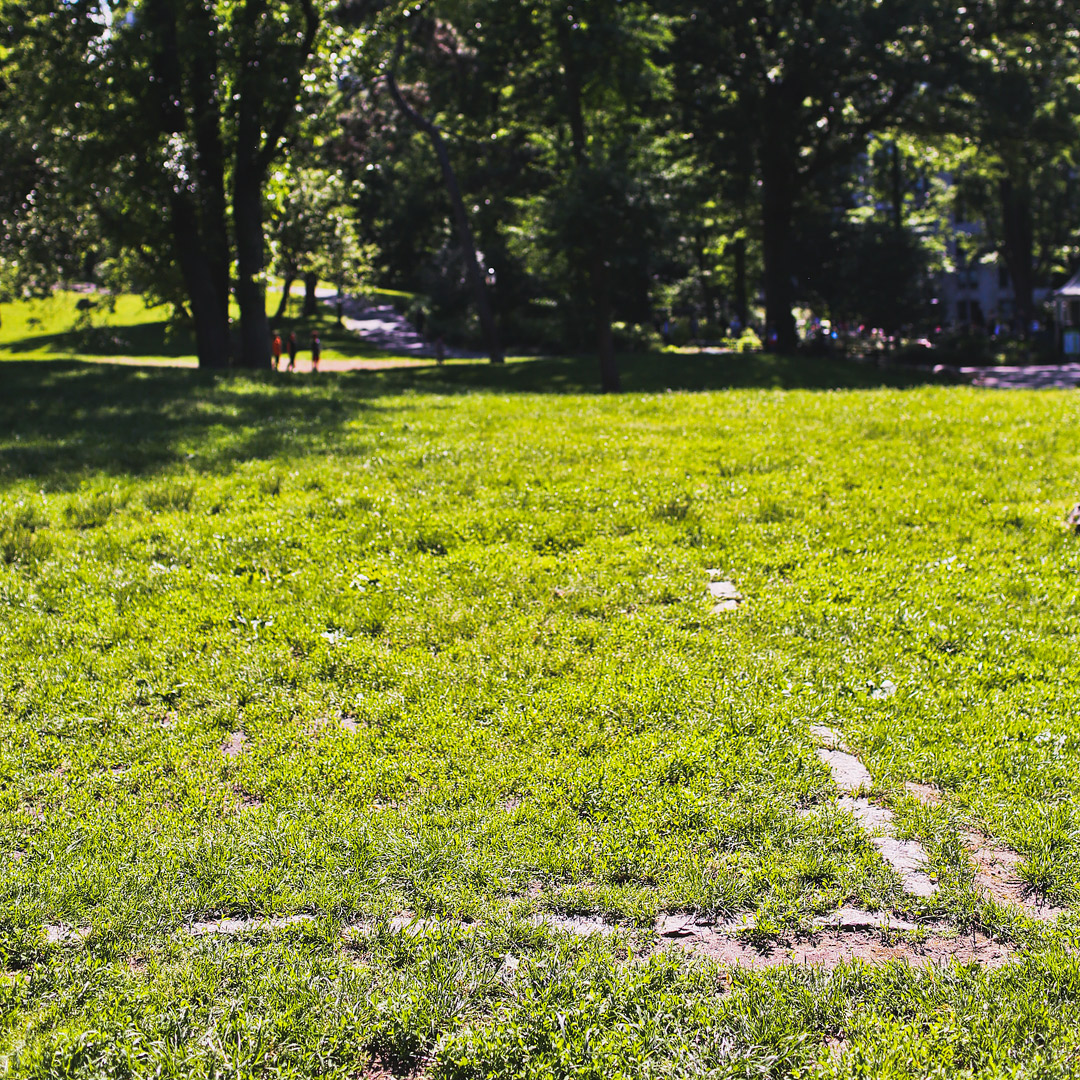 34. RAMBLE CAVE
Also known as Indian Cave, it was a popular spot for criminals to hideout, kids to hang out in, and someone even committed suicide here. Today it is no longer accessible, but there are still a set of stone stairs that lead to the bricked up entrance.
35. RUINS OF ACADEMY OF MOUNT ST VINCENT
This building was initially the first institution to offer higher learning for women in New York. After the park was built, it became a restaurant, hotel, art gallery, and even military offices. It was eventually destroyed in 1881 and is now used as a composting area by the park.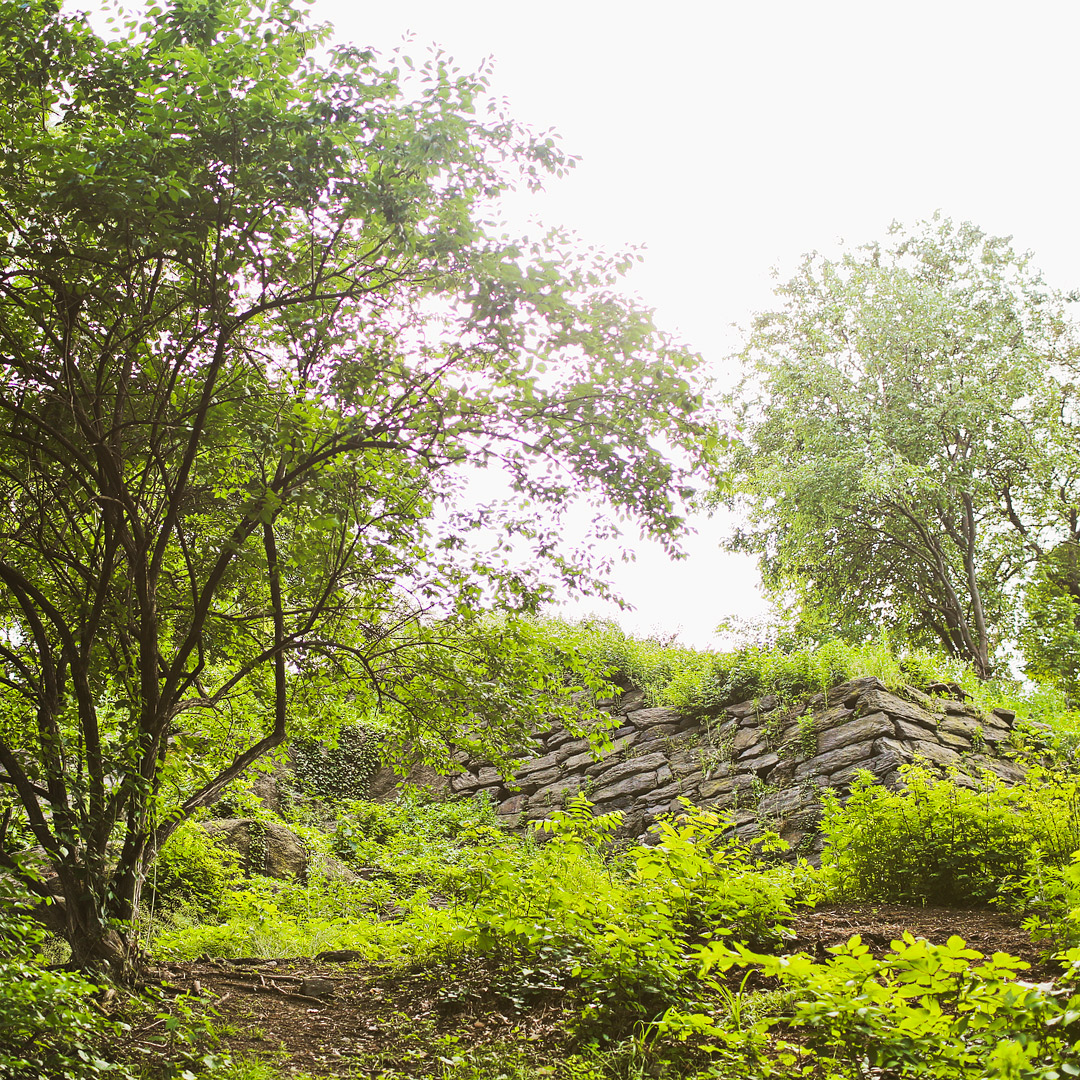 37. WATERFALLS IN THE PARK
Yes, you can find waterfalls inside Central Park. There is one near The Pool, and a few more along the Loch, including our favorite one below. We only saw a few people pass by while we took photos.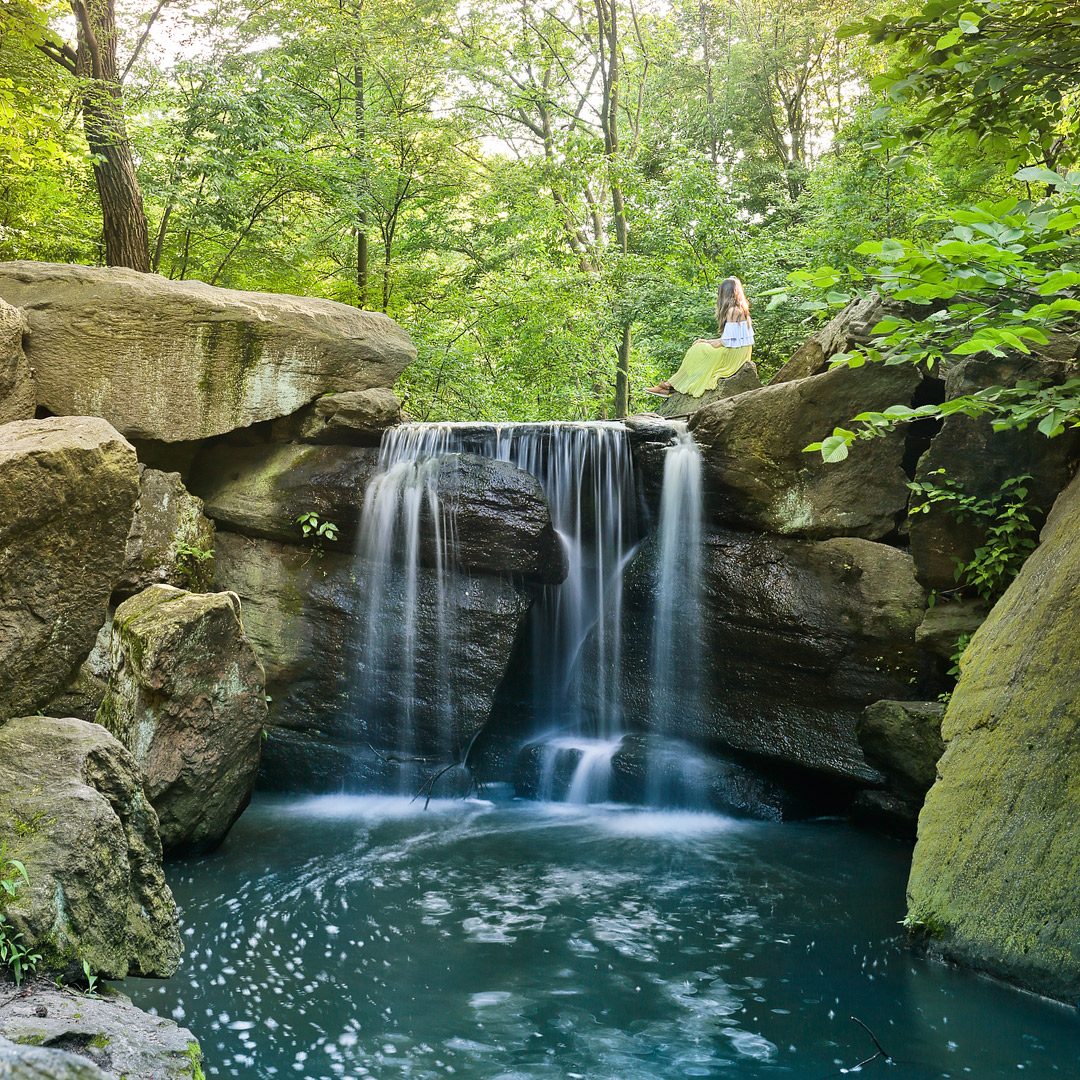 Seasonal Events in Central Park
38. Butterfly Gardens of Central Park
In the summer, you'll find monarchs in the North Meadow Butterfly Gardens before they head south for the winter.
39. Hans Christian Andersen Statue
During the summer, free story time is held here on Saturdays at 11am.
40. Lasker Rink & Pool
Head to the north side of the park for public swimming in the summer or ice skating in the winter. Since it's so far north, you'll mostly find locals here.
41. SHAKESPEARE IN THE PARK AT DELACORTE THEATER
The Public Theater's annual Shakespeare in the Park always brings crowds of people in. Tickets are free if you can get your hands on them. They go quickly online, but you can also line up the day of the show, they start giving them out at 12PM.
42. Summerstage in Central Park
Catch one of the shows at Rumsey Playfield.
43. Victorian Gardens Amusement Park
A perfect place to get away with the kids during the summer. Who needs to wait for the carnival to come around when it's there all summer?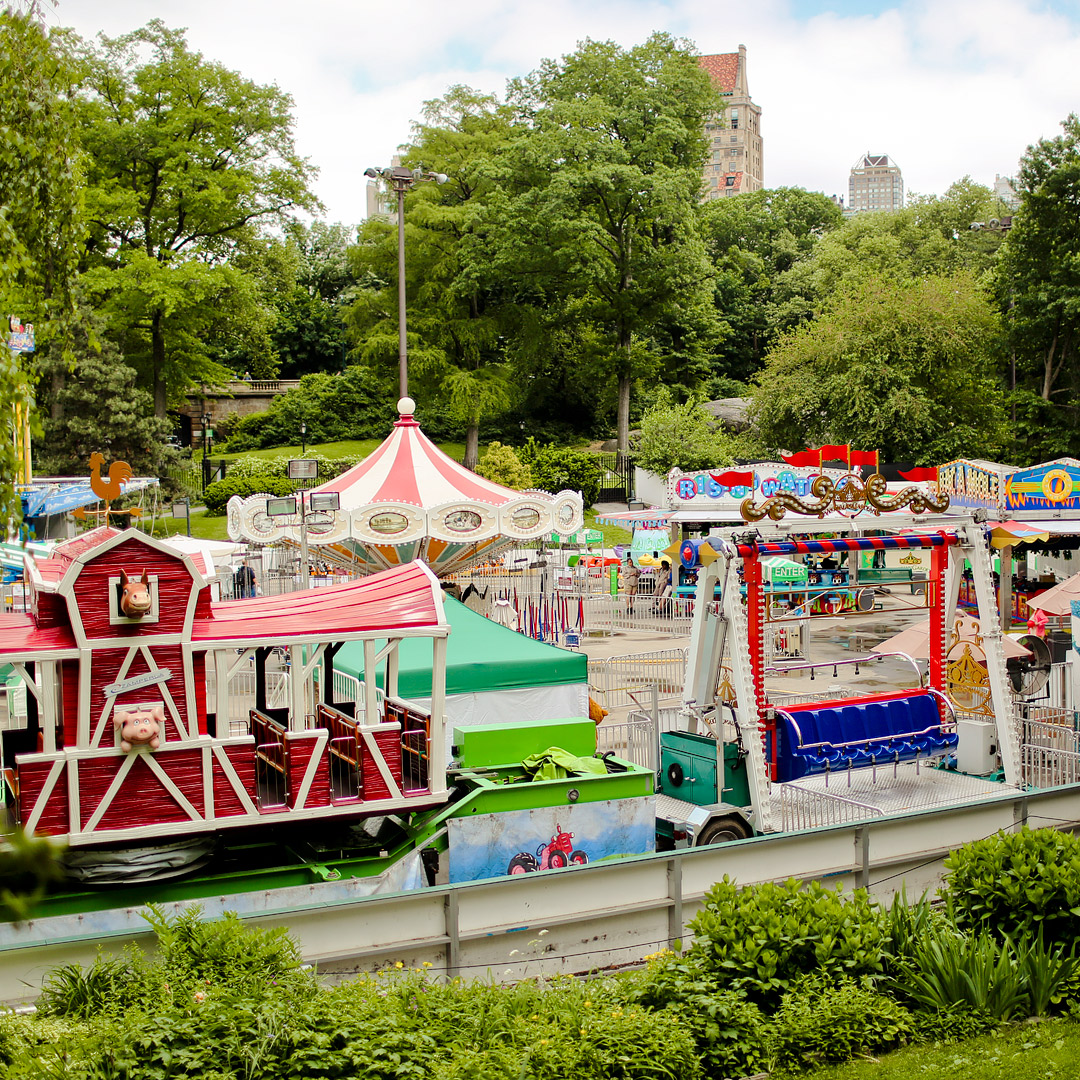 44. Wollman Rink
In the winter, you'll see thousands of people come through to skate in one of the greatest parks in the world. See the best ice skating rinks in NYC here.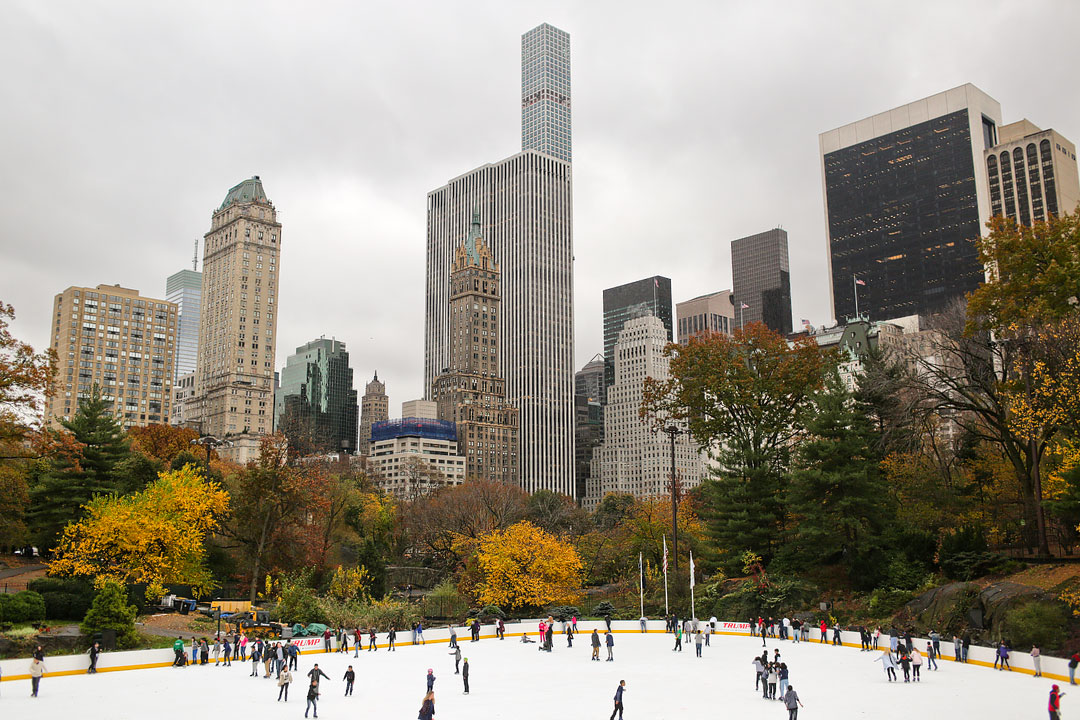 45. Yoshino Cherry Trees
There are roughly 150 of the original 270,000 trees planted in Central Park. More have been planted and added to the park and the east side of Central Park Reservoir is best place to see them. We missed the Yoshino cherry blossoms by a few days this year, but caught the Kanzen on the west side of the reservoir.  Click here to see more Cherry Blossom spots in NYC. 
TIPS FOR VISITING CENTRAL PARK
Visit early morning to avoid crowds.
Most vendors in the park only take cash and ATMs are hard to find.
Don't try to do everything in the park in one day. We did and we were EXHAUSTED by the end of the day.
If you're not sure where you are, check out the street lamps. The first two (or three) numbers tell you what the closest cross street are. The last number tells you if you're on the east or west side of town (odd means you're on the west side, and even means east).
MAP OF THE BEST THINGS TO DO IN CENTRAL PARK
What's your favorite spot in Central Park? Which of these spots did you find most surprising?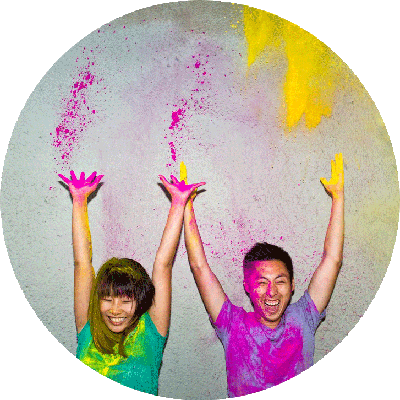 ESTHER + JACOB
Esther and Jacob are the founders of Local Adventurer, which is one of the top 25 travel blogs in the world. They believe that adventure can be found both near and far and hope to inspire others to explore locally. They explore a new city every year and currently base themselves in NYC.