Cape Town offers amazing views, great photo opportunities, and adventure sports. We have the longest bucket list mostly revolving around new experiences, which means paragliding was going to happen at some point! We thought it'd be the perfect opportunity to try a fun new activity while enjoying the amazing views of Cape Town.
Weather Dependent
First of all, keep in mind that this is a weather dependent activity! After all, safety first, fun second. They have to have the right amount of wind coming from the right direction to fly. To help increase the chances, they have multiple takeoff points, and they'll tell you day of what your takeoff location will be. The morning of our flight was too windy, so our flight was called off, but an hour before our original flight time, we got a call that it was back on! Your flight could also be shorter or longer depending on the wind too. In the instructions, you'll be asked to call them one hour prior to your booking to confirm the weather and that they're running on schedule.
Just be sure to keep this in mind as you plan your day in Cape Town. Be flexible and they'll do their best to get you in the air. The fortunate part is that they fly roughly 250 days out of the year!
The Flight
We arrived at the flight site a few minutes before our scheduled flight. After finalizing paperwork and taking care of payment, they strapped us in and introduced us to our pilots. Instructions are pretty straightforward, when they say run, RUN! You have to do this twice, when you're taking off and when you're landing.
Listen to your pilot. After I landed, another tourist was coming in for a landing and did not listen. Rather than running, he decided to sit. It ended up dragging his butt 8-10 feet as the pilot stumbled behind him doing his best not to land on top of him. You could tell the pilot was a bit peeved when he said, "is that how you run in your country?"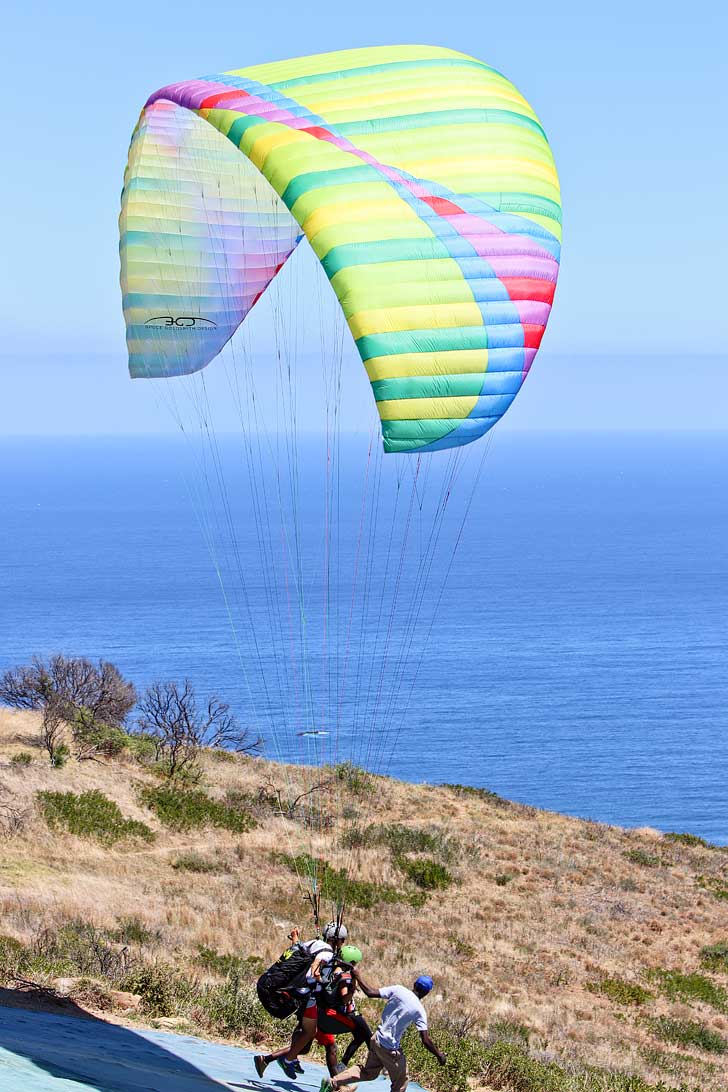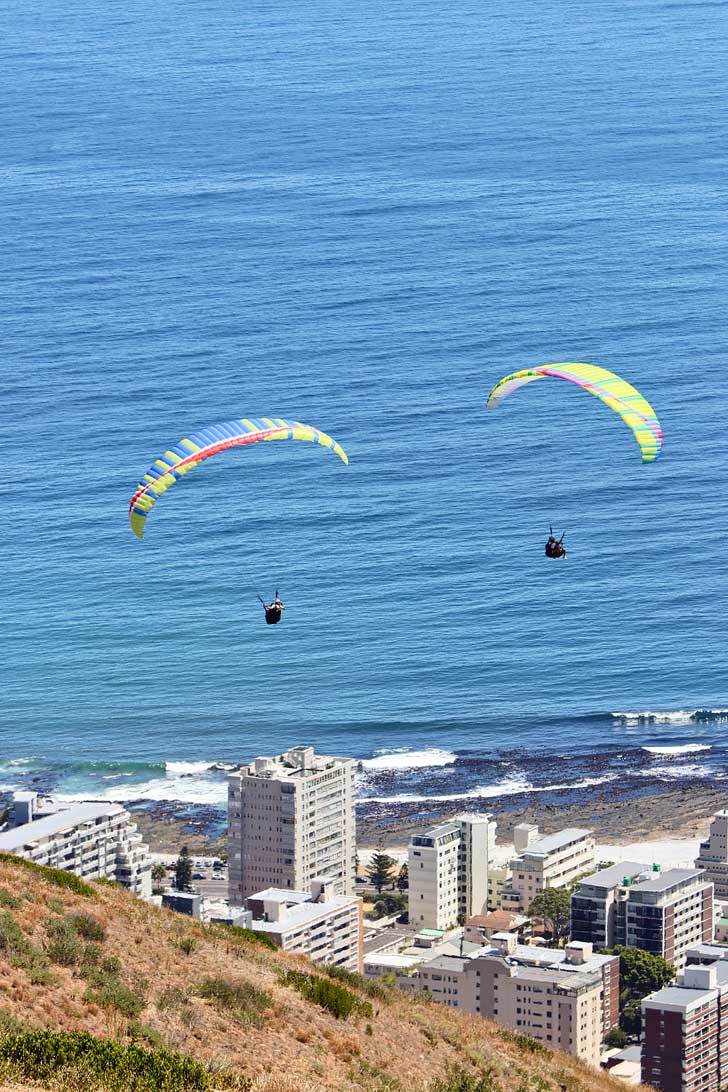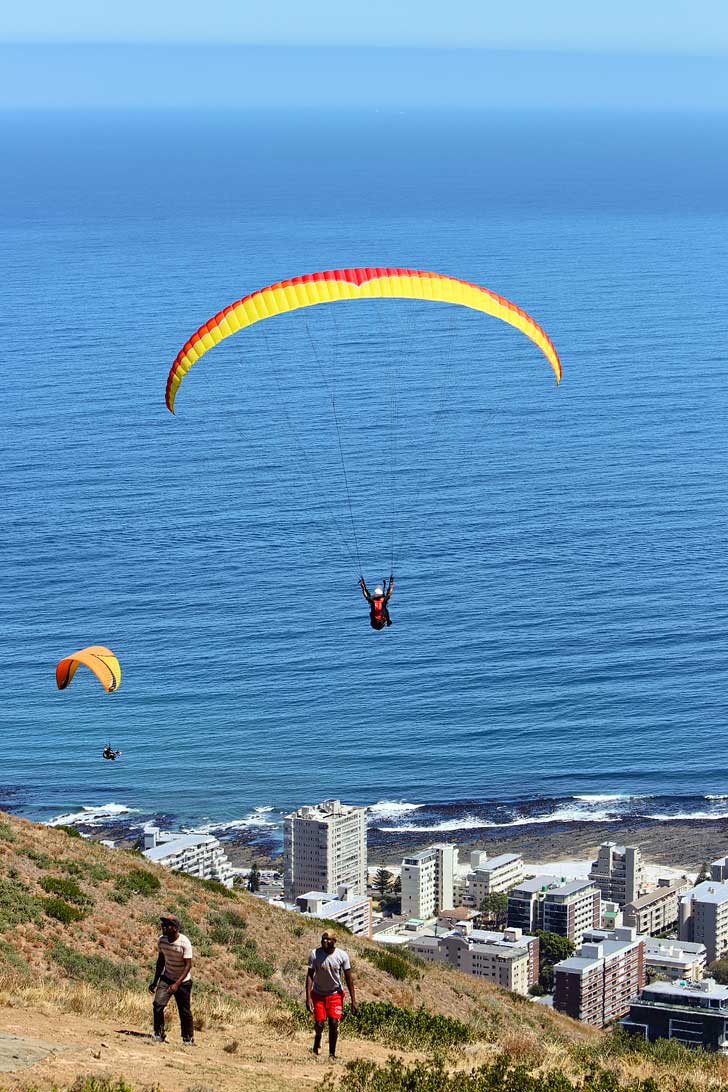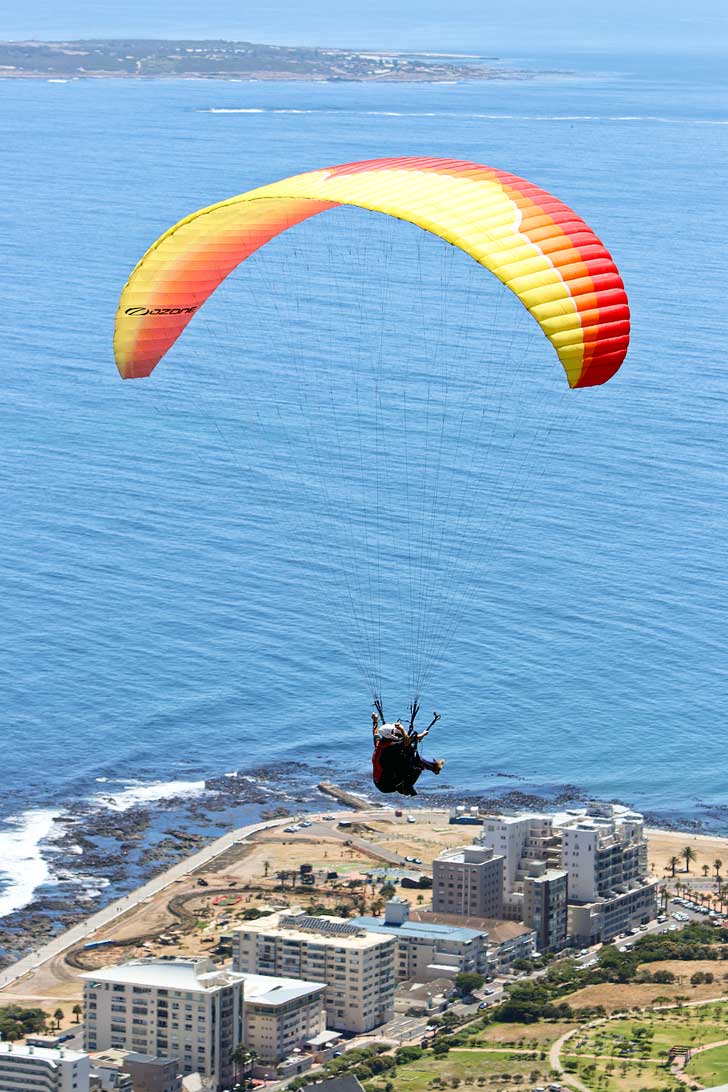 The take off itself was a lot easier than we expected. You keep running until you're running in air. They even have two people run beside you to ensure you take off in the right direction. Once you're in the air, it's smooth sailing! The pilot reads the wind and flies you around based on where he thinks is best. It was amazing to see how they could point out the air currents from afar.
After 10-20 minutes in the air, you go in for landing in a field near the water. Since this activity depends on the wind, my flight was around 10 minutes, but Esther's was much longer and the winds took them out further. Similar to when you take off, your pilot will tell you when to start running again. It was also a smooth landing.
You can opt in to get photos and video from them, which is totally worth it! You start off holding the selfie stick and GoPro, then after you're in the air, you hand it off to your pilot to take a bunch of photos, before he gives it back to you for the landing. Once you hit the ground, you get the memory card. When everyone lands, you load into a van where they take you back to your starting point. You can also stay down below if you choose to!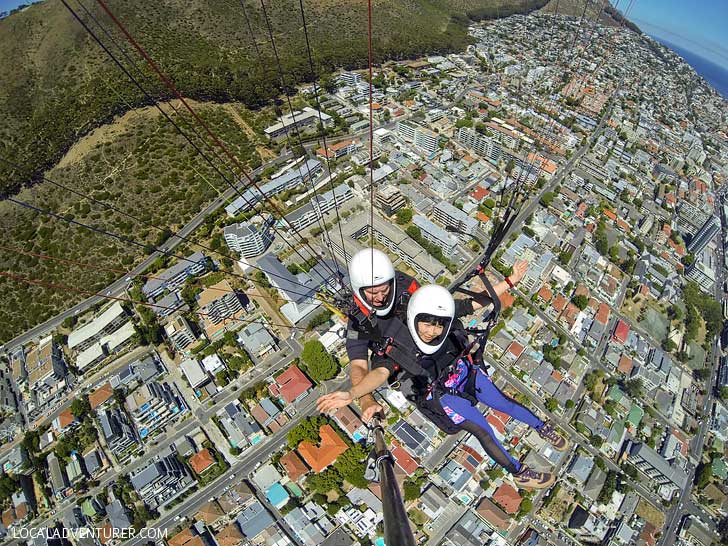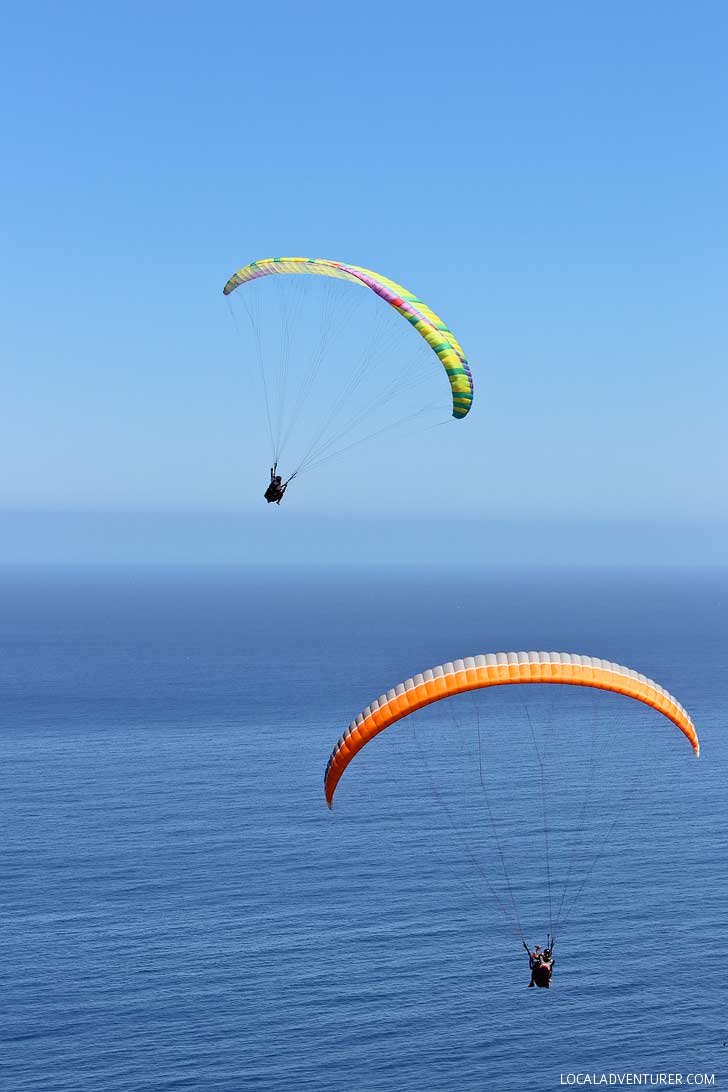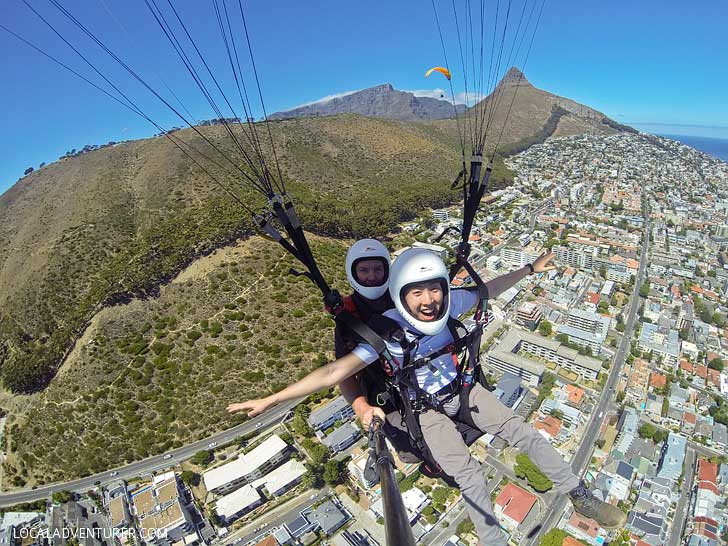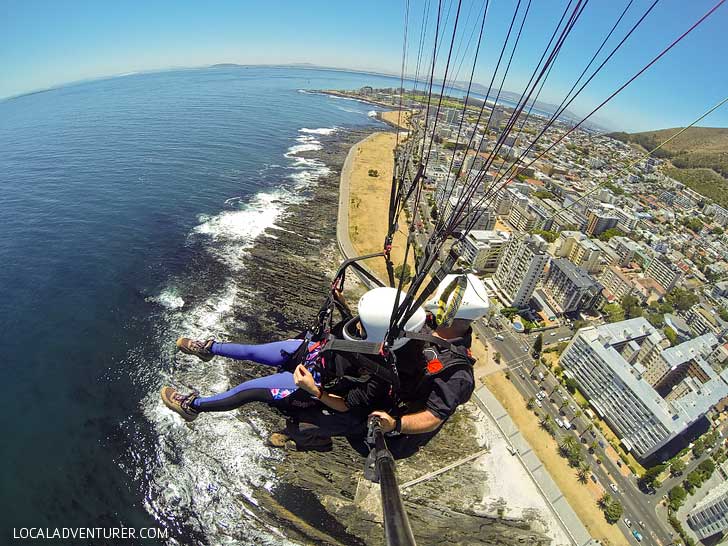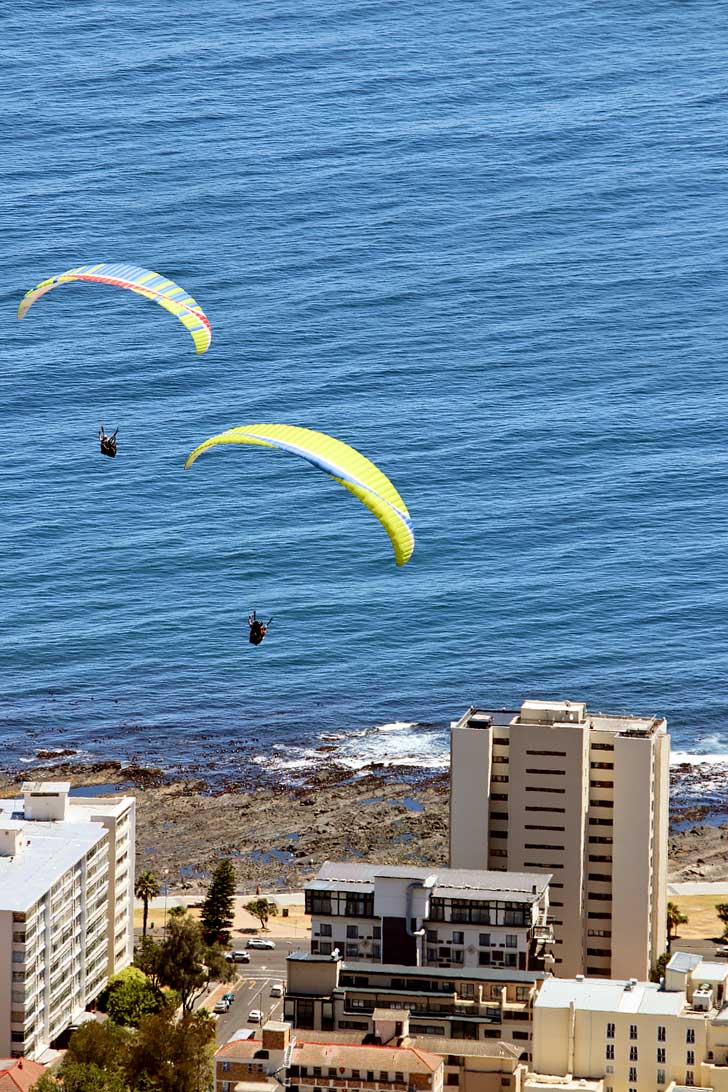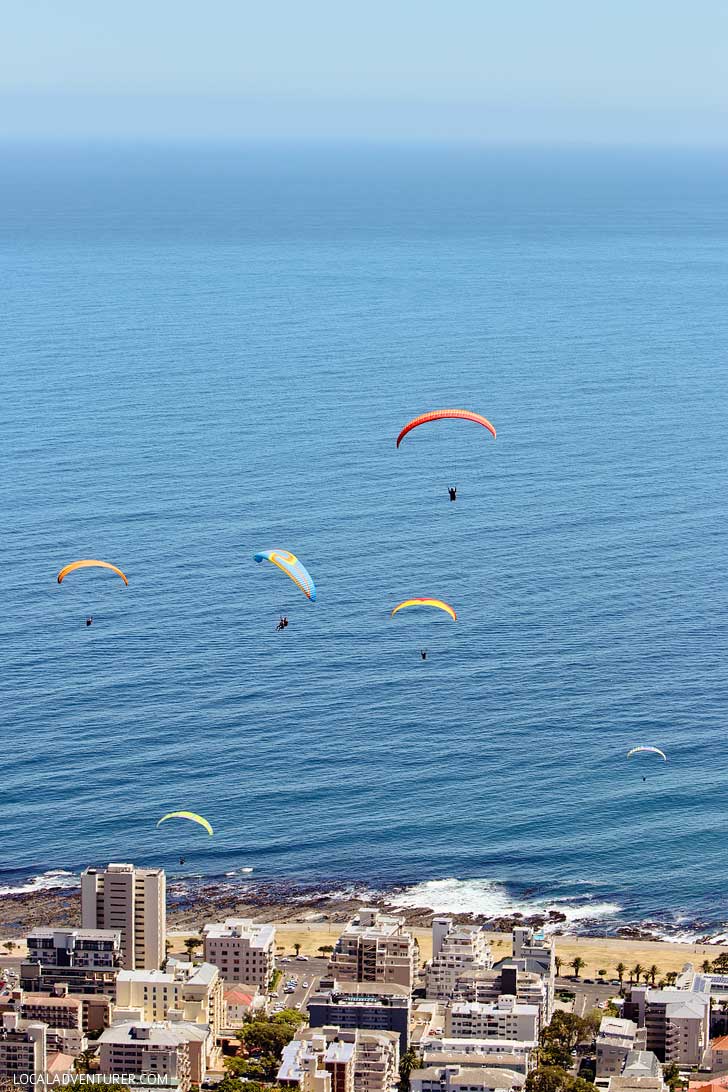 Is it dangerous?
Before trying it, we definitely had some reservations about it. Anything that gets you suspended hundreds of feet in the air relying on the wind sounds sketchy! It was a tiny bit comforting knowing that the wing is connected to you by at least 30 lines, and each line is strong enough to support your weight. Of course, there is the risk of the wing collapsing while in flight, but this is rare and usually only happens if they decide to fly in terrible weather. If you go with a reputable company, they never fly if it's risky. A lot of pilots also have reserve parachutes, which will safely get you to the ground if you're more than 700 feet in the air. I asked my pilot if he's ever had to deploy his on a tandem flight, and he never had to in the 15+ years he's been flying.
What if I'm Scared of Heights?
Both Esther and I are afraid of heights, and one of our friends was even thinking about bailing, but we're all glad we tried it. There was never a sensation of vertigo or that shaky feeling you get when you're standing on a high ledge. It felt similar to looking out of an airplane window or when we rode hot air balloons. Even our launching and landing was very smooth. Our one recommendation is that you should tell your pilot you are scared and ask that he doesn't do any fancy tricks. Otherwise, it's a smooth and fun ride!
What's the Difference Between Paragliding, Parasailing, and Parachuting?
Paragliding is different from hand gliding, parasailing, parachuting, and skydiving. It's most confused with hand gliding, but rather than using a rigid frame in the horizontal position, paragliding uses parachutes, lines, and harnesses.
Parasailing (the one you get pulled behind a boat) doesn't require as much skill or training since it's not a free-flying adventure sport. Paragliding requires pilots to learn how to use thermal air currents, manipulate lines, brakes, and shift their weight. There is also no jumping or free falling, like in parachuting or skydiving. The launch and landing are gentle and controlled.
If you want to learn to fly on your own, you have to take classes. Unlike skydiving where you need a certain number of jumps, you learn a lot of the physics of flying first before ever getting off the ground. If you become really good at flying, you can travel for miles! Although most tandem rides last between 15-20 minutes depending on weather conditions, pilots who are really skilled can stay in the air for much longer. By using thermal columns of rising air, they can continue to extend their flight. Will Gadd is the current world record holder for longest paraglider flight at 263 miles.
Fly Cape Town Paragliding was rated highly on Tripadvisor and really great to work with. The pilots were all great, easy to communicate with, and highly skilled paragliders. After booking your flight, they will send you all the info you need. See the cost of the flight and photo / video package here.
26 Virginia Avenue, Vredehoek
Cape Town, Western Province 8001
Telephone: +27(0)82 851 7119
Email: info[@]flycapetown.co.za
PRO TIPS:
They only accept cash, so be prepared! If you don't have cash, they can drive you to an ATM after, but it can be a hassle.
If you have small personal items, there is a zippered pocket on the back of your harness.
If you tend to get motion sickness, just prepare for it. Drink lots of water beforehand and avoid alcohol or caffeine. Be sure to eat a good meal with plenty of time to digest. You can also take dramamine, which Esther takes when she goes on boat rides, but she had no motion sickness while paragliding.
Wear sturdy shoes. No flip flops for takeoff or landing.
There are weight restrictions based on the pilot and gear they fly with. Check with them if you're worried about this.
If you want to bring a camera / GoPro – it has to be strapped to you. You don't want anything falling out of the sky.
When they're taking photos of you keep that in mind and always know where you are in respect to the GoPro. Don't forget to look at it at times. I don't have that many photos of myself bc I was more preoccupied with looking around at the scenery.
Bring snacks or lunch so you can picnic at your takeoff point – signal hill or lion's head – especially if you're waiting.
Have you tried paragliding? Is it something you would try?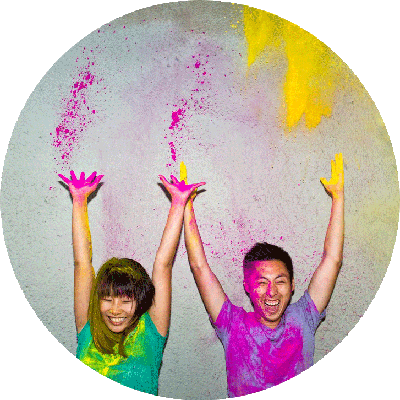 ESTHER + JACOB
Esther and Jacob are the founders of Local Adventurer, which is one of the top 50 travel blogs in the world. They believe that adventure can be found both near and far and hope to inspire others to explore locally. They move to a new city every year and currently live in Portland, Oregon.






Read Next: 15 Amazing Things to Do in Mauritius Island