Madrid is the third largest city in the EU (after London and Berlin) and offers you plenty to explore. Whether you want to eat your way through town, enjoy the culture and museums, or simply admire the beautiful architecture and parks, you're sure to find something that you'll enjoy. If you're headed to Madrid on your first trip, we've put together a great list of things to do.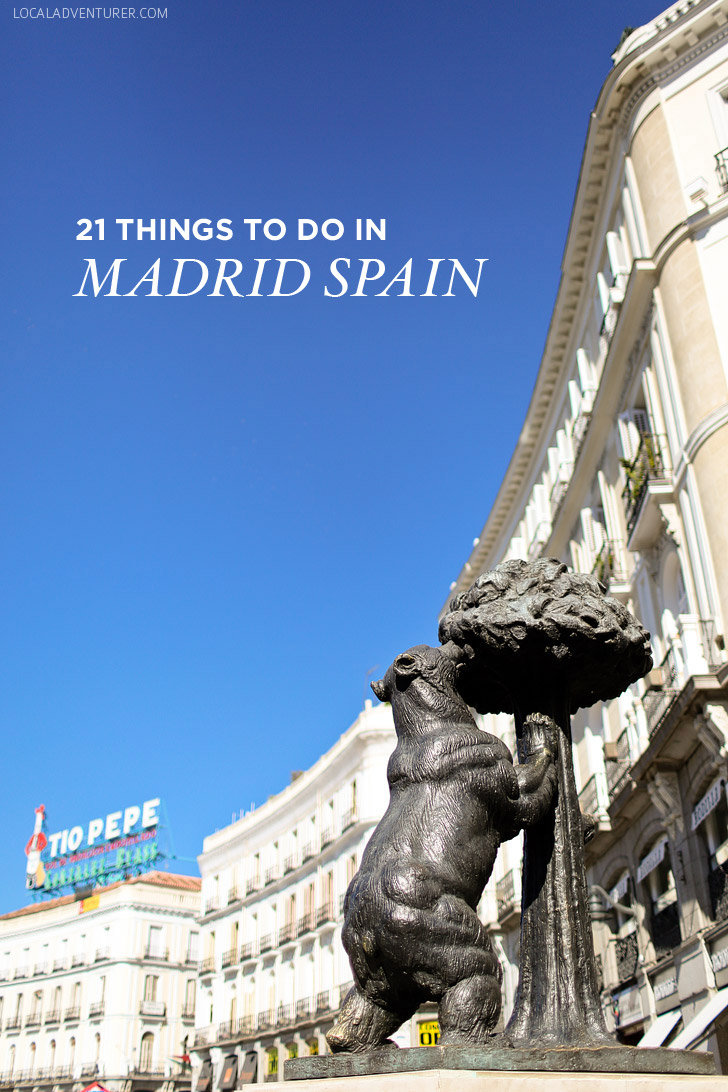 21 REMARKABLE THINGS TO DO IN MADRID SPAIN
1. People Watch at Plaza Mayor
This is the main square in Madrid and is rich with history. Grab a seat at one of the restaurants and enjoy a glass of wine and tapas as you people watch. Here, you can also check out Torre del Oro, a small bar with an array of memorabilia that is often referred to as "The Revenge of the Bulls," with photos of gruesome gorings lining the wall.
FUN FACT: The equestrian statue in the center once omitted a terrible odor, and after further investigation, they discovered hundreds of skeletons of small birds who crawled into the horse's mouth and couldn't get out. They have since sealed the mouth.
One of Madrid's oldest and most beautiful markets; this is a food lover's heaven. Try a bite of local delicacies or just people watch. Click through to see our full post with more photos and details.
3. Have Lunch with a View at the Gourmet Experience
Climb to the 9th story of the El Corte Ingles Shopping Center for the best free view of Madrid. You'll be able to see the Royal Palace, Catedral de la Almundena, and you can grab a snack or lunch at the food hall, so you can eat while enjoying the great view.
PRO TIP: If you're here to take photos, there is glass all the way around, so there may be a glare.
4. Hang out at the Rooftop Bar of Circulo de Bella Artez
Many say that this is the best view of Madrid, but it requires you to pay a fee of 4 euro to get access to the top. When we went, the view was ruined by scaffolding and a giant advertisement, but I did enjoy the vibe of the rooftop bar. If you're going just for the view, we personally think the Gourmet Experience has a better view of the city, and this one is not worth the price. However, if you want to also relax and grab a few drinks, this is an excellent spot.
5. Relax at Retiro Park (Parque del Retiro)
This is one of the most popular parks in the city. There are 350 acres to explore, and you can even rent a boat and take a romantic paddle around the pond. Also, make a stop at the Crystal palace where they have free exhibits and beautiful architecture.
PRO TIP: Right outside of the NorthWest corner of the park, you'll find Puerta de Alcalá, which is a grand gateway that is worth checking out.
6. Shop at the Biggest Open-Air Flea Market
Held every Sunday from 9 AM to 3 PM, the El Rastro Market is the biggest open-air flea market. With roughly 3500 stalls, there is plenty to keep you busy. If you're done shopping, you can enjoy the street artists or duck into one of the restaurants / cafes lining the streets to have a beer and tapas.
7. Gaze at the Artwork at Museo Reina Sofia
Formerly a hospital, this modern art museum is home to works by Pablo Picasso and Salvador Dali. By far, the most famous piece is Picasso's Guernica, which was much larger than we had imagined!
PRO TIP: Admission is free Mon-Sat 7-9 PM, Sun 1:30-7:30. Certain exhibits do not allow any photography including Picasso's Guernica.
8. Take a Stroll along Madrid Rio's Riverside Walk
Enjoy the sights, sounds, and fresh air along the Manzanares river. There are several park areas, playgrounds, and small bridges to explore. And the path is bike friendly too. This is one thing we regret not having time for in Madrid.
9. Plaza de Cibeles
The Cibeles Fountain is an icon in Madrid. But while you are there, be sure to also take note of the Palacio de Comunicaciones. It was built in 1917 and one of the city's most beautiful buildings. Originally the headquarters to the postal service, it is now the Madrid City Hall.
FUN FACT: The fountain is an unofficial meeting place for Real Madrid fans and players to celebrate big wins.
10. Bernabeu Stadium Tour (Estadio Santiago Bernabeu)
Step foot in more than 100 years of Real Madrid history at this legendary stadium. If you can catch a game, you should absolutely do that too. If you can't catch a game, be sure to take the behind-the-scenes tour. Even if you're not a huge fan of soccer or Real Madrid, this is still worth the experience since Madrid is hardcore about their team. Any Ronaldo fans out there?
11. Shop and Admire the Architecture along Gran Vía
Take a walk down one of the most famous streets in Madrid and enjoy the shops, cafés, restaurants, historical theaters, and architecture. The main portion runs from the Metrópolis building to the Plaza de España.
12. Prado Museum (Museo Nacional del Prado)
Prado Museum is home to over 9,000 pieces of art and is renowned as the world's largest art gallery. It was opened in 1819, and the museum offers free educational activities (in Spanish) and holds temporary exhibits showcasing amazing artists and pieces from around the world.
13. See a Flamenco Show at Corral de la Moreria
Flamenco is a beautifully passionate style of dance and music. Although there are plenty of places to catch a show, Corral de la Moreria is the oldest flamenco house in the world and considered the "cathedral of flamenco."
PRO TIP: Depending on the venue, there are shows that don't allow for photography until the very end.
14. Take in the Massive Royal Palace of Madrid (Palacio Real)
The Royal Palace is Madrid's largest building and the largest royal palace in Western Europe. It is located next to Plaza de Oriente square, which you should also explore!
15. Stand at Kilometer Zero at the Gateway of the Sun (La Puerta del Sol)
La Puerta del Sol is the most central square in Madrid. You will find a semi-circle marking on the ground that marks km0, which is the location from where distances are traditionally measured. You'll also find a statue of "The Bear and the Strawberry Tree" which is the symbol for Madrid.
FUN FACT: The emblem of Madrid is a bear swiping at a small tree called a madrono. It is similar to a strawberry bush and when the fruits get too ripe, they ferment, so bears would get drunk from eating the fruits.
16. Catedral de la Almundena
The Catedral de Santa María la Real de la Almudena is right next to the Royal Palace. There is an entrance through the Plaza de la Armería, a spacious square between the Catedral and Palace, and a second entrance with impressive bronze doors by the sculptor Sanguino.
17. See a Show at Teatro Compac Gran Via
Gran Via has been known as the Broadway of Madrid because of all the cinemas and theaters. A lot of them have closed down since then, but there are still a few iconic theaters. Teatro Compac Gran Via is one of the oldest theaters dating back to 1944 and hosts all kinds of shows and musicals.
18. Try a Bocadillos de Calamares
One of the local favorites, the bocadillos de calamares is a baguette filled with fried squid rings. You can get them at a lot of different places. We tried it at one at a recommended spot called El Brillante right outside the Museo Reina Sofia, but Plaza Mayor is also a popular area to get them. I always have my sriracha2go handy. ;)
19. See the Egyptian Temple of Debod
You may be surprised to learn that there is an authentic Egyptian temple dating from the 2nd Century BC in Madrid. Dedicated to the gods of Amon and Isis, this temple was donated to the Spanish people in 1968 as a thank you for helping to save sacred buildings. It was dismantled stone by stone, shipped, reconstructed, and opened to the public in 1972.
20. Enjoy Churros and Chocolate at San Ginés
San Ginés opened in 1894 and serves up the most famous churros in Madrid. Dip warm churros in melted chocolate for a tasty snack. It is open 24 hours a day and a staple of Madrid. It's a tourist spot and can be very crowded. We personally didn't think they were the best churros we've ever had, but it's an iconic spot worth checking out at least once.
If you're sharing your churros, a fun phrase to know is "la de la vergüenza". It's basically the last piece that no one wants to take! Here are 15 other Spanish words & expressions you should know.
21. Eat at the Oldest Restaurant in the World
Dating back to 1725, Sobrino de Botin Restauurant holds the Guinness World Record for being the oldest restaurant in the world. It is four floors, and frequented by both tourist and locals. Ernest Hemingway was a frequent patron of this restaurant, and it is mentioned in The Sun Also Rises.
Pro Tips for Visiting Madrid:
The Metro is a great way to get around the city. It is the 2nd largest Metro in Europe (after Paris) and costs anywhere from 1-3 euros per ticket.
La Latina is a great area to grab tapas. It's full of tapas bars so you can hop from one place to the next. If you're there early in the day, grab breakfast at Gelateria 4D. They have delicious coffees and pastries.
Although Seville has a more iconic Bull Ring, if you're not making it to Seville, you can check out the Las Ventas Bullring in Madrid.
If you're looking for diversity, Lavapiés' population is over 50% non-Spanish. That means there are plenty of options for cuisine, including Chinese, Moroccan, Thai, Indian Senegalese, Greek, and Cuban.
What do you like exploring in new cities (viewpoints, museums, architecture, food)? Is there anything we're missing that is a must-do in Madrid?
Photo credit (creative commons): 8. Ramon Duran 10. John Caro (contiki friend for life!) 13. PromoMadrid (cropped) 17. Julio Ulanga 19. Adam Jason Moore (cropped)
Thank you Contiki for hosting our trip. See our 15 day trip itinerary here.
All opinions are our own. Thank you for supporting the brands that make Local Adventurer possible.