Morocco was full of flavors that were new to us. We put together a list of 21 Moroccan foods we think are worth trying while visiting Morocco (depending on how adventurous you eat).
When we visited, we were serious newbs. We didn't even know what a tagine was before we went on our Contiki trip.
Moroccan dishes are influenced by Berber, Jewish, Arab, and French cultures.
Thank you Contiki for hosting our trip. See our 15 day trip itinerary here. This post may contain affiliate links, where we receive a small commission on sales of the products that are linked at no additional cost to you. All opinions are always our own. Read our full disclosure for more info. Thank you for supporting the brands that make Local Adventurer possible.
Last Updated: February 8, 2021
21 MOROCCAN FOODS TO TRY WHILE VISITING MOROCCO
We had tagine multiple times while in Morocco. It's a clay cooking pot with a conical lid with multiple types of dishes slow cooked inside (beef, lamb, chicken, veggies, etc). You can get it practically anywhere, at roadside stops, cafés, and nicer restaurants.
We want to try making this at home, anyone have a good recipe?
Restaurants: L'ibzar, Marrakech | L'Amandier Palais Faraj, Fes
2. Couscous (National Dish of Morocco)
Couscous is originally from Morocco and typically served with meat or vegetable stew. Traditionally, they prepare couscous on the Muslim holy day (Friday) and for special occasions, but you can find it at most restaurants and cafes.
Restaurants: Cafe Clock, Fes | Restaurant Naima, Marrakech
Zalouk (also spelled zaalouk) is a common side dish and typically served with crusty bread. The spread is made with eggplants, tomatoes, garlic, olive oil and spices.
Restaurants: Nur, Fes | Bazaar Cafe, Marrakech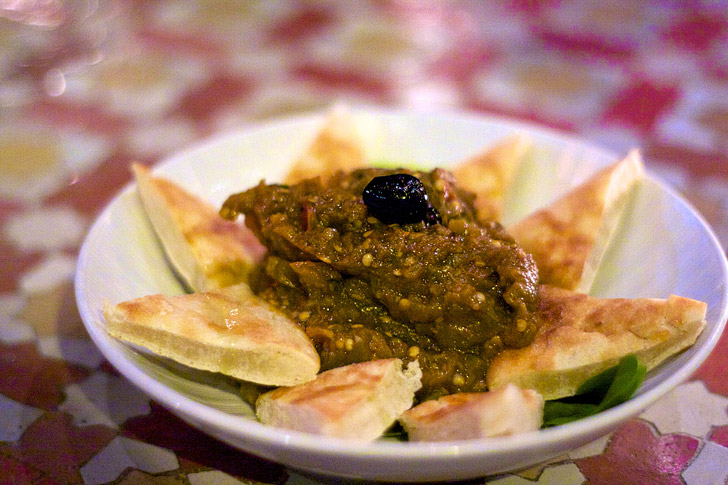 Chermoula is a mix of herbs and spices used when grilling or baking fish and seafood. Depending on the mix, you'll get flavors of onion, coriander, chili peppers, or saffron. Often times you'll see it as a dipping sauce too.
Best Restaurant: The Ruined Garden, Fes | Krita, Marrakech
6. Bastilla (Chicken or Pigeon Pie)
This crusty bread is typically baked in communal wood-fired ovens and served with a lot of meals. Also, be sure to check out all the other breads in Morocco, like the harcha (a buttery bread), rghaif (a flaky flat bread), or baghira (spongy crumpet). Yes, give me all the carbs!
During the festival of Eid al-Adha, everyone slaughters a sheep and then steams the head for hours. You can typically purchase a half or whole head and enjoy it with cumin, salt, and chili. The whole head is edible, but the best parts are the tender cheek meat and tongue. Would you try it?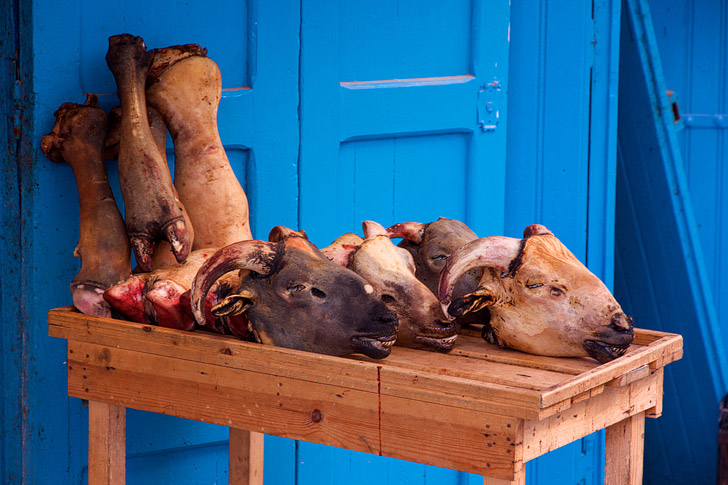 Morocco is the world's largest exporter of sardines. Naturally, they serve it all over the country. Stuffed and cooked with a spicy chermoula sauce, they deep fry the fish for a tasty snack.
Where to Try it: The Ruined Garden, Fes | Miyame, Essouira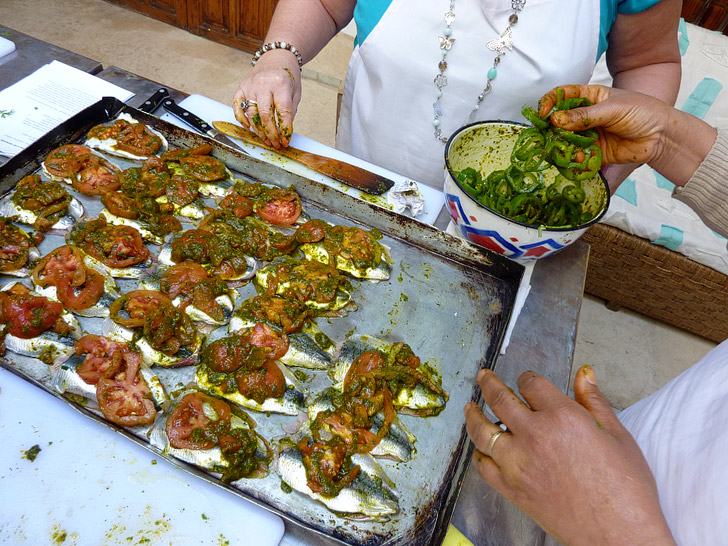 Everyone has his or her own version of mint tea, which is the drink of choice in Morocco. It's a green tea base with lots of mint leaves and sugar.
Bissara is a rich and hearty soup made from dried fava beans and commonly served during breakfast. Typically it will be topped with fresh olive oil and a sprinkle of cumin.
Restaurants: Beldi Bab Ssour, Chefchaouen | Riad al Bartal, Fes
This is one of the Moroccan foods you can try with a side of fries or in a sandwich, but the smooth and buttery calves' livers is a delicious fried dish.
These tasty kebabs are rubbed in salt and spices and can be found in a lot of the markets. You can get chicken, lamb, or beef and the enormous clouds of smoke make for great photos.
Restaurants: Kasbah Cafe, Marrakech | Riad Andalib, Fes
15. Aubergine or Moroccan Eggplant Fritters
Aubergine, or eggplant, is common in a few different dishes in Morocco, but be sure to try the fritters. They slice the eggplant then dip them in a paprika batter before deep-frying them for a delicious side dish.
Snail soup is a Moroccan dish you can find all over the country. Use a toothpick to pick out the snails from the shells then slurp up to the soup. Locals believe the broth is good for digestion and fever.
Taking on the form of a sausage, stuff camel spleen is soft and creamy. It's usually filled with beef or lamb, olives, spices, and a bit of hump fat. It's typically served in a sandwich.
Tangia, like tagine, is a clay pot. These dishes are named after the cooking vessels they use. It's traditionally filled with chunks of beef or lamb and a bunch of spices, then slow cooked in the embers of a furnace.
Restaurants: Mechoui Alley, Marrakech | Cafe Clock, Fes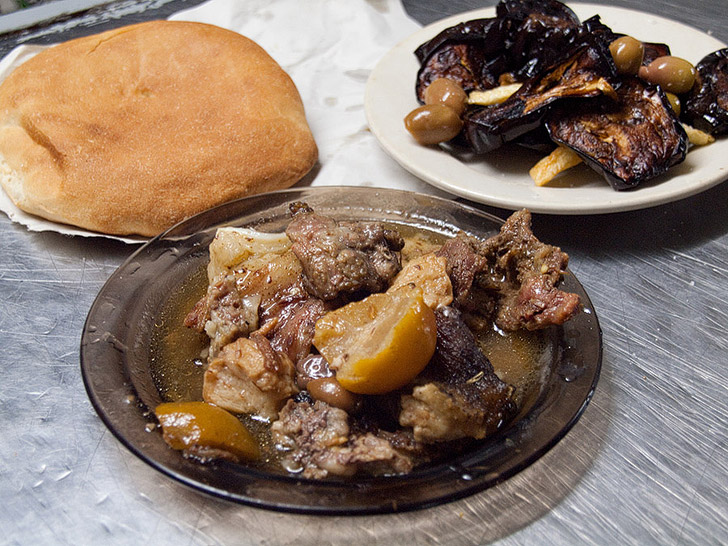 Kaab el Ghazal, or gazelle horns, are crescent-shaped pastries have almond paste scented with orange flower water and cinnamon.
Another delicious dessert, shebakia is a flower-shaped, fried sesame cookie dipped in honey. You'll usually find bees all over them in the markets, and they just shoo them away before serving them to you. It's all part of the experience.
It doesn't matter how strong you think your stomach is. It's better to be safe than sorry, friend. We're no strangers to eating random street foods in the countries we visit, but it's always a good idea since bacteria species can vary based on diet and geography. I've never taken Imodium before. On this trip, a third of our tour got sick after our first night, including me, and that Imodium came in really handy!
More Moroccan Foods to Try
Baba Ghanoush
Baklava
Chicken with Preserved Lemon and Olives
Chickpea Stew
Kefta Meatball Tagine
Mechoui
Nuts and Olives
Lamb or Beef with Prunes
Rfissa
Best Places to Stay in Morocco
Would you try the sheep's head, pigeon pie, or snail soup? Which of these Moroccan foods do you want to try the most? Are we missing anything on our list that we need to try on our next trip?
Did you enjoy this post? Pin it for later
SEE MORE FOOD LOVER GUIDES
"Discovery consists not of seeking new lands but in seeing with new eyes" – M. Proust
Esther and Jacob are the founders of Local Adventurer, which is one of the top 5 travel blogs in the US. They believe that adventure can be found both near and far and hope to inspire others to explore locally. They explore a new city in depth every year and currently base themselves in Las Vegas.