Marrakech (or Marrakesh) is a city full of rich colors, rich flavors, and a rich history. Depending on how long you'll be in the city, there is plenty to see and do.
Thank you Contiki for hosting our trip. See our 15 day trip itinerary here. All opinions and text are our own. This post may contain affiliate links, where we receive a small commission on sales of the products that are linked at no additional cost to you. Read our full disclosure for more info. Thank you for supporting the brands that make Local Adventurer possible.
Last Updated: July 4, 2020
21 Fascinating Things to Do in Marrakech Morocco
1. See the Koutoubia Mosque and Minaret
The minaret of the Koutoubia Mosque is one of Marrakech's most famous icons. Although it only sits at 77 meters high, you can see it from near and far. It is still an active place of worship and non-Muslims cannot enter, but you can admire it from the outside.
2. Visit the Ben Youssef Madrasa
Kaat Benahid, map   |   Phone: +212 524 44 1893   |   Hours: 9AM – 6PM   |   Entrance Fee: 50 Dh
The Ben Youssef Medersa was founded in the 14th century and was dedicated to the teaching of Islamic scripture and law. Since it's closure in 1960, it has be refurbished and reopened to the public as historical site in the 80s.
No expense was spared building this tomb. Italian Carrara marble, intricate platerwork, and pure gold were used to make the Chamber of the 12 Pillars.
4. Explore the Ruins of the El Badi Palace
Built in the 16th century by Saadian King Ahmad al-Mansur, it was later looted by his successor and left as bare ruins. You get amazing views of the Atlas mountains from the terrace and you'll find that storks have made their home here.
This is one of the best-known squares in Africa and definitely something you picture when thinking of Marrakech. During the day it's filled with buskers, orange juice stands, and shops, and in the evening it transforms into a huge outdoor food court.
Just north of the Jemaa El Fna, there is an intricate maze of alleyways filled with shops. You'll find everything from everyday goods, to handcrafts, to souvenirs. Be prepared to bargain to get the best prices you can! We couldn't figure out the actual hours of the marketplace, but when we returned at around 9PM, many shops were starting to close or were closed.
Be sure to try all the local delicacies like tagine, cous-cous, kebabs, snail, sheep's head, and pigeon pie. Jemaa El Fna turns into a huge food market every night so that's a great place to get a bit of everything. We ate tagine almost every day.
8. Take a Stroll in Jardin Majorelle
This 12-acre botanical garden is home to an electric blue villa and is the perfect place for stunning photos and a peaceful walk.
This palace was built in the 19th century and showcases beautiful Arab and Islamic architectural styles. Take in all of the intricate ceilings, colorful tiles, and beautiful lamps.
10. Marrakech Railway Station
Even if you're not planning on using the public transportation, the Marrakech Railway Station is still worth stopping by. The new building that was built in 2008 is truly a grand entrance to the station during the day or night.
You can't leave Marrakech without enjoying a dinner and show. Although there are many choices, Le Comptoir Darna is one of the most popular spots in town. Be sure to make a reservation ahead of time as it fills up quickly.
Hammam, or public bathhouses, is a great way to experience the local culture and relax at the same time. You can go with high-end hammams and spas at La Mamounia or Selman Hotels, or go for an authentic and thorough scrub down at Hammam Dar el-Bacha.
One of the premiere hotels in Marrakech,
La Mamounia
provides a luxurious stay right outside the Medina. In addition to spectacular service, enjoy their equally famous gardens.
If you're looking for a real authentic stay, then skip the hotels in Marrakech and stay in a Riad, or traditional Moroccan house within the Medina (Old City). If you've already booked a hotel, you can stop by to have some mint tea instead.
15. Have a Glass of Fresh-Squeezed Orange Juice
You will see orange trees all over Marrakech and Moroccan oranges are famous all over the world. That's why you will find tons of orange juice stands in the squares like Jemaa El Fna. A glass usually costs anywhere between 5-10 Dirhams and you can even get blood orange juice for more.
You will have plenty of opportunities (and plenty of people trying to convince you) to take a ride on a horse-drawn carriage. But this isn't just a stroll around the park, you can actually go out into the main streets amongst the cars and traffic.
Be sure to bargain and agree to a price before hopping on! When we went, we rode through a sand storm, and it made the ride really interesting. You can see in the video at the bottom of the post.
17. Have a Glass of Mint Tea
Whether it's at your hotel or when entering a shop, there are plenty of places that will greet you with a glass of mint tea. The sweet Moroccan teas are a local favorite and you can order them practically anywhere. We found that each place had their own recipe and can taste quite different.
18. Show at a Berber Pharmacy
Berber Pharmacies come in all shapes and sizes. Some are brightly lit shops with staff wearing white coats, and others look like they came straight out of your imagination with animals in jars and tanks. Wherever you go, you'll see a lot of the same items: perfumes, skincare, argon oil, spices, soaps, and more.
19. Marrakech Through Museums
For a change of scenery, check out the museums. Here are the most popular ones:
Maison de la Photographie: vintage Moroccan photography dating back to 1870
Address: 46 Ahal Fés, Marrakesh, Morocco
Phone: +212 524 38 5721
Hours: 9:30AM – 7PM Daily
Entrance Fee: 40 Dh
Dar Si Said Museum: collection of crafts and woodwork
Address: Riad Zitoun El-Jedid, Marrakesh, Morocco
Phone: +212 524 38 9564
Hours: 9AM – 6:45PM Daily
Entrance Fee: 10 Dh
Douiria Moussine: restored, petite 17th century apartment
Address: 5 Derb El Hammam, Mouassine, Marrakesh, Morocco
Phone: +212 524 38 5721
Hours: 10AM – 6PM Daily
Entrance Fee: 30 Dh 
There are plenty of activities for the thrill seekers. You can see the city via hot air balloon, go hiking, climbing, find zip lines, or go horseback or camel riding.
21. Take a Day Trip to Explore the Atlas Mountains
If you need to get away from the heat, head out of town towards the Atlas Mountains. There are small towns within the mountains that offer beautiful scenery and a much more local feel. Lalla Takerkoust (27 miles), Ourika (37 miles), and Armed (40 miles) are just a few of to check out.
Shisha, or what you might know as hookah, is a common social activity in Morocco instead of drinking. A lot of restaurants and cafes, and sometimes hotels offer them.
Map of the Best Things to do in Marrakech
What would you want to do first in Marrakech? Would you try pigeon pie?
Did you enjoy this post? Pin it for later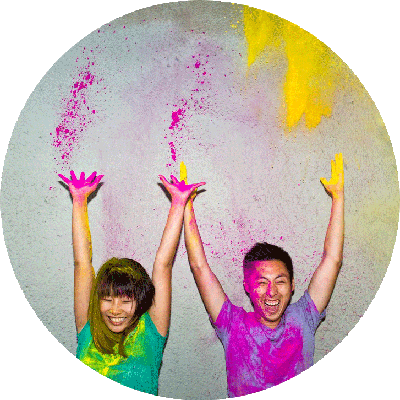 Esther and Jacob are the founders of Local Adventurer, which is one of the top 5 travel blogs in the US. They believe that adventure can be found both near and far and hope to inspire others to explore locally. They explore a new city in depth every year and currently base themselves in Las Vegas.