Before getting into our Airstream, we had no idea what to expect from living in an RV. The only things we knew about RVing was from TV or the minimal research we did prior. Needless to say, as excited as we were about the adventures we'd go on, we were extremely nervous to find out whether we could handle life on the road.
It's easy to romanticize what it's like to RV or travel full time, but sometimes the reality is far less glamorous. Here's what we learned.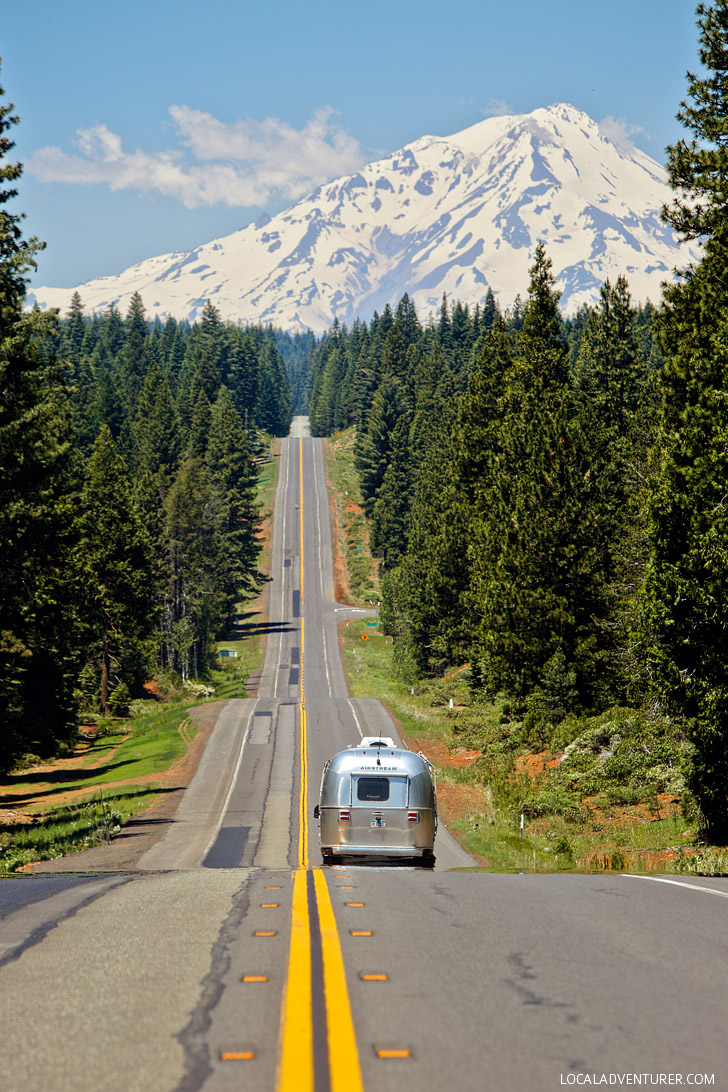 Pin
Dumping Your Poop
This was the thing we dreaded the most. Yes, everybody poops, but I like that in a regular toilet it can disappear, and you never have to see it again. In an RV, you poop, and then the RV poops. You're there to witness it twice. Before our very first black dump, we would try our best to use the bathroom anywhere else but in our Airstream. Turns out, unless something goes horribly wrong, it's a painless process (here's Jacob's no-poop-on-me-dance!). You never actually make contact with your poop, and the chemical you put in the toilet turns everything into an unidentifiable green liquid.
Limited Space
This challenged how minimal we could live. Sure, we practiced living minimally in our home, and then when we started moving into smaller and smaller apartments, but this took it to the next level. The closet could only hold so many clothes and the fridge could only hold so many groceries (or in my case, diet cokes). Ultimately, it was nice to see that we could make it work. Now, we're going through another huge purge after seeing what we could live without for 3 months.
Needing Separate Quarters
The even bigger challenge was not getting constantly pissed off at each other. Since we work together, play together, and live together, there aren't many days (or even minutes in a day) that we spend apart. It might seem nice getting to spend 24/7 with your spouse, but if you do, you'll soon realize that alone time can be so precious! In San Diego, we had a pretty sweet setup with our giant monitors back to back, so that during work hours we couldn't see each other. In the Airstream, we couldn't quite figure out a good system, which led to lots of fights over lots of stupid little things.
Why Do the Cats Poop So Much?!
I'm sure they are probably going a normal amount, but in a smaller space, we notice everything they do! We felt like we were constantly cleaning up after them. It's a good thing we like them. ;) If you have cats, here are some tips on easing them into RV life.
Cooking with Fewer Ingredients
We met a few full-timers who still cooked extravagant meals, but most people we met had to simplify their meals. We did a lot of one-pot meals. They were easier to cook and required fewer ingredients. Eating easier meals also meant we were eating a lot of carbs when we cooked though. Alternatively, we loved having Soylent as a meal replacement on our busy days, especially when we're driving to a new state or when we're out all day hiking. I think having the Soylents evened out our bad eating habits and kept us in decent health. Next time we go out on the road, we need to practice making more easy, healthy meals.
Always Changing Community
Living on the road means you get to meet a lot of interesting people! We had great conversations, shared meals and campfires, and heard so many amazing stories. We always thought we were on the adventurous side, but we were surprised to find so many people who were far more adventurous (and might I add, much older). That gives us hope knowing that age ain't nothing but a number. On the other hand, because we were meeting so many new people, we also ran into a handful of people who were not so pleasant. Luckily, our encounters with people were mostly positive, and it was fun seeing our Airstream friends again down the road. Even with the Airstream or RV community, though, we still missed having a stable community of friends. You can potentially find people to caravan with, but that was a rare case from what we saw.
Internet Speeds
This was easily the most painful adjustment for us since we were working from the road and handling large photo and video files. Our last home in San Diego had on average 40-50 Mbps for internet speed. Now that we look back, it's funny that we sometimes complained about that. On the road, we were seeing a lot of 0-3 Mbps from RV parks that claimed they had internet, which had us even missing the dial-up days. One of Jacob's videos took 18 hours to upload. We started getting excited when we could find consistent speeds over 4 Mbps, which is really sad since the internet in the real world starts at 5! In our last month, we finally got another hotspot, which made working a little easier but nothing compared to what we had when we were grounded.
Function AND Form
Since our home was now on wheels, we couldn't just buy things that were pretty, we had to make sure they could be packed away easily and weren't breakable. Say goodbye to your fine china.
Flexibility
As much as you want to plan your trip, a lot can happen on the road. You have to learn to be flexible and roll with the punches. There were many places where we went in mid-June and July that we had no idea was still snowed in. On the flip side, if the weather is bad, you can always move to another place and you may find new places you completely fall in love with!
Size Restrictions and Mobility
Now that we were in a big Ford F150 and Airstream, we weren't as mobile as we were with a regular sedan. Even our Ford F150 with the hitch could not park in a single parking spot. You can forget about drive-throughs and narrow roads in a city. You also need to watch out for signs that say no trailers, trucks, etc, because sometimes those signs come out of nowhere when you're driving (GPS doesn't exactly exclude those roads for you). If we wanted to stop, we had to look for larger parking spots, and you definitely didn't want to get stuck down a small road with no space to turn around.
One day we were thinking about dropping off a trailer near our friend's place in LA, but then realized that if someone parks in front of you, you can't hitch it back and leave. So many things we had to think about that we'd never experienced before. It was an adjustment on how you drive and where you can stop, but luckily our size trailer still allowed us to camp at National Parks and it didn't hold us back too much. It just requires a little more patience.
Shorter Showers and Working in the Dark
There are two kinds of camping in an RV. The first is full hookups where you can plug into electric, water, and sewage. The other is dry camping, or boondocking, where you rely on the tanks and batteries you have on board. During our trip, we never learned to be efficient boondockers. We tried to charge our laptops in the truck and work on them in the dark, but between our camera gear and everything else that needed to be charged up, we were constantly running out of juice. 90% of the time, we camped in RV parks with full hookups, but even then, you have a much smaller water heater than a house or apartment, so you can't take long hot showers. I know it's good to conserve water, but some days when you're sticky because you were out hiking all day, you just want a shower that lasts longer than 10 minutes. Now, we were far from roughing it and we still had all the comforts from home that we needed, but it was just in smaller quantities.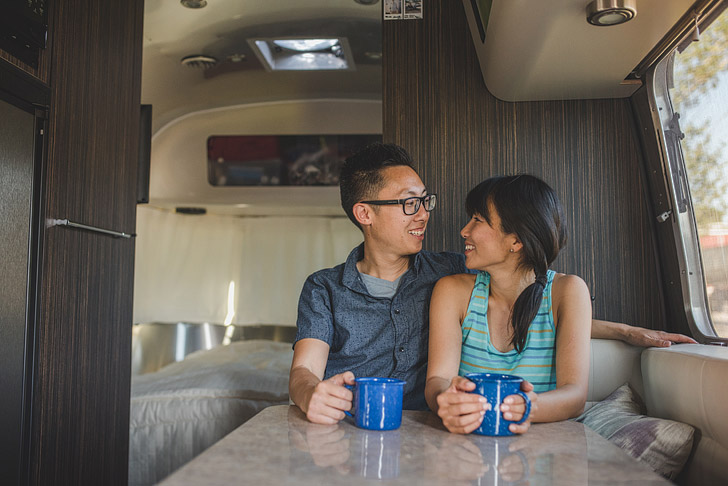 Pin
photo: Joe Hendricks
All in all, this was a great test on whether RV life was for us, and we are happy to report that despite the challenges, we loved the overall experience. We're hoping to get one of our own in the future. P.S. if you're thinking about getting a trailer and in the market to buy a new car, don't forget to look at tow capacities! We never imagined ourselves as truck drivers before.
When we decide to stop moving to a new city every year, we love the idea of having a home base for half the year and exploring the US the other half. Then again, who knows what life will bring!
Is RVing something you'd love to do? What do you think would be the hardest challenge for you to overcome?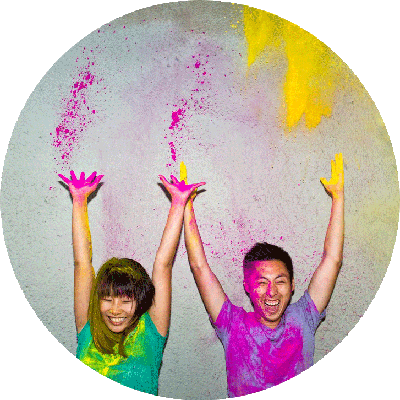 Pin
ESTHER + JACOB
Esther and Jacob are the founders of Local Adventurer, which is one of the top 50 travel blogs in the world. They believe that adventure can be found both near and far and hope to inspire others to explore locally. They move to a new city every year and currently live in Portland, Oregon.