Ever since we lived in an RV for 3 months, we fell in love with RV life. Every time we see one on the road, we point it out, and time to time, we browse online to see which model we should add to our family. When we purchased a car this year, one of our priorities was towing capability so that we could eventually add a trailer. While we're saving up for an RV, we're scratching our RV itch by renting one and going on a trip next month.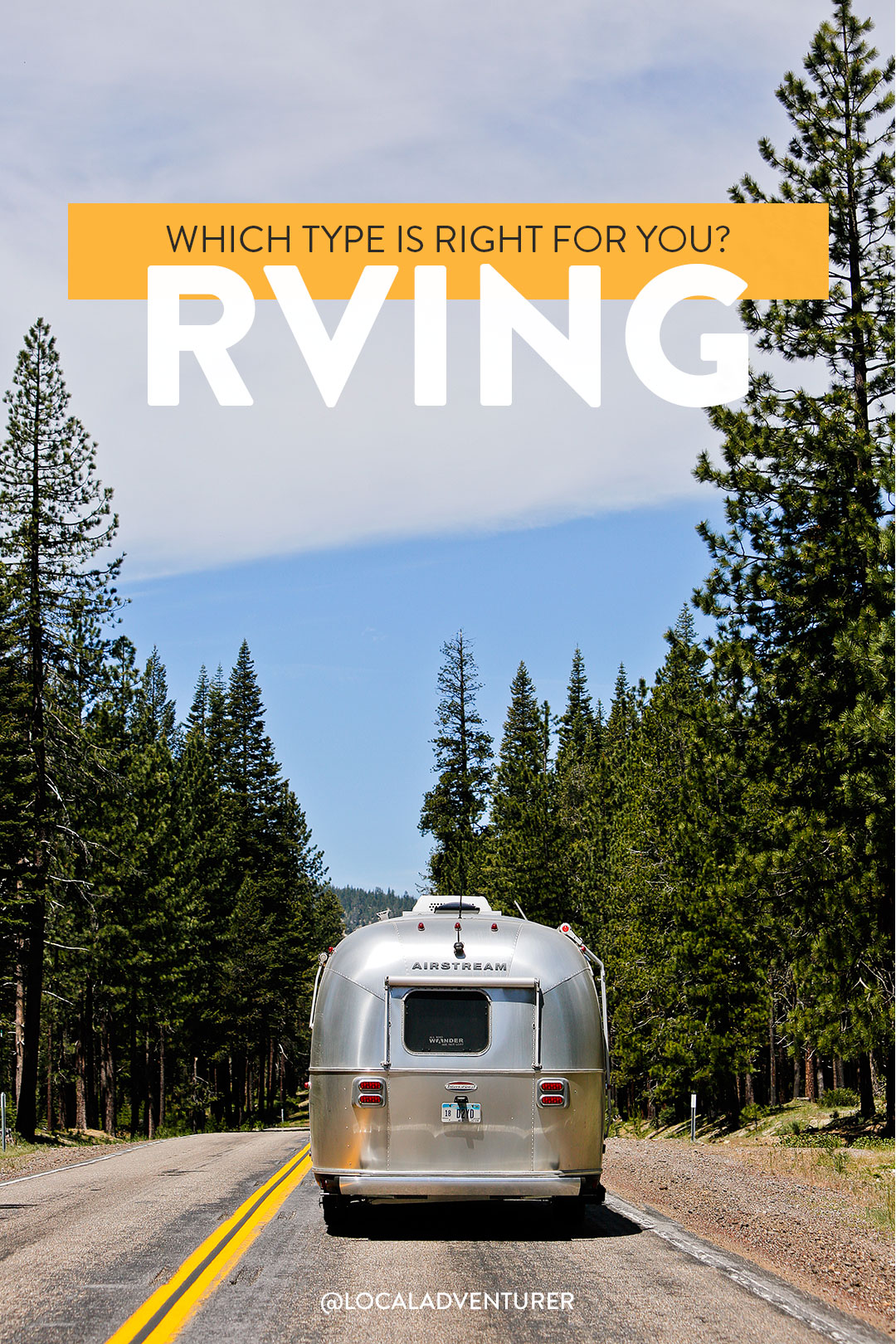 A big thank you to Go RVing's Kickoff to Camping Season, Outdoorsy, and IZEA Worldwide for sponsoring this post. All opinions are always our own. This post may contain affiliate links, where we receive a small commission on sales of the products that are linked at no additional cost to you. All opinions are always our own. Read our full disclosure for more info. Thank you for supporting the brands that make Local Adventurer possible.
Last Updated: July 18, 2019
The Different Classes of RVs - Which One is Right for You?
Since attending RVX earlier this year and seeing all the best of the best, we've been excited to try out different types of RVs. When we were full time RVing for 3 months, we lived in an Airstream and loved our time in it, but before we settle on what exactly we want to purchase, we decided to try a different type of RV for our upcoming trip.
If you're new to RVing, there are tons of different options to fit every lifestyle and travel style. To help you pick, we've listed some of the most popular types of RVs and our thoughts on them.
Out of all the classes of RVs, this is the big boy. It's the biggest class out there built on a truck chassis. They often look like huge buses. The interiors of these things are luxurious! Check out the photos below – it's bigger than our apartment was in NYC.
If you plan on living in an RV full time or are traveling with a big group, this gives you the most amount of space and luxury. Most people tow a smaller vehicle so they can maneuver around town too.
PROS
Large living space
Lots of storage and cargo
Most luxurious amenities
CONS
Largest to drive / can be most intimidating
Can't easily take day trips (unless you tow a vehicle)
Expensive to purchase, repair, and insure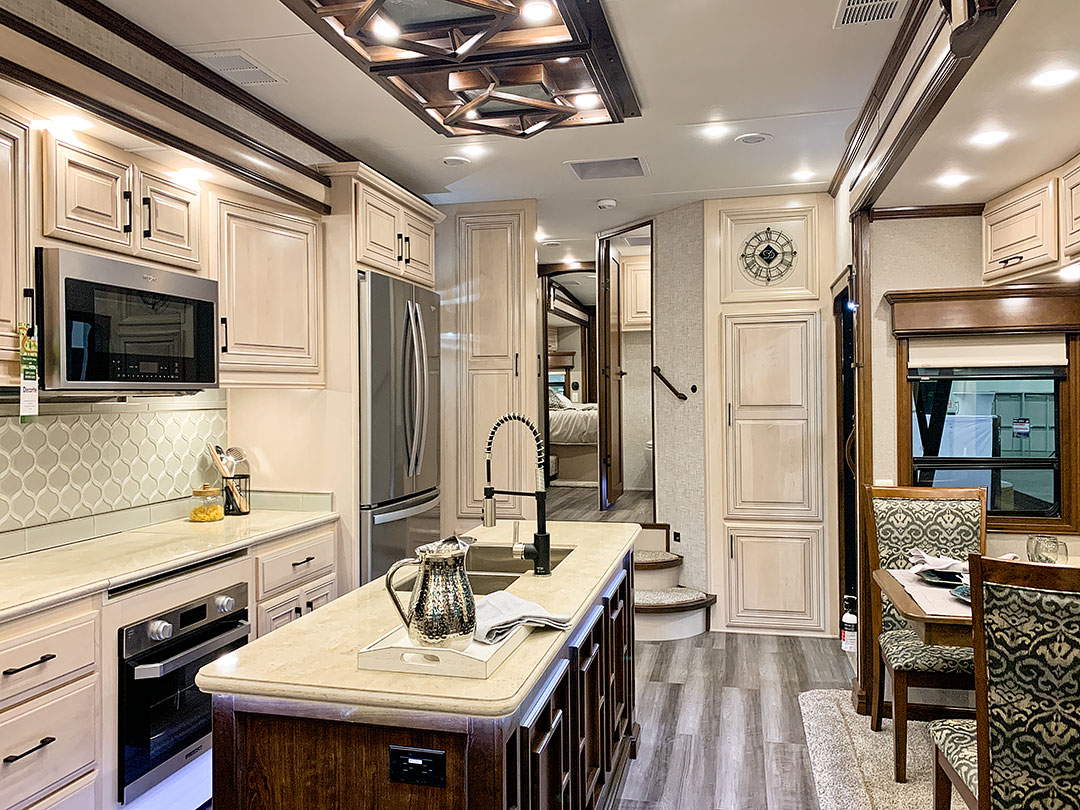 Campervans with raised roofs. These cover a wide range of vans from smaller ones that are converted vans to larger ones built on a Mercedes Benz Sprinter chassis.
We've stayed in a really basic campervan that had a bed and kitchen, which works for a weekend, but we want to experience one that actually has standing room and a bathroom to see if it's something easier to live in for an extended period.
PROS
Easy to drive and maneuver
Less costly fuel and maintenance
Convenient for excursions
CONS
Limited amenities
Smaller interior living space
Less storage and cargo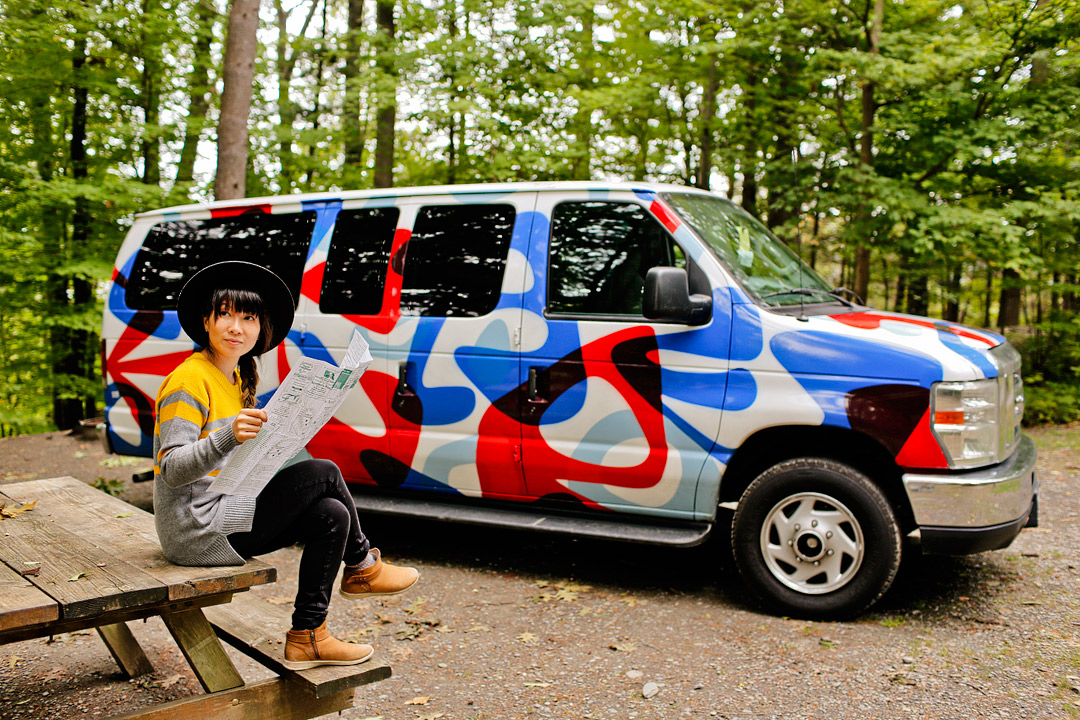 Built onto a minimal truck or van chassis. Usually looks like a big box with the front of a truck and ranges from 20 to 33 feet. Most of the branded rented RVs you see on the road are Class C. It's a popular introduction to RVing, although aesthetically we don't like them as much.
PROS
Has all the basic necessities
Extra space above the driver's cab
Self-contained
CONS
Pricey to maintain and operate
Some luxury amenities may not be available
Difficult to take on excursions due to larger size
Trailer that is towed by a truck or SUV. These come in all shapes and sizes. Most of them are boxier, but we really loved our Airstream travel trailer because it was such a sleek design.
We also liked that we could leave the trailer in the RV park when we were exploring. The downside is that if we wanted to access the trailer when we were on the road, we had to pull over.
PROS
Can tow with a variety of vehicles
Towing vehicle can be used for day trips
Lots of different options and models
CONS
Can be hard to maneuver in restricted areas
Learning curve to drive
M0re difficult to drive in reverse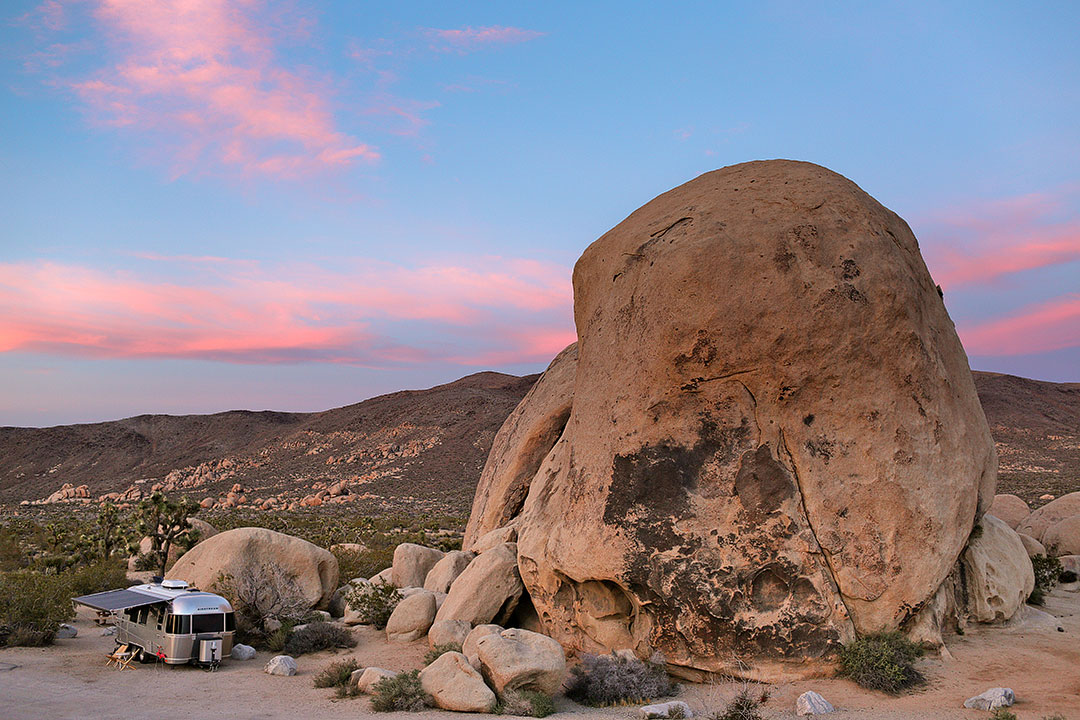 Similar to travel trailers but connects to a truck in the bed of the vehicle.
PROS
Better connection to the towing vehicle
Overhanging section gives more space
Plenty of options for amenities
CONS
Limited types of towing vehicles
Less passenger space on long trips
Difficult to maneuver in restricted spaces
Lightweight trailer that folds up when traveling but expands when camping. We saw some interesting pop up camper models during RVX. They seem great for weekend trips or if you love camping. Since it folds down, it also makes it easier and more aerodynamic for towing.
PROS
Lightweight and easy to maneuver
Wide range of towing vehicles
Inexpensive to own and operate
CONS
Limited interior space
Little to no cargo and storage
More exposure to weather
Checking out RVs online or in a showroom can only do so much. We were initially intimidated by RV life, but after a few days experiencing it, we knew we wanted one of our own. Whether you just want to try it out for a weekend, or are considering purchasing your own, we always recommend renting to test out the waters first.
We rented our RV from Outdoorsy.com, the largest RV rental marketplace. Unlike other companies that only carry the same classes of RVs, it had every type imaginable. After browsing the site for days to see what was available in our area, we decided to try a Class B van with a slide-out and bathroom – check it out here. We're excited to give vanlife a try. You can also search for rentals at GoRVing.com.
Pro Tip: If you have any questions, you can contact the RV owners to chat in more detail. I reached out to ask about our RV before renting.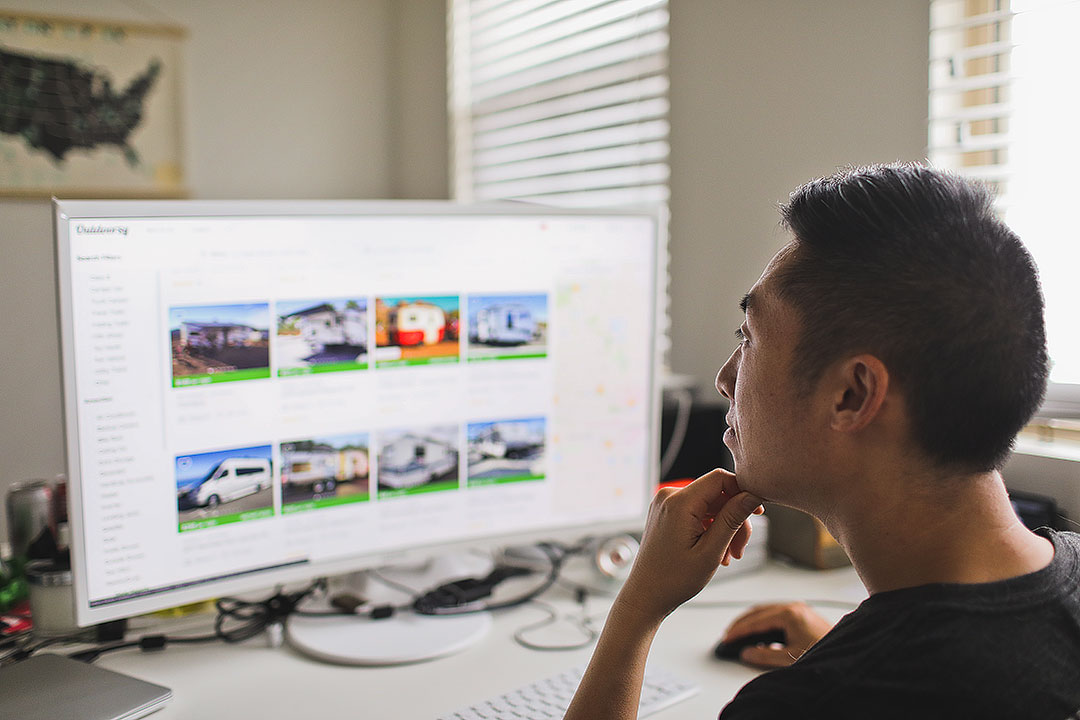 After renting our RV, we had to decide where to go. It's hot in the Southwest during the summer but since we're limited on time, we decided not to go too far. We wanted to prioritize two things we love – photography and the outdoors.
Even though we love those two things, we have a hard time waking up for sunrises. We're both not morning people, and if it takes effort to get out somewhere, we tend to bring each other down and stay in bed instead. That changed with our first RV experience. We found that if we were right where we needed to be, it was a lot easier to roll out of bed and step outside for the views.
Even though we've lived in LA, San Diego, and Vegas, we've never made it out to Bishop or Alabama Hills. We'll be heading out there to do some early morning climbing, hiking, and taking plenty of photos.
We can't wait to share our trip with you as well as our thoughts on the Class B motorhome. If you want to come climb with us or hang out, send us a note and we'll let you know our plans.
What to Pack for Your RV Trip
Did you enjoy this post? Pin it for later
SEE MORE CITY BUCKET LISTS
"Discovery consists not of seeking new lands but in seeing with new eyes" – M. Proust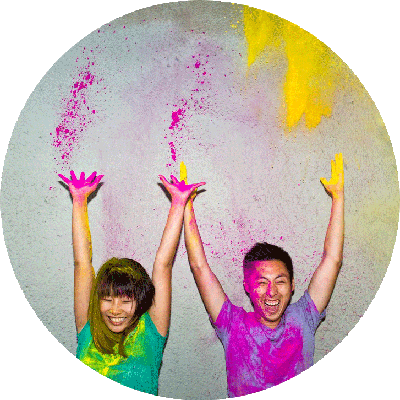 Esther and Jacob are the founders of Local Adventurer, which is one of the top 5 travel blogs in the US. They believe that adventure can be found both near and far and hope to inspire others to explore locally. They explore a new city in depth every year and currently base themselves in Las Vegas.