We named our cats' ig account catventurers hoping that they would adapt well to a life of adventure while on our Endless Caravan (it hasn't happened yet, but we're not giving up hope).
Mika adjusts well to any situation and doesn't get bothered by much. Sebastian, on the other hand, has always been skiddish and doesn't like being introduced to new situations. We thought it would be smart to get Mika comfortable before subjecting Sebastian to the stresses of the outdoors. We later learned that both of them are clearly indoor or city cats. While Mika enjoys outdoor walks on concrete, he gets weirded out by grass, dirt, or any other unfamiliar surface.
Even though they didn't become the catventurers we were hoping for, we're really happy that overall they have adjusted well to RV life. There were, however, some interesting lessons we learned on the way, and today we're sharing our tips to help your cat(s) adjust to life on the road!
If you're planning on bringing your cats on the road, here a few tips to help them get adjusted. Keep in mind that each cat has their own personalities, so there will be some trial and error to find what works best for you!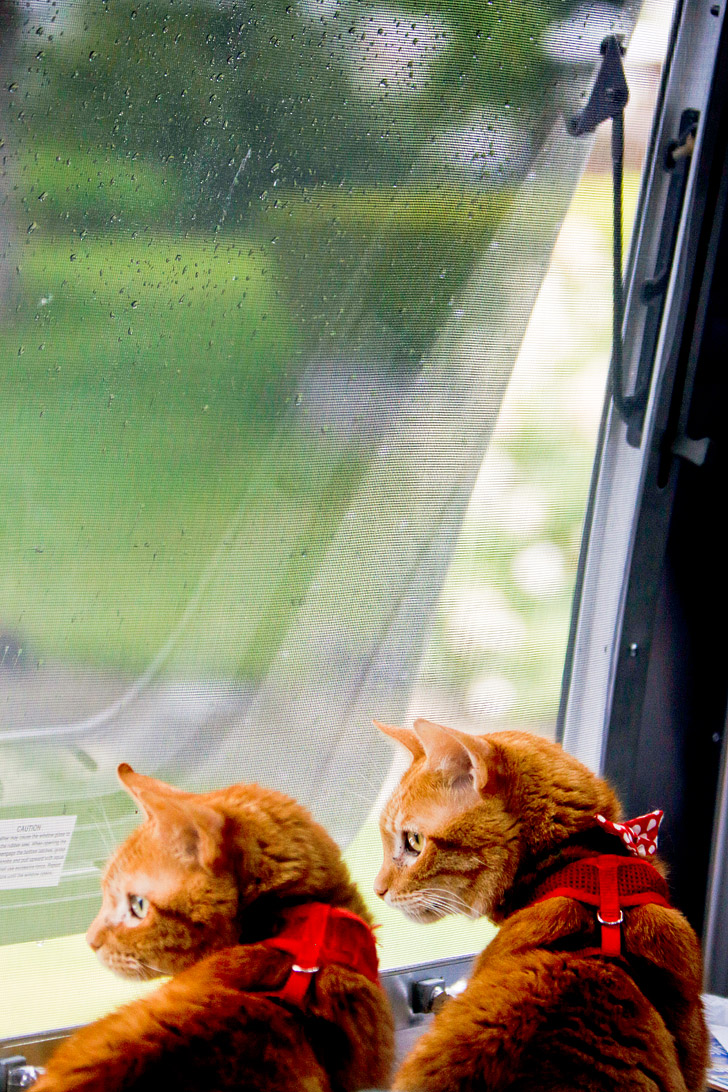 25 ESSENTIAL TIPS FOR TRAVELING WITH CATS
1. Make Sure They Have a Microchip
We adopted our two orange tabby boys from a shelter, so they have already been chipped. If yours doesn't, make sure you get one implanted. We already had a scare on day one of our trip where one of them ran out of the car into the woods. If someone else were to have found him and took him to a vet, they would have our contact info. A collar with a phone number tag also helps, but our cats have breakaway collars that they often get out of.
2. Start with Short Rides
This will get your cat used to all the new sensations of riding in the car. You'll also find out how he / she handles travel and whether car sickness will be an issue. Some cats even get hyperactive (they'll be all over the place), which can make it difficult and dangerous for you.
3. Start with a Crate
Our cats don't enjoy the small spaces (they cry a lot!), but it is a good way to start. Cats typically feel more comfortable in a space they are familiar with. There are people who believe that the cats should always be in a crate in a car for their safety. Ours tend to act more like dogs and like to roam a little with wind on their faces. For our very first car ride, though, I let them sit on my lap.
4. Talk to Your Vet
Depending on how your cat handles being on the road, your vet may be able to help. Though we probably wouldn't sedate our cats (and luckily we didn't need to), some may suggest you sedate them or give them medication for motion sickness. There are also pheromone sprays to help calm your cat in stressful situations.
5. Plan Pit Stops
Give your cat a break every 2-3 hours. It's also a good time to let them use the litter without the car moving around.
6. Pack Extra Supplies
You never know where you'll be and you don't want to be stuck somewhere without supplies you need for your cat. Also, pack extra portions for any special food or medicines your cat will need.
7. Feed Your Cat Early
Give your cat 3-4 hours to let their food settle before hitting the road. Otherwise, you may get a present during your drive.
8. Keep them hydrated.
Make sure you have water for your cat along the way. We like to use this collapsible camping cup for their water, both in the car and in the trailer since it packs away nicely.
9. Reward Them
Have treats handy so you can let them know they are doing a good job. Just like any behavior, giving them treats helps reinforce positive behavior. You may not think it's possible to train a cat, but ours can sit, shake, and we're in the process of leash training them.
10. Pet-Friendly Hotels
If you or your pets need a break from the road, look for pet friendly hotels. There are more of them out there than you think! Make sure you call and ask if they allow both dogs and cats.
THINGS THAT WILL MAKE TRAVELING WITH YOUR CATS EASIER
These are great for any accidents they might have in the car. If it's been a while, we sometimes forget certain minute behaviors they exhibit when they need something. We've had a few times where they got sick and got diarrhea or threw up all over the car.  Now we always keep some puppy pads handy. We'll place them under their sitting areas and also stash several of them near the front so we can grab them when they get sick.
12. Extra Trash Bags
You need to keep around extra trash bags for the same reason as above. You never know when they'll have an accident. We like to pick up the doggie poop bags available at most rest areas.
We mostly use this to transport them to the vet and the vets love this thing! When we move them from the trailer to the car and vice versa, we just carry them in our arms, but otherwise, we transport them with the U-Pet. We've taken Mika on shorter hikes, but we're hoping to take him on some longer ones. We'll let you know how it goes!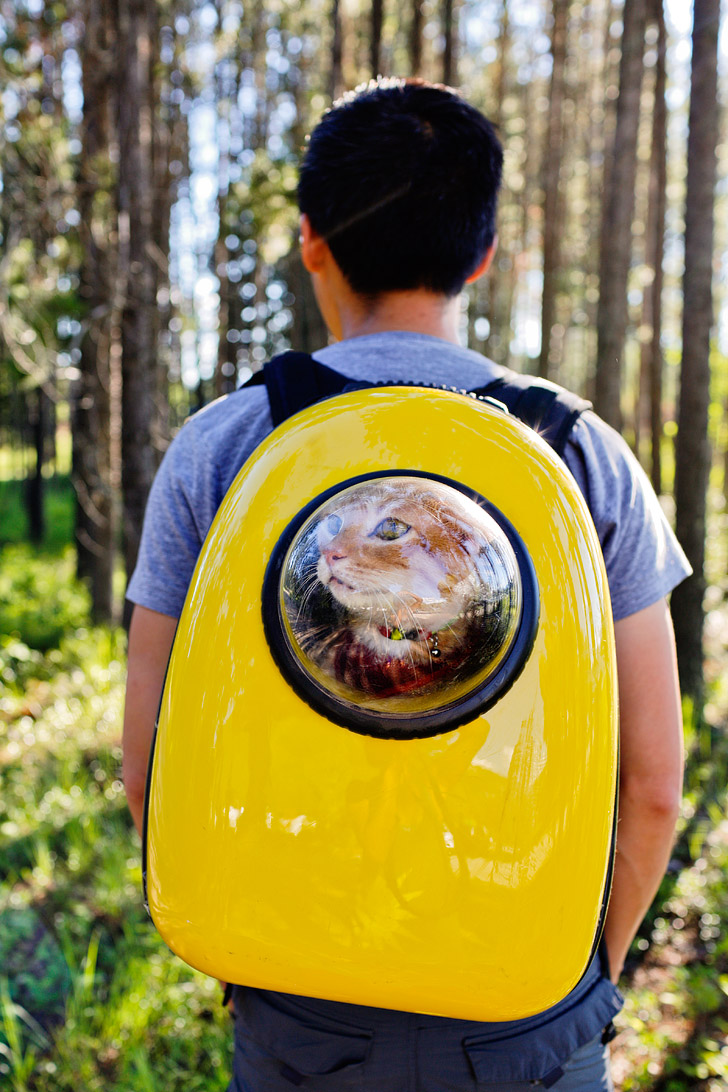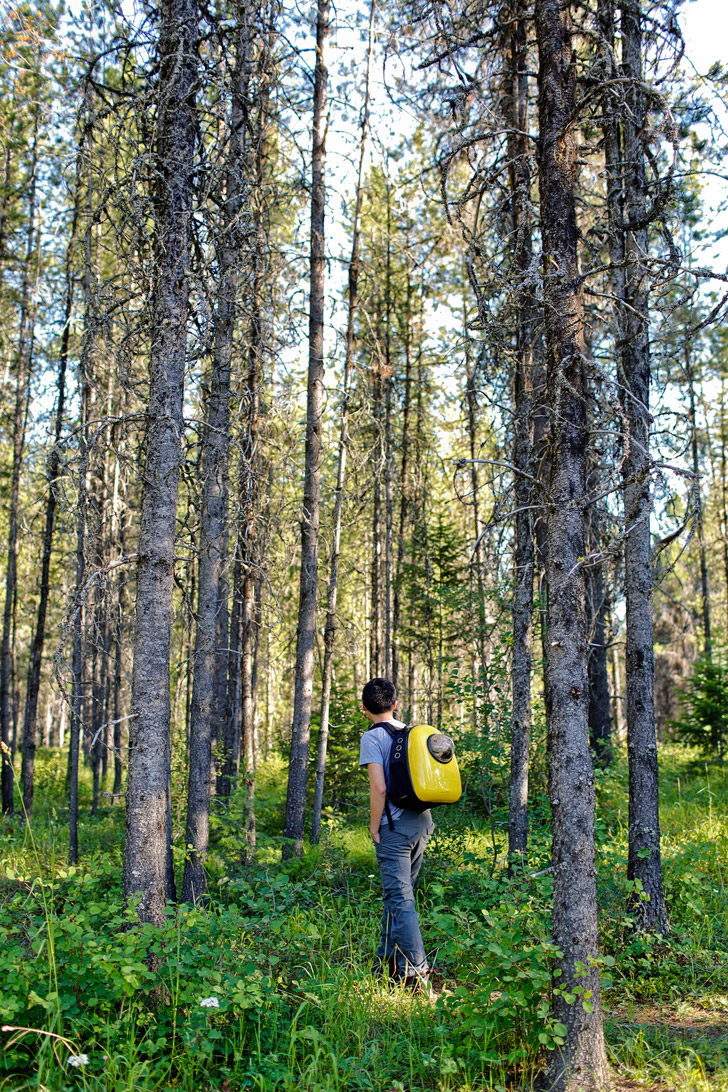 Mika isn't bothered by car rides or changing environments. The only thing he hates is being confined in a small space. With Sebastian, not so much! During our trip, we picked up a Thunder Shirt. He felt immobilized at first (it was hilarious and cute) but eventually got used to having a snug shirt around him. We usually put it on him right before our drives to our next camping spot.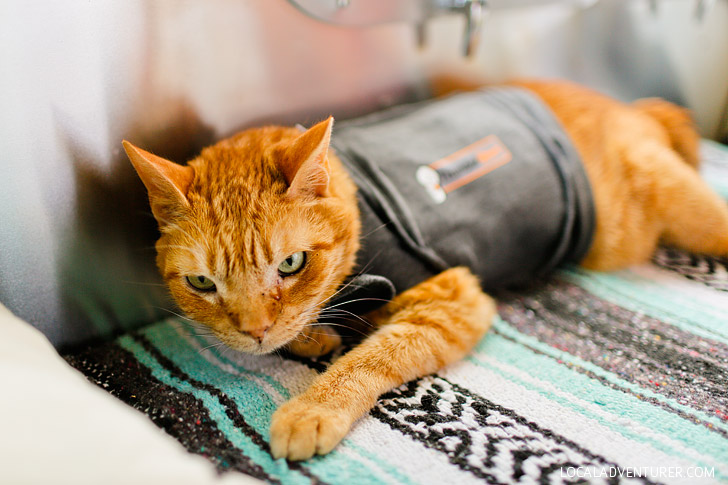 For us, the limited space just meant we spent as much time as possible outdoors. For the cats, it meant that when they got hyper, they'd run back and forth 23 ft at a time. That's one of the reasons why we wanted to leash train them so that they could also spend time outdoors too. If you're trying to leash train your cats, get a harness that fits snug around the neck and chest (you should be able to fit two of your fingers in the neck portion). Some of them work better than others. With the first one we bought, one night, Sebastian popped out of it and ran into the woods. We were searching for him in the dark for half an hour and thought we lost him! This is the one we currently use, and it has worked the best for us. We still have to monitor them carefully, since cats are slippery and can manage to back out of things. Mika is more easily manageable, but on Sebastian we use the harness and the thunder shirt over the harness. He's not getting out of both.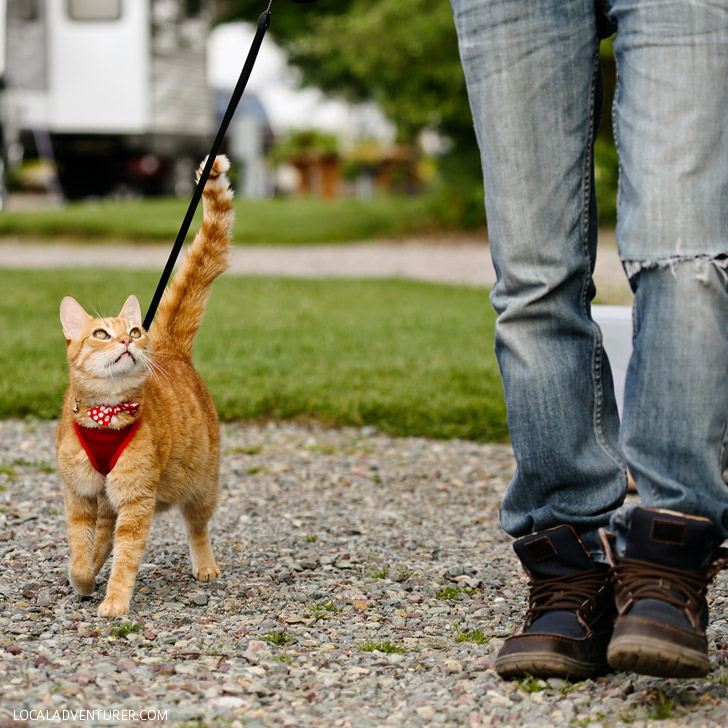 Since we are in such a tiny space, we decided to change from our usual clumping litter to pine. It masks the odor much better and doesn't get all over the floors. They still get pine out of their box, but it's much easier to pick up. We usually put their litter box right by the door, so that we can sweep it up right there.
17. Portable Litter Box / Our Makeshift Litter Box
Instead of buying a litter box, we decided to buy a big plastic container with a lid. This has worked best for us, since we are transporting it from the trailer to the car almost every other day. We've been moving around a lot! If you feel like the box needs replacing, it's also really affordable. So far ours has lasted 2 months, and it doesn't need to be replaced yet. Also, the lid helps trap the odor inside after they do their deed on a car ride. We even considered getting this disposable one that lasts two weeks (has anyone tried these yet? do you like it?).
We use these for their water (and food for the car). It folds into itself, and you can pack them away easily. Storage space is limited, so anything that compresses into something smaller is great! We have an Airstream tray that we use for their food, but if we didn't have that, we would have picked up a large collapsible bowl to use for their food.
Our cats shed a lot! Especially in the heat. It wasn't as noticeable in a larger space, but in an RV or car, you definitely want to prevent as much of the shedding as possible. We furminate them once a week to keep the fur around our place minimized. If they're home and we're about to take them on a long trip, we make sure we furminate them before we go too.
This is a must for cats in any scenario (unless you're lucky enough to toilet train them – we were halfway there when we lived in a house with more than one bathroom). We picked up a cheap one and velcroed a Ziploc bag to the side of our litter box where we keep it.
We bought two sets, one for the trailer and one for the car. We use it every day to sweep up any of the litter that gets of our the box and it helps to clean up any other dust or particles too.
Not sure how you do it, but we have never been able to give our cats a proper bath without being clawed at. Most healthy indoor cats can keep themselves clean and don't require a bath, but our boys like to get messy! Some people say it might be their dog like personalities that also make them care less about their hygiene. When we furminate them once a week, we also use the waterless bathfoam on them too. They seem to like this much better than the spray.
Unless you don't mind being covered in fur (why is it whenever you wear black they want to be extra affectionate?), you should probably get a lint roller. If you're a pet owner, I'm guessing you already have one. :)
If you do allow your cats out, be sure they have their flea meds! For now, we let them enjoy the outdoors from our trailer window, but we are still hoping to fully leash train them both!
25. Dramamine or Prescription Motion Sickness Medication
Mika doesn't mind rides in the car, but once we started driving on mountainous and curvy roads, it gave him car sickness. We tried Dramamine and got another prescription medicine to try from a vet, but neither worked. We try to let him sit on the center console so he can look forward, but he always insists on looking out the sides and at the ground. Such a stubborn cat (Jacob likes to joke that he gets that from me)! Hopefully, we'll be out of the mountains soon for his sake! So far, we haven't figured out the best solution for this.

Photo by Joe Hendricks. Go check out his photography!
Have you traveled with cats? Any other advice for carsick kitties?
Anything else you would recommend when traveling with cats?
A huge thank you to Airstream for powering our epic cross-country road trip adventure.
See more info about our specific Airstream here. As always, all opinions, text, and images are our own.
You can virtually caravan with us by sharing your summer adventures with #endlesscaravan. Let's go!