When we moved into our Airstream, we had no idea what we would need. Airstream gave us an initial shopping list with basic items, but now that we've been on the road for a month, we've made one of our own. For anyone that's new to the RVing world, we put together the ultimate RV checklist. I'm sure everyone's ideal list will differ depending on the size of your RV and what you would prioritize, but this should give you a good start!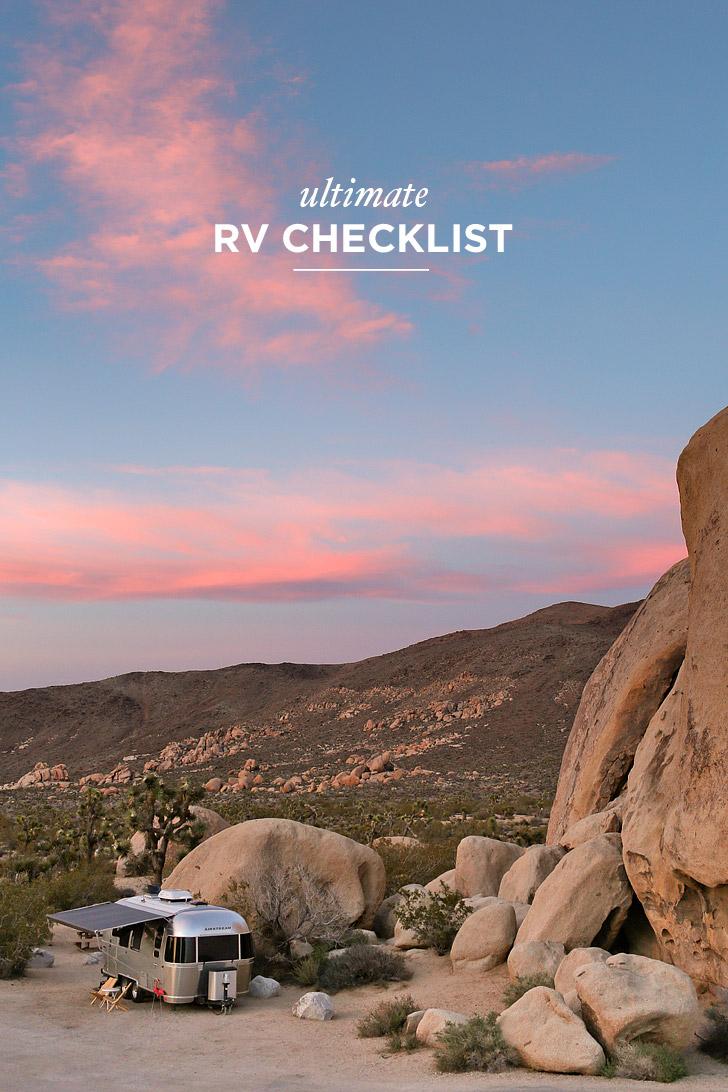 ULTIMATE RV CHECKLIST: EVERYTHING YOU NEED FOR YOUR RV
Bed
☐ Blanket
☐ Sheets
☐ Pillow
☐ Pillow Cases
Bath
☐ RV Toilet Paper
☐ Microfiber Towels
☐ Hand Soap (Anyone else love Method Grapefruit? :) )
Kitchen
☐ Camping Enamel Dinnerware Set (Bowls + Plates + Mugs)
☐ Camping Flatware
☐ Aluminum Foil
☐ Can Opener
☐ Nesting Plastic Food Containers
☐ Cooking Pot/Pan
☐ Corkscrew/Bottle Opener
☐ Stainless Steel Cups
☐ Microfiber Dishcloths (No room for a drying rack. Gotta dry everything by hand!)
☐ Knife Set
☐ Long Lighter (for the oven pilot light)
☐ Scissors
☐ Pot Holders
☐ Spatula
☐ Sponges
☐ Strainer
☐ Tongs
☐ Trash Bags
☐ Ziplock Bags
☐ Dish Detergent
Cleaning / Organization
☐ Wet Wipes (we use these every day!!)
☐ Plastic Containers for Organization
☐ Velcro (you will be velcroing down things you want to leave on the counter)
☐ Bungee Cables (keeps drawers extra secure when driving)
☐ Level
☐ Swiffer Sweep + Vac (awesome for small spaces!)
☐ Broom and Dust Pan
☐ All-Purpose Cleaner
☐ Scrubba Portable Laundry System
Car + Outside the RV
☐ Flashlight
☐ Jumper Cables
☐ Hammer, Screw Driver, Toolset
☐ Road Map (these always remind me of our family road trips)
☐ Chocks
☐ RV Water Filter
☐ Leveling Blocks
☐ Heavy-Duty Sewer Hose
☐ Sewer Hose Support (some states require it)
☐ 45 Degree Sewer Hose Adapter
☐ Extra Drinking Water Hose
Toiletries
☐ Shampoo
☐ Conditioner
☐ Dr. Bronners Magic Soap (I use it as body wash but it has 18-in-1 uses)
☐ Toothbrush
☐ Toothpaste
☐ Floss
☐ First Aid Kit
☐ Q-tips
☐ Cotton Balls
☐ Sunblock
☐ Lotion (love using this one my friend Hsiao got me)
☐ Dry Shampoo (if we are boondocking and we really need to conserve water)
☐ Nail Clippers
☐ Makeup (I like to use travel sets to keep things minimal)
☐ Makeup Remover Sheets
☐ Travel Hair Dryer
For the Cats
☐ Litter Box with Lid
☐ Cat Pine Litter (so far works the best for the least amount of mess and smell)
☐ Cat Food
☐ Collapsible Food + Water Bowls
☐ Cat Waterless Bathfoam – this one smells kind of like cinnamon
☐ Furminator
☐ Harnesses
☐ Cat Leashes
☐ U-Pet Carriers (review here)
Patio Setup
☐ GloDea Lounge / Patio Chairs
☐ Nemo Puffin Blanket
☐ Tarp / Outdoor Rug / Tarp (we actually used a Mexican blanket since they're cheaper)
☐ Side Table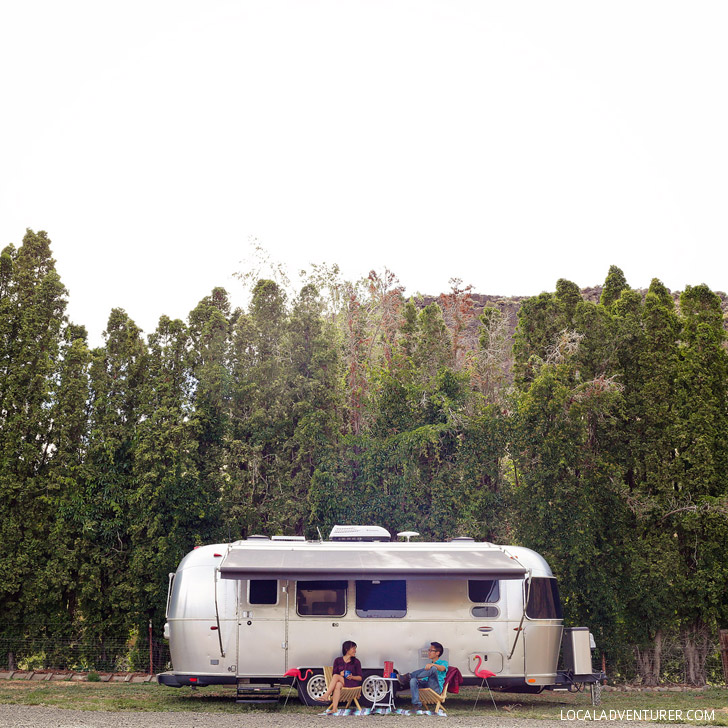 Pin
Optional Things We Like to Have
☐ Rice Cooker
☐ Vitamix (love our smoothies)
☐ Whiskey Glasses
☐ Nice Candles (my favorite one at the moment)
☐ Backpacking Gear
☐ Climbing Gear
Things We Bought / Brought But Don't Use
Nesting Bowls – We'd probably use them more as mixing bowls if we could figure out how to bake in our oven. So far all our desserts have been coming out burnt or undercooked. :(
Painting Easel – So many outdoor activities that I can't seem to make time to paint. Soon though!
We're learning so much about minimizing what we have, and we keep finding more things we could do without. BUT we also keep seeing new gadgets that other Airstreamers have that we want to get! haha
We're putting together a printable version of this soon, and we'll continue to update this list as we get rid of or add more things. :)
Think you can handle RV life? What about for one summer? What are some things you'd keep that aren't necessities but would be worth the space in your RV?
Last Updated: May 24, 2016