During our 3 months living on the road in an Airstream, the hardest part was not having good or consistent Internet. The first half of our trip, we constantly struggled to find a decent connection which was vital for us since it's a huge part of our job! As the trip went along, we tried different solutions and talked to a lot of other RVers. We eventually found a solution that worked for us, and here's what we found!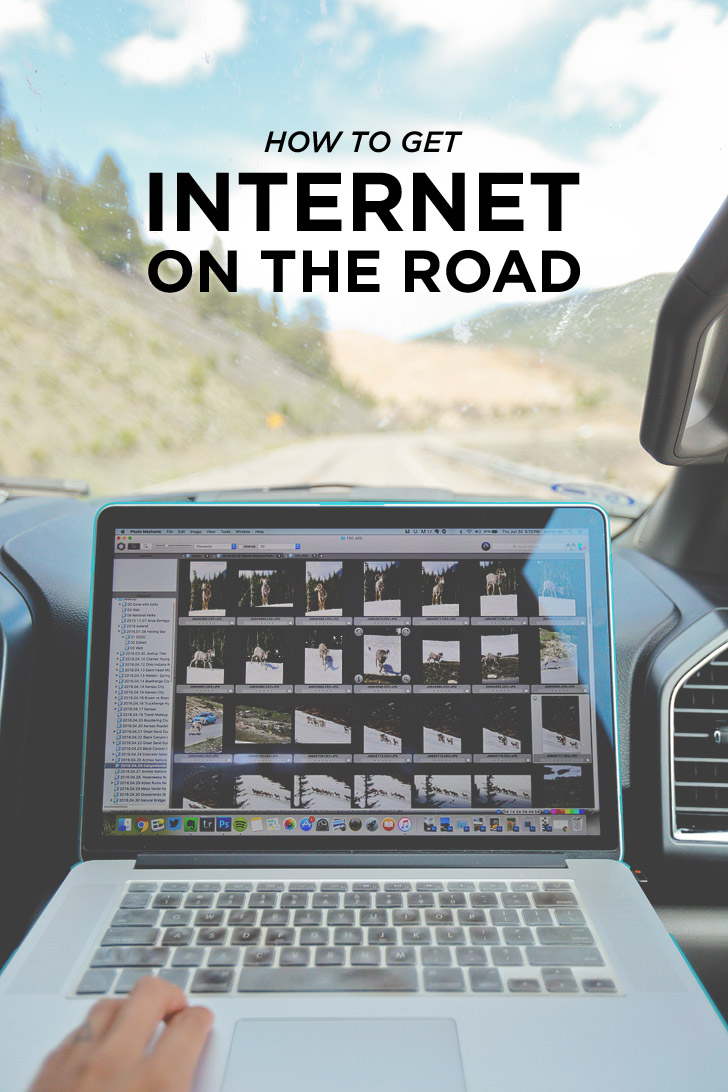 Pin
Published: Aug 11, 2016
HOW TO GET INTERNET WHILE TRAVELING ON THE ROAD
Before we go into the options, there are a few things to keep in mind. If you're like me, you're probably looking for the most reliable access that is fast and inexpensive. Unfortunately, that isn't really a reality on the road, but that doesn't mean you have to be without access. You will also most likely need put together a few different options and make them work together best for you.
QUESTIONS TO ASK YOURSELF:
What will you be using the internet for (Business, Personal, Email, Checking in)?
How much data will you need? Do you want to stream video (i.e. Netflix or Amazon)?
How many devices will be online?
Where will you be mostly staying (RV Parks, Boondocking, National Parks, Cities etc)?
What is your budget?
THE MAIN OPTIONS:
Public + "Free" Wifi
We tried using public wifi for the first month and half on the road, and it was miserable. Between RV Parks, Walmarts, coffee shops, and fast food restaurants, we had the hardest time finding a decent connection.
RV Parks often advertise free wifi. Although there were a couple exceptions to the rule, this usually meant wifi under 3 Mbps (in case that doesn't mean anything to you, that is SLOOOOOOWWWW. To give you an example, it took me 18 hours to upload a 3-minute video). On top of that, it usually wasn't reliable and would shut off periodically. Most of the time, I had to use gmail in basic HTML format.
Walmarts that had wifi (usually Super Walmarts) were our favorite spots for the first month. We could stay in the parking lot for free and the wifi was usually 4-6 Mbps and reliable. It gave us enough of a connection to catch up on emails and work with small files. Note: if you do stay overnight, it's common courtesy to shop at the store. We usually made our grocery runs then.
Starbucks was another option we were hoping would work out. We didn't get a great connection here either (3-5 Mbps). Plus you had to buy a drink, so it wasn't really free. Those mocha frappucinos add up!
Fast Food Restaurants were hit or miss. We tried quite a few McDonalds because they were the easiest to find (and because we love their soft serve ;D), but we were only getting 3-5 Mbps too. Panera ending having really fast internet that was equivalent to home cable/DSL, but they were hard to find and the costs of a meal were much higher.
Libraries are supposed to have free wifi too, but we didn't end up trying this out. If you've had experience with it, let us know what you think!
Open Wifi Spots is a great resource to find places with free wifi near you.
Hotspots + Cellular Service
Tethering your phone is an option but that can get costly. If you happen to still have unlimited data or a service that allows you to stream without using your data, we recommend you use that. IMO, hotspots are the way to go!
The Verizon Jetpack with unlimited data changed our lives. We weren't getting crazy fast speeds like we would with cable or DSL, but for the most part, we were getting at least 15 Mbps. This is still a pricey option, but if your livelihood is dependent on it, it's the best option. If you want to step it up a level, some folks get Verizon and AT&T to help ensure coverage in more areas.
Vinli is a device for the car that tracks your driving data, but it also gives you the option to buy T-Mobile service as you need it. This is a great option because it's pay as you go. If you're on the lower end of how much data you use, this could be the most cost-friendly option for you. The downside is since T-Mobile doesn't get as much coverage, this only worked well in urban areas. This is when Esther would hop on to work while I drove.
*Side note: The current options on purchasing data is limited, but there are workarounds to leasing unlimited data accounts. Check out eBay or message us for details.
Boosters
Whether you're using public wifi or your own hotspots, these are some great accessories to help you boost your signal, the range of the wifi, or just making it easier to have one place to connect to.
WifiRanger is a device mounted to your roof. It helps reach further wifi signals, which we were excited about. However, we rarely found a decent wifi signal, which rendered it useless. You can't boost non-existent wifi. We did enjoy having it as a central & consistent spot to connect to within the trailer though. Once we had a hotspot, we connected the WifiRanger to it.
Cellular Boosters was something we didn't get a chance to test since we were only in our Airstream for 3 months, but a lot of full timers use them. The weBoost 4G-X is one of the popular options.
Cable / DSL
This is what we were used to having when we had a home base. This will give you the fastest, most reliable speeds at the most reasonable prices. Unfortunately, since it's not very travel-friendly or mobile, it's not an option if you're on the road. BUT anytime we were in a city where we had friends, they let us use their awesome wifi. Thanks, friends! :D
OTHER OPTIONS
Co-working Spaces are a great option if you're in a city and you need internet for work. Rent a desk for a few hours, day, or week and get all the fast internet you need.
Satellite Internet seems to still be an option for some and was common before hotspots became normal. From our conversations with people and the research we've done, it's expensive and slow. On top of that, you have to go through the trouble of lining up the dish. Plus, it is affected by weather. There are some new options aimed at RVers, but they still seem more trouble than they are worth.
In conclusion, using a hotspot was the best option for us out of all the options available. It still doesn't mean that you'll have fast, reliable internet everywhere you go. We were still at the mercy of needing a cell tower nearby. When we were in remote parts of the country (ie. many parks), we still had to go without internet. This forced us to learn how to work efficiently while we were online and do work that didn't need an internet connection when we couldn't get on.
Regardless of what you choose, there will still be many frustrating moments filled with expletives, but on the flip side, you get to be wherever you want whenever you want!
How do you deal with being disconnected? Have you ever considered being a digital nomad and working from the road?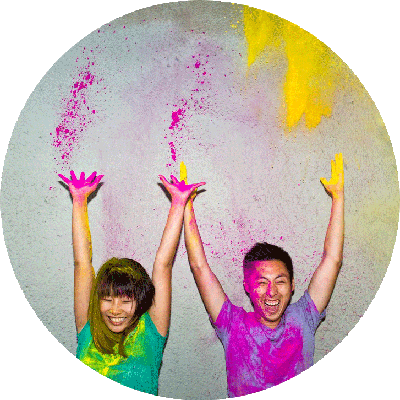 Pin
ESTHER + JACOB
Esther and Jacob are the founders of Local Adventurer, which is one of the top 50 travel blogs in the world. They believe that adventure can be found both near and far and hope to inspire others to explore locally. They move to a new city every year and currently live in Portland, Oregon.