These are the best places to see cherry blossoms in USA.
Traveling to see cherry blossoms and/or partake in a cherry blossom festival can be a really fun activity but can be tricky to time the blooms.
Sometimes nature surprises festival-goers and the trees bloom earlier or later than expected. Some of the festivals below have been known to be flexible with their festival dates so that visitors can experience the cherry blossoms at their peak.
If you're lucky enough to experience the trees in full bloom, you will be treated to an all-senses delight! The blossoms come in a variety of pinks and whites and give off a beautiful fragrance.
Note: Many festivals are going virtual this year. Crossing fingers for 2022.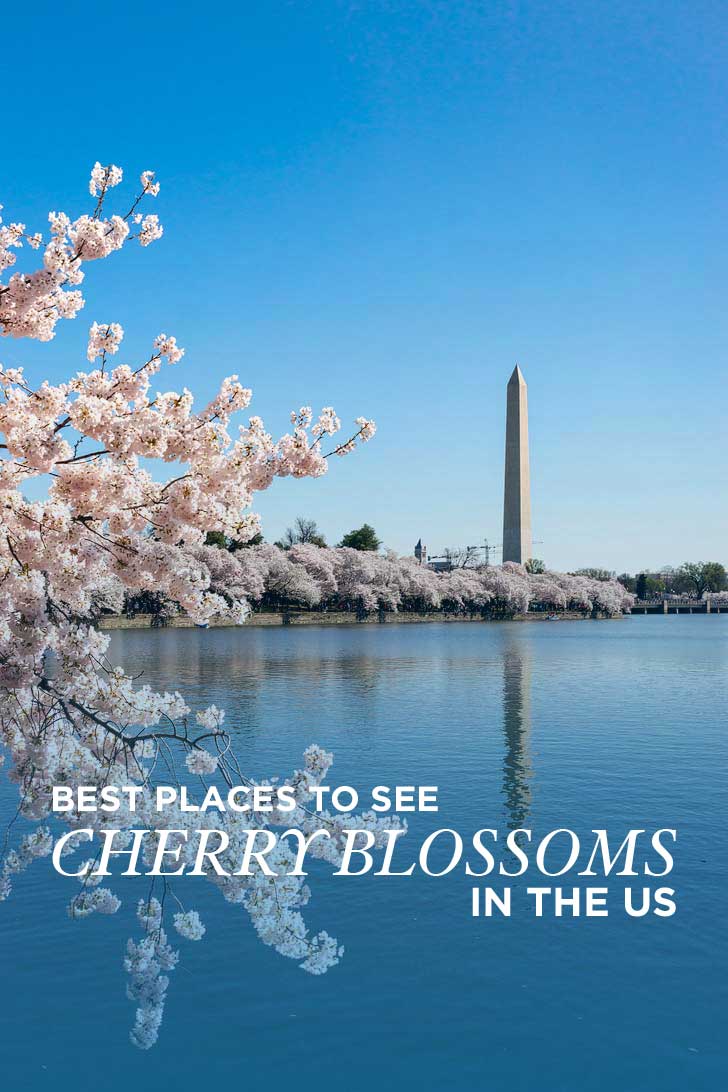 All opinions are always our own. This post may contain affiliate links, where we receive a small commission on sales of the products that are linked at no additional cost to you. Read our full disclosure for more info. Thank you for supporting the brands that make Local Adventurer possible.
Last Updated: April 27, 2021
Where to See Cherry Blossoms in the US
The Japanese have a word for the annual cherry blossom season: sakura. In fact, it's a time-honored tradition in Japanese culture and one that often involves travel. This tradition of welcoming spring is referred to as 'hanami' and focuses on appreciating the short life span of beauty in nature.
1. Bethesda, Maryland - Kenwood Neighborhood
When: Mid-March to mid-April
A great alternative to the crowded Tidal Basin is a short drive outside of D.C. in the neighborhood of Kenwood. Historical houses sit regally as a backdrop to mature cherry trees that create a solid canopy along the streets. The oldest cherry tree in the neighborhood is 90 years young!
Pro Tip: Kenwood is easy to bike to from the Capital Crescent Trail or you can sign up for a guided tour. The closest metro stop is Friendship Heights.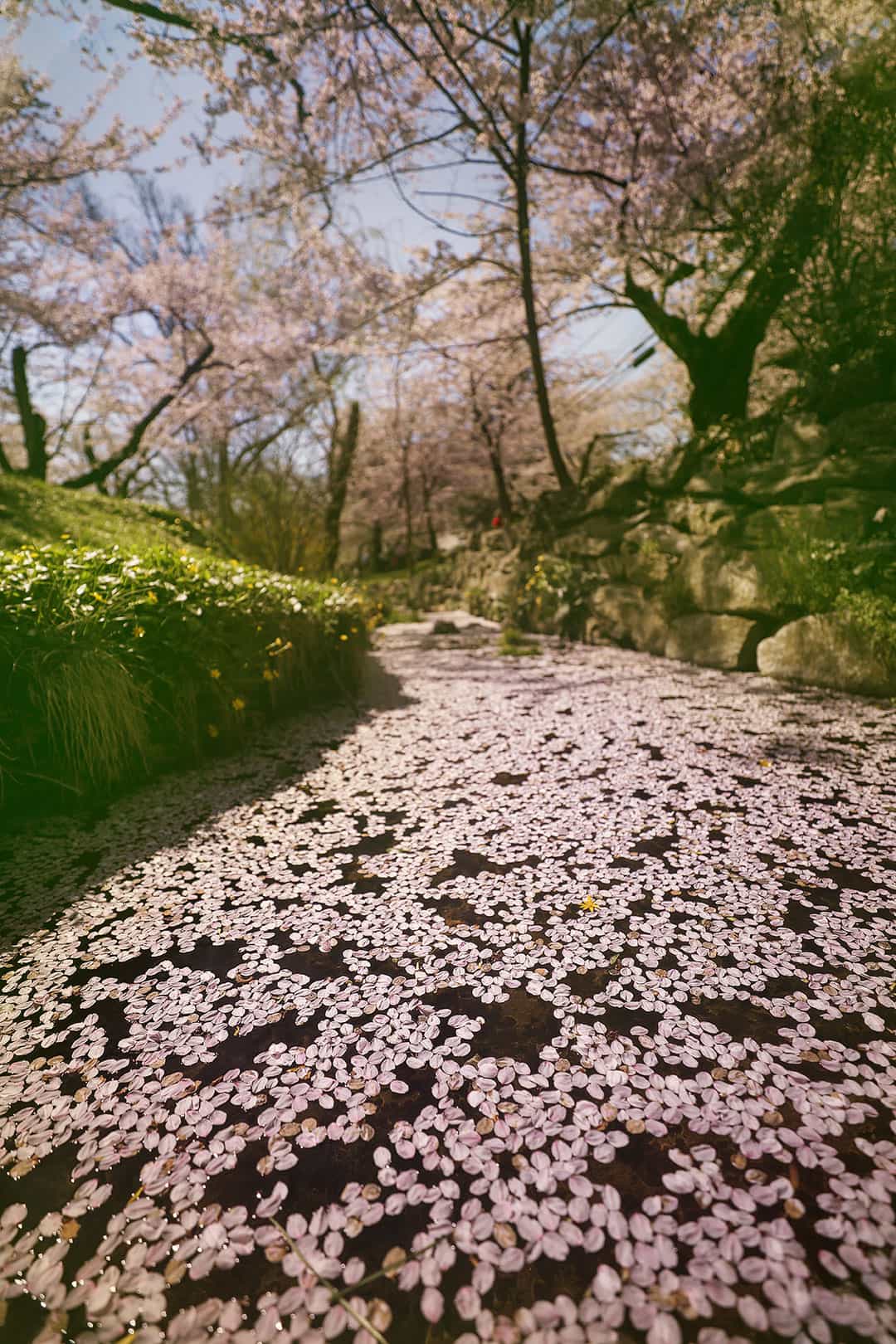 When: Mid-April to early May
You'll find the highest concentration of cherry trees in the section of the Charles River Esplanade bordering Back Bay, roughly between the Fiedler Footbridge (off Arlington Street) and the Mass Ave access ramp.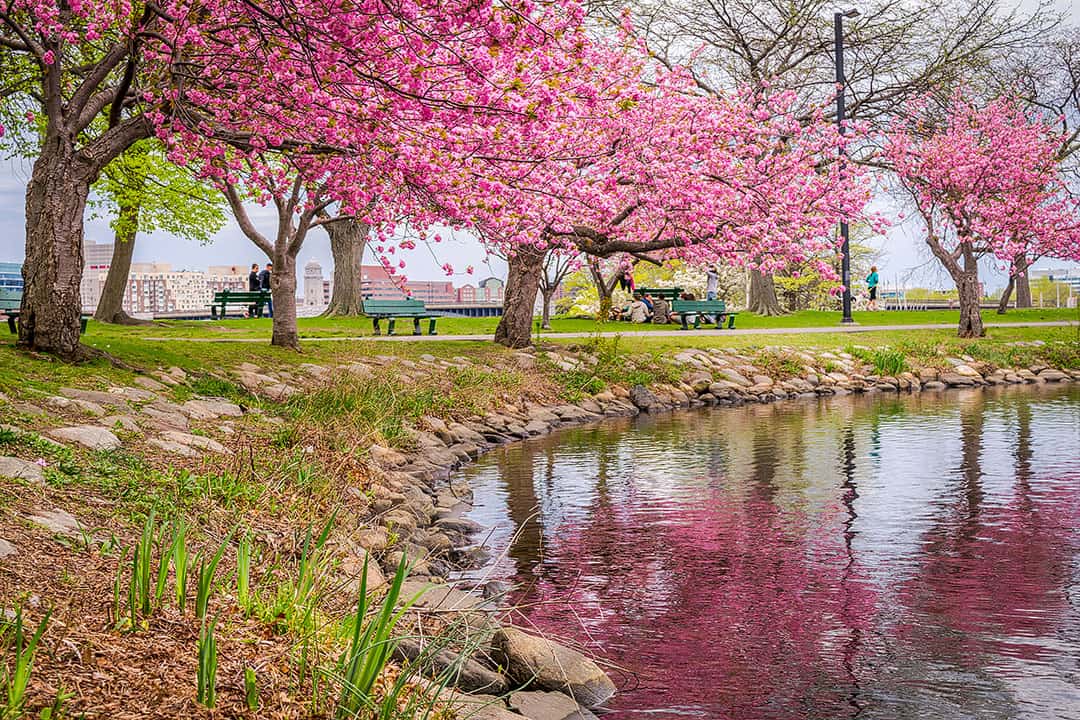 photo: Keith J Finks / Shutterstock
When: Late April – Early May
Price: $25 for adults, $20 for seniors and students 12+ with ID, free if under 12 or BBG Members
The Brooklyn Botanic Garden is a lovely place to see cherry blossoms and Sakura Matsuri is the festival held within the park. The festival has 60 events and performances to celebrate Japanese culture.
The BBG website offers a map that depicts what stage of bloom each tree is in and even offers detailed information about 26 different varieties of cherry trees!
Though cherry trees typically only live 30-40 years, the BBG has two of the oldest living cultivars in the country. At the north end of Cherry Walk, you will find two weeping Higan cherries.
Local Tip: There's also history to be found at Cherry Tree Park, renamed from the George Washington Houses Playground, as a symbol of the late president's honesty when confronted by his father for cutting down his prized tree on a whim. The park is now maintained by volunteers in the neighborhood.
When: Saturday, Feb 4
Location: 65-1108 Mamalahoa Hwy Waimea, 96743
There are several events held on the Big Island and free shuttles running between most locations. Waimea has the largest collection of trees of all the islands.
When: March – April
The largest collection of cherry trees in Los Angeles is in the San Fernando Valley. There are over 1,000 pink cloud cherry blossom trees in the Lake Balboa / Anthony C. Beilenson Park off Balboa Boulevard. This is the place to be in the springtime for a little bit of peace and quiet amid the city.
You can also find blossoms at Descanso Gardens.
When: March 24 – April 2
Macon, Georgia is the Cherry Blossom Capital of the World and has bragging rights to 350,000 cherry trees that burst into bloom in the Spring. It all started when a Mr. Fickling Sr. was browsing around in his yard and noticed a tree growing that he couldn't identify.
He asked everyone he knew about the tree but no one could provide him any answers. Several years later he was in Washington D.C. on a business trip and spotted what he thought was the same tree. After bringing home a cutting he was able to confirm his suspicions. It was a Yoshino cherry tree!
He then learned to propagate the Yoshinos and began giving them away. The Fickling family has since then gifted 6,500 trees that have been distributed by The Cherry Blossom Festival and Keep Macon-Bibb Beautiful Commission. 
Pro Tip:
The
Cherry Blossom Trail
takes you through the 12 historic districts of the city where you'll see thousands of flowering trees.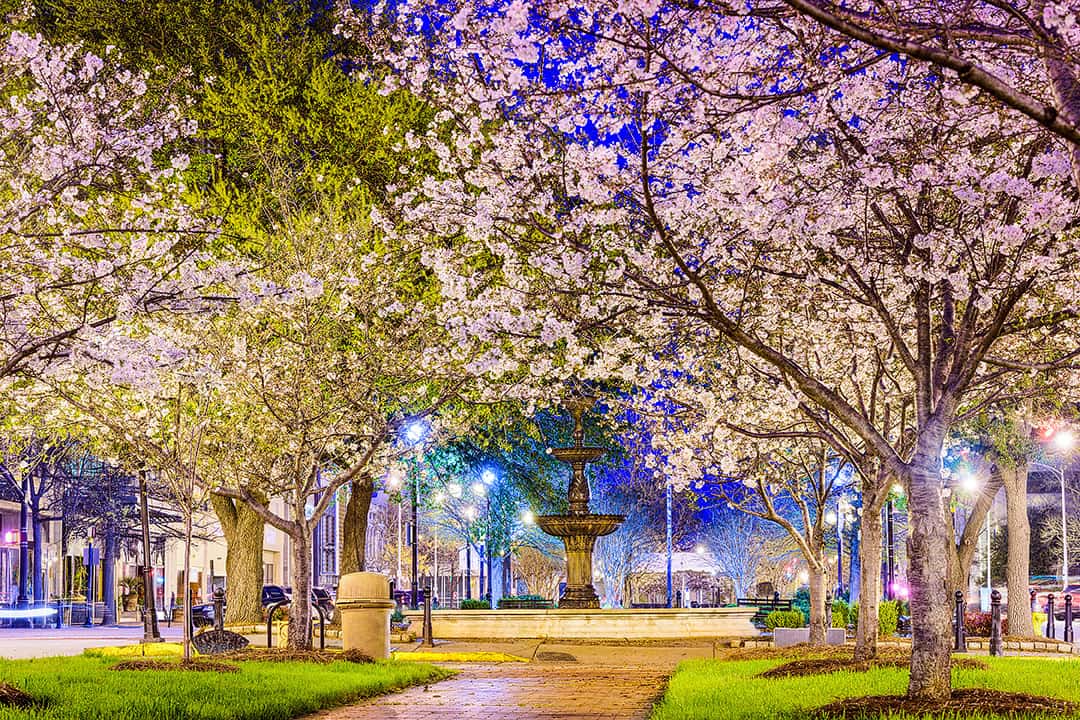 When: April
Music City has a 4-mile loop lined with cherry trees that bring you through Sylvan Park and then back through the historic Richland-West End neighborhood.
You will see the Yoshino trees bloom in early April and the Kwanzan trees bloom late April after the threat of frost is over. So, lace up those tennis shoes and hop on outside! Click here to check out a suggested loop.
When: April 8 – 23
The Garden State has more cherry trees than Washington D.C (Shhh)! There are more than 4,000 Japanese cherry trees in Branch Brook Park, which runs through Belleville and Newark. Take a stroll on your own through the park or attend the Essex County Cherry Blossom Festival (it lasts 2 weeks)!
When: April 1 – 9
Price: $10 for adults, free for children under 12
The first year the trees were planted in Fairmount Park was 1926. Another 1,000 trees have been added to date. Over time, it has turned into the Subaru Cherry Blossom Festival of Greater Philadelphia 9-day festival that includes a Silent Auction, Japanese Culture Week, and even a 5K.
This festival truly celebrates Japanese culture including Japan's traditional ohanami: parties underneath the blooming trees with entertainment, food, and drink.
Also, check out the trees around the city! Here's are the best spots:
When: Mid-March
The best place to see them is along the bank of the Willamette River at the Japanese American Historical Plaza, which is part of Tom McCall Waterfront Park. It was dedicated in 1990 as a memorial to those who were interned during WWII.
In Japanese tradition, the landscape is used to tell a story. Here cherry trees create a backdrop to exploring history thru engraved poetry and bronze relief. You can also find a few blooming at the Portland Japanese Garden.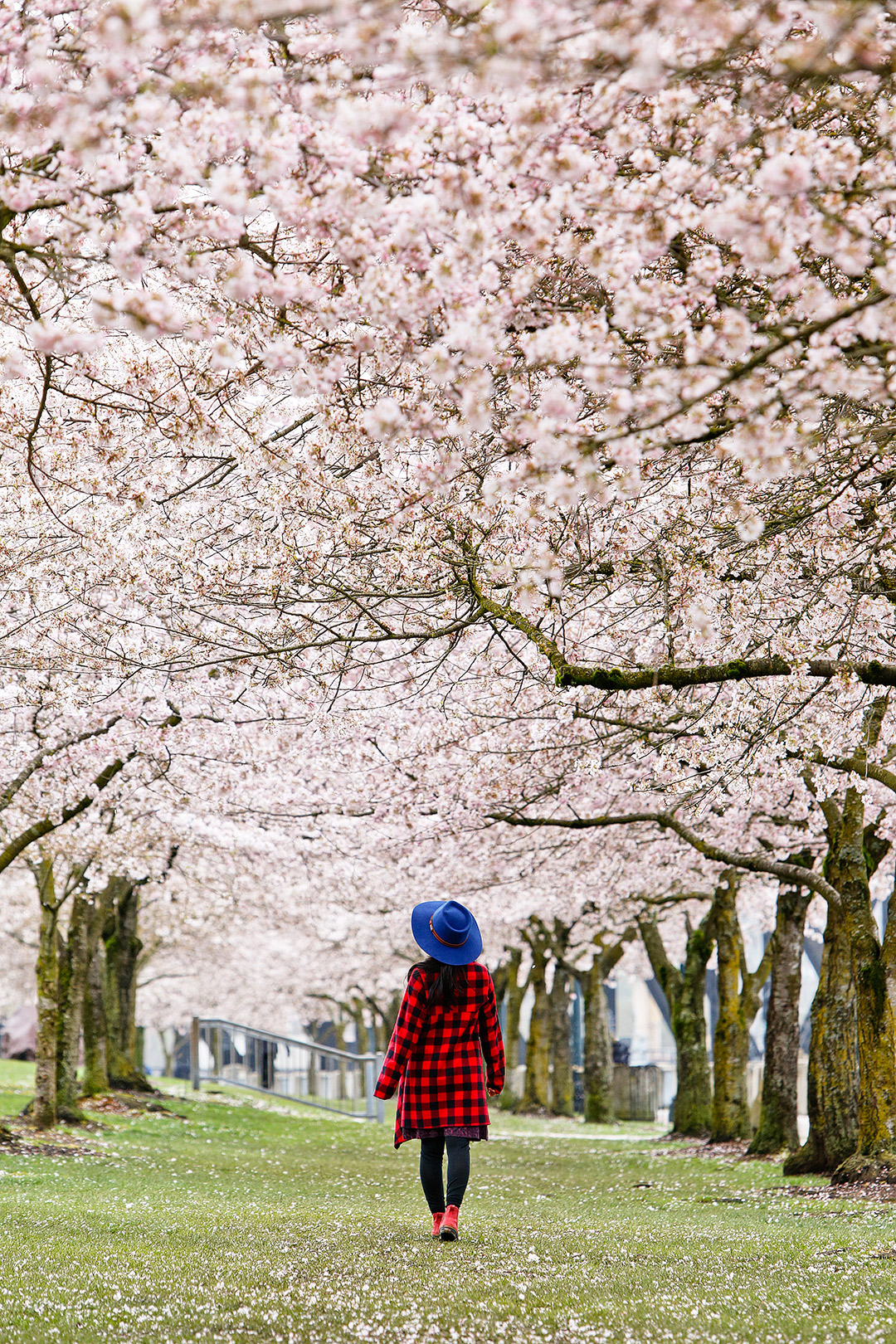 When: March 15 – April 15
The cherry trees start blooming in the meadows of Golden Gate Park in mid-March but keep an eye on the ones in the Tea Garden. They are spectacular and were originally planted as a 'Japanese Village' exhibit in 1894 for the California Midwinter International Exposition.
The Tea Garden is one of the most popular attractions in the city and the cherry blossom season is the cremé de la cremé!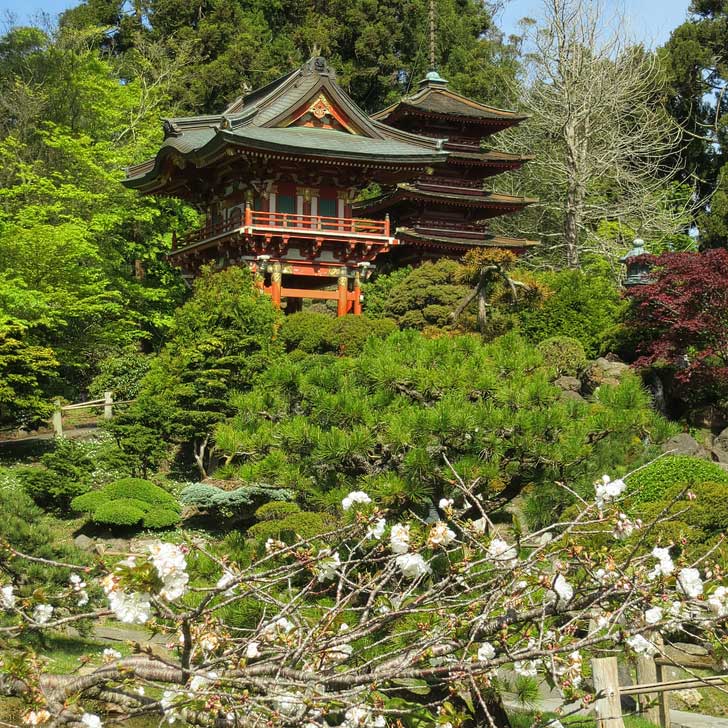 When: Bloom 2nd or 3rd week of March
In addition to the Seattle Cherry Blossom and Japanese Cultural Festival, the city has some mature cherry trees you shouldn't miss! The quad at the University of Washington has 30 Yoshino cherry trees that were relocated from the Arboretum in the 1960's.
Seward Park has trees that were donated in 1929 by Japan. You can find the oldest cherries in the city at Jefferson Park. They were planted in 1912 and another 25 were planted to mark the park's 100 year anniversary.
When: Late March – mid-April
Just outside of Washington DC, the Meadowlark Botanical Gardens have cherry trees surrounding the lake near the entrance to the park as well as walking paths that become solid pink when the petals fall. Ride your bike or hike into the park via the W&OD Connector Trail to make a day of it!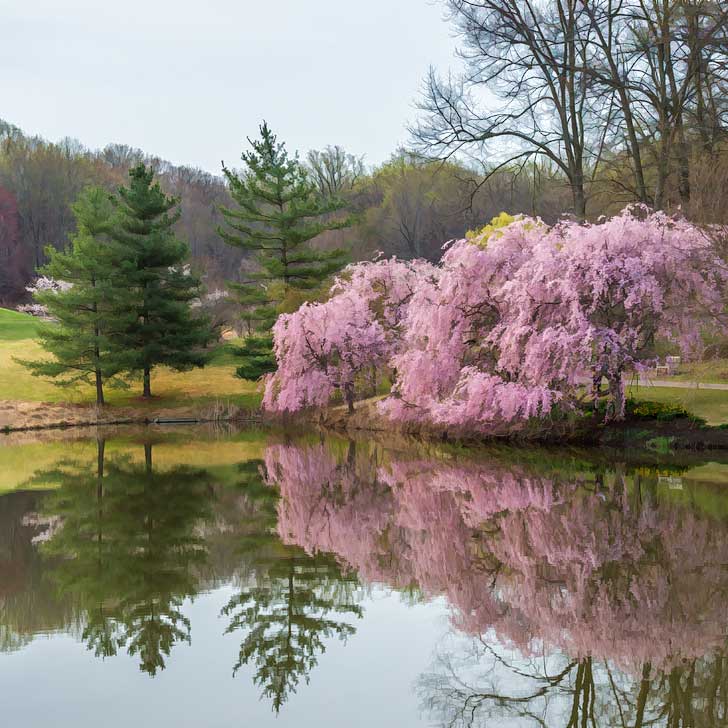 When: March thru early April
Price: $12 for adults and free for children under 12
Be sure not to miss the weeping Higan cherry trees which display long sweeping branches covered in blush-colored blossoms. There are 40 of them as well as Yoshino, Twenty Centennial, and Sargent varieties all throughout the park, particularly in the Japanese Garden.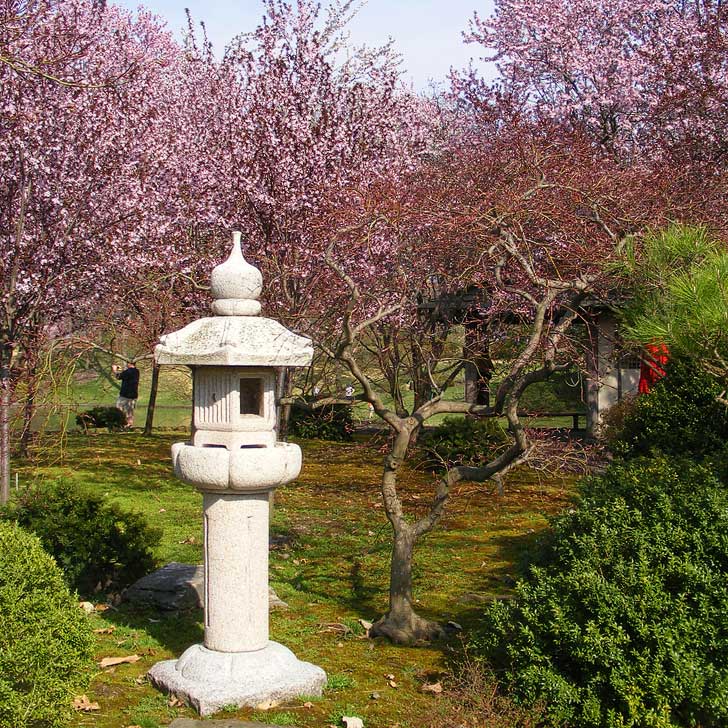 When: March 20 – April 16
The cherry blossom trees currently grow in three National Park Service locations: around the Tidal Basin in West Potomac Park, in East Potomac Park (Hains Point), and on the Washington Monument grounds.
The city gets really excited and crowded during the National Cherry Blossom Festival (but for good reason). This is one of THE biggest cherry blossom festivals in the country.
Pro Tip: Take the Metrorail or Metrobus if you can to avoid parking hassles. There is an opening ceremony, a kite festival, a parade and even a free fireworks show!
More Places to See Cherry Blossoms in the US
Athens, Ohio – Ohio University (late March)
Dallas TX – Dallas Arboretum (late Feb-mid-April)
Fort Worth, TX – Botanic Garden (late Mar)
Irmo, SC – Irmo Town Park (early April)
Newark, Ohio – Dawes Arboretum (late Mar- mid-April)
Salem, Oregon – The Capitol Mall (late Mar)
San Diego, California – Japanese Friendship Garden (Mar)
San Mateo, California – Japanese Garden (late Mar- early April)
Traverse City, Michigan – driving on M-37 or along County Road 633
Cherry Blossom Festivals in USA
Hawaii Cherry Blossom Festival (Feb-April)
OC Cherry Blossom Festival (Mar 11-13, 2022)
Portland Japanese Garden CBF (mid-March-early April)
Macon Georgia's Intl Cherry Blossom Festival (Mar 18-27, 2022)
Salem Oregon Cherry Blossom Day (Mar 19, 2022)
DC National Cherry Blossom Festival (Mar 20-April 17, 2022)
Conyers Cherry Blossom Festival (Mar 27-28, 2021)
Hatsume Fair at the Morikami Museum and Gardens, FL (April 2-3, 2022)
Essex County Cherry Blossom Festival (April 3-18, 2021)
Seattle Cherry Blossom Festival (April 21, 2022)
Missouri Cherry Blossom Festival (April 22-24, 2021)
New Haven CT Wooster Square Cherry Blossom Festival (April 24, 2022)
Randall's Island NYC Cherry Blossom Celebration (May 1-2, 2021)
Fort Wayne IN Cherry Blossom Festival (May 16, 2021 – Virtual)
Barberton OH Cherry Blossom Festival (2022 TBD)
Brooklyn Botanic Garden Sakura Matsuri (2022 TBD)
Boston's Japan Festival (2022 TBD)
Irmo, SC Cherry Blossom Festival (2022 TBD)
Nashville Cherry Blossom Festival (2022 TBD)
Santa Ana CA Festival at Bowers Museum (2022 TBD)
Virginia Beach Cherry Blossom Festival (2022 TBD)
There are over 600 varieties of cherry trees grown today.
Did you know that though the flowering cherry does not produce edible cherries as we know them? They still produce a small sour fruit that birds go crazy for.
Before making it to Japan, they are believed to originate in the Himalayas.
Have you been to any of these festivals? Did we miss any?
Did you enjoy this post? Pin it for later
SEE MORE CITY BUCKET LISTS
"Discovery consists not of seeking new lands but in seeing with new eyes" – M. Proust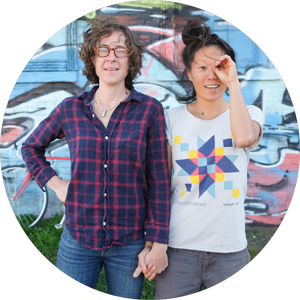 Pin
CAROLINE + ERIN
They are freelance web designers and photographers who love finding adventure, both big and small. The two make a daily practice of sharing vulnerabilities, truth telling, and side splitting laughter. They've honed the art of traveling fast and doing all of the things that an adventurer can do in a day or two. The couple lives in Asheville and loves spending their time in the mountains.