Life is a juggling act, isn't it? If you're anything like us, we love to get out and about but we also try to keep a watch on our wallets (always a challenge). We decided to put ourselves to the test to see if we could find activities that don't cost a thing. The answer? Yes!
Note: Please follow all local health guidelines should you choose to travel. Also, it's always a good idea to double-check for closures or changes in operating hours since they are constantly changing.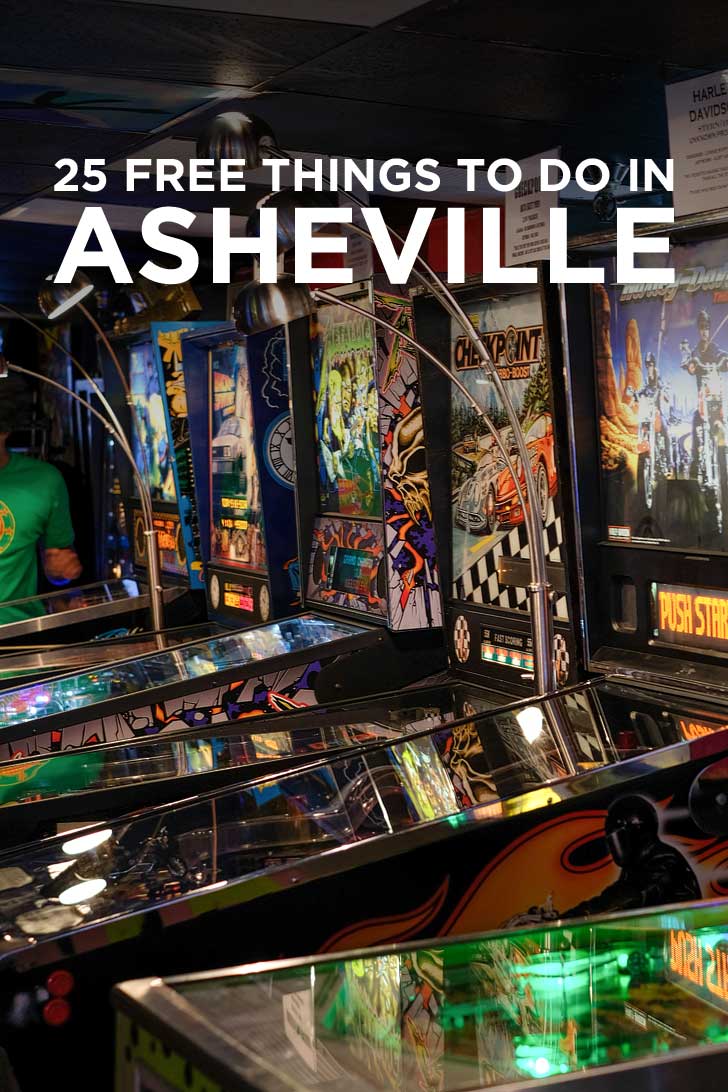 This post may contain affiliate links, where we receive a small commission on sales of the products that are linked at no additional cost to you. All opinions are always our own. Read our full disclosure for more info. Thank you for supporting the brands that make Local Adventurer possible.
Last Updated: March 12, 2021
25 Free Things to Do in Asheville NC
Luckily, there are many things happening in Asheville year-round and a lot of them are free! We've compiled a list that offers fun in the city such as live music, wine tastings and a drum circle as well as adventures that take you out into nature (we included our favorite waterfall!).
1. Tour of the French Broad Chocolate Factory
Everything made here starts with the green bean. The tour takes you through the chocolate-making process from beginning to the end, which is a rich, decadent, delectable truffle.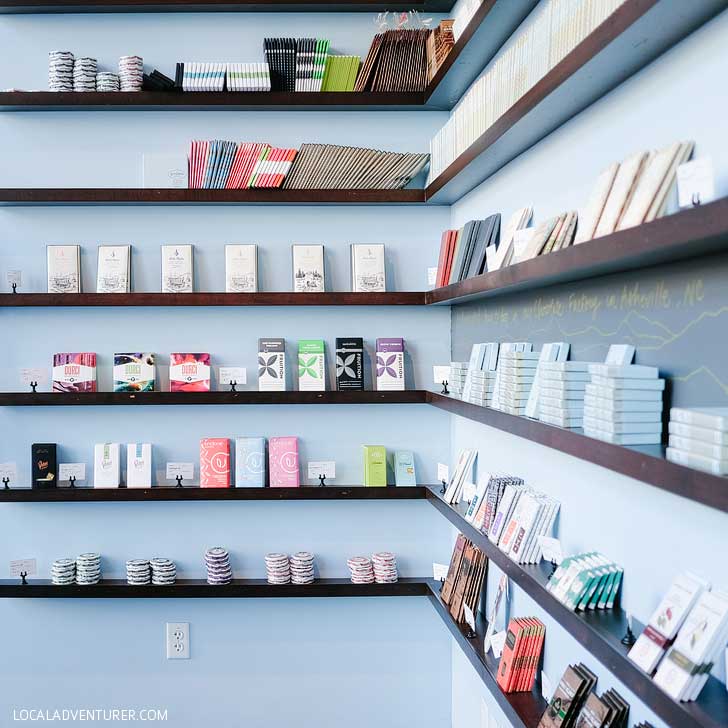 2. Brewery Tour at Sierra Nevada
A tour is offered 7 days a week, but you'll need a reservation. It takes about 90 minutes, but it will walk you through the entire beer making process. It starts at their glorious copper-clad brew kettles and ends with a beer tasting right next to the open fermenters!
3. Visit the Foundation Walls Project
If you love street art, you're going to want to visit this place. The best part is that the murals are constantly changing, so you're sure to find something new each time you visit.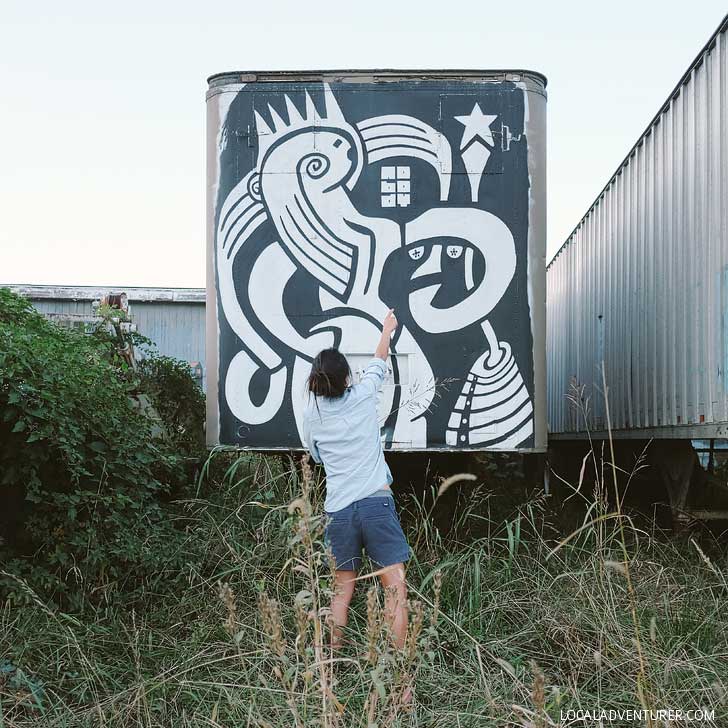 4. Listen to Live Music at Jack of the Wood
Nearly every night of the week you can sit in on a jam session that ranges from bluegrass, celtic, and zydeco, to open mic. Our favorite time to visit this cozy pub is in the winter with a pack of playing cards and a few friends in tow.
5. Bluegrass at Isis Restaurant & Music Hall
Built in 1937 as a theater, it now is one of Asheville's best spots for listening to live music. Tuesday nights are for bluegrass and it's free!
6. Author Talks at Malaprop's
Since 1982, Malaprops has been jammed packed with books and people of all kinds. There is a cafe that hosts book clubs, author talks, discussions, and the like.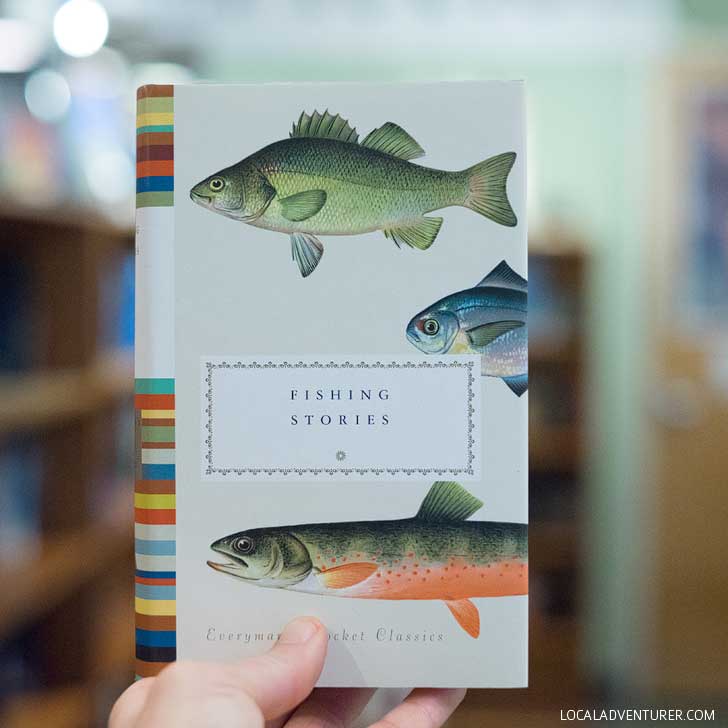 7. Listen to Buskers at Pack Square
Downtown Asheville is a hot spot for street music. You can find all genres of musicians congregating on street corners and in front of shops giving the public a show. We have often been stopped in our tracks at the high quality of music coming from the streets. Oh and guess what? The buskers show up all year long.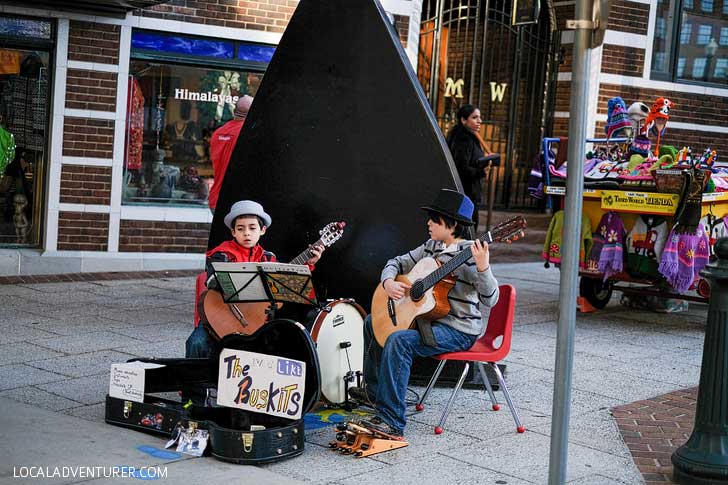 Running strong since 2012, the Asheville Running Collective put together an 8.6-mile course that is self-paced and self-guided. They meet every Thursday at 6:15 pm in the parking lot of the Wedge Brewery. Ending a run with a neighborhood brew never tasted so good!
9. Ride Your Bike at the Carrier Park Velodrome
This velodrome (locally dubbed the Mellowdrome) is a retired motor speedway and is located within the greater Carrier Park. A ⅓ mile oval track allows for free riding as well as hosted races throughout the year. It's open daily from 6 am to 10 pm.
10. Wine Tastings at the Asheville Wine Market
Asheville loves to brag about how many breweries we have, but we're wine lovers as well. Once a month you can meet up here with other wine aficionados in the cellar room to learn more about why you love merlots and are less fond of a rosé. All in all, each class features 8 wines with light snacks.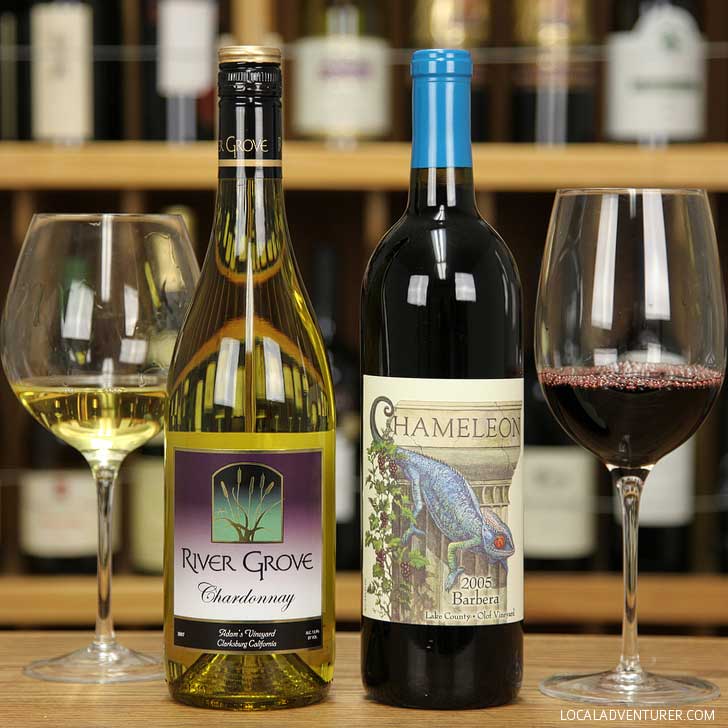 11. Asheville Distilling Company Tours
Tours happen on Friday and Saturday nights at 5 and 6 o'clock and typically last about 20 to 30 minutes. After learning about the history and the process of the distillery, you'll be treated to a sampling of their products. Not a bad way to kick off the weekend, eh?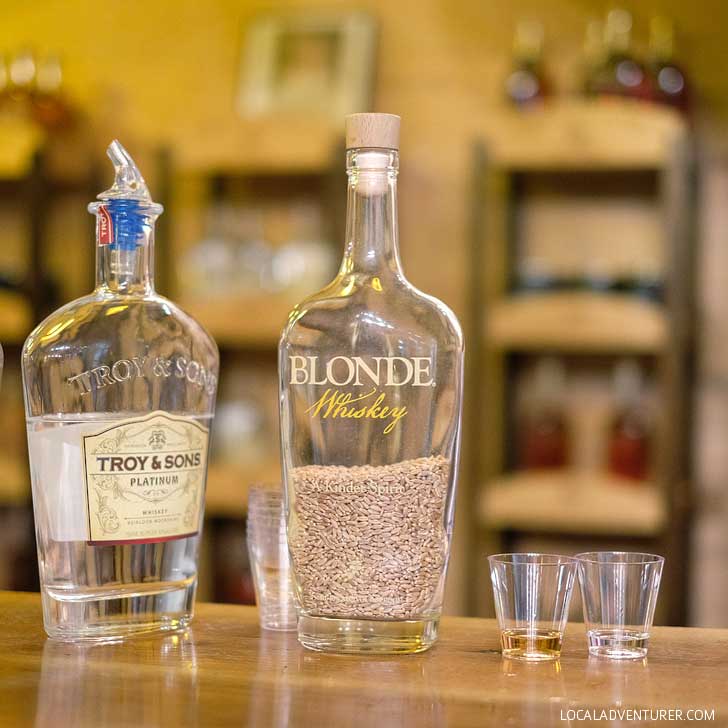 12. Pritchard Park Drum Circle
All across the land, it seems people have heard about our drum circle! We're still amazed by the size of the crowd that continues to show up fifteen years later. Feel free to participate by bringing your own drum or dancing to the beat. The crowd here is a true melting pot of all Asheville has to offer with locals and visitors in one place. No pretension here. Just fun!
13. Montford Park Player's Shakespeare Plays
This is a non-profit relying completely on volunteer involvement and is North Carolina's longest running Shakespeare Festival. You can catch a play outside in the warm months and inside at The Masonic Temple in the winter months.
Volunteers have put together this self-guided 1.7-mile tour of downtown Asheville that consists of 30 stops telling you the story of Asheville's history through public sculpture. Five time periods are represented on the Urban Trail, all made possible by donations from individuals, organizations, and groups in an effort to improve the quality of the city. Maps can be found for free at Pack Place and the information center at Pack Square Park.
15. Window Shop at a Farmer's Market
You can find a farmers market almost every day of the week except Sunday during the growing season! This is a great way to see what Asheville's farming community is all about, plus it's a great opportunity to stock up on cheese, meat, eggs, bread, ice cream, and coffee. Our favorite one is the North Asheville Tailgate Market located on the University of North Carolina Asheville campus.
16. Try on Costumes at the Urban Gypsy Traveling Trunk Show
A roving pop-up shop, you can look for vintage costumes and other attire while at the same time dancing to her groovy beats and laughing at Elle's impromptu comedy. Shopping here is a unique experience and great, great fun. Check her 
facebook page
 for dates and locations.
17. Watch Glassblowers in Action Asheville Glass Center
The Asheville Glass Center is in the middle of the River Arts District and has both a retail shop as well as a workshop area. You can see experienced artists creating all kinds of glass, beginners who are taking a class, and even purchase finished products.
18. Float the French Broad River
If you have your own floating vessel (a tube, kayak, or canoe) then you have several places to choose from in terms of putting in and pulling out. The French Broad River flows thru 117 miles of western North Carolina and has a number of access parks. Put in at Bent Creek River Park and finish your float at the Hominy Creek River Park for a ride that will take 2-3 hours depending on the water level of the river.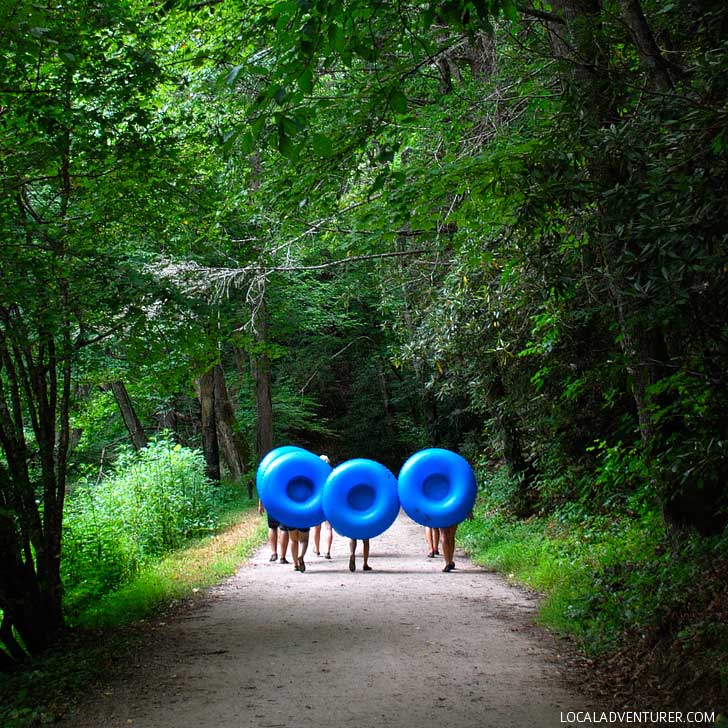 19. The North Carolina Arboretum
The Arboretum is a 434-acre garden inside the Bent Creek Experimental Forest, a park within a park. The Bonsai Exhibit and the Winter Lights are particularly worth seeking out. You can enter for free if you park at the Hard Times Trailhead in Bent Creek. Otherwise, park at the Arboretum which costs $12 for a personal vehicle and $50 for a motorhome or vehicle 21' or longer.
20. Bike Ride Through Bent Creek Experimental Forest
You have your choice of over 30 miles of trails only a few minutes drive from Asheville's center. Bent Creek has single and double track trails that vary from easy to difficult. After you work up a sweat you can jump in the lake at Lake Powhatan!
21. Hike Looking Glass Falls
There are so many waterfalls in the Asheville area, but our personal favorite is the sixty-foot Looking Glass Falls in the town of Brevard. This is a really popular waterfall because it's really easy to get to and wheelchair accessible (there is parking near the falls – be sure to pull all the way off the road!).
Pro Tip: Pack a bathing suit and towel and after you're finished having fun at the falls, head for an overlook on the Blue Ridge Parkway and enjoy a picnic lunch, number 22 for a full day of fun!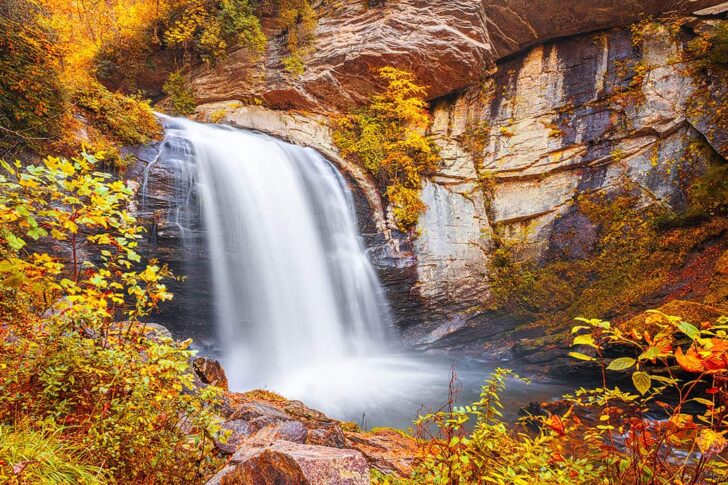 22. Picnic at a Blue Ridge Parkway Overlook
The Blue Ridge Parkway offers an overlook every couple of miles complete with a parking lot and small grassy area. It's perfect for a picnic on sunny days, but to tell you the truth, we head out to an overlook even when the weather is poor, to picnic in the car or sit in the back with the hatch up. The views are just that good.
The closest overlook to the city is the French Broad Overlook, Milepost 393.8. It's not the best view but it is the closest. Our favorite, though is the East Fork Overlook, Milepost 418.3
23. Asheville Tourists Minor League Goodwill Nights
The Asheville Tourists are a minor league baseball team that plays in the Class A South Atlantic League. It's professional sports at it's best: a small stadium, a family-oriented environment, and a pretty decent team (they were league champs twice in the last six years). You get free admission if you bring three clothing items.
24. Movie Night or Music at the Wedge Brewery
Nine months out of the year this neighborhood brewery offers live music or movies in the outdoor area. Ride your bike down if you can to truly make it a free event!
25. Asheville Pinball Museum
There are 75 pinball machines and classic video games at the Pinball Museum. It's free to visit or take photos, but if you decide you want to play, it's $15 for adults and $12 for children 12 and under. Once you pay, you can play all day!
Pro Tip: Call ahead if you're planning on going on the weekends. They only allow as many people inside as there are machines and will start a wait list when they reach max capacity. Their phone number is: 828-776-5671
Map of Free Things to Do in Asheville
Shoulder season is March to May / September to November and is the best time to visit because there's less traffic and the temperatures are ideal.
Bring layers! In the summer, the days are often hot, but when the sun goes down most people are reaching for another light layer.
Street parking is pretty congested year-round. If you're lucky enough to find a spot you can save a little time by downloading the PassportParking app before you arrive or carry some quarters for the meters (there are more than 700 on-street meters downtown.)
Metered parking is really only for short-term use (2 hours or less) and costs $1.25 an hour. They're enforced from 8 am to 6 pm every day except Sundays and a few city holidays: New Year's Day, Martin Luther King, Jr. Day, Good Friday, Memorial Day, Fourth of July, Labor Day, Thanksgiving Day, Friday after Thanksgiving and 3 days at Christmas.
Other parking options include three garages downtown: Civic Center, Wall Street, and Rankin. The Civic Center Garage is free for the first hour and then $1.00 per hour for each hour or fraction thereof. The daily maximum is $10.
All accommodations listed have at least 4 stars on both Yelp and Tripadvisor.
Have you done any of these activities? What else should we add to the list?
Did you enjoy this post? Pin it for later
SEE MORE FREE CITY GUIDES
"Discovery consists not of seeking new lands but in seeing with new eyes" – M. Proust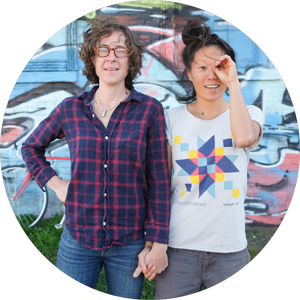 CAROLINE + ERIN
They are entrepreneurs and creatives who love finding adventure, both big and small. The two have made a daily practice of sharing vulnerabilities, truth telling, and side splitting laughter. They've honed the art of travelling fast and doing all of the things that an adventurer can do in a day or two. The couple lives in Asheville, North Carolina and spend as much time as possible in the mountains.