There are the things to do in downtown Las Vegas that even the locals love.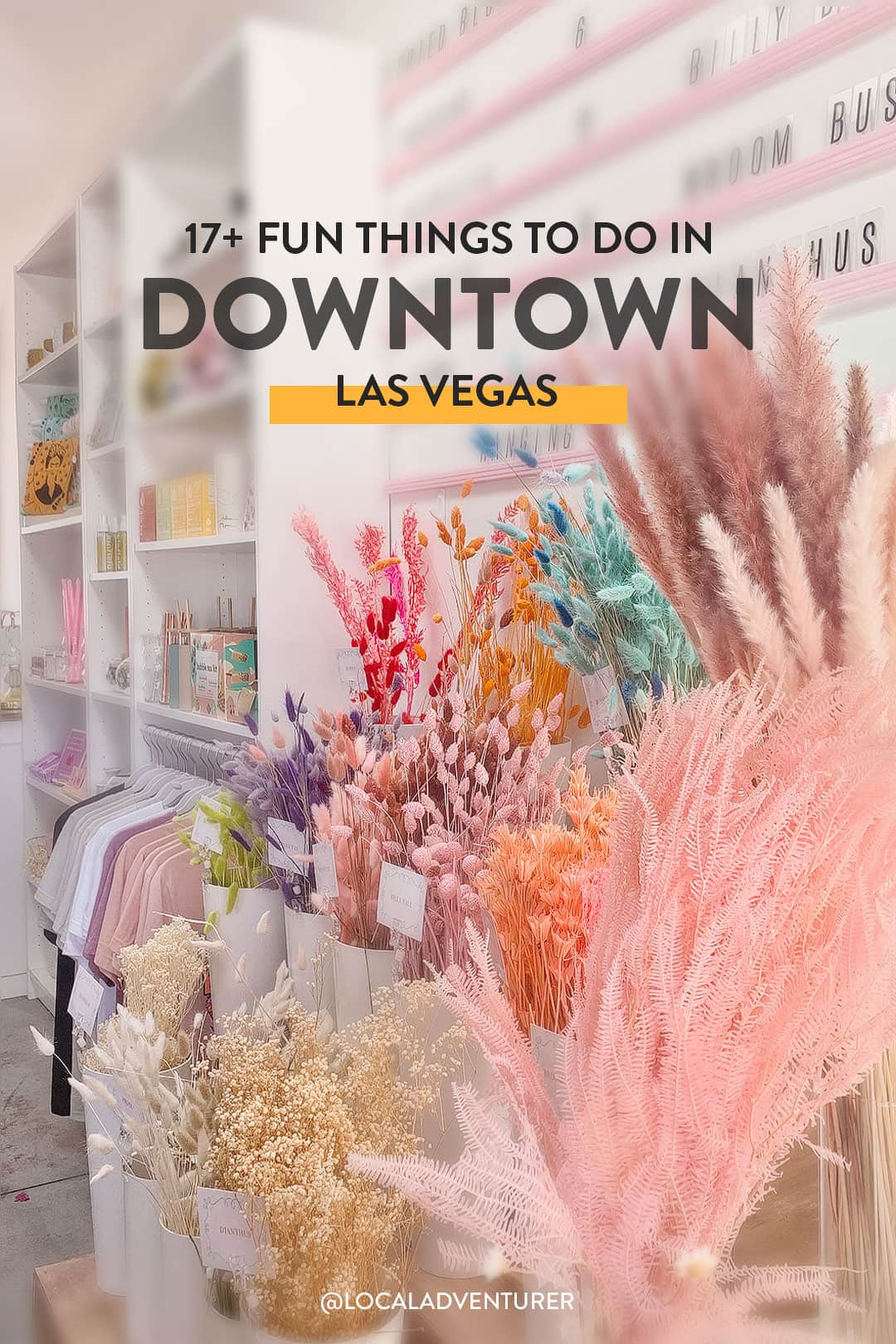 This post may contain affiliate links, where we receive a small commission on sales of the products that are linked at no additional cost to you. All opinions are always our own. Read our full disclosure for more info. Thank you for supporting the brands that make Local Adventurer possible.
Last Updated: September 15, 2022
Downtown Las Vegas or Old Vegas has a touristy side, but it's also a place locals actually hang out.  From the time we lived here in 2013 to moving back in 2019, we've seen it change drastically.
In 2013, Zappos had just moved their headquarters downtown and allocated $350 million in aid to revitalize Downtown Las Vegas. Tons of development happened and it turned fairly run-down areas into new spaces for start-ups, new restaurants, tiny homes, and art installations.
Fast forward to the present day and it's become a popular spot for both locals and tourists. The closer you are to the Fremont Street Experience, you'll find more tourists vs the further east you go, you'll find more locals.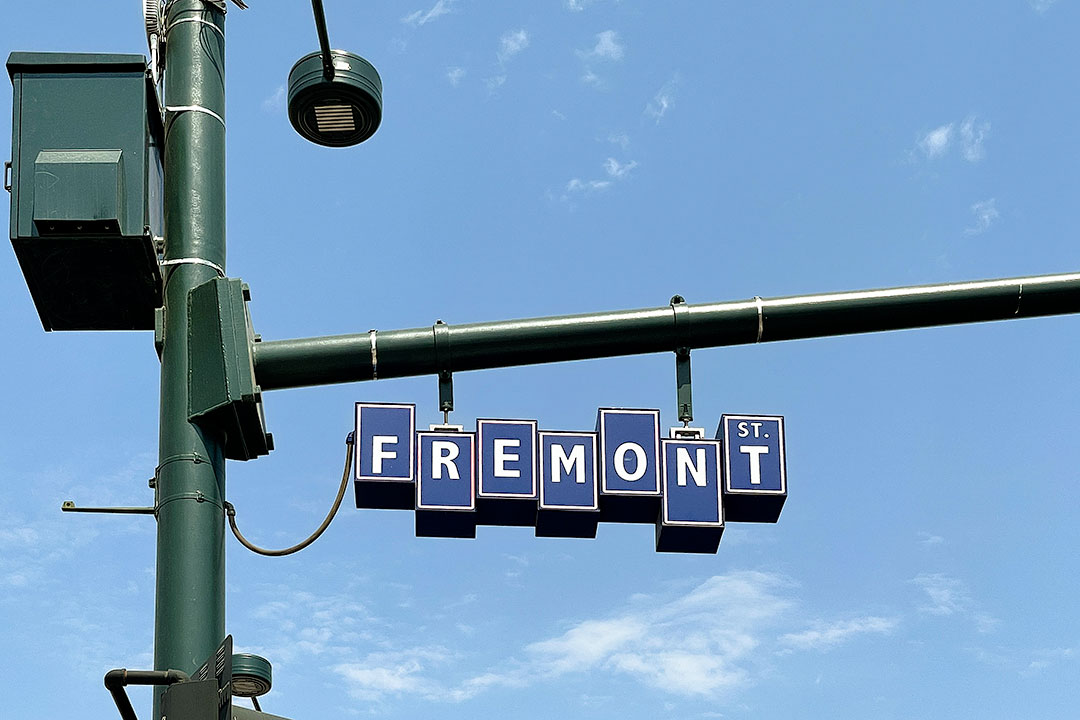 17 Things To Do in Downtown Las Vegas
We're not huge museum-goers, but we love how interactive this one is.
This is our favorite museum in Vegas and even makes our list of favorite museums in the US. The history of organized crime and seeing what it is today is truly fascinating. Plus, since their renovations, they added a speakeasy and distillery in the basement!
Local Tip: If you only want to go to the speakeasy, look for the secret door near their parking lot.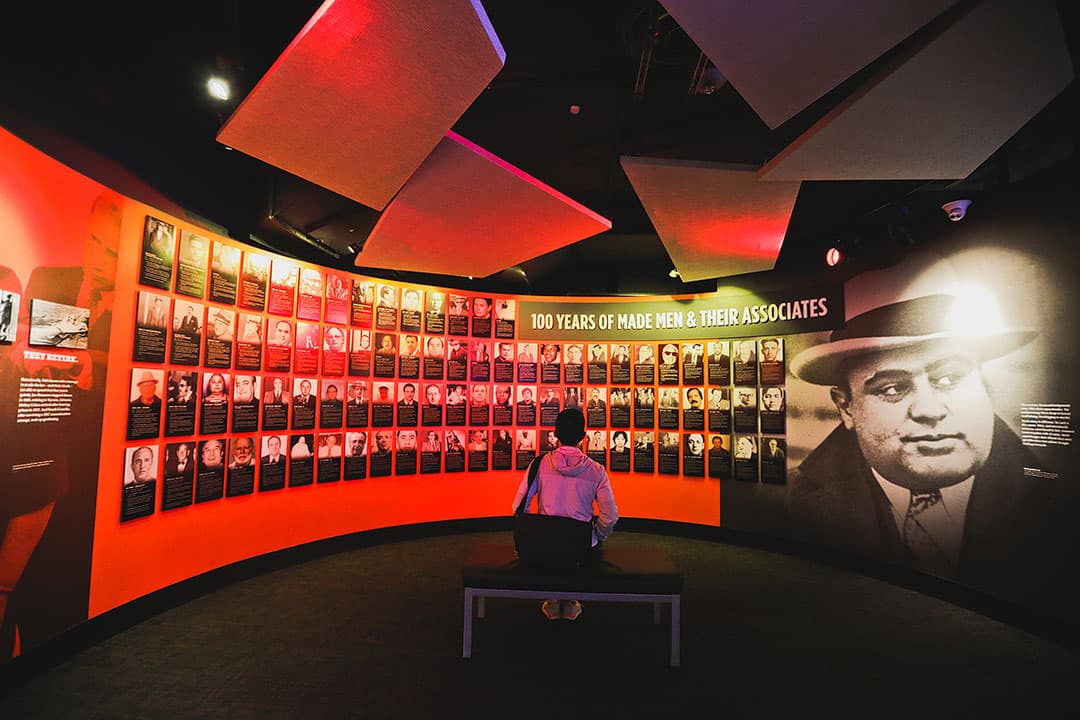 This former motel is now a complex of cute little shops. They are only open from Wednesday to Sunday (besides the coffee shop and restaurants), and they even have a night market on weekends.
We had so much fun exploring this area. It's going to be a place we bring our friends who visit us. Don't forget to check out our full guide below.
The roof of the Fremont Street Experience recently got a $32 million upgrade. It's the largest video screen in the world and has 16.4 million pixels.
The last time we went was years ago, and it looked like a completely different place.
After checking out the show, there are plenty of shops, restaurants, and casinos to explore. Plus, it's a great spot for people watching if you're into that sort of thing.
Local Tip: They have live music from time to time, so check out what their lineup is.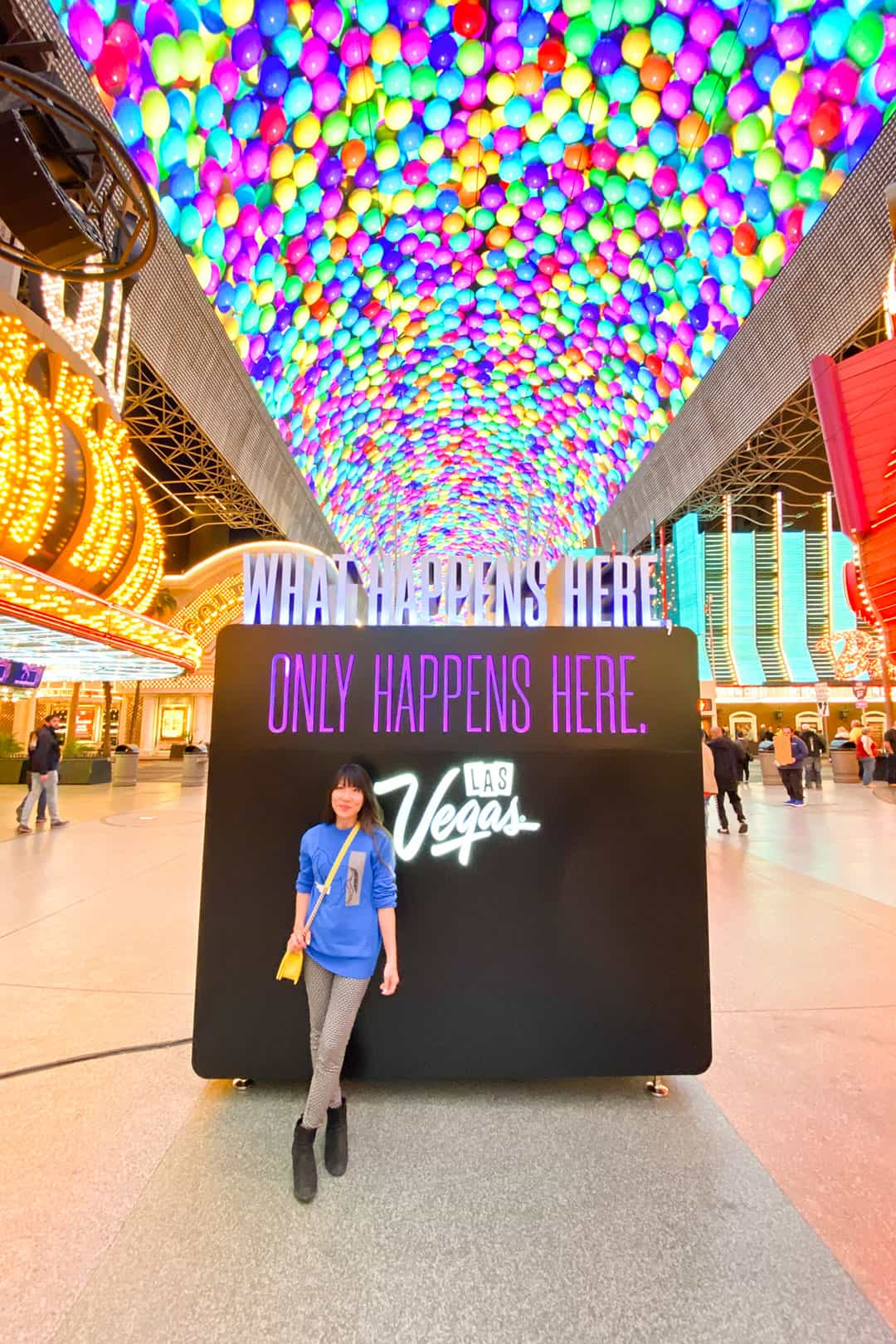 The Downtown Container Park was one of the first installations in the area that really changed the vibe. It's made out of containers and filled with shops, food, and art. They also have a stage where they hold events and concerts.
Local Tip: The giant Mantis is hard to miss. If you stick around until dark, it breathes fire.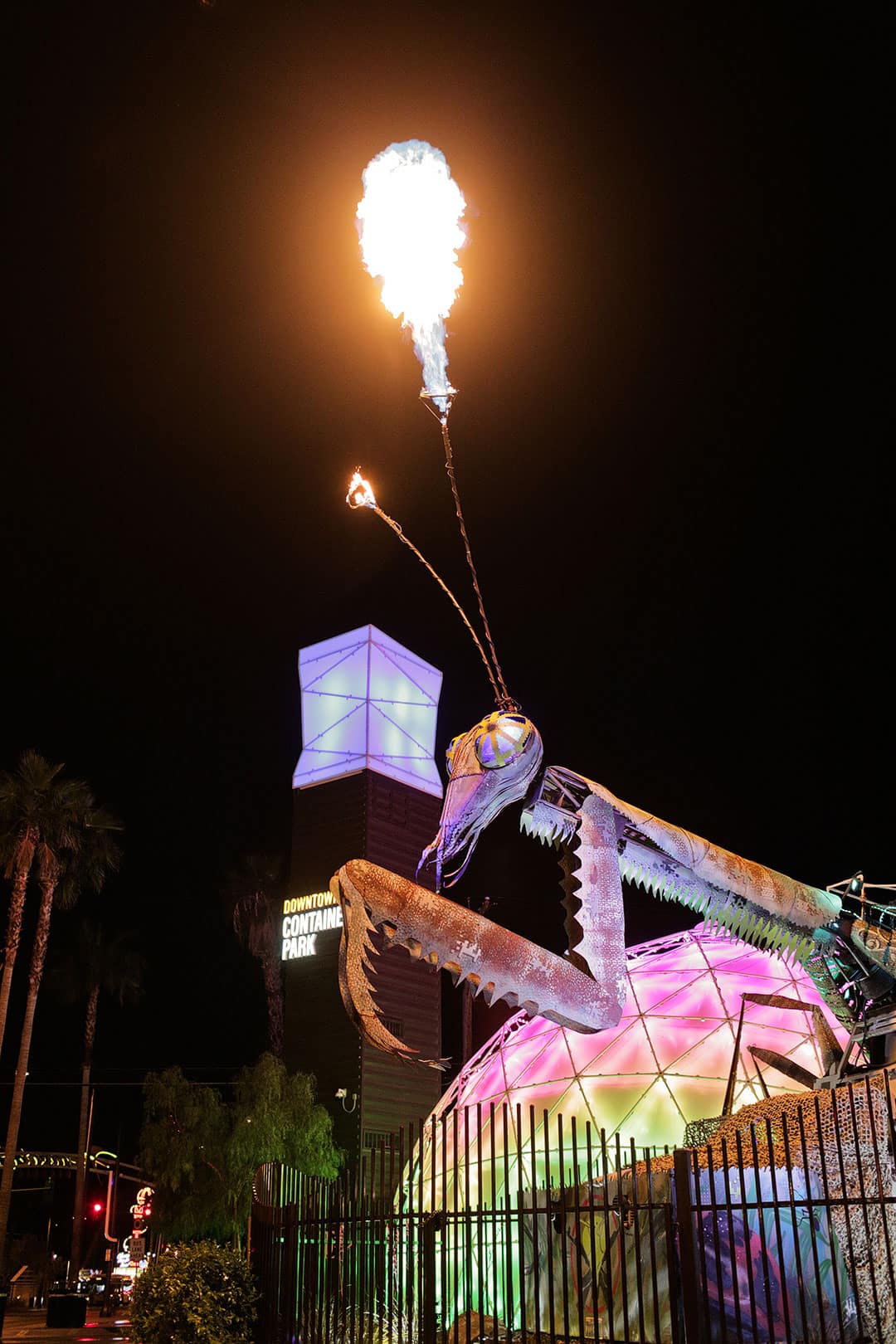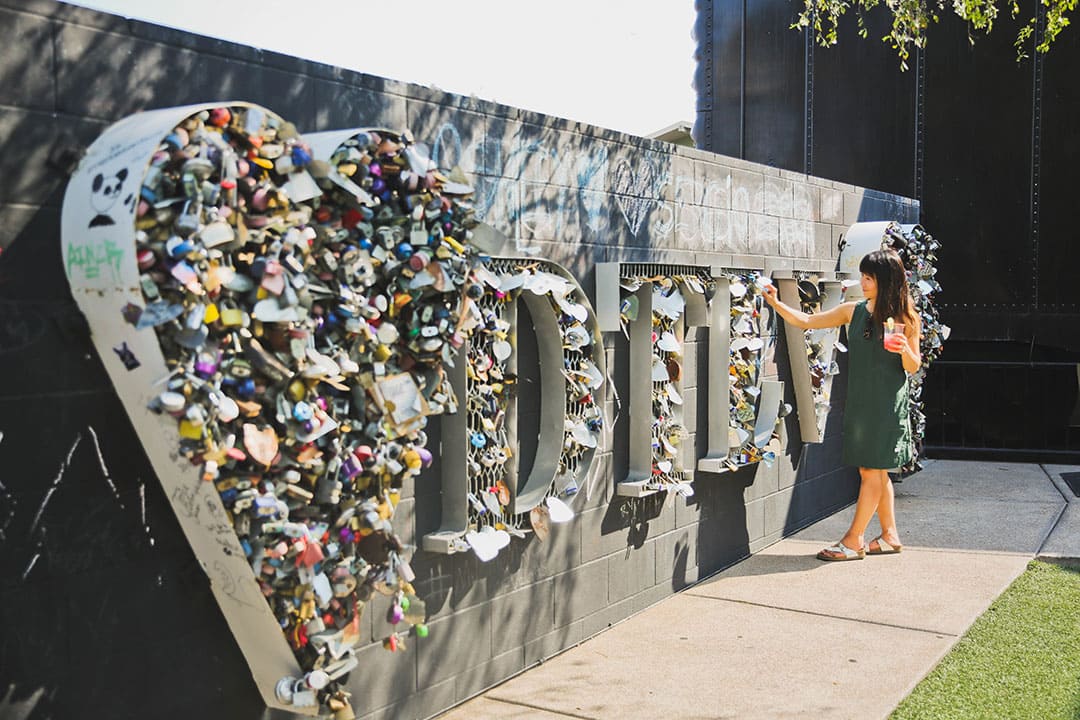 Brought to you by one of the creators of  Sleep No More in NY, Particle Ink is a fully immersive show / performance art experience.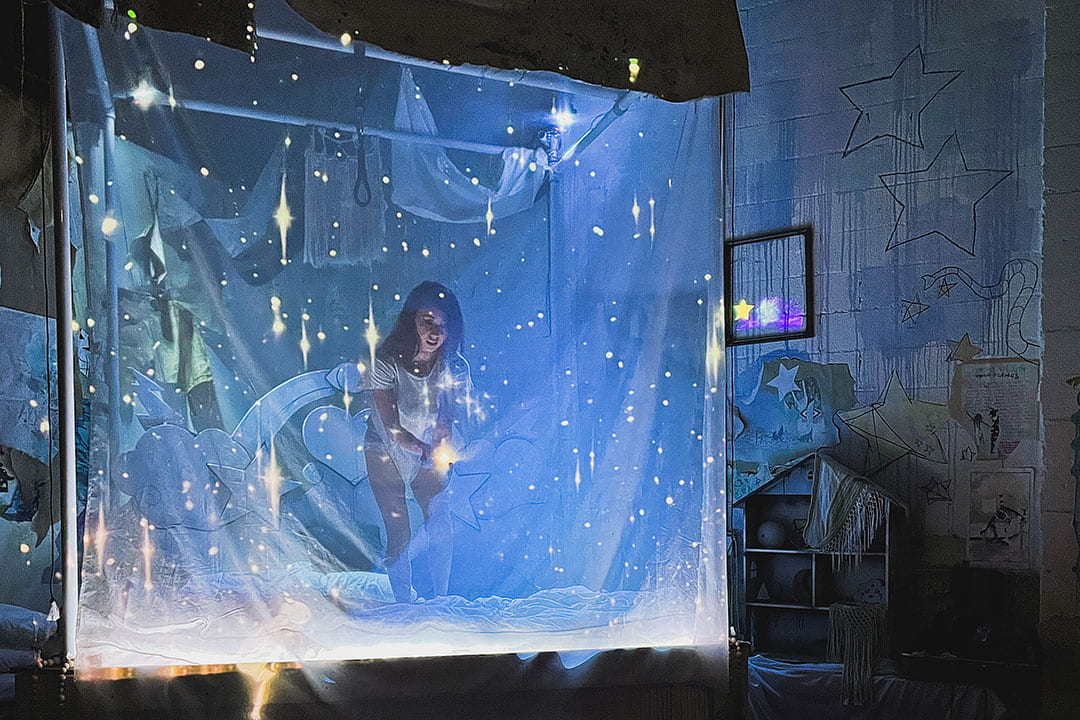 Though much of their company culture has changed after Amazon took over, it's still interesting to learn how the company became a success through its customer service and community-oriented culture. Some say it's a cult.
Plus, they played a big role in revitalizing downtown.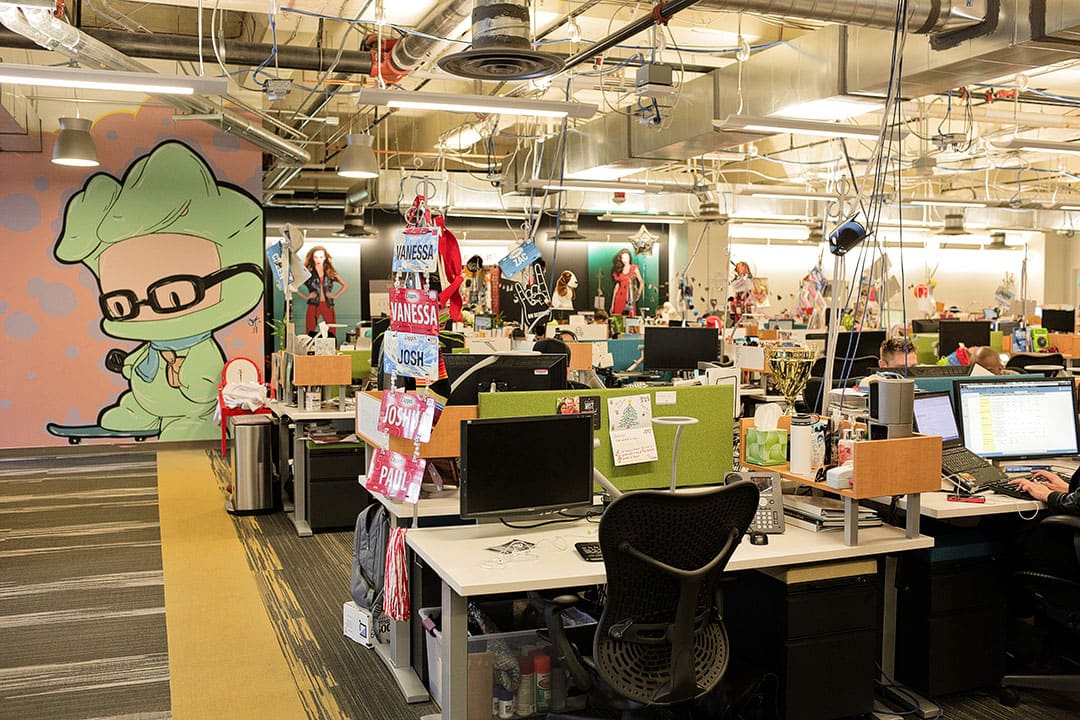 The Neon Museum is a popular spot for photos, whether it's for the gram or weddings and portraits.
All the old neon signs in Las Vegas now rest in peace here. They have very specific rules for photography, so read our post below before you go.
Local Tip: If you're trying to be in photos, it's better during the day. If you want to see the signs lit up, it's better at night.
If you want to get a different view of Fremont Street, see it from above. The zip line has two different heights, one 7 stories high where you fly seated and one 11 stories high where you fly superhero style.
Throw axes with your friends, or go for the VIP experience and also throw spears, metal throwing cards, ninja stars, shovels, and more. They also allow kids 7+ to throw, so it can potentially be a fun family activity. 
Seriously, try the shovel. So much fun!
Local Tip: If you need something to relieve stress, they also opened up a smash room where you can destroy things.
9. Million Dollar Photo at Binion's
This was a bit underwhelming since we imagined ourselves interacting with the million dollars more (like rolling around in it haha). But it's a quick stop and FREE.
Can you see my disappointment? I wear my emotions on my sleeve.
If you like roadside attractions, this is your chance to see the biggest golden nugget in existence (and second-biggest ever discovered). It was found in Australia and weighs 61 lbs.
11. Banger Brewing Brewery Tour
This is a great brewery located right on Fremont. You can do tours and they used to hold events. Hopefully, they'll be able to start them up again soon!
Bingo night was a lot of fun.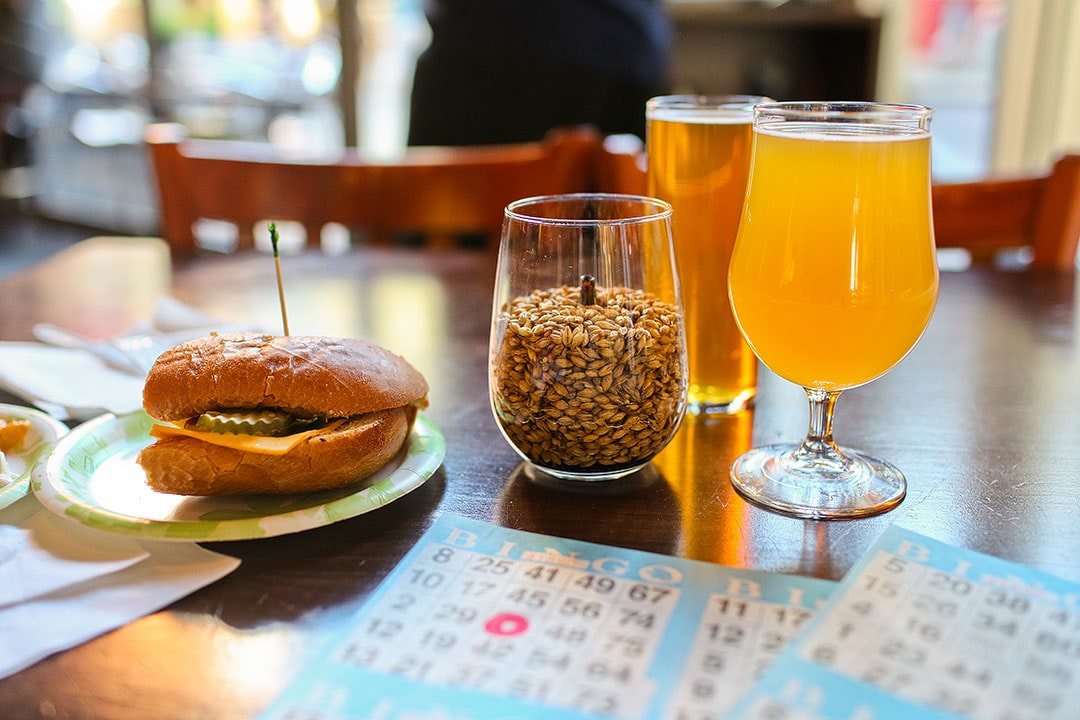 12. See a Piece of the Berlin Wall
Unfortunately, since it's not gender-neutral, this can be only seen by men. It's located inside the men's restroom at Main Street Station. Maybe if we play dress-up, we can sneak in.
Who would've guessed you can see a part of history while relieving yourself.
13. Have a Drink at Atomic Liquors
Atomic Liquors is Las Vegas's oldest freestanding bar. It has a dive bar feel, and it's cool to see all the history inside. Did you know Nevada played a huge part in atomic bombs? This bar name was even inspired by people having atomic blast viewing parties in Vegas.
We stopped in for a drink during our Vegas Pub Crawler tour.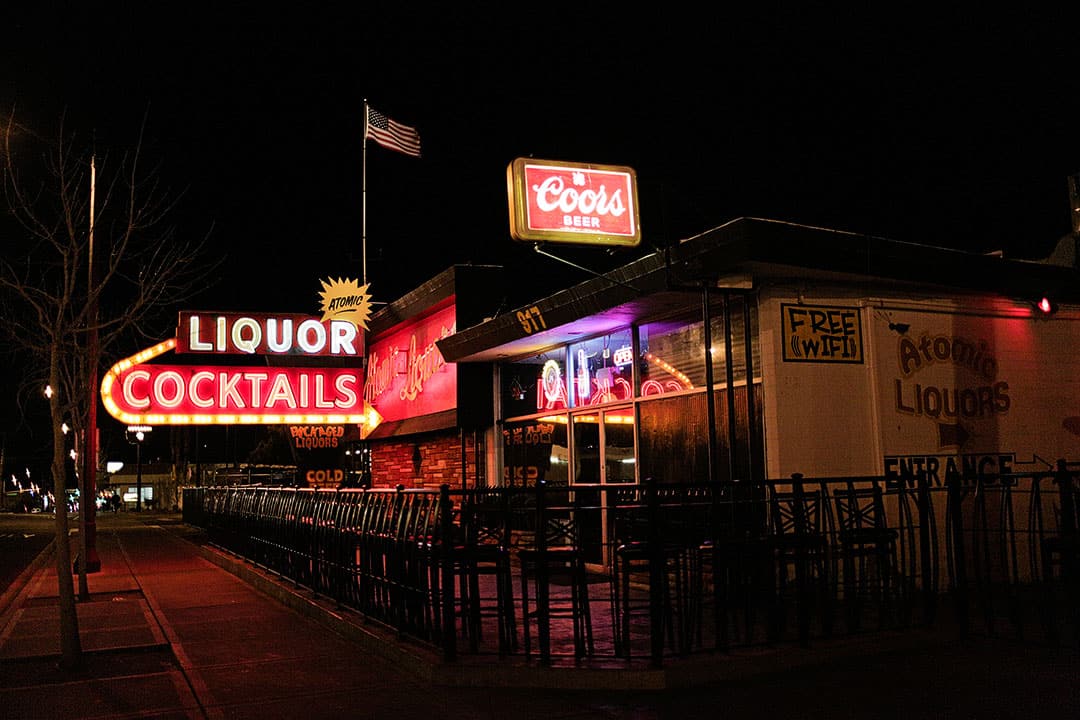 If you love finding photo spots, head to Symphony Park to check out Tim Bavington's Pipe Dream. You can even pack a lunch and picnic in the park.
Local Tip: Close by, you'll also find the Frank Gehry building.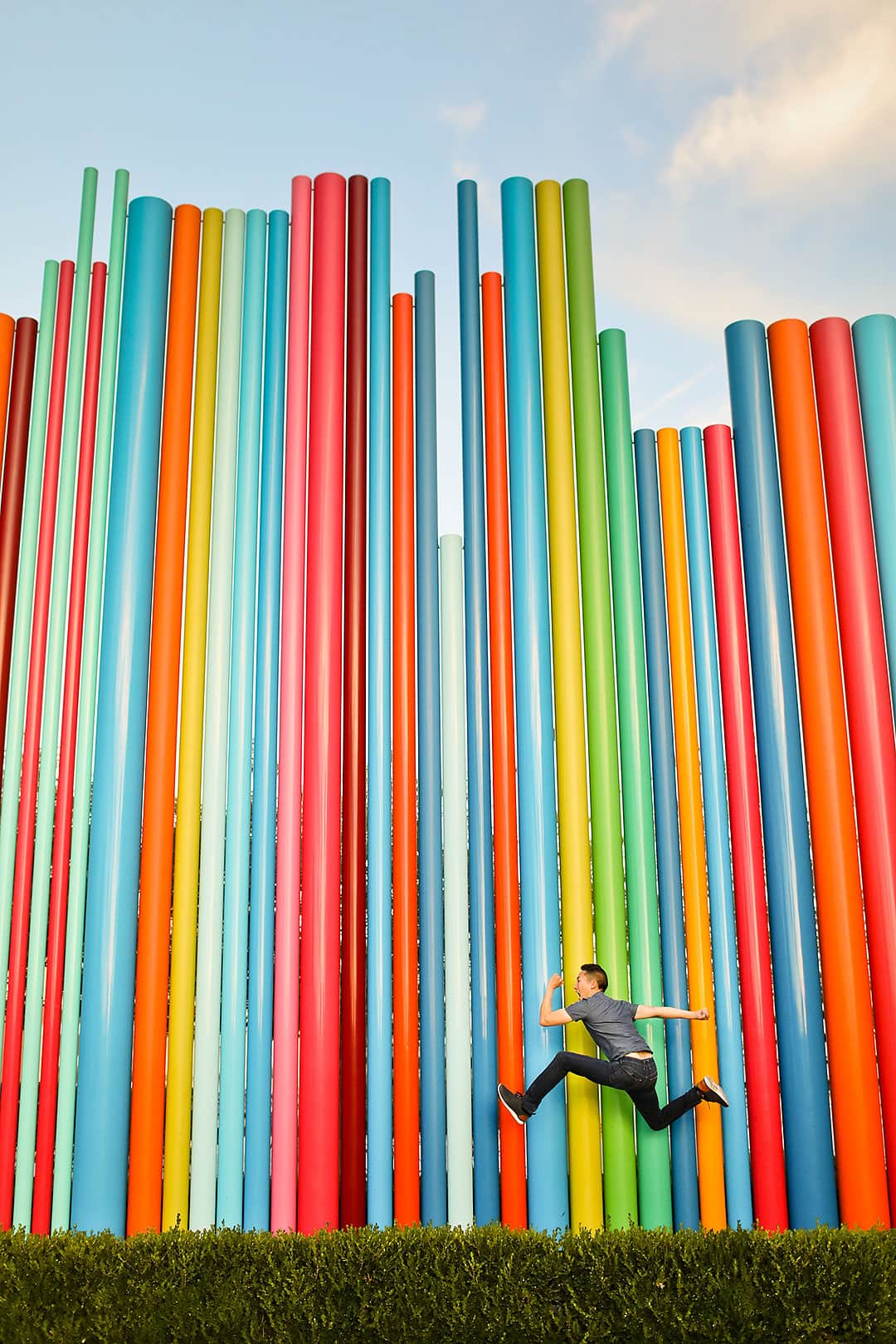 15. See a Show at the Smith Center
We still haven't seen a show here, but it's where all the major traveling broadway shows stop. It was so much fun living in NYC and frequenting the Broadway shows. We miss it, and can't wait to see what the coming year brings to Vegas!
16. See Iconic Neon Signs on Fremont
Most of the iconic Vegas neon signs are now at the Neon Museum, but if you want to catch some of the classics, downtown Vegas is the place to go. Some popular ones include Vegas Vic, Vegas Vickie, and Oscar's Martini.
One of our favorite things to do when we're downtown is looking for new murals. A lot of them are commissioned during the annual Life is Beautiful Fest. There are so many, we often stumble on a new one when we're in the area.
Map of the Best Things to do in Downtown Las Vegas
More Things to Do in Downtown Las Vegas
Alibi Las Vegas – It's not back yet since the pandemic, but it's like an interactive dinner theater/scavenger hunt.
DLVEC – open-air venue to see concerts and other events
Old Las Vegas Mormon Fort
Rub Happy Buddhas Belly at the Cal – the Cal is where all the Hawaiians go.
World's Largest Keno Board at the D
Zak Bagan's Haunted Museum – not for me, but if you're into the paranormal.
Where to Eat in Downtown Las Vegas
Carson Kitchen – It's been a while since we've been here, but we loved everything we ordered. Will have to go back to see what's currently on the menu.
Esther's Kitchen – one of our favorite Italian places in Las Vegas. Love the gem salad and pretty much all the pasta (Cacio e Pepe is still my favorite).
Park on Fremont – The Philly mac and cheesesteak is amazing.
Vegas Test Kitchen – They always have chefs rotating and testing out new recipes. When we visited we tried Black Pearl, and their tacos and ceviche were amazing. You can see what's currently on the menu here.
Heart Attack Grill – the food here tastes horrendous, but you're really here for the experience of being spanked if you don't finish your gigantic meal.
Essential Tips for visiting Downtown Las Vegas
Free parking is limited downtown. There are paid decks, paid street parking, and some free street parking. Just be sure you read all the signs.
The closer you are to the Fremont Experience, the more tourists you'll find.
Double check hours before heading downtown. Some spots are only opened on certain days or hours.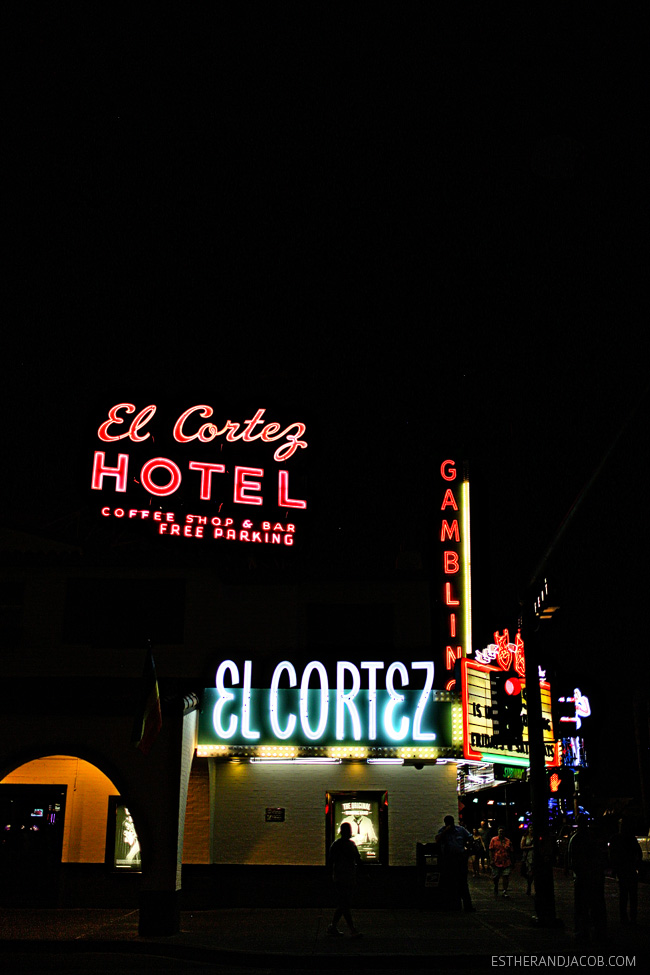 How it Affects the Locals
This is to give you some background on what the locals think about gentrification.
Depending on who you talk to, you have varying opinions on all the changes downtown. Many locals born and raised here are sad to see the old mom-and-pop shops close. Meanwhile, most transplants seem excited about all the changes that bring in new and more "boujee" restaurants, Etsy-esque shops, and vibrant art.
I'm curious to know what you think.
Can you think of any other things to do in downtown Las Vegas that is a must-do?
Did you enjoy this post? Pin it for later
"Discovery consists not of seeking new lands but in seeing with new eyes" – M. Proust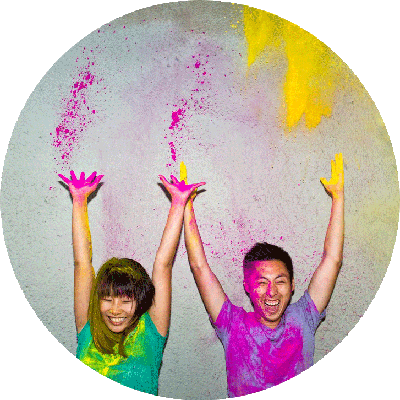 Esther and Jacob are the founders of Local Adventurer, which is one of the top 5 travel blogs in the US. They believe that adventure can be found both near and far and hope to inspire others to explore locally. They explore a new city in depth every year and currently base themselves in Las Vegas.