Most people who visit San Diego know about the world-renowned San Diego Zoo, but did you know that they have a second park just 30 miles outside of town called the San Diego Zoo Safari Park (or Wild Animal Park by the locals)?
They opened in 1972 with 1,800 acres of land. Just to give you some reference, that's equivalent to 180 San Diego Zoos or over 21 Disneylands!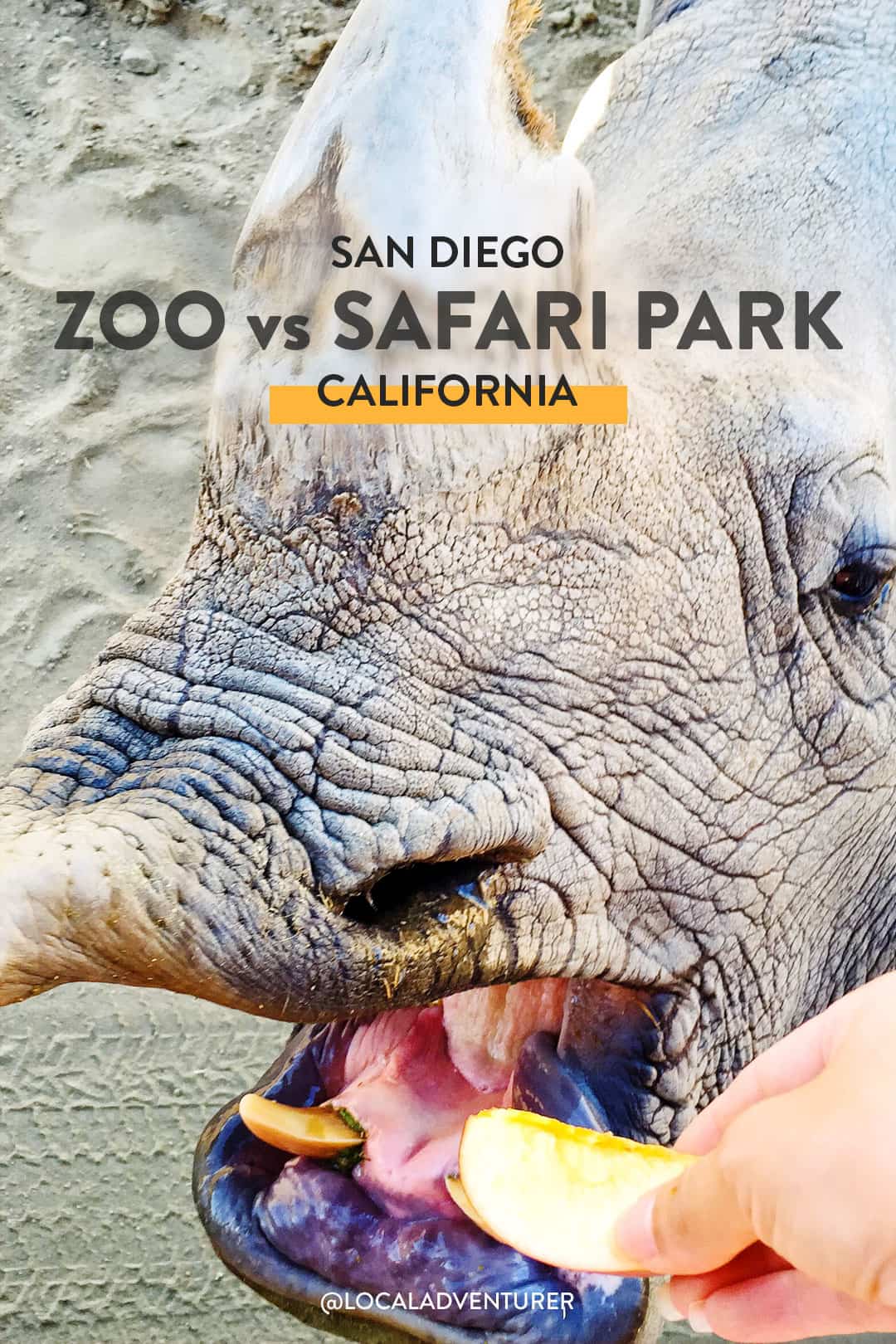 This post may contain affiliate links, where we receive a small commission on sales of the products that are linked at no additional cost to you. All opinions are always our own. Read our full disclosure for more info. Thank you for supporting the brands that make Local Adventurer possible.
Last Updated: September 26, 2022
San Diego Zoo vs Safari Park - What You Need to Know
Let's start by comparing the difference between the two parks. We'll then share our experience at the Safari Park and what we loved most about it since we already have a separate post for San Diego Zoo.
What's the Difference Between the San Diego Zoo and the Safari Park
Besides the sheer size difference between the San Diego Zoo and Safari Park, there are a few other aspects you can compare to help you decide which location you want to visit. 
The San Diego Zoo is in Balboa Park, right in Downtown San Diego close to other attractions. Because of its central location, it's easy to get to by car, walking, or public transportation. Parking is also free.
The Safari Park is located north of San Diego in Escondido. Depending on where you're coming from, it's anywhere from 40-60 minutes away by car and 2+ hours on public transportation. There is also a parking fee.
Although it covers a smaller footprint, the San Diego Zoo has more animals than the Safari Park, both the number of animals and the number of species.
The San Diego Zoo features animals from Australia, Asia, Africa, and Central and South America, with over 3,700 animals and over 650 species. The Safari Park focuses on animals from arid environments like African and Asian Savannas. They have over 2,600 animals and over 300 species.
The San Diego Zoo is how you would imagine a zoo. You can explore everything independently since most enclosures are generally smaller and made for visitors to see from walking around the zoo.
The Safari Park has larger spaces for the animals giving them more room to roam. When you see the animals here, it almost feels like they are in their natural environment. The safaris are the highlight of this park.
Unlike traditional zoos, the San Diego Zoo Safari Park offers many unique ways to encounter animals. Although there are exhibits you can walk to, you miss out if you don't do a safari.
Wildlife Safari – covered, open-air safari truck in the expansive habitats.
Behind-the-Scenes Safari – learn more about wildlife care and conservation.
Cart Safaris – 60-minute guided tour on a deluxe Safari cart.
Sun Up Cheetah Safari – early morning guided stroll ending with watching a cheetah run at top speed.
Ultimate Safari – a customized tour tailored to your interest.
Roar and Snore Safari – sleepover adventure.
Flightline Safari – zipline 130 feet above the ground while seeing the savanna and animals below you.
Safari Cabanas – enjoy your private cabana with amazing views of the animals.
Our Experience on The Caravan Safari Twilight
We decided to do the Caravan Safari Twilight (now the Twilight Wildlife Safari), a 2-hour adventure in a covered, open-air safari truck. Because there isn't a particular track, they drive through the field enclosures and get you up close and personal with the animals. We even got a chance to feed giraffes AND rhinos!
The feedings are based on the mood of the animals. They told us it is very rare that the rhinos will come up to you for a feeding, but we were very lucky that they were in the right mood! :)
In addition to creating such a unique experience, the San Diego Zoo is one of the leading organizations in the world when it comes to breeding programs and conservation efforts. The revolutionary idea to even build a space this large was driven by the desire to create habitats that are as realistic as their natural habitats. That includes the amount of space that each animal has!
Did you know that animals in captivity lose a lot of their natural instincts? The San Diego Zoo Safari Park allows them to ensure that those survival skills stay from generation to generation.
San Diego Zoo Safari Park Address and Hours
15500 San Pasqual Valley Rd
Escondido CA 92027, map
760.747.8702
HOURS
August 29, 2022 – September 30, 2022 || 9 AM – 5PM
October 1, 2022 – October 30, 2022 || 9 AM – 6 PM (7 PM on Weekends)
November 1, 2022 – November 23, 2022 || 9 AM – 5 PM
November 25, 2022 – November 27, 2022 || 9 AM – 8 PM
November 28, 2022 – December 16, 2022 || 9 AM – 5 PM (8 PM on Weekends)
December 17, 2022 – January 1, 2023 || 9 AM – 8 PM (5 PM on the 24th and 25th)
Future Dates TBA
Safari Park Ticket Prices
1 Day Pass || $65 Adults $55 Children
2-Visit Pass (Includes Both Zoos) || $110 Adult $100 Children
SAFARIS
Wildlife Safari $89+
Behind-the-Scenes Safari $89+
Cart Safaris $55+
Sun Up Cheetah Safari $99+
Ultimate Safari $675+
Roar & Snore Safaris $149+
Flightline Safari $77+
A Walk Through History $29+
There are plenty of food and drink options at the park, but bring a small backpack with a water bottle to refill s

o you can always have water on you.

The caravan also has a cooler, cups, and cold water.
Regardless of which safari you go with, give yourself plenty of time to explore the rest of the zoo. We only had about 2 hours and could have used another hour to see everything.
Carpool if you're going with a group. Parking costs $12.
Bring a telephoto lens (for the photographers) to get some great "wildlife" shots. We use a 70-200 for the photos of the animals, and iPhones for the ones of us in it.
Bring binoculars if you have them in case the animals are further away.
Don't forget to pack your sunscreen. You need to reapply every 2 hours.
Have you been part of any animal encounter programs? What's your favorite animal to see at the zoo?
Did you enjoy this post? Pin it for later
SEE MORE CITY BUCKET LISTS
"Discovery consists not of seeking new lands but in seeing with new eyes" – M. Proust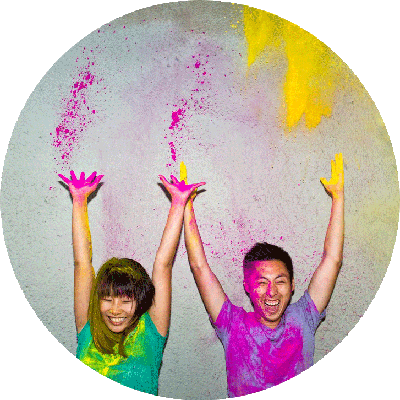 Esther and Jacob are the founders of Local Adventurer, which is one of the top 5 travel blogs in the US. They believe that adventure can be found both near and far and hope to inspire others to explore locally. They explore a new city in depth every year and currently base themselves in Las Vegas.