Something cool is happening all of the time in Austin. The city is well known for its live music and thriving food scene, but it also has tons of outdoor adventures and a lively arts scene. The best part is that if you're on a budget (or trying to stay on one), there are plenty of free things to do in this city! There's no need to stay in. We've done the work for you and put our heads together with a few locals, Caroline's brother and wife as well as a few friends of ours who live in Austin, to compile a list of the best free things to do in Austin.
We've also added a section at the bottom for seasonal events and festivals. Can't make it to SXSW?! No worries, we've got you covered with several more.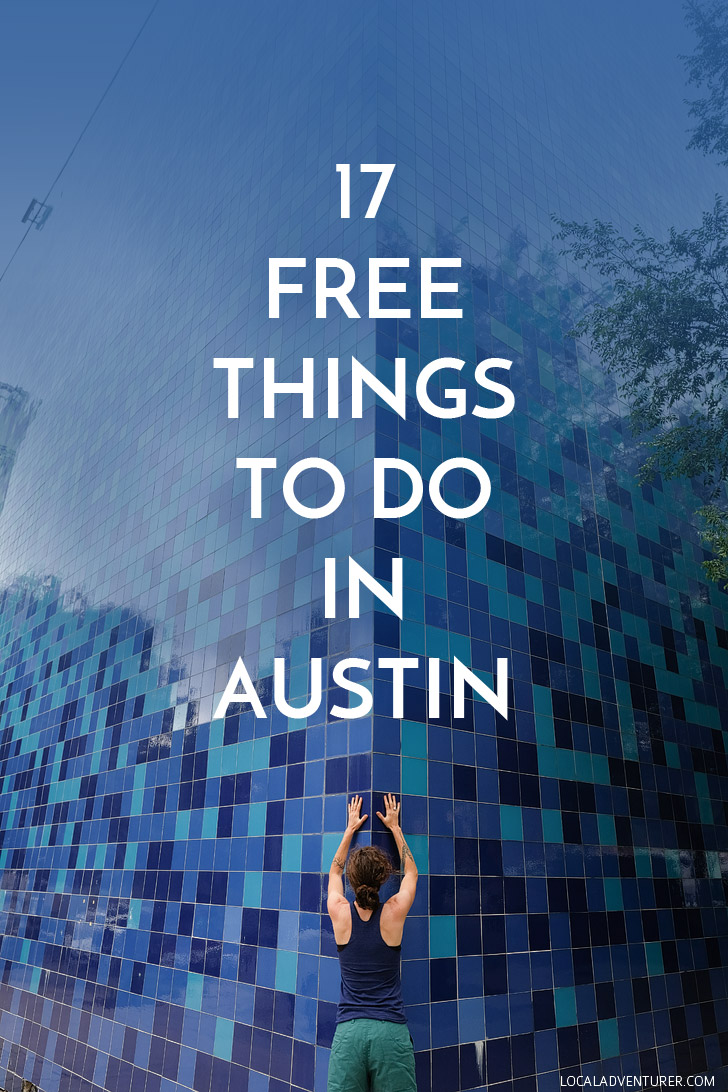 Last updated: July 28, 2018     First Published: June 19, 2017
17 FREE THINGS TO DO IN AUSTIN TEXAS
Address: 2109 Northland Dr, Austin, TX 78756
Come see how ice cream is made! 20-30 minute tours are offered Monday – Friday, starting at 10am. Call 512-458-3188 to make a reservation.
2. Discover Art in Public Places!
Address: Locations vary. One of our favorites is the blue tile mosaic wall by Ann Adams titled Big Chiller Blues that's located at the Austin Convention Center Parking Garage
Austin has made a commitment to art and artists by mandating that 2% of eligible capital improvement project budgets are set aside to commission or purchase art. Look for art in public places such as at the airport, convention center, libraries, parks, rec centers, etc.
3. Take a picture at the Greetings from Austin Mural
Address: 1720 S 1st St, Austin, TX 78704 (South 1st and Annie)
Like to Instagram? Head on over to this spot!
More: 101 Things to Do in Austin Texas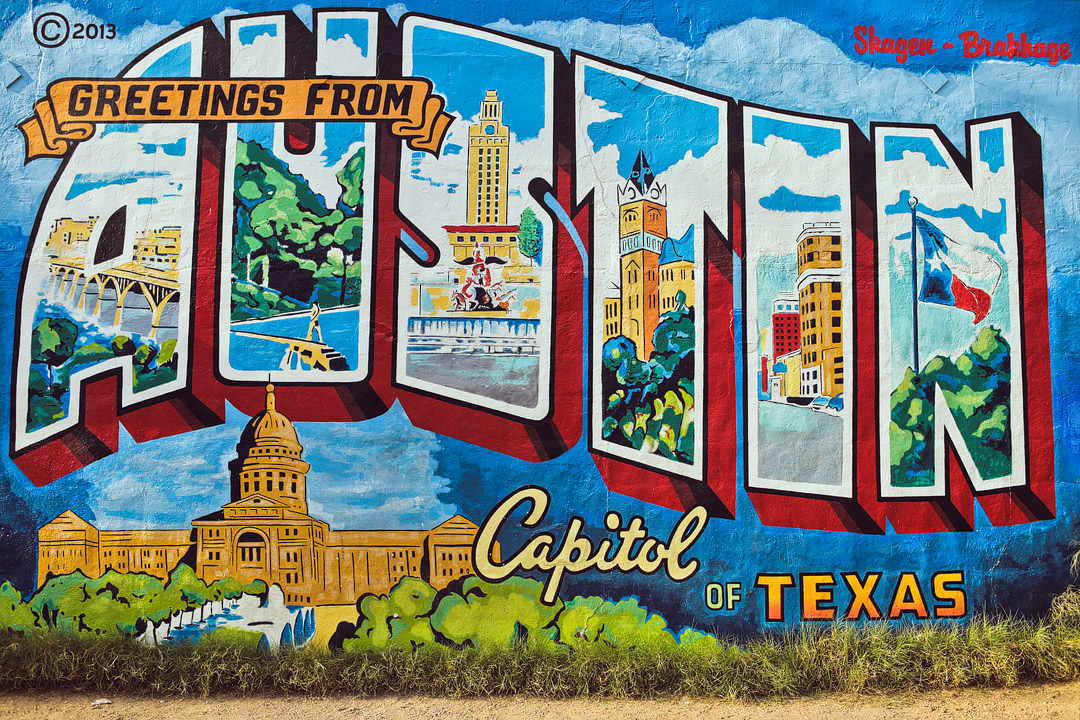 4. Liz Carpenter Fountain
Address: 1000 Barton Springs Rd, Austin, TX 78704
This fountain is awesome in the hot summer days for cooling off (you can run through it!) or even at night (it lights up in the prettiest colors). It operates on Monday's from 12:00 PM – 9:45 PM (closed for maintenance from 8 AM to noon) and the rest of the week, Tuesday – Sunday, from 8:00 AM – 9:45 PM
Address: 6701 Lakewood Dr., Austin, TX 78731
There are a ton of things to choose from at this park: basketball courts, volleyball courts, a fishing pier and even an off-leash dog area at this park. There is also a swimming hole that is really popular!
6. Terra Toys
Address: West Anderson Plaza, 2438 W Anderson Ln, Austin, TX 78757
Browse the variety of unique, eclectic and old-school toys at Terra Toys.
Address: 2389 Stratford Drive, Austin, TX 78746
The Austin Nature & Science Center (ANSC) offers hands-on exhibits and educational programs that make science come alive. There is something for everyone here; programs are scheduled for all ages from preschool to adults.
8. Ann and Roy Butler Hike and Bike Trail around Lady Bird Lake
Address: Sandra Muraida Way and W. Cesar Chavez St, Austin, TX 78701
There are 10 miles of trails that border Lady Bird Lake and they are perfect for walking, running and bike riding. It's right in the heart of the city and is a great place to relax and rewind without having to leave Austin.
Address: 1512 South Congress Ave, Austin, Texas 78704
This shop is awesome. There is hardly any blank wall or shelf space – everything is covered and it's covered with the most random things. Vintage signs, stuffed animals, trinkets, knicknacks … you name it, it's in here.
10. Hike up Mount Bonnell, also known as Covert Park
Address: 3800 Mt. Bonnell Rd., Austin, TX 78731
Ready to stretch your legs? There are 102 stairs to climb to the top of Mount Bonnell but it's worth it, the view is one of the best in the city. It's the highest point in Austin (elevation: 775 feet).
Address: 11th & Baylor St. in downtown Austin
This is a community paint park but there are some rules. Contact [email protected] if you are interested in photography, videography, filming or painting there. They make it clear that it's private property and not a public park. Hours are 9am – 7pm and no one is allowed in there after dark.
Address: 1506 S Congress Ave, Austin, TX 78704
Who doesn't like playing dress up?
Address: 3505 W 35th St, Austin, TX 78703
Have you ever seen a peacock? There are two types of peafowl that live in Mayfield Park, the India Blue and the Black-Shoulder. Be sure to drive slowly so you don't hit them!
14. Spend the day at the Harry Ransom Center at the University of Texas at Austin
Address: 300 West 21st Street, Austin, Texas 78712
The earliest known surviving photograph is located here as are a ton of other artifacts such as a copy of the Gutenberg Bible.
15. Ride BMX Bikes at Duncan Park aka 9th street
Address: 900 W 9th St, Austin, TX 78701
Bring your own bike and helmet! Thanks to local riders, this jumping/trail park has hundreds of dirt mounds for you to ride.
Address: 1010 Colorado St, Austin, TX 78701
Tours are 30 minutes long and are given weekdays from 7am to 10pm and weekends from 9am to 8pm. Tours are given on a first come, first served basis and reservations must be made at least one week in advance and no walk-up tours are available.
17. Texas Military Forces Museum at Camp Mabry
Address: 2200 West 35th St, Austin, TX 78703
Check out old tanks, planes, and jeeps! Admission is always free
Bonus for Dogs: Let your dog run off leash at Red Bud Isle
Address: 3401 Redbud Trail, Austin, TX 78703
It can be a challenge to get your dog the exercise he or she needs when living in the city. The good thing is that at Red Bud Isle, your dog can run off-leash.
SEASONAL / SPECIFIC DAYS / CONDITIONAL
ABC Kite Fest
Austin Earth Day – celebrate and learn about sustainability and conservation.
Austin Museum Day – Get into more than 35 museums for free on September 17, 2017. We recommend Bullock Texas State History Museum.
Family Days at the UMLAUF Sculpture Garden & Museum Admission is free on the second Sunday of each month.
Free Art Fridays – Keep your eyes peeled for free art on Friday. Follow the clues on Instagram by using the hashtag #atxfreeartfriday If you find a piece of free art, be sure to claim it on Instagram by tagging the artist in social media.
Holi Festival at the Radha Madhav Dham – also known as the Spring Festival / festival of colors on March 11 from 3 – 7:30 pm. Think "Color Run" without the running!
Attend a Star Party! (late Jan – early May, mid June – mid Aug, early Sept – early Dec) – There are two locations, T.S. Painter Hall (103 W 24th St, Austin, TX 78712) and Robert Lee Moore Hall (515 Speedway, Austin, TX 78712) where you can go to a star party (the general public is welcome, you don't have to be a student). Viewings occur from late January to early May, mid June to mid August and early September to early December (basically, with the school semesters.)
Blues on the Green – Live music is everywhere in this city.
Sinner's Brunch with Jo's House Band with special guests each week at Jo's Coffee (1300 South Congress Avenue, Austin, Texas 78704). Every Sunday from 12:30 to 3:00pm.
Museum Day at The Contemporary Austin. Both the locations are free!
The Blanton Museum of Art (Free Thursdays) (200 E. Martin Luther King Jr. Blvd., Austin, TX 78712)
Play Giant Chess at Wooldridge Square Park (Saturday 12:30-3:00 pm weather permitting) // 900 Guadalupe St., Austin, TX 78701
PrintAustin (Jan 15- Feb 15) – features free artist talks, exhibits, demos and workshops.
Movies in the Park (June – Nov) – What's better than a little outdoor entertainment in the park? This is all-around good family fun and also perfect for a date. Movies range from Disney cartoons to classics like Wayne's World and A League of Their Own.
Zilker Hillside Theater (July & Aug // 2206 William Barton Dr. Austin, TX 78704) – For over 50 years, this outdoor theater has hosted countless free plays, concerts and events.
Watch bats put on a flying display near the Congress Avenue Bridge (summer) // map  Ann W. Richards Congress Avenue Bridge, Congress Ave, Austin, TX 78704  – In the summer, 1.5 million bats (the world's largest urban bat colony) fly out from under the Congress Avenue Bridge in downtown Austin, Texas. It's an incredible sight to see!
More: 49 Best Places to Eat in Austin TX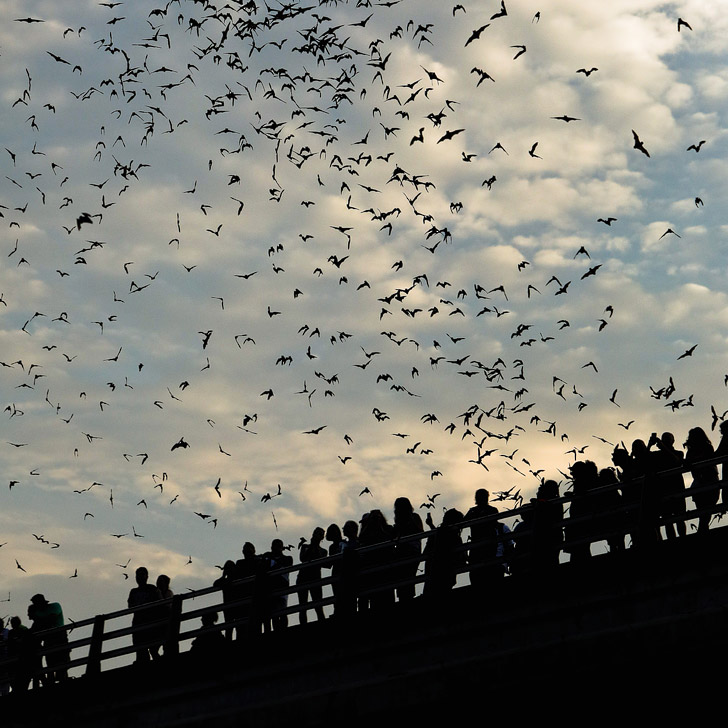 Go by yourself or grab and friend and check them out! We hope you have as much fun as we did!
How many of these free things have you done? Did we miss anything?
SEE MORE FREE THINGS TO DO IN
"Discovery consists not of seeking new lands but in seeing with new eyes" – M. Proust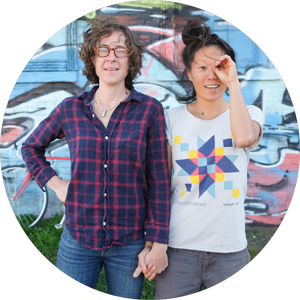 CAROLINE + ERIN
They are freelance web designers and photographers who love finding adventure, both big and small. The two make a daily practice of sharing vulnerabilities, truth telling, and side splitting laughter. They've honed the art of traveling fast and doing all of the things that an adventurer can do in a day or two. The couple lives in Asheville and loves spending their time in the mountains.
All articles loaded
No more articles to load