Want to experience all that New Orleans has to offer? It's a really fun city and one of the only places in the country where you can take a stroll down the street with a drink in hand. Bars will even ask you if you want a to-go cup!
Caroline previously lived in New Orleans and grew up only an hour away. Her friend Kelly Fields, of the newly famous Willa Jean Bakery, helped us put together a must-do list that reaches into the underbelly (literally below sea level) to bring you all the best things NOLA has to offer.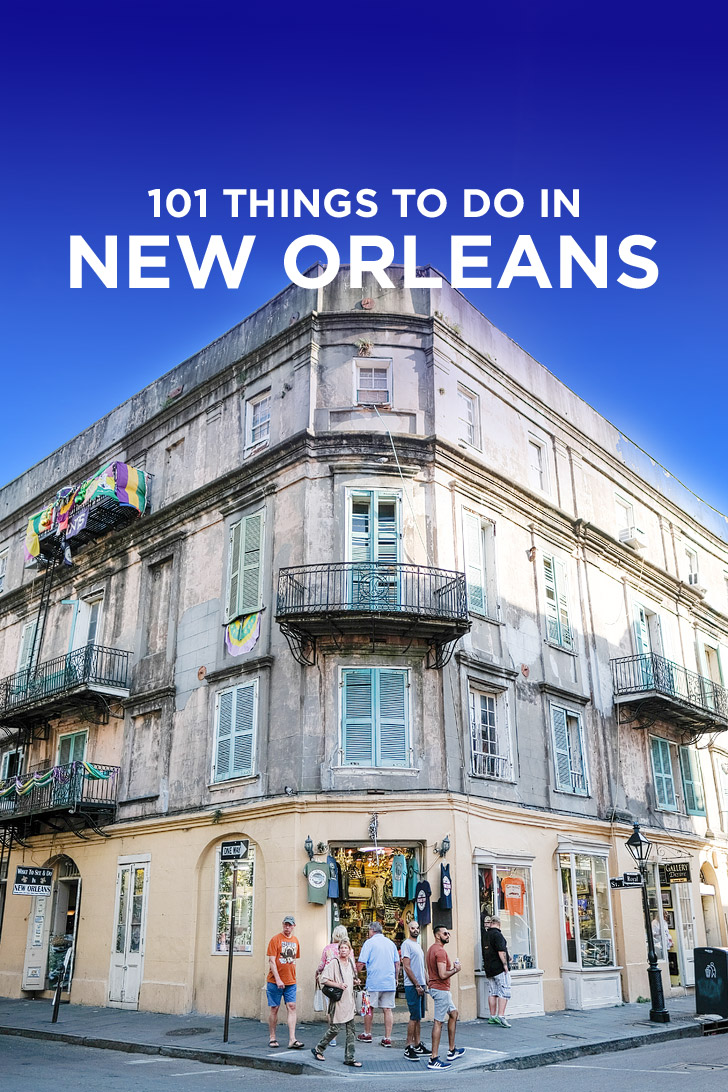 Get started on Bourbon Street in the French Quarter and stick around for a festival or two – Jazz Fest and Mardi Gras are two of the biggest but certainly not the only. On any given street corner in the Quarter, you can walk up on street music being slung from trumpets and snare drums.
This was our favorite way to experience music in the city. Neighborhoods not to miss are the Marigny, Bywater, and the length of Magazine Street from the Quarter to Claiborne Avenue.
THE ULTIMATE NEW ORLEANS BUCKET LIST – 101 THINGS TO DO IN NEW ORLEANS
What We Cover (Click Links to Skip Ahead)
This post contains affiliate links, where we receive a small commission on sales of the products that are linked at no additional cost to you. All opinions are always our own. Read our full disclosure for more info. Thank you for supporting the brands that make Local Adventurer possible.
ATTRACTIONS
Pirates Alley
The Escape Game – always love checking out escape rooms in different cities
Visit the 2 Doullut Steamboat Houses
---
MUSEUMS + MEMORIALS
Algiers Folk Art Zone and Blues Museum
Lafitte's Blacksmith Shop Bar – known to be the oldest building being operated as a bar in the US.
Louisiana State Museums (includes N.O. Mint, The Cabildo, The Presbytère, 1850 House, and Madame John's Legacy)
Studio Be
---
SHOWS + VENUES
---
NATIONAL PARK UNITS
---
URBAN PARKS + THE GREAT OUTDOORS
Lafitte Greenway
Magnolia Bridge aka 'Cabrini Bridge'
Mississippi River Trail, aka the Levee Path
The Singing Oak at New Orleans City Park
---
SHOPPING
The Outlet Collection at Riverwalk for views of the Mississippi River, ships, and shopping
The Pop Shop
---
FOOD + DRINK
Lilette
---
BONUS: SEASONAL
---
TIPS FOR FIRST TIME VISITORS:
The Best Time To Visit
It depends. If you're looking for cooler temperatures and are interested in festivals, try to travel between February and May. The weather is beautiful but the tradeoff is lots of tourists and packed hotels. If you can't visit during the spring, just be prepared for heat (temps easily hit the 90's during the summer), humidity, rains and the potential for hurricanes. (Hurricanes pose a threat from June to November but the peak season for them is August and September). As for a winter visit, hotel rates tend to be a little lower and temperatures hover in the 60's, not bad when it's snowing where you live.
Parking
Parking in New Orleans … depending on where you're going in the city, parking is going to either be no big deal (the outskirts of the city) or a huge headache (think: French Quarter) If you're brave (or crazy) enough to drive into the quarter go slow. Many of the streets in the quarter are narrow (they were originally designed for horse-drawn carriages!) and many are one-way streets. People are everywhere at all times of day and there are also horses and bikes to contend with. Take your time and if you have a dinner reservation, build in extra time so you're not stressed. If you're lucky enough to find a parking space, make sure your parallel parking skills are en pointe and that you read the signs around you and pay the meter! If at all possible, don't drive into this area of New Orleans. Parking violations range from $20 at an expired meter to $40 for parking too close to a corner. Don't park in the median (called "neutral ground" in New Orleans because that will cost you $75. We recommend taking the trolley.
Below are a list of parking offenses that will get you ticketed in New Orleans:
Blocking driveways or fire lanes
On sidewalks or neutral grounds
Near fire hydrants (within 15 feet)
On corners and crosswalks (within 20 feet)
In loading and service zones (buses and cab zones too)
On a parade route within two hours of a parade
During rush hours (7-9 a.m., 4-6 p.m.) on major streets
On street cleaning days (usually Tuesdays and Thursdays, 6 a.m. – Noon)
At bagged meters (during special events) and broken meters
Near railroad crossings (within 50 feet)
On-street for more than 24 consecutive hours
Vehicles longer than 22 feet overnight in the Central Business District
On a narrow street without allowing 10 feet of unobstructed roadway
More than 18 inches from the curb
Having 3 or more unpaid parking violations.
If your car is towed away contact the Claiborne Auto Pound at (504) 658-8284.
Parking Meters
The city has two kinds of meters: the older ones that accept coins and the more modernized ones that can be used with an app (Parkmobile.com) or that also accept dollar bills and credit cards. The latter will give you a printed receipt to place on your car dashboard.
As for parking meter rates, they differ depending on where you are in the city. In the French Quarter, Marigny, the
Central Business District and the Warehouse District, it'll cost you $3.00 an hour. You can pay for up to 2 hours. Parking meter rates are $2.00 an hour everywhere else in the city of New Orleans. Operating hours for the meters are 8 a.m. to 7 p.m., Monday-Saturday. One final note: Parking is prohibited at meters in designated rush hour zones from 7 a.m. – 9 a.m. and 4 p.m. – 6 p.m. Oh and if you find a broken meter, don't park there. They are not free passes. Parking at a broken meter could result in a ticket.
Transportation
Look for a Rental Car here. Want to avoid driving in New Orleans? Consider public transportation. We rode the trolley several times while we were there and really enjoyed it.
Getting around New Orleans by streetcar is a great way to see the city. There are three different lines: St. Charles (green cars), Canal Street (red cars), and the Riverfront (also red cars). Each line starts/ends downtown but takes you to different parts of the city. One way passes are $1.25. Bring exact change as they will not give you change!
You can also get a one day pass for $3.00, a three day pass for $9.00, and a 31-day unlimited ride pass for $55. See the Regional Transit Authority (RTA)'s website for a list of places to purchase these or download the RTA gomobile app.
In addition to the St. Charles, Canal Street and the Riverfront cars, you can also use the Loyola/UPT line which opened in 2013. It's only 1.6 miles long but allows people arriving by Greyhound bus or Amtrak trains to get from the station to Canal Street as well as the French Quarter and Central Business District (where most of the major hotels are located.)
There's a new streetcar line (Rampart/St. Claude) that connects you from the Downtown area to the ever popular St. Claude Arts District in the Marigny/Bywater. If you want to bypass the Tremé and the French Quarter, pick up this new line via Rampart St. and Loyola Ave. It will bring you to Rampart and Elysian Fields.
If you like what you've read, pin it for later or share with a friend!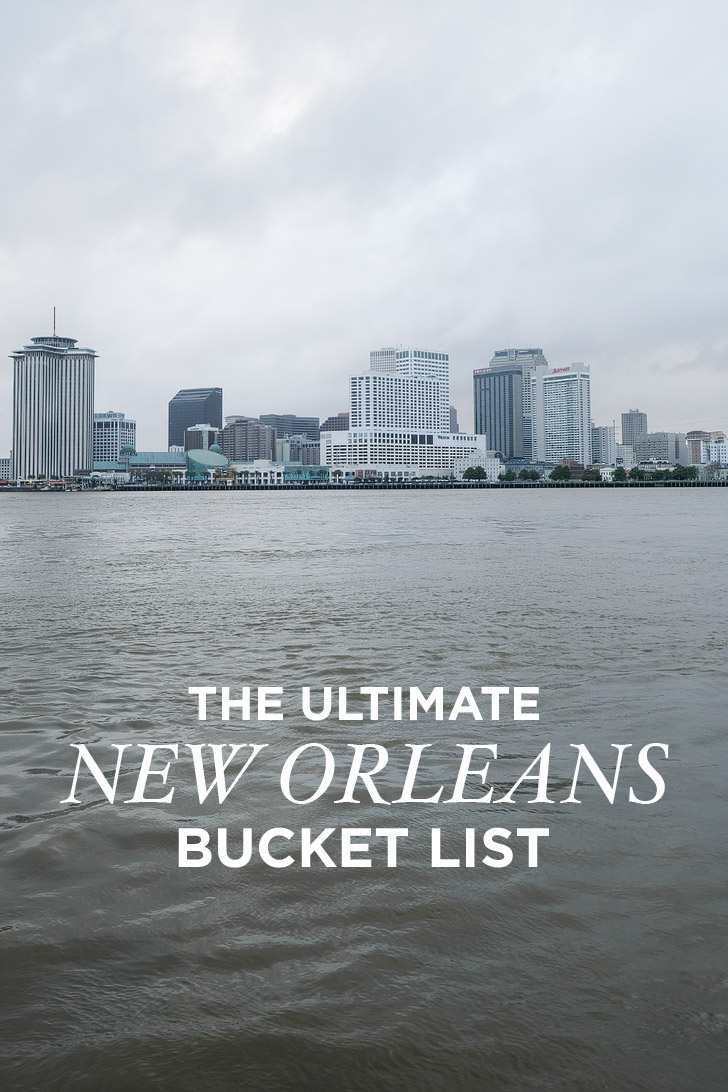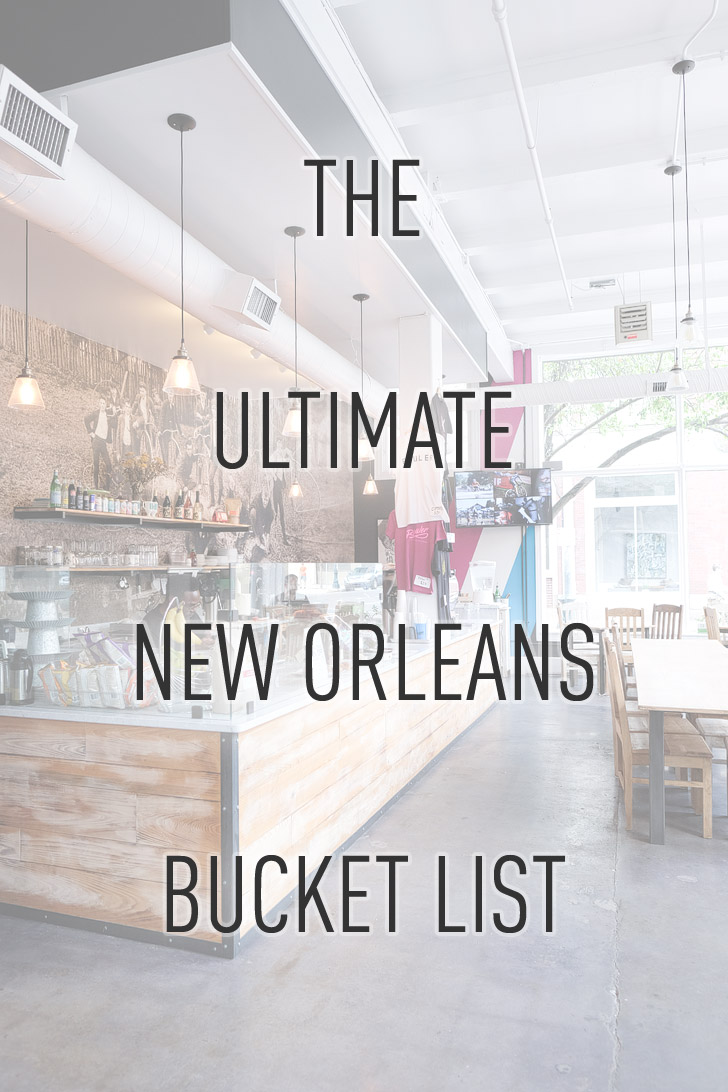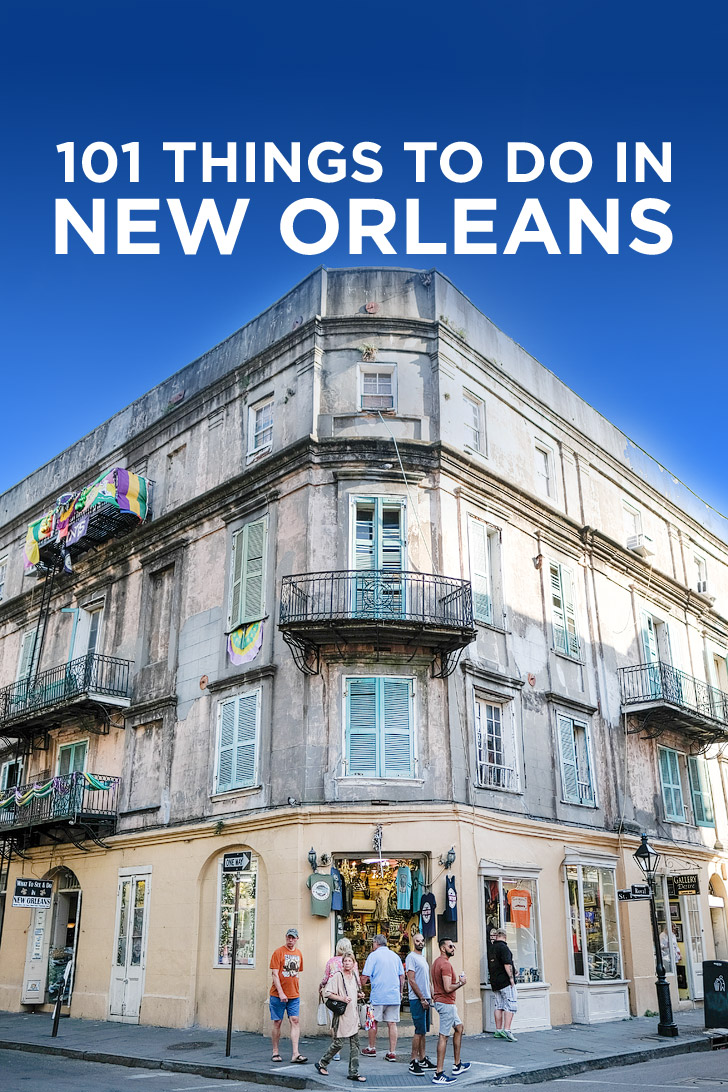 Did we miss anything? How many items on this list have you done?
CAROLINE + ERIN
They are freelance web designers and photographers who love finding adventure, both big and small. The two make a daily practice of sharing vulnerabilities, truth telling, and side splitting laughter. They've honed the art of traveling fast and doing all of the things that an adventurer can do in a day or two. The couple lives in Asheville, North Carolina and spend as much time as possible in the mountains.