My dad has always loved to travel. Growing up, he was always the one spearheading family trips, and to this day, he still travels even more than we do (and did we mention we're full time travel bloggers? :P). My mom, on the other hand, let us go on adventures with my dad while she preferred to stay home and work. I like to think that I inherited the best parts of both of them. I caught the travel bug from my dad and work ethic from my mom.
The last time I remember traveling together as a family was in 2013, so when we decided to meet up in Atlanta and drive to Asheville for a special family getaway.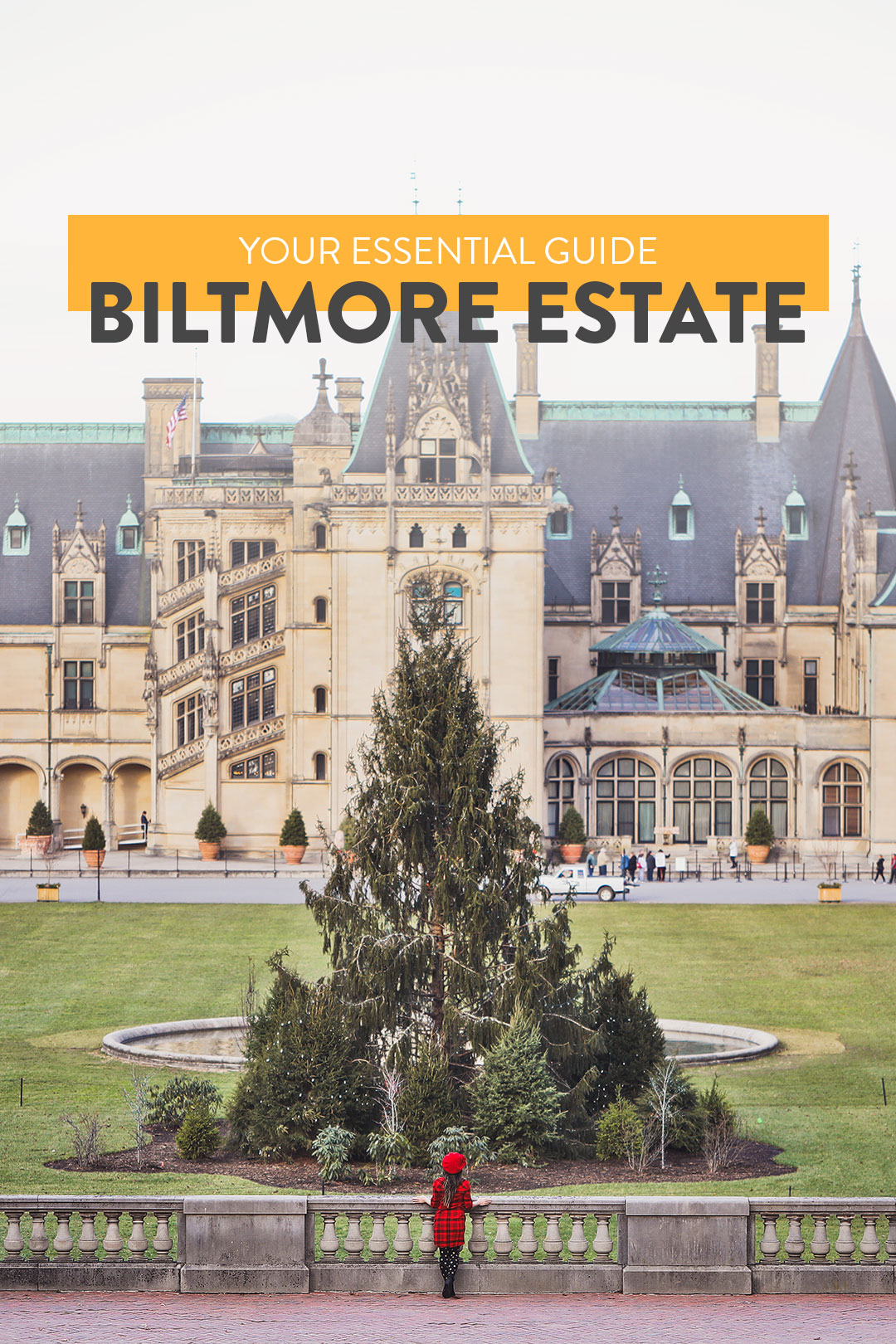 A big thank you to Biltmore for hosting our visit and stay. All opinions are always our own. This post may contain affiliate links, where we receive a small commission on sales of the products that are linked at no additional cost to you. Read our full disclosure for more info. Thank you for supporting the brands that make Local Adventurer possible.
Last Updated: January 11, 2023
Even though we grew up only a few hours away from Asheville, we never made it out to the Biltmore House. It seems like everyone I know has visited, and it's one place my mom has talked about wanting to visit. That's so rare! This past Christmas, we had the opportunity to bring Esther and our whole family thanks to the Biltmore. Needless to say, our Biltmore Christmas 2018 trip will be one we'll always remember
Fun Fact: Frederick Law Olmsted designed Central Park as his first project and the Biltmore Estate as his last project. We heard from our shuttle driver that he put a lot of thought into the approach to the house. As you drive in, you never get a glimpse of the house so that when you finally enter the gates, there's a moment of awe when it appears.
9 Things to Do at Biltmore + A Biltmore Estate Christmas in Asheville North Carolina
1. Self Guided Tour of the Biltmore House
The Biltmore House is the main attraction of the visit. It was completed in 1895, and currently, this 250-room home is the largest home in America. There are 65 fireplaces, an indoor pool, and a bowling alley. What's amazing is almost all of the items you see in the house are from the Vanderbilts' original collection. On top of that, it's still family-owned by the original family that built the house. The self-guided tour takes you through a one-way route inside Biltmore House, but you can stroll at your own pace. If for some reason you wanted to go back to see something, you can always exit and re-enter at the front. Typically, guests spend 1.5-2 hours. 
Audio Guides are available too. The 90-minute tour allows you to select the corresponding number in each room and then tells you more about the surrounding architecture, design, and decor. It also tells you more about the lives of the Vanderbilts, their guests, and servants. Our parents loved using the audio guides, while we preferred to look things up on our phones.
90-minute guided tour is also available if you prefer interacting with someone.
Pro Tip: Don't forget to walk up the hill across from the house to see Diana & the Esplanade. It's also one of the best views of the house itself. The tree you see in front is only around during Christmas at the Biltmore House. Other times of the year, you'll get a clear view. Another signature shot is from the Lagoon with the view of the back of the Biltmore House.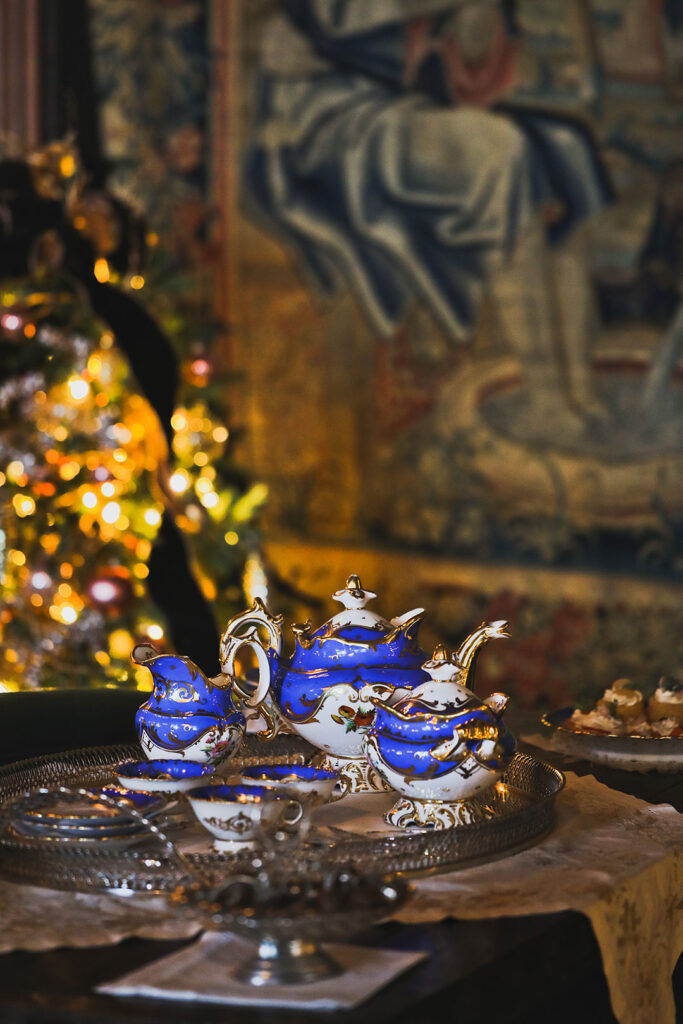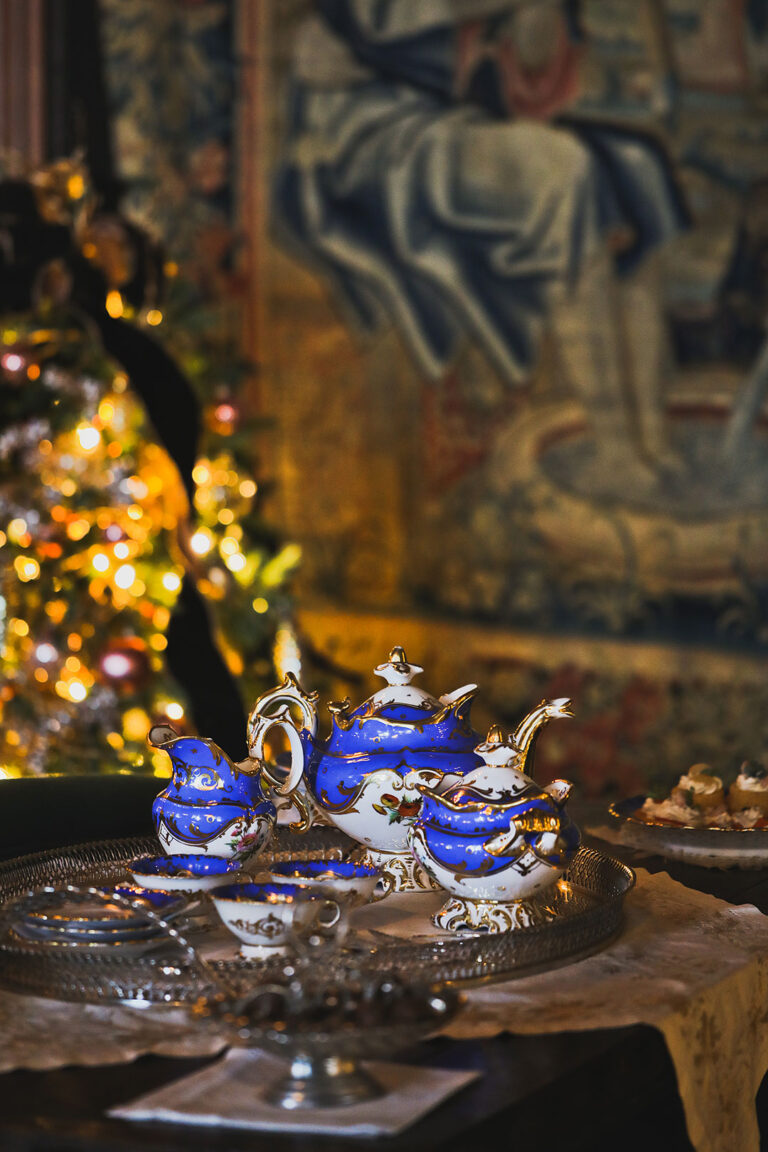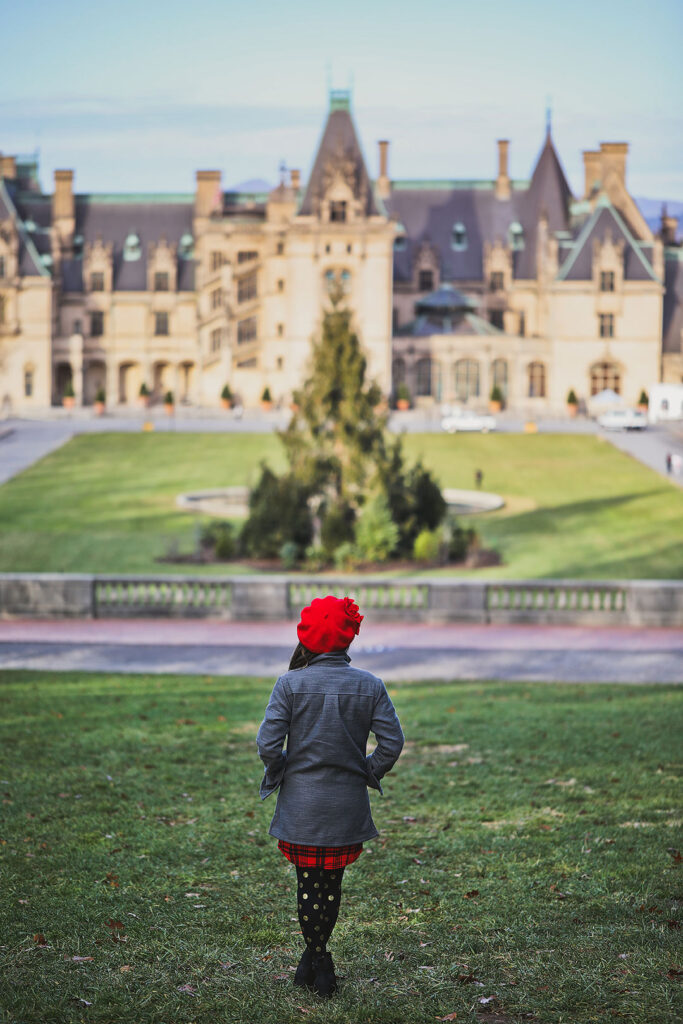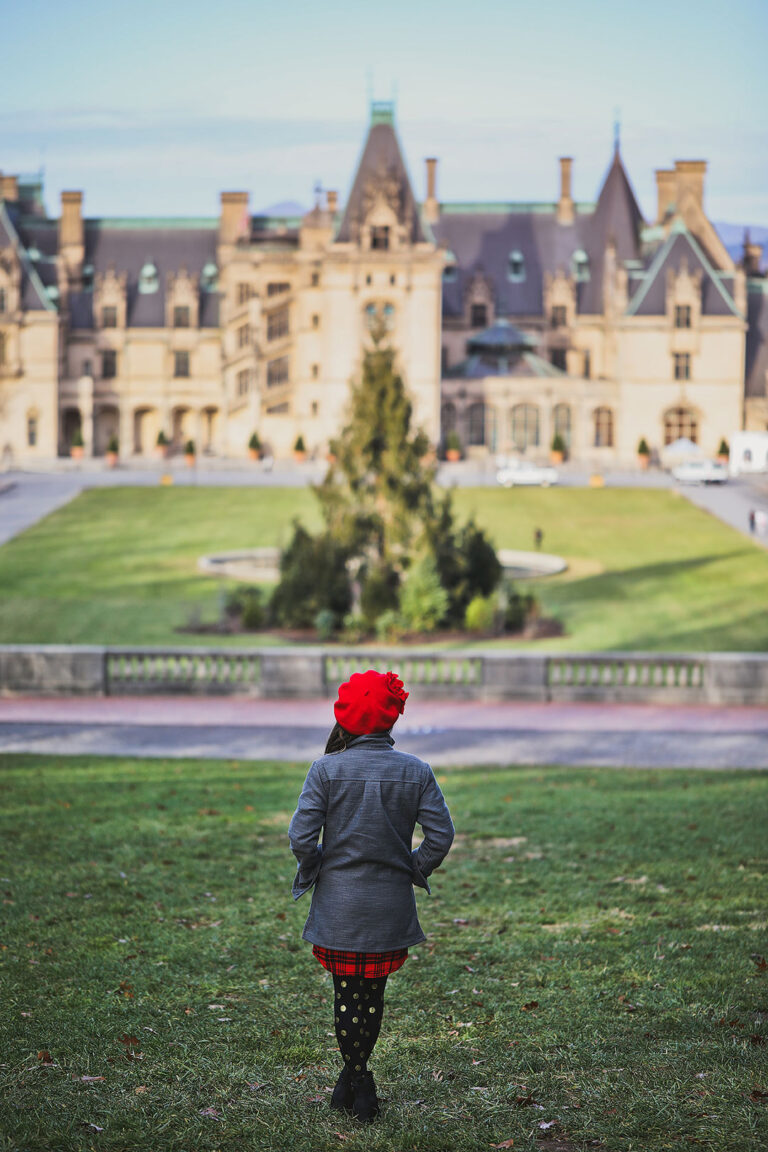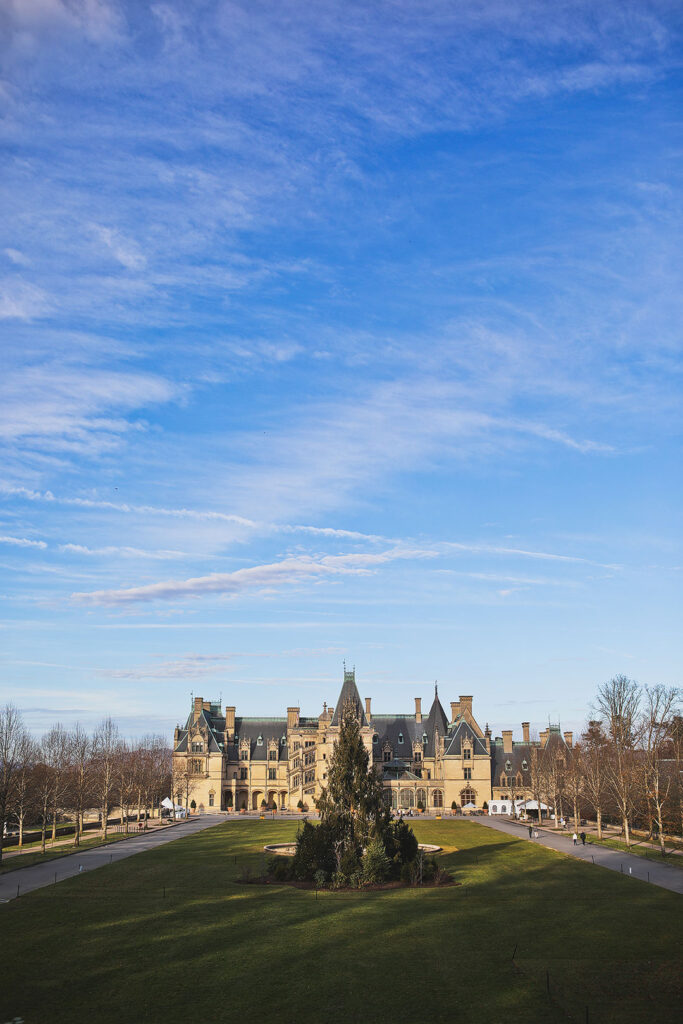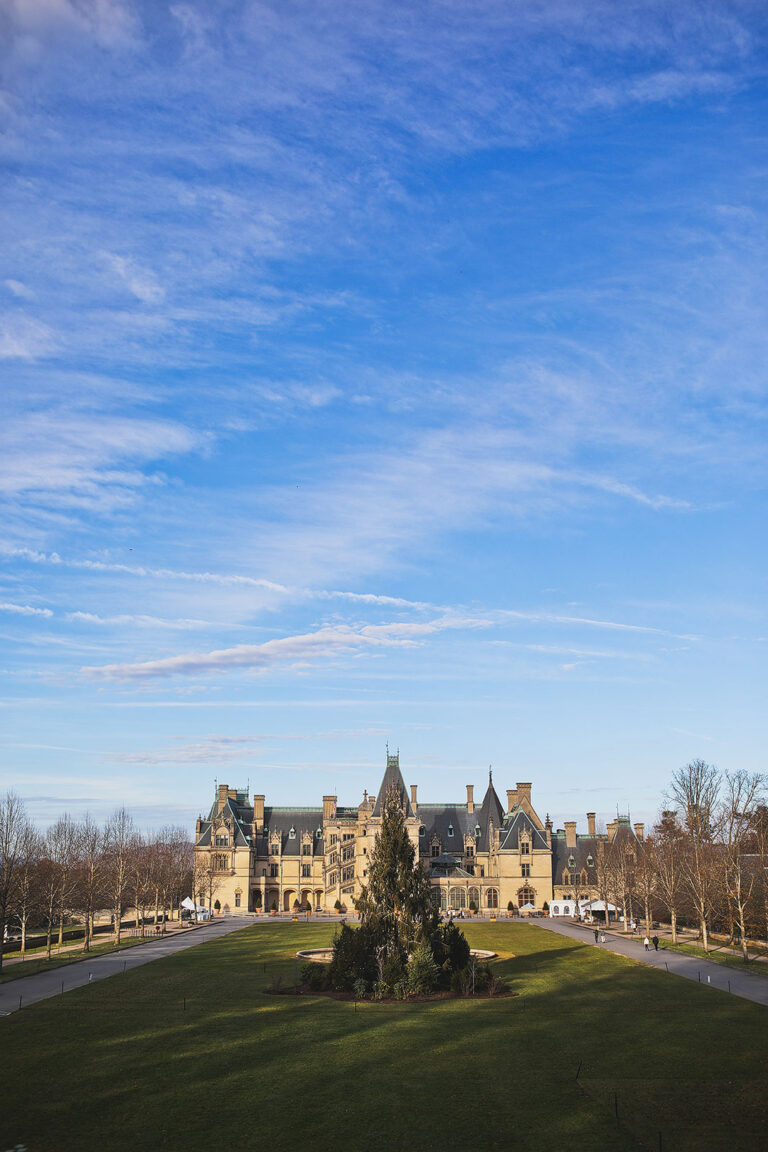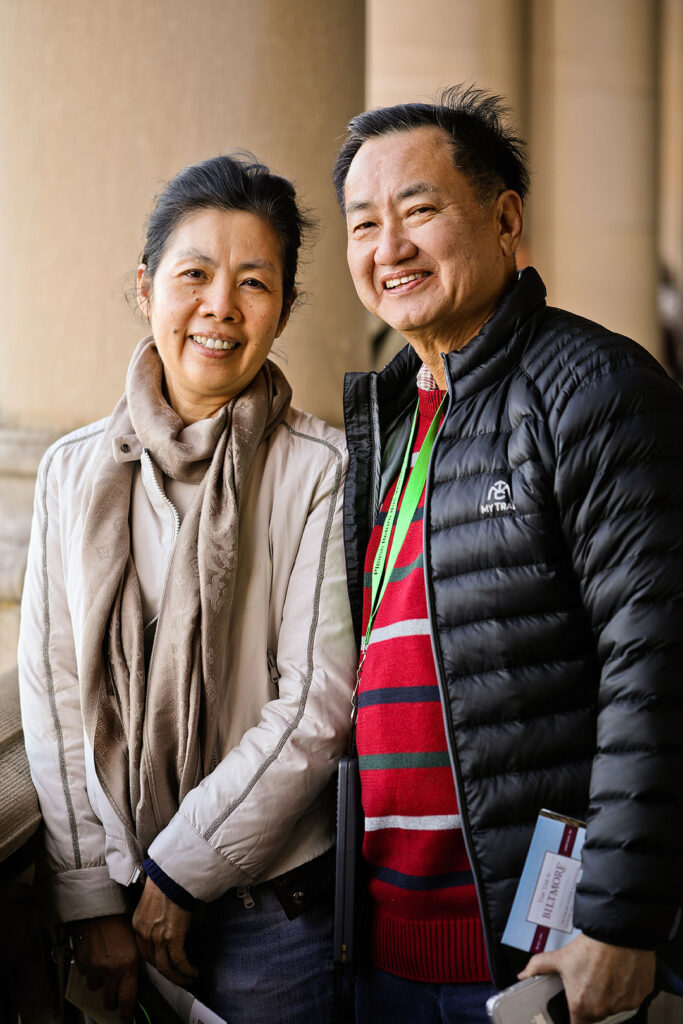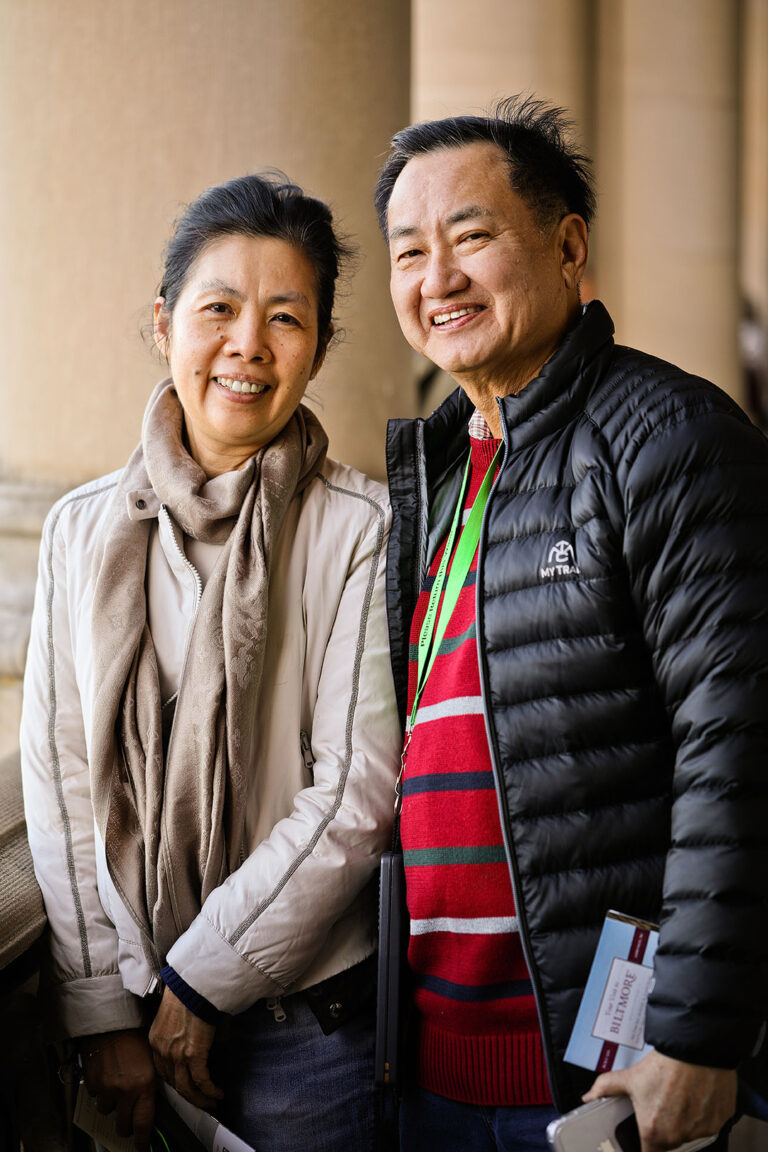 2. Behind-the-Scenes Guided Tours & Speciality Tours
If you want to learn even more and see exclusive areas of the property, there are more tour options. Also, if you do a tour during Christmas at Biltmore, it will turn any of the tours into a Biltmore Christmas tour as they tell you more about how the house is decorated. Here are a few that caught our eye. To see the full list, visit this page.
Rooftop Tour ($40pp) – get amazing view from rooftops and balconies of the Biltmore House.
The Biltmore House Backstairs Tour ($40pp) – get a behind-the-scenes look at the life of the butler, head housekeeper, and lady's maid.
Expert-Guided Small Group Tour (prices vary) – get a personal guide, see the rooftops, and a bts look of the servants.
Behind-the-Scenes Winery Tour & Tasting (currently unavailable) – see how the vineyards run and what it takes to make the amazing wines.
3. Explore the Biltmore Gardens and Conservatory
There are 2.5 miles of paths that take you through differently-themed gardens around the house.
In the winter, most of the gardens are empty, but you can still walk into the Biltmore Conservatory. Any other time of the year, you'll find different varieties of blooms. Some highlights:
50,000 tulips in the Wall Garden in spring.
A mile long sunflower patch near Antler Hill Village in late summer.
Click here to find more details on blooms you can expect to see. 
4. Wine Tasting at the Biltmore Winery
Don't leave the estates without stopping by the most visited winery in America. There's an indoor/outdoor wine bar where you can do a complimentary tasting with your entry into the estate. You can also shop for wines and gourmet goods to bring home.
Pro Tip: Like the main house, the tastings can get busy, so go early to avoid waiting in line. Also, if you enjoy many of the wines, ask about the Vanderbilt Wine Club.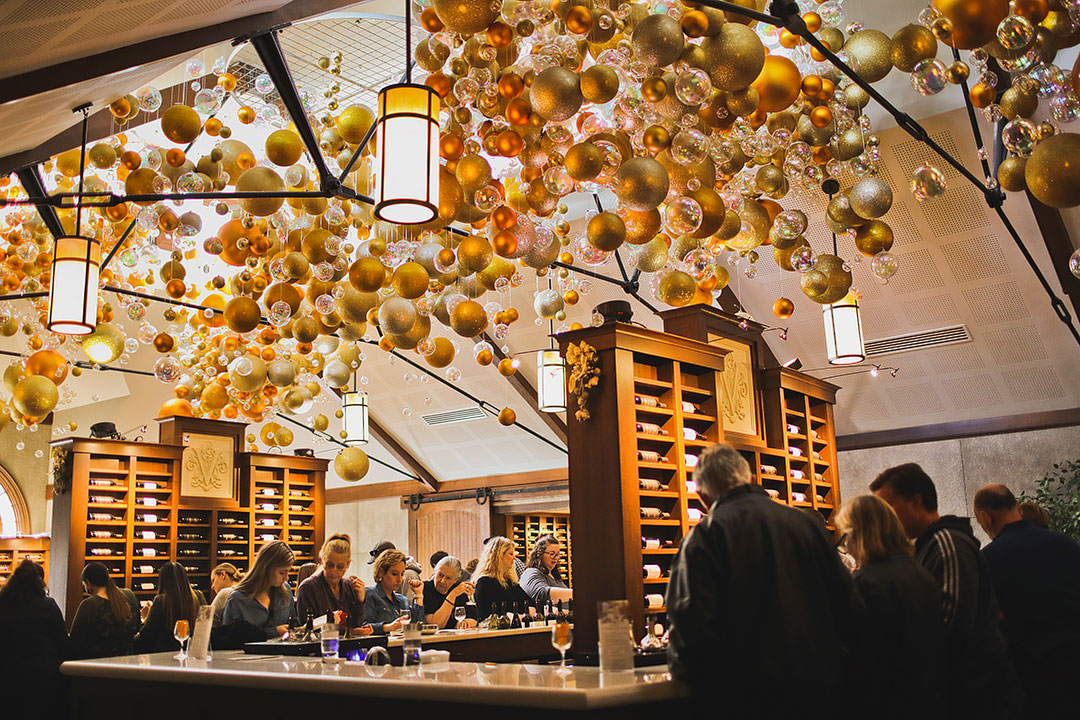 5. Biltmore Estate at Christmas
The holiday season at the Biltmore is a magical time. The Biltmore House is completely transformed with more than 55 Christmas trees, ribbons, lights, garland, and more. As we walked in, I had a momentary flashback to our childhood when my dad would blast Christmas music to wake us up and signify it was time to get the house decorated for Christmas. The idea of decorating this house was hard to fathom. It seemed like every inch was covered including a massive banquet hall. My favorite was the gingerbread replica of the house in the basement.
You can also visit the Biltmore House for Candlelight Christmas Evenings. (Note: This is a separate ticket and by reservation only.) During these visits, they light the fireplaces, put up candles, and they even have live music on the first and second floors giving you your very own Biltmore Estate Christmas music soundtrack. In addition, they open up 4 additional rooms that you can't see during the day. We share a few of our favorite Biltmore Estate Christmas pictures below, but would you like to see a full photo gallery?
Here are some of the other Christmas daytime celebrations, happenings, and evening events you should check out. Dates and times vary – check their site for details.
A Gardener's Place Seminar – Biltmore gardening experts show you how to create stunning tabletop pieces.
Antler Hill Village & Winery Holiday Illumination – Antler Hill Village is lit up with thousands of lights.
Bonfires & S'mores – pick up a S'mores Kit from The Creamery and join in an old fashioned bonfire at Antler Hill Village.
Christmas Carolers in Antler Hill Village – between 3-7:30pm carolers fill the air with some of your favorite Christmas favorites.
Cookie Decorating at Village Hotel (hotel guests only) – decorate an assortment of sugar cookies. Gingerbread
House Tea – stop by the Vanderbilt Room at The Inn to make your own gingerbread house while you sip on tea and enjoy sandwiches and desserts.
Ornament Decorating at The Inn – create you very own keepsake.
Santa at the Bandstand – On select dates, Santa stops by the bandstand in Antler Hill Village.
Note: The giant Biltmore Christmas Tree in front of the house isn't usually there, so you can get a clear shot other times of the year. I also preferred the regular day time tour, since it was much less crowded.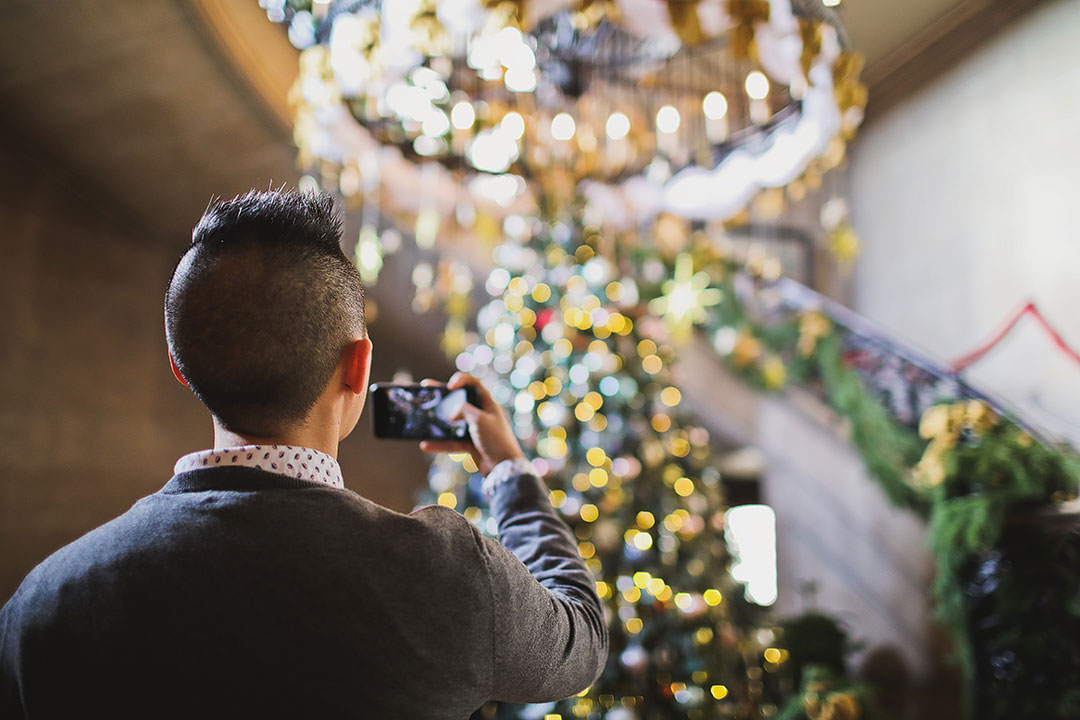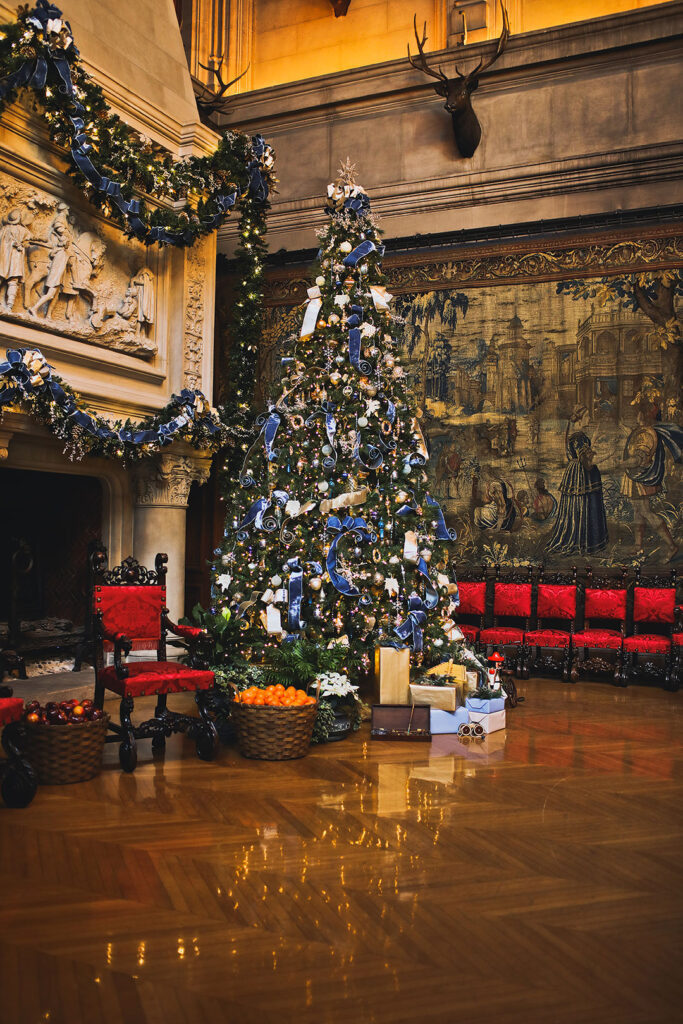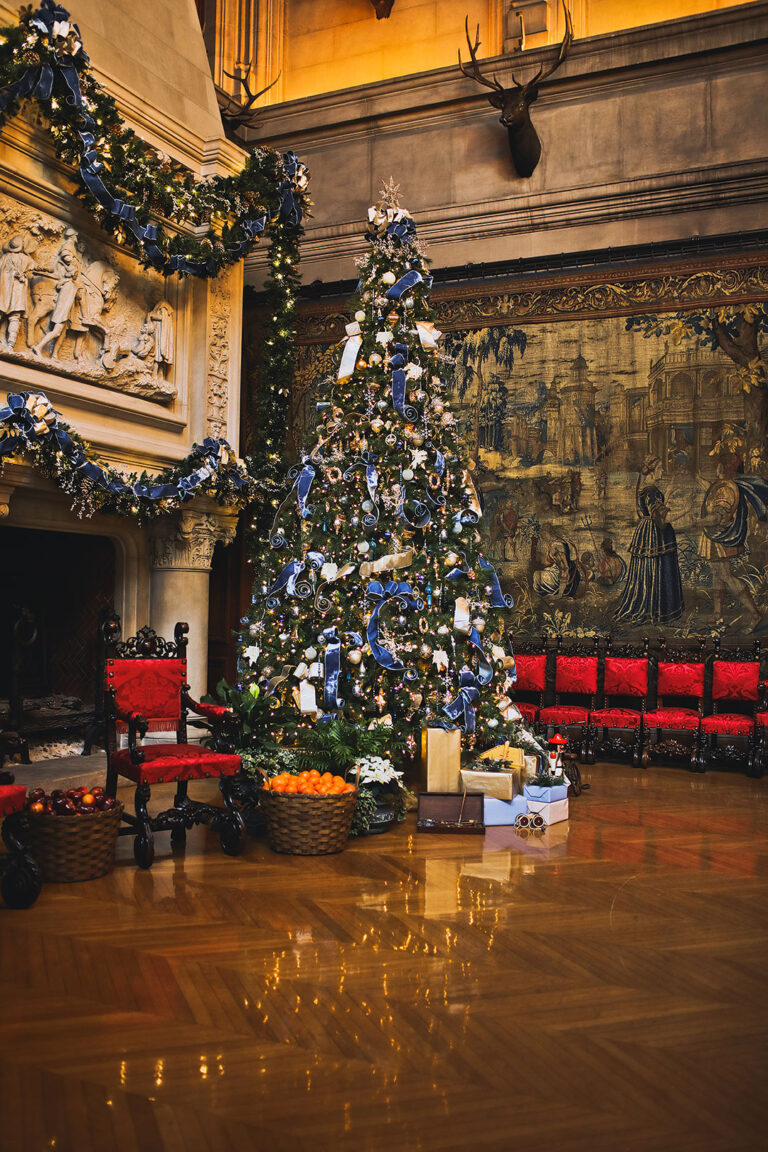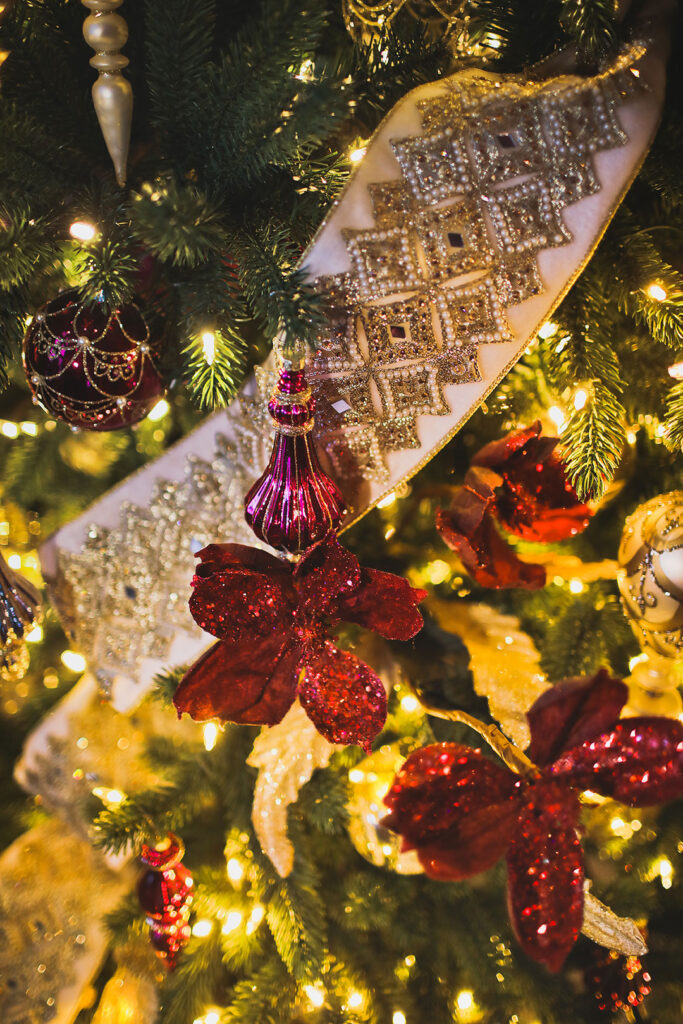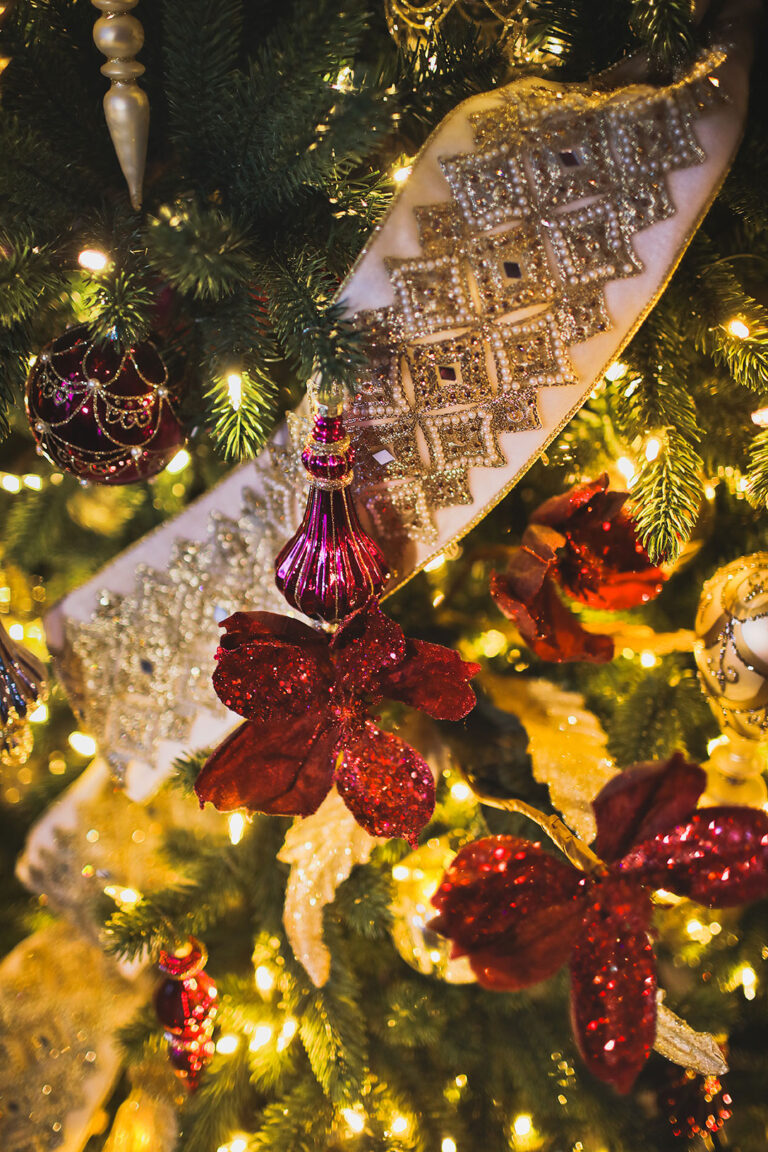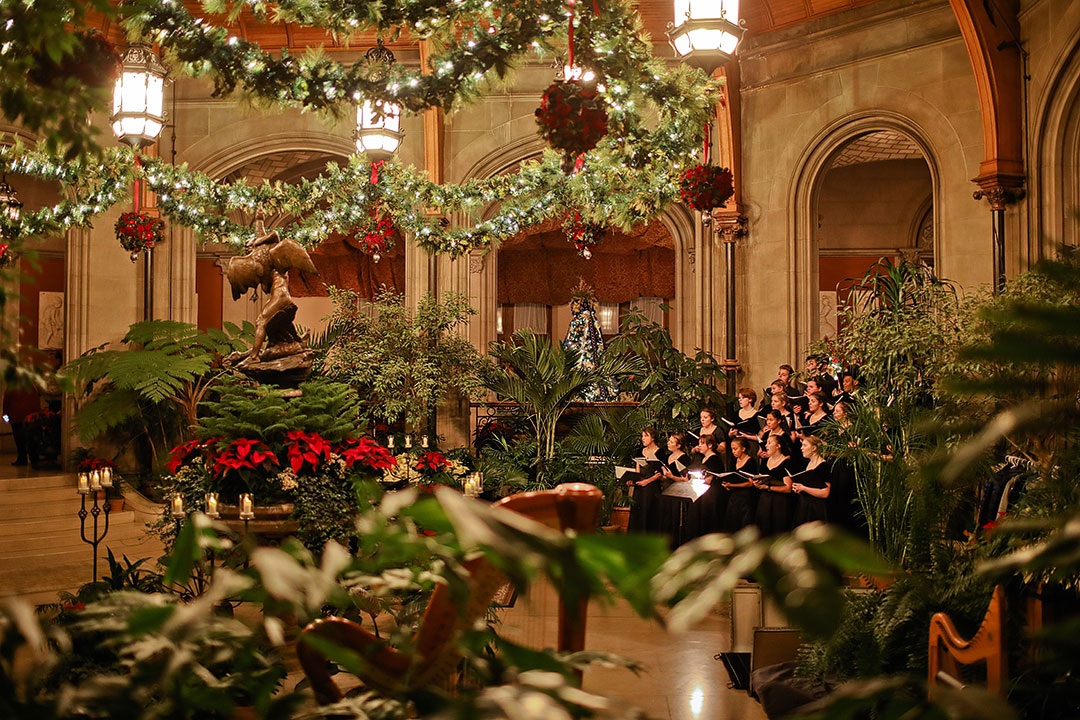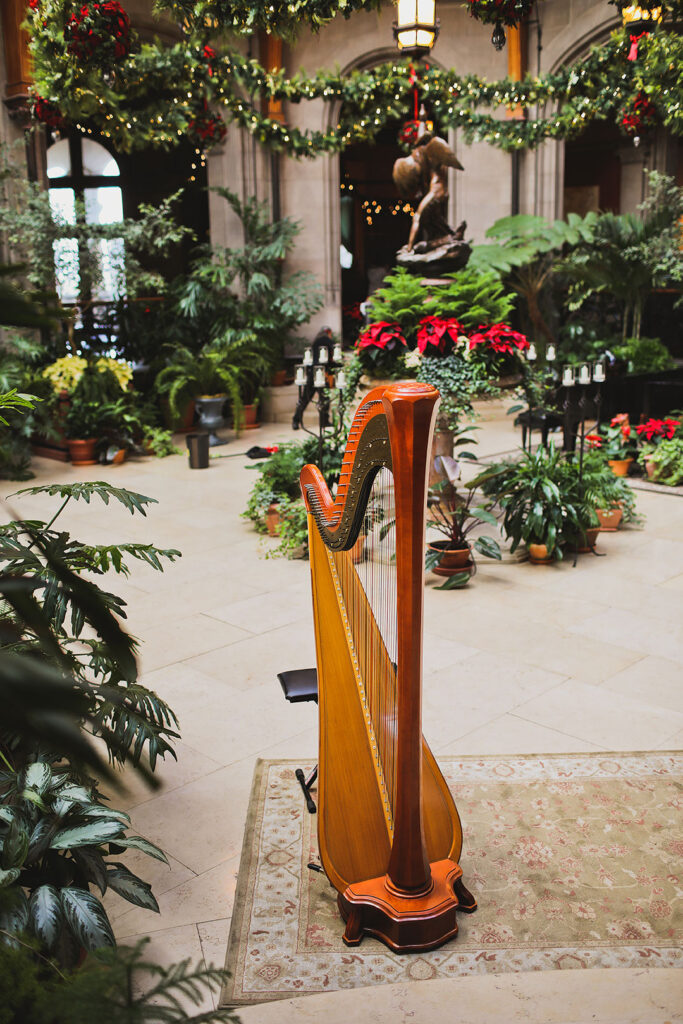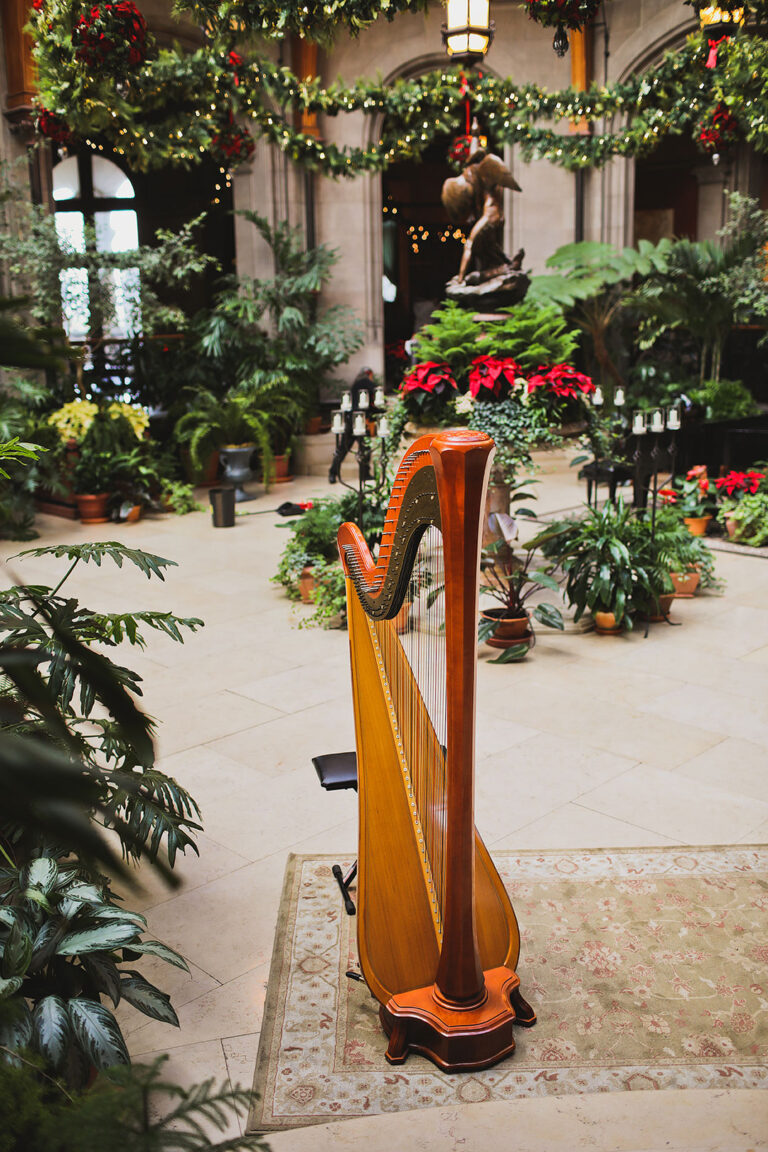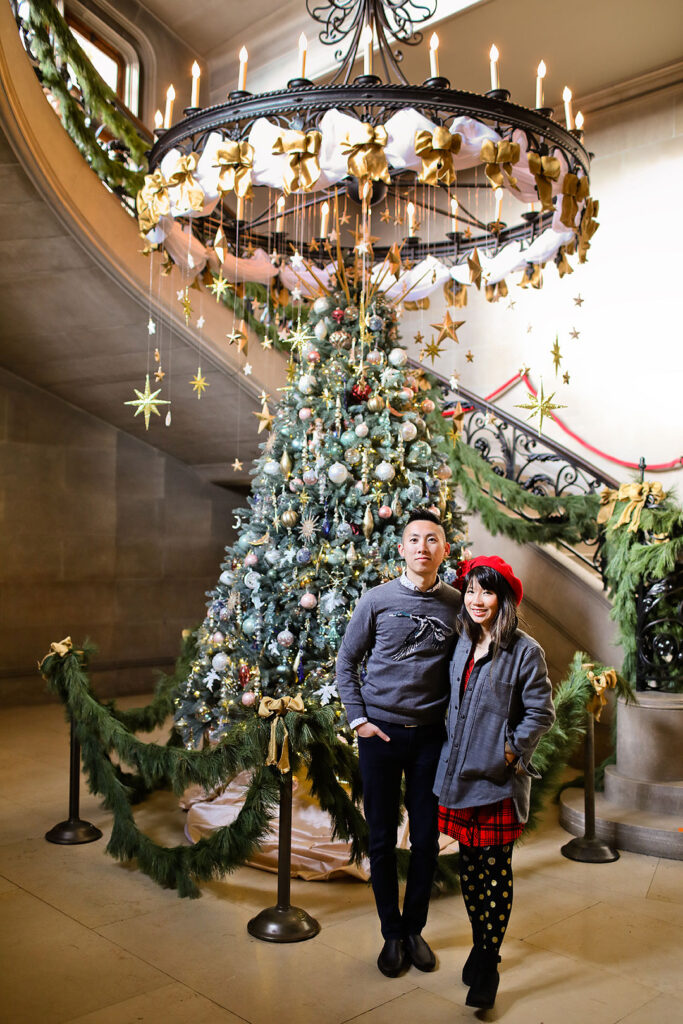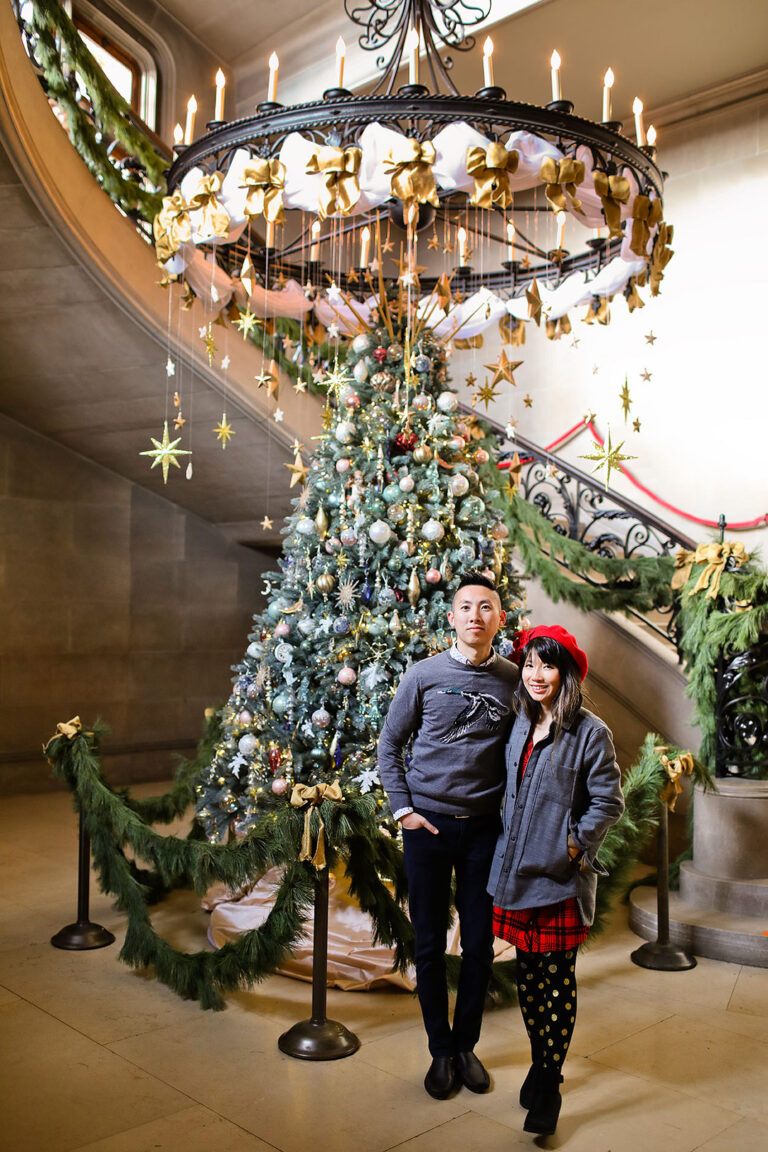 6. Dining at BIltmore Estate
When you get hungry, there are plenty of food options. What's great is that the herbs, salad greens, eggs, and berries come straight from their gardens and fields.
We had dinner at The Dining Room for a nice dinner. I'll admit that I'm always sceptic of restaurants in hotels, but this was such a great experience. The staff was friendly and professional, and we had some of the best scallops we've ever had.
Here are some of the other options at the estate:
Antler Hill Village & Winery
The Bistro $$$ – casual spot serving farm to table foods
Cedric's Tavern $$ – pub food, global cuisine, and plenty of drink options
The Creamery $ – ice cream and sundaes, pastries, cupcakes, and more
The Kitchen Cafe $$ – house-made soups, salads, and sandwiches
The Smokehouse $$ – carolina bbq, sandwiches, and southern favorites
Village Social $$$ – southern style food using sustainable seafood and regional ingredients
Wine Bar at the Winery $$ – sip of delicious wine and munch on a plate of cheese
Biltmore House & Gardens
Stable Cafe $$ – bbq, grilled foods and other southern favorites
The Bake Shop $ – fresh-baked pastries, coffee, and tea
The Conservatory Cafe $ – small plates and wine
The Courtyard Market $ – gourmet hot dogs, salads, snacks, and drinks
The Ice Cream Parlor $ – hand-scooped ice cream, milkshakes, and sundaes
Deerpark
Deerpark Restaurant $$ – southern cuisine served buffet style
The Inn on Biltmore Estates
The Dining Room $$$$ – an elegant dining experience with delicious food
Library Lounge $$ – salads and sandwiches
Pro Tip: Make reservations early to the restaurants. Some are reservation only and others get busy. Restaurants that take reservations can be found on Open Table.
7. Shopping at BIltmore Estate
George Vanderbilt was fascinated with traveling the world to find unique items to bring home. In the same spirit, there are boutique shops to explore within the estates. Here are four areas to shop:
Antler Hill Village
The Barn Door – American made arts and crafts
Antler Hill Outfitters – pick up outdoor lifestyle clothes
Traditions – products and home decor inspired by how Edith Vanderbilt might entertain guests today
Wine Shop – Biltmore wines and gourmet foods!
Biltmore House & Gardens Shopping
A Christmas Past – all things
Christmas Bookbinder's – books related to the Vanderbilt family and their era
Carriage House – keepsakes for the home
Confectionery – sweet treats
Toymaker's – old-fashioned toys and games
A Gardener's Place – estate-grown plants and garden accessories
Gate Entrance (no ticket required)
Gate House Shop (near entrance) – top merch including wine, souvenirs, and jewelry
The Inn on Biltmore Estates
Cottage Door – snacks, amenities, and souvenirs
Marble Lion – sophisticated apparel and luxury items
Pro Tip: Make reservations early to the restaurants. Some are reservation only and others get busy. Restaurants that take reservations can be found on Open Table.
8. The Farm at Antler Hill Village
Once home to Biltmore Dairy, you can now stop by the farm to see blacksmith, woodworking, and craft demonstrations. There are also farm-friendly animals and a great playground for kids.
9. Hiking and Other Outdoor Activities
During our trip, we explored the House, Garden, and Village, but left a lot of the estate still unexplored. You can go biking, fly-fishing, hiking, horseback riding, or even float down the river. There are nearly 22 miles of hiking trails! In addition, they have segway tours, sporting clays, falconry, and more. We definitely want to visit again in warmer weather to see more of the beautiful grounds.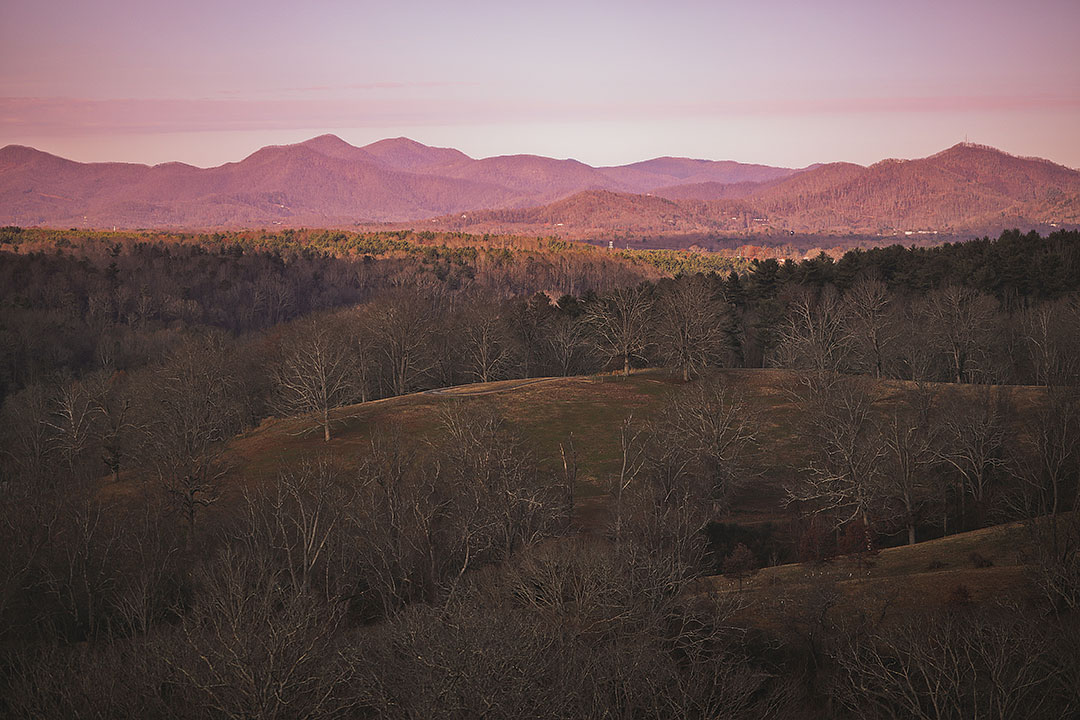 Address: One Lodge Street, Asheville, NC 28803 (map)
Biltmore Estate Tickets:
Ticket Options for Fall (Oct 1 – Nov 3)

Audio-Guided: $89 – $124
Audio-Guided Plus Immersive Experience: $119 – $159
Expert-Guided Visit Plus: $354 – $394

Ticket Options for Christmas (Nov 4 – Jan 8)

Audio-Guided: $99 – $139
Audio-Guided Plus Immersive Experience: $129 – $174
Expert-Guided Visit Plus: $364 – $409

Ticket Options for Winter (Jan 9 – Mar 2)

Audio-Guided: $69 – $109
Audio-Guided plus Immersive Experience: $99 – $139
Expert-Guided Visit Plus: $334 – $374
Pro Tip: Save money by purchasing tickets online 7+ days before your visit.
Hours:
Admissions Gate: 8:30am – 8:30pm
Reception & Ticketing Sales Center: 8:30am – 8:30pm
Biltmore House: 10am – 5pm (5:30pm – 9pm for candlight)
Winery in Antler Hill Village: 11am – 9pm
Gardens: 9am-5pm
Conservatory: 9am – 5pm
Note: Always double check their site for hours in case they have special events going on.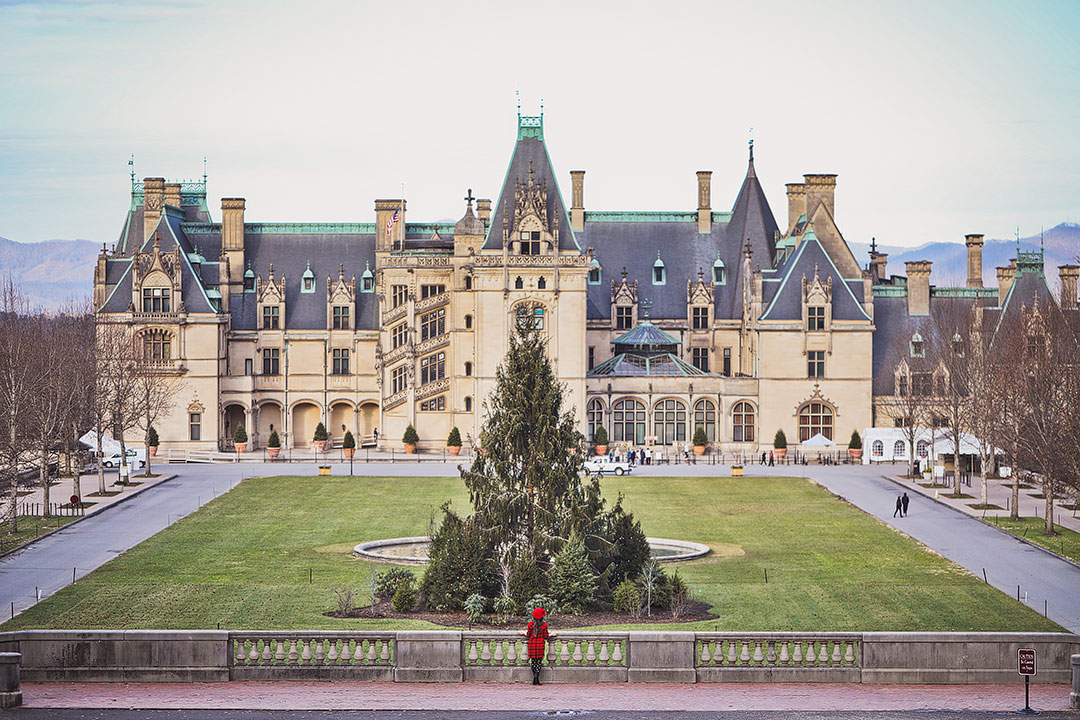 Each season brings a different feel to the estate, although Christmas is the most popular time, after all Biltmore at Christmas is truly magical. After seeing the views of the rolling hills behind the house, we definitely want to visit again in the fall to see all the foliage or the spring for the tulips.
As for the Biltmore Mansion, we visited both during the day and for the evening Candlelight Christmas. We were glad we got a chance to do both so we could compare rather than rely on Biltmore Candlelight Christmas reviews. The evenings are definitely nice since you get to see more rooms and there is live music to set the mood, but it's extremely busy even with the timed tickets. There were times when you couldn't even move because people were stopping to take photos or there were too many people trying to get through.
During our morning visit, we arrived just after they opened and it was easy to get around the whole house. It made it much more enjoyable as we could go at our own pace and take photos without having to compete with everyone else. We highly recommend going first thing in the morning.
The Biltmore Estate has three beautiful properties to choose from. We stayed at The Inn on Biltmore Estate and it was the perfect home base. It was a short walk to the Antler Hill Village & Winery, the lobby was beautifully decorated, and the rooms were comfortable and luxurious. We enjoyed cozying up on bed in their bathrobes during our down time.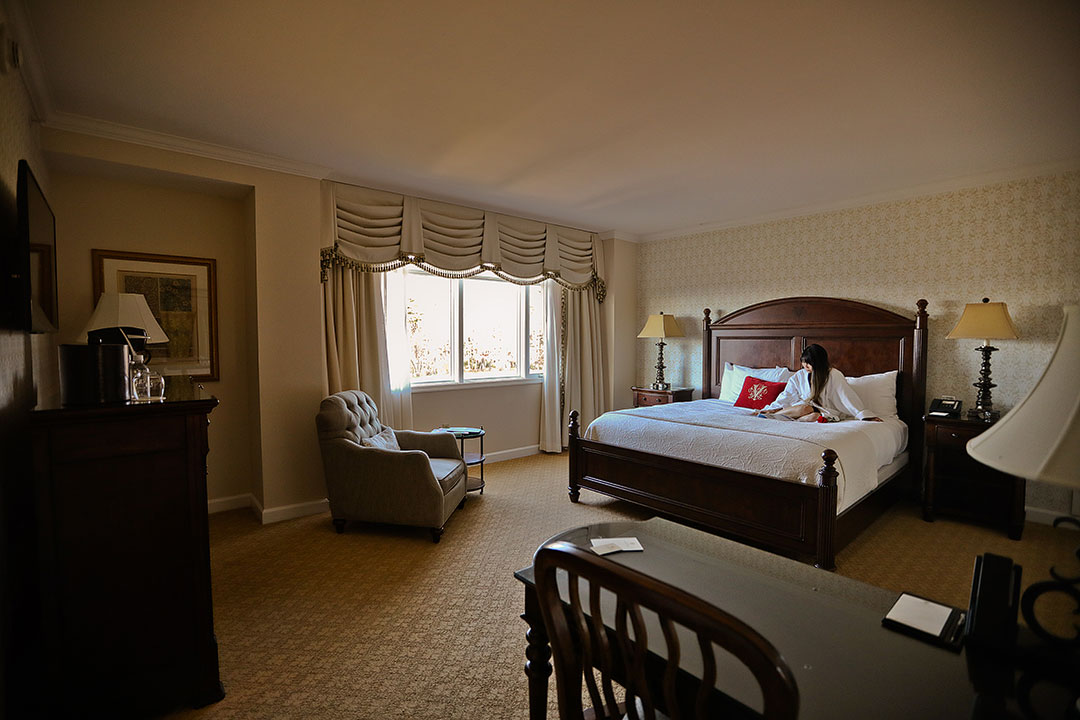 Through Feb. 20, 2023: Leonardo da Vinci – 500 Years of Genius
Inventor, artist, scientist, engineer, sculptor, anatomist, musician, architect, philosopher—Leonardo da Vinci was all of these things. His brilliance and many extraordinary achievements are brought to vivid life in Leonardo da Vinci – 500 Years of Genius, the world's most comprehensive and thrilling Leonardo da Vinci experience. Leonardo da Vinci is exhibited in Biltmore's event center, Amherst at Deerpark.
Through Feb. 20, 2023: Biltmore Gardens Railway – Wonders of the World
Visit the estate's Antler Hill Village for a popular large-scale model railroad display with structures that chronicle the Wonders of the World. Railcars move around handmade botanical replicas of iconic structures from around the world. The display is made up of architectural wonders that were well-known during the Vanderbilt era including the Taj Mahal, the Leaning Tower of Pisa, the Great Wall of China, Machu Picchu and more. The Vanderbilt family traveled the world to see many of these architectural masterpieces in person. Visit Biltmore Gardens Railway and be transported to a whimsical place that is sure to delight all ages.
March 3, 2023 – Jan. 7, 2024: World Premiere of Italian Renaissance Alive
Making its world premiere at Biltmore, Italian Renaissance Alive is an all-new multi-sensory experience created and produced by Grande Experiences. This fitting tribute to George Vanderbilt's lifelong passion for fine art invites you to enjoy some of his favorite works in an entirely new way: immersed in the beauty and brilliance of the greatest artistic period in history as it comes to life all around you. Large-scale projections with 360-degree views set to a powerful operatic score tell the story of artists and the time periods within which they lived. Italian Renaissance Alive features Michelangelo, Da Vinci, Raphael, Botticelli, Caravaggio and more.
April 1, 2023 – Feb. 19, 2024: Ciao! From Italy Sculptural Postcards
Complementing the Italian Renaissance Alive exhibition, a series of sculptural postcards that were inspired by George Vanderbilt's travels have been created in partnership with Applied Imagination. Located in Antler Hill Village, Ciao! From Italy combines botanical designs with authentic greetings from the Vanderbilts in a large-scale format that's sure to charm all ages.
April 1 – May 25, 2023: Biltmore Blooms
A long-time spring tradition, Biltmore Blooms celebrates Biltmore's historic gardens and grounds and the return of warm weather, featuring a progression of thousands of spring flowers growing across the property. Starting with daffodils, followed by the tulips, wisteria, azaleas, rhododendron, and roses, the estate offers something new on a near-daily basis. Easter activities on the estate on April 8 and 9 will feature an Easter Scavenger Hunt.
Nov. 3, 2023 – Jan. 7, 2024: Christmas at Biltmore
Two enchanting experiences are available to enjoy Biltmore during the holiday season — the Christmas at Biltmore daytime house tour experience, and the Candlelight Christmas Evenings nighttime house tour experience.
Essential Tips for visiting the Biltmore House
To avoid crowds, visit as early in the day as possible. The gates open at 8:30am and the house opens at 9am.
Buy tickets ahead of time to save money. If you purchase your tickets 7+ days in advance, you'll save $10 per ticket. You can purchase them online here.
Separate tickets are required for the Candlelight Christmas Evenings Biltmore House experience.
The Biltmore is open 365 days a year but hours vary throughout the year based on what events are going on. It's best to check the site for the most up-to-date info.
You do need a car to get between locations on the estate. Each area has their own parking, and the Biltmore House runs a free shuttle to take you from the parking lot to the front of the house. If you are staying at one of their properties, there is also a free shuttle that drives you around the estate.
Arrive early to the Biltmore House. They recommend at least 45 minutes to find parking and catch a shuttle (or walk) to the house. If you arrive early, you can take in the exterior.
Give yourself plenty of time to drive between locations. The drive is scenic and since they are 2 lane roads, it can get backed up.
Wear comfortable shoes, you'll be doing a fair bit of walking.

Winter at the Biltmore Estate can get cold. 

It helps to have layers since the mountain weather can change quickly.
Check out their interactive estate map to help you plan your trip.
Recommended time for each area:

Biltmore House – 2 hours
Gardens & Conservatory – 2-3 hours (1-2 in the winter since most plants are dead)
Antler Hill Village & Winery – 2-3 hours

Hoping to visit just the Gardens or Winery? Unfortunately there are no partial ticket options. The general admission gives you access to the House, Gardens, Winery, and Antler Hill Village, so give yourself at least half a day to take advantage of the ticket.
When does Biltmore decorate for Christmas? November 6, 2020 to January 10, 2021
Have you been to the Biltmore? What was your favorite part of your visit?
Did you enjoy this post? Pin it for later
See More Ideas for Asheville
"Discovery consists not of seeking new lands but in seeing with new eyes" – M. Proust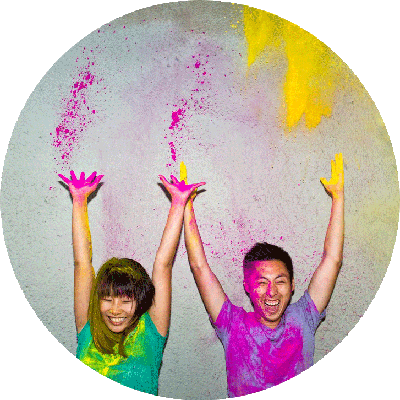 Esther and Jacob are the founders of Local Adventurer, which is one of the top 5 travel blogs in the US. They believe that adventure can be found both near and far and hope to inspire others to explore locally. They explore a new city in depth every year and currently base themselves in NYC.