There are so many options for lodging in Asheville! We have high-end luxury hotels that will cater to your every need (think plush pillows, attention to detail, spa), cute little downtown hostels that help the budget traveler stay close to the action in the city, as well as several incredible bed and breakfasts, cabins, tiny homes, yurts, and tipis to choose from. Want a mixture of luxury and the outdoors? Give glamping a try! There's pretty much something for everyone on this list of the best places to stay in Asheville.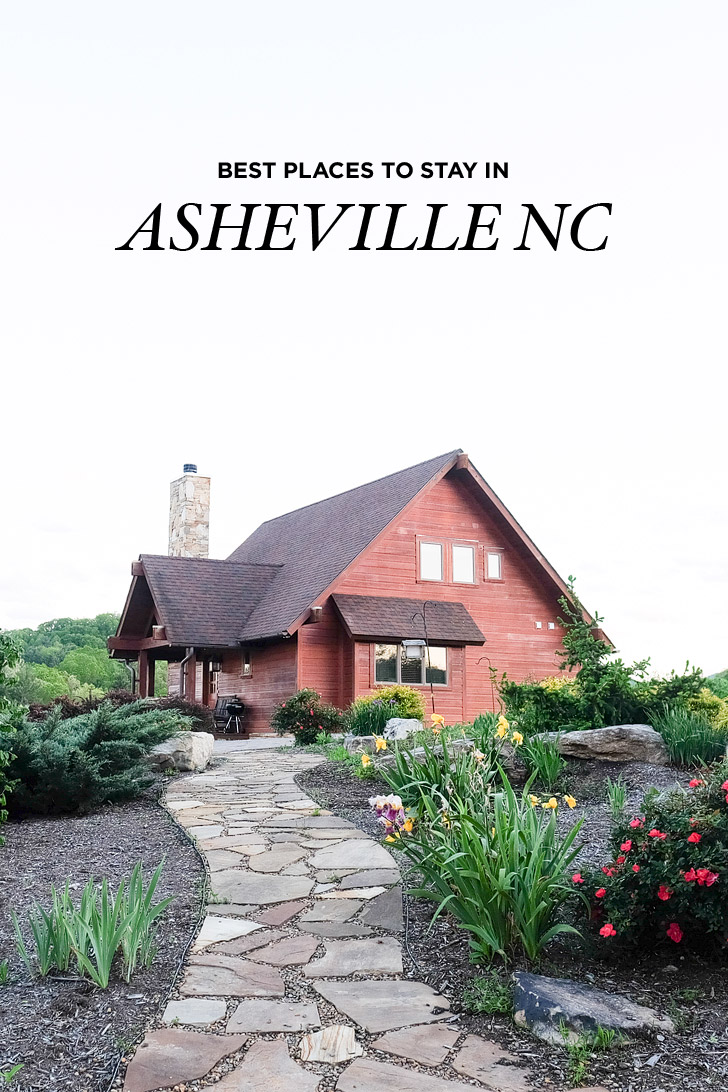 This post may contain affiliate links, where we receive a small commission on sales of the products that are linked at no additional cost to you. All opinions are always our own. Read our full disclosure for more info. Thank you for supporting the brands that make Local Adventurer possible.
Last Updated: August 27, 2020
Best Places to Stay in Asheville
Listed below are our favorite and best places to stay in Asheville broken up by categories.
Glamping + Unique Places to Stay
This cabin sleeps 10 people, has 3 bedrooms and 3.5 bathrooms. The 360-degree views here are jaw-dropping and pristine. Be prepared for the rare feeling of complete privacy. We drank our coffee each morning and watched the birds whip in and out of their wooden birdhouses with the backdrop of the mountains behind them. There are upper and lower decks on the cabin and a large gazebo across the driveway with an open fireplace and rocking chairs.
Bear Creek Cabin is located on 50 acres of private land and is only 7 minutes outside of the town of Marshall. The town is a cute little place worth exploring due to a fistful of restaurants, a bar, two health food stores and several art galleries. Two days of this kind of quiet living and I thought I'd never want to leave!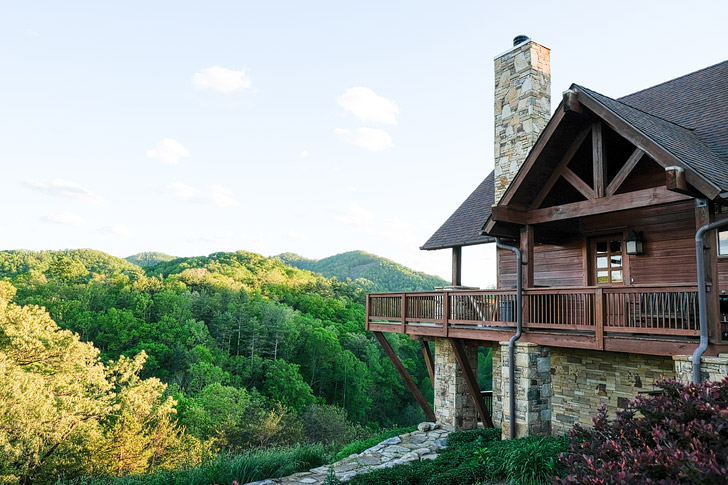 On Carolina Lane, Chicken Alley, Walnut Street, and Broadway Street, Asheville, NC 28801
0.3 miles to city center (3 mins)
(828) 275 – 5648
Asheville Stay is wonderfully unique. They can accommodate the solo traveler looking for respite after a fun day exploring the city, as well as an entire wedding party or family reunion! No really, they can book up to 70 people at a time. There are 12 of these vacation rentals, which range from private one-bedroom lairs to spacious lofts that can accommodate 10 people, all within blocks of each other in the heart of downtown.
They have comfortable, well-equipped kitchens, a washer and dryer, provide local coffee, earth-friendly soaps and detergents. All of these lofts are very spacious and feel open with lots of natural light. Private, keyless entry also makes it easy to come and go. Had I known about these when I was adventuring in Asheville long before I knew Caroline, this is where I would have chosen to stay!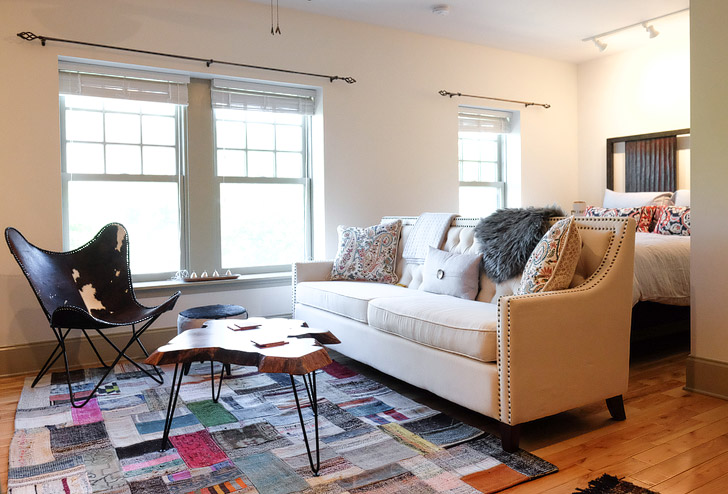 Specific addresses are given to confirmed guests.
(828) 450-9745
Made up of 3 properties various distances from city center (1 is 18 minutes from city center, 2 are 5 miles from city center), there are several different glamping options if you choose to stay with Asheville Glamping. Pick from a luxurious yurt, a romantic dome, a retro vintage camper/ trailer and even a tipi! If you like adventure but don't want to sacrifice all of the creature comforts, give this place a look.
Each rental is truly unique as are the settings. You can pick the yurt with absolute privacy or the Glaminal that sits around a communal campfire pit. Our favorite pick is the Silver Bettie, cause after all, why wouldn't you pick to soak in a hot tub if you can? Shuttles are available upon request!
87 Richmond Hill Drive, Asheville, NC 28806 // map
3.3 miles to city center (8 minutes)
(828) 252-7313
Start your day with a complimentary breakfast, then choose how you want to unwind. Stroll the Tranquility Trail, meditate in the meditation room or Serenity Garden, join an Embodiment Class, take part in a massage, or even spend time in a sauna. The common areas are cell phone and electronic free zones.
Luxury Hotels in Asheville
The Lofts at 16 Church are located in one of the best and most beautiful spots in downtown Asheville. Mature trees flank both sides of the street and the city is literally outside of your doorstep. If you're looking for a home away from home, enjoy a sunny deck, and love being in a central location, this is the place for you.
There are four lofts and they have beautiful red brick walls, arched windows, open decks and heart pine floors. The furniture is modern and comfortable with an easy to use kitchen that has beautiful granite countertops, a large full bathroom and even a half-bath and a washer and dryer. The two upstairs lofts have multiple skylights that make the high ceilings seem even taller and keyless entry makes it easy to come and go. When family comes to town, this is where we recommend they stay!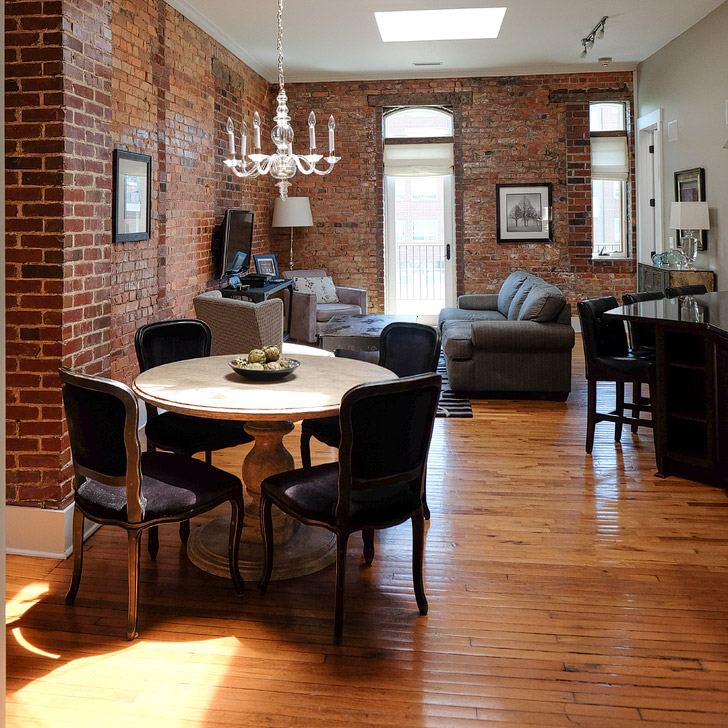 This Bohemian Hotel Asheville features Tudor-style resort rooms with a contemporary twist. It is located about five minutes by car from downtown, but is one of the closest hotels to the Biltmore Village and the Biltmore Estate. Book a couples massage at the Poseidon Spa!
The location can't be beat. It's central to pretty much everything downtown. The building first got its start as a high-end department store but has since been converted into a boutique hotel with rooms ranging in size from 475 – 1,200 square feet. The outstanding service begins as soon as you arrive with complimentary valet and champagne at check-in. You also receive a small gift upon departure.
If you like an equal measure of relaxation and activity when you're traveling, this is the place for you. There's an 18 hole championship course a short putt away, three indoor and outdoor tennis courts, a huge spa (43,000 square feet!) and even a sports complex where guests can play racquetball or participate in yoga and aerobics. The Grove Park Inn also has one of the best seats in town for a happy hour sunset with their open-air rock deck.
If you've watched Downton Abbey and felt yourself longing for something similar, look no further than the Biltmore Inn. The Biltmore Estate is one of Asheville's main attractions. It sits on 8,000 acres and offers guests everything from wine tasting to shopping, tours of the mansion and gardens, as well as spa treatments and Segway tours. This is southern hospitality at it's best.
The Windsor Boutique Hotel features unique and eclectic art from over 20 different local artists. In addition to its colorful decor, the location can't be beat. It's right in the heart of downtown and makes exploring the city a breeze since you can literally walk out of your front door and access many of the best restaurants without the hassle of driving and parking.
The Inn is located in the Historic District of Montford, a half mile from downtown. In addition to easy access to downtown, it's only 2.5 miles from the Biltmore Estate entrance. A three-course breakfast is served every morning from 8:30-9:30 am and tea is served every day from 5-6 pm. All of the rooms except for one have working fireplaces and there is turndown service at night as well.
The Bunn house was built in 1905 and it sits on one acre of beautifully landscaped property. You might not want to leave the yard! The bathrooms have heated floors and the rooms are stocked with local gluten-free granola, almond milk, regular milk and coffee! Each room has a private balcony or terrace and a Lencore ceiling mounted sound-masking machine. There are also Tesla & Electric Vehicle Charging Stations.
This bed and breakfast is located in the Chestnut Hill National Historic District, which is just minutes from city center and is famous for their crepe-waffles. Built in 1905, this grand Colonial Revival home is a treat for those who love history and outstanding service. When picturing this place, think four post beds, cherry wood furniture and plush bathrobes. Oh, and you may even be given the original skeleton key to access your room!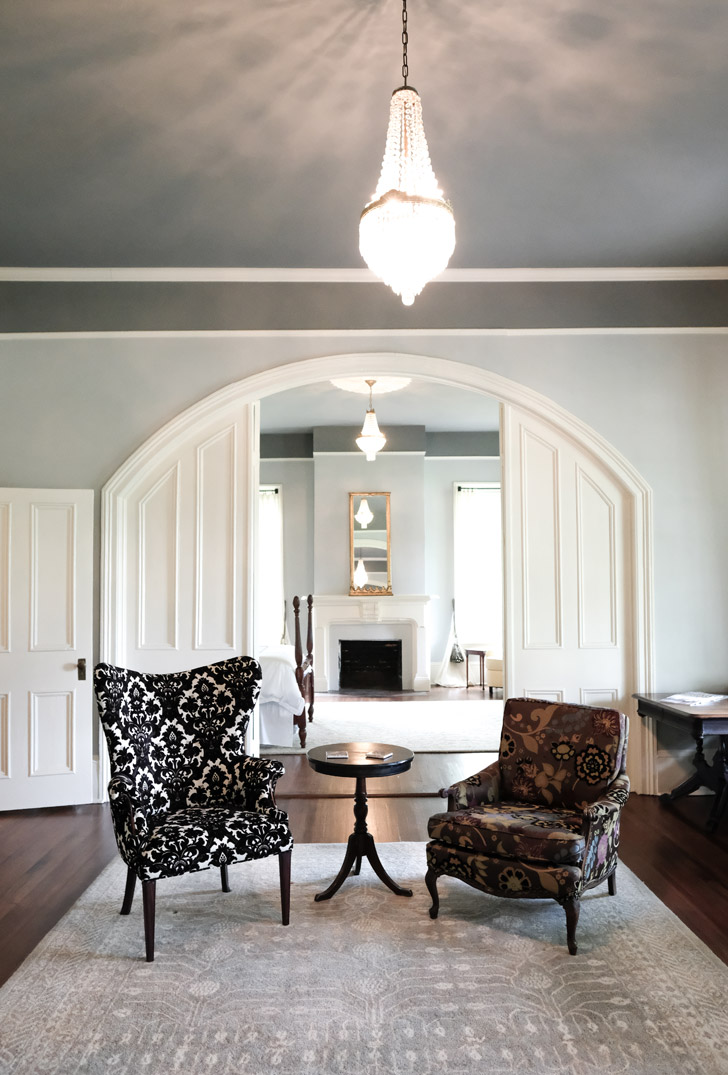 Historically known as The Atkinson House, The Inn on Westwood was built in 1881. At the time, it was one of very few houses that existed in what is now West Asheville. In 2015, it was awarded the Griffin Award for an outstanding historic renovation. The house has two, two-bedroom, one bath suites. You will find 13-foot ceilings, beautiful furniture, arched double doors, and spectacular original windows. The house sits on a huge corner lot with a large back deck and a shared front porch. The kitchen is well stocked with granola, fruit, yogurt, coffee, and tea.
What may possibly be the very best part of your stay? Fresh local pastries from West End Bakery, Hole Doughnuts, and OWL Bakery are delivered to your door each morning! West Asheville is a thriving neighborhood with dozens of restaurants, bars, bakeries, and shops within walking distance. It's also an easy walk or bike ride to the River Arts District and Downtown.
100 Reynolds Heights, Asheville, NC 28804 // map
5.5 miles to city center (11 minutes)
828.258.1111 & 888.611.1156
If you want a B&B that has it all, this is the place to stay! It's located close to downtown and offers great views of the Blue Ridge Mountains. Breakfast at the Reynolds Mansion is a three-course affair around a huge table and often includes homemade biscuits. The host, Billy, is extremely knowledgeable about the history of the house as well as the city of Asheville.
Choose from 16 bunk beds that start at $32.00 a night, 24 "Pods" that are similar to sleeper cars in trains, 2 private rooms and one studio. The most expensive room in the hostel is the studio which rents for $105 a night. Perks include free wi-fi and coin-operated laundry.
It's dog-friendly! There's also a free continental breakfast and free computer access if you forgot your laptop. The cheapest option is camping at $20 a person. For $27, you can sleep in a bunk bed. Other options are available, but these are the easiest on your wallet.
This was the first hostel in the city! You can book a very reasonably priced room here and also be on one of the quietest streets downtown. Bedrooms are private and keyed but all other areas are for shared use (lockable bathrooms, kitchen, common area). All ages are welcome however the hostel is mostly geared toward 18 to 40-year-olds.
Read More Reviews and Find Best Hotel Prices
Have you stayed here before? Did we miss anything? If you like what you see, pin it for later or share with a friend!
Did you enjoy this post? Pin it for later
SEE MORE CITY BUCKET LISTS
"Discovery consists not of seeking new lands but in seeing with new eyes" – M. Proust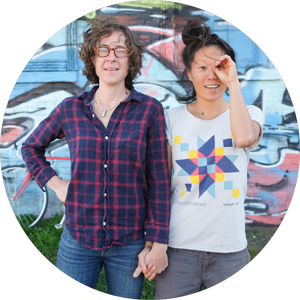 CAROLINE + ERIN
They are freelance web designers and photographers who love finding adventure, both big and small. The two make a daily practice of sharing vulnerabilities, truth telling, and side splitting laughter. They've honed the art of traveling fast and doing all of the things that an adventurer can do in a day or two. The couple lives in Asheville, North Carolina and spend as much time as possible in the mountains.