Visiting Mono Lake? Here's everything you need to know.
When we usually road trip to Napa, we make a stop in both LA and SF, but this time on our way back, we decided to go the long, scenic route and stop at the Mono Lake South Tufa area. It's also a great stop if you are on the east side of Yosemite National Park or driving from Vegas to Tahoe.
This post may contain affiliate links, where we receive a small commission on sales of the products that are linked at no additional cost to you. All opinions are always our own. Read our full disclosure for more info. Thank you for supporting the brands that make Local Adventurer possible.
Last Updated: October 26, 2023
About Mono Lake
Mono Lake is a saline soda lake that is almost 3 million years in the making and is twice as salty as the sea. It lies at the western edge of the Great Basin and has an otherworldly feel, especially with its cream-colored tufa towers. These tufa towers were formed when calcium-rich spring water bubbled up from the bottom of the lake. They were all once underwater but are now revealed as the water level has declined.
Back in the day, Los Angeles redirected a lot of the water to support its growing city and almost caused an ecological collapse. Now they are working on conserving Mono Lake.
See More: 10+ Remarkable Things to Do in Carson Valley NV
Getting to Mono Lake
Mono Lake is along Highway 395, 13 miles east of Yosemite National Park, near the town of Lee Vining, California.
You can first stop by the Mono Basin Scenic Area Visitor Center to learn more about the area. The address is 1 Visitor Center Dr, Lee Vining, CA 93541 (map).
The most popular spot at Mono Lake (where you'll find all the tufas) is at South Tufa. It is located down Mono Lake Basin Rd, which is closed 5 miles east of the junction of US 395 from October to May. The South Tufa road is not plowed. In the winter, people will cross-country ski here if the snow conditions permit. The South Tufa Parking Lot is located at the coordinates 37.9408397,-119.0307132 (map).
See More: 15 Breathtaking Things to Do in Yosemite National Park
Things to Do at Mono Lake
Here are some of the highlights of what you should check out at Mono Lake:
Visitor Center: The Mono Basin Scenic Area Visitor Center is the best place to start. You can get more information about the area, ask for advice to make the most of your time, and learn about the history of Mono Basin with its exhibits about the natural and human history.
Outdoor Activities: Hiking, bird watching, swimming, and cross-country skiing are popular activities in the area. Don't miss the trail at South Tufa that takes you to the tufas and Mono Lake Navy Beach Viewpoint.
You can also visit a boardwalk trail near the Mono Lake County Park which brings you to the north shore tufa area.
Swimming in the lake is also memorable because the lake's salinity is denser than ocean water, making it easier for you to float. Some believe a soak will cure ailments too. Just be sure to keep your eyes or any cuts out of the water.
Photography: Photographers come from all over the world to take photos of the unique landscape. I'm always fascinated with the tufas when we visit and love finding new spots to shoot.
Boating: All types of boating is allowed on Mono Lake. If you are looking to canoe or kayak, start at Navy Beach where there is a parking lot close by. For larger boats, an unimproved launch ramp can be found near Lee Vining Creek.
Essential Tips for Your Visit to Mono Lake
We made three stops, but if you only have time to stop in one spot, go to South Tufa.
Bring water and maybe a sunhat, as there is no shade on the trail.
Be sure to check the webcam to see the weather beforehand.
You'll find a large parking lot available at South Tufa and a 1-mile, easy hike to the lakeshore.
When visiting Mono Lake, the best time is sunrise or sunset.
Our annual National Parks passes work here, but Yosemite passes do not.
It's right next to Yosemite National Park, so it's easy to see both on the same trip.
What to Eat
Food options are pretty limited in the area. We've always timed our meals so that we don't have to eat in the area or just bring snacks/food with us. We'll have to try some of these spots so we can report back next time, but here are a few that have decent reviews on Yelp.
Have you visited the Mono Lake South Tufa area? When was the last time you took a road trip? What was your favorite destination?
SEE MORE Epic Road Trip Guides
⟡⟡⟡⟡⟡
"Discovery consists not of seeking new lands but in seeing with new eyes" – M. Proust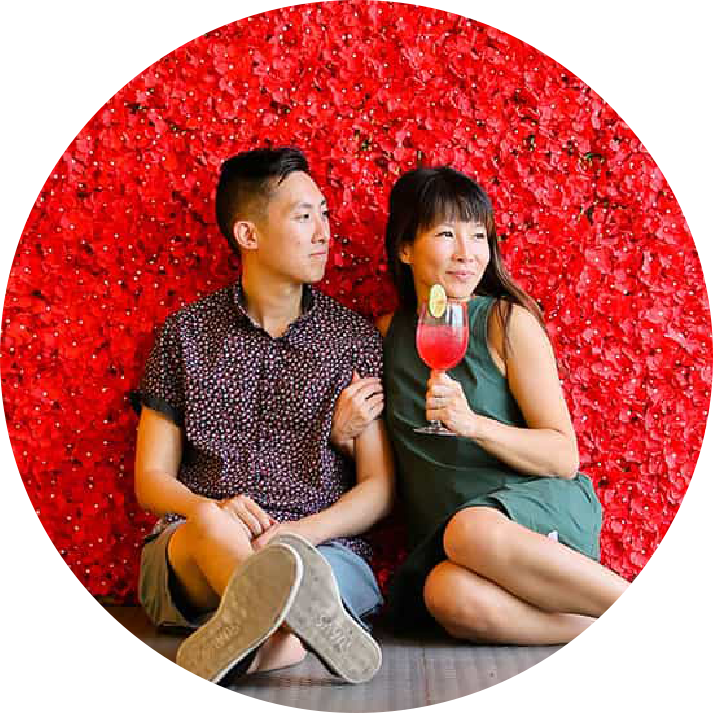 Esther + Jacob
Esther and Jacob are the founders of Local Adventurer, one of the top 5 travel blogs in the US. They believe that adventure can be found near and far and hope to inspire others to explore locally. They explore a new city in depth every year and currently base themselves in Las Vegas.
Follow on Instagram (E + J), YouTube, TikTok, and Pinterest.