[UPDATE: CURRENTLY CLOSED]
Cabrillo National Monument has so much to explore in such a small area. You can get amazing views of the city, explore the lighthouse, dive into the history of the area, go tide pooling, and we recently discovered the secret sea cave there!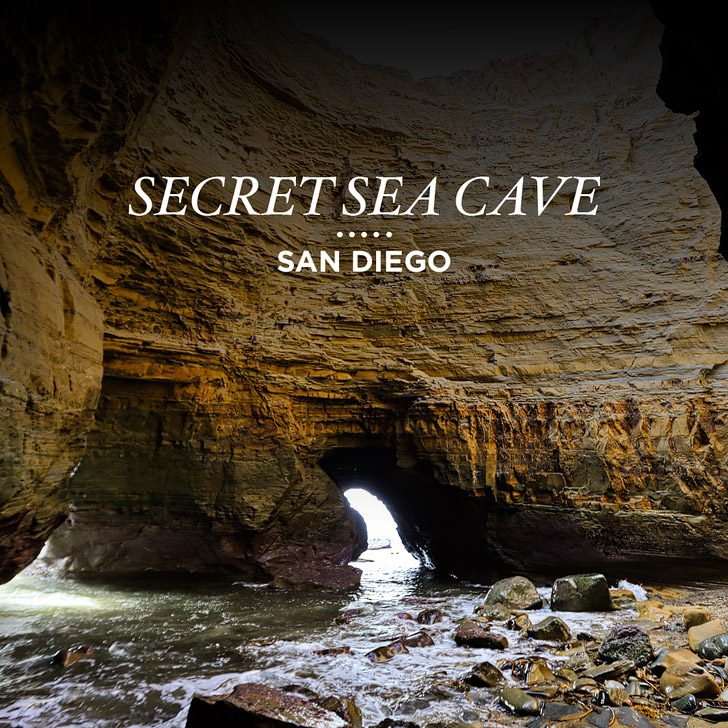 Pin
That's what everyone calls it on instagram, but if you want to be technical, it's actually a sinkhole. That doesn't sound as cool, does it? It that still makes for some amazing photos!
Before we get into how we got there, we do want to warn you and say that if you visit this cave, it's at your own risk. There are times that it is closed off due to wildlife or safety reasons, and we aren't recommending that you break the rules.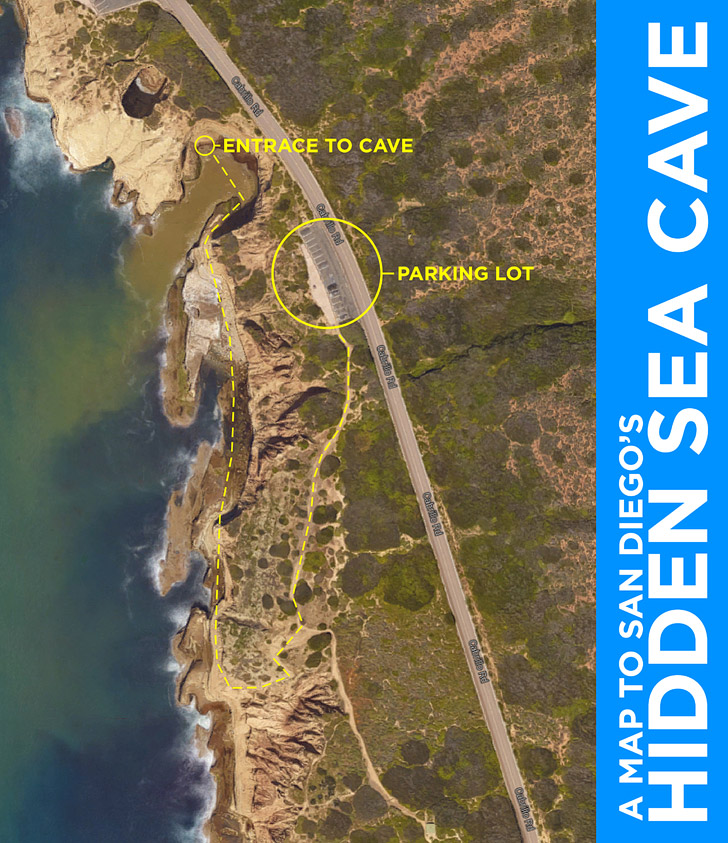 Pin
WATCH THE VLOG HERE:
Once you arrive at Cabrillo National Monument, follow the right fork that takes you down to the tide pools. Pass the first parking lot and pull into the second one that you see. If you look along the coast to your right, you'll see the top opening of the sinkhole. There will be a trailhead to the left of you (if you're facing the ocean) that backtracks the way you just drove in. Follow this until you see a set of stairs that takes you further down the cliffs.
Once you're down the cliffs, you're going to follow it back towards the parking lot. You will eventually find yourself in a large cove and a small opening into the cave.
More: 25 Free Things to Do in San Diego
Pin
Pin
This is where it gets really gross for me. I'm not sure how often the conditions are like this, but when we were there, the entire cove was covered in washed up and decaying seaweed. We couldn't even see the sand or rocks below, and it really stank. If you've ever seen washed up seaweed on the beach, then you'll know it's usually covered in bugs. Now multiply this by 1000, and you have my biggest nightmare.
Jacob went first and I eventually mustered up the courage to get across, and as we went across, the entire pile of seaweed and bugs rumbled as if it was one giant organism. I'm still grossed out thinking about it.
More: Best Instagram Spots in San Diego
Pin

Pin
There was an opening to the cave at the far end of the cove. After getting across, we crawled in and followed a narrow path to the opening. It was really cool to see the water coming in through a few openings while the sunlight came pouring in from above!
Pin
Pin

Pin

Pin

Pin

Pin

Pin
The view from the opening of the cave.
Pin

Pin
Can you see the top opening of the cave in the photo on the left?
Pin
Pin
Pin
We spent about 30 minutes at the cave taking photos and enjoying the secret spot we found, then started making our way back out before the tide came in. We even had enough time to go tidepooling before we left (post coming soon!)
More: How to Go Tide Pooling at Cabrillo National Monument
PRO TIPS FOR FINDING THE SECRET CAVE IN SAN DIEGO
Tide times change daily. You can use this calendar to get a rough idea of what it should be but call in the day of to double check the times.
Look for a 0.7 low tide or lower (negative tides are the best). When we went, it was a king tide (the highest and lowest tide) of -1.2. The tides are typically the lowest from October to April.
Once the water level hits to lowest tide it will start coming back in so you want to plan accordingly. Start hiking an hour before low tide to give yourself plenty of time.
If you're hoping to take photos, bring a wide angle lens and tripod. We shot everything with a 16-35 mm and a GorillaPod Focus.
It helps to have a drysac with you just in case you slip or get splashed on. We really love using this one for water activities.
Even at low tide you'll be getting wet. It helps to have water shoes. These are mine, and these are Jacob's.
Be careful to always watch your footing. A lot of the rocks are slippery even if they don't look it. Jacob took a bit of a tumble.
More: 101 Things to Do in San Diego California
Have you found a hidden cave before? What's the last "secret" spot you discovered that you were excited about?