Before you even pack, we wanted to talk about booking your trip. There is a restriction of the number of people allowed on the Inca trail every day, so they recommended booking at least 4 months in advance. Although we were flexible with our dates, we booked 4 months ahead and even then we saw that some of the dates were not available. We booked Info Cusco as our tour group and did the traditional Inca Trail hike for 4 days and 3 nights in early August. They were not the cheapest option or the most expensive, but overall we loved our experience. We also recently went to Patagonia with OneSeed and they now have the Classic Inca Trail hike.
WHAT TO PACK FOR MACHU PICCHU (what they recommended + additions of our own):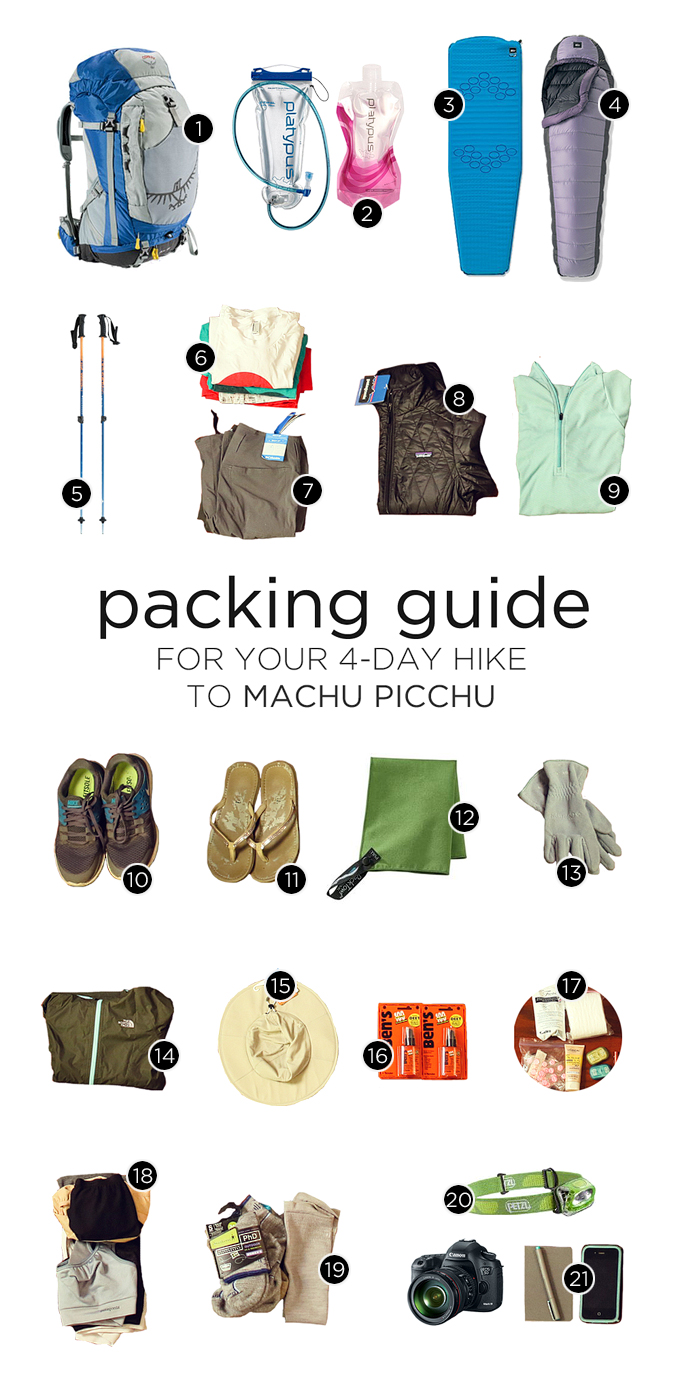 I updated the photo to look nicer and links below, but here's the old one. :)
What to Pack for Machu Picchu and Your 4-Day Inca Trail Hike:
Backpack: We tried out pretty much every pack they had at REI and ended up both liking Osprey. This is the updated version of my youth backpack (since I am petite and kids stuff is always cheaper. :) ) And the updated version of Jacob's Osprey backpack. We highly recommend you going to REI and trying them all on!
Water! We both bought a 3L platypus big zip and an extra 0.5L soft bottle to mix in Powerade drops. In our opinion, Platypus >> Camelbaks. They're easier to use and clean. On Day 2, there is a stop to buy water and from that point forward you need to be carrying enough water for the rest of the trip. They recommended 1 L per day (2L total for the last 2 days), but just to be safe I brought a half liter extra per day. I ended up drinking all of it, and it worked out fine. I probably could have had more water, but since your pack can get heavy, 3L was my happy medium.
Sleeping mat: Info Cusco has sleeping pads available, but we decided to bring our own since they pack much smaller and is lighter. We hired an additional porter, and we wanted to use the weight limit as best as possible. At the time we used REI Lite-Core 1.5 self-inflating sleeping pads, but these are the sleeping pads we currently use (they are even lighter and smaller! Don't you love how technology keeps advancing?).
Sleeping bag: REI Sub Kilo +15 sleeping bag. They say it sometimes goes below -10 degrees celsius, but it didn't during our trip in early August. *Update: This is no longer available, but what you are looking for is a warm bag that packs as small as possible and weighs under 2 pounds. See what REI bags are available here.
Walking poles: these babies saved our knees. I purchased the junior ones. Carbon fiber is pricier, but we figured that investing in something lightweight was better since we were already carrying so much weight on our backs.
Six quick dry t-shirts: One per day + two extra in case we got drenched in rain. These are my current fave quick dry tees. They're so versatile for hiking and day-to-day that I already have 3.
Two zip-off hiking pants: I got this Columbia one and a REI one. Personally, the Columbia one is a better fit. The REI one was too baggy, so next time I'd buy two from Columbia. Jacob brought two of these in the color blade.
A light, warm jacket: We absolutely love these nano puff jackets from Patagonia. We wear them all the time and take them on all our travels.
Layers! We brought Patagonia Capilene layers (2 each) in midweight and thermal weight and long underwear. It's good to have options since it fluctuates so much between hot and cold. The long underwear is especially great to sleep in at night as it gets very cold.
Hiking shoes: Jacob brought his old hiking shoes, and I didn't find any hiking shoes I liked at the time. I took a bit of a risk and brought my running shoes, but lucky for me, it didn't rain on our trip. We currently use Vasque Monoliths (his + hers).
Flip flops to give your feet a break during stops. These are the comfiest ones I've found.
Towel: We brought the lightweight fast drying Packtowl in M and L
Gloves: It gets really cold in the mornings and at night. Preferably ones that have grip for morning hiking. And waterproof if you get rained on.
Rain Jacket: We have these stretch rainshadow jackets (feels nicer on the inside than the vinyl) When we got to Peru, we were told that we also need long ponchos (when it rains, it pours), so we bought them for 5 soles (approx 2 USD) at Day 1's breakfast stop. Again, it didn't rain, so we didn't end up using either. *Update: Ended up exchanging our North Face for Patagonia's Torrentshells.
Lightweight hat to keep the sun off your face
Bug spray: We used these. They recommended 2 bottles per person. We only used a total of one bottle between the two of us, but the amount of bugs probably differs for everyone depending on the season & weather. Recently we've switched to these sticks which feel and smell better but is only 30% DEET.
Toiletries. Toilet paper (one roll per person), Toothpaste, Toothbrush, Sunblock, Chapstick with SPF, Travel soaps & shampoo (they work but don't lather like other soaps. I use 2-3 sheets sometimes), lots of wipes, and medicine (for headaches, altitude sickness medicine, Imodium, & pepsid ac). It happened to be that time of the month for me, so I had to pack my feminine products & midol as well. Also this! It might seem weird, but trust me.
Undergarments: The exofficio ones are awesome! Jacob got the men's boxer briefs. They stay really dry during the hike. I know their package says "17 countries, 6 weeks, One pair of underwear." We brought one for every day. *shrug* If anyone has tried the 6 weeks in one pair of underwear, please tell us how it is!
Socks: We wore these compression socks during the night to reduce muscle soreness.
Flash light: Headlamps are much better than the handheld ones. If you're a slow hiker, it's possible that you may end up hiking in the dark, and you will need your hands on your walking poles.
Camera / Phone / Journal: to record all the beauty you'll encounter. We carried a 5D mark II and 24-105mm f/4 lens.
Earplugs (not shown): If you're a light sleeper and you have snorers in your group, you're going to need these.
Now, as you can see below, I take my snacks very seriously… it ended up weighing over 10 pounds. If you're an avid hiker, then you probably know this is a big mistake. The energy blasts & the bars were the most useful on our trip. We even had some extra to share with our guide and porter. If I had a do-over, I would have tossed were the haribo gummy bears. As much as I love them, they were so so SO ridiculously heavy. I felt like an idiot.
MORE TIPS FOR YOUR 4-DAY HIKE:
An extra porter costs $120 and they carry 14 kg (30.86 lbs) for you. Jacob carried his stuff on his back (13.6 kg / 30 lbs), but I shared a porter with another person. The porter carried my sleeping bag, mat, and the extra clothes and toiletries that I did not need on me during the day. I was carrying 9.1 kg (20 lbs) which included my 7 lb camera & lens.
Bring cash to pay the remainder of your balance in Cusco. We paid the deposit online with a credit card, but they did not take credit card for the remaining balance.
Have 100 USD extra cash on you during the trip for water, showers, and tips. It's recommended that each person tips 40 USD for the porters and the cook. You also tip the guide separately on the last day.
If you are worried about altitude sickness, get a prescription for acetazolamide. You can also buy it at the pharmacies over the counter in Peru. In Peru, they will give you coca leaves for altitude sickness, but if you're taking a drug test at your job anytime soon, steer clear since cocaine is made from coca leaves.
Don't forget to bring chapstick with SPF! I can't stress it enough. Jacob got a severe sunburn on his lips that blistered and were extremely painful.
There is a "warm" shower available on the first night for 5 soles. Shower at your own risk. It's still pretty cold and the night is cold. The other two nights, it's freezing cold water. I showered or at least washed my hair in the sink, but if you don't need to to fall asleep, I wouldn't. The last day after you see Machu Picchu, there's a warm shower at the restaurant you will eat lunch in.
When you get to Machu Picchu they will sell water, but everything is really expensive (ie. 4-5 USD on a regular bottle of water. no such thing as tap ppl!
Once at Machu Picchu there is a place to check in your bags. This was included in our tour price.
The airport to the main square in Cusco (and most places you would be staying) should only cost about 8-10 soles. Of course, we didn't know this and paid 30-40 when we first arrived.
Don't bring as many snacks as me! (Realization after the trip) Only bring what you are sure you will consume. Also, gummy bears are way too heavy. Go lighter!
Update: Check out this new bottle we discovered – you can click the links on the video to buy it directly from Amazon.
Now enjoy your hike!! Book your trip HERE.
If you blog about your hike, please feel free to leave a link your post in the comments section. We would love to see them!
Anything else I missed on our Machu Picchu packing list that you would like to add?
Updated: October 27, 2019