Have you been to any NYC pop ups lately? Well, now's your chance.
New York City is a city of pop ups. We've been to a few pop ups and there while living in other cities, but here you can visit a new pop up every week.
We love that they create a sense of urgency to check them out, and it almost parallels the fact that we set up shop in a city for a year. It's like our home office is a pop up too!
A big thank you to CORT for sponsoring this post. All opinions are always our own. This post may contain affiliate links, where we receive a small commission on sales of the products that are linked at no additional cost to you. Read our full disclosure for more info. Thank you for supporting the brands that make Local Adventurer possible.
Last updated: September 14, 2019.  First Published: April 30, 2018
Your Essential Guide to NYC Pop Ups
In the Order of When They Leave NYC
---
So before we get into the pop up shops here, let's talk about what a pop up is in the first place. Essentially, it is a business that opens for a limited time with a clear start and end date.
They come in many different forms, but most of them are exclusive or special in some way. The goal is never to be permanent, and sometimes they are only around for a month or a year before moving to another city (sounds like us right?).
Technically homegrown pop ups are everywhere and are as simple as someone putting up an umbrella and selling products in a busy area.
They are also your Halloween stores, Christmas shops, and firework stands. But as their popularity has increased, much more extravagant pop ups are being used by companies for marketing purposes. Most of the time, they are aimed to be very Instagram friendly for marketing.
Because we're always popping up in a new city, we've partnered with CORT during our time in NYC. It helps us worry less about our space so that we can focus on exploring the city! Plus, we think they helped us make our place looks really good.
Pop Up Shops – Temporary stores. We see a lot of these, especially during the holidays.
Pop Up Restaurants – Some are run by chefs who are trying something experimental while others are more traditional restaurants with plans only to stay open for a few months. Also you can check out this blog post CORT did about the Popularity of Pop-Up Restaurants.
Pop Up Art Installations – They can be more traditional art installations, but often times now, they are also meant to create photo opportunities for Instagram. We also included some art exhibitions in this category.
Pop Up Events – These cover the rest, and they can come in the form of an impromptu listening party to release a new album to a temporary themed bar. These are typically meant to create hype around an upcoming event, release, or product.
When: September 7 to October 6, 2019 
Admission: $25
Relive some of the iconic FRIENDS moments with set recreations, photos ops, and more. Tickets are sold out, but our local friends said that you can wait in a standby line (the earlier, the better). Plus, there's an entrance on 503 Broadway where you can buy coffee and muffins with no tickets.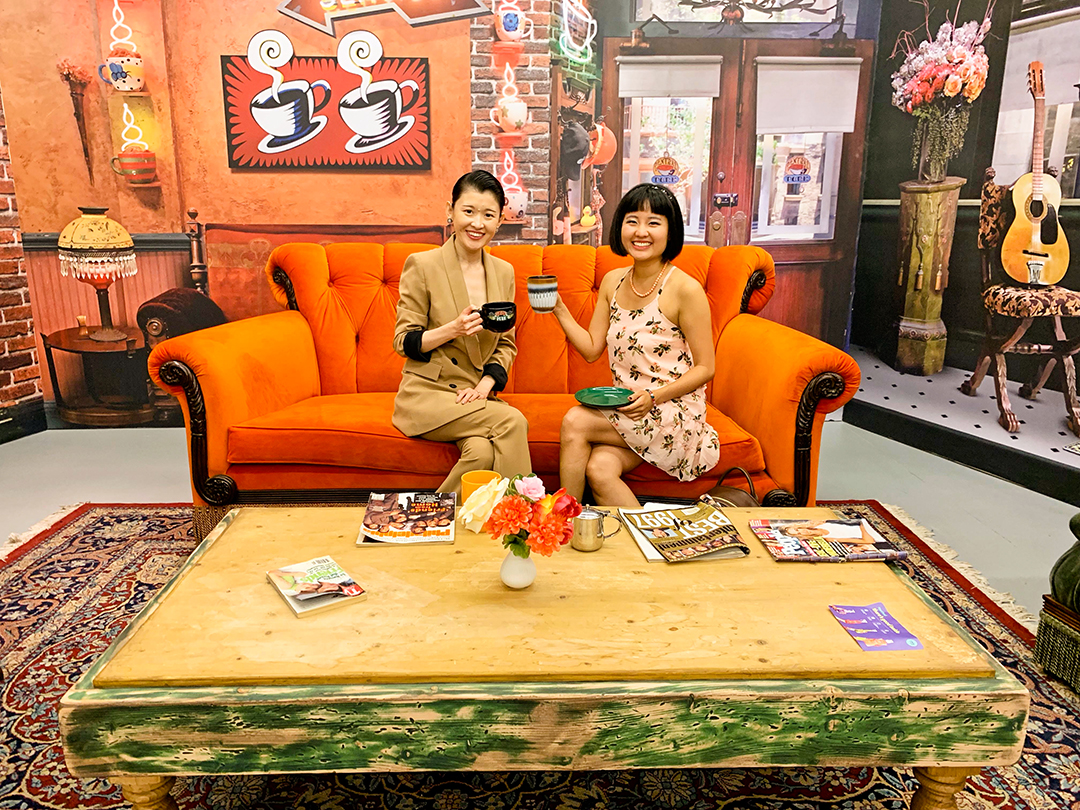 When: 08/20/18 – 11/26/19. Thurs to Tues 10AM – 11PM
Admission: $38
Unlike most pop ups, Color Factory spent more time on the experience rather than setting up little studio spaces to take instagram photos. Several rooms had a snack or dessert that complemented the room.
You don't even need to ask people to take your photo. They have cameras set up in some of the more popular photos spots, and you get photos emailed to you immediately.
When: November 1-3, 2019, Fri-Sat 10am-7pm Sun 10am-4pm
Admission: FREE
A one-time opportunity to buy handcrafted Afghan rugs directly from the Artisans themselves. Choose from more than 800 beautiful hand-knotted rugs and carpets in a range of colors, patterns and sizes. Meet actual Afghan rug weavers and learn about this timeless craft.
When: June 1, 2019 – November 3, 2019
Admission: $45 (Happy Hour $35 2-4:30PM Mon-Fri)
Recommended Time: Weekdays
This pop up is all about Rosé, and you can walk through themed rooms, great photo ops, while sampling 8 or more wines. The popular area is the bathtub and if you go during daylight, it has decent natural lighting. Afterward, head to the Grand Tasting Lounge where you can buy an additional glass or bottle of wine as well as snacks.
Everyone must be 21 years old to enter.
Note: These photos were from last year's pop up.
When: 07/20 – 09/30/19
Admission: Free with RSVP
An immersive theatre experience that bridges art and retail. You will be invited to participate in SHOWFIELDS' magic realism by touching, smelling, eating, and testing all products and artwork onsite. Book your FREE tour now to experience the future of retail!
Jump for Joy: Bouncy Castle of Breasts
When: Ongoing
Admission: $3.50 in addition to museum admission
A bouncy castle made up of giant inflatable breasts makes for fun photos and video (adults only). We weren't that impressed with the museum itself and opted not to pay the additional $3.50 for the photo, but plenty of people were taking advantage of it. The photo they promote uses studio lights, so you won't get the same look.
When: Through 10/31/19
Admission: $36 (for Arcadia Earth will plant one tree and make a donation to Oceanic Global)
A large scale multi-sensorial journey through underwater worlds, fantasy lands, and inspirational art installations. Powered by augmented reality, virtual reality, projection mapping, and interactive environments, you, the explorer, will learn how small lifestyle changes will have a massive impact on the future of our planet.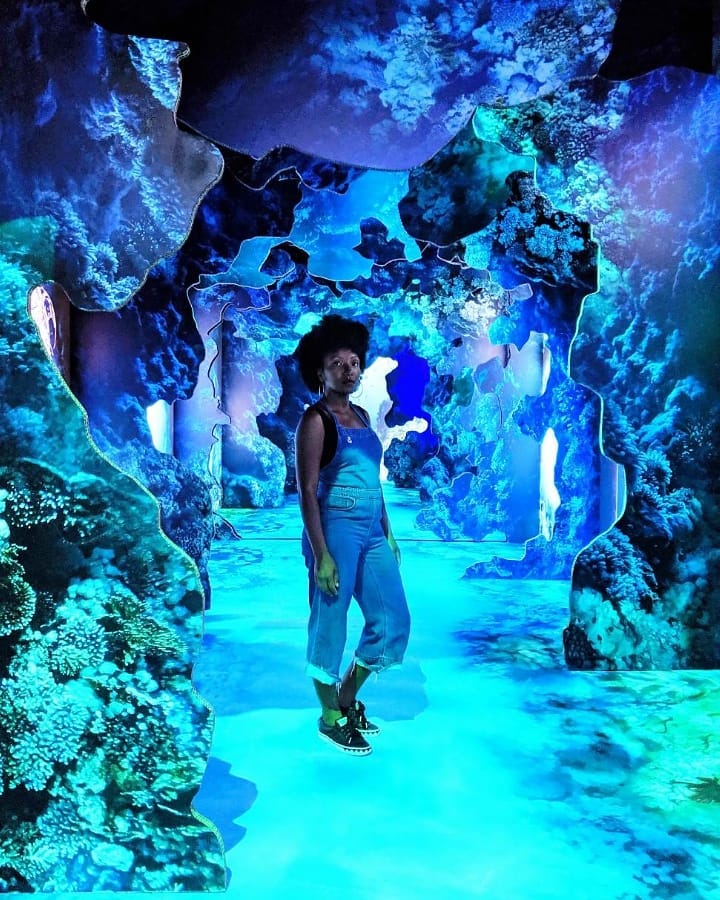 When: 08/16 – 11/08/19
Admission: $38
A Pop-Futuristic art exhibition & playground designed by artist Tianyu Qiu in Soho New York City in 2019. This immersive art experience inspired by the aesthetic of gaming, pop cultural imageries and visual languages and pixel, which is the smallest element representing the digital world, serves as a bridge between digital and real world and guides visitors through 10 interactive installations.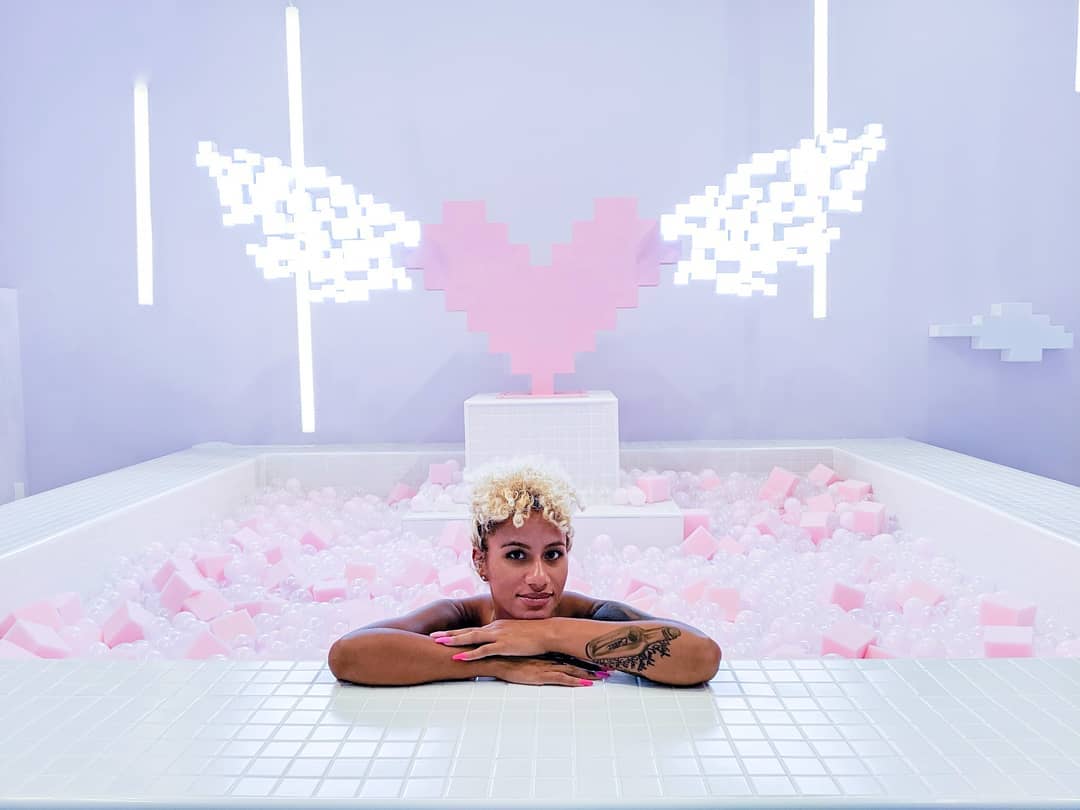 When: Through 09/11/2020
Admission: FREE
Gelareh Mizrahi has transformed the Iconic Magazine bodega for New York Fashion Week. and will stay around until 2020.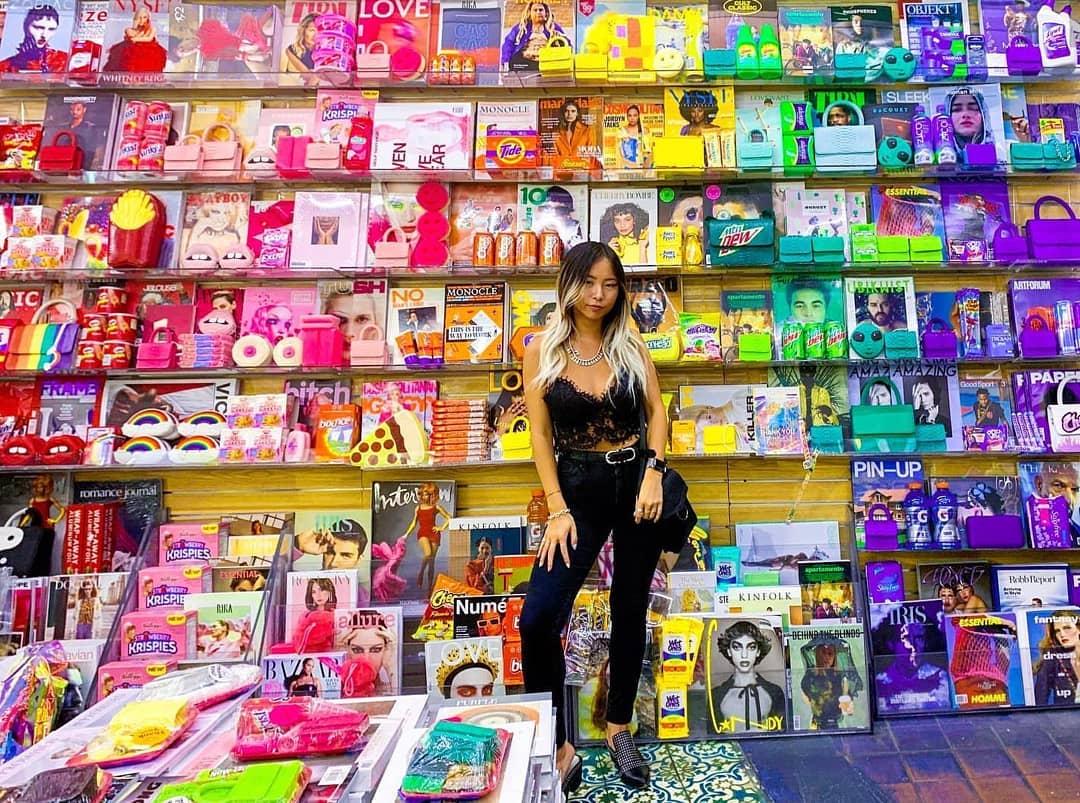 When: 09/12 – 10/12/19
Admission: FREE
The show puts together 20 pieces, including paintings, works on papers and installations. The title is inspired by the unique creative energy that connects the four artists, able to forge, through different visions and techniques, an oneiric reality that misleads our visual realm.
It aims to exhibit the exclusive artistic approach of these four internationally known and trendsetting talents that are bringing new vitality into a specific technical and aesthetical idea, through the use of patterns, optical illusions, decontextualized images and ambiguous imaginaries that lead toward the creation of a new dimension.
The strong familiarity of this with actual reality will destabilize the viewer, throwing him in a confused state of deja vu'. Solid bold lines, illusive interiors, surrealistic figures, hypnotic arrangements, thick brushstrokes, subconscious revelations and visual puzzling, will channel their energy into a clean and dreamy form that affects the whole environment, able to immerse the spectator into a dreamlike atmosphere.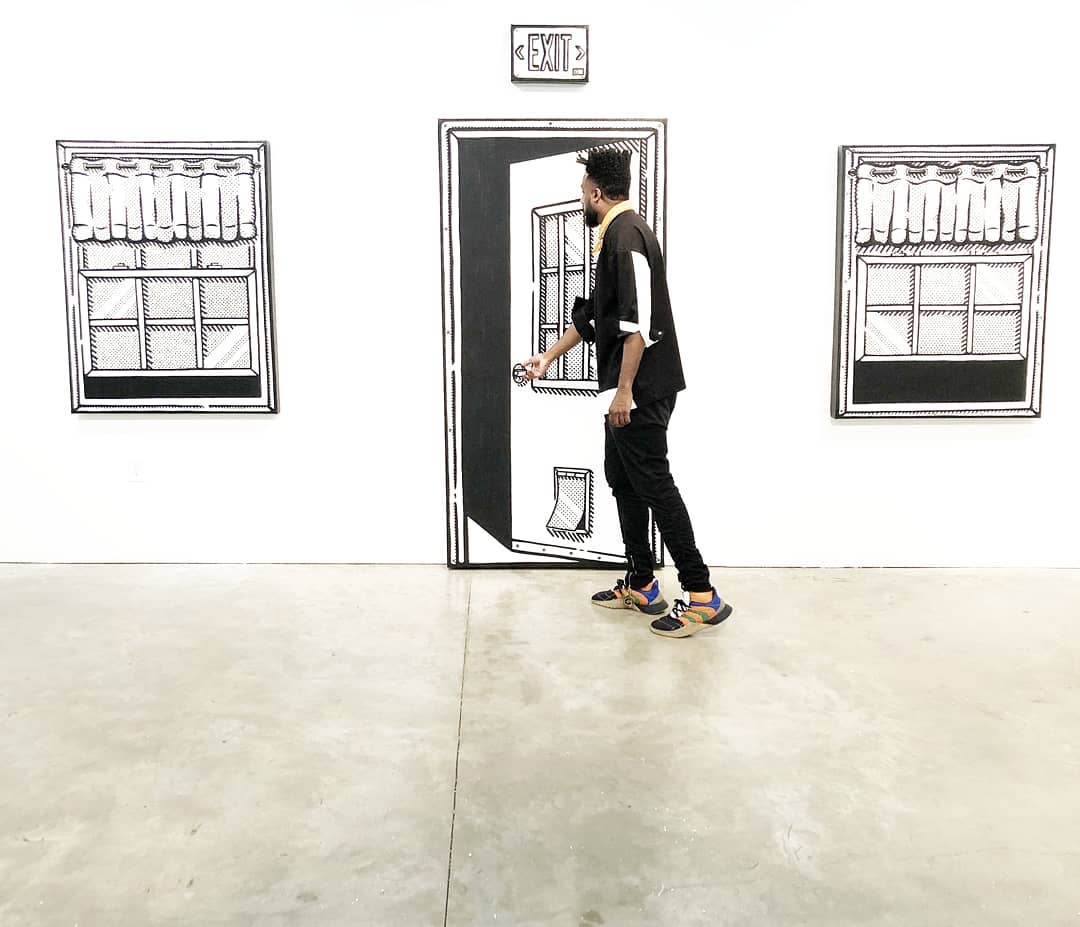 When: 09/04 – 10/11/19
Admission: FREE
A site-specific, immersive installation by Sharon Louden and Hrag Vartanian, a two-person collaboration between interlocutors who have long been in dialogue.
Aluminum, screws, bouncing balls, crystal balls, bungee cords, acrylic paint, volleyballs, monofilament line, temporary tattoos, drones, text, writing, more text, and performance: Origins, a cacophony of media and material rendering an experiential, colorful, reflective environment of line and play.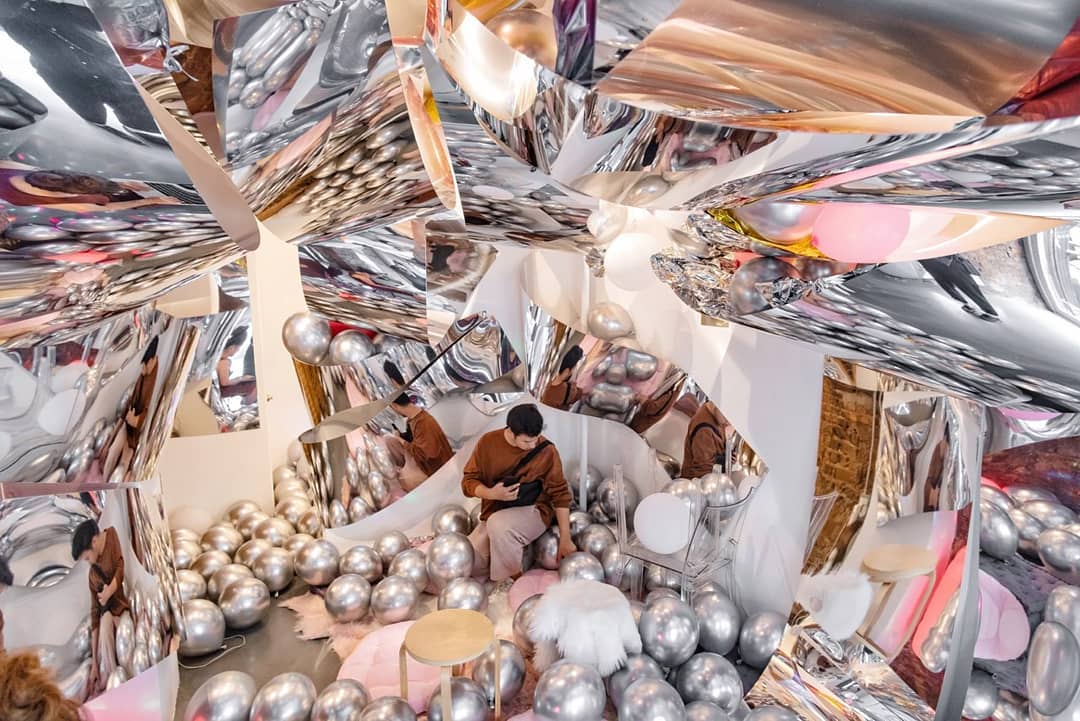 Mickey the True Original Exhibition
When: 11/08/18 – 02/10/19
Admission: $38, buy tickets here
Celebrate 90 years of Micky Mouse through multiple themed rooms in the 16,000 square-foot space. There is both, historic and contemporary work from well-known artists.
When: 01/03 – 02/03/19
Admission: FREE
"Creates a walk-in immersive painting installation in oil on panel. With over 2104 square feet of painting, he allows viewers to walk into a scene from the video game Grand Theft Auto."
When: 01/05 – 02/02/19
Admission: FREE
"This immersive experience and installation exists as a call to ReMembrance, Meditation and Rebirth. A sacred space and time designed with elements to provoke ancestral memory, awaken spirit and lock arms with community towards greater SELF discovery, reflection and evolution."
Sculpture by Other Means at the Noguchi Museum
When: 02/28/18 – 01/27/19
Tickets: $10
Experience ways that lightweight, collapsible paper lanterns can create and transform space.
When: 08/15 – 01/06/2019
Admission: $34, get tickets here
Candytopia celebrates all things candy! Maybe we should let the families have this one, since there were tons of kids (at least the time slot we went to – the first one in the morning). They all ran straight for the confetti and marshmallow pit, and at one point there was a kid crawling over me with no parents in sight.
Needless to say, it was extremely difficult to get any photos. Luckily, when it was time for everyone to get out of the pit, we asked if we could have an extra minute for a photo, which the lackluster employees did not seem happy about. Gotta do what you gotta do for the gram (or in my case, the blog).
The Egg House, Raquel's Dream House, Grown Up Flowers by Playlab, Nightmare Machine, Pint Shop by Museum of Ice Cream, Room for Tea, Museum of Pizza, Dream Machine, Wonder World, Sugar & Spice
Festival of Life by Yayoi Kusama
We had to wait in a crazy line in the cold. I can't remember how long we had in each room, but we were grouped in with some other folks, so we had a hard time taking photos in the infinity room.
Bob's Burgers Pop Up
We're both obsessed with Bob's Burgers, so when we heard about a Bob's Burger Pop Up, we were willing to wait hours in line to try the burger of the day. They served a different burger from the show every day for a week, and it also included some goodies, which was a nice surprise.
Google Pop Up
This is probably still our favorite pop up. Google had photo opportunities set up and a truck outside where you could print your face on a marshmallow and then drink it. They had stations to learn more about products and a shopable section for Google Home products.
General Tips for Visiting Pop Ups
Best time to visit is weekdays during the day and right before it opens. Some of the more popular pop ups have a long wait.
If shooting with a DSLR, don't use auto white balance for many of these places especially if you're in a room with a lot of unnatural colors (ie yellows at Egg House and blues at Dream Machine). We recommend using Kelvin and finding the right setting for your camera.
Bring a versatile lens and a wide angle if you want to include more of the environment in the shot. A lot of these rooms are small, so the wide angle helps a lot. We couldn't take certain shots with our DSLR (Canon 5D Mark III + 35mm Lens), because it wasn't wide enough so we just used our phones.
How To Find the Latest NYC Pop Up Events?
This one is tough! Most of them make announcements relatively last minute, so these are some ways to stay up-to-date.
Bookmark this page since we'll be updating this post as often as possible with new events.
Set up Google Alerts to see what's popping up in the news. If you're not familiar with this, go to the Google Alerts page and enter "pop up new york, nyc pop up" into the Create an Alert section. You can then select how often you want to receive emails (as it happens, daily, or weekly). I do daily.
Follow Instagram accounts that are constantly featuring pop ups and events. You can follow our accounts (EstherJulee & JacobTheFu). We post stories from pop ups immediately. Also, you absolutely need to follow our friend at FOMOFEED who does a ton of research to hunt down all the best instagram spots in NYC.
With so many pop ups in the city, we're going to do our best to feature all our favorites on this blog post, but if you know of any pop ups you think we should check out, send us a message at [email protected]
Best Places to Stay in NYC
Have you visited any of these pop up shops? Do you have something similar in your hometown?
"Discovery consists not of seeking new lands but in seeing with new eyes" – M. Proust
All articles loaded
No more articles to load