Looking for fun date nights at home? Check out these date night subscription boxes!
At the beginning of every year, we talk about planning intentional date nights throughout the year, but we often forget to do the planning part. This also means we miss out on the dating.
Luckily, this year we've found all the different date night subscription boxes, which is a really easy option to fall back since they do the planning for you. It's the perfect time to check them out especially if you're quarantining.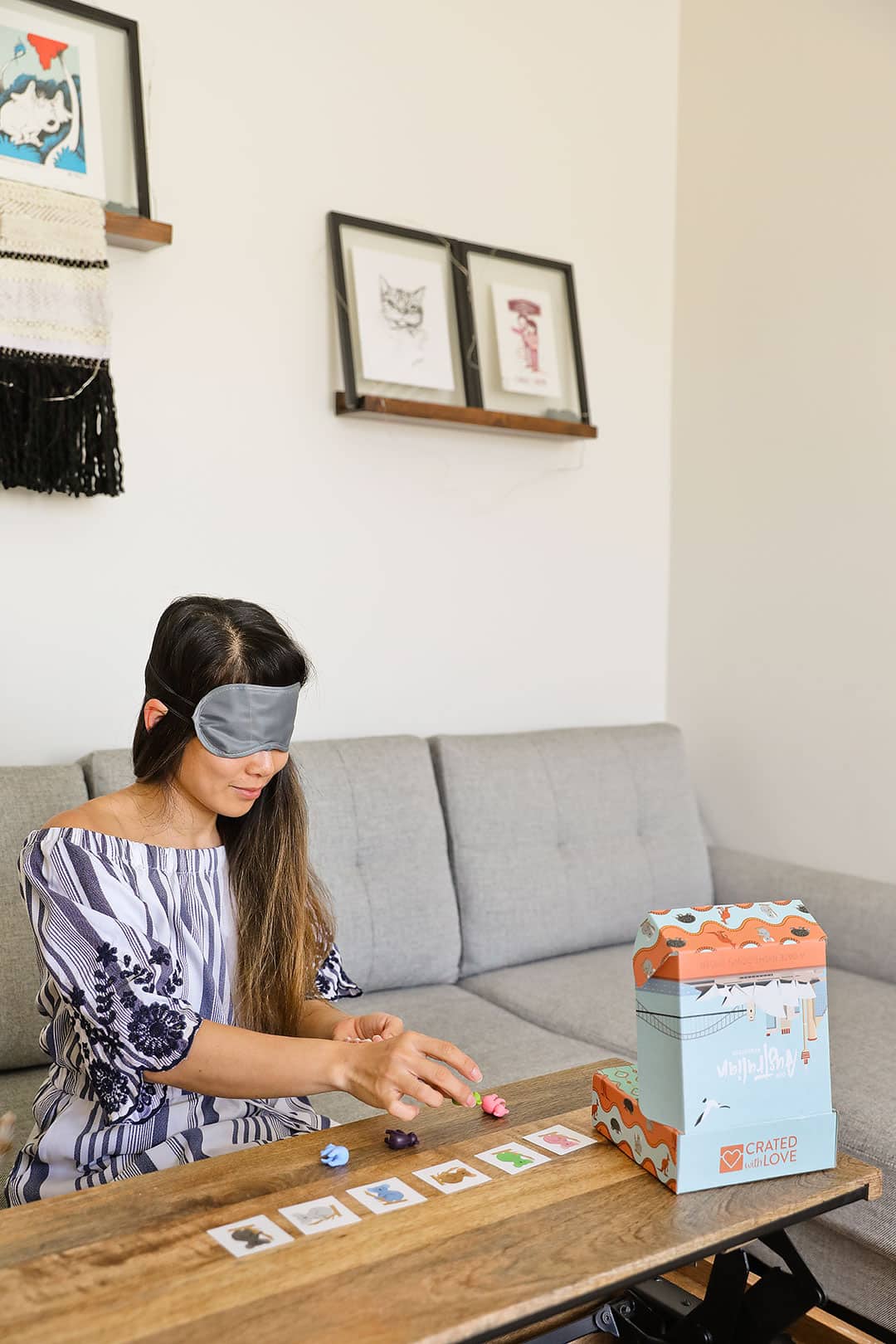 This post may contain affiliate links, where we receive a small commission on sales of the products that are linked at no additional cost to you. All opinions are always our own. Read our full disclosure for more info. Thank you for supporting the brands that make Local Adventurer possible.
Last Updated: September 4, 2023
Date Night Subscription Boxes
In the past few years, we've done Alphabet Dates and 52 different date nights, but both became overwhelming by the end of the year. I mean, they're great ways to mix things up, but in the process, we forgot that the focus of dating should be more about spending quality time together than the specific activity (just like you shouldn't spend all your time planning the perfect wedding and neglect the marriage amirite?).
This year, to help us have stress-free date nights, we decided to check out all the date night subscription boxes out there.
Below you'll see the cost range of each subscription, which depends on how many months you order.
What is a Date Night Box?
A date night box is basically a planned date in a box that gets delivered to your door. Each box has curated items and most of them have some sort of theme.
5 Fun Date Night Subscription Boxes for your Next Stress Free Date
Cost: $32.99 – $39.99 ($20 off your first box with our link)
What We Love: When it comes to the best-designed boxes, we loved Happily's Datebox the most. Sorry, we do judge by the cover and we loved the font and clean design. What makes Happily stand out from the others is that you fill out a questionnaire, so they can learn more about you and send you date night tailored to you.
Our box required a little bit of preparation. When we opened it, it gave us a list of some items we needed to gather or pick up before the date. What's nice is that you're able to do that without ruining the surprise of the activity.
Even though Esther isn't as much of a game person as I am, we liked that they were more critical thinking type games where we had to work together. Ours also involved making cinnamon rolls. Yum! You can always win us over with sweets
What's Included: This is what was included in the box that we experienced.
Custom Date Playlist
Conversation Starters
3 Games
Online Quiz
One Baking Recipe and Ingredients
Pro Tip: Be sure to open the box before your date to see if there are any extra items you need to pick up beforehand.
See More: Alphabet Dating Ideas – Creative Date Night Ideas from A-Z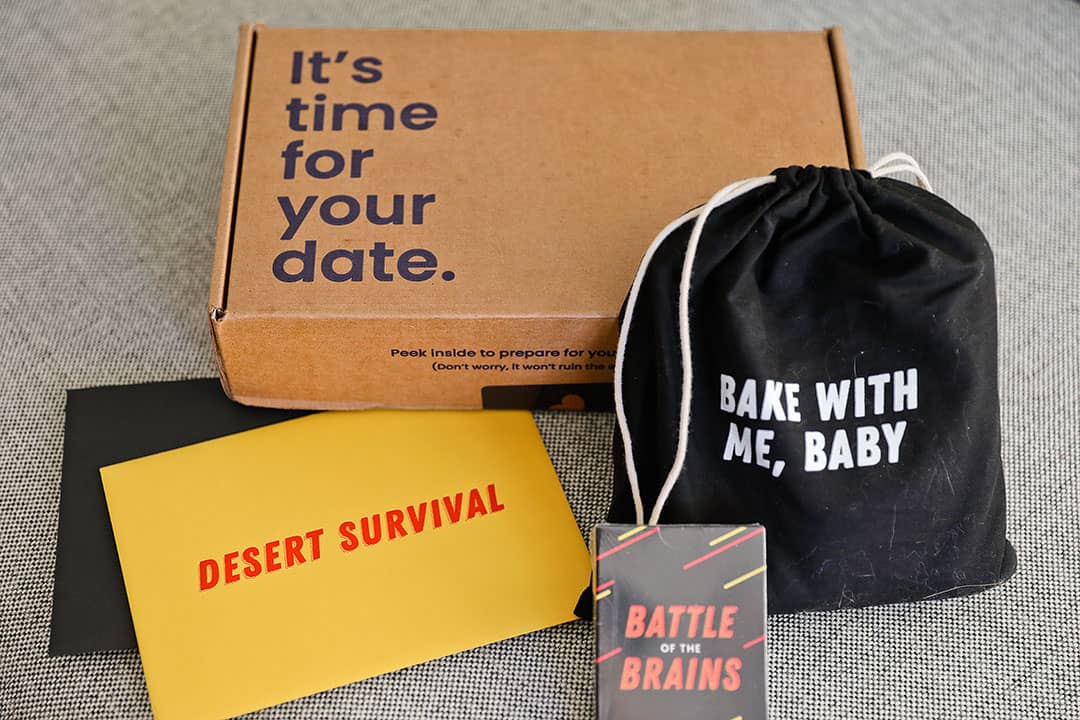 Cost: $19.99 – $31.99
What We Love: We did two of their boxes: the Aussie Adventure and Retro Game Show. As travel lovers, we gravitated towards the Aussie Adventure.
We especially loved quizzing each other on Aussie lingo. Plus they give you some challenges to do throughout the week.
Their designs are really cute and well done too!
What's Included:
Instructions / Guide Book
Four Activities / Games
Collectible Badge
A Follow-Up Activity (ours was a poppy plant that we ended up gifting to a friend since they're poisonous to our pets)
Pro Tip: The games also can be played with two couples if you want to have a double-date night. It's always good if you can get multiple uses out of it.
See More: 15 Best Travel Subscription Boxes for Travel Lovers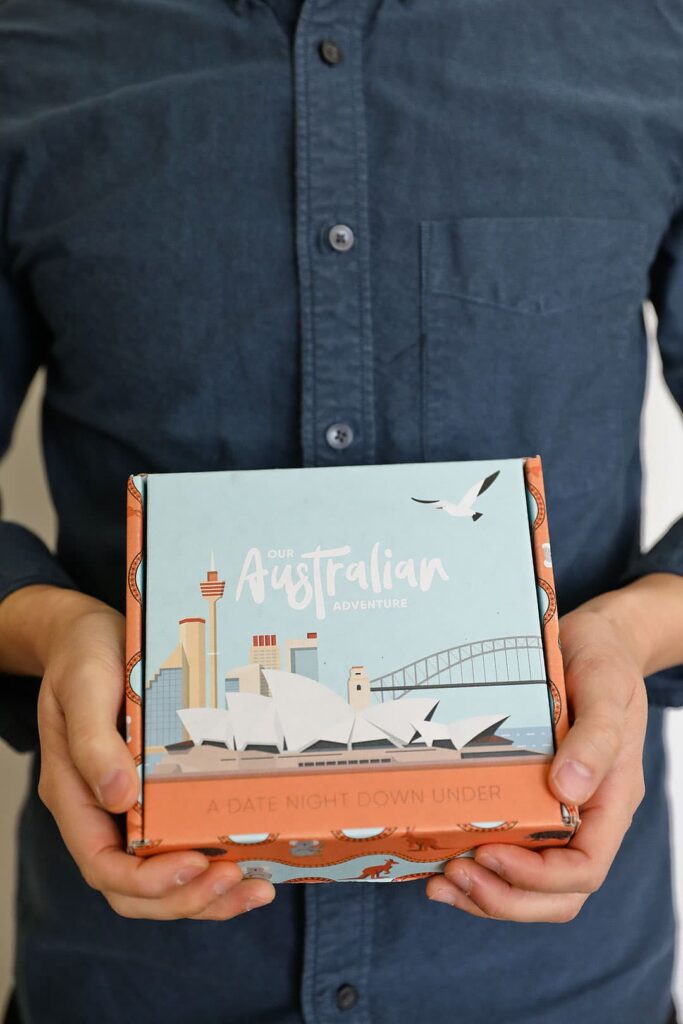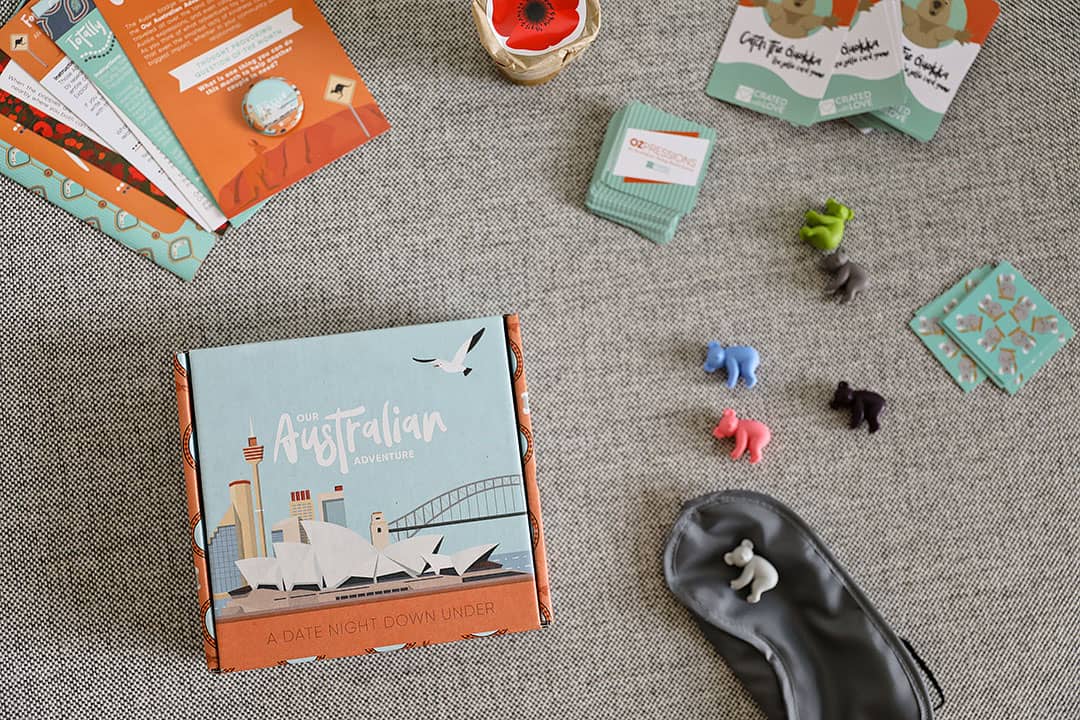 Cost: $32.95 – $39.95
What We Love: Our box came with a Truth or Dare Topple Tower as our game. It was cool to see their own branded products. Plus, it's a game we can play again in the future as a party game with others.
What's Included: It will depend on the theme of your box (i.e. game night, travel, DIY) but it includes everything for a date night. Ours included:
Guide to The Date Night
Custom Spotify Playlist
Game (Truth or Dare Topple Tower / Jenga)
Candle to Set the Mood (Berry scent)
Crown Holder for a Prize / Bet
Snacks (Jelly Belly Camo Beans
See More: Top Subscription Boxes You'll Want to Try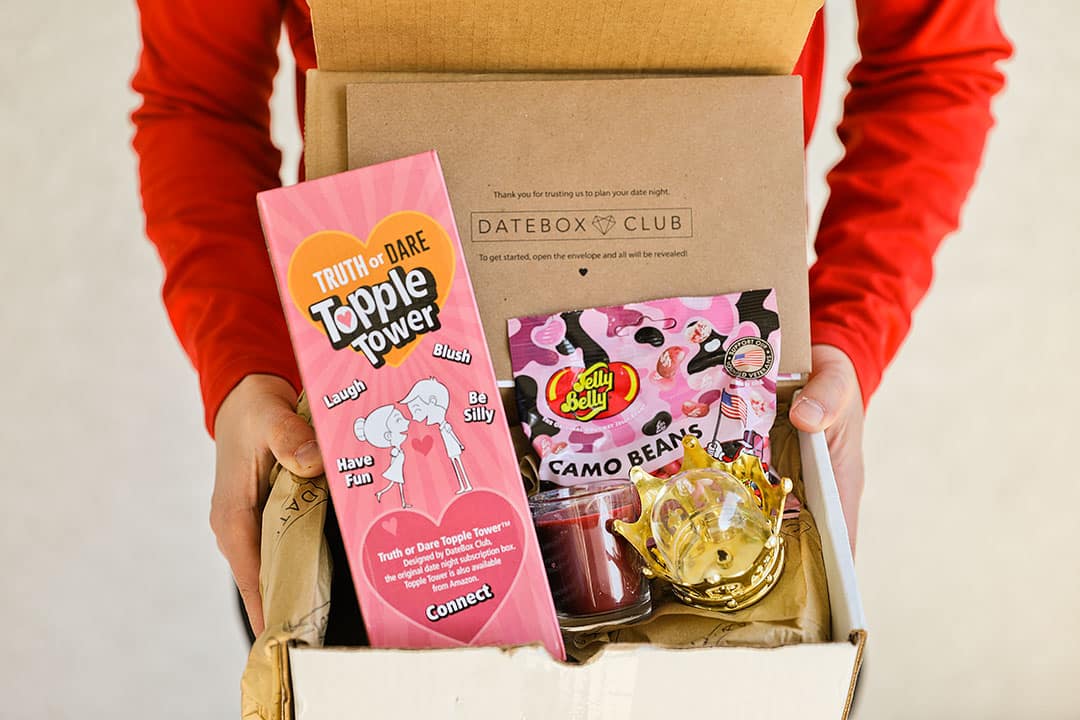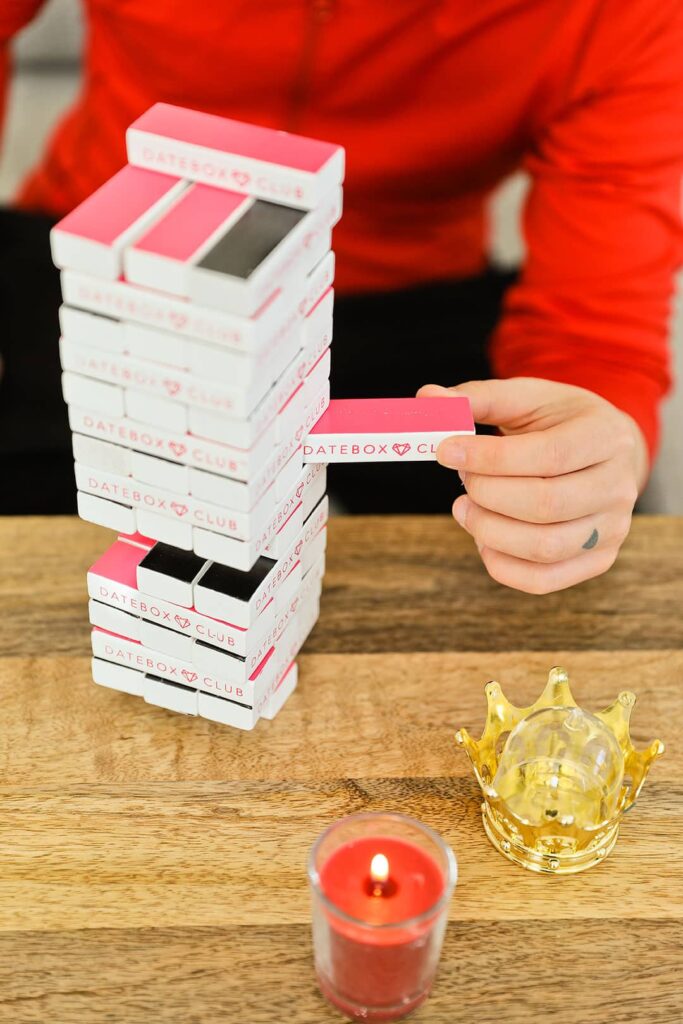 Cost: $39
What We Love: This was our first box where we had a DIY activity, and we loved being able to create something together.
The game that was included in ours was Dirty Words, which will be fun for groups too.
What We Didn't Love: The branding and packaging could use some work, but if you only care about what's in the box
What Was in Our Box:
Game
Snacks and Drink Mixes
Notecards
DIY Supplies (this one was for DIY fridge magnets)
See More: 15 Most Beautiful Travel Puzzles to Inspire Your Next Trip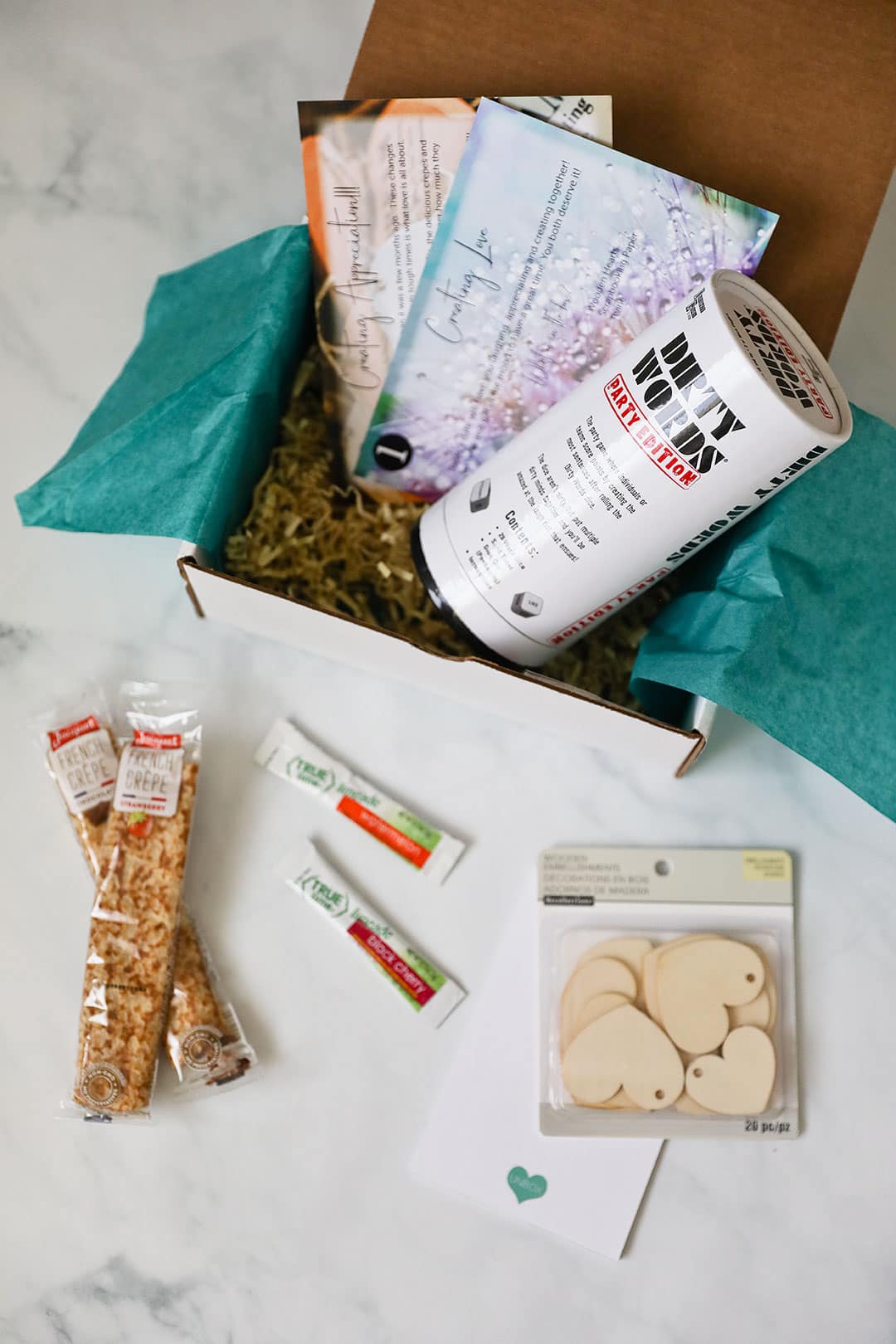 Cost: $69.99
What We Love: This box is unique because it's totally u to you to make it your own (it's more of a one-time box than a subscription box). Following the instructions, you customize the scavenger hunt and puzzles to make it one-of-a-kind for your relationships.
What's Included:
Clues, puzzles, and tools to help you create the scavenger hunt
Step-by-step instructions
Rose petals and LED candles to set a romantic scene
Magical ink that disappears
A lockable treasure box to find the final prize
A customizable 'scratch and win' lotto card
Pro Tip: Make sure to find time to set everything up without your partner knowing about it!
See More: 17 Best Romantic Getaways in USA You'll Want to Take This Year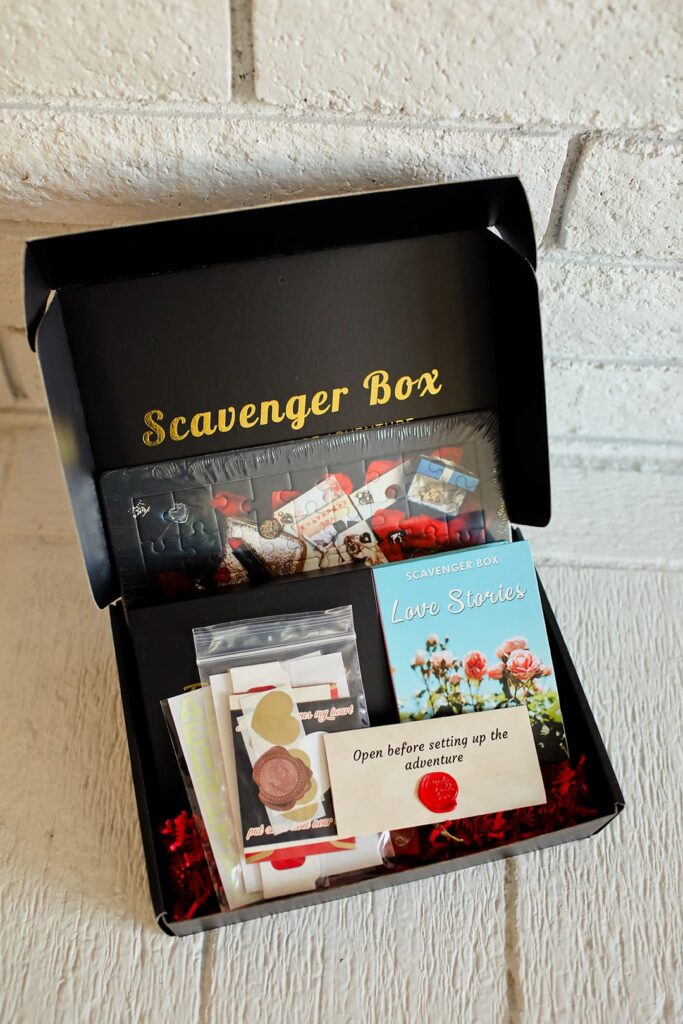 Other Subscription Boxes You Can Use for Date Night
Shaker & Spoon – For couples who love cocktails, it comes with 3 recipes and everything you need to make them (except the alcohol).
Nomadik – For outdoor lovers. Get gear and use it as a theme to spend time outside. Use code LOCALADVENTURER10 for 10% off.
Essential Tips for Planning a Great Date Night
This might seem elementary, but it's something we have to keep reminding ourselves.
Set aside the time to do the activites
Turn off your phones or put them away. You're trying to spend intentional and quality time together.
Make sure it's an activity you will both enjoy. Having fun together is a great way to bond. If you don't have much in common, and you're the one planning the date night, you can also be nice and try doing an activity your partner likes.
Are there any date night subscription boxes we missed? We'd love to check them all out!
Did you enjoy this post? Pin it for later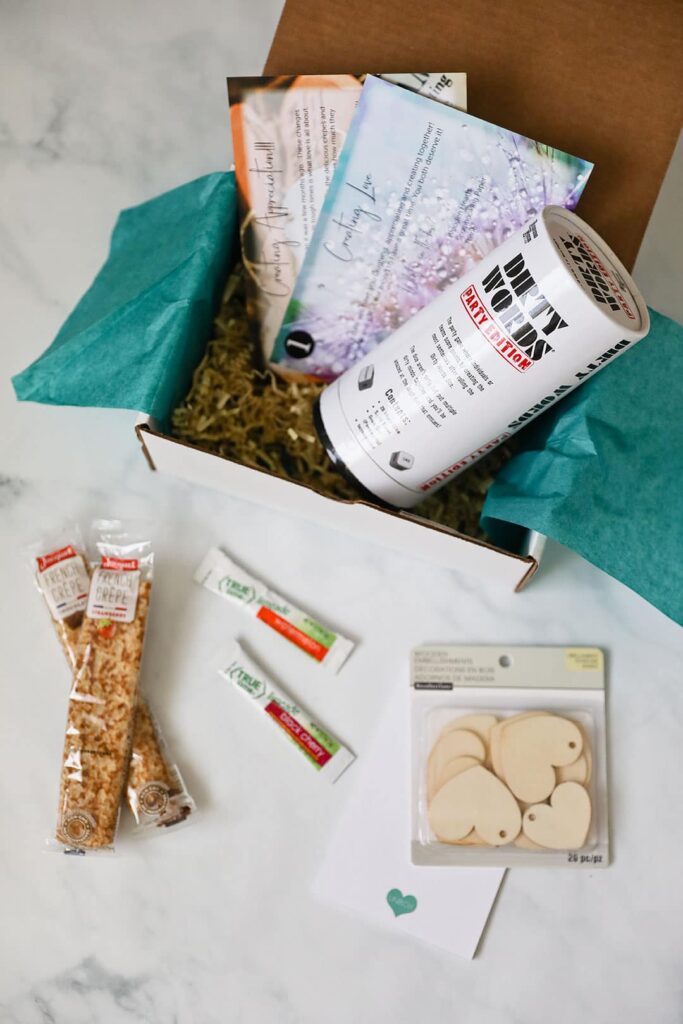 SEE MORE GIFT GUIDES FOR
⟡⟡⟡⟡⟡
"Discovery consists not of seeking new lands but in seeing with new eyes" – M. Proust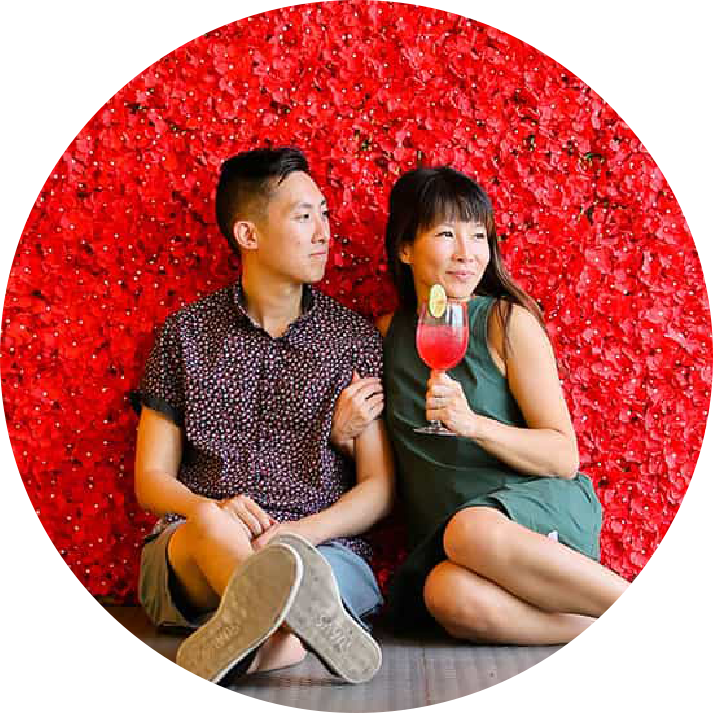 Esther + Jacob
Esther and Jacob are the founders of Local Adventurer, one of the top 5 travel blogs in the US. They believe that adventure can be found near and far and hope to inspire others to explore locally. They explore a new city in depth every year and currently base themselves in Las Vegas.
Follow on Instagram (E + J), YouTube, TikTok, and Pinterest.