One of the best ways to see, hear, smell, touch, taste, and experience local culture is through their marketplaces. Recently, we've made it more of a practice to visit markets whenever we travel. They're great places to find local goods, yummy foods, and people watch.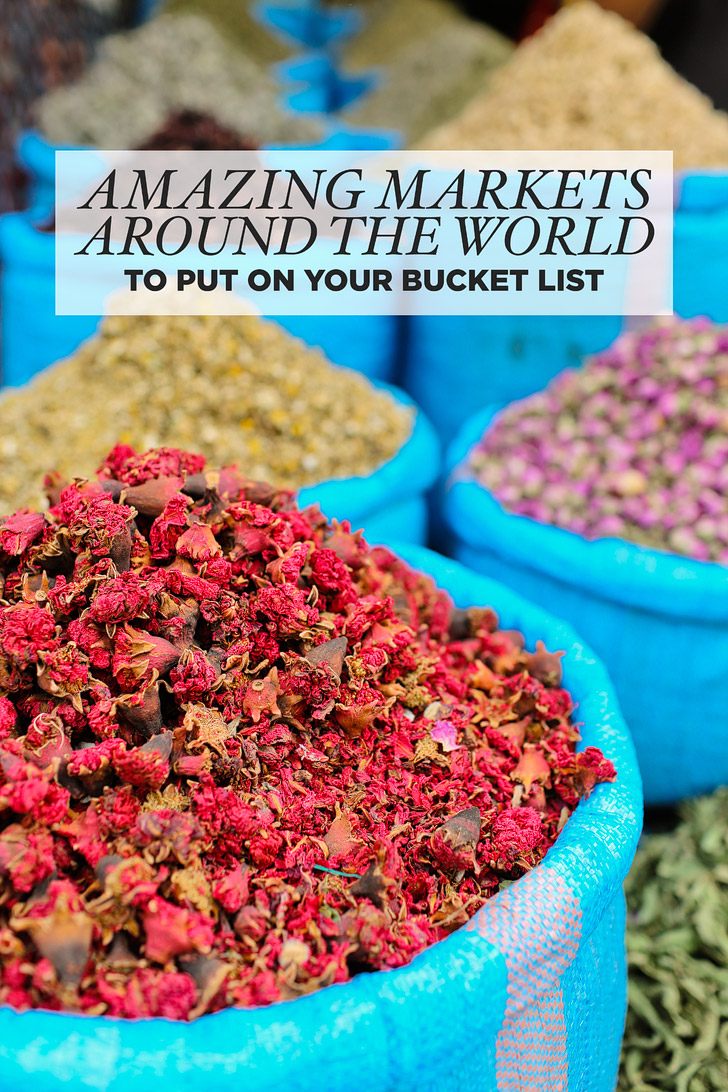 This post may contain affiliate links, where we receive a small commission on sales of the products that are linked at no additional cost to you. All opinions are always our own. Read our full disclosure for more info. Thank you for supporting the brands that make Local Adventurer possible.
Last Updated: September 14, 2021
25 Best Markets in the World to put on Your Bucket List
Get up really early if you want to catch the Tsukiji Fish Market in Tokyo. You'll see huge fish laid out on ice and the hustle and bustle of locals trying to get the freshest catch. Although you probably won't be buying anything, there are places where you can get the best and freshest sushi in the city. Unfortunately taking photos here is frowned upon. Many people fake taking photos of themselves just to get photos of fish.
Pro Tip: Wondering where to go to eat the best seafood in Tsukiji market? Let locals help you navigate through their favorites stalls and restaurants in the market on the MagicalTrip's Tsukiji Fish Market tour.
This is another market that is worth the visit just for the architecture alone. In addition to the roughly 4000 shops selling anything you can think of, there are also two mosques, four fountains, and two hammams within the bazaar.
This is one of the most popular outdoor food markets in Paris, where you can fresh produce, organic products, and delicious cheese and fish.
Delhi is home to many well-known markets, but the most popular street market is Chandni Chowk. It has been around for centuries, and you can buy anything here, from custom clothes to exotic food.
Pike Place Market is a staple in Seattle. Fresh produce, beautiful flowers, fresh fish, and art can be found in the stalls here. You can even pull up a seat and have some of the best seafood around.
This is Taipei's largest night market and is best known as a large food court! Get some fried buns, sip on bubble tea, and in case you're not hungry, there are still plenty of non-food related shops.
This is another market for the food lovers out there. In addition to all the food you can buy and eat, there is also a culinary school that is located in the market.
Over 200,000 people visit the Chatuchak Weekend Market on any given day and an estimated 15,000 stalls. They have live animals, antiques, clothes, food, and more.
Set amidst the Rialto Bridge, shoppers can find tons of fresh produce and seafood at this market. The highlight of this market is that you'll even find produce available on gondolas, giving it a floating market feel!
This may not sound like an exotic marketplace, but it still holds its own. You can find just about anything fresh at this market, including fruits, vegetables, meat, and seafood. In case you're looking for other things to do in PDX, here's our bucket list of 101 things to do.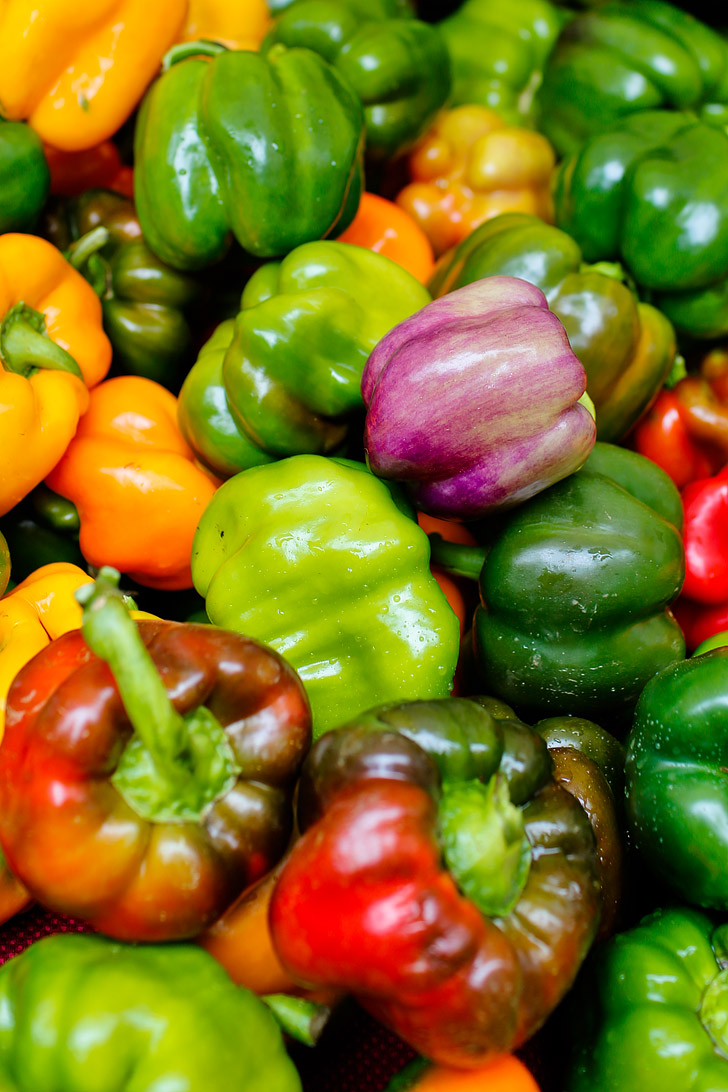 You can find produce, handcrafts, antiques, and more at this market. They even have art and cultural exhibitions in case you're not in the shopping mood.
This is a beautiful market with seasonal products and roughly 1,000 stalls. While you're perusing all the stalls, be sure to take some time to take in all the stained glass and mosaics.
Find fresh fish, local produce, and stall after stall of meats at this iron-and-glass market. If you're looking for non-food items, the Monastriki Flea Market is closeby and is home to books, pirated videos, and antiques.
I was intrigued and taking tons of photos of hanging meat and cow heads (never seen that before), and this butcher wanted a photo with me. Maybe one day he'll see his photo up on here! :)
15. Queen Victoria Market
This is the largest open-air market in the Southern Hemisphere. Shop, grab a coffee, or just chat with the locals and tourists.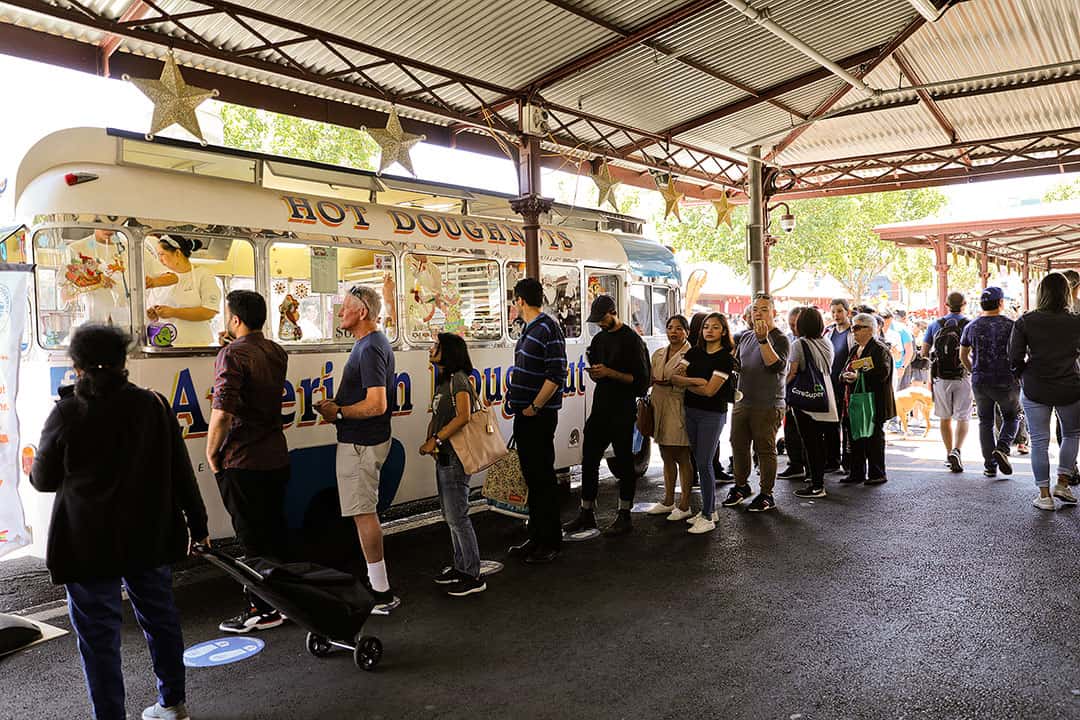 The Yashow Market is home to multiple floors of clothes, electronics, tailors, toys, and more! Be sure you know how to haggle before shopping here otherwise you'll be grossly overpaying. You can also check out Beijing's Silk Market which is similar but more modernized.
Go furniture shopping, pick up some clothes, or just hang out at this major tourist attraction. In addition to being a marketplace, they host special events like concerts and art shows. Even one of our favorite bands, Foo Fighters, has performed here. For the foodies, check out Borough Market.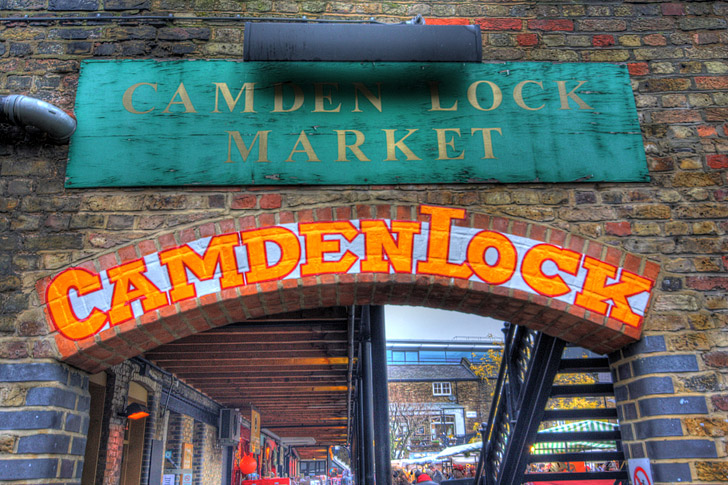 This food market is the perfect place for tapas and a glass of wine. You can pick up Spanish gourmets and mingle with the locals.
Shop for clothes, art, local gifts, and more at one of the most popular markets in Hong Kong. If you're not looking for anything in particular, there are plenty of cafes and restaurants where you can enjoy a meal and people watch. While you're in Hong Kong, be sure to check out the Temple Street night market as well!
This market combines the availability of fresh produce, seafood, and meat with an outlet. You can get last season's shoes at discounted prices, vintage clothes, and even designer household items.
Dubai has many different souks / markets, but the most popular are the Gold Souq and the Spice Souq. You can haggle for cheap gold, and the government keeps tight control over the quality so you know that everything is genuine.
Shop for island spices, breadfruit, tropical fruits, and more at this orange-roofed building. If you're not looking for produce, it's still a great place to get hot and fresh food.
Visit the Ver-o-Peso docks to see this chaotic market. If you want to watch the fisherman unload their catches, visit early in the morning. Otherwise, swing by the market building to find fresh produce and seafood coming straight from the Amazon.
This is a massive market that is broken up into two sections: one for livestock and the other for everything else. You can buy horses, furniture, clothes, bicycles, and more, and makes for an amazing place to people watch.
Over 900 shops offer perfume, jewelry, glassware, and more at this market. You can even watch some of the artists create their beautiful pieces right in front of you. I actually went shopping here a few days before the bombings in 2009. 
Map of the Best Markets in the World
Be sure to check hours before visiting. 
Since markets are a blend of locals and tourists, it's a common place for pickpockets to target unsuspecting visitors. Just use common sense.
Every market will be different, but it's always good to have cash. Every market we've visited, there were always at least a few vendors who were cash only.
Learn to bargain! Again, this won't be true at every market, but for the most part, you should be able to bargain to some extent.
How many of these have you been to? When you travel, do you try to visit a market? Are there any other (non-seasonal) markets we need to check out?
Did you enjoy this post? Pin it for later
SEE MORE CITY BUCKET LISTS
"Discovery consists not of seeking new lands but in seeing with new eyes" – M. Proust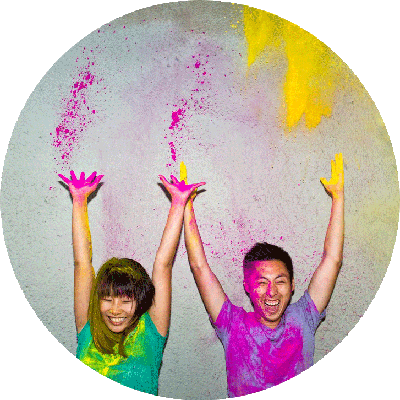 Esther and Jacob are the founders of Local Adventurer, which is one of the top 5 travel blogs in the US. They believe that adventure can be found both near and far and hope to inspire others to explore locally. They explore a new city in depth every year and currently base themselves in Las Vegas.