Since Jacob is the big Walking Dead fan, and I've only watched half an episode peeking through my fingers, he's going to share about our Walking Dead Tour in Atlanta.
In early August, we had a chance to tour Walking Dead Filming sites with The AV Club and the Fiesta Movement. We've never done any of these tours before, and this was a unique experience since it was a private tour while they were filming.
We started off by seeing the bridge from season 1 when Rick enters Atlanta for the first time. It's also the same building where Merle was abandoned on the roof. The building was pretty much exactly the same as seen in the show.
Also, check out our Stranger Things Filming Locations Guide.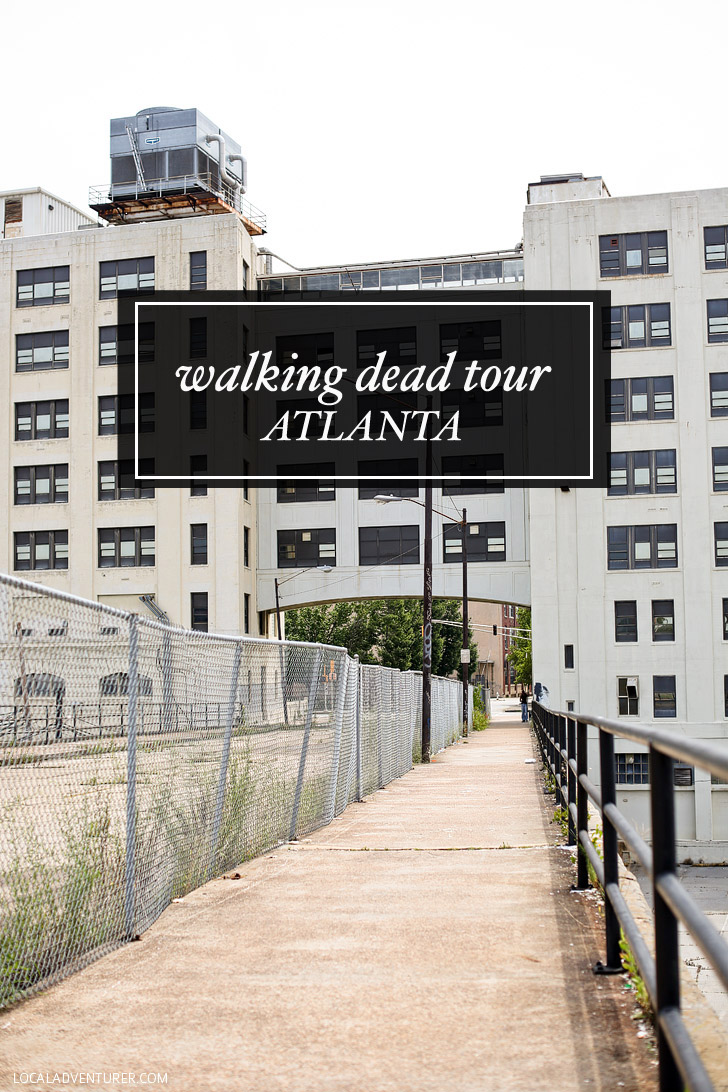 Pin

Pin

Pin
Afterwards, we headed over to the hospital where Rick woke up for the first time. It's such an eerie feeling walking around and seeing the sites. We kept thinking walkers would stroll around the corner at any time. A fun fact we learned is that in one of the body bags, there was a Bruce Willis dummy.
Pin
Esther had some fun editing the photos to make it a little more Walking Dead-esque.
Pin

Pin

Pin

Pin

Pin
Next we visited the "CDC," which is actually the Cobb Energy Performing Arts center where Esther and I had watched the Moulin Rouge ballet. I assume they didn't shoot at the real CDC, because it's not allowed.
Pin

Pin
We ended day one by heading downtown to check out where the tank was filmed.
Pin

Pin
The next morning, we drove to Senoia, GA, or better known as Woodbury in the show. It's wild to stroll around and see the town as it really is. As we visited shops, we quickly found out that Senoia had a great relationship with the cast and crew. Everyone really loved the show, and it didn't hinder their businesses. Apparently while they are shooting, stores still stay open and people just enter through the back. We also found some interesting items at the Woodbury souvenir shop.
Pin
Pin

Pin

Pin

Pin

Pin
Raleigh Studios Atlanta (RSA), which is just a couple of miles away, is home to the show while filming. It is also the location of the prison set. We didn't get a chance to visit since it was a closed set. We did get a chance to speak with Scott Tigchelaar, President of RSA and hear about how filming has affected Senoia. Josh and I will made an appearance on The A.V. Club's Pop Pilgrims where they show more footage of our trip, so check it out!
You can see other Atlanta related posts here.
Who's excited about the upcoming season?
Which season has been your favorite?