Since Jacob is the big Walking Dead fan, and I've only watched half an episode peeking through my fingers, he's going to share about our Walking Dead Tour in Atlanta.
The Walking Dead is coming back from its mid-season break next week. Anyone else as excited as I am? I've been following the show since day 1 and love the fact that it's shot in our hometown of Atlanta. I remember watching Season 1 and pointing at different scenes saying "HEY! I know where that is!"
SPOILER ALERT: If you're not caught up on the show, you may not want to read through the guide yet.
This post may contain affiliate links, where we receive a small commission on sales of the products that are linked at no additional cost to you. All opinions are always our own. Read our full disclosure for more info. Thank you for supporting the brands that make Local Adventurer possible.
Last Updated: September 1, 2021
11 BEST WALKING DEAD LOCATIONS (SELF-GUIDED WALKING DEAD TOUR
Last year, we had the chance to go on a tour to visit a few of the shooting locations with Atlanta Movie Tours (unfortunately they shut down during the pandemic), but for those of you who may want to go at your own pace, here's our road trip guide to the best Walking Dead Locations.
Note: Most of these spots are from the first few seasons. As the show progressed, they shot more in studios and closed off areas that the public can't access. If you know of any spots that we're missing, let us know!
First Appeared: Season 1, Episode 1 "Days Gone By"
What better way to start off your tour than at the place where Rick wakes up from a coma and realizes that something is a bit off. At this spot you get a view of the courtyard that he exits out to, which was full of bodies, and you can see the parking lot that had abandoned helicopters and military vehicles.
The location is actually not a hospital at all, but the admin offices of the Atlanta Mission, a local non-profit that serves the homeless.
2. CDC (The Centers for Disease Control & Prevention)
First Appeared: Season 1, Episode 5 "Wildfire"
In hopes to find answers to all their questions, the group finds its way to the CDC where they meet Dr. Edwin Jenner, the last remaining employee. Unfortunately things don't work out and they escape just before the building self-destructs.
Although the real CDC is located in Atlanta, the location they used to shoot this is the Cobb Energy Performing Arts Center. We've been here to watch the Moulin Rouge ballet a while back! The exterior is the Cobb Arts Center but the interiors of "CDC" were mostly shot at the Georgia World Congress Center.
First Appeared: Season 1, Episode 2 "Guts"
The quarry and campsite nearby is where a different group of survivors had made their homes, but when it was overrun by walkers, it led to a confrontation where Amy's sister is killed and Rick is reunited with Lori and Carl. You may also recognize it from Stranger Things.
This location is a 100 yr-old granite quarry that is being converted into a 300-acre park and reservoir. You can get a glimpse of it from above, but if you want to hike down to the bottom you'll need to check out an Atlanta Beltline bus tour.
First Appeared: Season 1, Episode 1 "Days Gone By"
Rick narrowly escapes a zombie horde inside of an abandoned tank at this intersection and eventually escapes with Glenn's help (YEA, GLENN!).
You could easily miss this spot as a shoot location if you're not looking carefully. They have some amazing aerial shots and having dressed the intersection to be more… zombified, they did a great job creating the Walking Dead world here.
First Appeared: Season 1, Episode 1 "Days Gone By"
In the show, Rick heads to Atlanta in search for Lori and Carl and after running out of options, decides to enter on horseback.
The address is actually to our friends over at Atlanta Movie Tours, who do an amazing guided tour of The Walking Dead sites! Just down the street from their offices you'll see the bridge where Rick entered. The roof of this building is also where Merle's hand (or lack there of) scene took place.
First Appeared: Season 1, Episode 1 "Days Gone By"
After waking up from his coma, this is Rick's first stop in hopes to find his family and answers.
In the show, this house was located in a rural town but in actuality, it's in the heart of Atlanta across Grant Park and The Atlanta Zoo.
First Appeared: Season 3, Episode 3 "Walk With Me"
So much happens in the small town of Woodbury. Andrea and Michonne are brought here after being captured by Merle, Maggie and Glenn are tortured, and we learn how creepy the Governer is.
The actual town is Senoia and they still run even during filming. There is an amazing gift shop in town, a gun store in case you want to prepare for the actual zombie apocalypse, and quick chat with any of the townsfolk and you'll get to hear some amazing stories!
8. Hershel's Farm & The Prison
First Appeared: Season 2, Episode 2 "Bloodletting" and Season 2, Episode 3 "Seed"
Both of these iconic locations are home to a huge part of the story in Season 2. Both become temporary homes for the group and new characters are introduced at each location.
Unfortunately it's pretty difficult to actually get a glimpse of either. Hershel's Farm is just outside the town of Senoia on an unmarked road. The prison, as opposed to random internet rumors claiming it was filmed at an actual prison, is actually located at Raleigh Studios Atlanta. And because they want to keep everything under wraps, access is prohibited. We had a chance to chat with Scott Tigchelaar, President of RSA, while we visited Woodbury and got to hear how filming has affected Senoia and the surrounding area.
First Appeared: Season 3, Episode 13 "Arrow on the Doorpost"
This is the location of Rick and the Governors meeting in hopes to ease tensions and there's a lot going on outside with Andrea, Daryl, and Martinez.
The interior was actually shot around the corner but all of the exteriors were shot here at the old ESCO Feed Mill.
First Appeared: Season 2, Episode 13 "Beside the Dying Fire"
After leaving the overrun farm, the group makes camp by this waterfall and Rick gives an epic speech to end the season.
Shot at Elders Mill Road Waterfall and Campsite, you can check out the stone remnants of the old grist mills for $10. Otherwise you get a glimpse of it from the road.
First Appeared: Season 2, Episode 4 "Cherokee Rose
Steve's Pharmacy is where Glenn and Maggie get it on while on a run for medical supplies (YEA, GLENN AGAIN)! The Carriage Bar is where Hershel goes for a drink after Shane destroys all the walkers in his barn.
Both of these locations are located in the small town of Sharpsburg. The pharmacy was actually an unused storefront during production and the bar is the Old Sharpsburg Auction Building.
The Official Walking Dead Tour (Permanently Closed)
We had a chance to tour Walking Dead Filming sites with The AV Club and the Fiesta Movement. We've never done any of these tours before, and this was a unique experience since it was a private tour while they were filming.
We started off by seeing the bridge from season 1 when Rick enters Atlanta for the first time. It's also the same building where Merle was abandoned on the roof. The building was pretty much exactly the same as seen in the show.
Esther had some fun editing the photos to make it a little more Walking Dead-esque.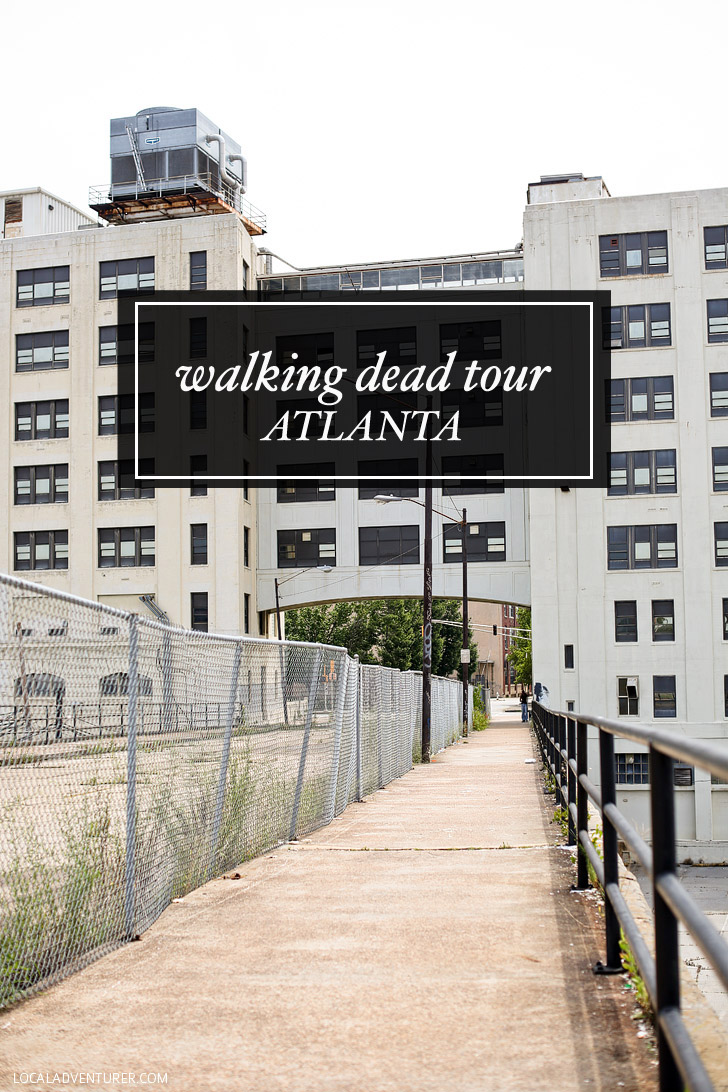 Afterwards, we headed over to the hospital where Rick woke up for the first time. It's such an eerie feeling walking around and seeing the sites. We kept thinking walkers would stroll around the corner at any time. A fun fact we learned is that in one of the body bags, there was a Bruce Willis dummy.
Next we visited the "CDC," which is actually the Cobb Energy Performing Arts center where Esther and I had watched the Moulin Rouge ballet. I assume they didn't shoot at the real CDC, because it's not allowed.
We ended day one by heading downtown to check out where the tank was filmed.
The next morning, we drove to Senoia, GA, or better known as Woodbury in the show. It's wild to stroll around and see the town as it really is. As we visited shops, we quickly found out that Senoia had a great relationship with the cast and crew. Everyone really loved the show, and it didn't hinder their businesses. Apparently while they are shooting, stores still stay open and people just enter through the back. We also found some interesting items at the Woodbury souvenir shop.
Raleigh Studios Atlanta (RSA), which is just a couple of miles away, is home to the show while filming. It is also the location of the prison set. We didn't get a chance to visit since it was a closed set. We did get a chance to speak with Scott Tigchelaar, President of RSA, and hear about how filming has affected Senoia. Josh and I will make an appearance on The A.V. Club's Pop Pilgrims where they show more footage of our trip, so check it out!
WALKING DEAD LOCATIONS MAP
If you're renting a car and plan on doing the whole tour, get something fuel-efficient to save money since you'll be covering some long distances.
Be respectful if you visit any of these spots. Especially the ones that are private.
It's hot and humid during the summer in Atlanta so keep hydrated.
Atlanta traffic is bad so try to avoid peak hours (6-8 AM and 4-7:30 PM).
Don't forget to load up on road trip snacks!
Are you all caught up on The Walking Dead? What TV or movie filming location would you like to visit someday?
Did you enjoy this post? Pin it for later
SEE MORE CITY BUCKET LISTS
"Discovery consists not of seeking new lands but in seeing with new eyes" – M. Proust
Esther and Jacob are the founders of Local Adventurer, which is one of the top 5 travel blogs in the US. They believe that adventure can be found both near and far and hope to inspire others to explore locally. They explore a new city in depth every year and currently base themselves in Las Vegas.