During our recent trip to NYC, we were excited to not only finally see a Broadway on Broadway but also a brand new show that is still in its previews!
School of Rock the Musical is based on the 2003 movie starring Jack Black. It translates perfectly, if not better, into the musical format. The cast does a beautiful job of capturing the essence of the movie while having its own voice. With music by Andrew Lloyd Webber (think Cats, Phantom of the Opera, and so many other iconic musicals), they take the existing story focused on Dewey Finn, and round it out by delving into the stories of the children and their parents.
Pin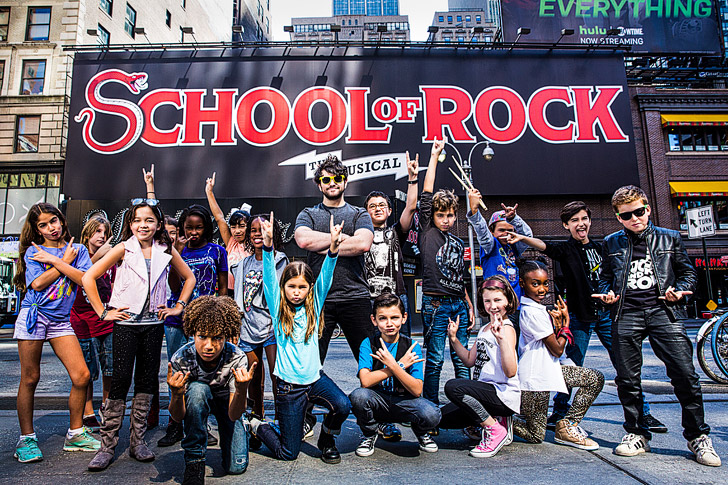 Pin
When both of us had originally watched the movie, we remembered feeling like it was a bit of a stretch for these kids to form a band and write their own music, but after seeing the cast of the musical perform, we couldn't be more wrong.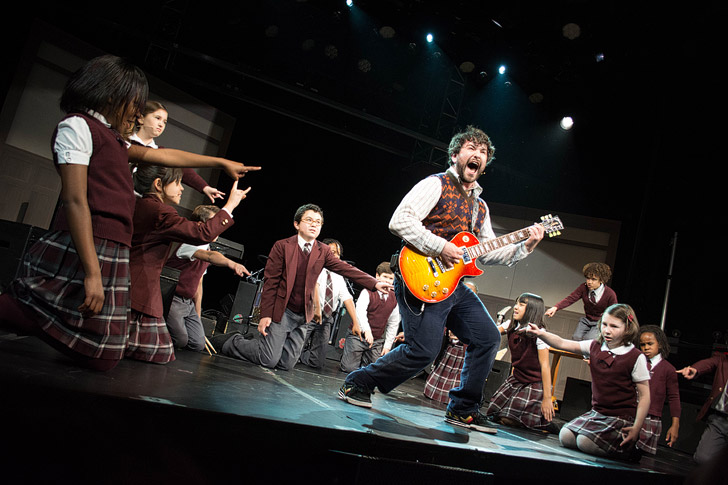 Pin
Alex Brightman reprised the role of Dewey, who was originally played by Jack Black. He did a great job embodying the character that Jack Black created in the movie. If you close your eyes or have bad vision like Esther, it almost feels like it's Jack Black himself.
The core cast of kids all play their own instruments and some of them were actual students of the School of Rock. We were most impressed with Brandon Niederauer, who played Zack. He appeared on The Ellen Show back in 2013 and completely owned the stage every time he started to shred. Here's a video of him performing his original music at age 10:
Unfortunately, since it was the 3rd day of previews, they were still working out some technical issues with the set and sound, which I hope they'll have worked out by opening day.
The rest of the cast performed well and if you remotely enjoyed the movie, you're sure to enjoy the musical. We find ourselves still humming the music from the show even a few weeks after watching it. The show's official opening night is December 6th, but you can still check it out until then.
Pin
Fun Facts about the School of Rock the Musical:
This is Andrew Lloyd Webber's first musical to premiere on Broadway since 1971, which was Jesus Christ Superstar.
The musical is making its home in the Winter Garden Theatre where Andrew Lloyd Webber's musical Cats ran for 18 years.
They are the first musical to shoot a 360° video that you can see it here:
If you are looking for more Broadway shows to see, check out our 5 Amazing Broadway Shows You Can't Miss + Essential Tips.
What is your favorite musical? Have you seen a show on Broadway? If so, which one?
Photos courtesy of the School of Rock the Musical.