It's crunch time, and we're trying to frantically check off what's left on our Ultimate Las Vegas Bucket List before we move next week! We went to Valley of Fire one last time. It's such a beautiful state park, and I'm going to miss being so close to it. I never feel like I fully take advantage of what's around me. We also faced our fear of heights and hiked one of the scariest hikes in the world. ✔ off the bucket list!
Another regret of mine is that I don't document my travels and my daily life enough. I forget the tastes, the smells, the feelings by the next day. I've been meaning to keep a journal, but it's a constant struggle. In my experience, it's been best to start small when trying to form a habit, so lately I've been writing one line a day in this journal (we already had the couple's version). I've been enjoying it so far.
Every once in a while I'll get questions I don't care for like "what was the last fruit you ate." I love my fruit, but I'm not journaling about it. Generally the questions have been good, though, and if I want to write more about my day, I'll add it in afterwards. :)
Pin

Pin
Gretchen Rubin who wrote the Happiness Project says that writing one sentence a day can make you happier. I'll report back and let you know how that goes. :)
Last month's highlights on instagram: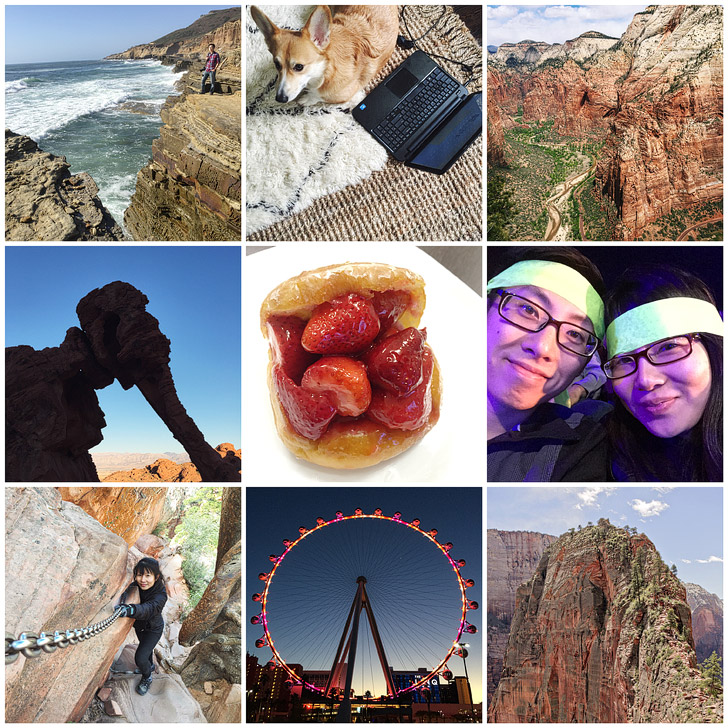 Pin
See more on our instagram (esthergram & jacobgram).

Skype, call, email home once a week. Nope! Managed once this month.
Get one month ahead of schedule on the blog, so we can focus on moving. I was hopeful, but managed to get one week ahead.
Throw out or donate at least one item a day until our move date. ✔ 
Check another item off my Ultimate Vegas Bucket List. ✔ Trying to get as many done before we move! We did the Venetian Gondola Ride, Blue Man Group, High Roller, & Alibi Las Vegas
Go on 4 Dates (2 Alphabet Dates). 6/4 Stargazing, Ferris Wheel, Dinner Theater Show, Boat Ride, Live Taping, & Blue Man Group.
Finish 3 books. Finished one business book, and started 20 others. :/
Get to zero inbox and clean it out every Wednesday. I think 20 is the new 0, and I've been keeping them under 20. :P
Walk at least 5k steps everyday (or 35k/week) on my fitbit. I've been awful about remembering to put my fitbit back on after charging. If we averaged out all 4 weeks, I hit 35k a week with some weeks significantly more and some significantly less.
Send out my Lovely Letters Package on Time! ✔  

Skype, call, email home once a week. 
Check another item off my Ultimate Vegas Bucket List.
Go on 4 Dates (2 Alphabet Dates).
Write in my Q&A Journal a day everyday.
Take it easy. We're moving!
Are you setting monthly goals? Weekly goals?
Do you keep a regular journal?
What do you wish you could do more of this month?

I received a copy of Q&A a day 5 year journal via blogging for books in exchange for a review. We purchased the couple's version previously and loved it. :) If you love reading and you're a blogger, I recommend checking out blogging for books.