Lately, food halls are all the rage, and buffets are getting left behind. However, a few remaining buffets are still worth checking out, including Bacchanal Buffet in Las Vegas.
Let me start by saying that neither of us are buffet people. Although we do the occasional all-you-can-eat Korean BBQ or sushi in Vegas, for the most part, we avoid buffets because the food is underwhelming, and we don't eat our money's worth. Quality over quantity, right? But since moving to Vegas, where there's a buffet around every corner, we kept hearing about how excellent Bacchanal Buffet is, so we had to try it for ourselves!
And I must admit it DID live up to the hype.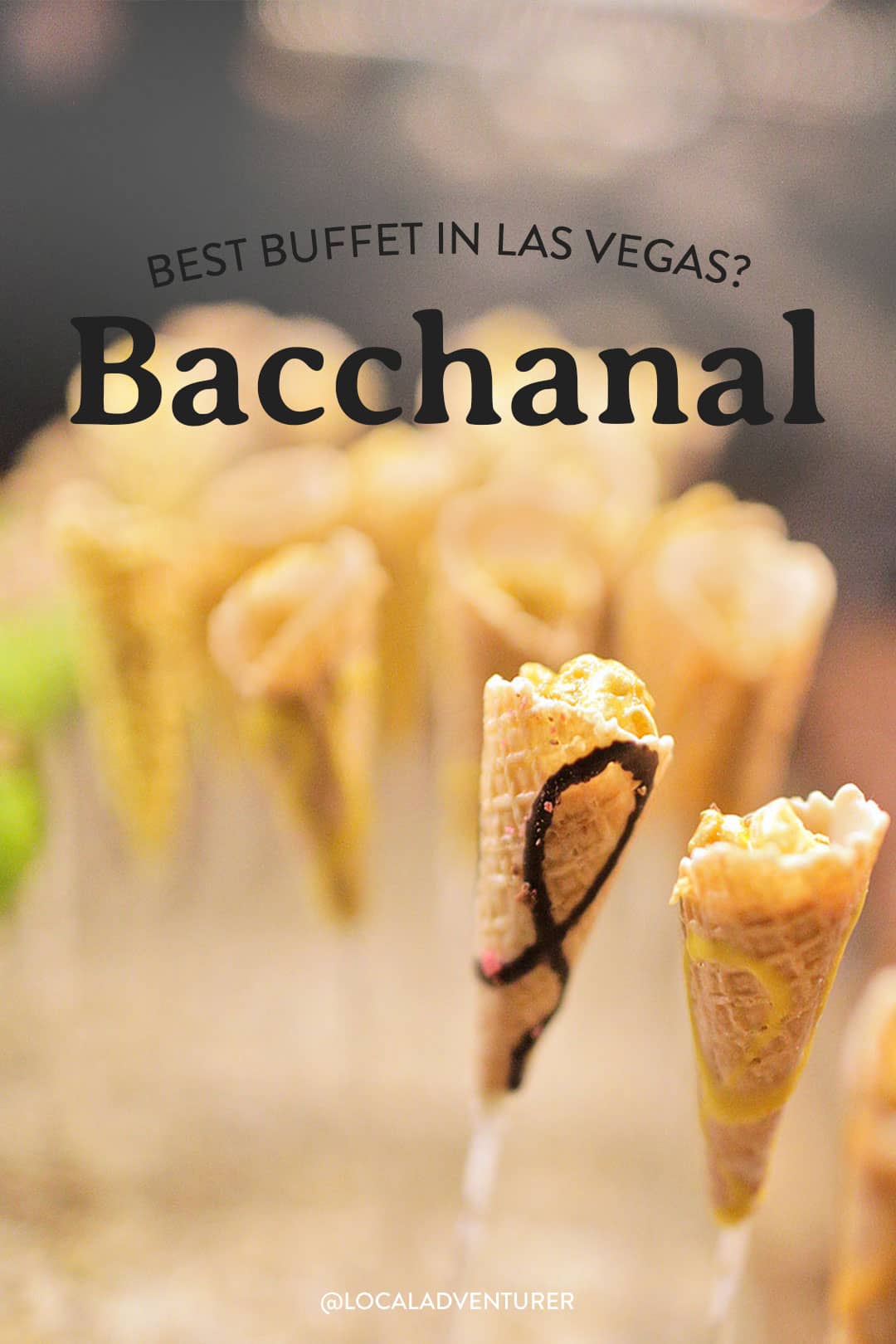 This post may contain affiliate links, where we receive a small commission on sales of the products that are linked at no additional cost to you. All opinions are always our own. Read our full disclosure for more info. Thank you for supporting the brands that make Local Adventurer possible.
Last Updated: September 19, 2023
About the Bacchanal Buffet
Bacchanal somehow takes buffets to the next level! They have creative and delicious dishes, present them beautifully, and ensure they are hot and ready for you to eat. The buffet is located at Caesars Palace and covers over 25,000 square feet. There are 10 kitchens, 9 chef-attended action stations, and over 250 menu items.
Bacchanal Buffet at Caesar's Palace
3570 Las Vegas Blvd S
Las Vegas, NV 89109 (map)
702.731.7110
Bacchanal Buffet Hours
Tuesday – Wednesday 3:30 PM – 10:00 PM
Thursday – Monday 9:00 AM – 10:00 PM (Regular Brunch 9 AM – 1 PM // Crab Brunch 1-3 PM)
Bacchanal Buffet Prices
Regular Brunch Adults $64.99 (Kids 4-10 $32.50)
Crab Brunch Adults $79.99 (Kids 4-10 $39.99)
Dinner Adults $79.99 (Kids 4-10 $39.99)
They went through a recent renovation, which we're excited to check out soon.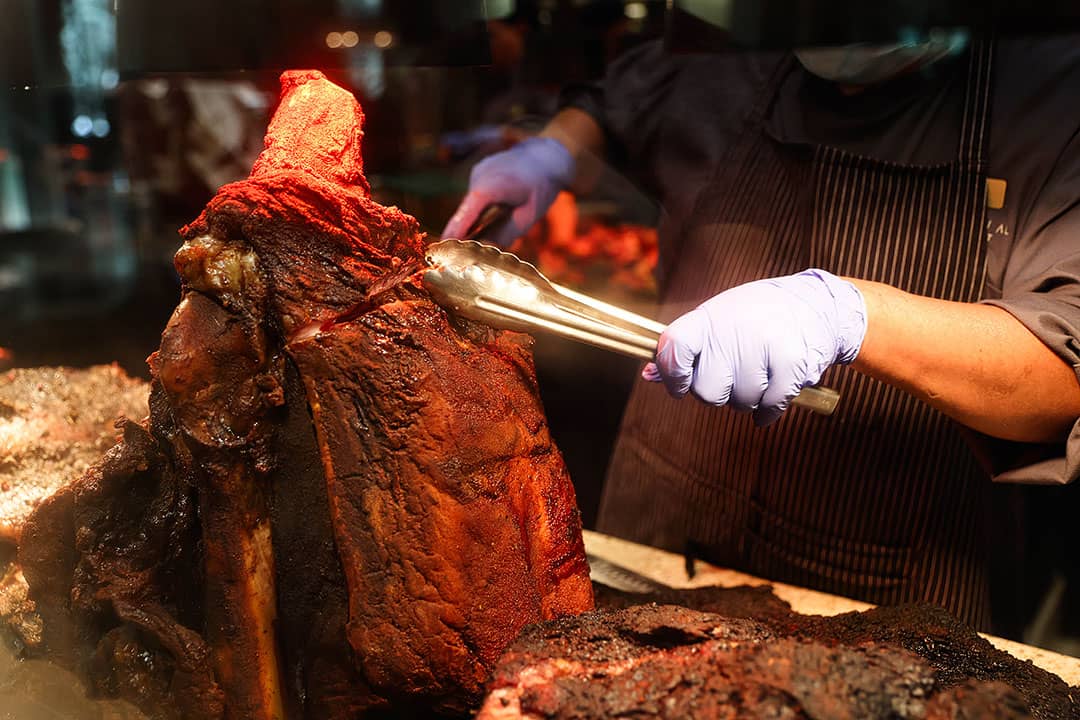 Why Bacchanal Buffet is Hands Down the Best Buffet in Las Vegas?
1. Virtual Lines
As you can imagine, Bacchanal lines can get quite backed up, but now they have FreshTxt kiosks that let you check in to the line, so you don't have to wait there physically. You get a text when it's your turn.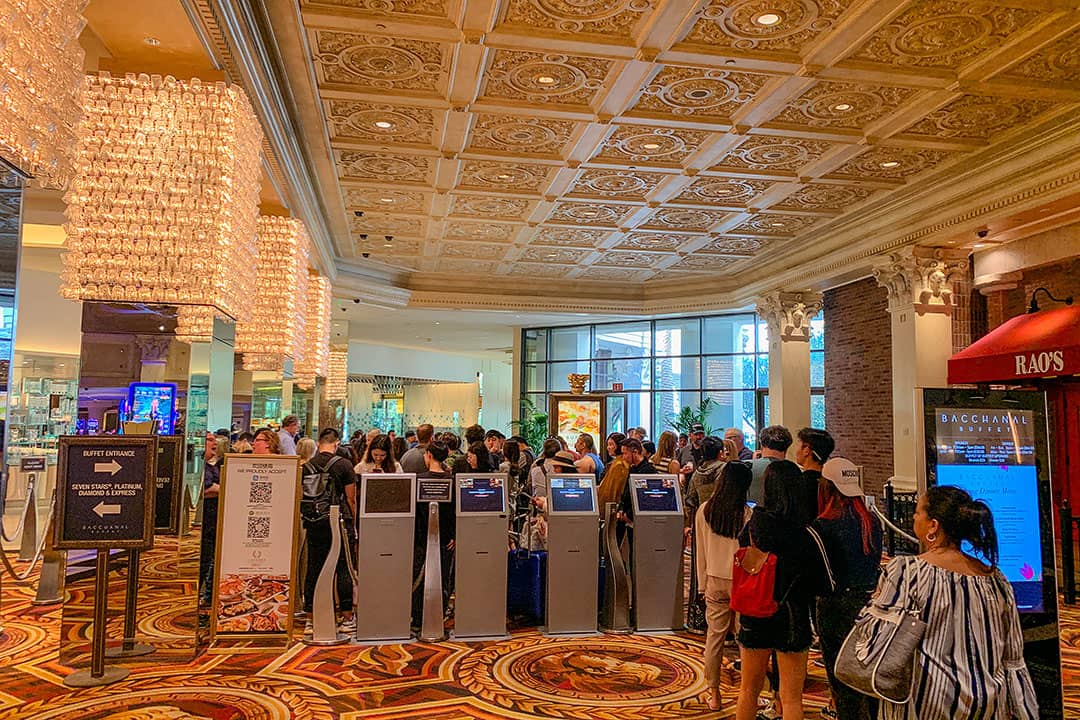 2. Seafood
If you even remotely like seafood, Bacchanal has something for you. Fresh-shucked oysters, mussels, hot and cold crab legs, shrimp, and scallops are just a few options.
See More: 49 Best Places to Eat in Las Vegas to Add to Your Food Bucket List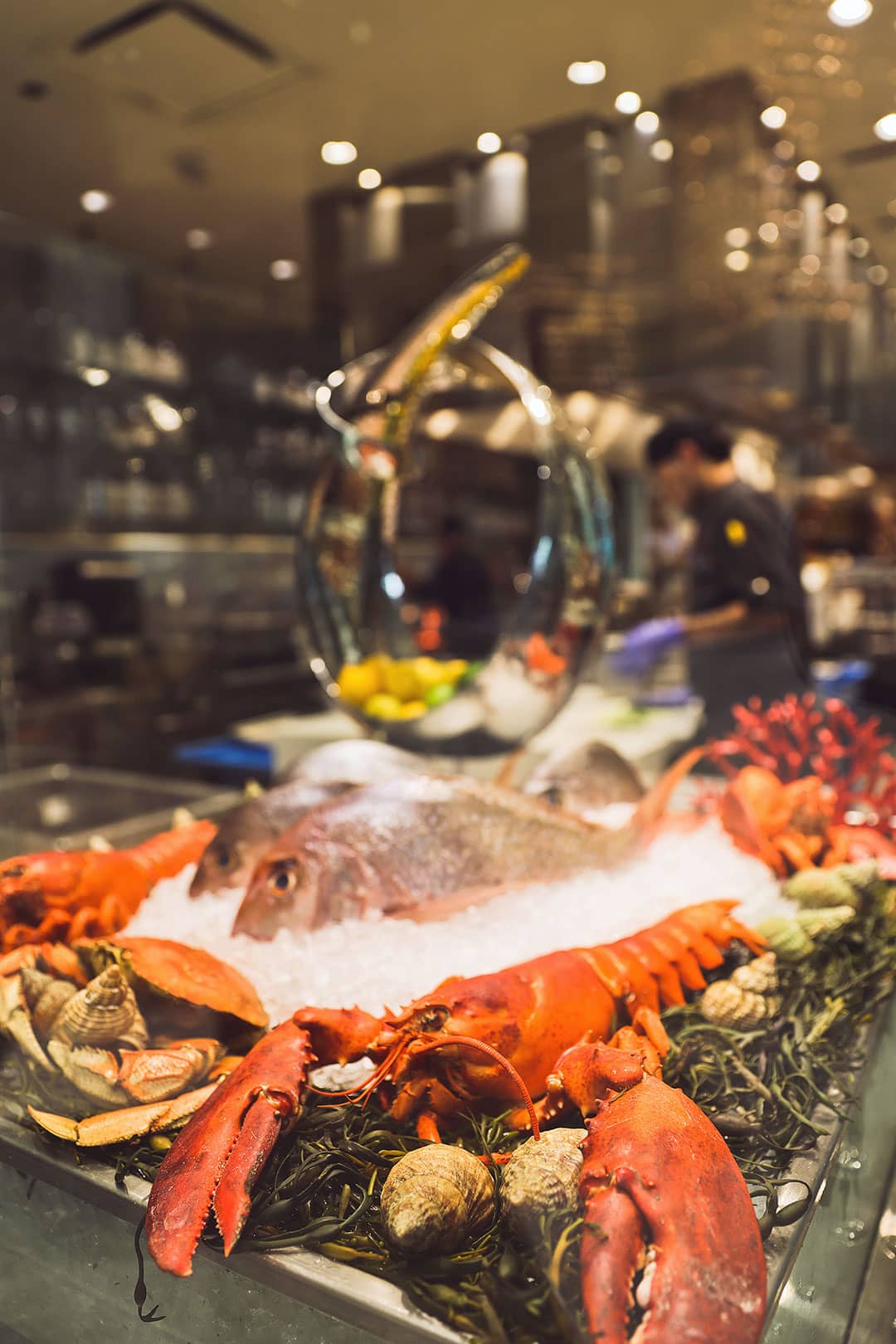 3. Fresh and Hot Food
A lot of buffet food feels stale. It feels like it's been sitting out forever, kept slightly warm from trays and lamps. At Bacchanal, the chefs are constantly working to keep fresh food coming, and the staff does a good job refreshing the plates and pans.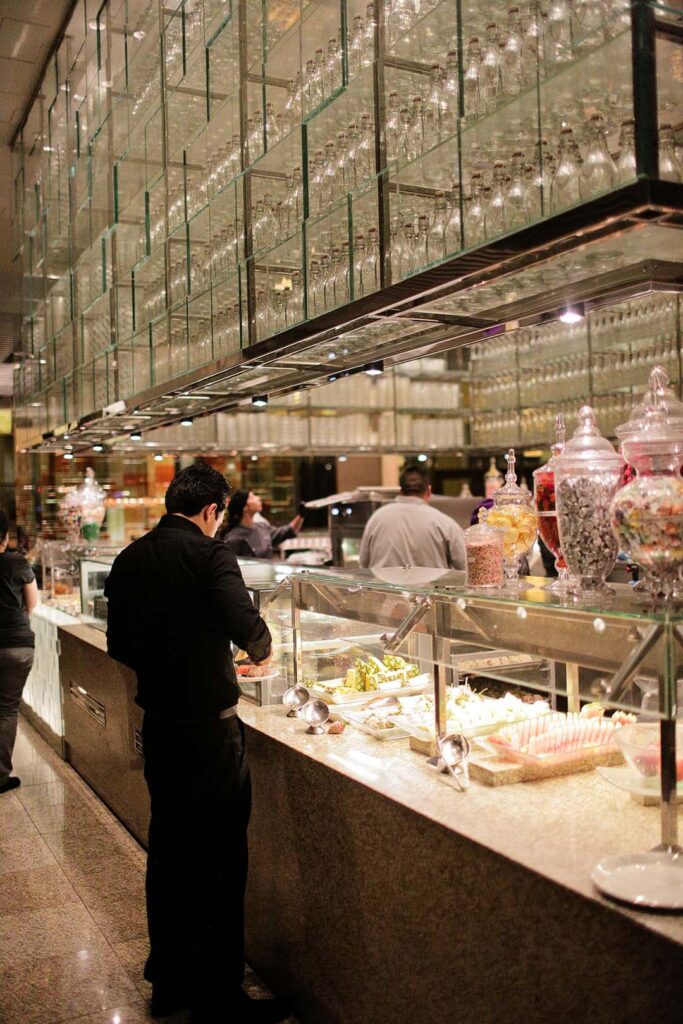 4. The Atmosphere
This isn't your typical cafeteria-like buffet! They've done a fantastic job to make you feel like you're dining in a nice restaurant. The only difference is that you get your own food… and can stuff your faces in a not-so-fancy manner.
See More: 101 Things to Do in Las Vegas Bucket List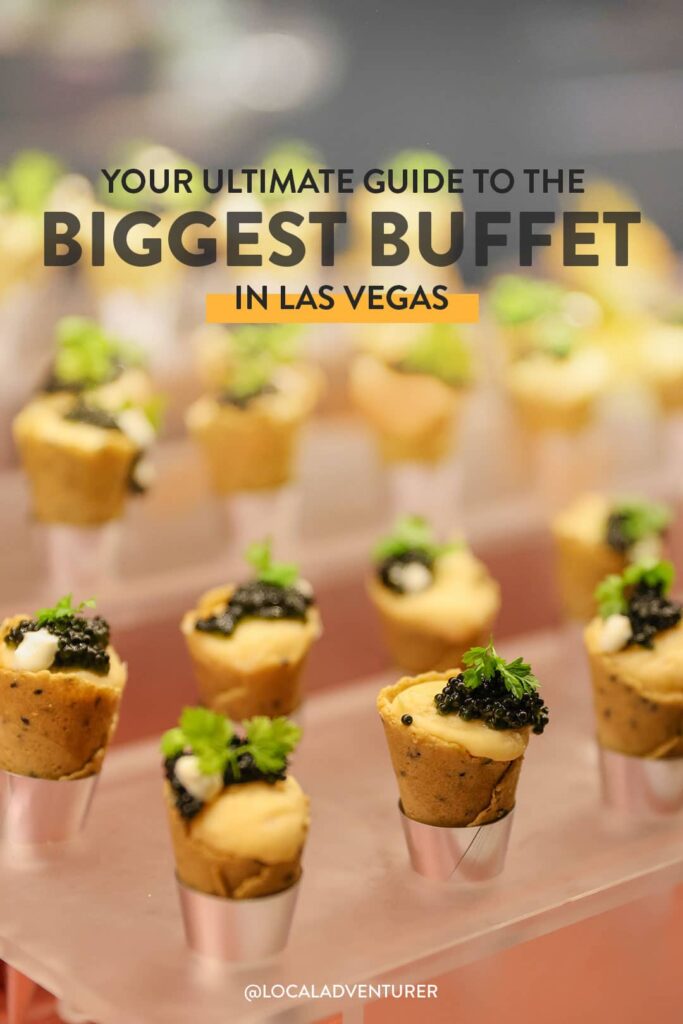 5. Daily Specials
Roughly 15 daily chef's specials are added to the daily menu! That means there will always be something new and delicious to try.
6. Have it Your Way
Bacchanal gives you an array of stations that let you customize your dish, whether the Mexican bar, baked-to-order soufflés, or crepes made in front of you.
See More: 15 Unique Bucket List Experiences in Las Vegas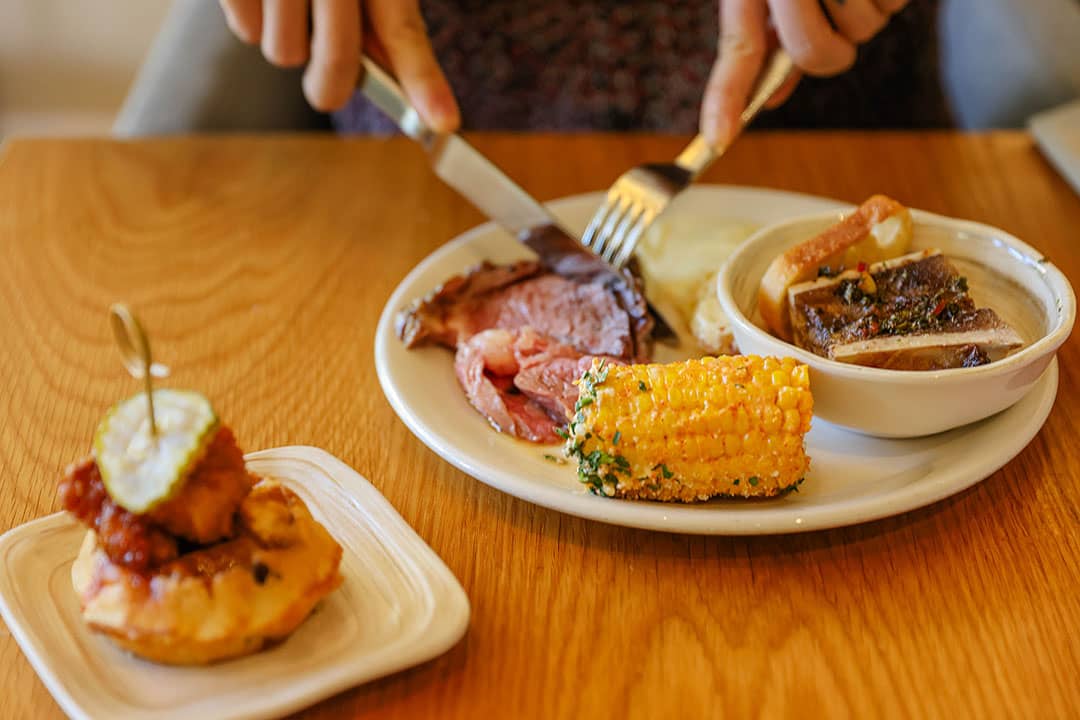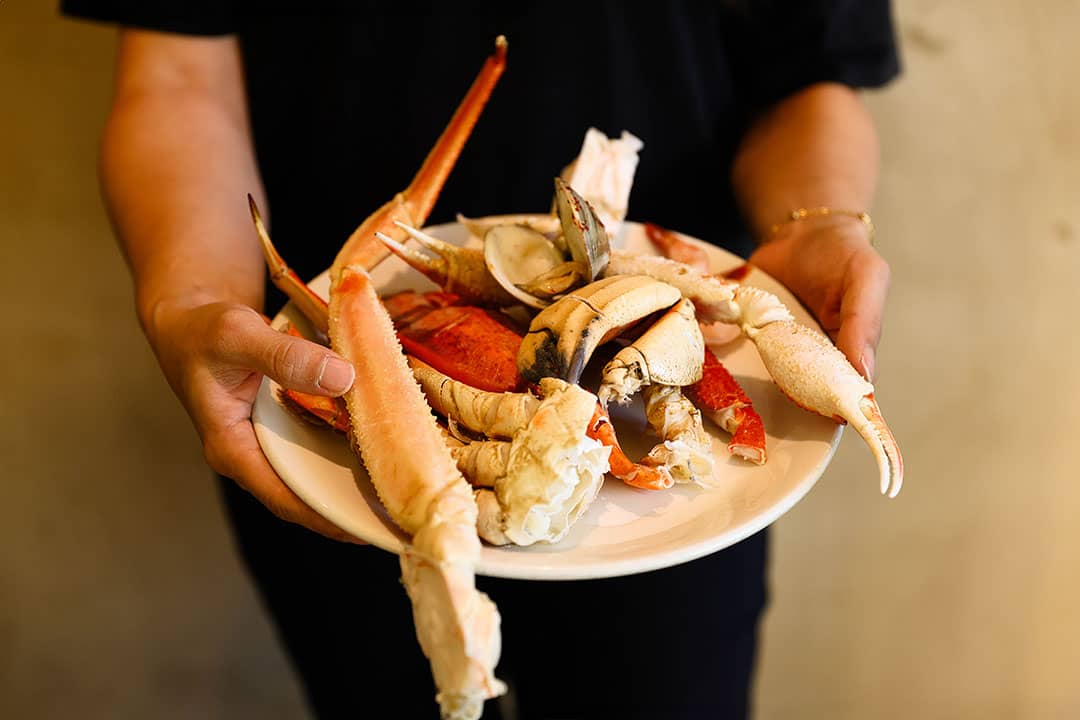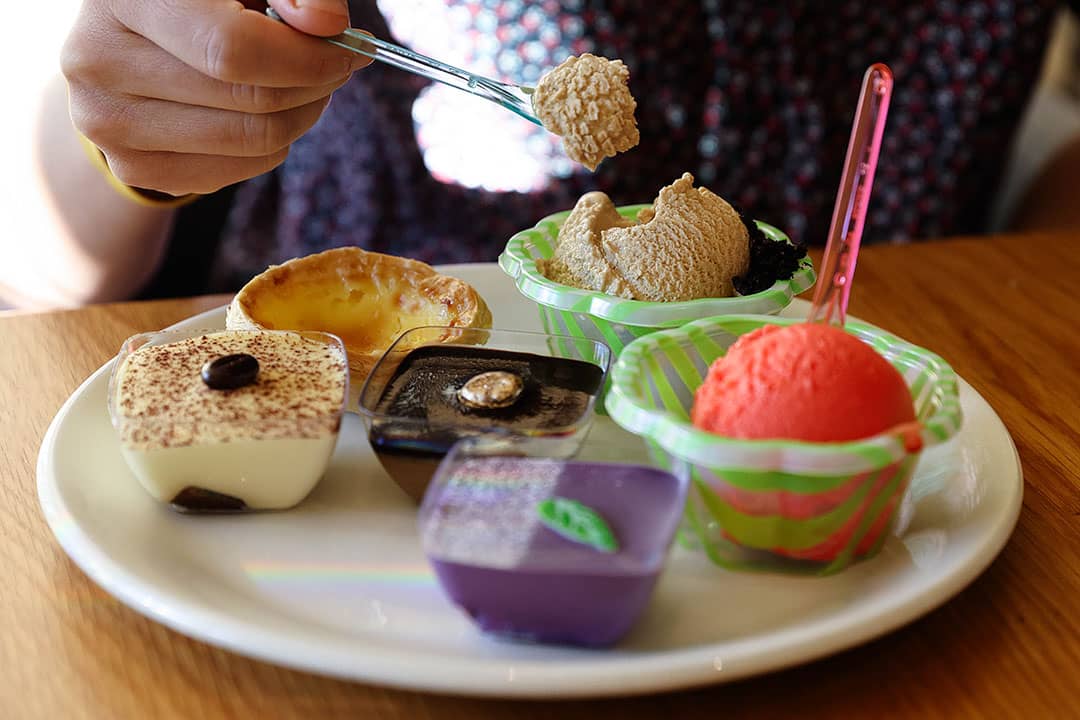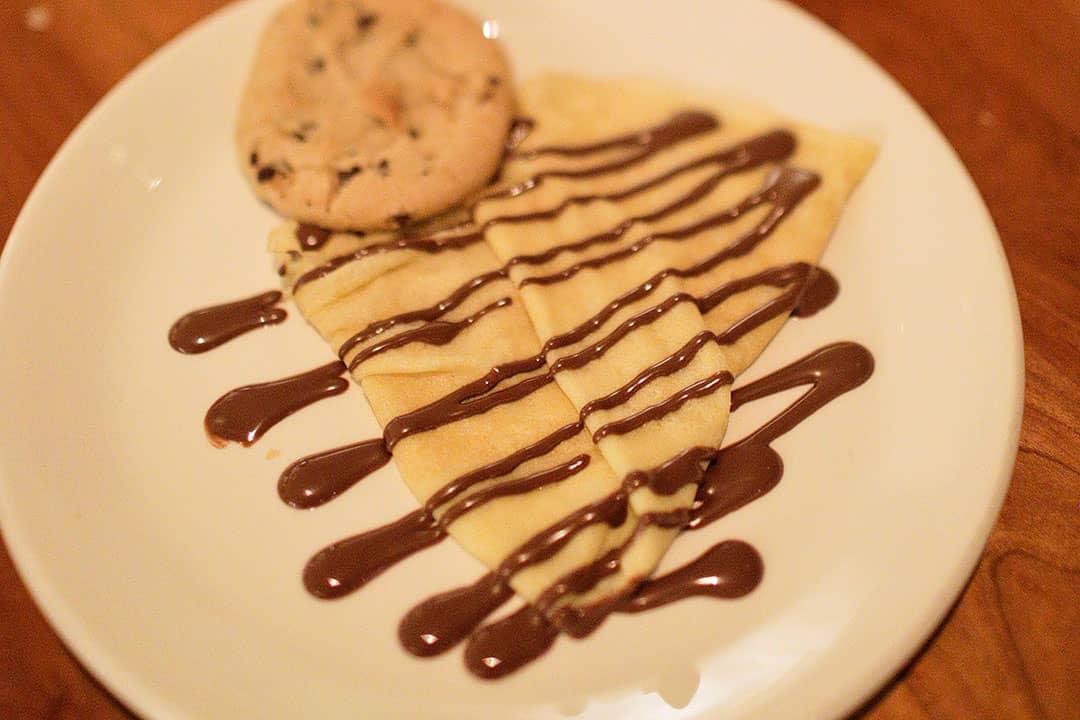 7. The Dessert
Yes! You can find space for their yummy desserts even when you're stuffed to the brim. An entire island is dedicated to their mouthwatering concoctions that feature everything from chocolate lava cakes to crepes made to order. Don't forget to check out their gelato too!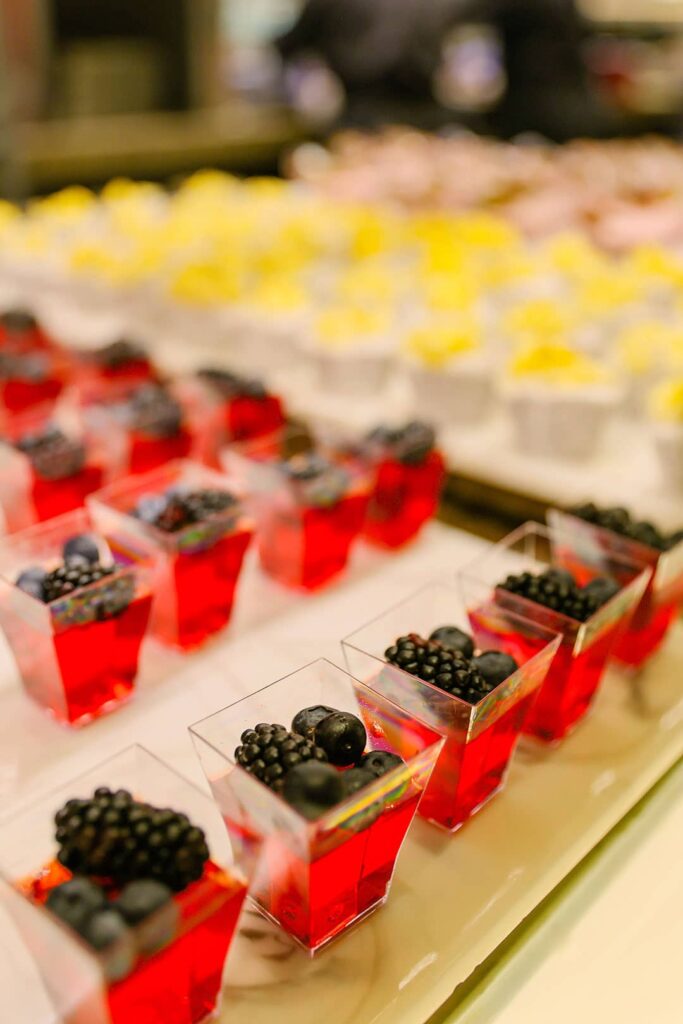 8. Beautiful Presentation
You know that you can't help but photograph your food. Many of their dishes are presented beautifully and will surely give you some likes from friends and your stomach.
We loved the fresh-squeezed juice display.
9. The Classics
I know I've been talking about all their unique and creative dishes. But don't worry, they still make the classics, whether your favorites are pizza, fries, or BBQ.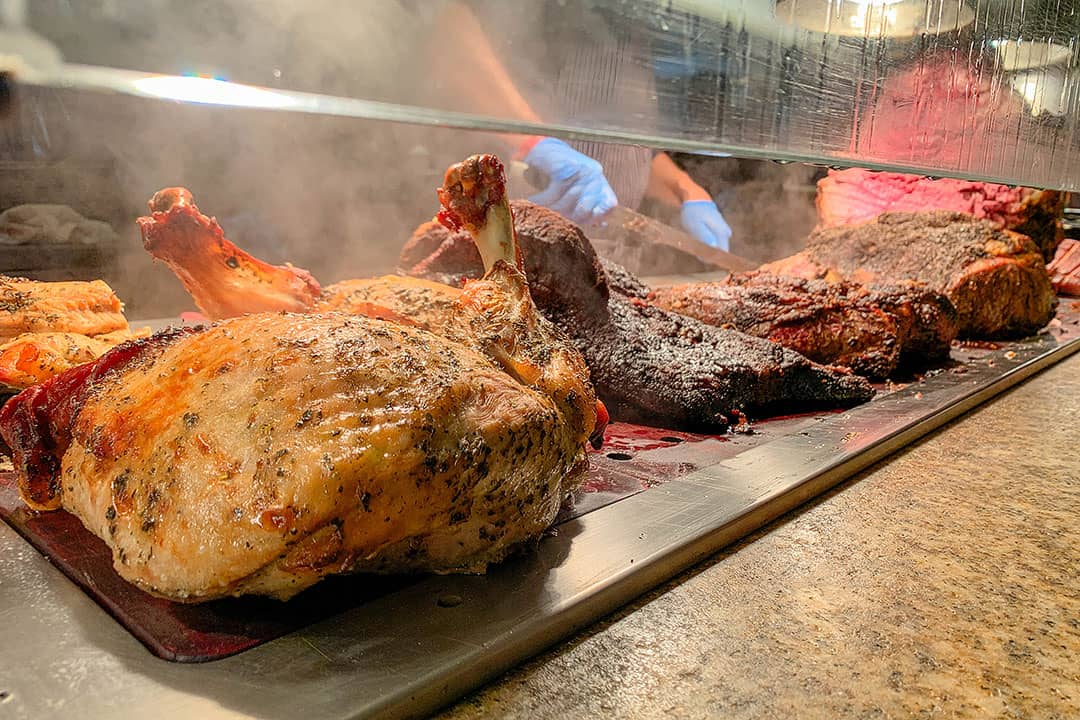 Essential Tips for Visiting Bacchanal Buffet
You can add Bacchanal to your Buffet of Buffets (24-hour access to buffets) pass for an additional cost.
It's not much, but you can save $1 with your Total Rewards card (sign up here).
Look for Groupons – they sometimes have deals for breakfast buffets, and if you time it right, you could spill over to lunch.
You can buy a $20 line pass to skip the lines and get right to eating.
Don't forget your stretchy pants!
Where to Stay in Las Vegas
What is the best buffet you've been to? What is your go-to food to try at a buffet?
Did you enjoy this post? Pin it for later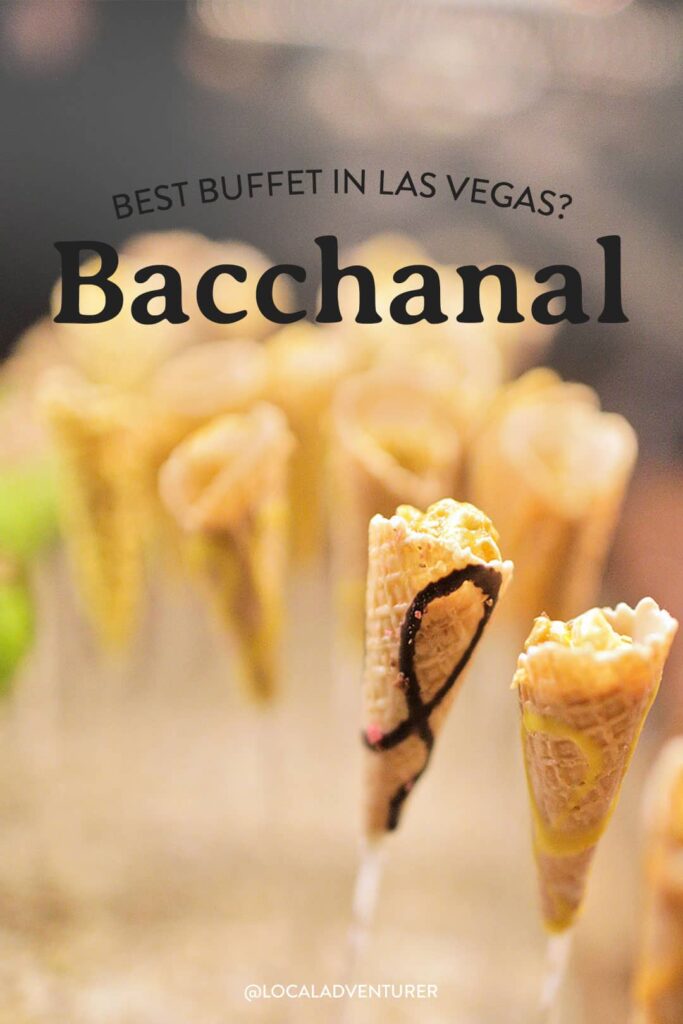 SEE MORE LAS VEGAS GUIDES
⟡⟡⟡⟡⟡
"Discovery consists not of seeking new lands but in seeing with new eyes" – M. Proust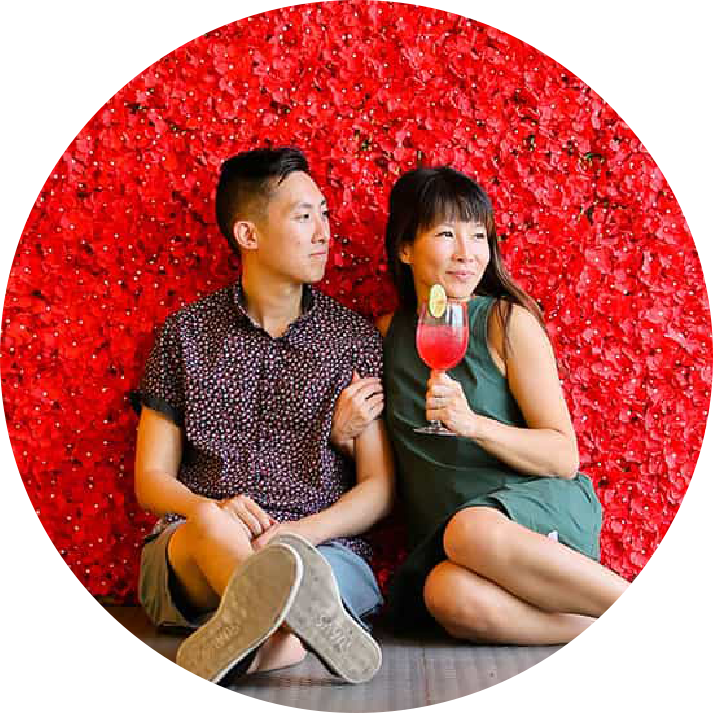 Esther + Jacob
Esther and Jacob are the founders of Local Adventurer, one of the top 5 travel blogs in the US. They believe that adventure can be found near and far and hope to inspire others to explore locally. They explore a new city in depth every year and currently base themselves in Las Vegas.
Follow on Instagram (E + J), YouTube, TikTok, and Pinterest.