Here's everything you need to know before visiting the Museum of Dream Space.
Although Las Vegas has plenty of photo spots, sometimes we have fomo when we see our friends post about the weekly pop-ups and art exhibits that rotate through NYC. It's a shame we can't be everywhere at once.
When we heard about the Museum of Dream Space opening up at The Venetian, it reminded us of the ones we used to visit in New York.
UPDATE: Unfortunately the Las Vegas location is now permanently closed, but if you want to see immersive art, check out the Immersive Van Gogh Exhibit.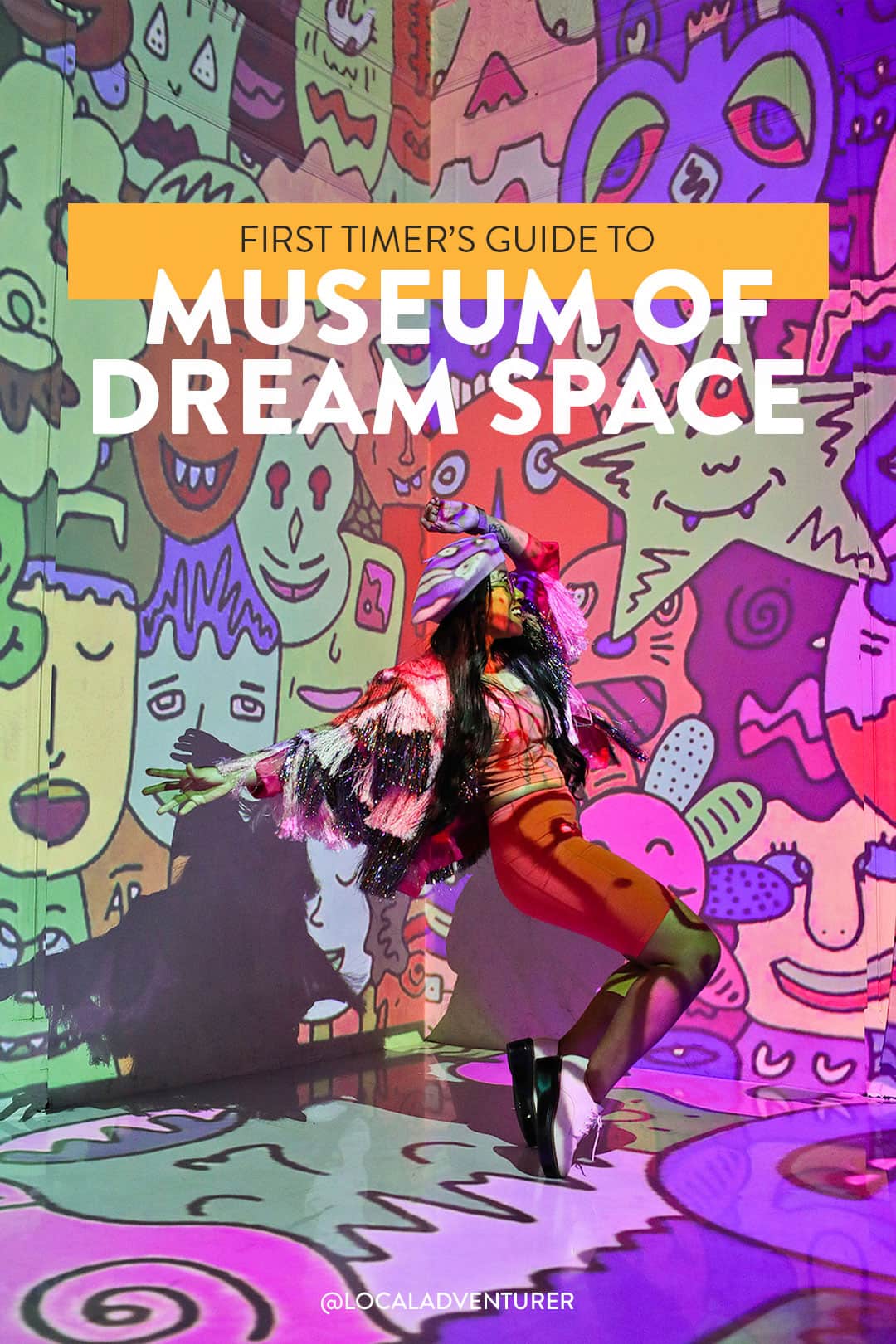 This post may contain affiliate links, where we receive a small commission on sales of the products that are linked at no additional cost to you. All opinions are always our own. Read our full disclosure for more info. Thank you for supporting the brands that make Local Adventurer possible.
Last Updated: January 13, 2023
What is the Museum of Dream Space?
The Museum of Dream Space, or MODS for short, is the first museum in the US mainly featuring digital art. You can see that MODS drew inspiration from Yayoi Kusama's infinity rooms.
The Museum of Dream Space currently has three locations in Los Angeles (Beverly Hills and Hollywood) and one in Las Vegas.
It's a great mix of immersive art and photo opportunities for you.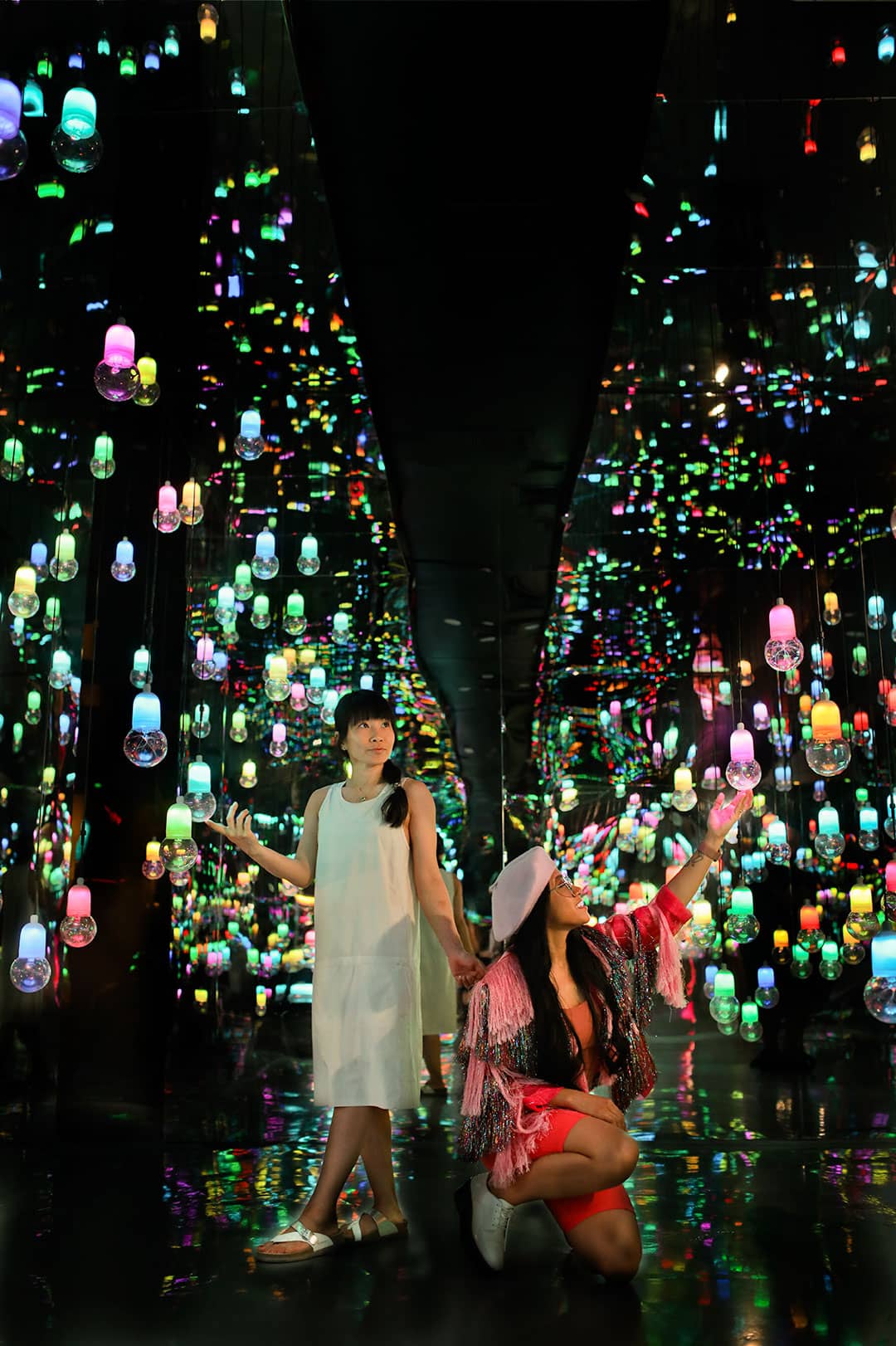 About the Museum of Dream Space
Museum of Dream Space Address:
Grand Canal Shoppes / Palazzo
3327 Las Vegas Blvd S Ste 2732
Las Vegas, NV 89109 (map)
MODS is located at the Grand Canal Shoppes, closer to Palazzo. There is free parking at the Palazzo Tower. From there, take the front desk elevators up to the Casino/Lobby level.
Once you're at the lobby, take the escalators to the Grand Canal Shoppes on the second level and turn left. MODS will be the first store on your left.
The Museum of Dream Space is open:
Monday to Thursday: 11 AM – 9 PM
Friday to Sunday: 11 AM – 10 PM
The Museum of Dream Space ticket prices are:
General Admission: $48
Children (6-12): $15
Senior (60+)/Student/Military: $41
If you've been to other MODS and have your proof of purchase, you can get tickets for $25.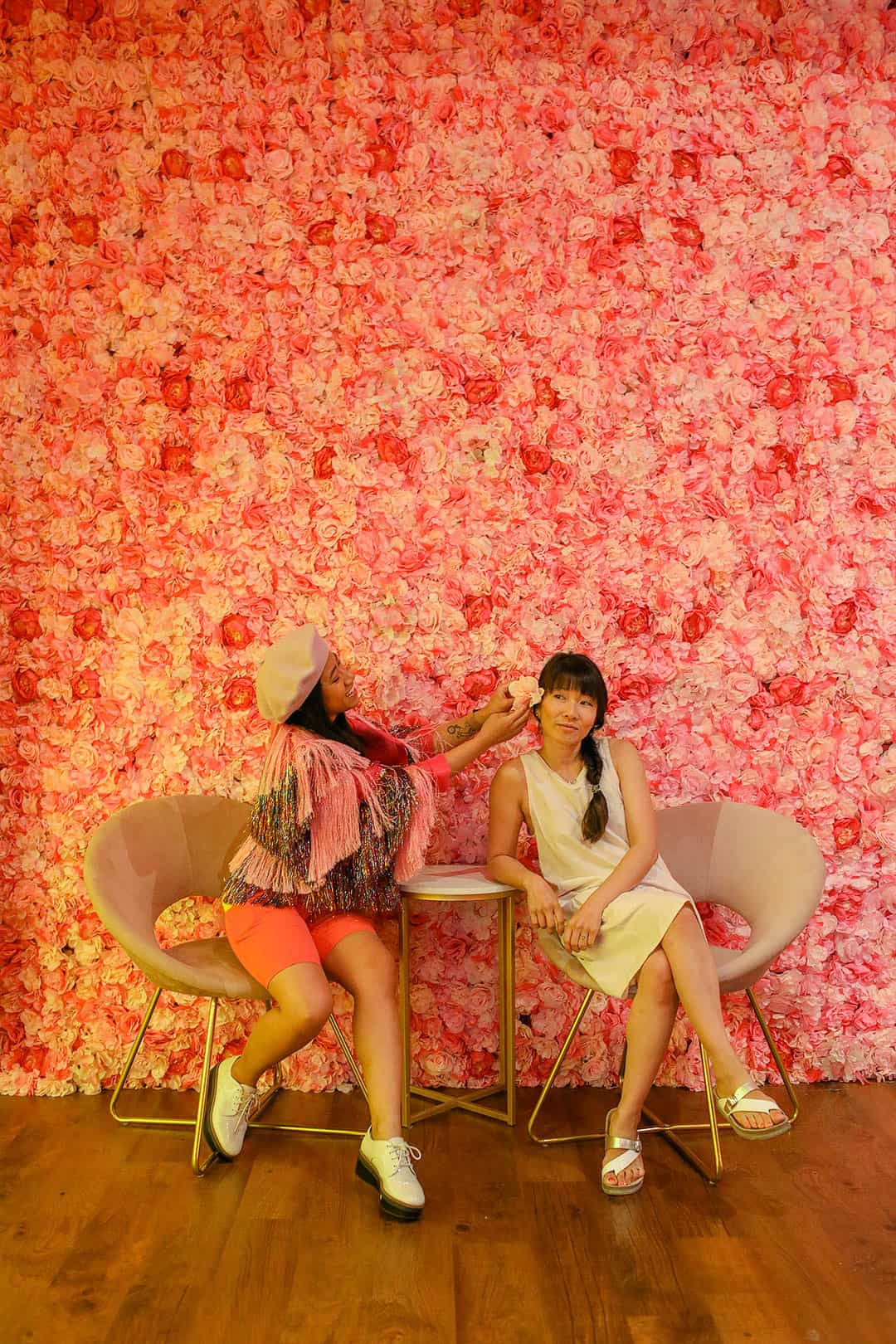 The Rooms at Museum of Dream Space Las Vegas
After checking in, you can roam freely. I liked doing a quick walk through the rooms to get an overview and then going back to spend time shooting each room.
Most people take 20-30 minutes, but there isn't a time limit, and you are welcome to stay as long as you want. We spent around 45 minutes, but we were shooting photos and videos in multiple formats.
There are five distinct rooms, and there aren't any official names to them, but we named them to help you navigate the museum.
The Floral Lobby: This doesn't count as an official room, but you can take photos with the wall covered in flowers.
The Gold Room: This is a gold room with fun textured walls and lights covering the ceiling.
The Projection Room: Next up is a room with projected art on the wall. This room includes a beautiful full moon you can shoot in front of as well as a couple of other pieces.
The Lightbulb Room: This room was inspired by Yayoi Kusama's infinity rooms. There are floating lightbulbs that show electric currents when you touch them, and mirrors cover the walls.
The Orb Room: The next room is filled with color-changing orbs. There's a seat in the corner for photo opps as well as one with drapes. We thought the drapes were a tad creepy.
The Faces Room: Pretty Done's projected freestyle pop art fills an entire room with bright colors. If you're wearing lighter colors like me, you become the canvas for his art.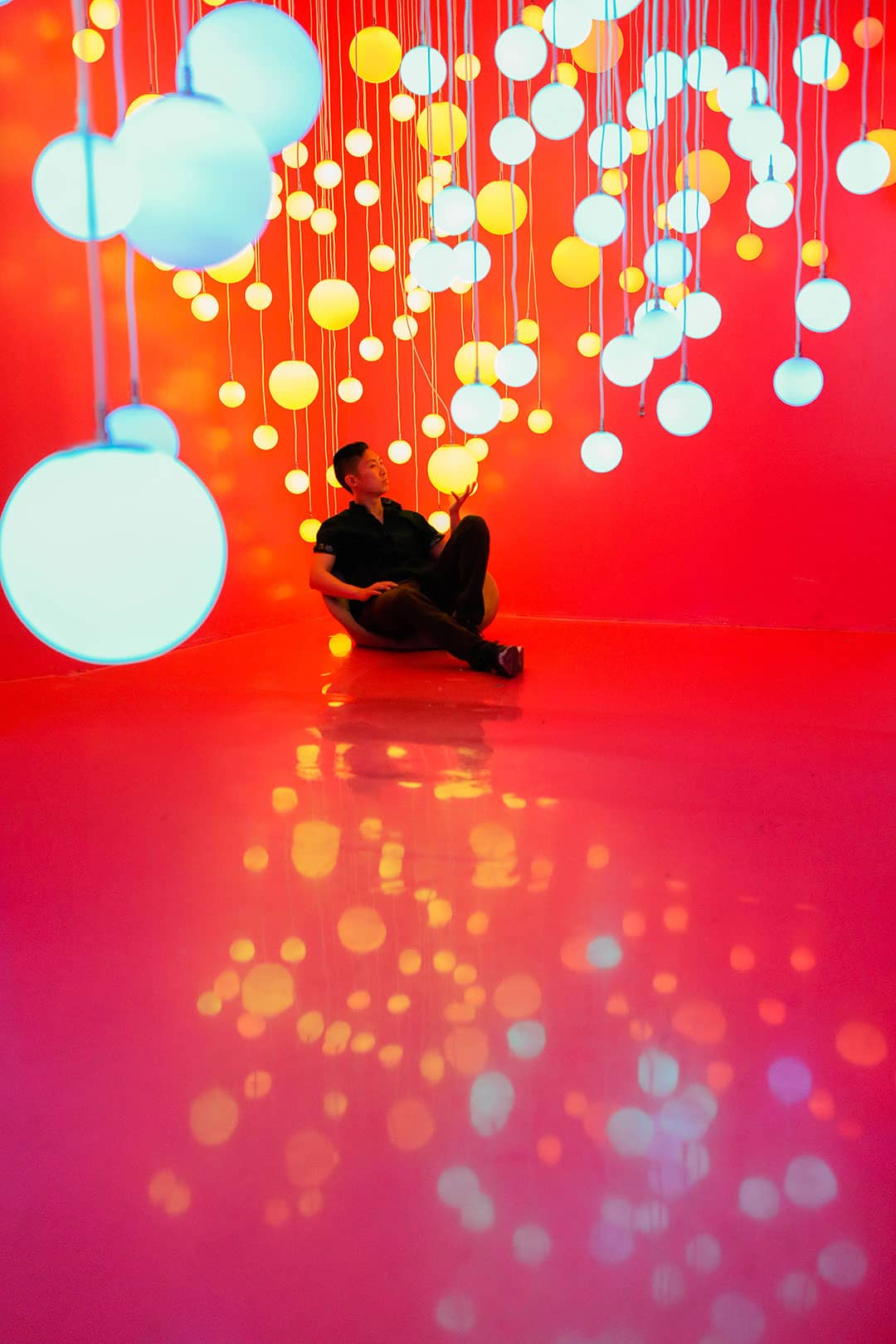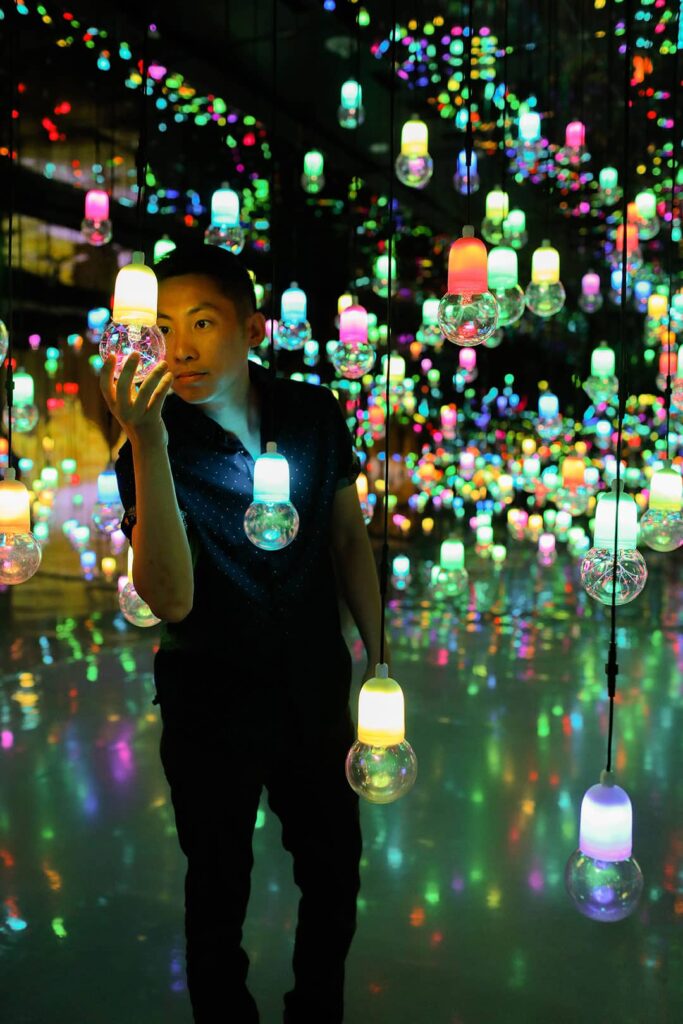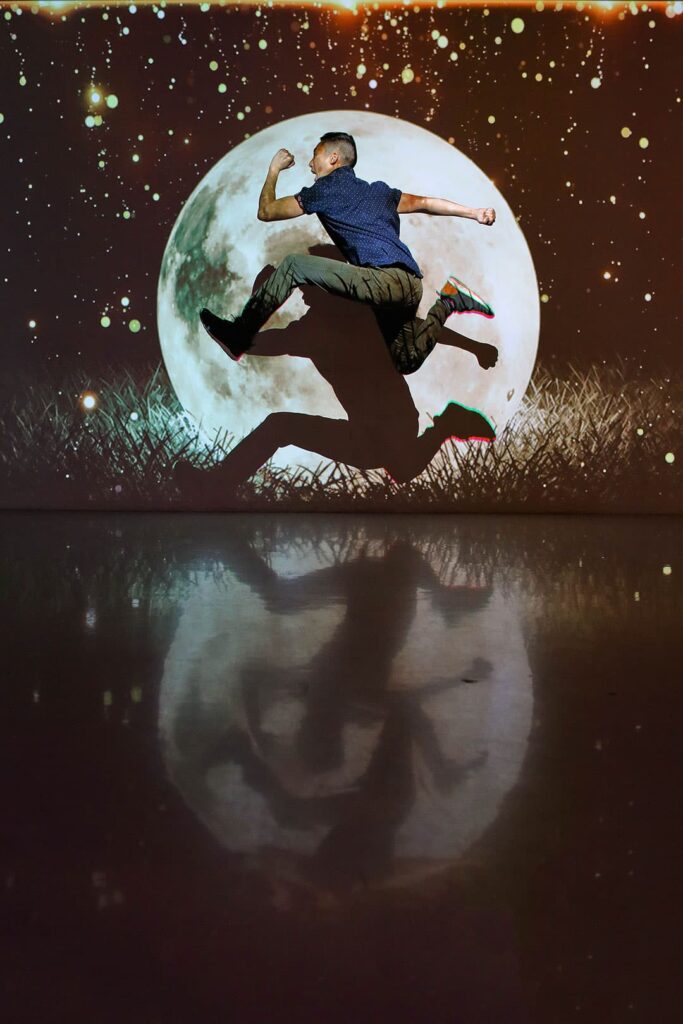 Frequently Asked Questions
How long will it take to walk through the museum?
There is no time limit, but most people spend 20-30 minutes at MODS.
Can I reschedule my time?
If the tickets are unused, you can use them any day.
Cameras are allowed but other professional equipment, like tripods and lighting, is not.
How long will MODS be here? Is it a pop-up?
Museum of Dream Space is permanent. There will be additional exhibits during the holidays.
Can I leave the museum to change or use the restroom and come back after?
Yes, just notify the front desk before leaving the museum.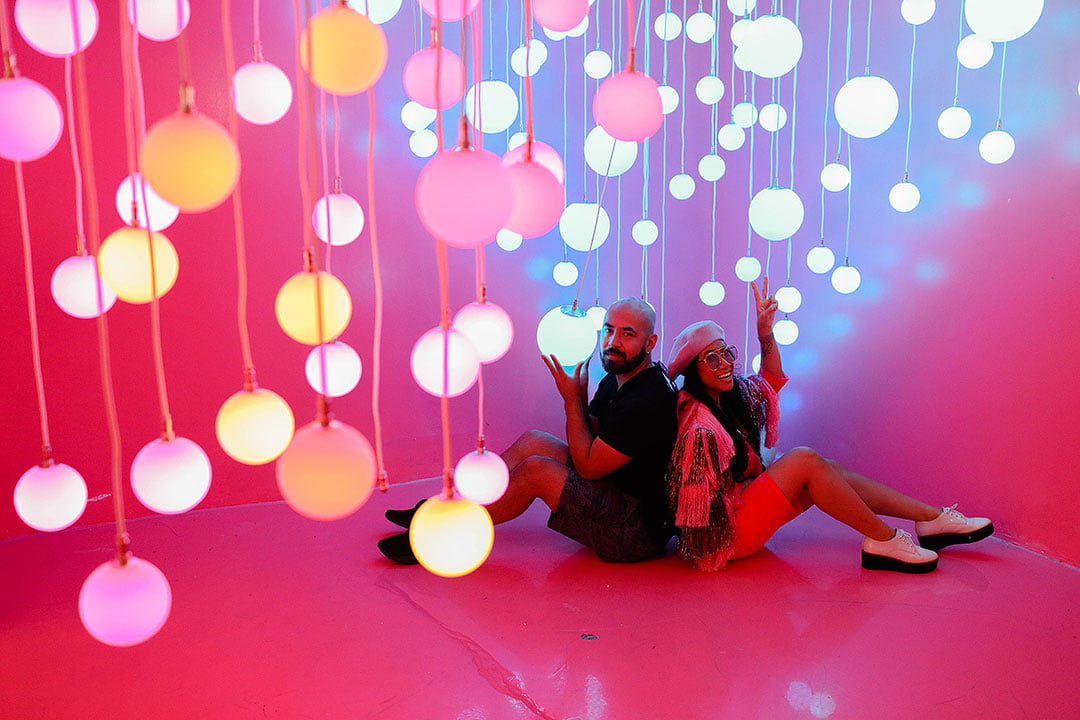 When purchasing a ticket, you select a specific time, but if the museum is at capacity you may have to wait a bit.
Weekends are the busiest but wait times shouldn't exceed 30 minutes.
We went during the day on a weekday and had the space to ourselves. One other party came in after we were halfway through.
If you don't plan on changing, I would air on the side of lighter colored clothes.
Have you been to the Museum of Dream Space in Las Vegas? What about the other locations or other pop ups similar to this?
Did you enjoy this post? Pin it for later
SEE MORE LAS VEGAS GUIDES
"Discovery consists not of seeking new lands but in seeing with new eyes" – M. Proust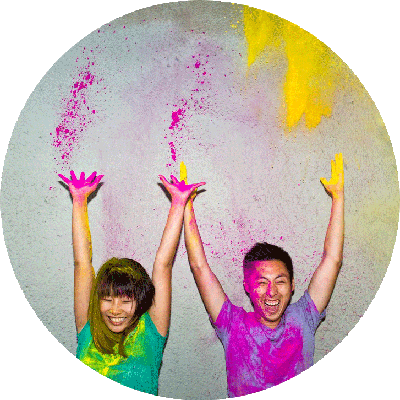 Esther and Jacob are the founders of Local Adventurer, which is one of the top 5 travel blogs in the US. They believe that adventure can be found both near and far and hope to inspire others to explore locally. They explore a new city in depth every year and currently base themselves in Las Vegas.