Have you ever lost anything while traveling overseas? I lost my toiletry bag while we were in Turkey. I got overwhelmed by the security lines, and in the moment of chaos, I forgot to stuff all my personal items back in my backpack (Seriously, hope they come up with a global TSA pre-check one day).
I was, however, relieved that I always keep my travel toiletry or makeup bag minimal, so I don't have to replace as much. Everyone I know is always asking me how I pack everything into a small 17″ carry-on and backpack, and I've been meaning to do a series of packing tips and guides. Since I'm shopping for replacements now, I thought it was the perfect time to put this makeup list together.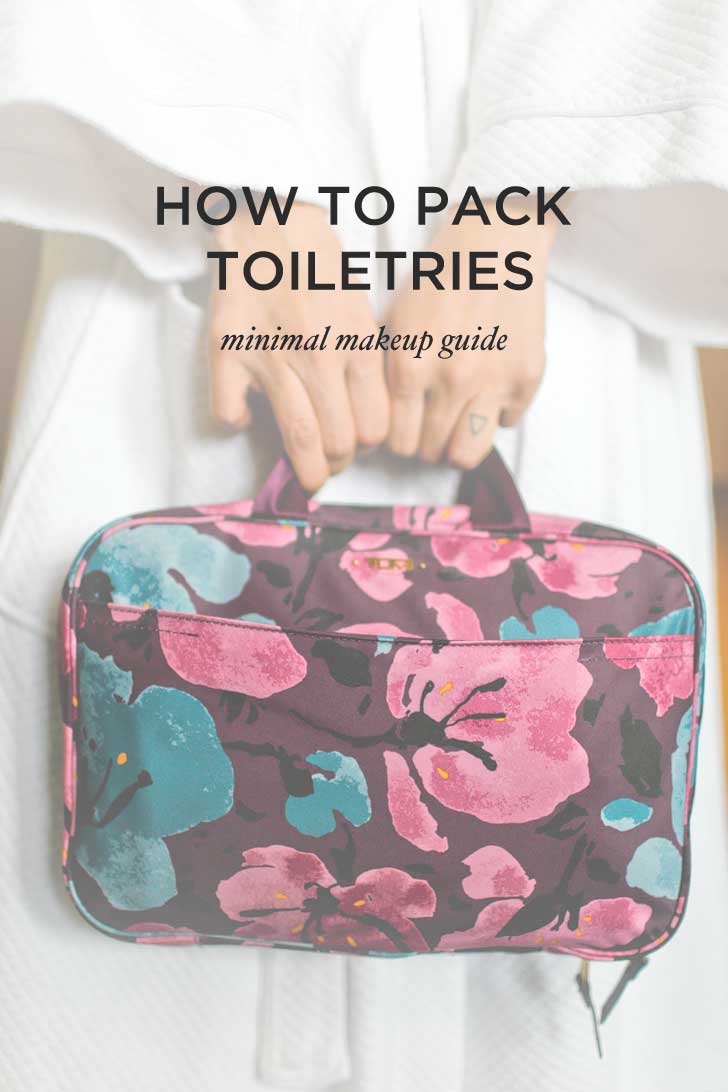 Pin
HOW TO PACK YOUR TOILETRIES – YOUR MINIMAL MAKEUP GUIDE
WHAT'S ESSENTIAL FOR YOU?
Do you love having lots of eyeshadow options? Lipsticks? I can definitely go lighter on the makeup, but for me, I don't want to compromise skincare. I know we Koreans love our 10 step skin care routine, but when traveling, there's still no way I'm bringing that many products. I try to find a good compromise, and between bringing less makeup to make more room for my skincare, and cutting out a few steps (bye for now: oil cleanser, exfoliator, essence, and serums).
TRAVEL ORGANIZERS / TOILETRY BAGS
TSA 3-1-1 Clear Quart Size Bag – I've tried a dozen different toiletry bags, some prettier than others, but I always come back to using this inexpensive one from Lewis n Clark. It's simple, isn't bulky, and fits right into my Tumi Hanging Travel Bag.
Hanging Toiletry Organizer – My Tumi Voyageur Monaco Travel Kit was a bit of a splurge, but our million-miler friend always travels with it, and I've been eyeing it for a while. I love how much I can stuff all my non-liquids, bras and underwear, jewelry, and my entire clear quart size bag in there.
MAKEUP / TOILETRIES
Mascara – currently using this travel size one from Benefit.
Eyeliner – loved using this one since college. I've tried tons of other brands that even cost way more, but I always come back to this one too.
Eye cream – I love this roller serum one where I don't have to use my fingers to scoop it up to apply. Much more sanitary and packs better because of the shape.
Face cream / Lotion (in a GoToob) – I bought an argan oil one in Morocco.
Face wash – have you ever tried washing your face with honey? ;)
Coral safe sunscreen (in a GoToob)
Face Sunscreen
Foundation / BB Cream
Cotton pads
Eye primer – I use this anti-aging one.
All in One Makeup Compact – They sell these at airport duty-free areas, and I love how much they pack into one compact. It's hard to find one with a majority of colors you like to use, but if you find one, I would snatch it up!
2 Paper or Gel Face Masks
1 Nail Polish
Lip balm
Toothpaste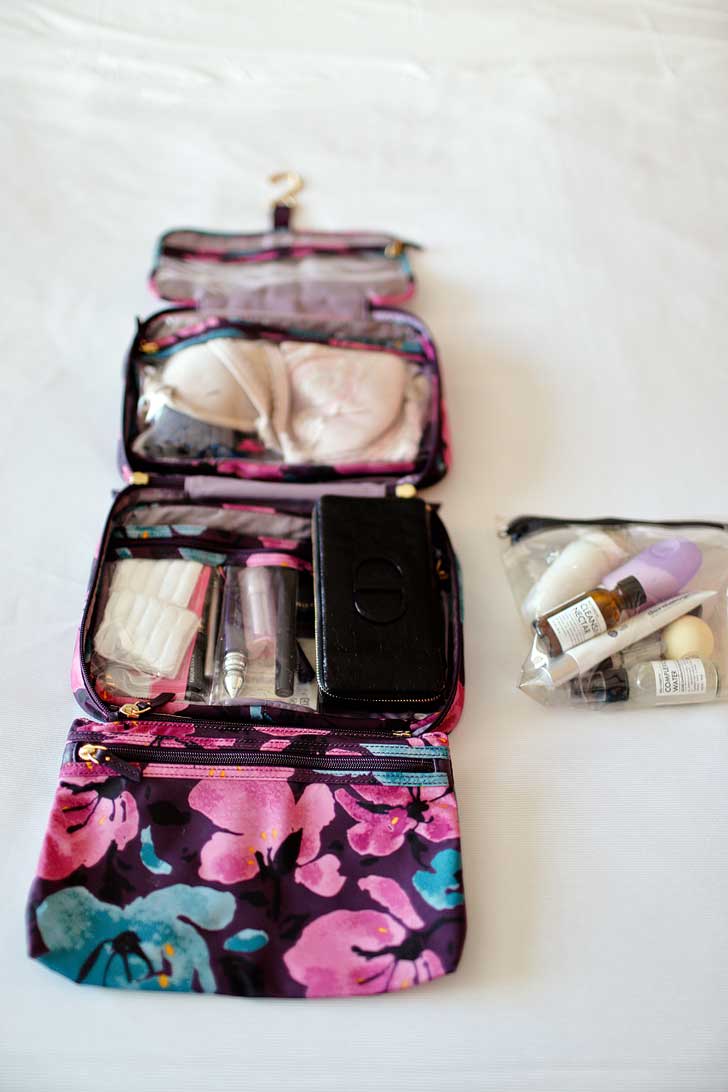 Pin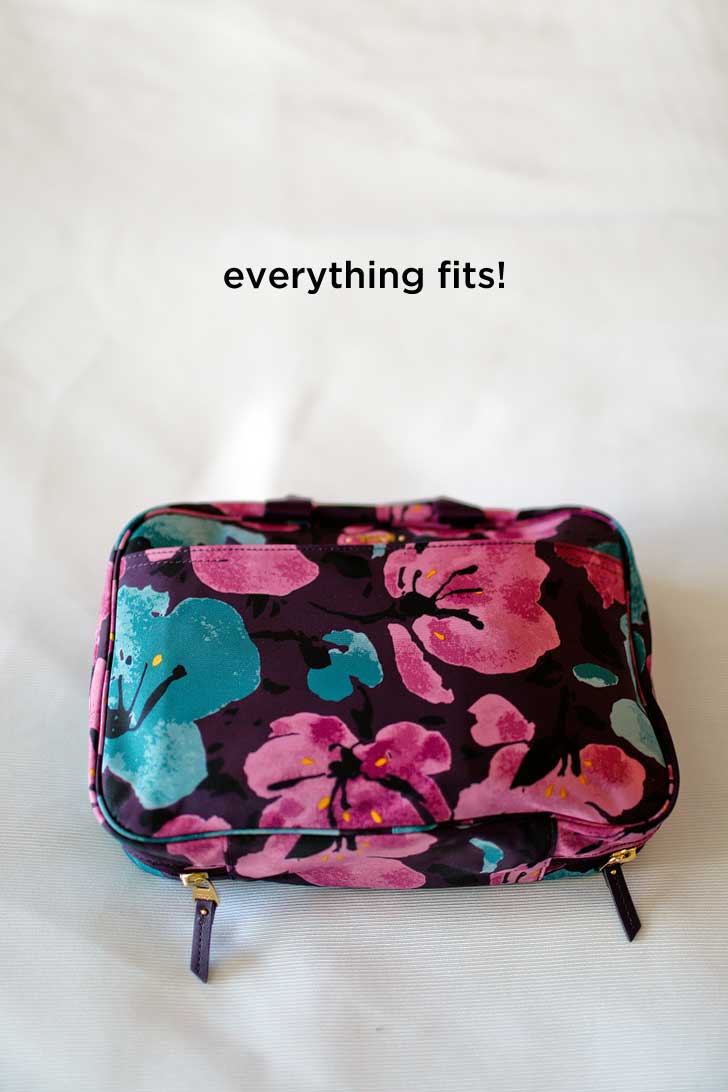 Pin
Then all of this goes into my carry-on personal item, whether it's a purse or backpack. Lately, I've been traveling with this: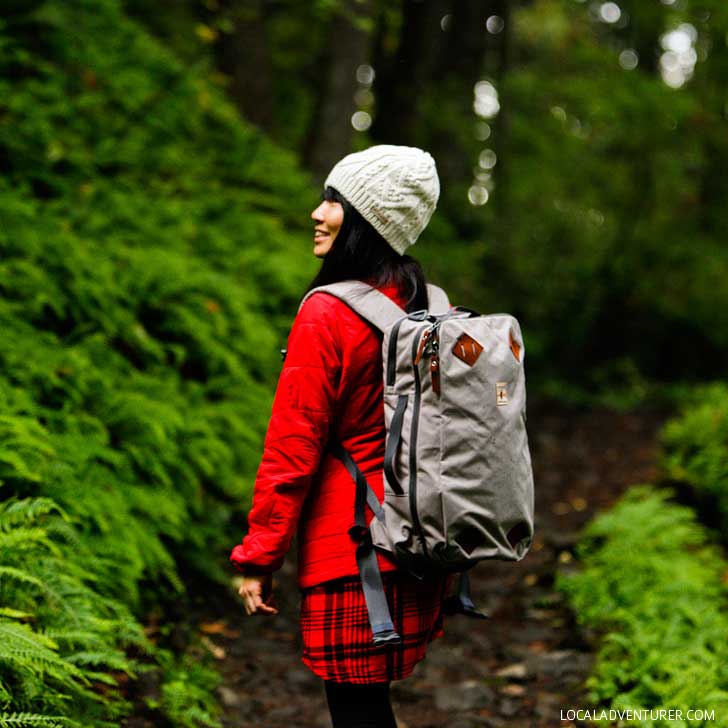 Pin
What do you have in your travel makeup or toiletry bag? Do you have any favorite makeup products you like to use?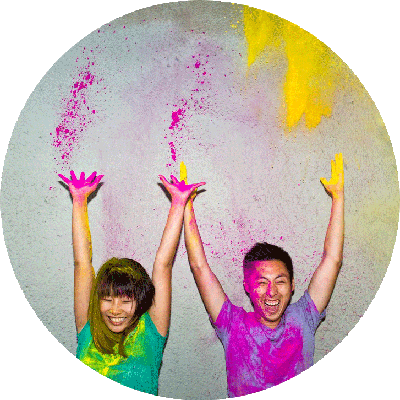 Pin
ESTHER + JACOB
Esther and Jacob are the founders of Local Adventurer, which is one of the top 50 travel blogs in the world. They believe that adventure can be found both near and far and hope to inspire others to explore locally. They move to a new city every year and currently live in Portland, Oregon.