We stopped by Lake Como on our way to Switzerland. I can see why celebrities would have second homes there. It really is beautiful.
Pin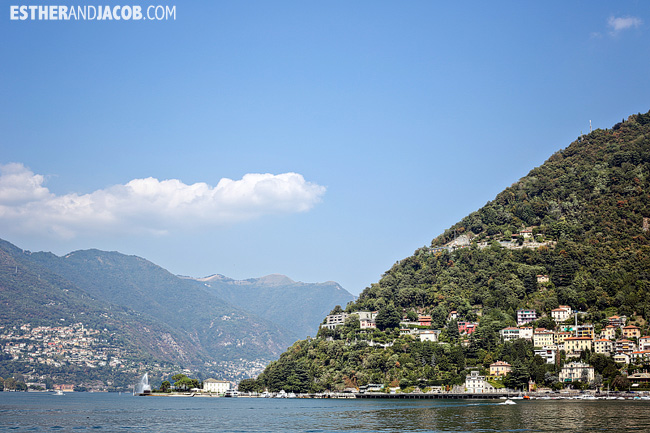 Pin
Pin
Pin
9 Best Things to Do in Lake Como
Duomo of Como – Like many other Italian cities, Como has a duomo, a cathedral with beautiful Gothic and Renaissance architecture. It's free to go inside. (Piazza del Duomo, 22100 Como CO, Italy, map)
Funicular Ride to Brunate (Faro Voltiano Lighthouse) – take a funicular ride and then hike up the rest for the most breathtaking views of Lake Como.
Bellagio – Visit the Enoteca Principessa winery
Villa del Balbianello
Varenna – a small town on Lake Como. Don't miss the Villa Monastero gardens and Castello di Vezio.
Go Boating – enjoy the beautiful lake via boat. Plus, you also get to see some of the celebrity homes on the lake.
Basilica di Sant'Abbondio – beautiful architecture.
Hiking Around Lake Como – A great one is Sentiero del Viandante or the Wayfarer's Path in English, which is a 45 km hike that can also be broken up into several hikes. See other hikes in the area here.
Rock Climbing – There's plenty of great granite and limestone to climb in the area if you're up for an adventure. We'll definitely be bringing out shoes next time!
About Lake Como
Lake Como, also known as Lario, covers an area of 56 sq mi (146 sq km) making it the third-largest late in Italy. It is one of the deepest lakes in Europe with depths over 1,300 ft / 400 meters deep, plus the bottom of the lake is more than 660 ft / 200 meters below sea level.
It has always been a popular getaway for the wealthy, and a must-see tourist attraction. There are a number of villas and palaces around the lake, and a lot of famous people have homes right on the shores.
The lake itself is shaped like an upside-down "Y". The northern branch starts at Colico, and the southern branches are home to Como and Lecco. The towns of Bellagio, Menaggio, and Lierna are near the intersection. The lake has its own microclimate that also affects the surrounding region. In January, it can get as low as 33 °F and in July, it gets up to 83 °F. The water temperature during the hottest months usually sits around 75 °F. Rainfall is low during the winter months and peaks in May.
Pin
Pin