Visiting Lungern Switzerland? Don't miss these spots.
After a few days in Italy we headed to Switzerland. The landscape quickly changed to rolling hills and breathtaking mountains. Everything was lush and green with the caps covered by snow. We made a stop in Lake Lungern Switzerland to see our first overlook into the beautiful valley.
This post may contain affiliate links, where we receive a small commission on sales of the products that are linked at no additional cost to you. All opinions are always our own. Read our full disclosure for more info. Thank you for supporting the brands that make Local Adventurer possible.
Last Updated: April 12, 2023
About Lungern Switzerland
Lungern is the highest village of the Sarneraa Valley, sitting at roughly 750 meters / 2,460 feet above sea level. It is completely surrounded by steep inclines covered in woods and rocks except for the north side. There are currently more than 2,100 people living in the village. German is the most common language spoken, with Albanian coming in second and French third. 
On average, Lungern has about 149.5 days of rain per year and they receive 58.7 inches of precipitation. June and August are the wettest months of the year and October is the driest.
What You Need to Know Before You Go
Before visiting Lungern, Switzerland, there are a few things you should know:
Weather: Switzerland's weather can be unpredictable, and Lungern is no exception. The summer months (June-August) are generally warm, but it can still be chilly in the mornings and evenings. The winter months (December-February) are cold and snowy, and you'll need warm clothing and appropriate gear for outdoor activities.
Currency: Switzerland's currency is the Swiss Franc (CHF), and it's a good idea to exchange some money before arriving in Lungern. Credit cards are widely accepted, but some smaller shops and restaurants may only accept cash.
Language: Swiss-German is the main language spoken in Lungern, but many locals also speak English. It's always a good idea to learn some basic phrases in Swiss-German, such as hello, please, and thank you.
Transportation: Public transportation in Switzerland is efficient and reliable, and the train is the most popular way to travel around the country. Lungern has a train station, and there are also buses and taxis available.
It's Pricey: Switzerland is known for being an expensive country, and Lungern is no exception. Prices for food, accommodation, and activities can be high, so budget accordingly.
Tipping: Tipping is not mandatory but appreciated in Switzerland, and it's common to round up to the nearest franc.
7 Best Things to Do in Lungern Switzerland
1. Visit the Lake Lungern
46.8016219,8.1509335, map
Also known there as Lungernsee or Lungerersee – this is a freakin beautiful lake and the main highlight of the area. Lungern Lake is surrounded by mountains and forests. You can take a boat tour, swim in the crystal-clear water, or just relax on the beach.
You can also experience the serene beauty of Lake Lungern on a boat tour. Admire the stunning scenery, the towering mountains, and the surrounding forests while gliding across the crystal-clear water.
Local Tip: Viewing Point Schoenbuehel is one of the best spots to get an panoramic view of the lake.
See More: Jungfraujoch Top of Europe
Lungern has many beautiful hiking trails that offer breathtaking views of the surrounding mountains and lakes. Some of the popular trails include:
Lungerersee Lake Loop (moderate, 6.0 miles, 672 ft elevation gain) – Circle the picturesque Lungern Lake with beautiful views of the water and the surrounding mountains. It's a perfect trail for a leisurely walk or bike ride.
Lungern-Schönbüel Trail (difficult, 5.3 miles, 2953 ft elevation gain) – This trail starts from the village of Lungern and winds up to Schönbüel at an altitude of 1604 meters (5265 feet). The trail offers stunning views of Lake Lungern and the surrounding mountains, as well as a refreshing waterfall along the way.
Lungern-Turren Panorama Trail (difficult, 7.6 miles, 4265 ft elevation gain) – Climb up to the summit of Turren with panoramic views of the surrounding mountains and valleys.
Waldboden Trail (easy, 3.1 miles, 394 ft elevation gain) – Walk through lush forests, meadows, and a small waterfall, offering beautiful views of the mountains and Lake Lungern. It's a perfect trail for families and those looking for a peaceful walk in nature.
Local Tip: Download Alltrails+ so you have access to the trails offline.
See More: 25 Best Hikes in the World to Put on Your Bucket List
Brünigstrasse, 6078 Lungern, Switzerland, map
The Lungern parish church is a majestic sight, sitting proudly on a saddle at the south end of town. It overlooks the village with its hilltop position and a grand staircase that lines up perfectly with the village street.
The neo-Gothic style church was built in place of the old church that was pummeled by a thunderstorm in 1887. Only the old church tower remains as a landmark today. The new church, consecrated in 1893, is dedicated to the Sacred Heart of Jesus, with striking sandstone columns, and colorful stained-glass windows.
The Alter Kirchturm (Old Church Tower) in Lungern is like a time machine that transports you back in time! It stands tall and proud at the northern entrance of the village, welcoming visitors to Lungern with its timeless charm.
4. Drive the Brünig Pass
46.7565137,8.1264903, map
The Brünig Pass is the ultimate Swiss rollercoaster ride! This mountain pass is not only famous for its stunning views of the Swiss Alps, but also for its thrilling roads that twist and turn like a rollercoaster. You'll feel like you're flying as you zip through the hairpin turns and soak up the breathtaking scenery. So buckle up and get ready for an adrenaline-pumping adventure on the Brünig Pass!
5. Enjoy the views from Panoramawelt Lungern Schönbüel
46.7874558,8.0873708, map
Located in the picturesque village of Lungern in Switzerland, Panoramawelt Lungern Schönbüel offers a panoramic view that will take your breath away. From the moment you step onto the viewing platform, you'll feel like you're on top of the world.
As you gaze out at the stunning scenery, you might even feel like you're in a postcard. The clear blue skies, the sparkling waters of the lake, and the majestic mountains all around will make you feel like you've stepped into a dream.
6. Go Paragliding
Get ready to soar like a bird over the picturesque landscape of Lungern! Paragliding in Lungern is an unforgettable experience that will give you a bird's eye view of the stunning Swiss Alps and the beautiful Lake Lungern.
As you glide through the air, you'll feel the rush of adrenaline and the freedom of flight. So, put on your harness, strap on your helmet, and get ready for the adventure of a lifetime with paragliding in Lungern!
Walchistrasse 30, 6078 Lungern, Switzerland, map
When the weather isn't great outside, head to Brünig Indoor where you can try your hand at a variety of shooting sports. Welcoming beginners to experts, Brünig Indoor is located underground and it's the world's only indoor 300 m shooting range.
BONUS: Go Skiing!
Lungern is an excellent destination for skiing and snowboarding. The nearby ski resorts like Hasliberg, Melchsee-Frutt, and Engelberg-Titlis offer a wide range of slopes for all skill levels.
Map of the Best Things to Do in Lungern Switzerland
Where to Stay
We stayed about 30 miles away from Lungern Switzerland at Sunstar Hotel Grindelwald. It had great views and the property was beautiful. You can also search the map below for more hotel deals.
Essential Tips
While most places in Lungern accept credit cards, it's always a good idea to carry cash just in case.
The weather in Lungern can be unpredictable, so make sure to pack for all seasons. Bring warm clothing, rain gear, and comfortable shoes.
Switzerland has its own set of customs and etiquette. It's important to be respectful of local customs, such as removing your shoes before entering someone's home.
If you plan to go hiking, make sure to follow the rules and regulations of the hiking trails. Stay on the marked paths, don't litter, and respect the natural environment.
Planning Checklist
Have you been to Lungern Switzerland? What are some of your favorite things to do in the area?
SEE More City Bucket Lists
⟡⟡⟡⟡⟡
"Discovery consists not of seeking new lands but in seeing with new eyes" – M. Proust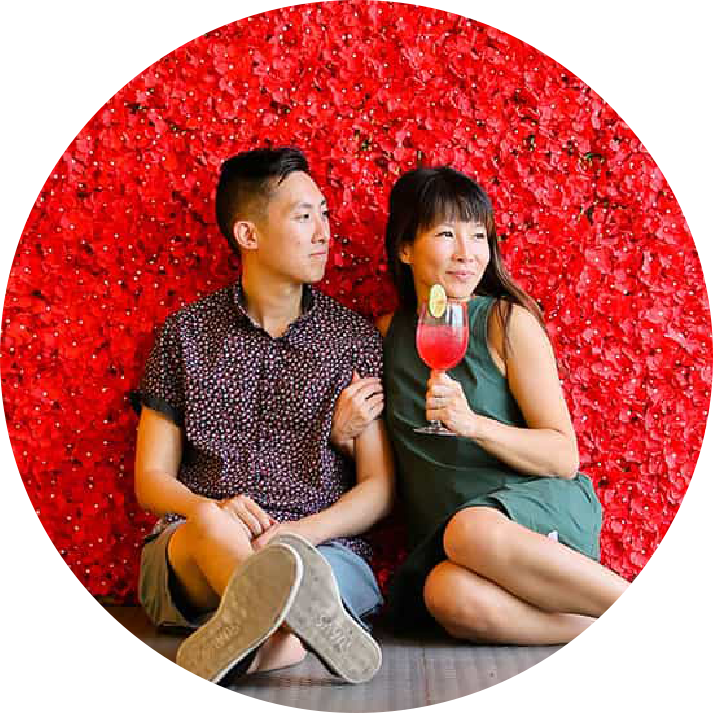 Esther + Jacob
Esther and Jacob are the founders of Local Adventurer, one of the top 5 travel blogs in the US. They believe that adventure can be found near and far and hope to inspire others to explore locally. They explore a new city in depth every year and currently base themselves in Las Vegas.
Follow on Instagram (E + J), YouTube, TikTok, and Pinterest.