Coco Bistro was one of the restaurants that kept popping up when searching for the best food in Turks and Caicos. Not only was it listed on all the popular travel sites, it was also personally recommended by a few friends. The restaurant is located in the largest palm grove on the island of Providenciales, which makes for an amazing outdoor seating area with natural coverage from the sun. As for the food, they use really fresh ingredients to make elegant Caribbean cuisine.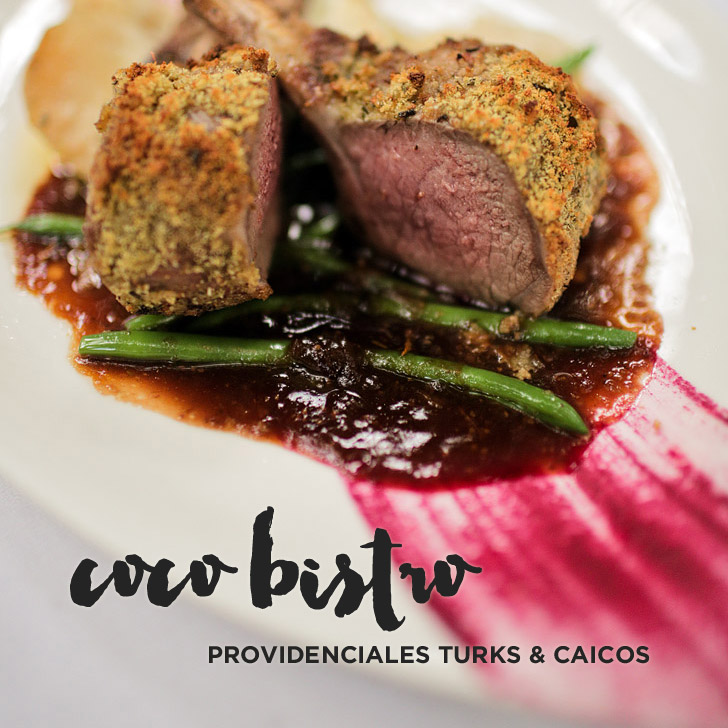 Pin
Pin

Pin
Pin

Pin

Pin
Pin
Coco Bistro style Ahi Tuna Sashimi:
Pin

Pin
Pin
Spicy Lobster Soft Tacos:
Pin
Wild Mushroom Ravioli & Grilled Shrimp Satay:
Pin
Pin
Roast Lamb Rack:
Pin

Pin
Pin
Above: Conch 2 Ways (fritters and ceviche)
Also, you'll probably see him while you're there, but they have a resident cat named Coco. She has been at the restaurant every night for seven years and is really friendly.
Pin
Pin

Pin
It's a tropical island, so sometimes it rains for a few minutes throughout the day. They gave us the option to move inside or use umbrellas. They also had stands for the umbrellas so you didn't have to hold them up while you eat, but we thought this was more fun! The coconut palms also shielded us from a lot of the rain.
Pin

Pin
Pin

Pin
Overall, Turks and Caicos hasn't been our favorite destination for food, but Coco Bistro was the exception. They had great service and food. Otherwise, we knew we were mainly in TCI for the crystal clear water and a nice escape.
Pro Trips for Dining at Coco Bistro Turks and Caicos:
Make a reservation! We were able to make a reservation 3 days in advance during our visit in August. During the busy season, you typically need to make a reservation 2-3 weeks in advance. December is already half booked.
It's a 15-minute walk from the town of Grace Bay. Take bikes if possible.
Give yourselves plenty of time to eat. We spent 1.5-2 hours during our meal.
Wear layers. Most of the seating is outdoors, so depending on the weather, it could be warm or cooler with a light breeze.
Dress code: It's an island so we saw a wide range. Generally, I would say you want to be business casual, but there were also some folks in t-shirts and some in full suits and gowns.
Coco Bistro Restaurant
Grace Bay Road (next to Sunshine Nursery)
Providenciales, Turks and Caicos Islands
[email protected]
649.946.5369
We're putting a guide together for what to eat in Turks and Caicos. Meanwhile check out the 15 Best Things to Do in Turks and Caicos and 21 Things You Need to Know Before Booking Your Trip.
Ever since visiting Turks & Caicos, we've really enjoyed conch dishes. Anyone ever tried using canned conch to make some at home? Thoughts?
What new dishes have you tried recently? Did you like or dislike them?
Have you had Caribbean dishes? What do you think?