When I travel, I always pack a dress or two. I love how it simplifies packing and you don't have to worry matching your tops to your bottoms. That means I can focus on the travel. On this post, I tested out many of the highly rated and recommended travel dresses. Plus, I'm sharing a few of my own personal travel staples I've picked up along the way.
A big thank you to Anatomie, Kameleon Rose, Orvis, Toad&Co, and Vacaystyle for providing PR samples for review. All opinions are always our own. This post may contain affiliate links where we receive a small commission on sales of the products that are linked at no additional cost to you. Read our full disclosure for more info. Thank you for supporting the brands that make Local Adventurer possible.
Last Updated: January 6, 2021
The Best Travel Dresses in 2022
A lot of the outdoor brands are also starting branch into making a lifestyle line, which now allows you have stylish clothes that also performs well. Sometimes it means you have to dig through all the items that scream outdoorsy to find the gems. Before we get into my top choices for dresses, here are some things I'm looking for when searching for the best travel dresses.
What Makes A Great Travel Dress?
Comfortable – though i might carry one fancier dress for a special occasion, most of my clothes I travel with are comfy chic.
Versatile – can be dressed up or down. It's even better if it's convertible clothing or a 2-piece dress that makes it easy to mix and match. Usually convertible clothing can be quite ugly, but every once in a while you can find a gem.
Wrinkle Free – I don't want to spend part of my trip ironing clothes.
Packable – Light and easy to pack.
Performance – Sweat wicking and quick drying is a bonus and always icing on the cake. If it looks too sporty, I opt out of this.
Note: Keep in mind, you know your body best. Each style will fit each body type differently. I'm generally a size 0 petite. If there's no petite size, I usually need to either hem clothes or midis can look like maxis on me.
I wear an XS in White, which is the smallest size they have. It runs very large and was loose on me. The label does not recommend it to be run in the dryer, but I wanted to see if it could shrink the perfect amount. Luckily, it did! But take caution, because it shrunk down a couple sizes especially in length.
Activities: Warm weather travel, resort wear.
Versatile: Can be worn 3 ways as a dress, swim cover-up, or tunic top. I like to also mix and match it and wear it as a top with the Ava 2-piece jumpsuit.
Easy Care – Can machine wash cold on gentle cycle.
Must be line dried.
Will wrinkle
Currently my go to dress that I feel like I can throw on and be comfortable in. I wear it in an XS.
Activities: Urban exploration and it's so comfortable I often sleep in it, which makes it perfect travel gear.
Very comfortable – 4 way stretch for comfort.
Breathable
Easy to pack
Eco-friendly
UPF 50 is what it says on site but the tag said UPF 30 that blocks 97% of sun's UV rays
Moisture wicking
Polygiene odor control keeps it smelling fresh so you can wear it multiple times before laundering (also saving water)
Easy care – machine washable
Has stash pockets
5% of pre-tax profits go to protecting nature
Not sure if it's just me, but it isn't as fitted on me as it is on the model. While I don't mind wearing it loose, it didn't meet my expectations.
I've previously owned some two piece dresses from Vacaystyle, and I'm completely in love this two piece jumpsuit. Never again will I travel with a regular jumpsuit if I know I won't have easy access to a restroom. It's already troublesome with access to a restroom, but on a recent road trip, one of our friends was on the verge of having to strip down completely naked on the side of the highway because there was no restroom in sight.
Activities: Urban exploration
Comfortable and has some stretch
Wrinkle Free
Lightweight
Has pockets
Versatile – it can be dressed up or down. Since it's a two piece, you can wear it together as a jumpsuit or mix and match with other pants or tops.
Can be machine washed.
Has to be line dried.
The fabric could be a little softer.
The ultimate travel dress is a convertible dress that turns into 20 different outfits. I wear an XS in black, making it my little black travel dress.
Activities: Urban exploration
Note: If you check out using the code LocalAdventurer, you can get 10% off your entire order.
You can wear it 20+ different ways
Will not wrinkle
Lightweight and easy to pack – weighs less than 2 bananas
Has a secret pocket
Quick dry fabric
Sustainable
Easy care – machine washable
When you wear it the original way the buttons make noise when they hit each other. It's not that big of a deal to me but it might be more annoying to others.
A two piece dress with a convertible top. I wear the Navy in XS, but the dress is also available in black. I love that the 2 piece dresses and jumpsuits from Vacay are easy to mix and match as you can see in photos below.
Activities: Urban exploration, business trips.
Stretchy, soft fabric. It's so comfy I could sleep in it.
Versatile: Can be worn 4 ways. It's a dress, top, skirt, or the skirt can also be a strapless cover up.
Convertible top can be worn with the keyhole in front or back.
Can be machine washed cold.
It's currently on sale and I have both the black / blueberry and the aquifer. The photos below just show the aquifer, but I'll update the post with some photos of the other dress too.
Activities: Urban exploration and hiking. The black side can be worn for nice dinners and events or business trips.
Reversible
Easy care – machine washable
Moisture wicking
Stash pockets  for both sides without being bulky
Odor control so you can have more wears without washing. This also saves water
UPF 30+

Socially and environmentally commited garment. 94% of products are eco-friendly and sustainable. 

Made with sustainable based fibers and fabrics that meet earth-friendly bluesign or oeko-tex 100 standards.
Their guarantee – If you don't get a compliment within 3 wearings or you find something wrong, they take it back.
A portion of every purchase goes toward supporting people with disabilities.
Sometimes the layer under comes out, so you have to make sure you keep the outside layer pulled down.
Will wrinkle.
The straps don't always hide your bra, so you can only wear certain bras.
I wear an XS in Yellow and the dress runs large. I tried to shrink it a few times in the wash, but it stayed the same size.
Activities: Urban exploration. I've also worn this as a swimsuit cover-up and went SUPing with it.
Versatile and can be dressed up or down.
Can machine wash cold and tumble dry low.
Affordable
Will wrinkle
Fabric has a little stretch but isn't very soft.
The Prana Foundation Dress is a short sleeved boyfriend t-shirt dress with shirred pencil skirt and deep v-neck.
I wear an XS in Sapphire Blue, which is currently on sale at REI.
Activities: Urban exploration and hiking.
Comfortable enough to sleep in. I may have to buy them in every color.
Versatile. It's a great basic that can be dressed up or down.
Flattering shape especially around the tummy, so I can eat however I want on a trip.
Sustainable and respects the planet and people.
Can be machine washed and dried.
The dress is meant to be knee length or slightly above knee and is long especially for petite people but can be folded under or scrunched up for a shorter fit.
Will wrinkle.
I haven't washed it enough times yet, but I've read reviews of it pilling quickly, so I'll keep you updated.
I wear an XS in the Beige Yellow, but the dress runs big and fits loose on me. The shoulders aren't where I want it, but it still looks okay (see photo below). I know a few other travel bloggers with this same dress who own it in more than one color. If it fits you, it's a fan favorite.
Activities: Urban exploration, beach
Comfortable Fabric.
Flattering shape.
Lightweight.
Machine Washable
Must be line dried.
Will wrinkle
This dress is somewhat similar to the Kameleon Rose dress. I actually learned about Encircled first and have had this dress early on in the blog. Love how this wrap dress can be worn so many different ways.
Activities: Urban exploration, in flight.
Versatile and can be worn 8+ different ways, and you can see all the ways I tried it including a video here.
Heavy Fabric
Will Wrinkle
Must be line dried and actually takes forever to dry.
I found this dress by googling flowy maxi dress. It's great for photos and the gram but isn't as great in the function department. Still, if you plan on taking a lot of photos on your trip, it might be worth putting on your packing list.
Activities: Urban exploration, weddings, beach
Comfortable Fabric
Flattering shape
Machine Washable
Must be line dried.
Will wrinkle
Not as packable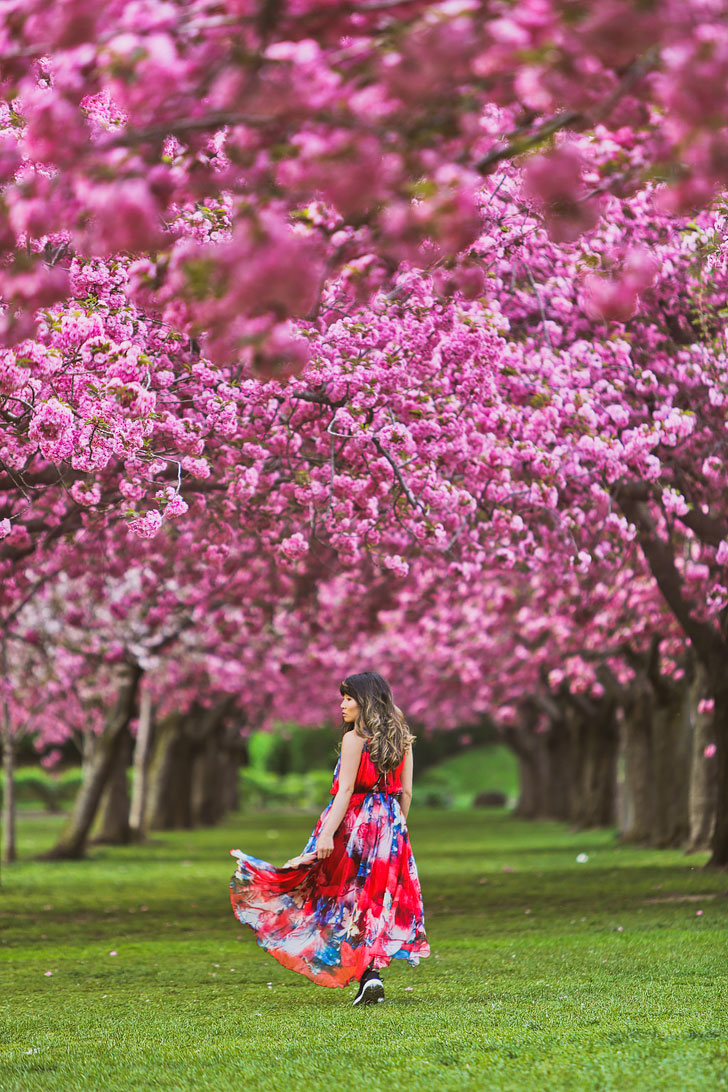 I'm a big fan of Anatomie's line of travel clothes. I own two pairs of Skylar Pants in black and gray because they're perfect for flying. This dress is an online exclusive and it always travels with me. I wear the XS.
Activities: Nicer dinners, business trips, urban exploration.
First of all, I love the fit on me though it's much longer on me than on the model.
Versatile and can be dressed up or down.
Can machine wash cold on gentle cycle.
Will not wrinkle
Made of luxe stretch jersey and I love the feel and stretch of the fabric. It's easy to get on and off. everything I own from Anatomie always is made high quality.
Breathable
More Travel Dresses - Honorable Mentions
Best Travel Dresses Comparison Chart
Shop the best travel dresses on Amazon. 
Essential Travel Tips for Packing Dresses
If you want to avoid wrinkles, use these packing tips:
Don't overpack.
Lay the dress flat inside a plastic dry cleaning bag. Fold it in its natural shape.
Pack them last or on top of everything else.
Roll softer garments.
Use a mini travel steamer.
If your clothes are wrinkled, hang them in the bathroom while you take a steamy hot shower.
What do you think of these dresses? Which of them would you most likely wear? Have you tried any travel dresses (the ones are specifically made for travel)?
Did you enjoy this post? Pin it for later
SEE MORE TRAVEL ESSENTIALS
"Discovery consists not of seeking new lands but in seeing with new eyes" – M. Proust
Esther and Jacob are the founders of Local Adventurer, which is one of the top 5 travel blogs in the US. They believe that adventure can be found both near and far and hope to inspire others to explore locally. They explore a new city in depth every year and currently base themselves in Las Vegas.