Want to Shoot the Hooch? Here is everything you need to know!
Shooting the Hooch is kind of a rite of passage for anyone living in Atlanta. Growing up, we had done it with tubing and kayaking companies, but then soon realized you could easily buy your own tube and go whenever you want! You just need to buy a few things for yourself, know where to enter and exit, and you can head anytime you want.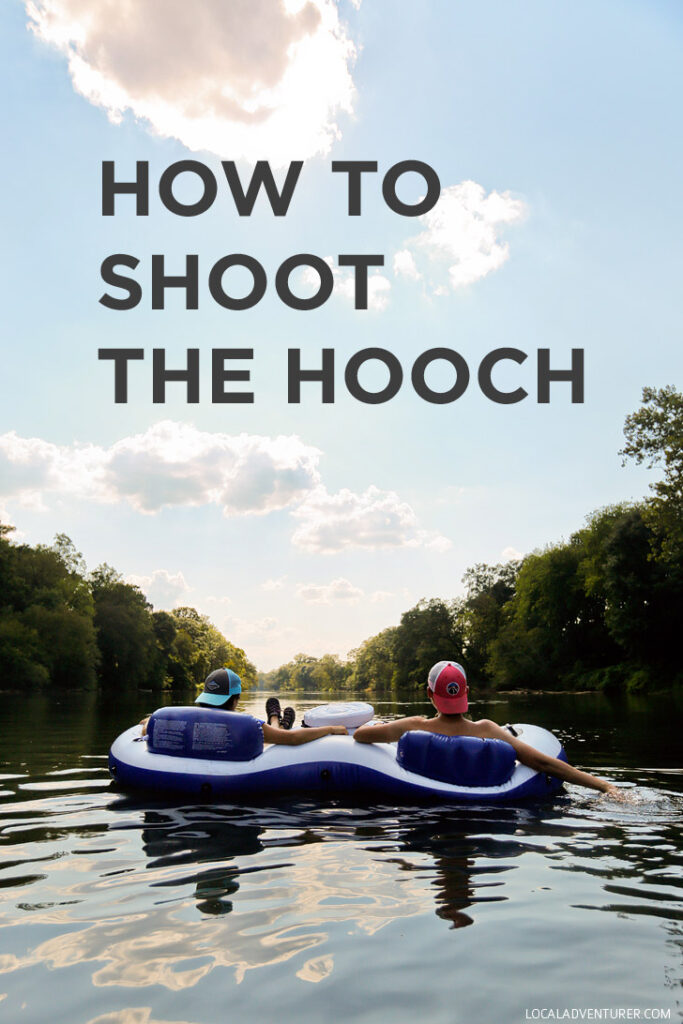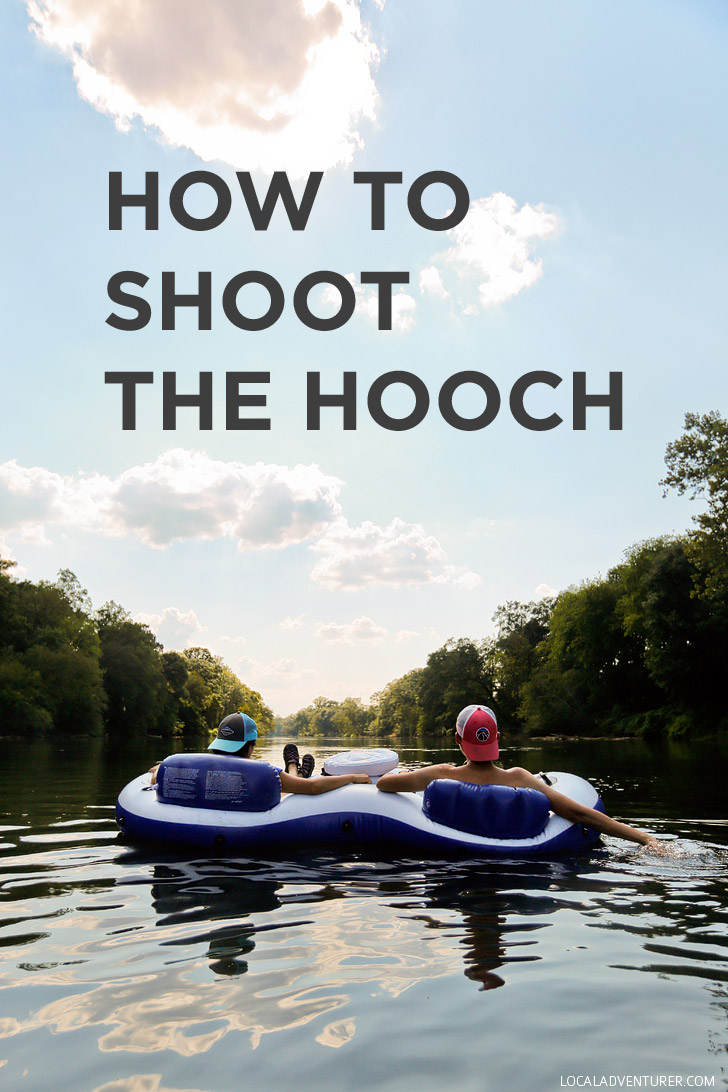 This post may contain affiliate links, where we receive a small commission on sales of the products that are linked at no additional cost to you. All opinions are always our own. Read our full disclosure for more info. Thank you for supporting the brands that make Local Adventurer possible.
Last Updated: January 23, 2023
The Tube
Most companies charge anywhere between $20-25 per person for rentals, parking fees, and shuttle service, but you can get your own gear for practically the same price. If you go more than once, you'll definitely save money!
You can go with a simple classic tube or go fancy! I always have a nagging feeling that something's going to come up out of the water and bite my butt, so I prefer tubes with a mesh center. Since Esther and I always go together, we opted for this awesome double tube that even has a built-in cooler for your drinks. And no one shoots the hooch without their beer. You can also buy a separate floating cooler. It helps to have a pump to fill your tube quickly too.
The other important thing you need to buy is a life jacket. It's the law and they sometimes patrol the river giving tickets to anyone that doesn't have one. Anyone over 13 doesn't have to wear them but you still need to have them with you. Most of us just tie them to our tubes.
Local Tip: You can easily get around the Grand Canyon Village with the free shuttle bus.
See More: 101 Things to Do in Atlanta Georgia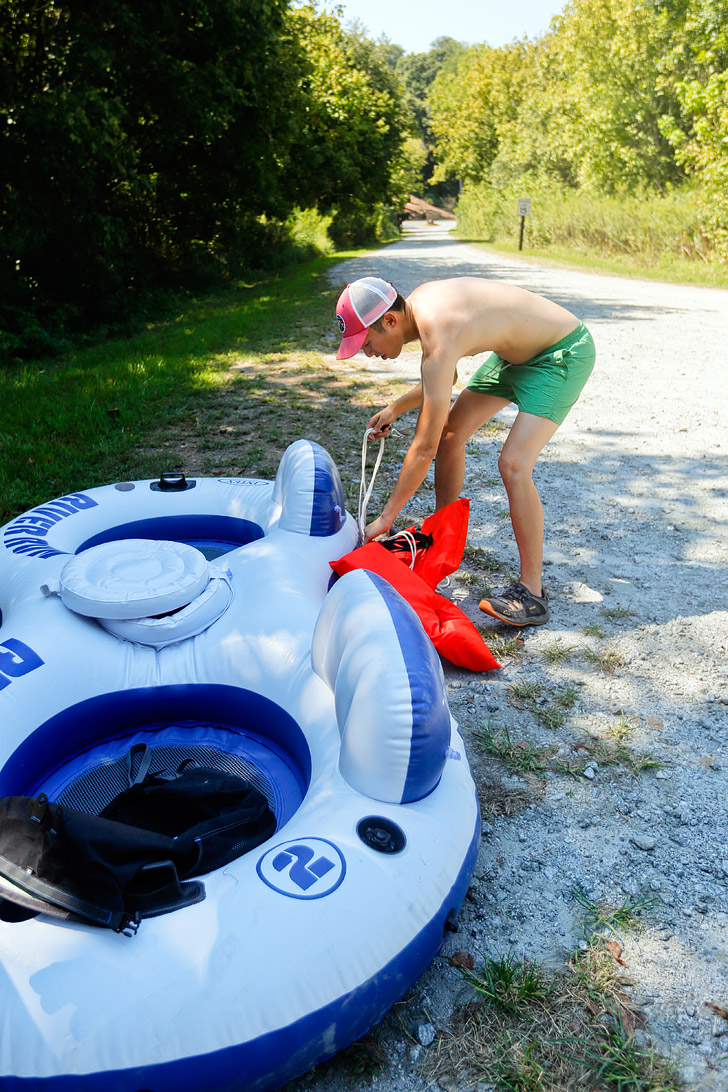 Entry and Exit Points
If it's your first time, you may feel like finding the entry and exit points of the rivers in Atlanta is confusing, but it's a lot easier than you think! There are a bunch of options but the important thing is to remember to bring two cars. Drop off one car at the endpoint then drive everyone to the starting spot.
If you only have one car, you can consider using Uber, but you need to be sure to have a set of dry clothes for the car ride and you'll want to tell the driver you're coming from the river to make sure they are okay with it.
The great thing about doing it on your own is that you can pick your entry and exit points and make your float as long or short as you want.
Route Options / Shoot the Hooch Locations
Don White Memorial Park to Memorial Park
Distance: 1.5 miles
Time: 2-4 hours
This is the most popular route and therefore the most crowded. If you're nervous about figuring out where to exit, this is a good option since you'll most likely run into others.
Island Ford to Azalea Park
Distance: 3.5 miles
Time: 4-6 hours
If you're looking for a longer route, start at Island Ford and end at Azalea Park.
Powers Island to Paces Mill
Distance: 2.5 miles
Time: 3-5 hours
This is our favorite route and the one that we always do because it is less crowded. Some readers have said it took them one hour. We've done it many times, and it took us much longer.
Johnson Ferry to Paces Mill
Distance: 6 miles
Time: 5-7 hours
For a really long ride, you can hop in at Johnson Ferry and ride all the way down to Paces Mill.
Local Tip: Keep in mind, these are rough estimates. The flow of the river can depend on the water level, so it may vary depending on when you go.
See More: 49 Best Places to Eat in Atlanta GA Food Bucket List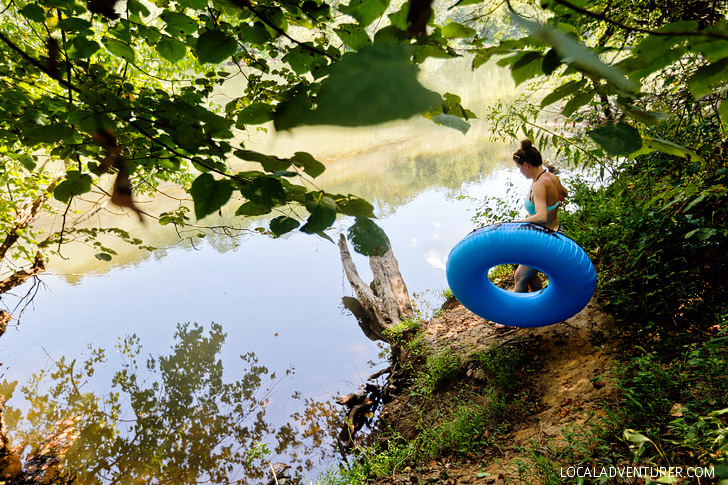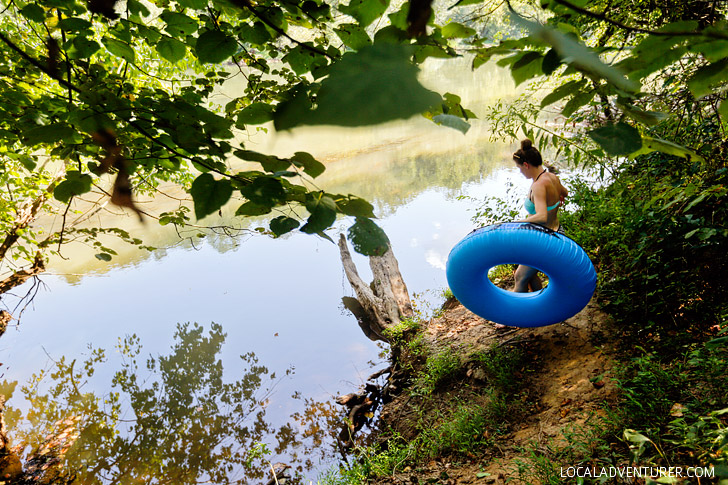 Addresses
Use the addresses below to get shoot the hooch directions.
Island Ford Unit – Chattahoochee River National Recreation Area ($5 Parking)
1978 Island Ford Pkwy Sandy Springs, GA 30350
Don White Memorial Park (Free Parking)
925(B) Riverside Road Roswell, GA 30075
Azalea Park (Free Parking)
203 Azalea Dr Roswell, GA 30075
Johnson Ferry South – Chattahoochee River National Park ($5 Parking)
4630 Columns Dr SE Marietta, GA 30067
Powers Island Unit – Chattahoochee River NRA ($5 Parking)
Interstate N Pkwy Atlanta, GA 30339
Paces Mill Unit – Chattahoochee River NRA ($5 Parking)
3444 Cobb Pkwy Atlanta, GA 30339
Local Tip: If you have an annual National Park Pass you don't have to pay for parking. Just make sure it's on display.
See More: Best Places to Stay in Atlanta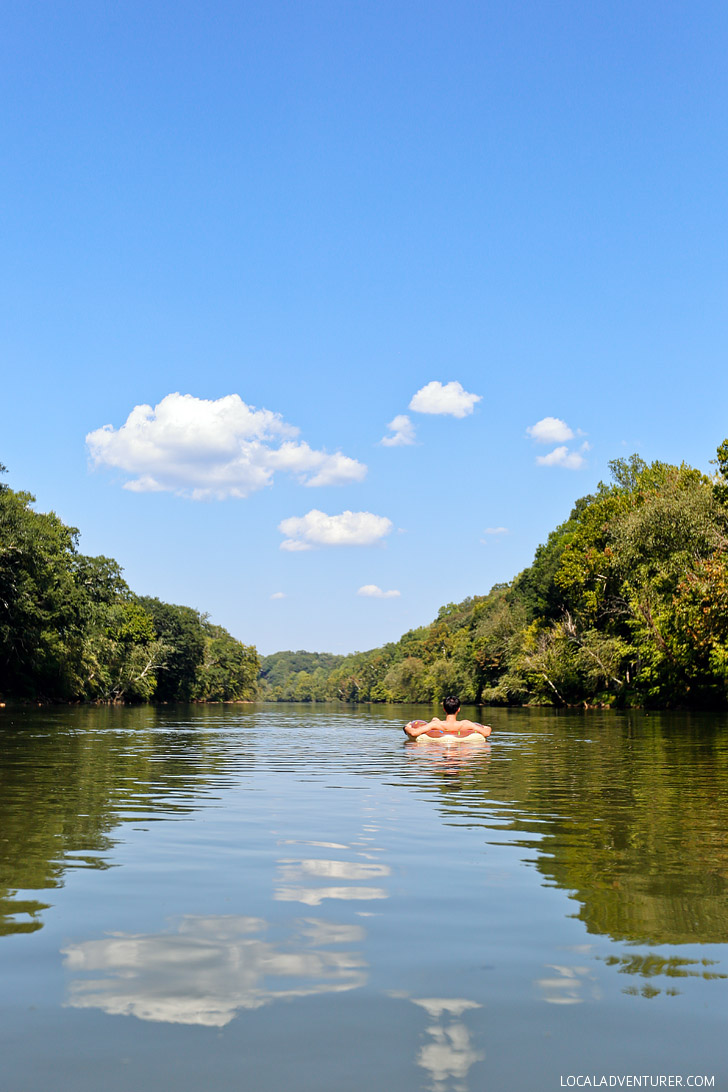 CHATTAHOOCHEE River TUbing Map
What to Pack
Life Jackets (one per person – it's the law!)
Rope (to tie yourself to other tubers)
Bathing Suit
Sunglasses / Hat
Extra Set of Clothes
Beverages (no glass or Styrofoam is allowed)
ID if you're drinking alcohol
Plastic Bag for Trash
See More: 15 Best Day Trips from Atlanta + 15 Best Weekend Getaways from Atlanta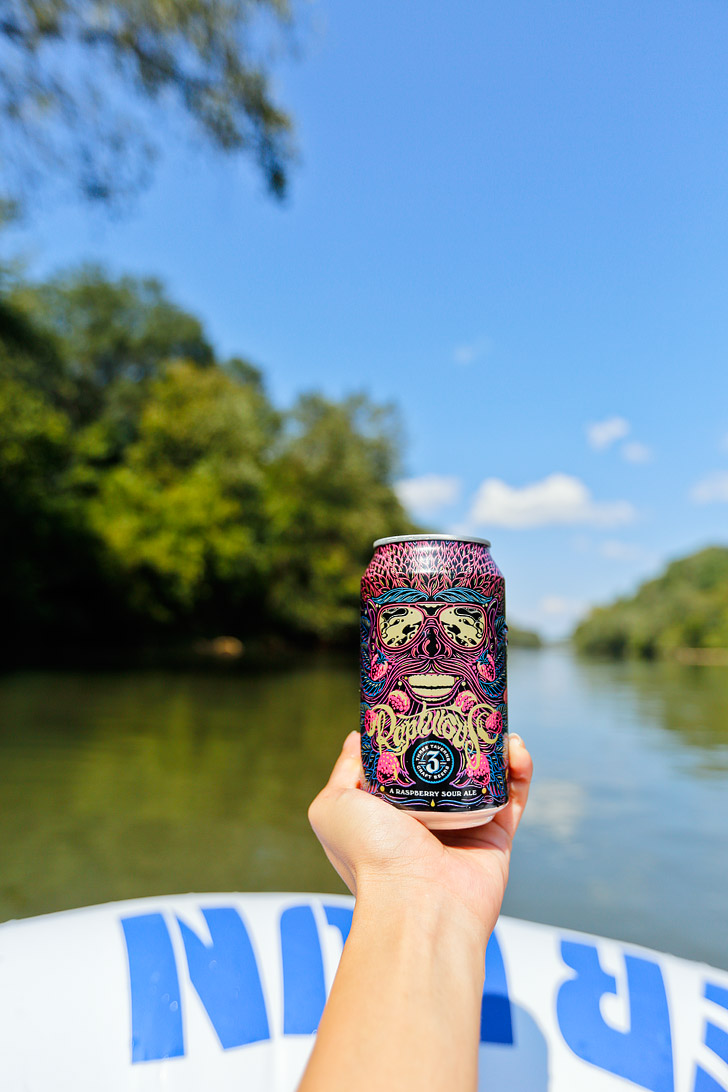 Pro Tips for First TImers
Take TWO cars so you have one at the end point and the starting point. Parking is $5/car or pick up an annual pass.
Make sure you leave all your towels and dry clothes in the car at the end point.
Don't forget to bring the key to the endpoint car! We've done this before and someone had to run/walk to the starting point.
If there was recently heavy rain, you should stay out of the water. Pollutant levels usually go up. Check for the twice-weekly bacteria and e-coli levels.
Check and double check the weather. Summer storms are a common occurrence so it's good to know it's coming before you're trying to hide from lightning.
Be mindful of your exit point. If you get too relaxed you might miss it. We've had some friends miss it and they floated further down the river and needed to be "rescued".
Be courteous! You share the water with rafters, kayakers, fisherman, and animals.
Pack out what you pack in! It's unbelievable how many people leave trash, which ruins the environment and experience for everyone else.
The water level can change based on when they release water from the dams upstream. Call 1-855-DAM-FLOW to check first.
No matter what time of year, water temps are chilly, usually between 55 and 65 degrees. This makes for a great way to cool down in the summer and keep your drinks cold in the water.
Keep in mind that the river is lined with private homes and apartment complexes. If you're trying to get out early, be sure you're not trespassing.
Holidays, like Memorial Day and Labor Day get really busy.
If you're looking for a different area to tube, you can head up to Helen, GA.
Have you ever tried to shoot the hooch? Or tubing in general?
DID YOU ENJOY THIS POST? PIN IT FOR LATER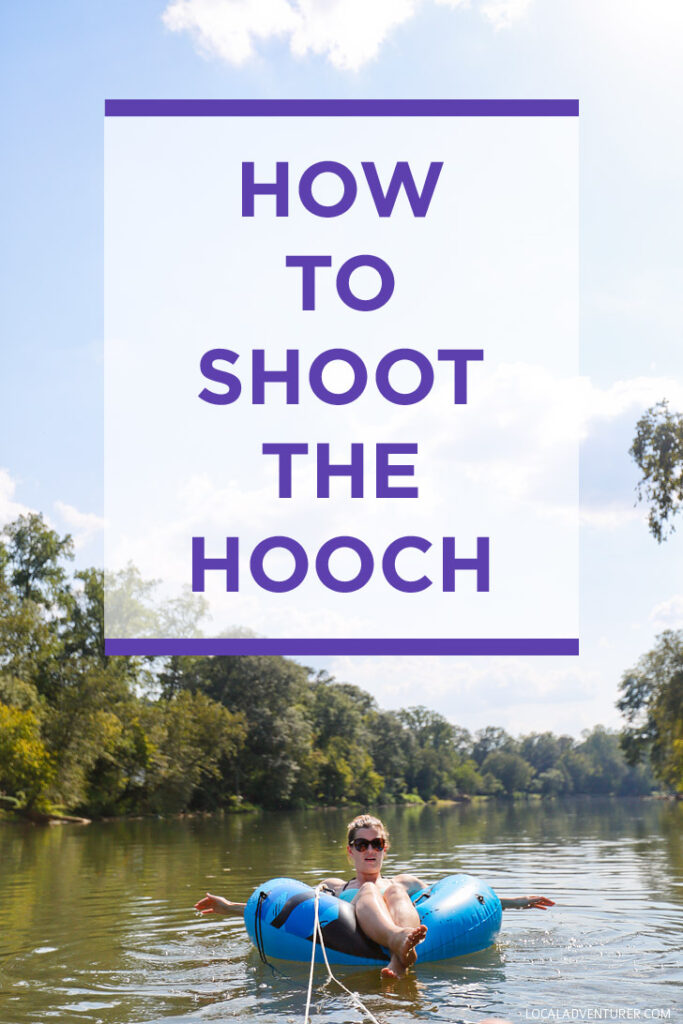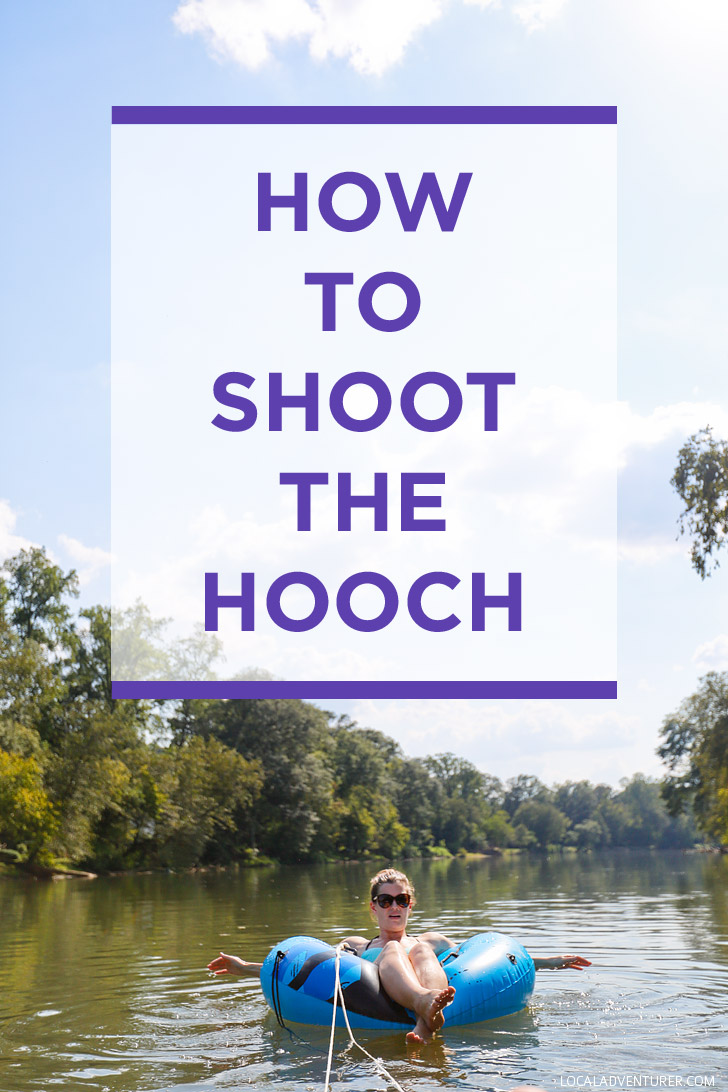 See More THings to DO in Atlanta
⟡⟡⟡⟡⟡
"Discovery consists not of seeking new lands but in seeing with new eyes" – M. Proust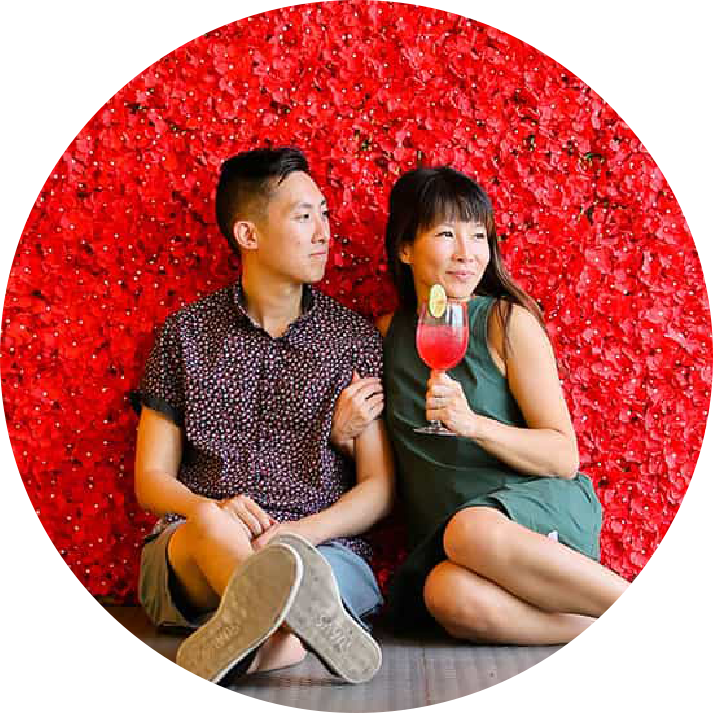 Esther + Jacob
Esther and Jacob are the founders of Local Adventurer, one of the top 5 travel blogs in the US. They believe that adventure can be found near and far and hope to inspire others to explore locally. They explore a new city in depth every year and currently base themselves in Las Vegas.
Follow on Instagram (E + J), YouTube, TikTok, and Pinterest.