If you've been following along, you already know that Monterey is one of our favorite areas in California. The city of Monterey gives you the comfort of a city with easy access to the best ocean views and outdoor exploration. There's plenty to do within the city, but you can also use it as a home base to explore the entire Monterey Peninsula, which you must do too!
Today, we're partnering with See Monterey to share the best things to do in Monterey and give away a family package for 4 (more info at bottom of post).
Pin
We've visited a fair share of aquariums, and we loved how unique this one is! You know we love a good jellyfish exhibit since they're so photogenic, but we especially love the open sea area. The weekends can get really busy so try visiting during the week.
This is one of the most scenic drives in the US. It's bizarre being able to drive through neighborhoods and the Pebble Beach Golf Links.  Drive through Pebble Beach Golf Links, see the famous Lone Cypress, and enjoy the coastal views. Here is our complete guide for the drive.
Pro Tip: It's $10 or free with a dinner reservation or tee time.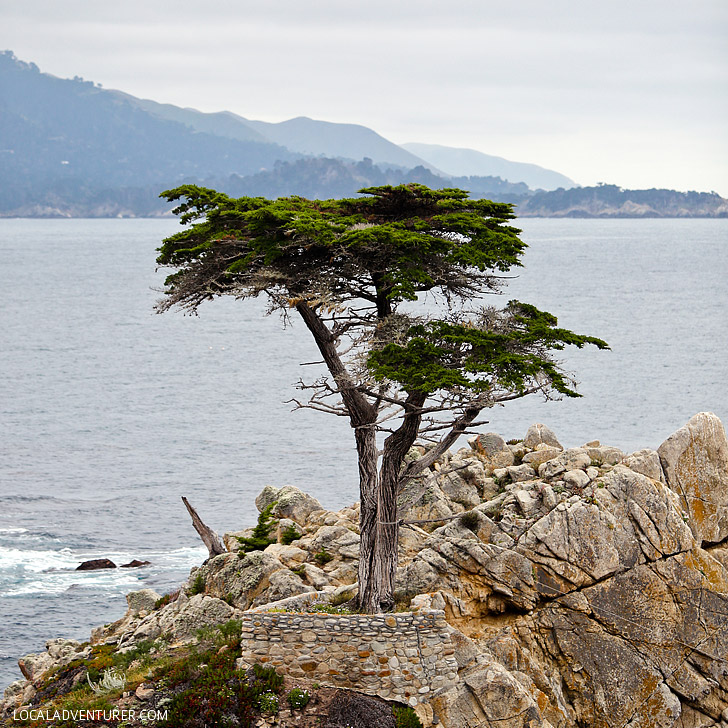 Pin
3. Golfing at Pebble Beach

This is known as one of the most beautiful golf courses in the world! If you're able to obtain one of the coveted tee times, you'll be playing where the pros do and get a chance to take in all the views. If you can't get a tee time, you can still view the course on the 17-Mile Drive.
Pro Tip: You can enjoy the same beautiful views golfing at Pacific Grove for much cheaper.
4. Cannery Row

Cannery Row is the center of Monterey's tourism industry. There are beautiful boutique hotels, tons of shops, and restaurants where you can fill your belly. Be sure to check out the Antique Mall to get a glimpse of its roots.
One of the best ways to see the Monterey Bay is to kayak it! You get to learn about the marine life and even hold some of it in your hands. We saw sea otters, starfish, jellyfish, sea urchin, and more! Check out our whole experience here.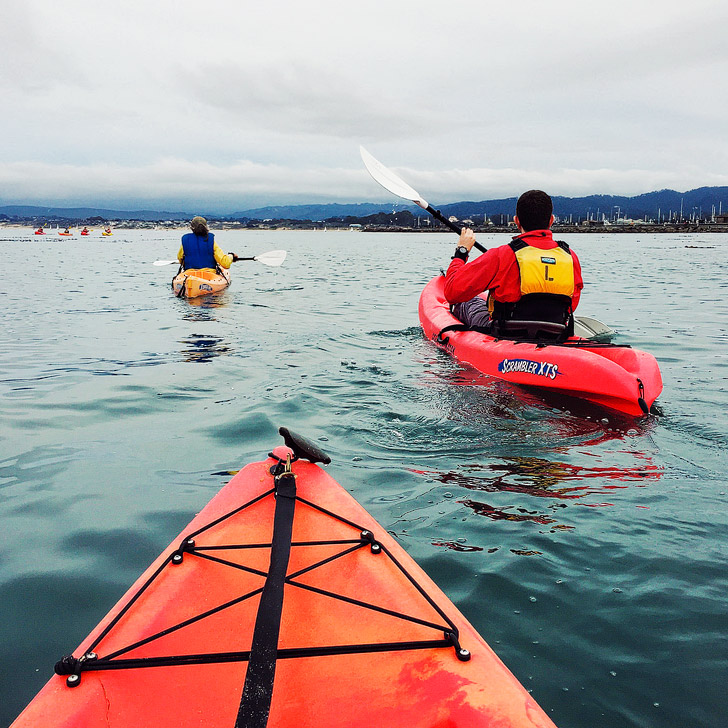 Pin
6. Whale Watching at Fisherman's Wharf

If you're looking for a place to go whale-watching, this is your spot! There are panoramic views of the bay, seals sunbathing on the rocks, and restaurants to stop at for a quick bite.
Pro Tip: Visit in April to see blue whales and humpback whales.
7. Monterey Museum of Art (MMA)

Founded in 1959, the MMA has two facilities to explore. There are over 14,000 objects in their permanent collection covering American and Asian art, contemporary art, photography, and early California painting, and include pieces from artists like Pablo Picasso, Henri Matisse, Armin Hansen, and Ansel Adams.
8. Monterey Bay National Marine Sanctuary

This is one of the nation's best marine protected areas with spectacular wildlife viewings. The sanctuary stretches from San Francisco to Cambria full of beaches, tide pools, kelp forests, steep canyons, and marine life. Check out the interpretive center in Santa Cruz.
9. Path of History
55 historic sites fill the two-mile Path of History. You can take a self-guided tour by following the yellow tiles on the sidewalk to see California's rich heritage. You can see adobes and buildings such as Colton Hall, Custom House Plaza, Pacific House, and the Golden State Theatre.
10. Golden State Theatre

This beautifully restored theater seats roughly a thousand people and hosts world-class concerts, film festivals, and live performances. The rescued sky canopy makes you feel like you're outdoors.
11. Monterey Jazz Festival

If you're in Monterey in September, check out the world's longest running jazz festival. There are seven stages of live jazz, exhibitions, an international shopping bazaar, and more.
12. The Famers Market at Old Monterey Marketplace

This year-round Farmers Market spans three city blocks and is full of vendors selling arts and crafts, furniture, clothing, jewelry, and food. You can also find certified organic produce and fresh flowers.
ON THE MONTEREY PENINSULA
Big Sur is one of our favorite places in the world and Monterey is a great place to base yourself if you want to explore the area. Here is our guide for 11 amazing things to do in Big Sur.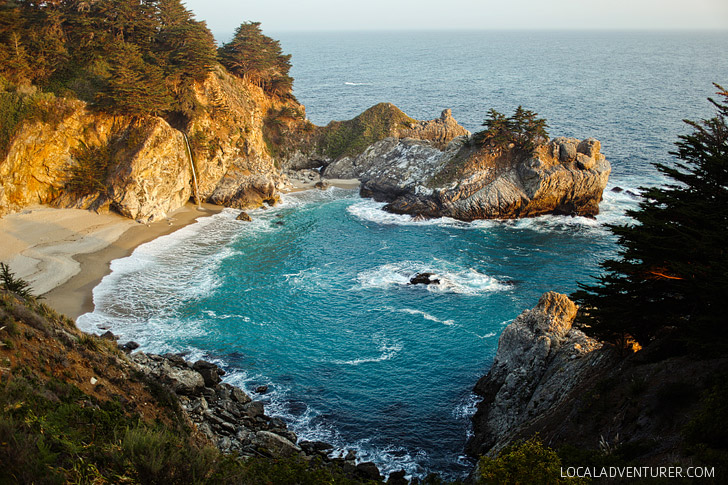 Pin
14. Carmel-by-the-Sea

This seaside village is the perfect spot to spend the afternoon! There are small shops and cafes to check out. We really enjoyed the wine walk and tasting wine up and down the streets of Carmel-by-the-sea. You can also picnic down at the beach. Last time, we stayed at Hofsas House.
15. Point Lobos State Natural Reserve
Just south of Carmel-by-the-Sea is this beautiful Natural Reserve. The dramatic landscapes will keep you mesmerized for hours. If you are dive certified, there are 10 diving spots where you can swim through 70-foot-high kelp forests and coral reefs.
WHEN TO VISIT MONTEREY
Summer is peak season but can still be cool and overcast. January and February make up the rainy season. If you want to get clear weather and temperatures in the 70s go during the fall and spring. You can see Monarch butterflies in October. If you're there to see baby seals go in the spring and if you want to see whales, go in April.
MAP OF MONTEREY CA
I'm so excited that See Monterey is giving away these tickets so you can experience more of what Monterey has to offer. The package includes:
4 tickets to the Monterey Bay Aquarium
4 tickets to the MY Museum
To enter the giveaway, visit See Monterey here. If you need more info on the area, you can download a free visitor's guide here (link is at the bottom).
Did you enjoy this post? Pin it for later!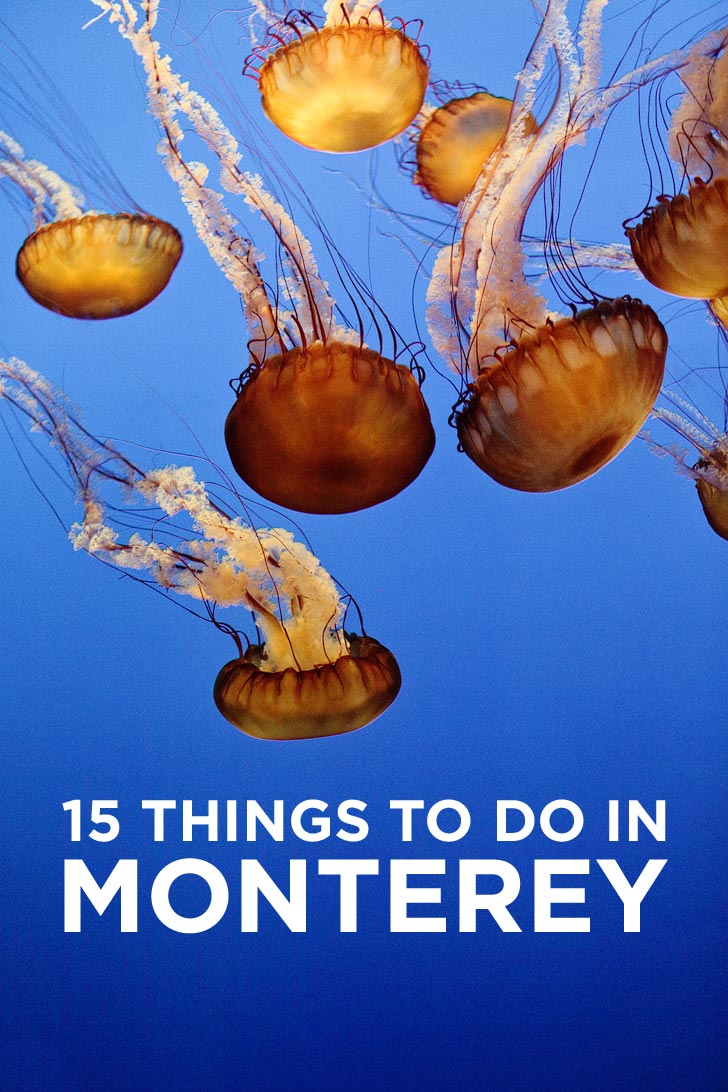 Pin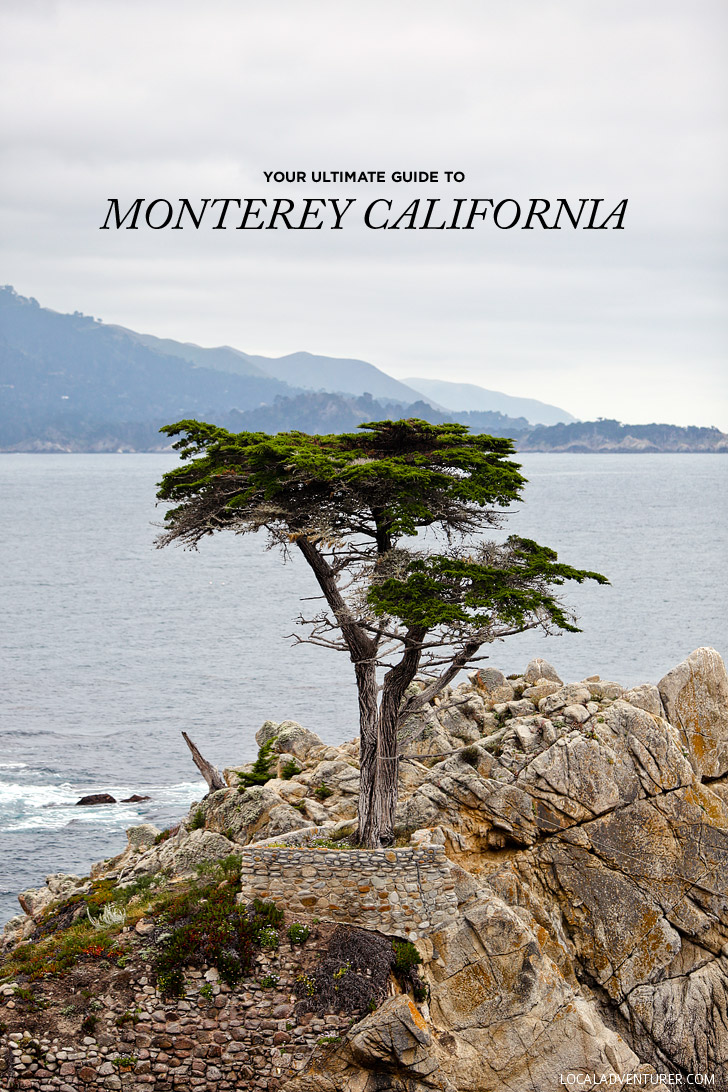 Pin
Pin
What would your dream trip to Monterey look like?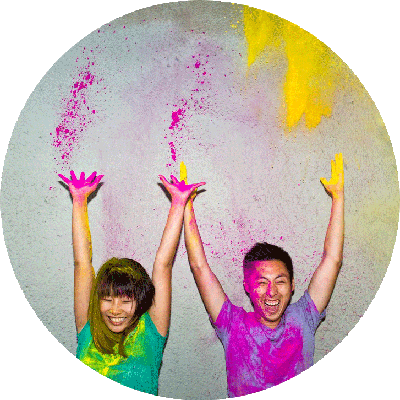 Pin
ESTHER + JACOB
Esther and Jacob are the founders of Local Adventurer, which is one of the top 50 travel blogs in the world. They believe that adventure can be found both near and far and hope to inspire others to explore locally. They move to a new city every year and currently live in Portland, Oregon.