Whether you want to start a personal project, share updates with family, or to get YouTube famous, vlogging is a great way to document your day-to-day. Getting a new camera can be pricey, but with the help of our friends at B&H, we decided to test out 17 best cheap vlogging cameras side by side and see how they compared.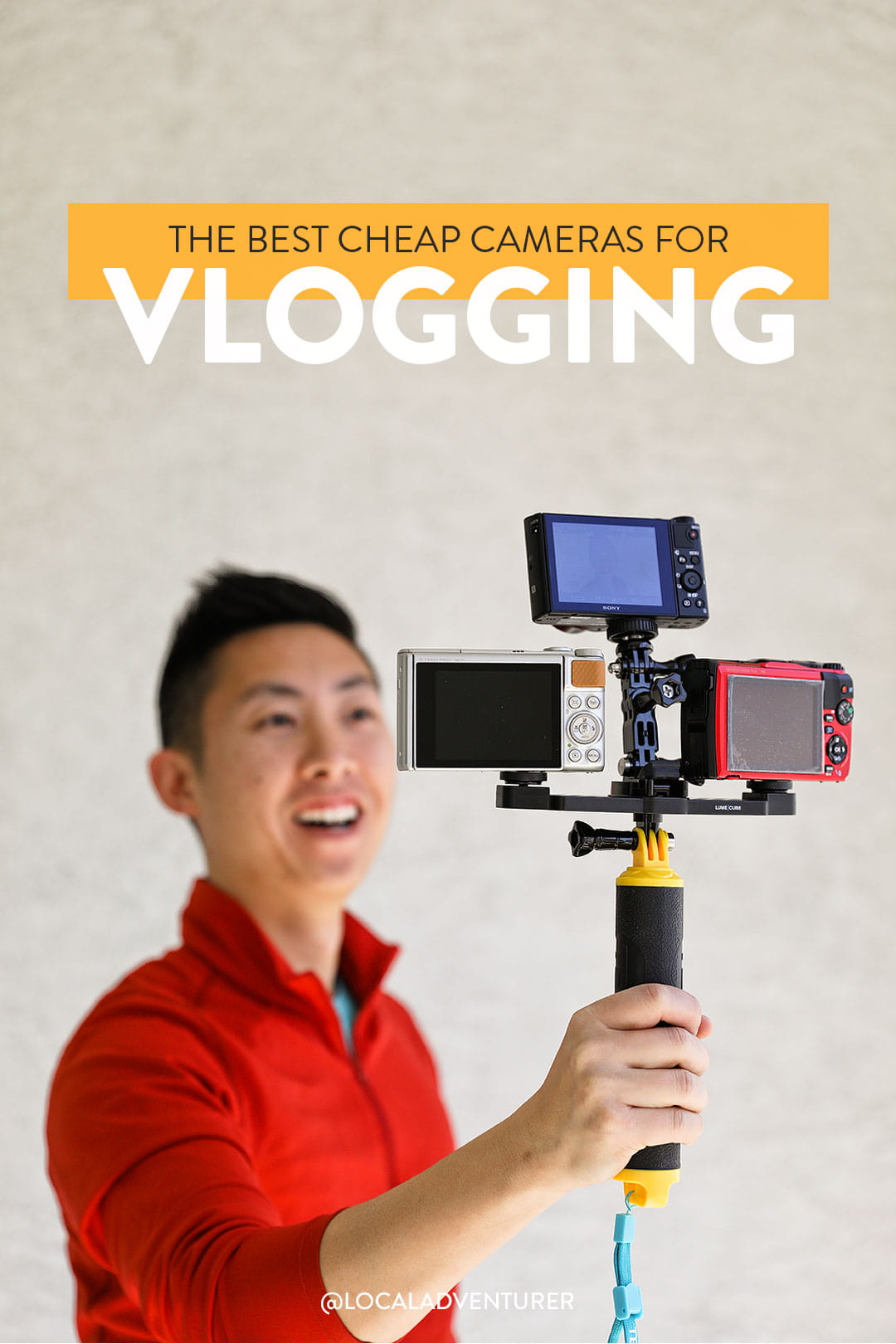 A big thank you to B&H for letting us borrow the gear. All opinions are always our own. This post may contain affiliate links, where we receive a small commission on sales of the products that are linked at no additional cost to you. Read our full disclosure for more info. Thank you for supporting the brands that make Local Adventurer possible.
Last Updated: July 9, 2020
Here's What We Found When Comparing the Best Cheap Vlogging Cameras
One of the most common questions we get is "what is the best camera to get for [insert what you want to shoot]." From running a photography business to shooting our travels, we've shot photos and videos with just about everything (DSLRs, point and shoot cameras, drones, and even our phones).
Many of the big YouTubers shoot with high-end DSLRs (like the Canon Mark IV), but they also make a living off of YouTube, which makes investing in gear a no brainer. My first response to anyone starting out or looking to buy a camera is to think about your budget. That helps narrow down your choices.
For the purpose of this post, our best cheap vlogging cameras had a price cap of $500. Even with that price constraint, we had a huge list of cameras to check (17 to be exact). So we decided to break them down into 6 different categories: cheapest compact cameras ($0-250), mid-range compact cameras ($251-400), high-end compact cameras ($401-500), larger cameras, camcorders and action cameras.
I came up with a way to shoot all the cameras in each category at the same time so that you can compare each one side by side and decide for yourself which one is a good cheap vlogging camera.
What to Look for in a Vlogging Camera
From our experiences with various cameras, we narrowed down what we look for in an affordable vlogging camera. The criteria below are great for anyone looking to buy a new camera.
What Will You Use the Camera For
The first question you should ask yourself is what will you primarily be shooting. Since you're on this post, we imagine it involves vlogging, but do you also want to take photos? Do time-lapse? Shoot slow-motion? Go diving with it?
This doesn't have to be a be-all-end-all list, but it helps to get you started. I created a spreadsheet with all the features you'd like in order of priority. Then as you check out different cameras, see which one checks off the most boxes. This is the best way to see them side by side and helps you decide which will be the best cheap vlogging camera for your needs. Below are some of the features I value and look for in cameras.
When it comes to vlogging, I'm a lazy and slow shooter. Because of that, I want something that's easy to carry and easy to pull out to shoot. I'm sure you've seen the a typical vlogging camera that YouTubers use. They are usually big DSLR set ups, but that's just too cumbersome for me. We prefer to travel light and even though Esther can't give up her DSLR for photos, I like using a compact camera or even my phone.
Display Screen / Flip Screen
A flip screen is a double-edged sword. On one hand, it's nice to see yourself and the background framed correctly, but it's also really tempting to stare at yourself while you vlog (this drives me crazy when I watch vloggers). Ultimately, I still prefer a flip screen because it makes for a good camera for YouTube and video, but make the extra effort to keep my eyes on the lens.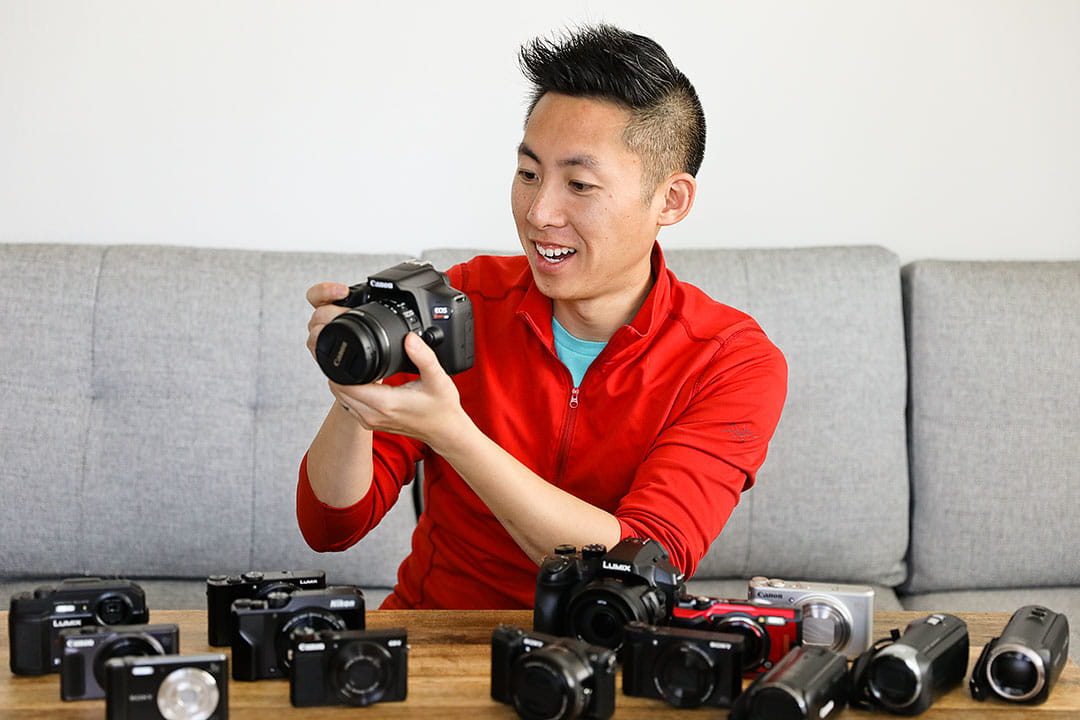 When vlogging, the sound is just as important. Imagine watching a video where the person's voice is muffled or drowned out by the background noise. It can ruin a video experience. I always look to see if there is a way to mount an external mic since they will 99.99% of the time be better than the built-in microphone.
Unfortunately, most of the cameras on this list do not have a built-in mic, but an easy workaround is using this lav that plugs directly into your phone. I use this setup to record my voice with the voice recording iPhone app and later sync it to the video when I edit.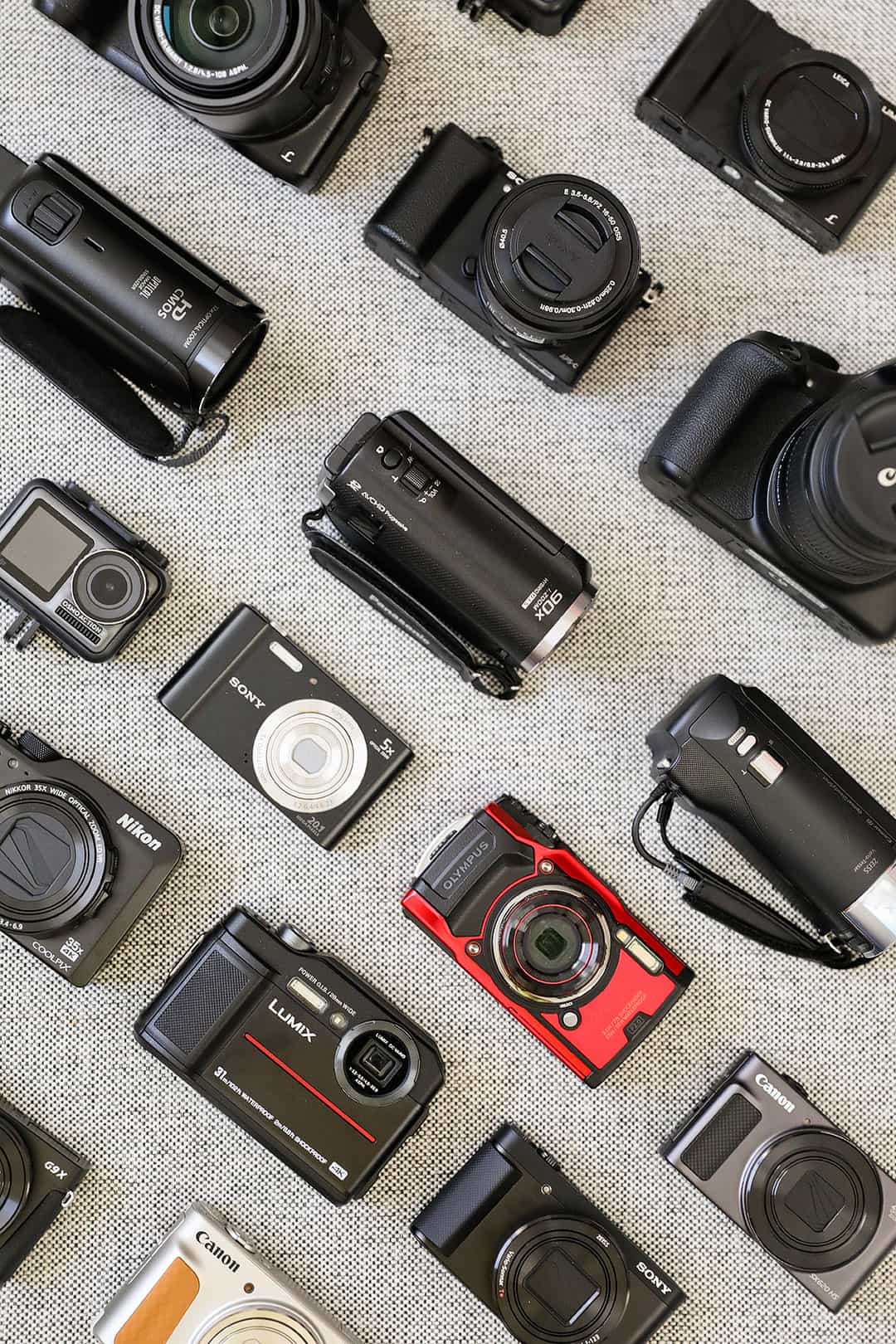 These are other video features to consider.
Recording Limit: How long will your clips be? Will the video cut off after a certain amount of time? 30 minutes is standard for most of the cameras.
Zoom: Having the option to zoom in on specific things is helpful.
Slomo: Will you want to shoot in slow motion? Standard video is 24/30 frames per second (fps). If you have a camera that can do 60 fps, you can do slo-mo at half the speed. If you can do 240 fps, you can shoot slo-mo 10x slower than what our eyes see.
Video Resolution: You'll find specs that say 4k or 1080p for video resolution. A lot of the YouTube videos you see are in 1080. Plus, if you edit a 1080 video using the 4k footage, you can zoom in without losing quality. 4k is nice to have for quality, but the files are HUGE. My computer can't handle the file sizes without it sounding like it's about to explode. For this reason, I usually don't shoot in 4k. 
The camera itself will also have multiple features you should consider.
Waterproof: Will you be shooting around water often? Do you want to take your camera underwater? 
Battery Life: How does the battery perform and how many spare batteries will you want to carry?
Battery Charger: How do the batteries charge? Some cameras come with a cable where you plug in the entire camera while others come with an external battery charger. I always prefer the latter so I can charge 1 battery while still using the camera.
Interchangeable Lenses: Can you change the lens on the camera?
Cheapest Vlogging Cameras ($0-250)
The first category is the cheapest compact cameras. Overall, they are solid options, but they have the least number of features.
After looking at the footage, this was our top choice for an affordable vlogging camera. The camera felt well made and the video quality was the best of the three.
Quick specs: 1080p 30fps | 30 min shoot time | 21.1mp photos | lens 25-625
Pros:
external battery charger
feels well crafted
fits well in hand
Cons:
no mic input
screen only on the back
This guy is built like a tank and great for rugged adventures, especially since it's waterproof up to 31 meters.
Quick specs: 4k 30fps or 1080p 60fps | 30 min shoot time | 21.1mp photos | lens 28-128
Pros:
waterproof up to 31 meters
built for rugged shooting 
shoots 4k
shoots 60 fps (can get slomo)
Cons:
no external battery charger
charger input is inside the battery flap
screen only on the back
big bodied camera
no mic input
This is by far the cheapest camera on the list. Unfortunately, with this guy, you get what you pay for.
Quick specs: 720p 30fps | 29 min shoot time | 20.4mp photos | lens 26-130
Pros:
super light and compact
cheapest camera here
Cons:
only shoots at 720p
screen only on the back
no mic input
no external battery charger
Mid-Range Compact Cameras ($251-400)
Next up are the mid-range compact cameras where you'll start to see more features. Will the most expensive of the group be the one we love most?
The Canon is the most expensive in this grouping and had some great features, but not enough to justify the extra cost.
Quick specs: 4k 30fps or 1080p 60fps | 30 min shoot time | 21.1mp photos | lens 24-960
Pros:
external battery charger
comes in silver and black
has a flip screen
shoots 4k
Cons:
no mic input
costs the most
This is another rugged camera great for people who are doing a lot of outdoor activities with it. Unfortunately, it doesn't have a flip screen and the zoom is limited.
Quick specs: 4k 30fps or 1080p 60fps | 29 min shoot time | 12mp photos | lens 25-100
Pros:
waterproof up to 15m
has accessories built specifically for the camera
shoots 4k
shockproof
Cons:
no flip screen
zoom is limited
no external battery charger
no mic input
This was our choice for this grouping of cameras. It didn't stand apart in performance, but since the other cameras didn't outperform, the price gave it the edge.
Quick specs: 1080p 60fps | 29 min shoot time | 21.1mp photos | lens 24-720
Pros:
flip screen
shoots slomo
has a viewfinder if it's too sunny to see the screen
easy menu system with a good button system
Cons:
no external battery charger
no mic input
High-end Compact Cameras ($401-500)
This is the last of the compact cameras we'll be checking out. We were surprised with the built-in features (or lack thereof) considering what you're paying.
From first impressions, this camera felt like it was the most well-made camera of the three. It also had some features that I would love to use for photography, and the video quality was good.
Quick specs: 4k 30fps or 1080p 60fps | 30 min shoot time | 20.9mp photos | lens 24-72
Pros:
has a flip screen
shoots 4k
feels heavy in that it's built solidly
aperture ring
Cons:
no mic input
no external battery charger
limited zoom
This camera was way bigger than the other two. It has some nice features, but I found the screen flipping down annoying to use. Plus, there weren't enough features to justify the size of the camera.
Quick specs: 4k 30fps or 1080p 60fps | 29 min shoot time | 16.79mp photos | lens 24-840
Pros:
flip screen
shoots 4k
has two ways to zoom
has a viewfinder
Cons:
much larger body
flip screen flips down
no external battery charger
really bad low light
I really wanted to like this camera because it reminds me of an older Canon I used to use but it didn't come with many features, and the construction felt cheaper than the Canon PowerShot SX740 HS.
Quick specs: 1080p 60fps | 30 min shoot time | 20.9mp photos | lens 28-84
Pros:
external battery charger
comes in black and silver
shoots slomo
can zoom with lens ring
Cons:
screen only on the back
no mic input
limited zoom
For those of you guys who want to look into larger cameras because it gives you the flexibility to change lenses and want the option to shoot better photos, here are the best options.
Sony has been dominating the video game, especially in this category. We keep talking about switching to Sony. The video quality was better and it's easier to travel with.
Quick specs: 1080p 60fps | 29 min shoot time | 24.7mp photos | lens 16-50
Pros:
smallest of the three cameras
flip screen
interchangeable lenses
Cons:
no mic input
doesn't come with external battery charger
A Canon camera was the first camera I picked up, and we've stuck with it because we love the Canon colors so much. This is the go-to intro DSLR. For vlogging, I was disappointed with it since it didn't have a flip screen and mic input. But if you already have access to Canon lenses, you may want to go this route.
Quick specs: 1080p 30fps or 720p 60fps | 30 min shoot time | 18.7mp photos | kit lens 18-55
Pros:
external battery charger
interchangeable lenses giving you room from growth
Cons:
no mic input
no flip screen
Although this felt like DSLR, you can't swap out the lenses. The big reason why that's important in larger cameras is that if I ever want to upgrade the body of the camera, I can continue to use the lenses I've invested in. 
Quick specs: 4k 30fps, 1080p 60fps, 720p 120fps | 12.8mp photo | lens 25-600
Pros:
has a mic input
super long zoom
flip screen
shoots 4k
Cons:
lens is not interchangeable
feels like a DSLR without the advantages of it
If you plan on shooting long content (over 30 minutes nonstop), camcorders are the way to go. Your recording limitations will either be the memory card or battery. Check out these three to decide which is the best camcorder for YouTube and vlogging.
This camcorder was light and comfortable. Plus, the menu was the easiest to navigate because of the joystick.
Quick specs: 1080p 60fps | 9.2mp photo | lens 26-804
Pros:
smallest battery
flip screen
built in usb cable
super light camera
convenient photo button
menu easier to navigate with joystick
Cons:
no mic input
not as many button options 
uses microSD (moreso preference)
This one did not shoot wide enough to make it a viable option to vlog with. Plus the battery was the biggest of the group, making it annoying if you have to carry multiple batteries.
Quick specs: 1080p 60fps | 2.07mp photo | lens 38-1232
Pros:
flip screen
comfortable strap
large screen
mic input
Cons:
no mount for mic
largest battery
better menu screen
no button to take photo
It was a close call between the Panasonic and Sony. In the end, the menu of the Sony won me over.
Quick specs: 1080p 60fps | 10mp photo | lens 28-1740
Pros:
small battery
flip screen
longest zoom
photo button in convenient
Cons:
photo quality not great
no mic input
menu is a bit tough to navigate
strap is the least comfortable
Action cameras are compact and easy to carry around.
DJI is mostly known for their drones so when they announced an action cam, I was excited to test it out. It felt comparable to the GoPro but what gave it its edge for vlogging is the front-facing screen.
Quick specs: 4k 60fps or 1080p 240fps | 12mp photo | lens 145°
Pros:
front and large back screen
waterproof up to 11m
better at low light
Cons:
mic input is complicated
fewer accessories dedicated to DJI but they still work
GoPro has been around for a long time. It's not my favorite to shoot with but it serves its purpose. It's also nice that there are more accessories available.
Quick specs: 4k 60fps or 1080p 240fps | 12mp photo | lens 15.1mm
Pros:
waterproof up to 10m
multiple choices for how wide you're shooting
tons of accessories built specifically for GoPros
Cons:
mic input is complicated
no front facing screen to see yourself (you can still use the app if you want but it's one extra step)
Here are some of my favorite video accessories!
If I had to pick one from the entire list, it would be the Sony Alpha. For me, it comes down to my preference for having different lens options, and its versatility for photography too.
Which of these cheap vlogging cameras have you tried? Which of these do you want most?
Did you enjoy this post? Pin it for later
SEE MORE CITY BUCKET LISTS
"Discovery consists not of seeking new lands but in seeing with new eyes" – M. Proust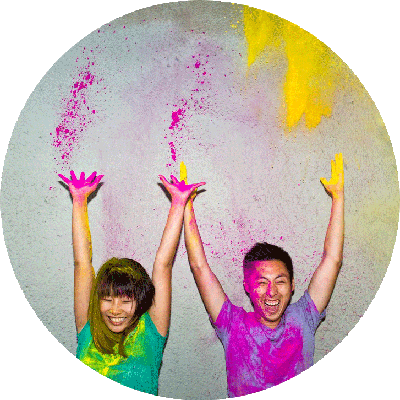 Esther and Jacob are the founders of Local Adventurer, which is one of the top 5 travel blogs in the US. They believe that adventure can be found both near and far and hope to inspire others to explore locally. They explore a new city in depth every year and currently base themselves in Las Vegas.