There is something about traveling to the edge of the world that is both overwhelming and awe-inspiring. Overwhelming, because there are few places like it. Awe-inspiring, because it changes your perspective on how you see yourself in the world.
Patagonia is a remarkable location. Green and blue lagoons whose colors are based on sedimentation, razor-edged mountain peaks, and dramatic weather patterns–this journey to the edge of the world was worth every moment. After a full 2 and half days of travel just to reach the trailhead, the W Circuit is more than a check off your bucket list – it's a life-altering experience.
Check out the ultimate guide to the W Circuit here, and if you're going in their winter, here's our winter packing guide.
The highlight of the trip was on the final day at Glacier Grey. Our company had the opportunity to put on some crampons and cross the ancient crevices of Glacier Grey like a scene straight out of a sci-fi movie. A contrast of extraordinary grayish white compact ice and space blue water canyons, this was well worth spending the extra cash on this add-on excursion.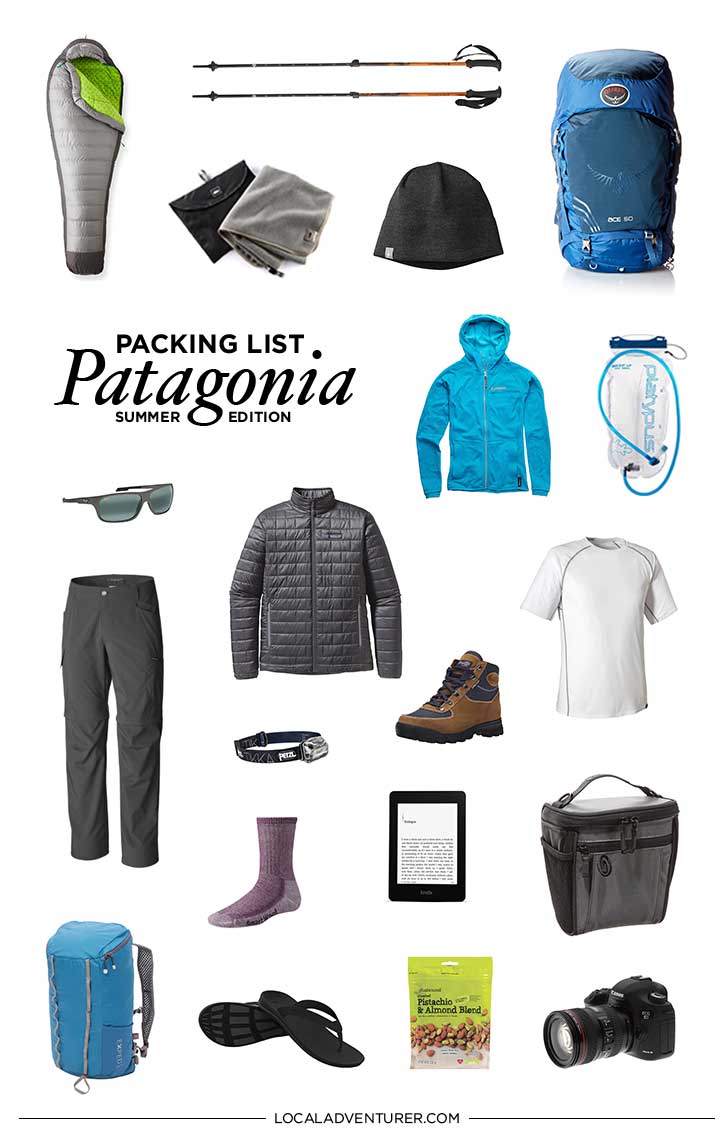 LESSONS LEARNED
But despite my pre-trip training, if I were to do this trip again, I would take about half the amount of clothes. About halfway through the trip, I ditched a bag full of clothes to shed the weight on my shoulders. Keep in mind, what you bring with you is what you carry all week long! Don't underestimate every pound.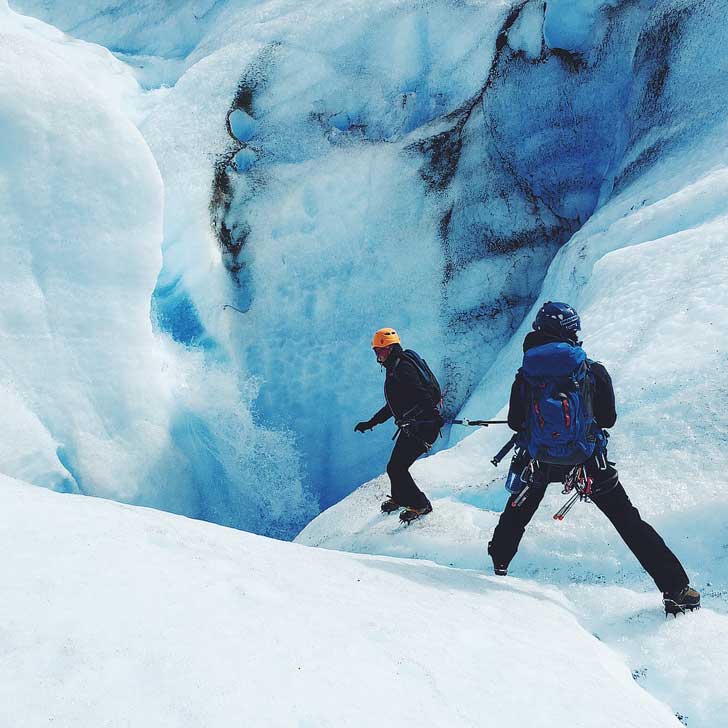 All that being said, here was my packing list for the W circuit in Patagonia, Chile with a few suggestions and tips:
WHAT TO PACK FOR PATAGONIA W HIKE
Backpack: Every "body" is different. Go to your local REI and find a bag that fits you that fits you. Don't skimp on this part. Your bag will be on your shoulders, back, and waist the entire trip and having a comfortable bag that fits well is crucial!
Hydration Packs: While trekking, there's nothing more annoying than having to unstrap your bag in order to reach over to grab your Hydroflask. Plus, I used my trekking poles almost the entire time and was on camera duty so the bladder with mouthpiece was extremely useful. Additionally, it is incredibly lightweight!
Sleeping Bag: w/ 30°F rating. Weather is extremely difficult to predict because Patagonia is where the weather patterns of the world are formed. During my trip, we stayed in lodges the entire time so we didn't need sleeping pads or a super warm bags but I would recommend both of those if you'll be staying in tents.
Trekking Poles: Not everyone needs them but trekking poles are a must for me. Rocks, hills, and a 50 lb bag on your back only perpetuate twisted ankles. NOTE: your poles must fit inside bag for domestic flights.
Down Jacket: This is probably your best friend. Although you won't be wearing it during the hike at times, you will definitely be wearing it when you're at the lodge. Keep the down jacket near the top of your bag because it will get windy during lunch and you'll want to layer up during your stops.
Fleece jacket or vest: Sometimes in the morning I would start off with a layer like this. The fleece was nice underneath a down jacket in the evenings. Make sure it's light, packs easily, and versatile.
Synthetic hiking pants: Bring one! You only need one, maybe two. But if I were to go back again, I would only bring one. If it gets a little dirty you can rinse it off in the shower at camp and let it dry off.
Synthetic T-shirt: I would bring 2 or 3 both short and long-sleeve. These are perfect for hiking in and they dry quickly during a pitstop or overnight. My recommendation is to wash them once or twice during your trip in the shower by using Campsuds or something biodegradable like this.
Wool or synthetic hat / Bandana / Beanie: The hat is a must on this trip. You'll want to cover your face because the sun is unforgiving at times. If you're more of a bandana person, this comes in handy because it is also a makeshift napkin or sweatband. A beanie is nice in the evenings or to start the day off.
Light gloves: This one is completely optional. I brought super light gloves just for wind protection and for the occasional rain. The temperatures were fairly moderate for us but I could see having a nice pair of gloves come in hand for more extreme conditions.
Nylon-wool blend socks (2-3): This is all you need. Don't need anymore. Comfortable socks in a good pair of shoes is a must!
Hiking shoes: Try on a lot and break them in before you go. Don't ever buy a brand new pair of shoes and hit the trails for 5 days. This is a recipe for blister hell. Make sure you wear your shoes a lot before you take them for a trip like this.
Sandals or Crocs: I recommend comfortable sandals or crocs for walking around the lodges in the evening. Do not bring rainbows or Birkenstocks because they are heavy! Get light and cheap sandals that you don't mind losing or ditching for weight.
Daypack: this should be light and easy to stuff in the main pack when not in use. I used a REI Trail 25 Pack because there will be a few days where you only need a daypack so make sure you bring one to carry your lunch, water, and a few layers. I made sure my daypack had a Camelbak compartment so that I could easily exchange them.
Headlamp: This wasn't as necessary because we were in lodges every night, but if you want to read at night or need to find something in the dark, I would highly recommend this.
Sunscreen: Take enough for 5 days or make sure someone in your group has some.
Sunglasses: Weather is extreme and can be raining one minute and sunny the next. Keep these handy and close by at all times.
Quick-dry towel: This is for when you arrive at camp. You'll need it after your shower.
Personal toiletries: keep this light and versatile.
Snacks: Energy/protein bars (especially for vegetarians as non-meat sources of protein are scarce). My favorite is the Clif Shot Bloks Fastpak because they are full of electrolytes and taste like gummy bears! Warning: we tried bringing beef jerky but they were confiscated at customs into Chile. We lost a lot of protein which we wish we had in the middle of the night mid-way through the trip.
Camera: Make sure it's light. I made the mistake of bringing my Canon Rebel DSLR. I brought two lenses but in hindsight, should have just brought one. I wasn't doing anything extreme with videography but I just recently got a Sony Alpha and this would be such a better piece of equipment to bring next time. Bring a small Joby tripod and that's all you'll need. Plus, your iPhone takes great photos.
Camera Bag: This is just as important. I found this bag and have loved it so far.
Selfie Stick: This was honestly probably the best piece of gear I brought. It's light, I could keep it out the outside of my pack and when they're aren't people around, it's great to have everyone in the frame.
Outlet adapter
Kindle Paperwhite: If you're an avid reader like me, this is probably the best option for you. It lights up, has great battery life, and contains millions of words! Just do it.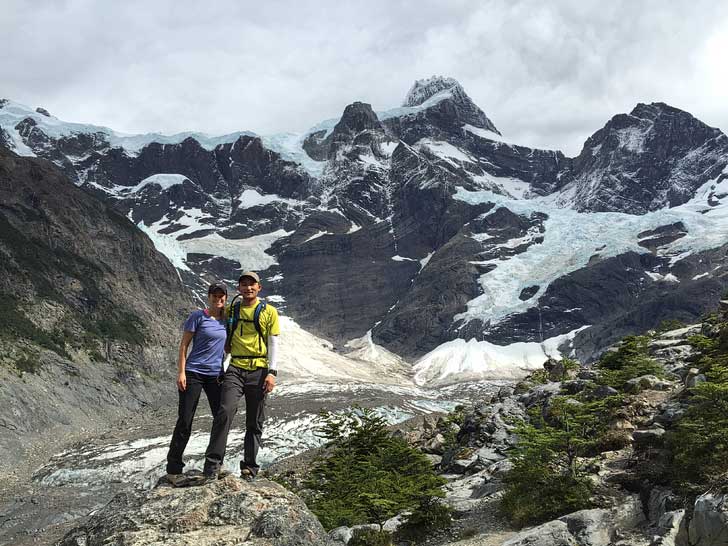 Lastly, one of the life-altering experiences for me was a new commitment entering back to reality. I had always wanted to write a book but never had the discipline to do so. One of the commitments I made during this experience was to start writing 750 words a day. I started writing the day I got back and what came out of that was my first book, In Flux: Finding Purpose in Transition. If you're interested in checking it out, here's the link.
Want to see what else there is to do? Check out our guide to Torres del Paine National Park here.
DANNY
Danny Kim is a speaker, career design coach, and recent author. He's a classically trained violinist, world traveler and coffee junky. Check out his new book In Flux available on Amazon or follow along on his blog.