The Torres del Paine W Trek was one of our favorite hikes to date.
Our guide, Roberto, was wide-eyed and frantically waved us over. We quietly tiptoed towards him as he pointed across the river to an Andean Deer. Moments after, we realized there was another just a few yards up stream. Our cameras fired off as we watched them cross the river and through our path.
After getting back from our Patagonia Winter hike, we can't stop thinking about how amazing the experience was. Shortly after our encounter with the Andean Deer, we learned that they are endangered and extremely rare to encounter. Our guide has hiked the trail over 200 times and saw them only one other time.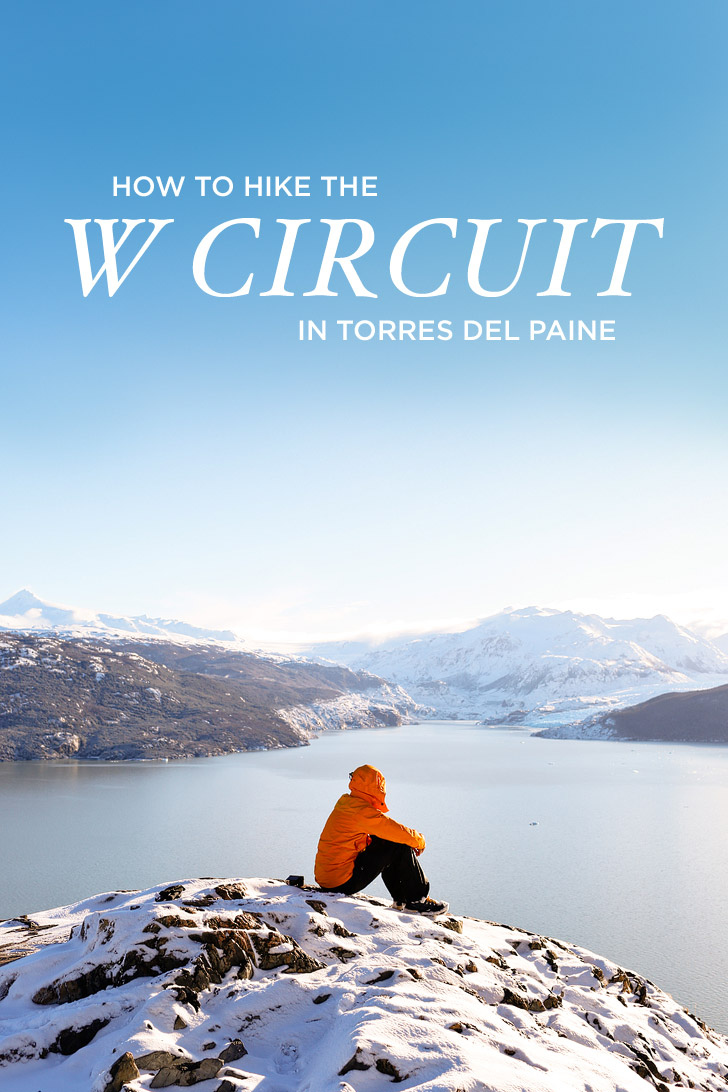 This post may contain affiliate links, where we receive a small commission on sales of the products that are linked at no additional cost to you. All opinions are always our own. Read our full disclosure for more info. Thank you for supporting the brands that make Local Adventurer possible.
Last Updated: Jan 20, 2020.     First Published: August 15, 2017
How to Hike the Torres del Paine W Trek
The busy season is October through April (their summer), with December to February being the most popular time. The slow season is May to September (their winter).
It's easy to see why summer is popular. Warm temperatures and long daylight hours make hiking easier. Of the 252,000 visitors, 80-90% visit during the warmer months. Winter is when the guides fall in love with the park again. It becomes a true wilderness experience again. The hike up to the Granite Towers will typically have anywhere between 800-1000 hikers during the busy season, but when we were on the trail, we only ran into 1 other hiker.
After our experience, we highly recommend going in the winter! The downside is that the days are shorter, so you have to hike at a faster pace. We were worried about the cold, but it wasn't as bad as we anticipated, and it was worth it to have the whole park to ourselves.
Map of the Torres Del Paine W Trek and O Trek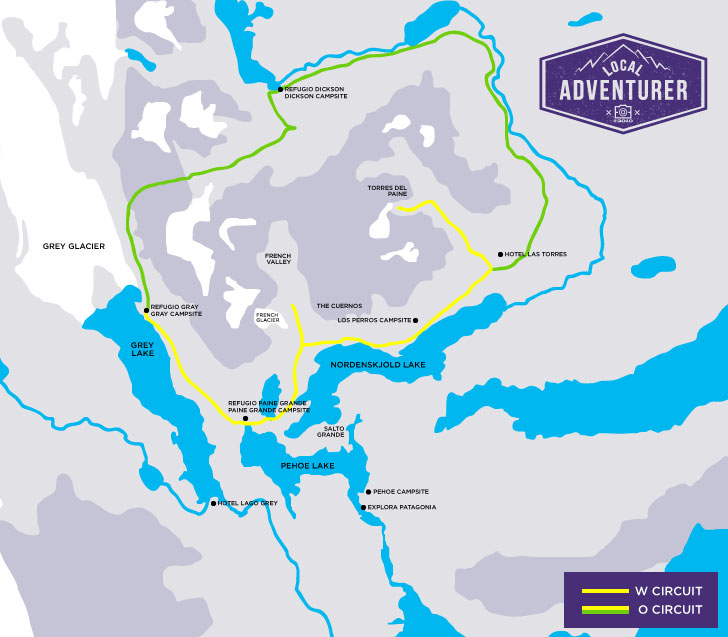 HOW TO GET HERE - BEFORE THE HIKE
There are multiple ways to get to Torres del Paine National Park, which you can check out here. Almost all of them require a few flights, a bus ride, and car ride. With OneSeed as your guide (use LOCAL10 when booking for 10% off), you are responsible for getting to Punta Arenas. Once you arrive, a guide meets you at the airport and they take care of everything else.
When we landed in Punta Arenas, our guide Roberto was waiting for us with snacks in hand. We munched on them as he gave us an overview of the next 5 days we'd be spending together. Then we hopped onto a 3-hour bus ride to Puerto Natales and checked in to a hostel. We enjoyed dinner on our own at the restaurant attached to the hostel then got a good nights rest.
In the morning, you can leave anything you don't need on the trail at the hostel and claim it after you return from the 4-day hike. Since it was winter, we did a modified version of the W hike that gets you to all the landmarks.
Total Hike in 4 Days: 50 miles (80 km)
Max Elevation on W Circuit: 2,870 ft (875 m)
DAY 1 - TORRES DEL PAINE W TREK ITINERARY / THE GRANITE TOWERS DAY HIKE
Distance: 13.77 miles / 22km
Estimated time: 8-10 hours
Maximum altitude: 2,870 feet / 875 m
What You See: Torres del Paine (Granite Towers), Refugio Chileno, Hotel Las Torres
The first day is a long one but all you need is a day pack! Everything else can stay in the van that you arrived in. You get an early start because it is still a 1.5-hour ride from Puerta Natales to the national park. After stopping at the entrance to register, you drive another 15-20 minutes to the trailhead. We started our hike before the sun came up. It is the toughest day in terms of elevation gain. After the halfway mark, you start to really gain elevation. There is some scrambling and as you get higher up, snow on the ground gets thicker. By the time we were near the towers, there were portions of the trail where snow reached our thigh or waists.
It took us roughly 5 hours to reach the top and another 4 before we made it back to the van. We saw Andean Deer, tons of birds, and a puma in the distance. After getting back to the van, you drive another 45 minutes to the Serrano River Valley to stay the night.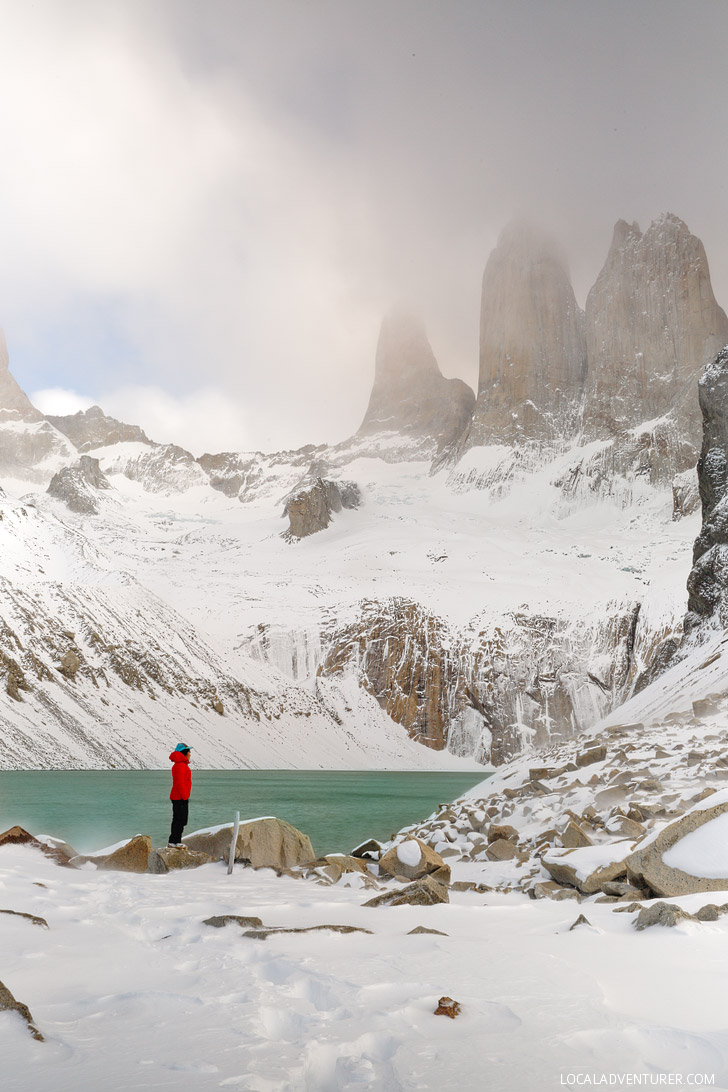 DAY 2 - TORRES DEL PAINE W TREK / HIKE TO REFUGIO PAINE GRANDE
Distance: 10.67 miles / 17km
Estimated time: 6 – 7 hours
Maximum Altitude: 361 / 110 m
What you see: Serrano River Valley, Pehoe Lake
The second day is the toughest in weight. It is the only day you have to carry a full pack. The van drops you off shortly after the entrance and you hike along a relatively flat trail. 70-80% of the trail is flat with hills filling the rest of the trail. The two largest hills come right at the end. This was the windiest day for us and you are most exposed to the sun with little tree cover.
After arriving at Paine Grande, you get settled and rested before dinner in the main area.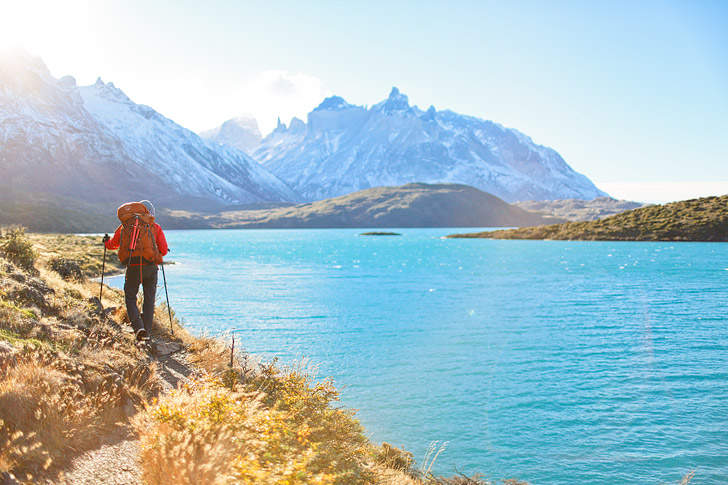 DAY 3 - TORRES DEL PAINE W TREK / FRENCH VALLEY DAY HIKE
Distance: 10.67 miles / 17km
Estimated time: 7-8 hours
Maximum altitude: 623 feet / 190 m
What you see: Cuernos del Paine (The Horns), Campamento Italiano, French Valley, French Glacier
We experienced the expertise of our guide on Day 3. It was an incredibly overcast day so he called an audible. After arriving at Campamento Italiano, rather than continuing up the French Valley, we changed our route to the French Glacier instead. Since it was a shorter hiking day, we had a lot of time to enjoy the views of the glacier before heading back to the Refugio.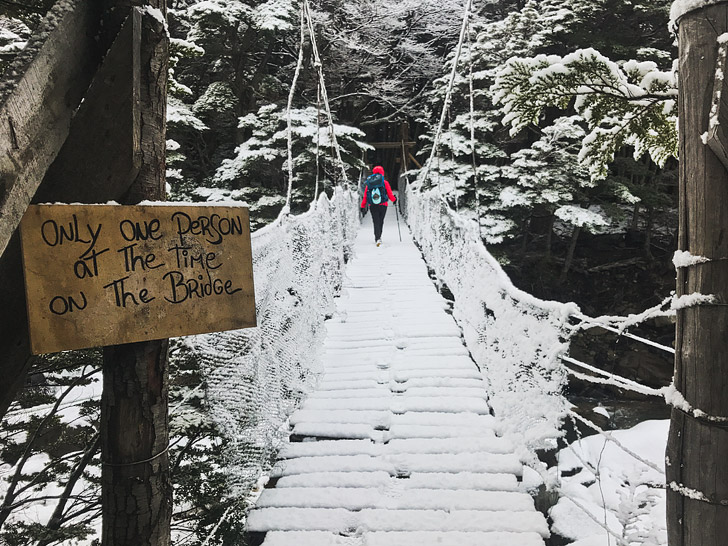 DAY 4 - TORRES DEL PAINE W TREK / GREY GLACIER DAY HIKE
Distance: 14.92 miles / 24km
Estimated time: 8-10 hours
Maximum altitude: 820 feet / 250 m
What you see: Grey Glacier, Grey Lake, Refugio Grey
The last day is a long day and your body is fatigued. There is a viewpoint about half way where you can decide to turn back, but we wanted to make it all the way to the end.
At the start of the hike, there are soooo many puma tracks. It's a popular spot for them to hunt for hare so tracks follow the trail almost to the first viewpoint. Once you reach the first viewpoint, the trail declines very steeply to Refugio Grey.
After the last day of hiking, we spent one more night at Paine Grande. The next morning, we took the Catamaran across the lake where our driver picked us up. We made a few stops for photos, then headed back to Puerto Natales. After cleaning up and resting, we had a final dinner with the guide before calling it a night.
The next morning, Roberto came back to take us to the bus station. He then rode with us to Punta Arenas and made sure we got checked into our flight okay before saying our final goodbyes.
Local Tip / Pro Tip / Note: dsfsdfsd
COMPARE PRICES ON AMAZON AND ___
Essential Tips for Your 4 Day Hike on the W Circuit
Porters: Most likely you won't be using porters, so come prepared to carry everything you have. The good thing is that you only need a day pack for 3 out of the 4 days. It's possible to get a porter, but it costs $120 a day, and in the winter they need to be booked for the entire trip, which would make it $600 extra.
How much cash to bring: Besides a few meals, souvenirs, additional cab rides, and tip, everything is included. We picked restaurants that take credit card to avoid using cash, and just ensured we had enough cash to tip our guides. A good general rule of thumb is:

Guide: $6-8 per day
Assistant Guide: $2-5 per day
Cook/Mulero/Camp Assistant: $1-3 per day

Altitude Sickness: Since the entire hike is under 3,000 feet, you don't have to worry about altitude sickness.
Warm Showers: Showers are available throughout the trip, but they won't always be warm. During our stay at the Serrano River Valley, warm water ran out before everyone showered. At Refugio Paine Grande, the water is heated by propane, so the last night we were left with cold showers as well.
Water: You can drink from the tap since it is all sourced by the glaciers. We carried 1-2 L per day and there are streams where you can fill up along the way.
Checking in Bags at Puerto Natales: Anything you don't need on the trail can be left at the hostel in Puerto Natales. After finishing your hike, you will have one more day there before leaving.
For more photos and information about Torres Del Paine National Park, check out our ultimate guide.
What to Pack for the W Trek
Are you planning on doing the Torres del Paine W Trek? Would you pick winter or summer?
Did you enjoy this post? Pin it for later
SEE MORE NATIONAL PARK GUIDES
"Discovery consists not of seeking new lands but in seeing with new eyes" – M. Proust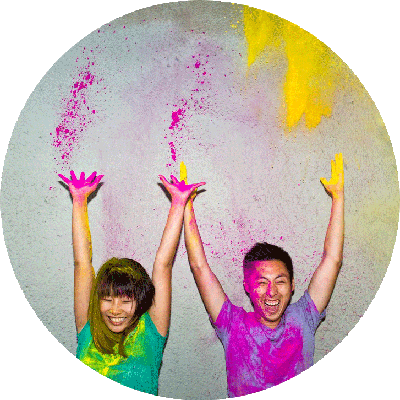 Esther and Jacob are the founders of Local Adventurer, which is one of the top 5 travel blogs in the US. They believe that adventure can be found both near and far and hope to inspire others to explore locally. They explore a new city in depth every year and currently base themselves in Portland Oregon.