Merry Christmas! Since we won't be in Atlanta tomorrow, we're spending the morning having lunch with our families, minus my mom (shout out to my mom who has to work on Christmas Eve and Christmas day because people in healthcare can never get days off. Gotta keep people alive!).
It was nice getting to catch up with friends. It's baby-central, and everyone we know has at least one additional baby. We don't know where we stand on babies other than knowing we're terrified of having them.
We're getting on a plane and heading back to Vegas later this evening (*crossing our fingers* for no delays), and we just wanted to leave you with some photos from the Bellagio Botanical Gardens. We think they know how to do Christmas best in Las Vegas.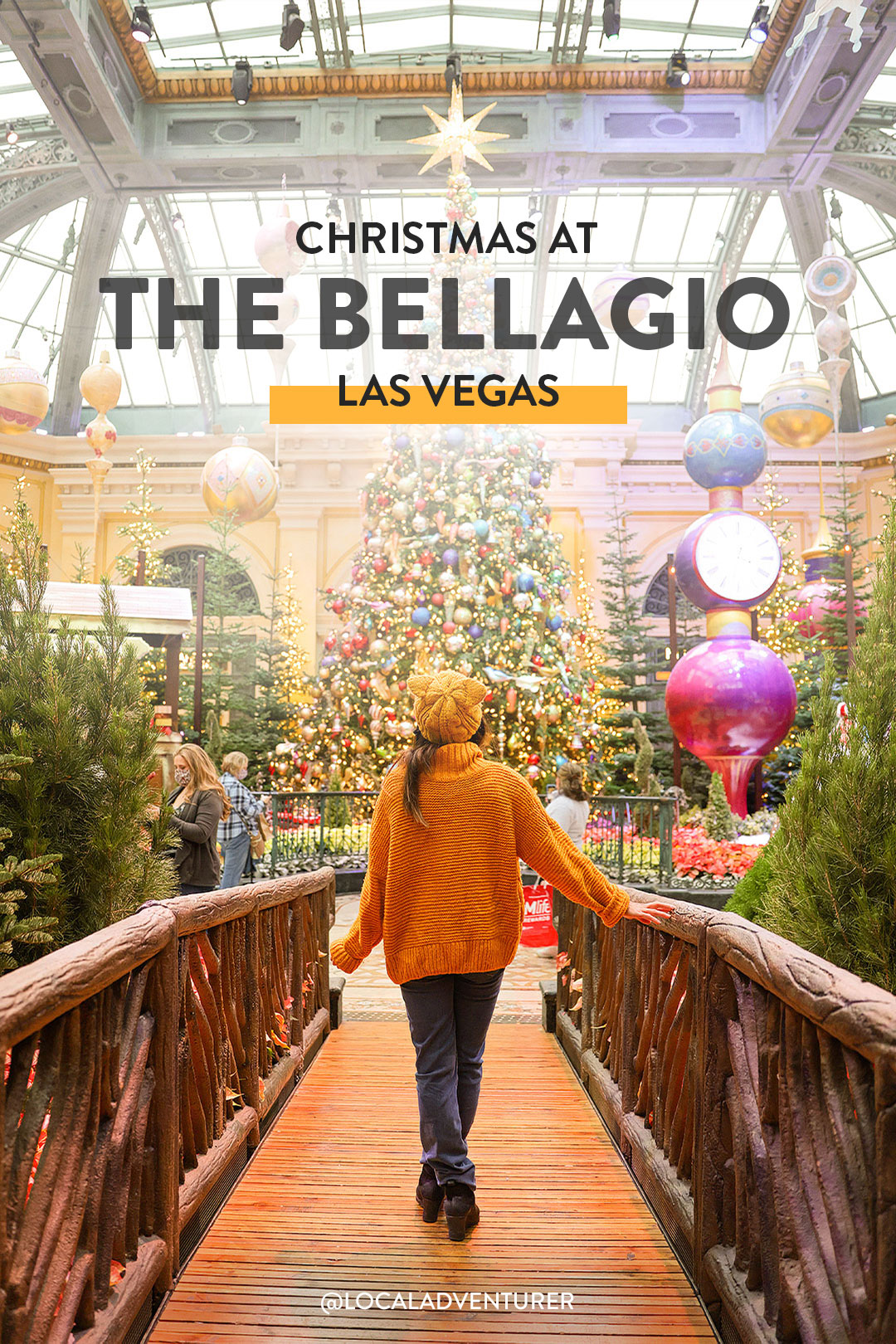 This post may contain affiliate links, where we receive a small commission on sales of the products that are linked at no additional cost to you. All opinions are always our own. Read our full disclosure for more info. Thank you for supporting the brands that make Local Adventurer possible.
Last Updated: December 7, 2022
Christmas at Bellagio Botanical Gardens
The Botanical Gardens at the Bellagio is one of our favorite spots on the Strip. We try to visit to see all the seasonal decor throughout the year and are always impressed with their displays. Christmas is one of the most magical times to visit, and we can't wait to go again this year.
See Related – Your Complete Guide on the Bellagio Conservatory Botanical Gardens
What You Need to Know About the Bellagio Botanical Gardens
The Bellagio Botanical Gardens are hard to miss. It's just beyond the front desk lobbies, and you can usually find a crowd of people there. The 14,000-square-foot space completely transforms five times a year.
Spring (March to June)
Summer (June to September)
Fall (September to November)
Winter (December to January)
Lunar New Year (January to March)
The gardens are closed between each season for 5-6 days to redecorate. Otherwise, it's open 24/7, and it's free to enter.
See Related – 25 Free Things to Do in Las Vegas
Christmas at The Bellagio 2022
The 2022 winter display is called 'Gingerbread Dreams, A Holiday Confeation.' It features a 42-foot-tall fir tree with 10,000 lights and 8,700 ornaments and a life-sized gingerbread-style cottage.
By the numbers:
140,000: Number of Poinsettias throughout the display
110,000: Total number of energy-efficient light bulbs on all trees
15,000: Total number of gingerbread men throughout the display
13,250: Number of white carnations
10,000: Number of energy-efficient lights on the 42′ holiday tree
8,700: Number of ornaments on the holiday tree
4,800: Total hand-applied preserved roses on all four giant Poinsettias
2,000: Number of peppermints used throughout the display
800: Pounds of faux white frosting used on the gingerbread cottage
500: Number of chocolate hearts on the East Bed gingerbread cottage
80: Number of team members who bring the display to life
41: Number of fresh-cut white fir trees in the display
25 Feet: Height of the gingerbread cottage in the East Bed
18: Number of giant gingerbread and mirror snowflakes
14 Feet: Height of Nutcracker soldiers rotating on drums
6: Number of days to complete the change out
6: Number of Bellagio elves
5: Number of Coca-Cola Bears
4: Number of nutcracker soldiers
3: Number of pastry treats on display in the South Bed: Present, Bear, Tiered Cake
1: Gingerbread cottage made by the Bellagio Pastry team with real gingerbread & treats in the North Bed
See the reel.
Note: The holidays are a hectic time of year on the Strip, so expect larger crowds for this display than in other seasons.
See Related – 9 Ways to Have a Perfect Christmas in Las Vegas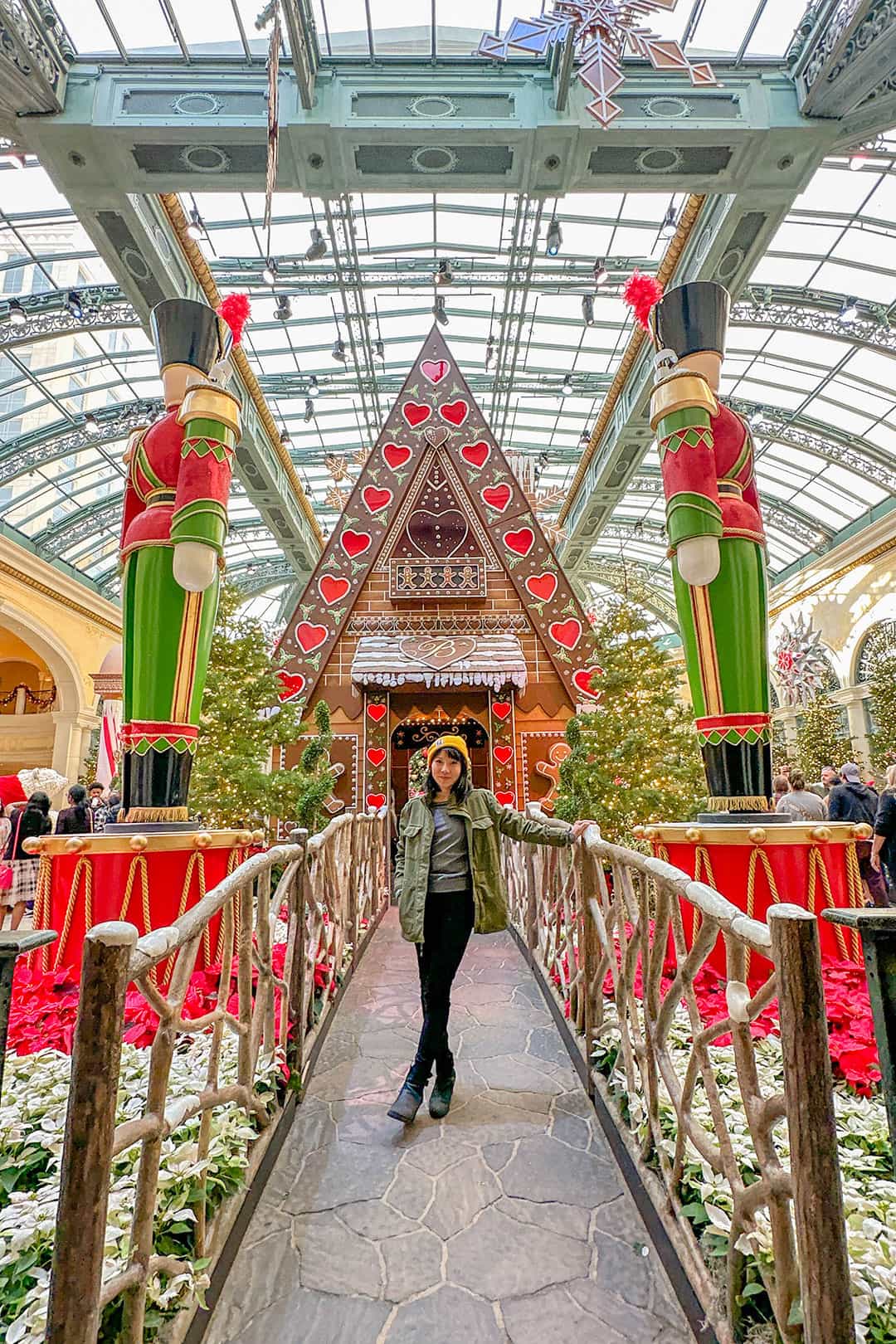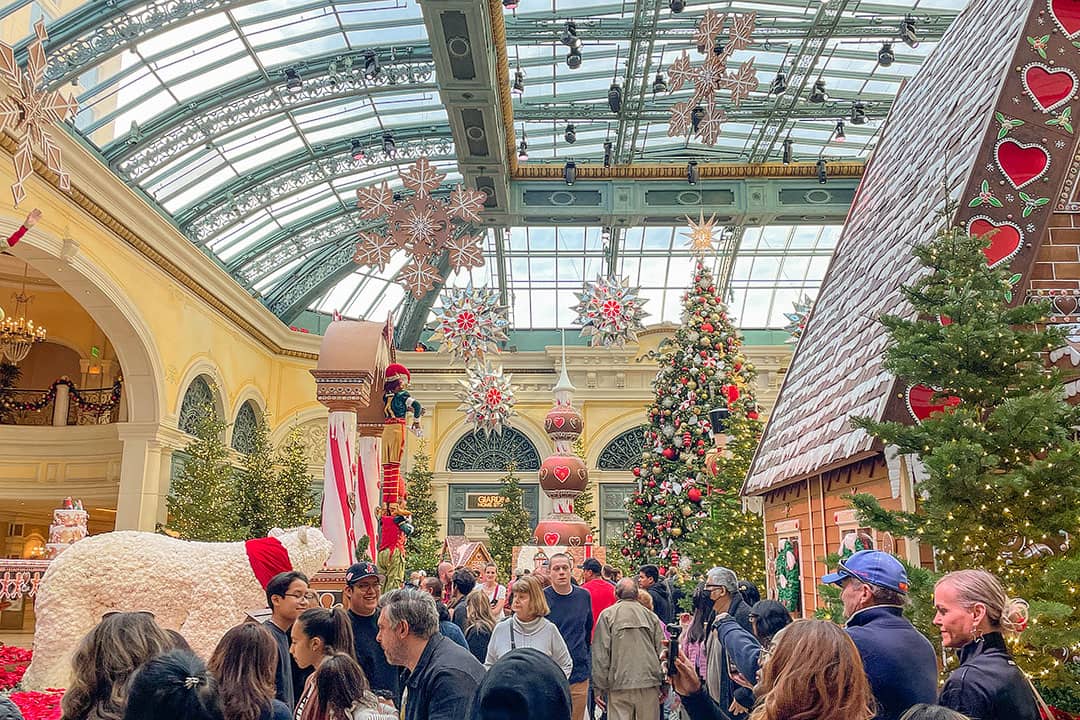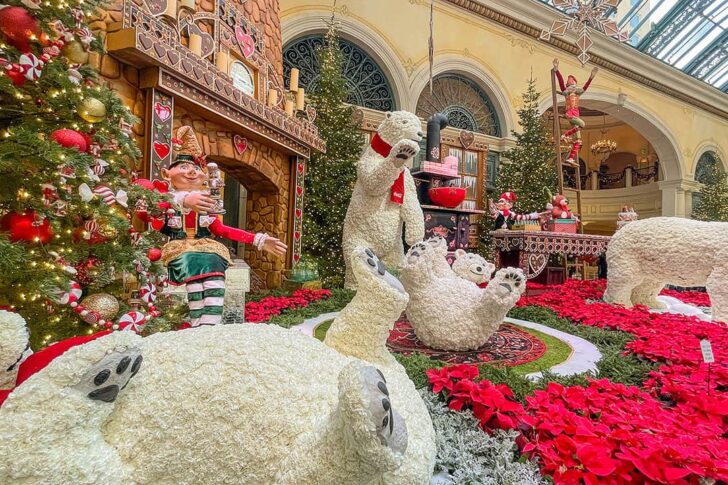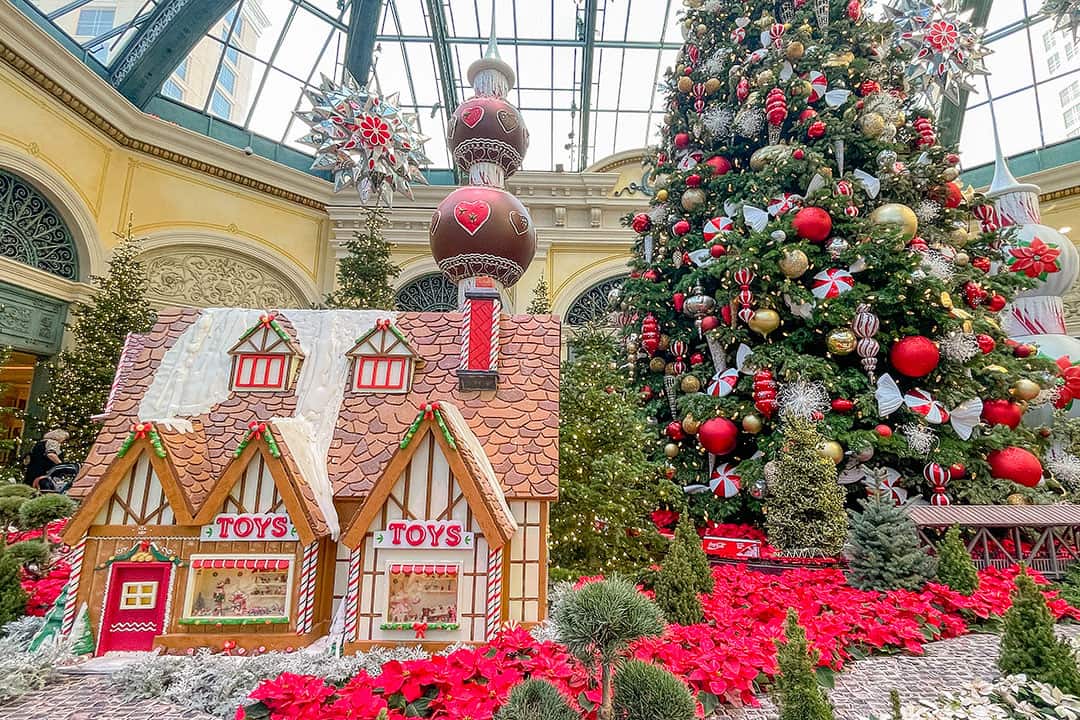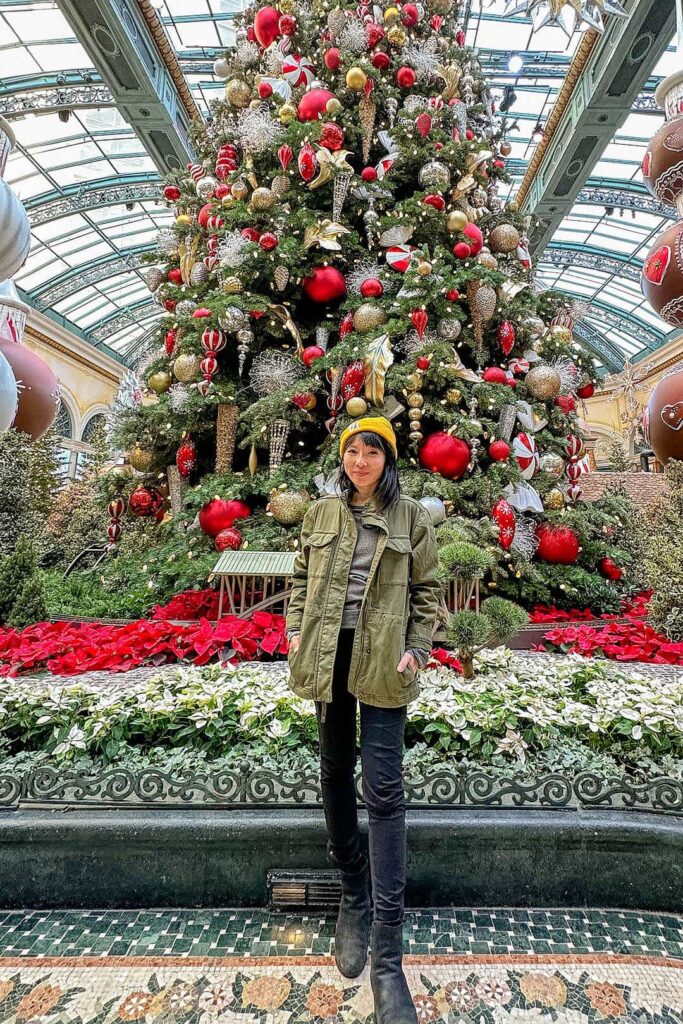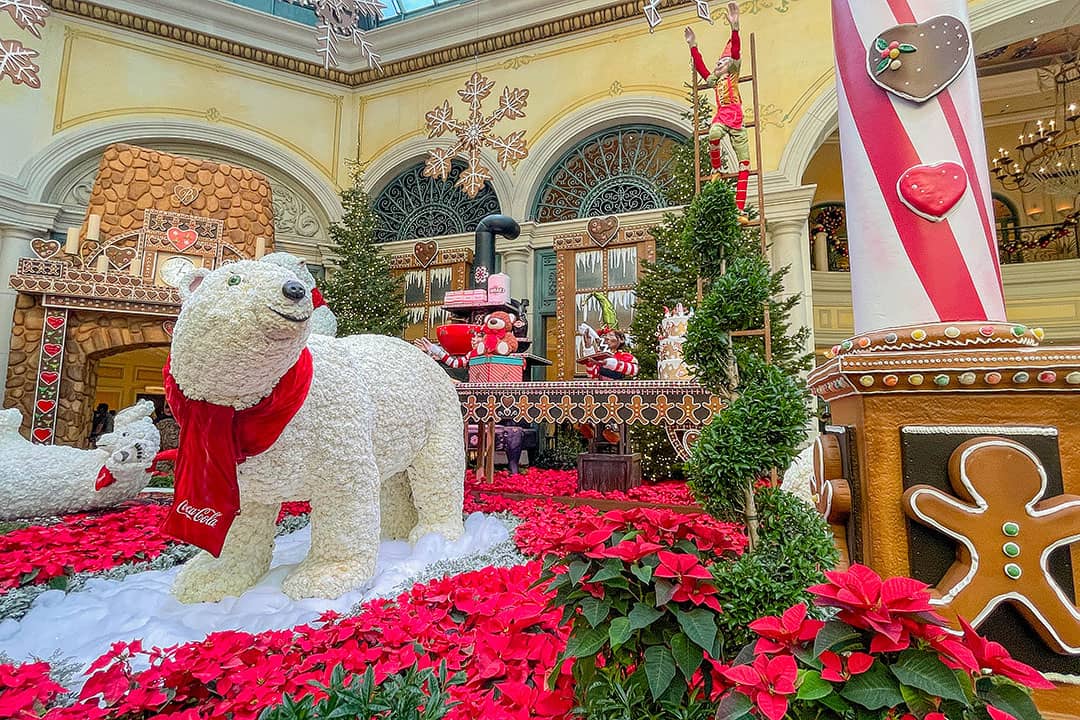 Previous CHRISTMAS Displays at the Bellagio
2021-2022 Winter – Holiday Time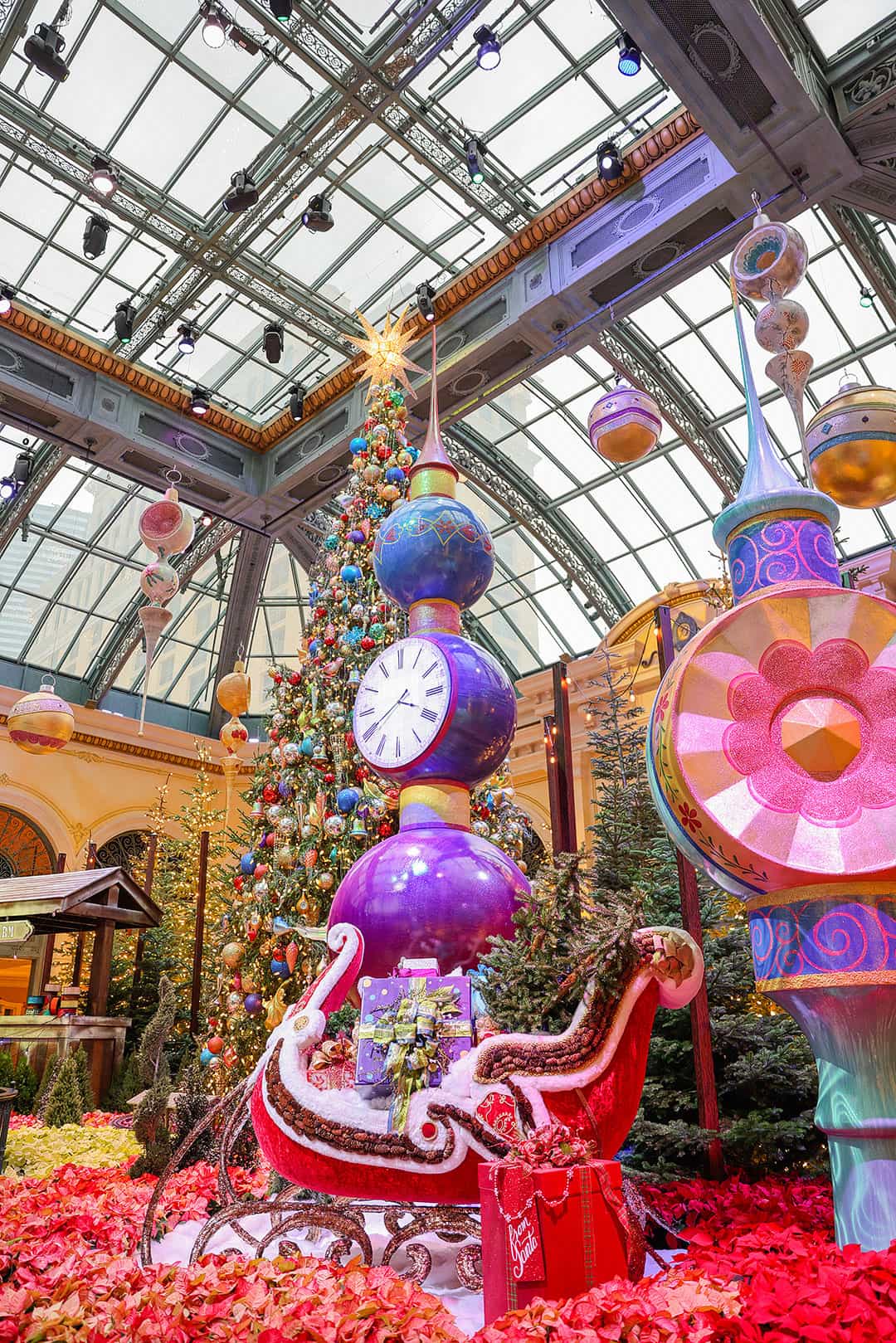 2020-2021 Winter / Christmas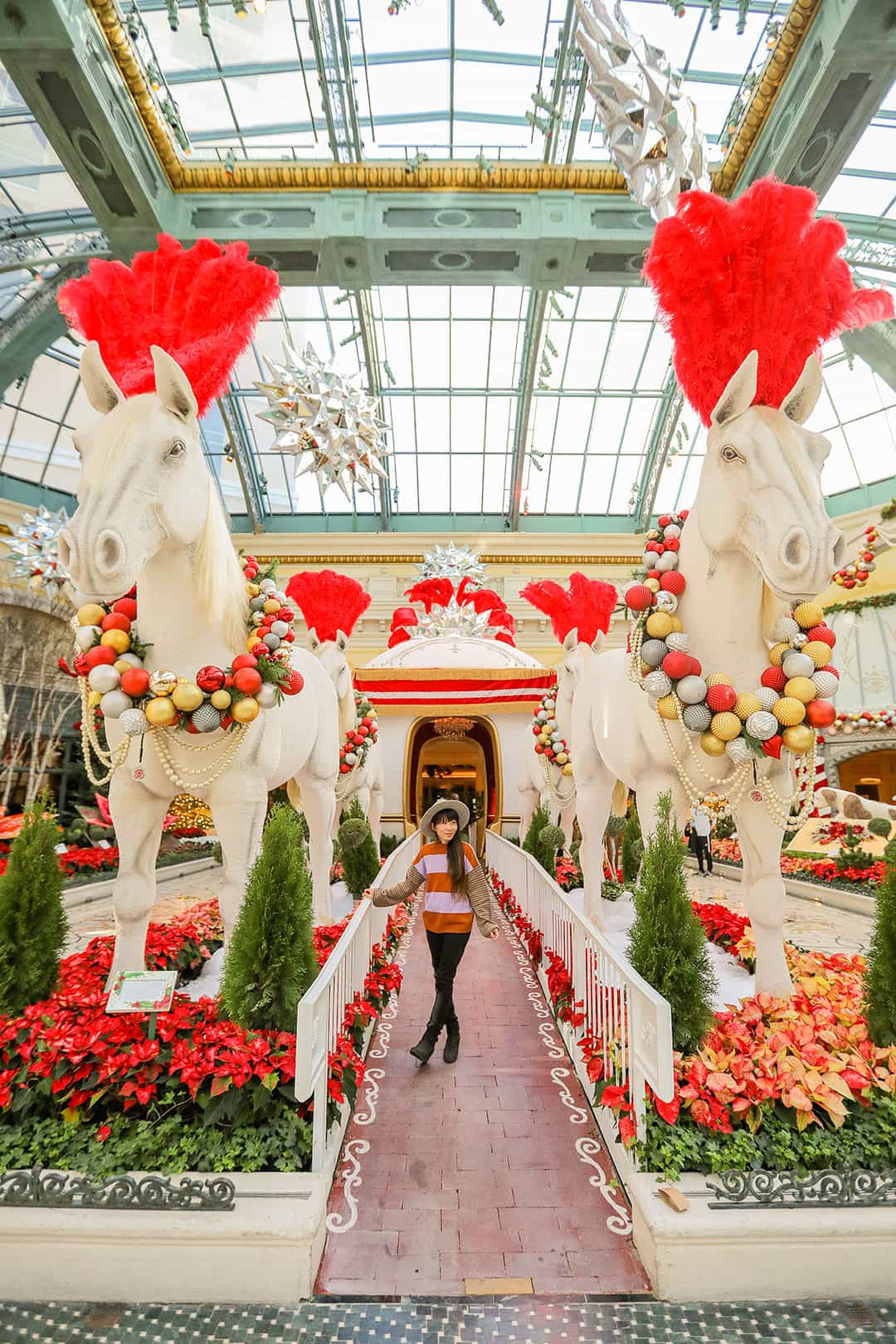 2014-2015 Winter / Christmas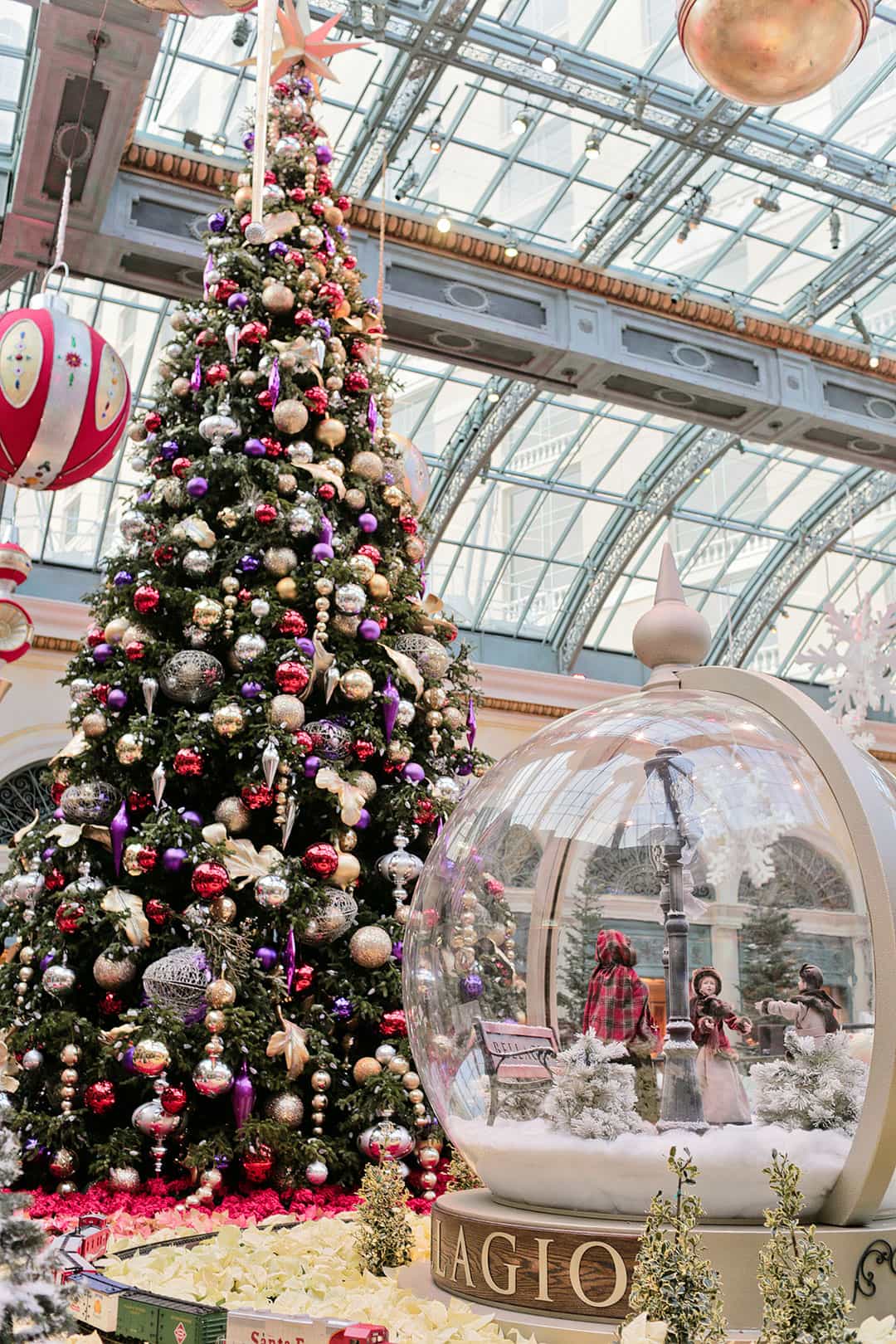 See Related – 101 Things to Do in Las Vegas
Essential Tips
The gardens get crowded, making it hard to take photos. The best time to visit is early morning when most people are still sleeping.
The exhibits are big, so bring a wide lens to capture the scale of everything.
The Giardini Garden Store is just around the corner and sells unique garden-themed gifts and home decor.
While you're there, be sure to check out the giant chocolate fountain at the Bellagio Patisserie too!
Would you consider having a Las Vegas Christmas? Where have you seen the best Christmas decor?
DID YOU ENJOY THIS POST? PIN IT FOR LATER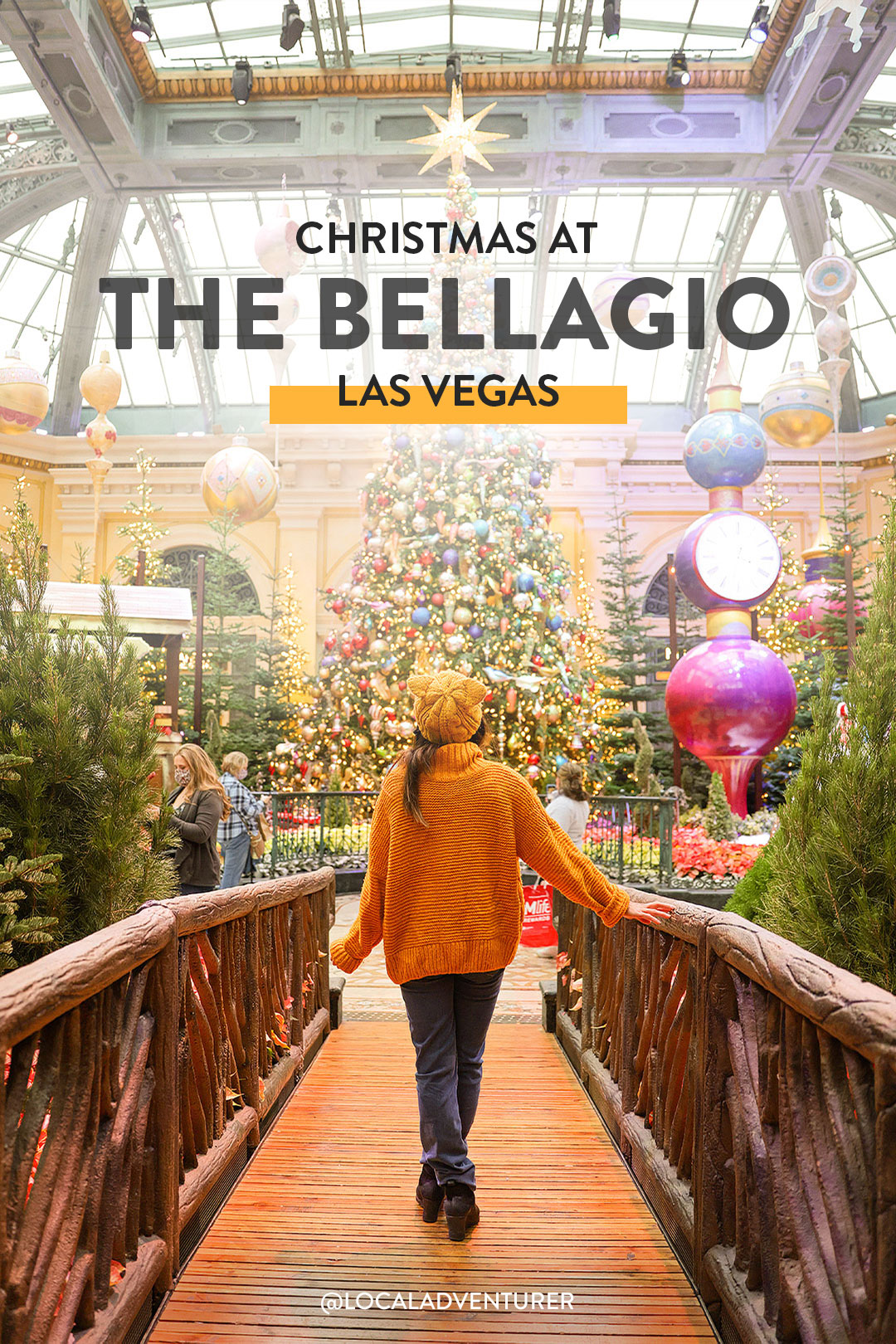 SEE MORE LAS VEGAS GUIDES
⟡⟡⟡⟡⟡
"Discovery consists not of seeking new lands but in seeing with new eyes" – M. Proust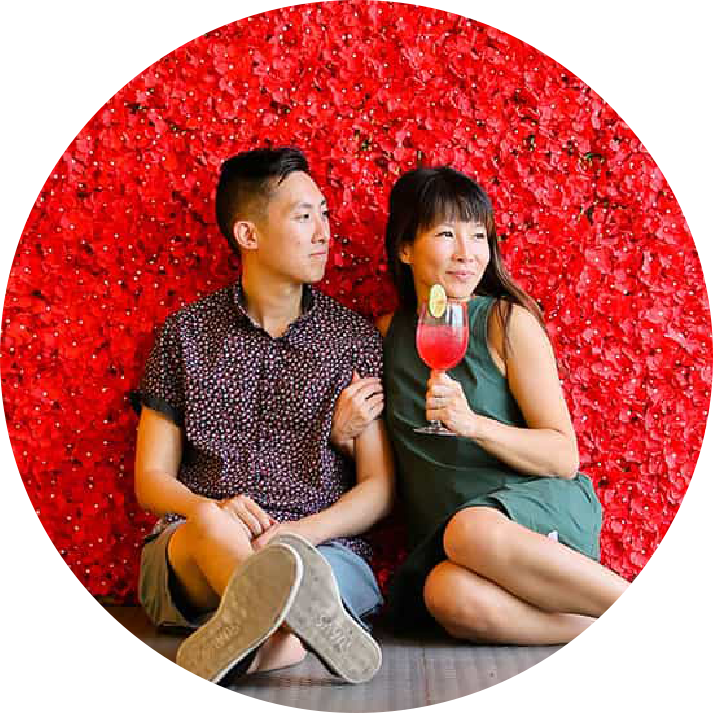 Esther + Jacob
Esther and Jacob are the founders of Local Adventurer, one of the top 5 travel blogs in the US. They believe that adventure can be found near and far and hope to inspire others to explore locally. They explore a new city in depth every year and currently base themselves in Las Vegas.
Follow on Instagram (E + J), YouTube, TikTok, and Pinterest.