Growing up in the city, I drove by the empty, deserted building in Old Fourth Ward pretty often. There wasn't much to do or see in the neighborhood, which sandwiched between Midtown and Virginia-Highland. There were always talks of the city tearing down the building; however, in 2014, the same developers who established New York's Chelsea Market, bought the historic building and transformed it into Atlanta's most iconic marketplace. 
Ponce City Market (PCM) is located in the fully renovated Sears, Roebuck & Company building, which was once the largest brick structure in the South. It's linked directly to the Atlanta Beltline and has become one of the most popular marketplaces to gather, eat, shop, and play. You can probably spend an entire day here. If you don't know where to start, we've put together the essential guide to Ponce City Market, highlighting our favorite spots.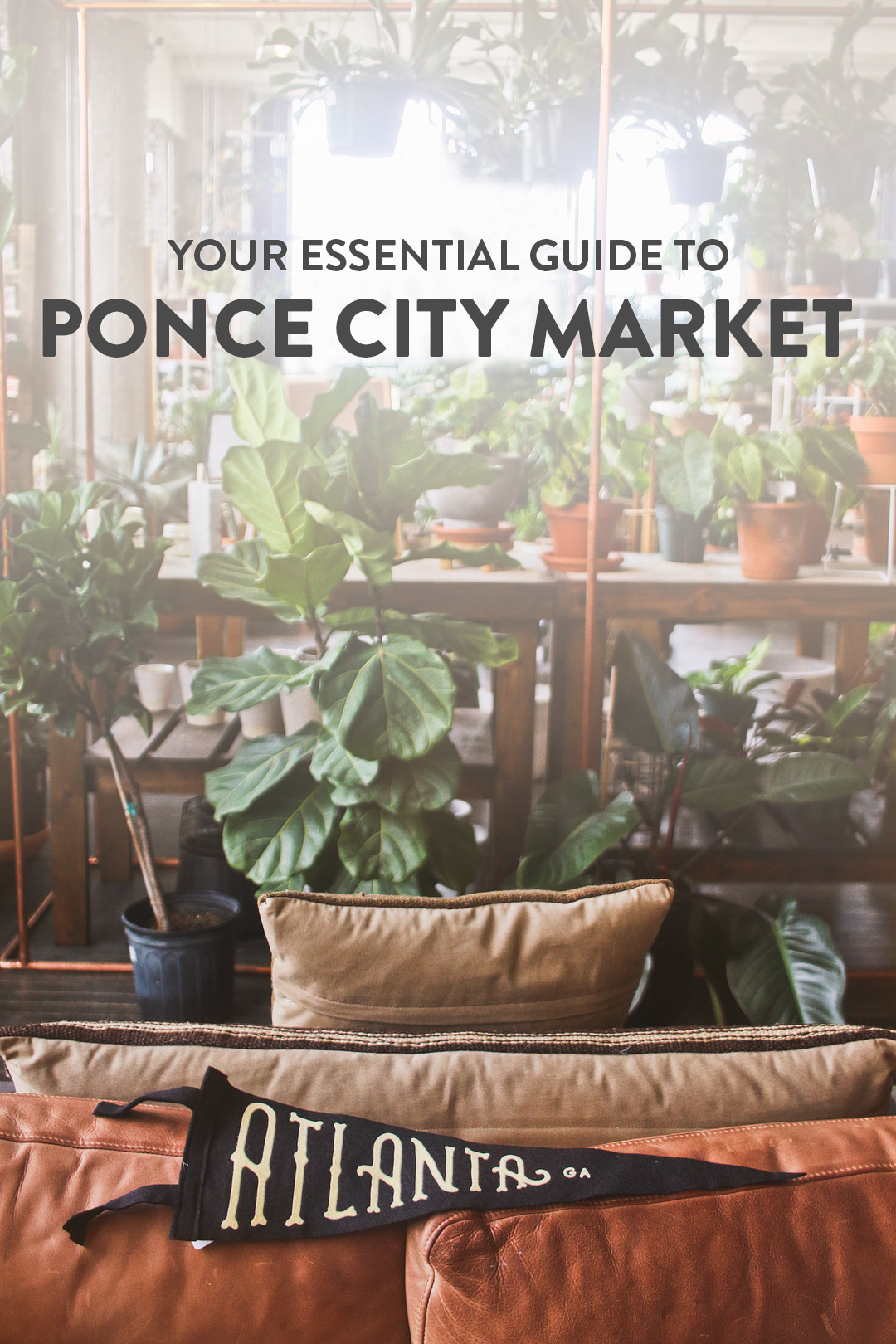 This post may contain affiliate links, where we receive a small commission on sales of the products that are linked at no additional cost to you. Read our full disclosure for more info. Thank you for supporting the brands that make Local Adventurer possible.
Last Updated: Sep 10, 2018
15 Things to Do at Ponce City Market Atlanta
1. Ponce City Market Rooftop
The Roof on Ponce City Market is definitely the building's main attraction and an iconic Atlanta destination! Boasting an 18-hole mini golf course, boardwalk-style games, and an amazing view of Atlanta, The Roof is the perfect spot for a date night, a fun day with the kids, and a relaxing, culinary experience for all. Oftentimes, we gather some friends for dinner at Nine Mile Station (shout out to their amazing staff) and play a round of mini golf at Skyline Park with some boardwalk snacks in hand.
Nine Mile Station highlights their classically-prepared cocktails that sets the standard for exemplary drinks, and their exclusive craft beers and an extraordinary dinner and brunch menu. Be sure to try the 9 Mile Station Grand Cru, exclusively imported for Nine Mile Station.
At the heart of PCM's iconic tower sits the newly opened RFD Social, an old-fashioned bar and lounge which serves up boozy drinks in a beautiful 1920's setting. Surround yourself with vintage radios, poker tables, bumper pool, and other entertaining games. This makes a perfect spot to end your night atop the roof!
Note:  Admission to enter the roof and tower is $10 per person and includes a wristband good for the entire day. If you have reservations at Nine Mile Station, your ride up the roof is free. More info here.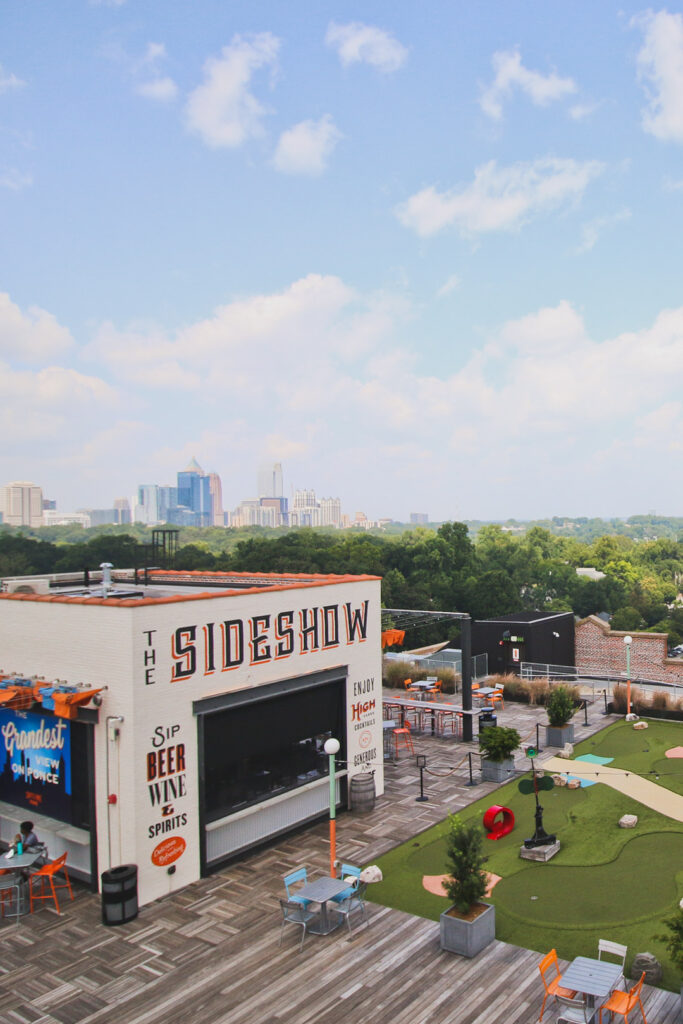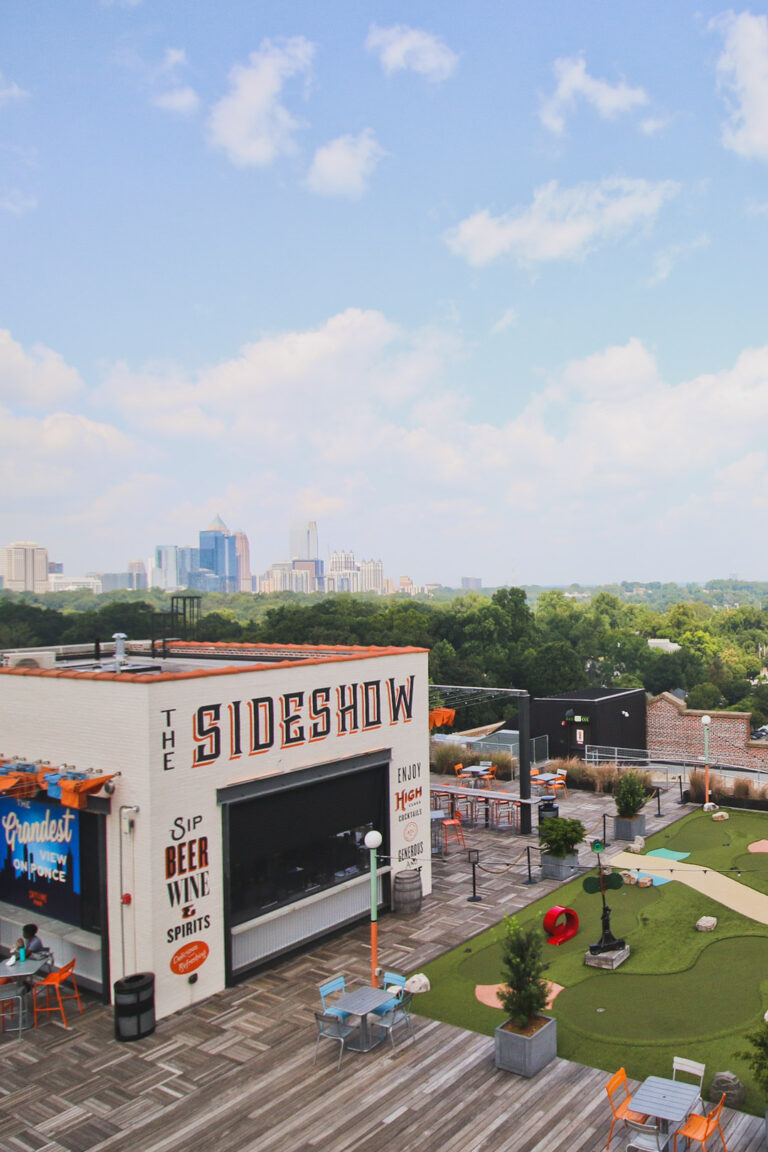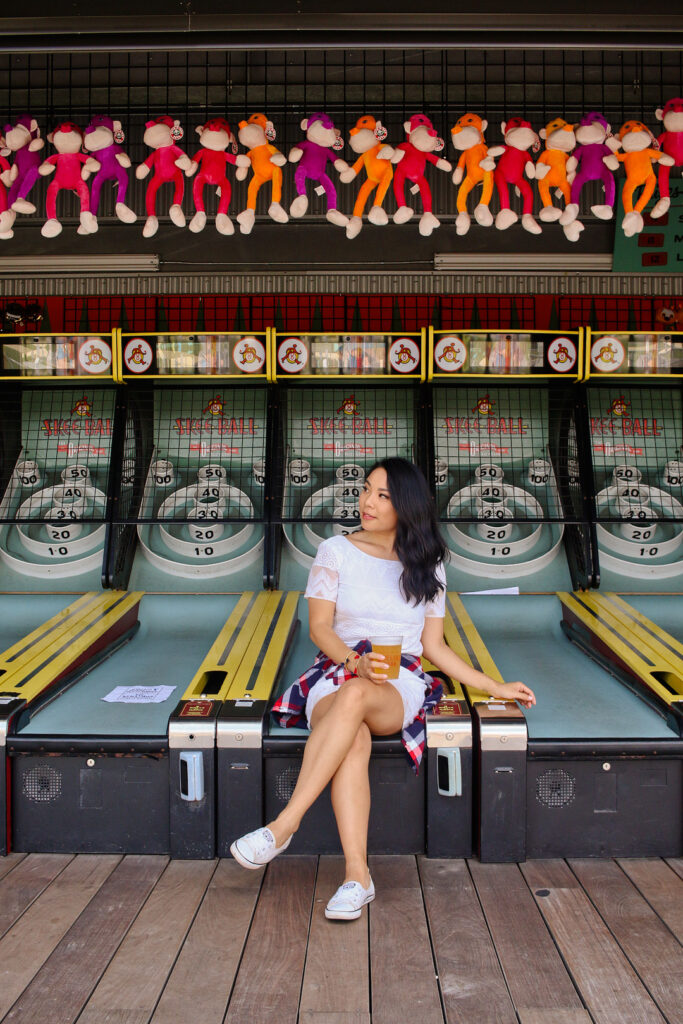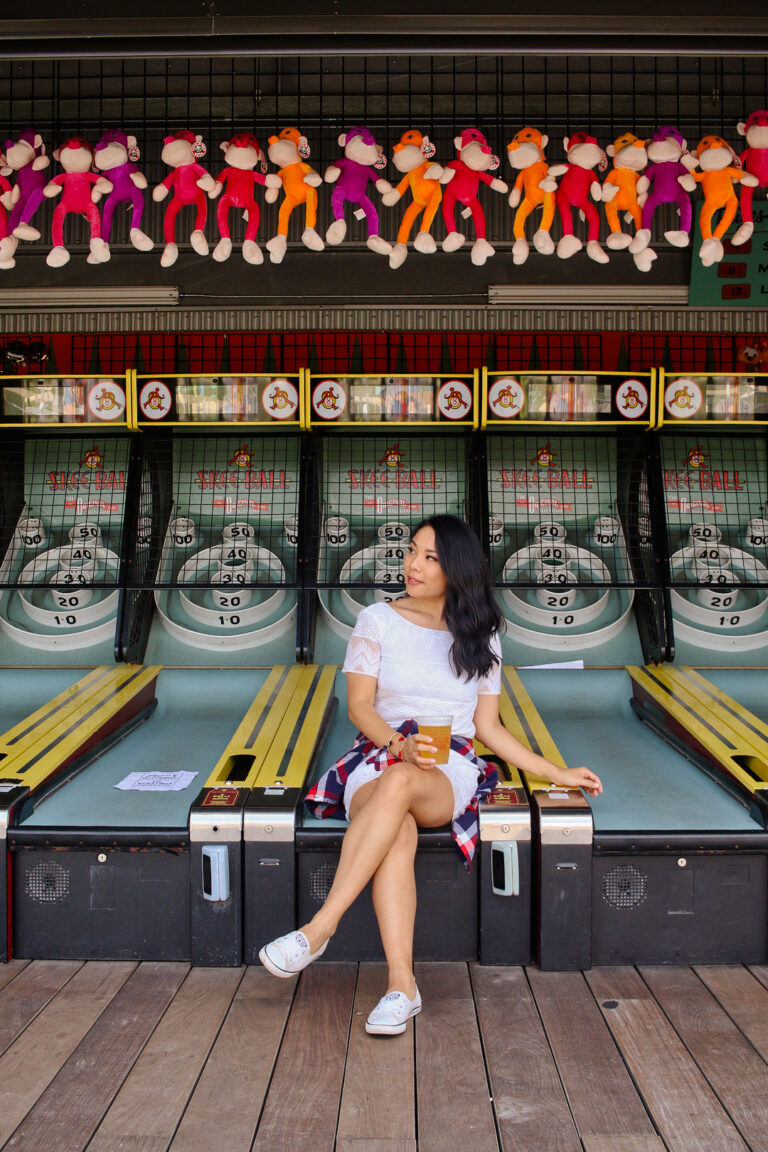 Ponce City Market Restaurants
Be prepared to loosen your belt for gluttonous glory. Where do I start with "The Original Burger" from H&F Burger? This juicy, decadent double cheeseburger was named one of "the Best Burgers in America" by Zagat and it truly does live up to its title. Almost everything on the burger, from the soft buttered buns to the tangy pickles, even down to the ketchup is made in-house! What's more to love? Their perfectly crispy fries and their delicious milkshakes! My favorite: The Peanut ButterScotch Cup milkshake paired with The Original Burger.
Even if you're not a burger person, this joint will definitely change your mind. They also offer a great selection of salads and hotdogs, but locals know you don't come here to grab greens.
Local Tip: If you're in a hurry and want to grab it to go, come on up to their walk-up window and continue on your trek around Ponce City Market.
Right next door to H&F Burger, a little stand houses Josh's favorite food. Two words: Fried. Chicken. If you're in the south, fried chicken is a must and Hop's is definitely a spot worth checking out. There's almost always a line at their window and there's a good reason for that. Their chicken is crispy and golden on the outside, juicy, succulent, and down-right delicious on the inside. If eating a bucket o' chicken isn't your thing, pick up their Slider Trio and don't skimp out on their homemade slaw.
Pro Tip: Be sure to try some of their unique sauces like the Frim Fram and the Black Pepper Gravy.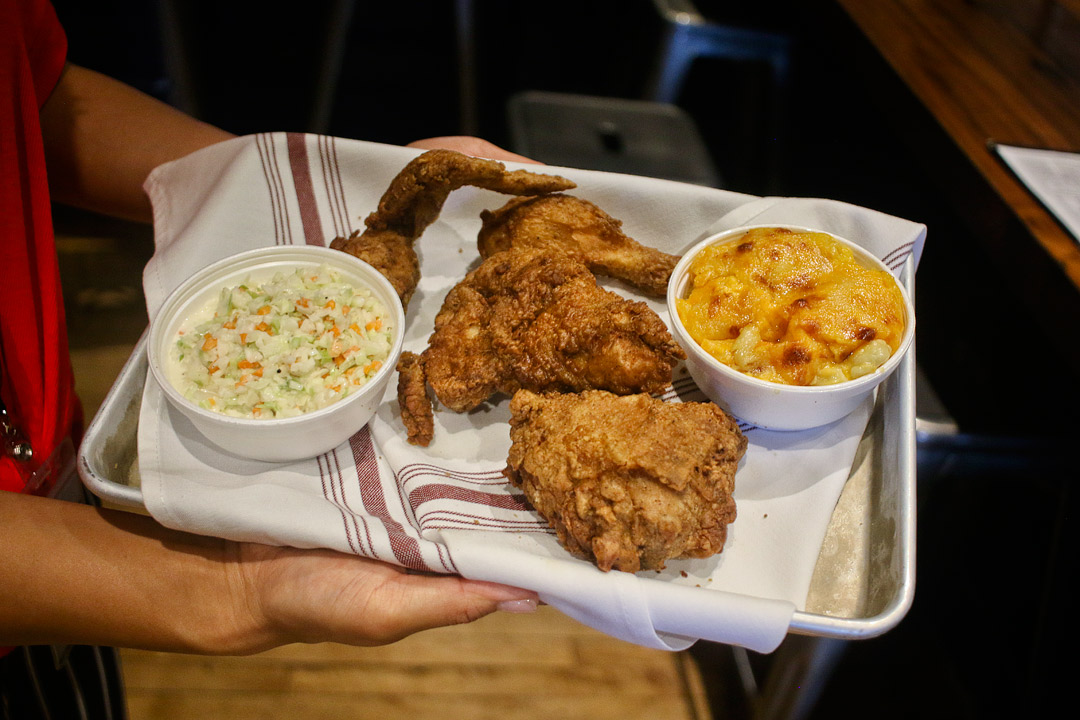 Working in a cafe in college, I've become a coffee snob and Dancing Goats has become one of my favorites. Its coffee is dark, smooth, with a complex aroma that's been a local favorite for years. Also, one of my cherished pastimes is grabbing coffee with my dad (well, he'd get coffee and I'd get a chocolate milk) so I'm always exploring local coffee shops around town and reliving those glorious childhood memories. It helps that the coffee scene in Atlanta has been booming over the last couple of years. The outdoor, screened-in patio is a great place to relax, get lost in a book, and hang with your pup. They also offer a wide selection of teas and baked goods, all of which are a perfect way to start your morning exploring PCM.
Local Tip: Free 30 minute parking in the adjoining lot.
Hands down, Atlanta's favorite treat, year-round. These handcrafted, uniquely flavored popsicles are the perfect refreshments for your stroll around PCM, but what makes this specific location unique is the bar. Just when you thought the pops couldn't get any better, they stick 'em in a cocktail, making it a delicious "Poptail." The boozy menu is always changing with the seasons. They also offer seasonal flavored pops, like Pineapple Habanero in the summer and White Chocolate Peppermint in the winter. Get your pop dipped in chocolate and sprinkles! All the cool kids do it.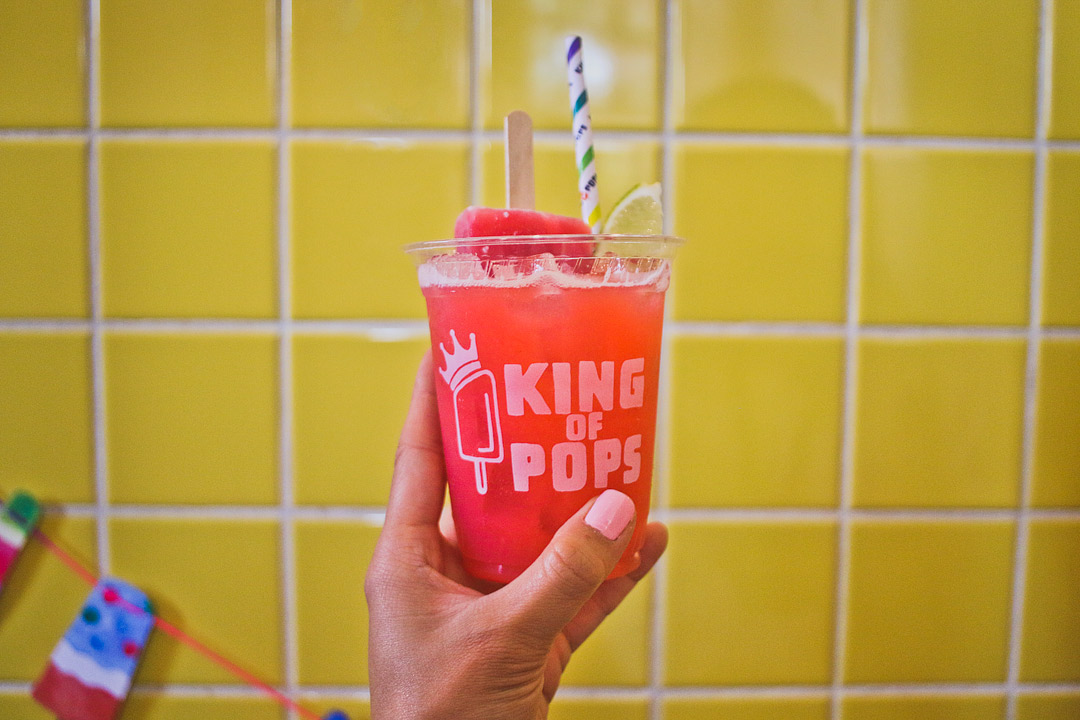 Their bright red banner above the storefront will catch your attention, and their ramen will fill your belly. This is our go-to spot for something warm and soupy! We seriously eat here all too often. The "Classic Tonkatsu Ramen" includes chewy noodles (10/10 for slurp-ability), a hot, rich broth, and beautifully runny, soft-boiled egg. Don't miss out on the "Tebasaki Wings", perfectly brushed with a shoyu glaze. And be sure to grab a seat at the bar where you can marvel at your dish being created right before your eyes. 
Pro Tip: If you're feeling adventurous, try the broth-less "Invincible Dan Dan Mazeman". You won't be disappointed!
Oh, my sweet tooth! Honeysuckle's gelato is rich, creamy, and delectable. Their flavors are inspired by its Southern roots, so you know they're bound to be good! Brown Butter Crunch, Bourbon Pecan Praline, and Lemon Raspberry Crumble are just a few of our favorites. Throw them into a milkshake (and keep the cute mason jar it comes in) and you've got yourself one of the best desserts in the South. Keep in mind that your purchase also helps Georgia-based employment programs such as the Atlanta Community Food Bank, Friends of Refugees, and more. If you're lactose intolerant, grab a zesty, fresh fruit sorbet. It's like biting into the fruit itself.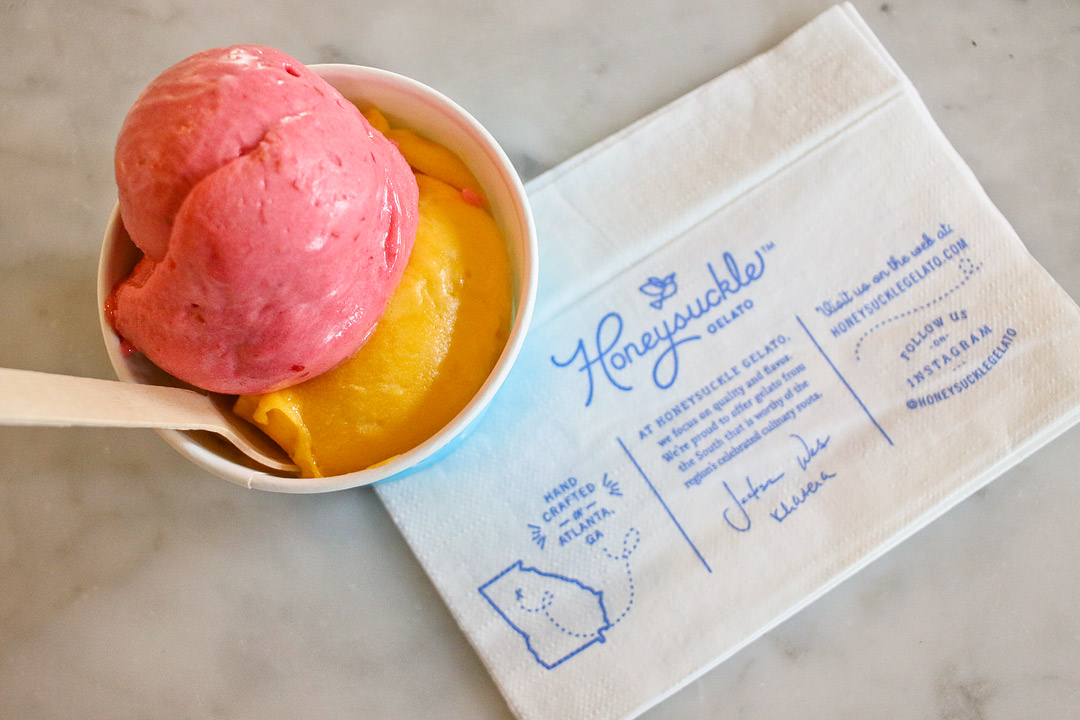 This South African bar has just been voted one of "21 Best Cocktail Bars in America" by Thrillist. The hype is real, y'all. It's tucked away in the corner of PCM's Food Hall, but it's hard to miss. They serve beautifully air-dried South African version of beef jerky paired with crazy creative cocktails and I've gotta say, their booze is on point and probably my favorite in Atlanta (there, I said it). We also tasted the "Biltong Sample Board" which included an amazing selection of flavorful jerky and cheeses, and the "Chicken Curry Pie," creamy, chunky, with a kick of heat. Remember to grab your cocktail to go while you roam around PCM!
Pro Tip: After a long day, you'll need a stiff drink. Order an "Un-F**k your day" and thank me later.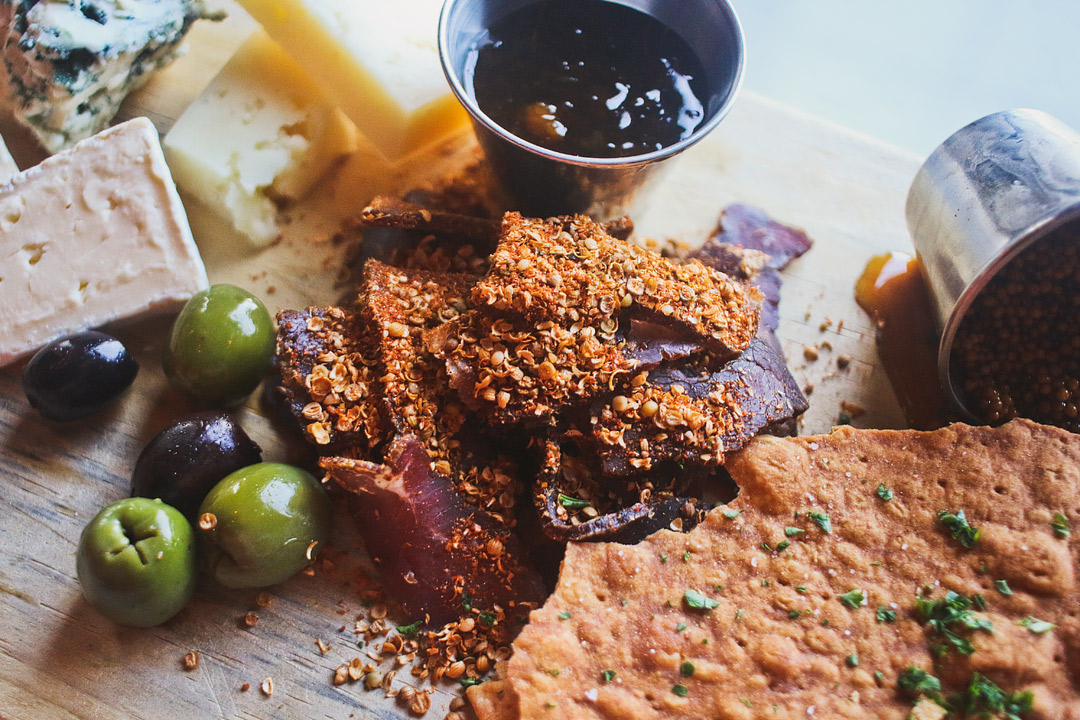 This hidden gem, shrouded away in the corner of the Food Hall, serves a one of a kind experience for cocktail lovers. They handcraft premium cocktail bitters, shrubs, syrups, and other mixes right here in PCM and you get to sample these delicious concoctions for free (our favorites were the Hibiscus Rich Simple Syrup and the Ginger Lemon Tincture). Learn how these bitters and mixes can elevate your cocktail game at home. We love stopping by to watch the crew create bitters in their open kitchen or sign up for cocktail making classes. Wonder how they got their name? 18th Amendment enacted prohibition and the 21st repealed it!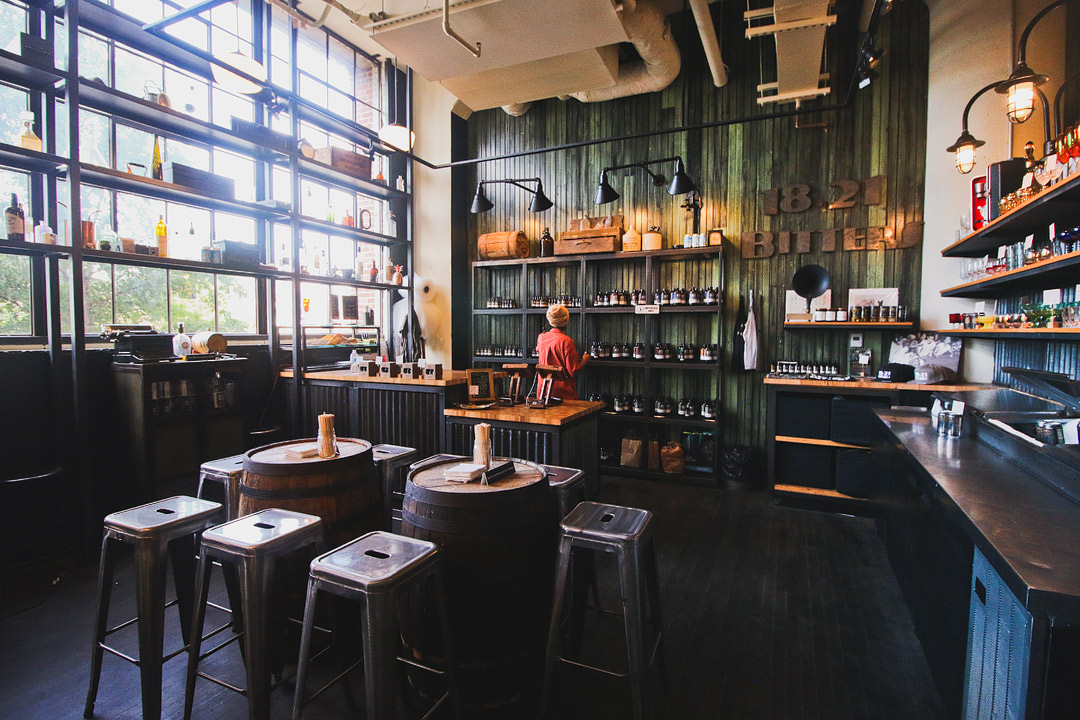 This place is every wino's dream come true, including mine/ But what makes this place unique is that City Winery combines live performance, food, and wine to bring you the ultimate culinary and cultural experience. Take a tour of the winery (I could swim in those humongous barrels) and see how their 300 selections of award winning wines are made or come by with your fur baby to enjoy a weekend brunch on the patio. They even have a "Canine Cuisine" menu with dog-friendly brunch items.
Be sure to try their very popular margherita flatbread! It's made with yeast from the wine and fresh, locally sourced ingredients, so nothing goes to waste. It's also Josh's favorite since it's the closest thing to pizza and if you know Josh, you know cheesy, saucy, bready goodness is his vice.
Local Tip: Shh, there's also a hidden speakeasy called ABV (Alcohol By Volume) downstairs. If you find it, tell them we sent ya.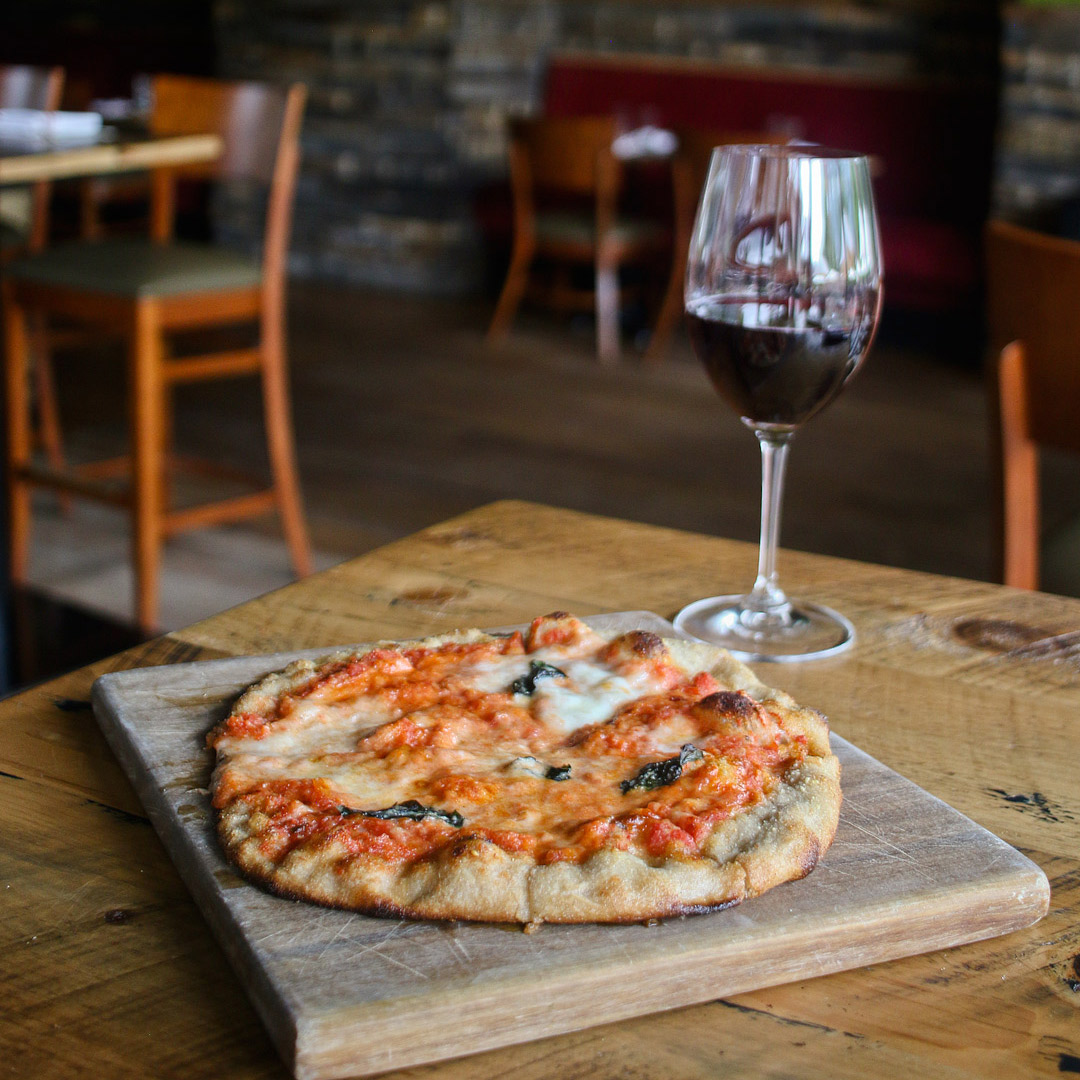 I love a good craft beer and the Tap has exactly what I want to quench my thirst. It's a convenient bar with tons of unique draft beers on rotation. Fill a vessel and sip on it while you roam around PCM! We picked a 32-oz. Crowler and watched them seal it up right before our eyes.
They have 50+ selections of draught beers and the crew know their beer. They also have a nice selection of wines and single can beers in the cases located at the front of the shop.
Note: You can't sample any of them due to city ordinances.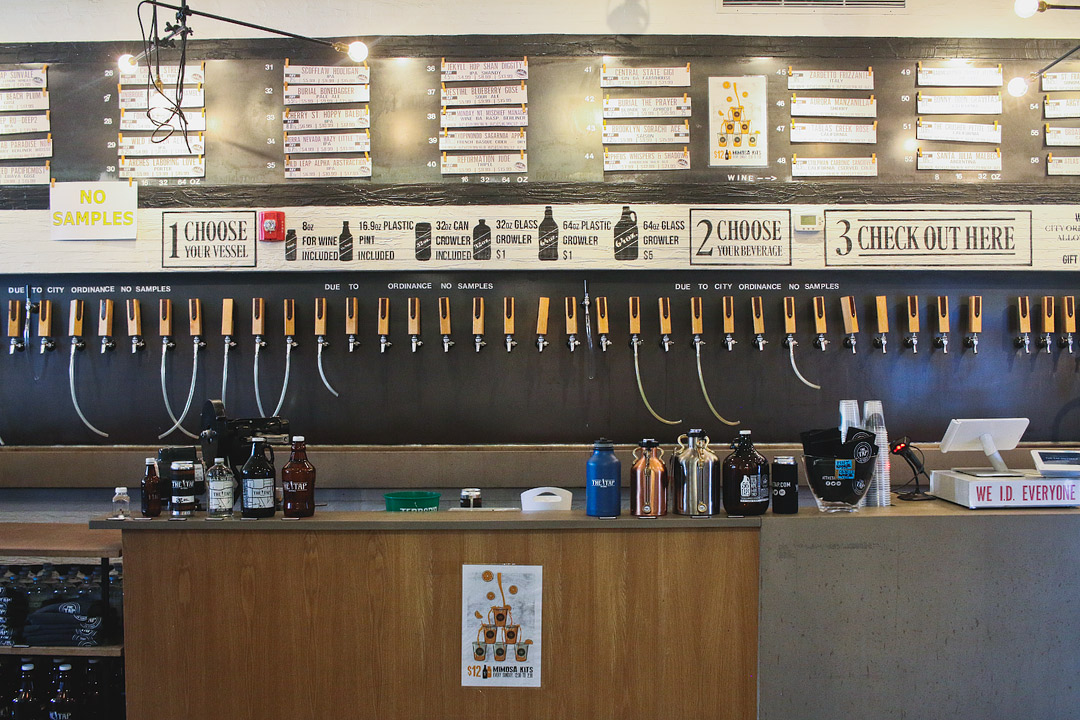 When I'm shopping for gifts, Citizen Supply is my go-to spot. There are thousands of items and many of them are handmade by local artisans or sourced through sustainable businesses. From quirky cards, sweet-smelling candles, to fun Atlanta gear, this shop has it all.
The space is super cool, too! There are a few in-store makers creating items right before your eyes, funky Instagrammable murals, and even a pretty plant shop in the back. I come in here pretty often since the shop setup is constantly changing with new items, and of course, more photo ops. Not to mention, their staff are all kind and helpful. They also offer workshops and host events throughout the year, making it a perfect date night spot.
This is a vintage and handmade wonderland! Perfect for the traveling girl, this shop offers pocket field guides, vintage clothing, handmade jewelry & accessories, and charming things for home and body. I never leave the shop empty handed! Plus, they work with local artisans who create high quality and unique one-of-a-kind items, and Atlantans love supporting their local businesses. Their shop is very warm and inviting. Once you step in, you'll see why it's a must-stop when you're visiting PCM.
Pro Tip: Pick up some sage to "spiritually cleanse" your space.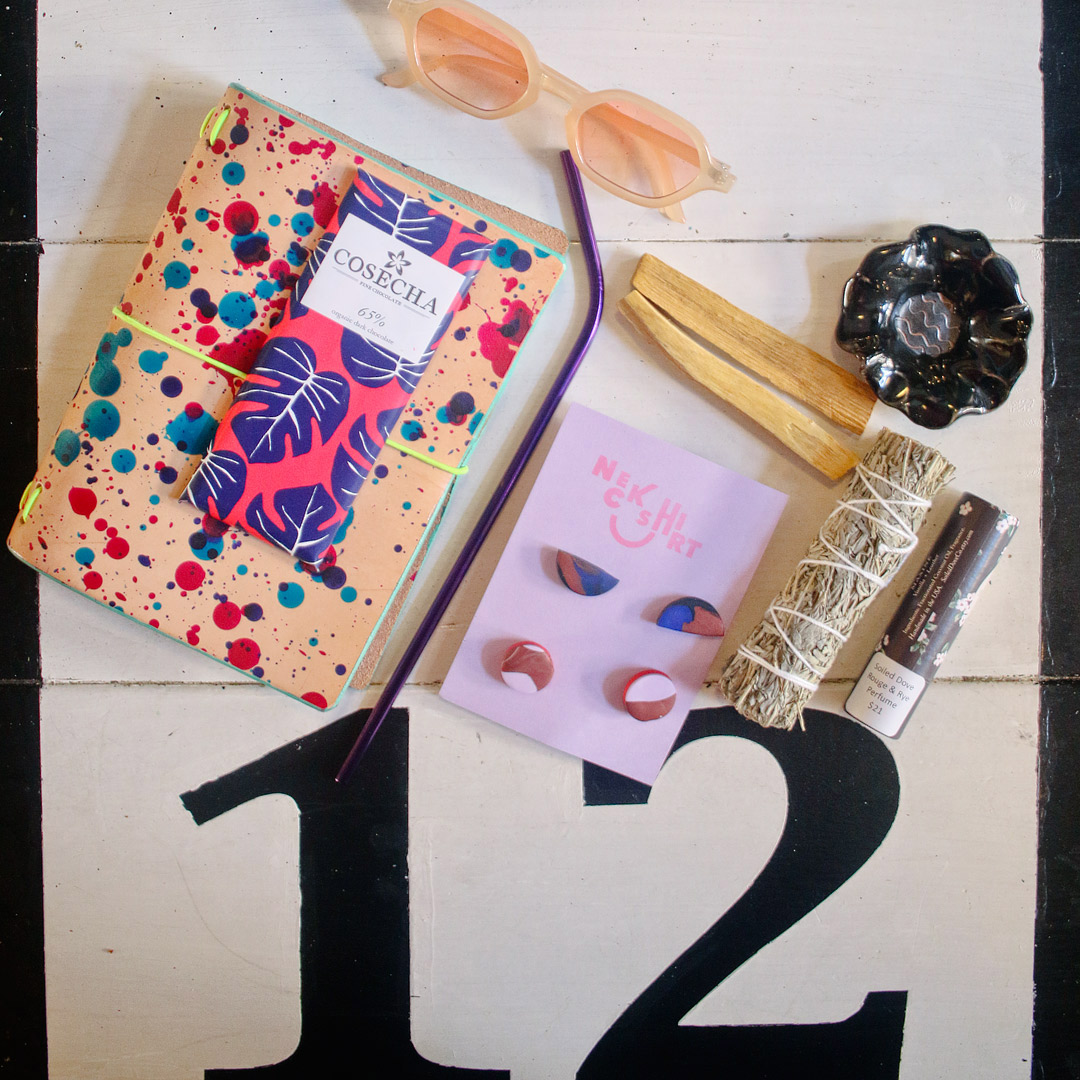 14. Collier Candy Company
The name of the store says it all. Collier Candy Company offers some of my favorite retro candy (think Cowtales, Zotz, and Abba Zabas) and old-time sodas (Bubble Up, Nehi, Nesbitt's) that takes me down Nostalgia Lane. There are also some more unique items such as jumbo sized gummy bears and giant tubes of Smarties. They make perfect gifts for the kids (or your inner kid). We promise this place will make you smile.
Pro Tip: If you're craving chocolate, my favorite is the Seattle Chocolate Bar in San Juan Sea Salt.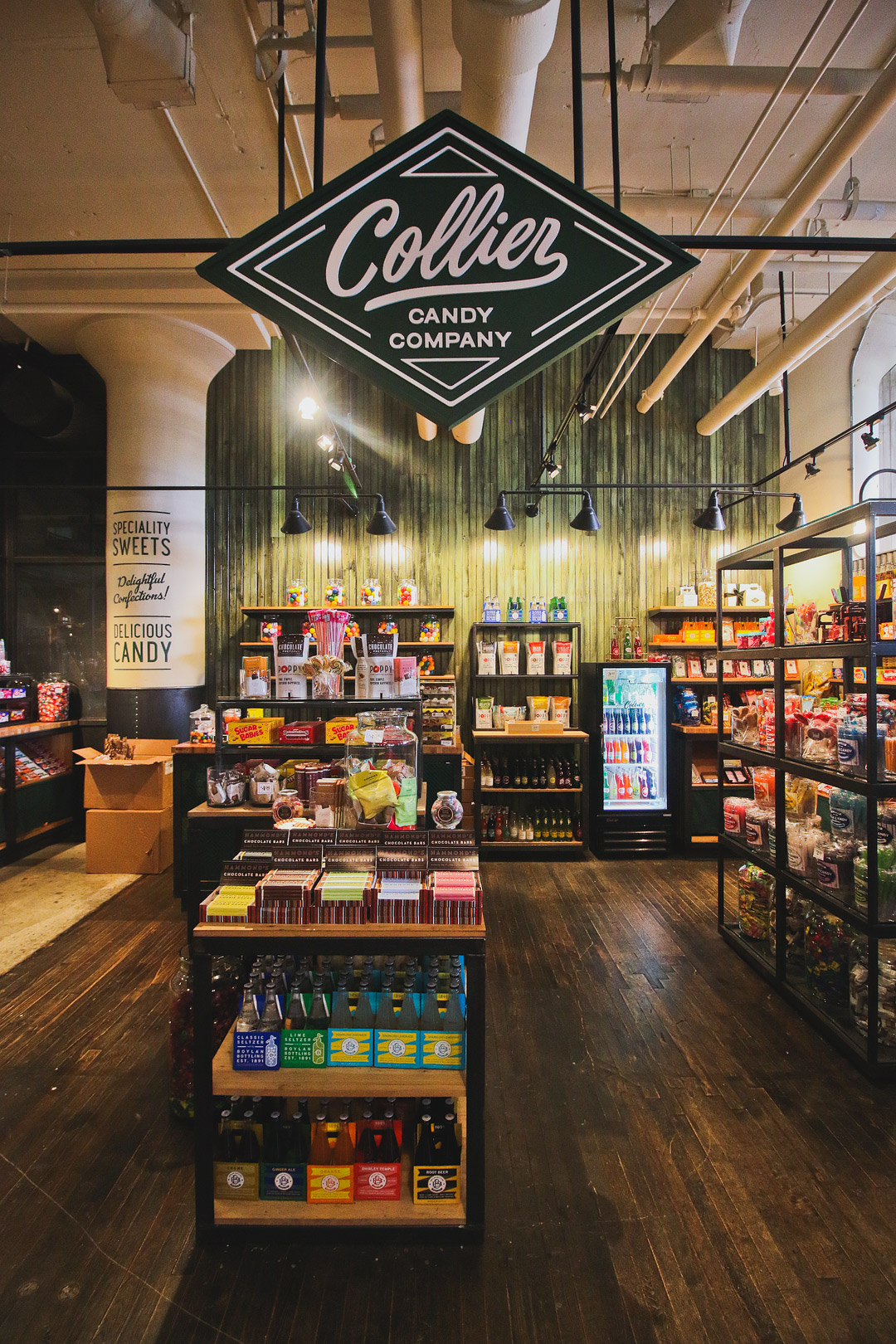 We always make a pit stop at Archer to browse their wide selection of punny cards, delicate stationary, and thoughtful gifts. This shop carries every desk item you can ever think of. It's super fun to peruse even if you don't buy anything, but be warned that it's hard to leave empty handed. We can probably spend hours looking at all the pretty little things, so set aside some time to shop around. I always buy my yearly planners here because I know no one else will have the same one.
During the holiday season, The Roof at Ponce City Market hosts an ice rink (Skate the Sky) that is decked out in festive decor and embellishments. We loved channeling our inner Olympic figure skaters and then cozying up at the high-top tables with some hot chocolate. It's the perfect way to take in the amazing view of Atlanta's skyline.
My favorite feature atop the roof this year are the private igloo rentals that are themed out and perfect for warming up after our skating session. They can seat up to eight guests and includes bottle service, a menu of small bites and of course, access to the rink. The price varies depending on the package you choose. More information and reservations can be made here.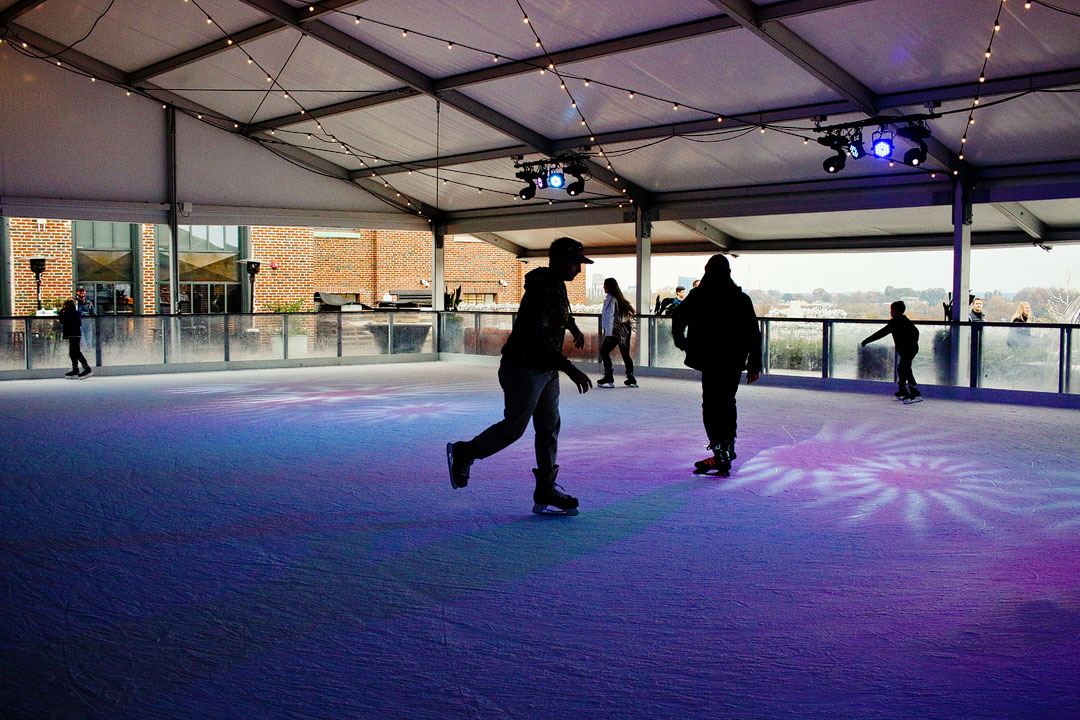 more shops and activities
Ponce City Farmer's Market – Located outside by the Beltline entrance at "The Shed," local food talent,  artisanal food makers, as well as pop-up chefs gather on Tuesdays 4-8pm, April through November. 
W.H. Stiles Fish Camp – fresh seafood in an urban fish shack.
Rye 51 – Men's dry goods and apparel, in-store whiskey bar.
Quick Quick – boutique bodega offering 50+ types of periodicals and more.
Marrakesh – Meat kebabs, freshly made hummus, fresh pita bread made daily.
Rhen's Nest Toy Shop – Children's toys, books, and more. 
Spiller Park Coffee – Coffee kiosk Kiosk offering artisan coffee, tea, baked goods, and more.
The Mercury – Classic mid-century American cocktails, lunch and dinner service.
Saint Germaine – Specialty breads, artisan pastries, macaroons, and more.
What are your favorite things to do in Ponce City Market? Have you been to PCM?
Did you enjoy this post? Pin it for later
See More Things to Do in Atlanta
"Discovery consists not of seeking new lands but in seeing with new eyes" – M. Proust