I know I promised a lot of binge eating this month, but looks like this month (and our list) was cut short because our trip to the Philippines. We just got back a couple days ago and now have a week to fit in as much good LA food before we move to Las Vegas – our next big adventure!
I'm a little sad that I didn't get to try all the food that I've bookmarked on yelp within the year we've lived in LA, although it was always a growing list (Oops!). I guess I can't be too sad about it, because I know we'll be back to visit soon enough. Maybe I'll have to have a different strategy when visiting and tackle good eats one neighborhood at a time. We take our eating very seriously. Can you tell?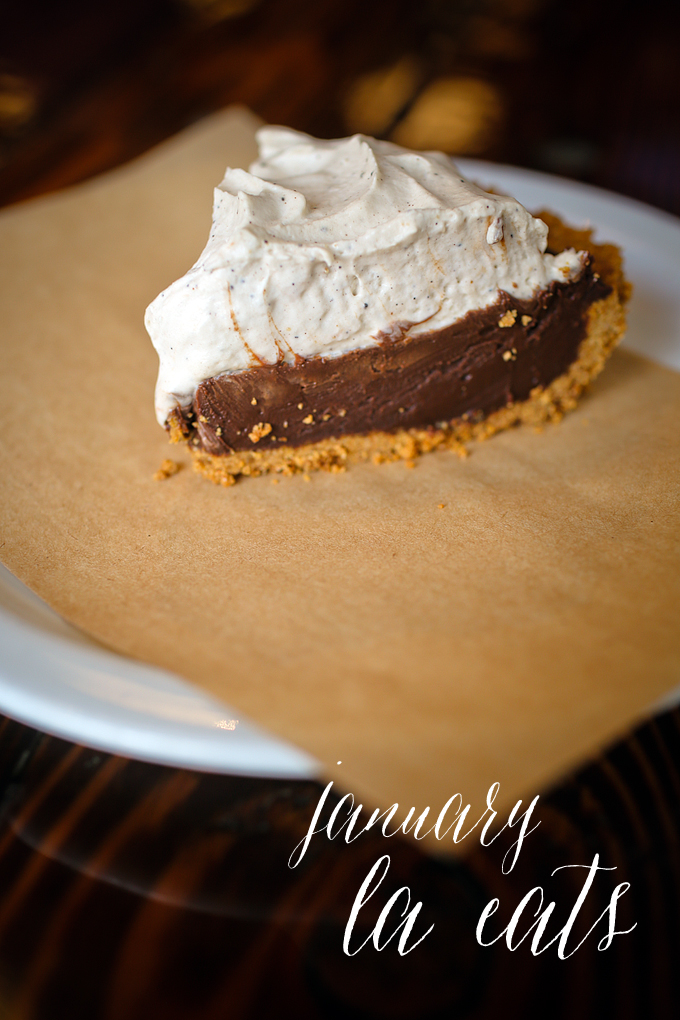 Pin
LA Food | Jan Eats:
★★★★★   ABSOLUTELY LOVED IT
The Pie Hole (DTLA) – the mac & cheese pie and mexican chocolate pie were so good, we had to order 2 more!
★★★★   REALLY LIKED IT
Ruen Pair (Los Feliz) – Ordered pad see ew to go and ate it cold, but it was still good! Can't wait to try it there.
Sanamluang Cafe (East Hollywood) – Ordered pad see ew and pad kee mow. Not my fave place, but really good.
★★★   IT WAS GOOD
Road to Seoul (Harvard Heights / Koreatown) – apparently the meat and service wasn't as good as it usually is.
Yellow House Cafe (Koreatown) – my eyes hurt from eating in the dark patio.
Pho So 1 (Van Nuys) – It was alright. Better than across the street. I still love my pho places in Atlanta.
★★   IT WAS MEH…
Sushi Don Sasabune (Valley Village) – For the price and what you get, I'd rather go to an actual sit down restaurant.
Napa Valley Grille (Westwood) – the tapas were just okay. We probably wouldn't go back.
★   YUCK
Any MUST EAT Los Angeles food we've missed? We have 1 week left in LA! HELP!
Here are all the previous months of exploring LA food:


Pin


Pin


Pin


Pin


Pin


Pin


Pin


Pin


Pin


Pin